If you are a fan of casserole recipes, then this game casserole will have you cooking casserole for the rest of your life. Enjoy this hearty and warming game casserole recipe that celebrates a premium quality meat like game.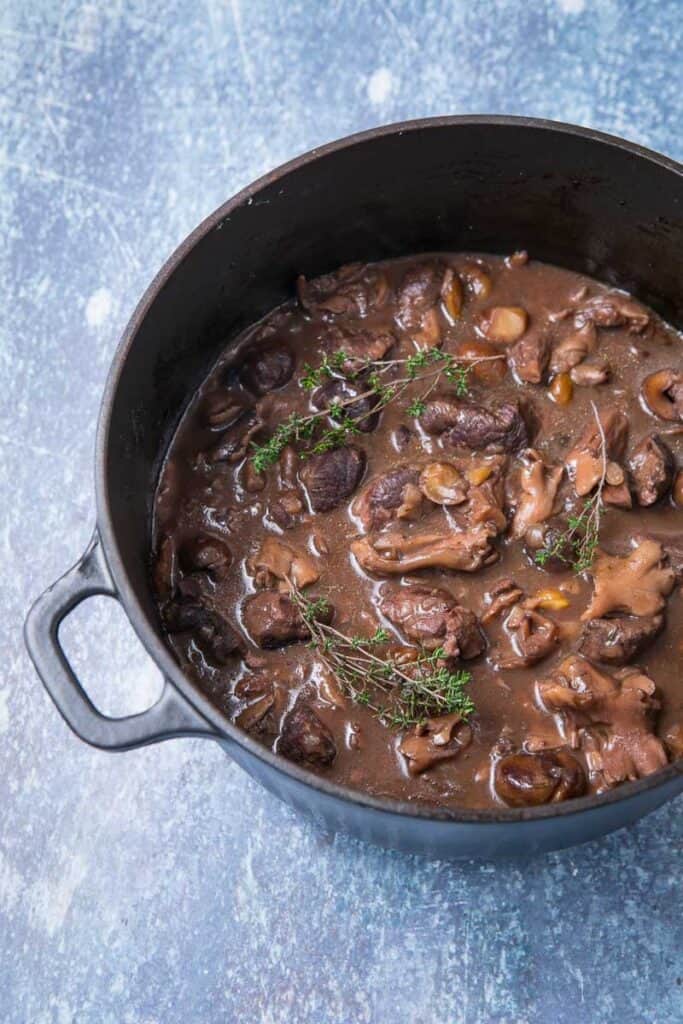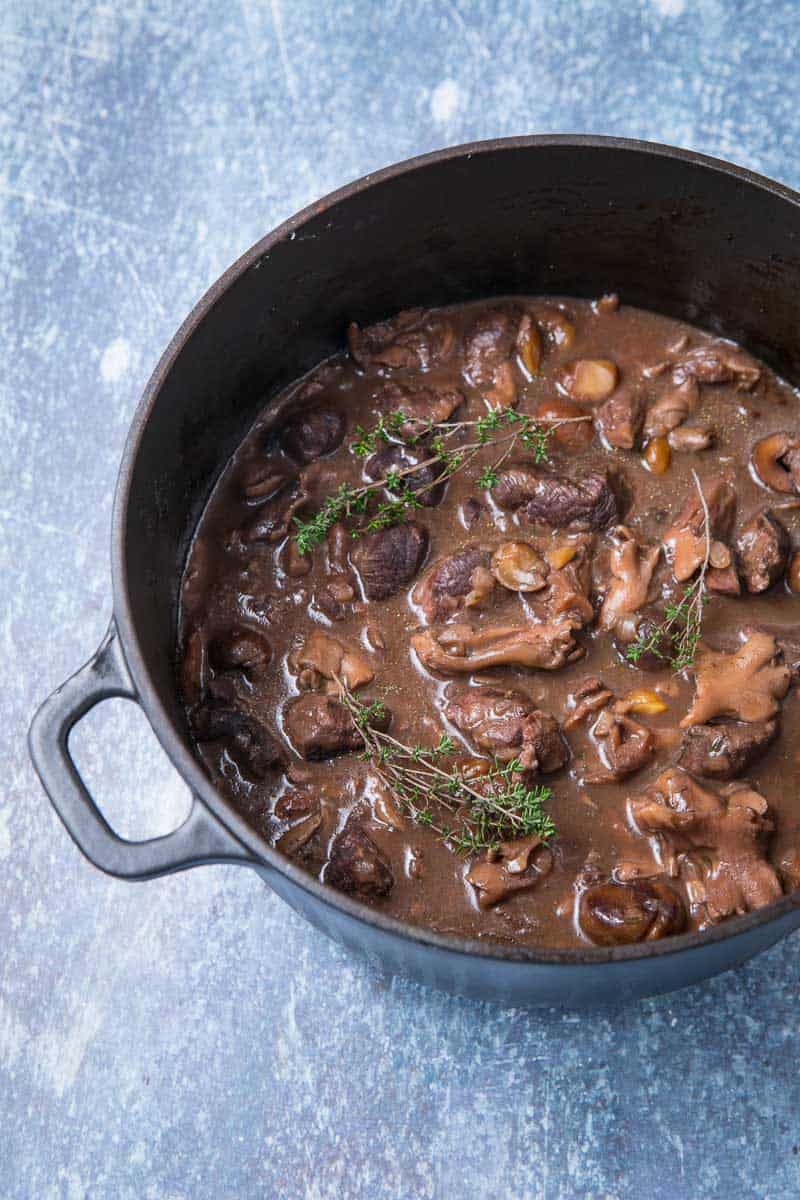 Should you get your hands on some game, I highly recommend you spare some cuts of your game meat and make a rich game casserole.
You can easily serve this game dish when you are cooking to impress. Serve it alongside a light root vegetable mash and a full-bodied, sophisticated glass of mature red wine.
The dish deserves nothing less. It doesn't matter if you are a beginner or an expert cook, this game casserole recipe can be mastered by all types of chef! 
how to make a rich game casserole
A game casserole shouldn't be anything other than hearty and rich in flavour. If you are looking for a winter warmer recipe, this game casserole will do it justice!
Although a game casserole recipe sounds tricky enough, it most certainly is not. If you follow this recipe closely, you'll see that learning how to make a game casserole from scratch can be fun.
When one thinks of game casserole, one generally associates an intense wine reduction or berry sauce with it. I admit, although these are most likely the best alternatives to pair with a beautiful meat like game, there are many other variations of this recipe that can tempt your taste buds.
Jamie Oliver's game casserole
While making my version of this game casserole recipe, I was comparing it closely with that of Jamie Oliver.
In comparison to Jamie Oliver's game casserole recipe (which you can find here), I've made mine much fruitier and well-balanced by adding blackcurrant jelly and port.
Jamie's version calls for a lot of root vegetables, juniper berries and parsley. A similar recipe to my venison stew.
Although his is a very simple recipe, mine offers an increased complexity of flavours, combining earthy notes of the mushrooms, the umami flavours of the meat and much more.
In either case, if you by any chance run out of any other ingredients or can't get your hands on them, Jamie's recipe proves that even a simple recipe can be a delicious one!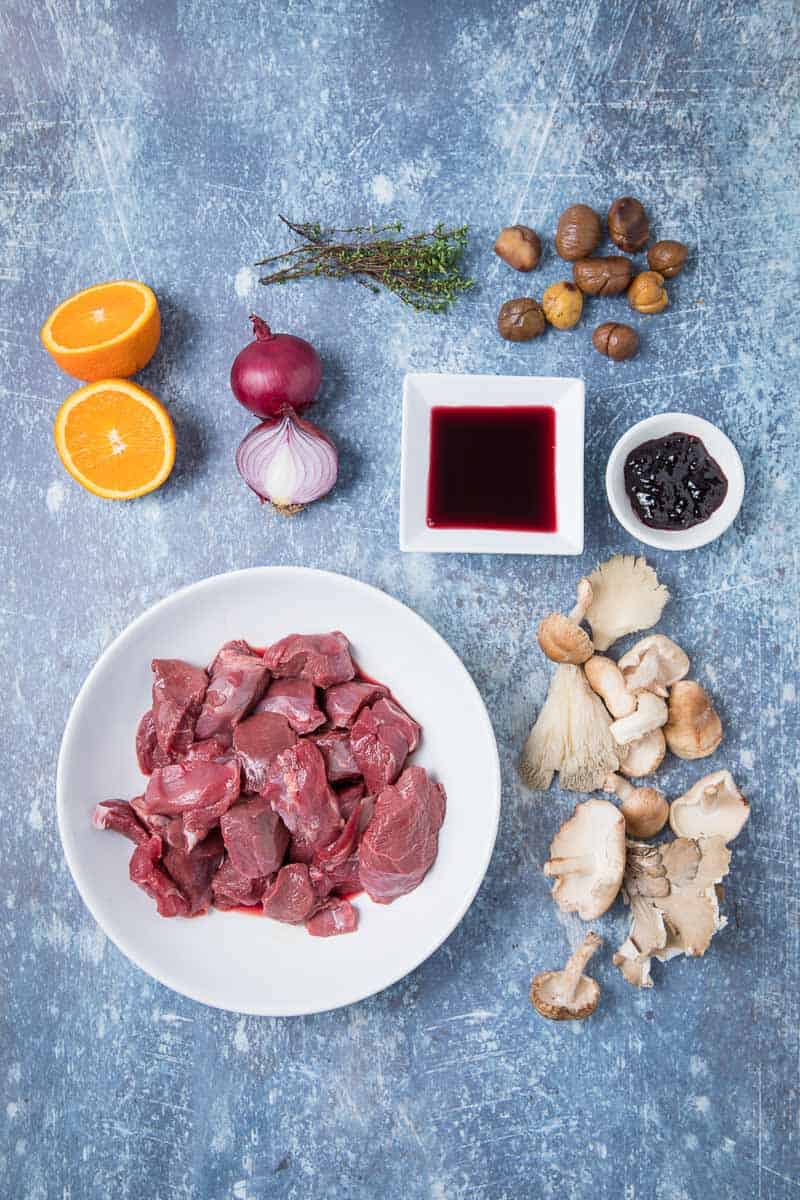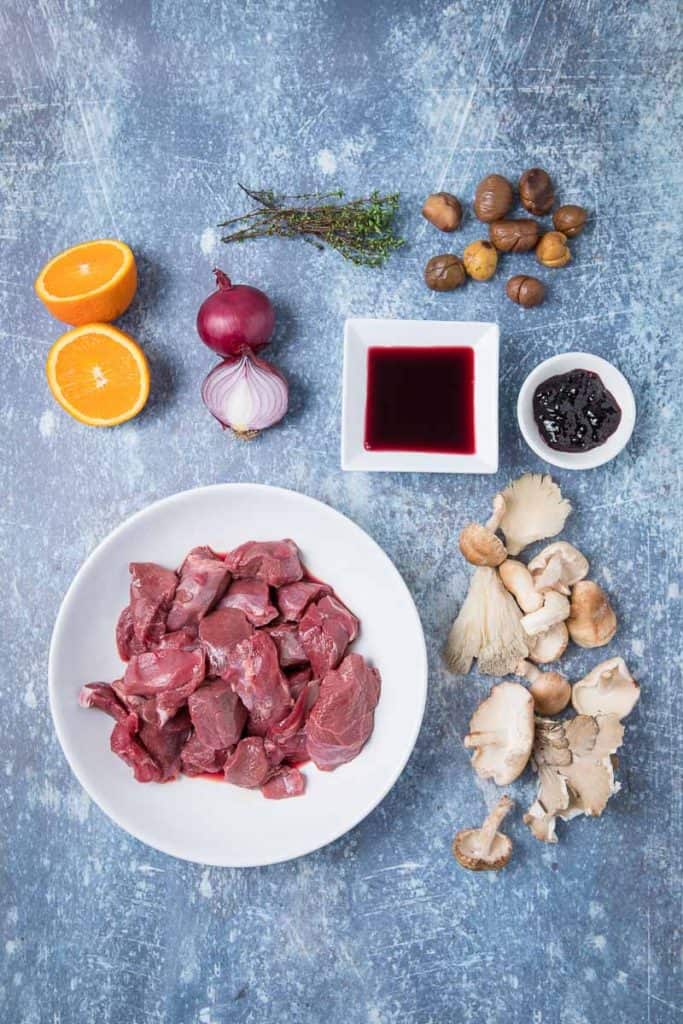 easy game casserole recipe
This game casserole recipe calls for mixed-game pieces. If you are wondering about what game meat is, here's a simple explanation. Game meat is any type of meat that is hunted.
Game meat varies all across the world. So, in effect, this means that game can refer to the following meats:
pheasant
rabbit
deer
wild pig
quail
venison
pigeon
goose
duck
However, in Africa it can also refer to any antelope meat, zebra, buffalo, species of gorilla and rodents (believe it or not).
In Australia, game meat also refers to wild goats, kangaroos, emus, crocodiles and more. Of course, there are other types of game, but these are just examples.
So, in this case, mixed game can refer to meat of a deer combined with wild pig. However, any mix will do the trick.
That's the beauty of making a game recipe. You can easily make your own recipe with your favourite type of meat. Even better if it's fresh, of course. 
game casserole – slow cooker
Naturally, whenever you use a slow cooker, you are guaranteed that your meat will be nice and tender. If you have one at home, I highly encourage you to use it! The recipe is very slow-cooker friendly.
If you haven't got a slow cooker at home, don't panic as it's not the end of the world. You can extract the same amount of flavour from the meat and retain the desired texture of the meat.
Just simmer the meat in the sauce with all ingredients inside for a while. The general rule to any sauce, casserole or stew is the following: the longer you simmer, the better and more intense the flavour is.
Moreover, has it ever happened to you that you genuinely enjoy eating a stew or casserole more the next day?
The reason behind this is that the flavours tend to incorporate and infuse overnight. Really, sometimes making the perfect casserole is just a question of time!
Moroccan-style game casserole recipe
Here's an interesting variation for a traditional game casserole recipe. If you've got leftover meat as well as some root vegetables then don't even hesitate for a second to experiment.
Make a Moroccan-style game casserole recipe. All you need to do is add sultanas, apricots or figs (or other versions of dried fruit). Here, you'll have to omit the berry jam.
Next, add coriander powder into the sauce and top with fresh coriander leaves. For a more authentic flavour, cut up some preserved lemons.
You can also make your own preserved lemon. Learn how to make preserved lemon from scratch here.
Sometimes, preserved lemon can be too aromatic for some cooks, but do try and see if you like it. Serve the game casserole with couscous and parsley.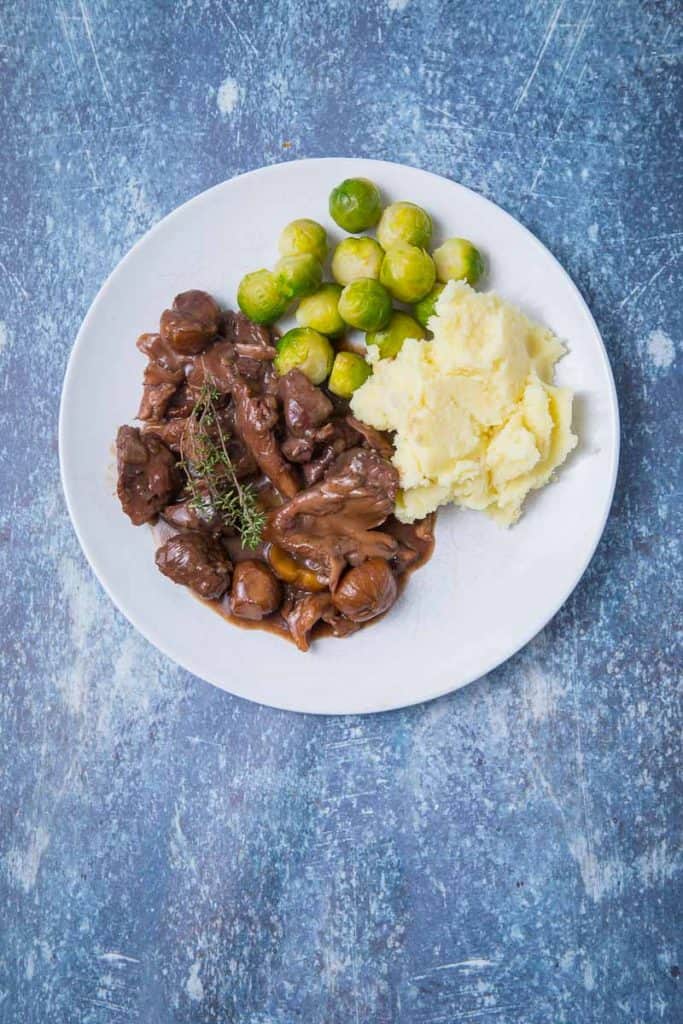 serving
As with any casserole or stew, the best type of side dish is a delicious potato mash recipe. Add Brussels sprouts, too, to refresh your palate.
However, you can also enjoy delicious vegetable mash recipes, which are much lighter than the potato. These include:
wine pairing
To celebrate this beautiful game casserole recipe, you'll need a decent full-bodied glass of red wine. First, you can consider a South African Zinfandel, which you can easily find in UK stores.
Second, you can also consider a heavy Californian Pinot Noir, which is exceptional if you get your hands on the right bottle. 
Print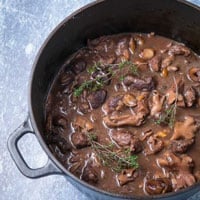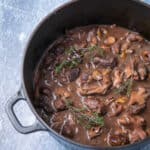 Game Casserole
---
Description
I hope you've saved your appetite because this game casserole recipe is extremely delicious. It calls for mixed game meat, mushrooms, blackcurrants & more.
---
30

ml (2 tbsp) vegetable oil

500g

(1lb) mixed game meat, chopped into bite size pieces

1

onion, finely chopped

30

ml (2 tbsp) cornstarch

250

ml (1 cup) chicken or vegetable stock

250

ml (1 cup) port

3

thyme sprigs

300g

(10oz) mixed mushrooms, cleaned and chopped

180g

(6oz) cooked and peeled chestnuts

1

orange, zested and juiced

30

ml (2 tbsp) blackcurrant jelly
---
Instructions
Preheat the oven to

150ºc/300ºF/gas mark 2.

Heat the oil in a large cast iron casserole.

Brown the meat on a high heat on all sides then remove and set aside.

Lower the heat and fry the onions until they have softened, which will take around 5 minutes.

Stir in the cornstarch and slowly pour in the stock and port, stirring out any lumps should any appear.

Place the meat back in the casserole and let it reach a slow simmer.

Cover the casserole dish with a lid and cook in the oven for one hour.

Add the mushrooms, chestnuts, orange juice, zest and jelly, and stir well.

Cover with the lid and return it to the oven. Don't cook for more than 3 hours and check on it every 15 minutes or so to check whether the meat is tender. If so, remove from the heat immediately.

Serve with buttery mash and your favourite green vegetable.
Notes
Game tends to be on the lean side so be careful not to overcook it. Different cuts have different cooking times, so you don't' know what ratio of meat you're going to end up with. It's best to err on the safe side. After one hour, check on the casserole every 15 minutes to see if the meat is tender. If so, remove from the heat immediately to cool down.
Prep Time:

15 minutes

Cook Time:

195 minutes

Category:

Main Course

Cuisine:

Scottish
Nutrition
Serving Size:

1

Calories:

474

Sugar:

5.7g

Sodium:

646mg

Fat:

20.6g

Saturated Fat:

5.1g

Carbohydrates:

33.6g

Fiber:

5g

Protein:

42.4g

Cholesterol:

37mg
save the recipe to your pinterest board