Marinated in a mouthwatering medley of spices, Indian leg of lamb is the most delicious alternative to your Sunday lunch.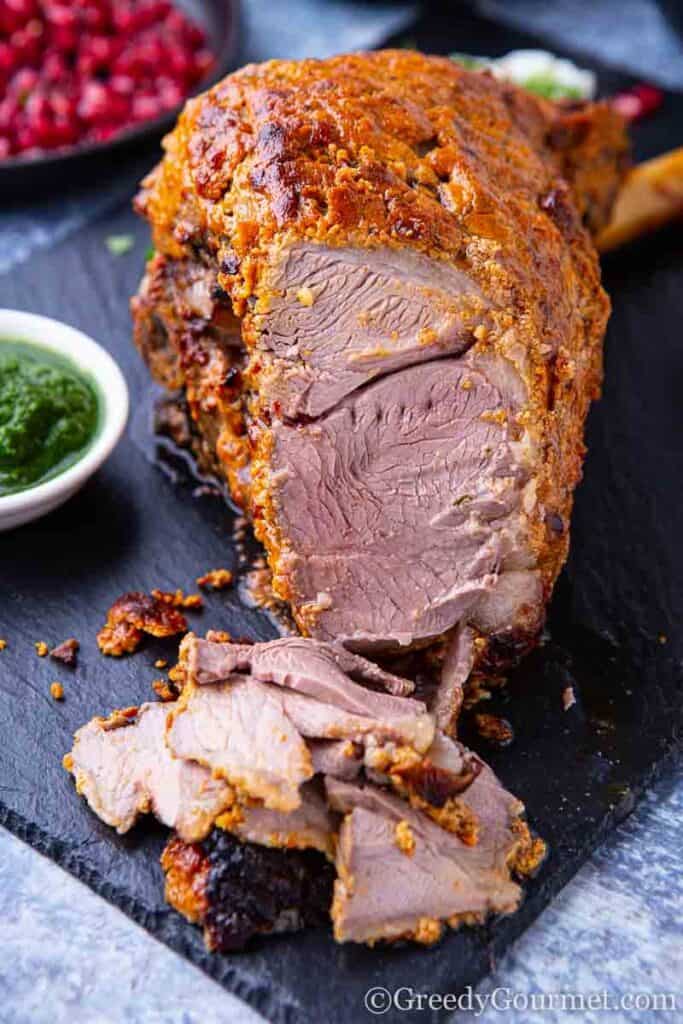 Succulent, spicy and bursting with incredible flavor, this is one recipe that you do not want to miss!
Products you need for this recipe
Large mixing bowl – get yourself a bowl large enough to mix the lamb with all the elements for the marinade
Roasting tray – the roast lamb is cooked in large roasting tray in the oven
Cling film – buy some cling film to cover your marinated lamb, which you'll then marnite in the fridge overnight
Olive oil – you'll want a good quality olive oil as a base for your marinade
Saffron threads – saffron will bring a unique earthy taste to this recipe
Ground coriander – a fragrant, floral savoury spice that brings great flavour to the leg of lamb, this is a major component of Indian lamb recipes
Ground black pepper – an essential ingredient to pretty much any roast meat recipe
Madras curry powder – add some madras curry powder to bring a beautiful earthy spiciness to this roast lamb dish. You could also use masala curry powder. If you want an extra depth of earthy flavour, add crushed cumin seeds
Dried chilli flakes – chilli flakes bring a touch of heat to the marinade. You could also use chilli powder
Tomato ketchup – the secret final element to the marinating sauce? Humble old tomato ketchup!
Leg of lamb recipe
Lamb is such an underrated meat. There are so many excellent cuts of lamb out there, such as shoulder of lamb, saddle of lamb, lamb shank and lamb rack.
For this recipe, I'm cooking my favourite cut of lamb – leg of lamb.
It's important to note that this type of lamb cut is different to the typical American leg of lamb. The US cut refers to the meat not having the bone or the shank in it.
This is the cut you'll normally find in supermarkets. However, the leg of lamb with the bone or shank adds a little more drama and has a nice visual effect. Plus, you can reuse the bone to make a flavourful broth.
As you can see, this Indian roast lamb has the shank. Once you take the gorgeous piece of meat out of the fridge, you'll need to pierce it a couple of times all over.
This step is important, because when you are ready with your marinade mix, you'll pour it over and it will absorb all the flavours.
The marinating process takes time. After at least 8 hours – overnight works best – your lamb will be ready.
Before you roast your Indian lamb in the oven, bring it to room temperature. This will help it roast to perfection.
It'll take a total of 3 hours to roast.
The marinade
One of the most important parts of this recipe is the marinade. It's made up of 13 different ingredients, all working together in harmony to bring an incredible taste to the roast leg of lamb.
Take the time to go through the list above and be sure to have the ingredients before you start cooking this recipe. Each component is really important and brings its own dimension to create an incredible final taste.
You'll need to give the marinade plenty of time to do its thing – around 8 hours in total or overnight. Giving the marinade time allows the lamb to absorb all the flavours. You'll end up with a fantastically succulent leg of lamb that falls off the bone.
When you apply it to the lamb leg, make sure you completely cover all the surfaces of the leg. This way, when it's in the oven, you'll get an even flavour throughout.
Do you need to marinate lamb?
There is some debate whether marinating the lamb is a good idea. The point of a marinade is to break down tough fibers in any type of meat. Still, lamb is already quite a tender meat, depending on how you cook it.
For this reason, many people believe that using a marinade will make the lamb slightly tougher.
Don't worry! This marinade will not make the lamb chewy.
In fact, it will help to keep the juices from escaping when the whole surface of the leg is covered. This leads to a perfectly moist, tender lamb that'll melt in your mouth.
If you're not a fan of marinades and generally prefer the umami flavour of the meat, no problem. Simply season your leg of lamb with salt, pepper, rosemary and garlic. Sometimes, simplicity is key.
How long does a 1kg leg of lamb take?
When cooking a whole leg of lamb low and slow, it can be difficult to know when it's cooked. The first rule with this recipe is to leave the lamb in the oven until you see a beautiful golden crust on top.
This the crust that prevents the juices from escaping, which in turn keeps the meat nice and tender.
The total cooking time in the oven depends on how you like your lamb on the inside. If you like it pink – so rare to medium rare, you should cook your leg of lamb for about 25–30 mins per kg.
If you prefer your lamb leg well done, roast it for 35–40 mins per kilo.
For me, Indian roast lamb should be pink in the middle. This way, you'll get the most juicy, tender and delicious meat.
If you prefer it well-done, be careful. If you overcook the meat you run the risk of killing the taste and destroying the integrity of this expensive cut.
What wine goes well with spiced lamb?
Finding an ideal wine to pair with this dish can be a bit tricky. This is because of the spiciness in the Indian marinade.
Normally, I'd serve a heavy, fruity wine with a leg of lamb, such as South African Cabernet or a Californian Zinfandel.
This recipe is a little different though. When cooked with the Indian spice mix, the flavour of the spiced lamb and a strong red wine can clash.
So, serving a heavy kind of wine doesn't really work with spicy recipes like this one.
In this case, it might actually be better to choose a lighter red wine, such as a Beaujolais. If you serve it slightly chilled at about 13-15ºC it should complement the dish well.
If you do want to serve a full-bodied wine, something like a quality Pinotage would make a good pairing with spiced lamb. A chilled Shiraz would also work well.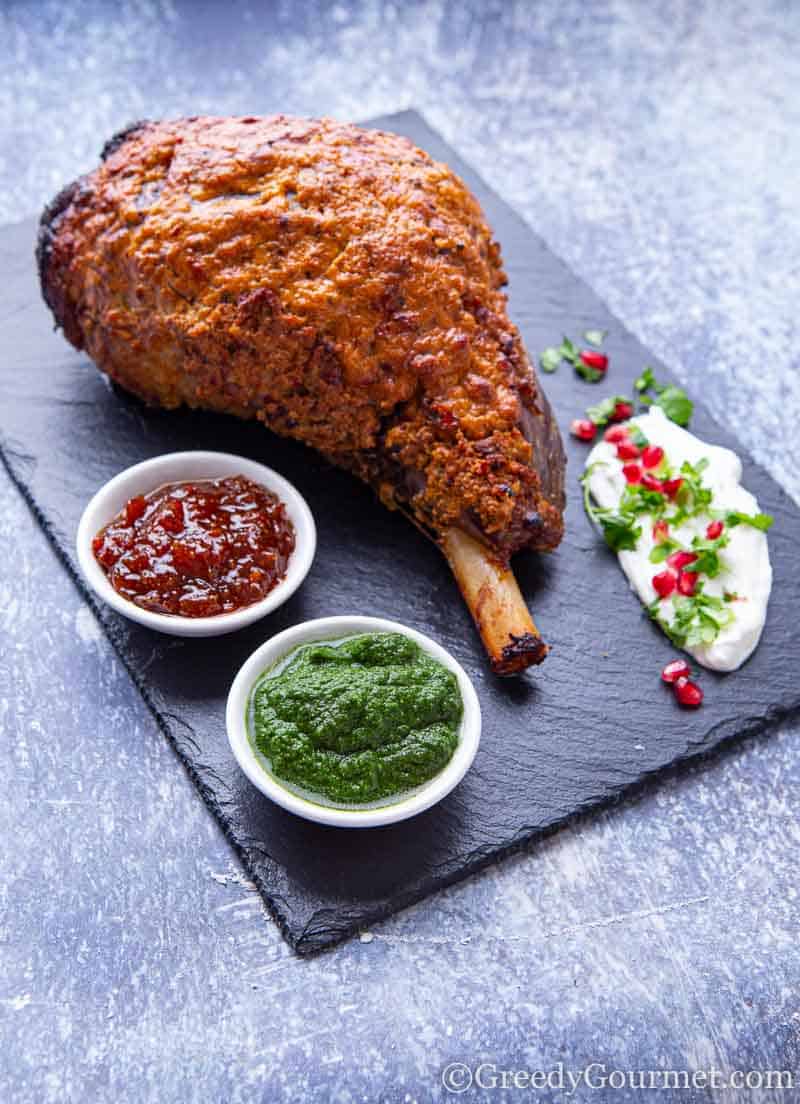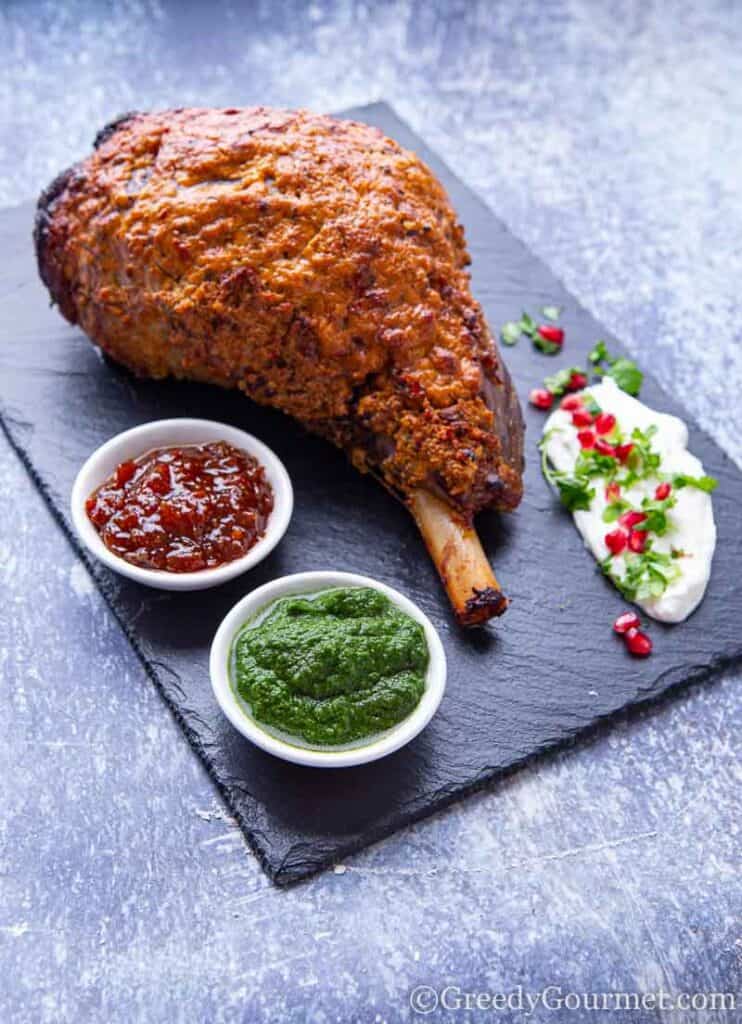 What spices go with lamb?
Lamb is one of the best types of meat to pair with spices. That's why you always see lamb dishes on an Indian restaurant menu. It has a deep savoury flavour that works so well when mixed with an earthy fragrance.
Cumin, coriander, fenugreek, cardamom, and cinnamon all go great with lamb. In fact, these are the ingredients that make up the madras mix.
What herbs go best with lamb?
When it comes to the best herbs to pair with lamb, there's a clear undisputed champion!
Rosemary and lamb are absolutely made for each other. Their flavours work perfectly in harmony with one another.
You can of course add rosemary to this recipe, although with the big flavours that come from the spices it's not necessary. Your best bet is to use rosemary in a side dish – see below – and serve it up alongside this roast recipe.
What is raan?
Raan, or masala raan, is the name given to Indian-style marinated lamb dishes.
The tradition of cooking raan has nomadic roots. It was a staple dish for tribesmen and warriors in central Asia over 1,000 years ago. Back then, goat was the meat of choice.
Raan soon became the dish of choice for the Mughal kings, who ruled over the Indian subcontinent from the 16th to 18th century. Goat was replaced with mutton and, eventually, lamb as the main ingredient.
The Indians' secret to perfect raan was to take the toughest part – the leg – and roast it slowly. When cooked on a very low heat, subtly spiced and marinated in buttermilk, the raan becomes so tender that it would fall off the bone.
Over the years, buttermilk was replaced. For my recipe, I'm using Greek yoghurt, which works great at tenderising the lamb for that all-important melt-in-your-mouth texture.
Is lamb good for you?
Although it's quite high in saturated fats, lamb has so many benefits. When eaten in moderation, the health benefits of eating lamb far outweigh any negatives.
It's absolutely packed full of protein. Protein is crucial when it comes to promoting muscle growth, maintenance and performance. Just one serving contains at least half of your recommended daily amount.
It also contains many essential vitamins and minerals, such as iron, zinc and vitamin B12 – all very important for maintaining a healthy immune system.
This Indian spiced recipe also contains many spices with anti-inflammatory and antioxidant properties, which can help strengthen the immune systems and prevent certain diseases.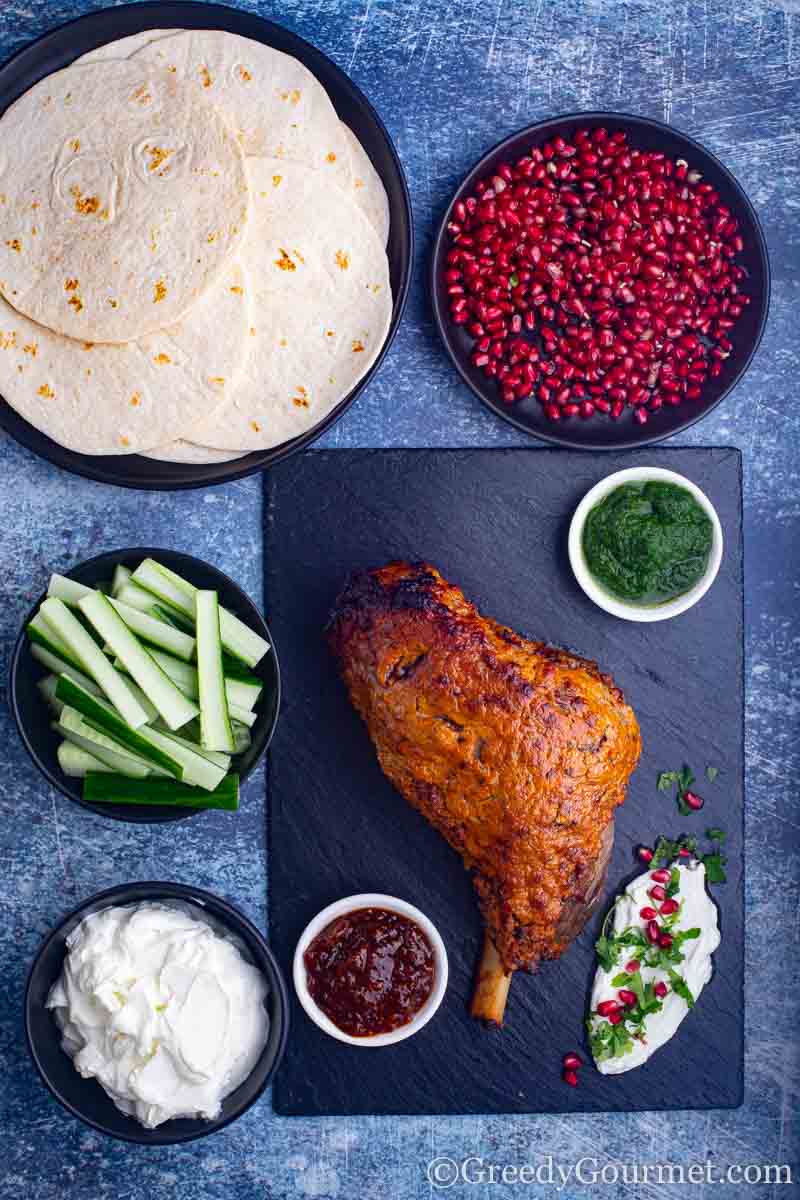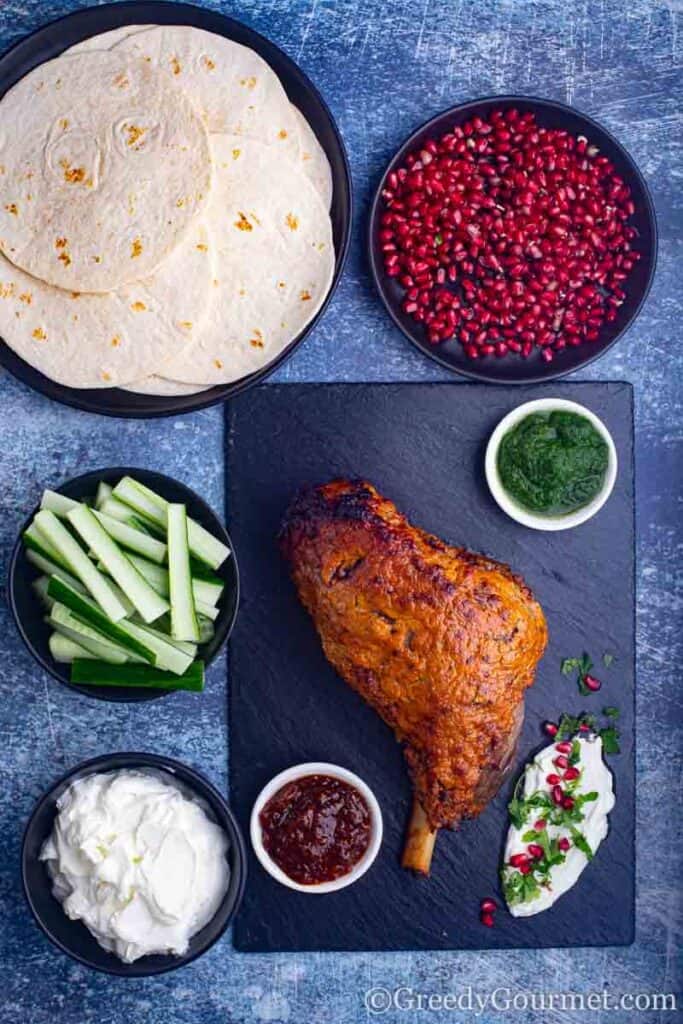 What goes well with spiced leg of lamb?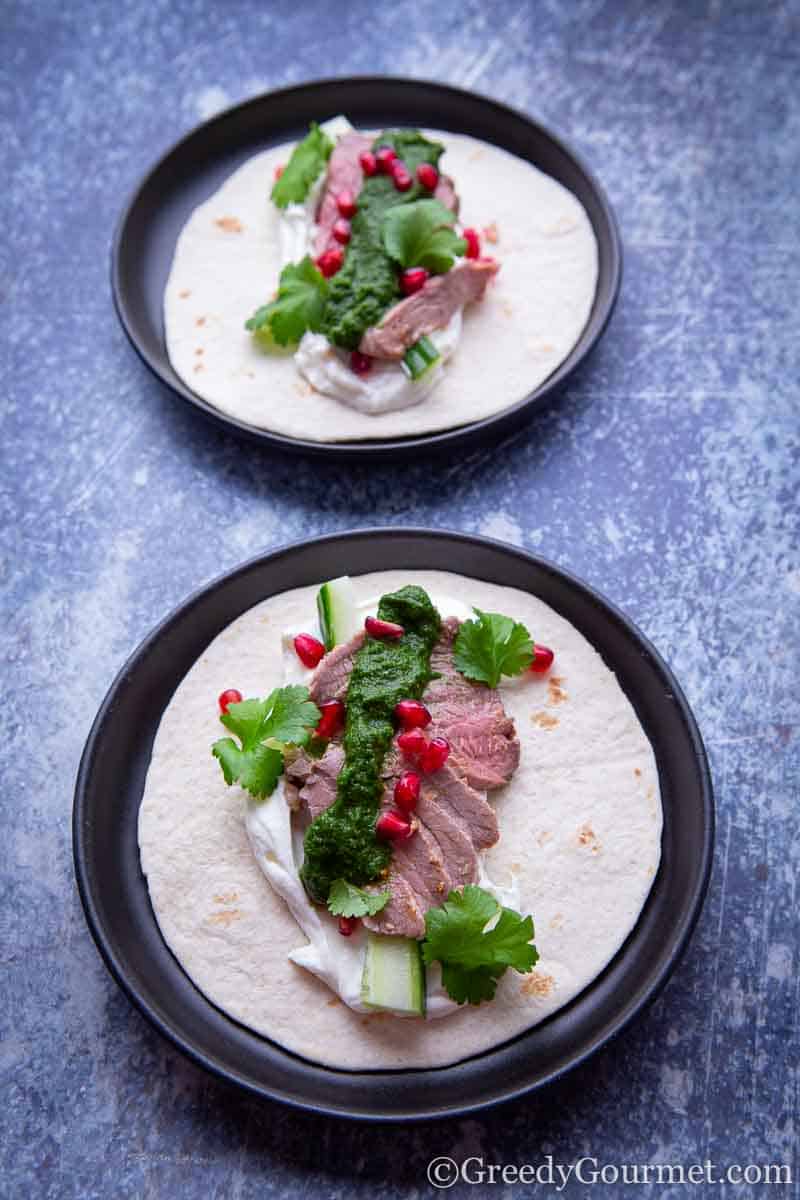 More luscious lamb recipes
Lamb sandwich with avocado and jam – if you have lamb leftovers, this is the recipe for you!
Lamb jalfrezi – traditional curry recipes like lamb jalfrezi are the perfect way to use up leftover lamb
Smoked leg of lamb – you've never made anything like this before. Simply sensational! 
Lamb pasanda – creamy and delicious, this curry can be made with leftover lamb 
7 hour slow-roast shoulder of lamb – a slow cooked masterpiece that will linger in the memory and on the taste buds
Lamb leg steak – fast cooking doesn't get better than this! Cook up these sensation steaks in less than 20 minutes for a quick and easy Sunday lunch
Lamb dopiaza – a spicy, comforting curry that's packed with flavour
Lamb Sloppy Joes – these little bad boys are a tantalising treat that'll make you feel like a giddy little kid!
Honey glazed rack of lamb - you'll be surprised how something so simple can taste so good!
Lamb shish kebab – can you believe that you can make a healthy kebab? Here's the proof. The whole family will love these quick and easy, incredibly tasty kebabs 
Lamb massaman curry – Have you ever made a massaman curry? If not, this succulent Thai curry is soon to become a firm favourite of yours!
Print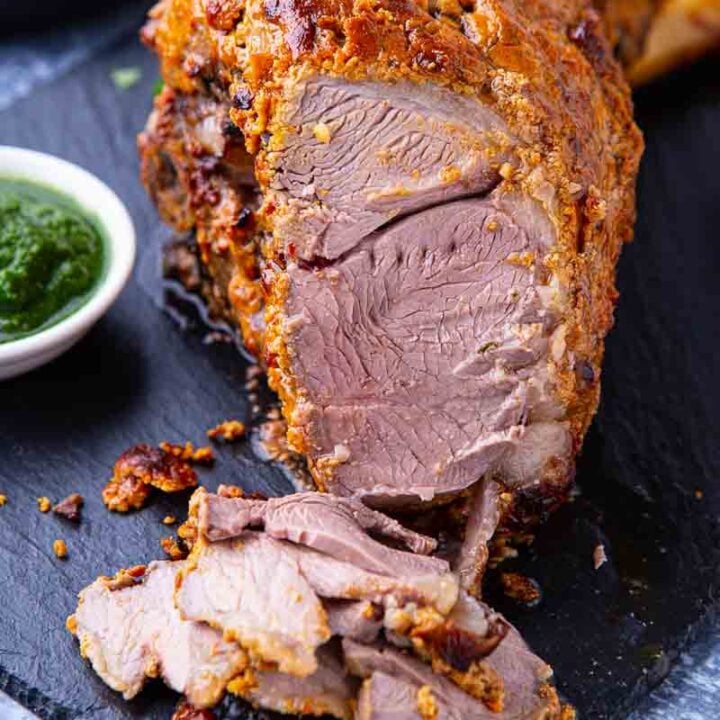 Roast Indian Leg of Lamb
---
Author:

Michelle Minnaar

Total Time:

3 hours 20 minutes

Yield:

8

1

x

Diet:

Gluten Free
Description
Roast Indian Leg of Lamb is a leg of lamb that has been marinated in a spicy yogurt sauce. Serve it fajita-style with yogurt, chutney & pomegranate.
---
2

garlic cloves, chopped

60

ml

(4 tbsp) olive oil

120

g

(4fl oz) Greek yogurt

5

cm (2in) fresh ginger, peeled and grated

2

pinches saffron threads

5

ml

(1 tsp) ground coriander

5

ml

(1 tsp) freshly ground black pepper

5

ml

(1 tsp) Madras curry paste

10

ml

(2 tsp) dried chilli flakes

15

ml

(1 tbsp) tomato ketchup

10

ml

(2 tsp) salt

60

ml

(4 tbsp) brown sugar
Juice and zest of 1 lemon

1

leg of lamb, weighing about 2.5kg (5.5lbs)
---
Instructions
Place the garlic, oil, yogurt, ginger, saffron, coriander, pepper, curry powder, chilli, ketchup, salt, sugar and lemon in a large bowl and stir until smooth.
Pierce the lamb leg in random spots all over and pour the marinade over the meat, ensuring all surfaces are covered.
Cover with cling film, place the meat in the fridge and leave to marinate at least 8 hours but preferably overnight.
Preheat the oven to 320ºF/160ºC/gas mark 3.
Remove the clingfilm and place the meat in an oiled roasting tray.
Cook in the oven for 2 hours. Check that the meat cooks evenly, otherwise you'll need to turn the tray around halfway through.
Crank up the heat to 390ºF/200ºC/gas mark 6 and cook for another 30 mins.
The lamb should have formed a golden, crisp crust.
Switch off the oven and leave the lamb in there for another 30 minutes, then serve.
Notes
Serve as a traditional English roast dinner or in this case I took inspiration from the Chinese favourite, Crispy Duck Pancakes. The components? Lamb, tortilla wraps, cucumber, spiced yogurt and pomegranate seeds. Enjoy!
Prep Time:

20 minutes

Cook Time:

180 minutes

Category:

Main Course

Method:

Roast

Cuisine:

Indian
Keywords: indian leg of lamb, roast leg of lamb, marinated leg of lamb, slow cooked leg of lamb
save the recipe to your pinterest board