A great dish for a special occasion, this smoked salmon terrine recipe never fail to impress. It looks seriously elegant and complex, when in fact it's an absolute breeze to prepare.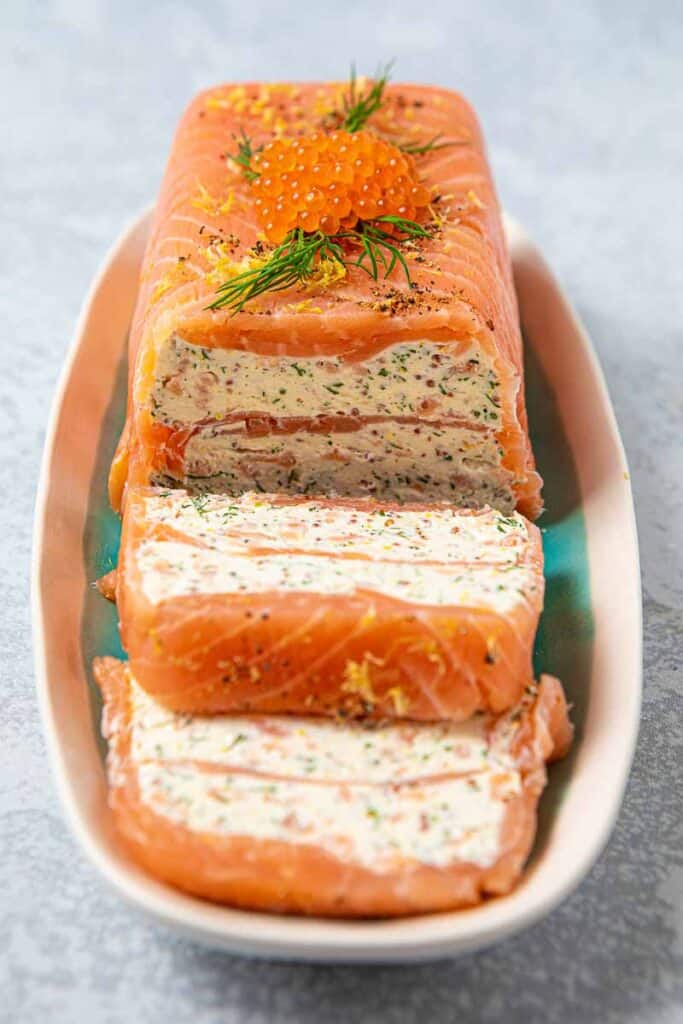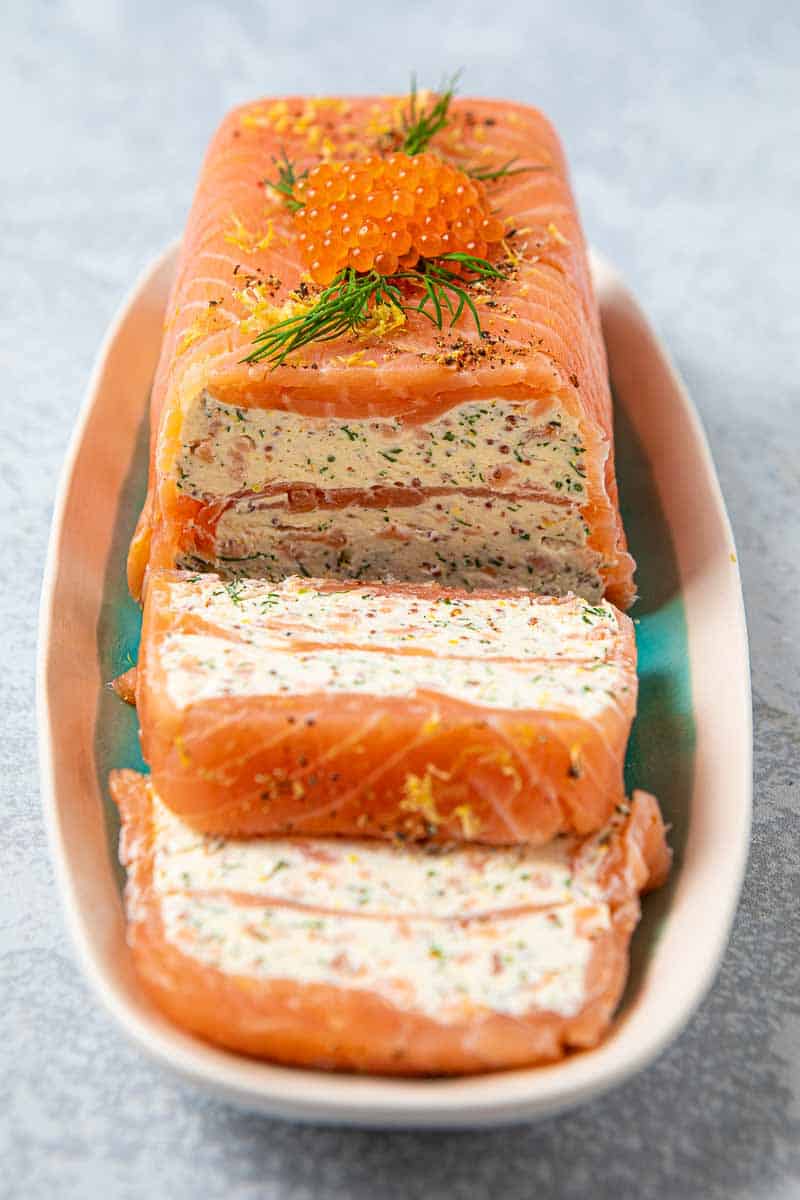 So, if you want to look like a superstar chef with just a little effort, try this terrine recipe. Whether you make it as the star appetiser at your Christmas party or a weekend treat, this smoked salmon recipe is an absolute must!
Salmon terrine recipe
Making salmon terrines is like creating a delicious work of food art. Serve this at a party and leave guests breathless, first with its knockout looks, then with its rich, delectable taste.
How to make smoked salmon terrine
A parcel with cold smoked salmon slices on the outside and a mouth-watering mixture of cream cheese, crème fraîche, wholegrain mustard and chopped up hot smoked salmon, terrine of smoked salmon is as classy as it is delicious.
Don't tell guests that it only took a few easy steps to create this smoked salmon starter.
Products you'll need to make this recipe
There are a few essential items and ingredients that you'll need when it comes to making this recipe.
Ingredients you'll need to makes this recipe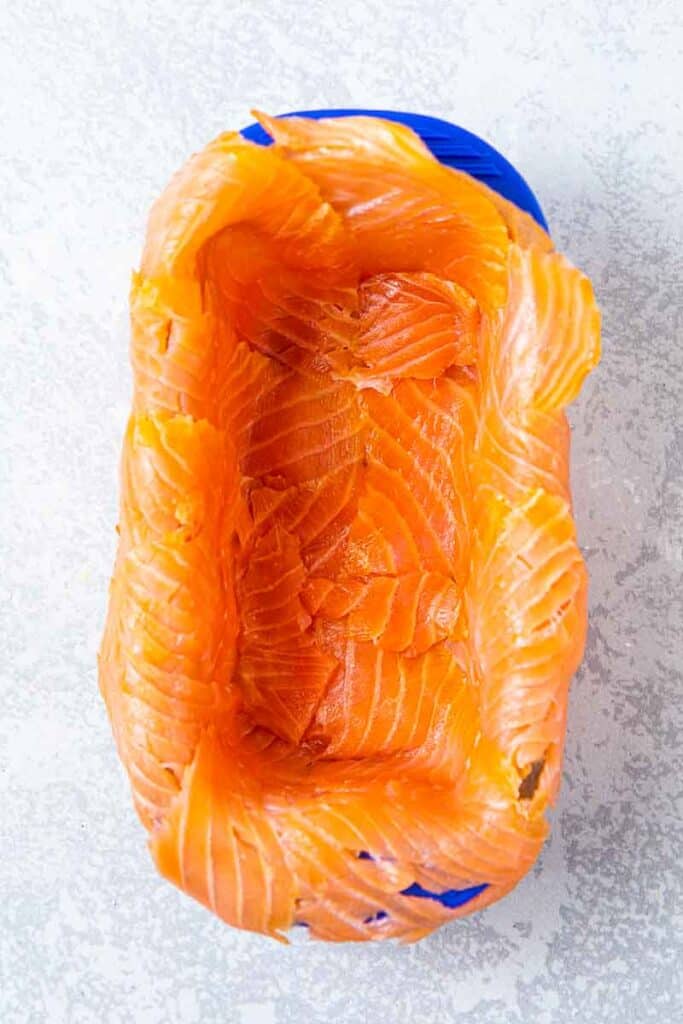 How long can you keep terrine?
You can store terrine in the fridge for up to 4 days, although you'd do well to not devour it within 4 hours.
What is the difference between pâté and terrine?
Pâté is usually made from liver (duck, chicken, fish and pork are common) and is normally a lot finer in texture than terrine.
Also, pâté can be made into any shape or size. Pssst, check out this chicken liver pate!
A terrine is characterised by its distinctive shape – it is always made in a loaf tin. Terrines can be made from lots of different types of meat, from pork and lamb to duck and, of course, salmon. You can also add a layer of puff pastry to the outside of a terrine.
What do you eat with terrine?
The best thing to serve with this amazing terrine is a light, healthy, leafy salad.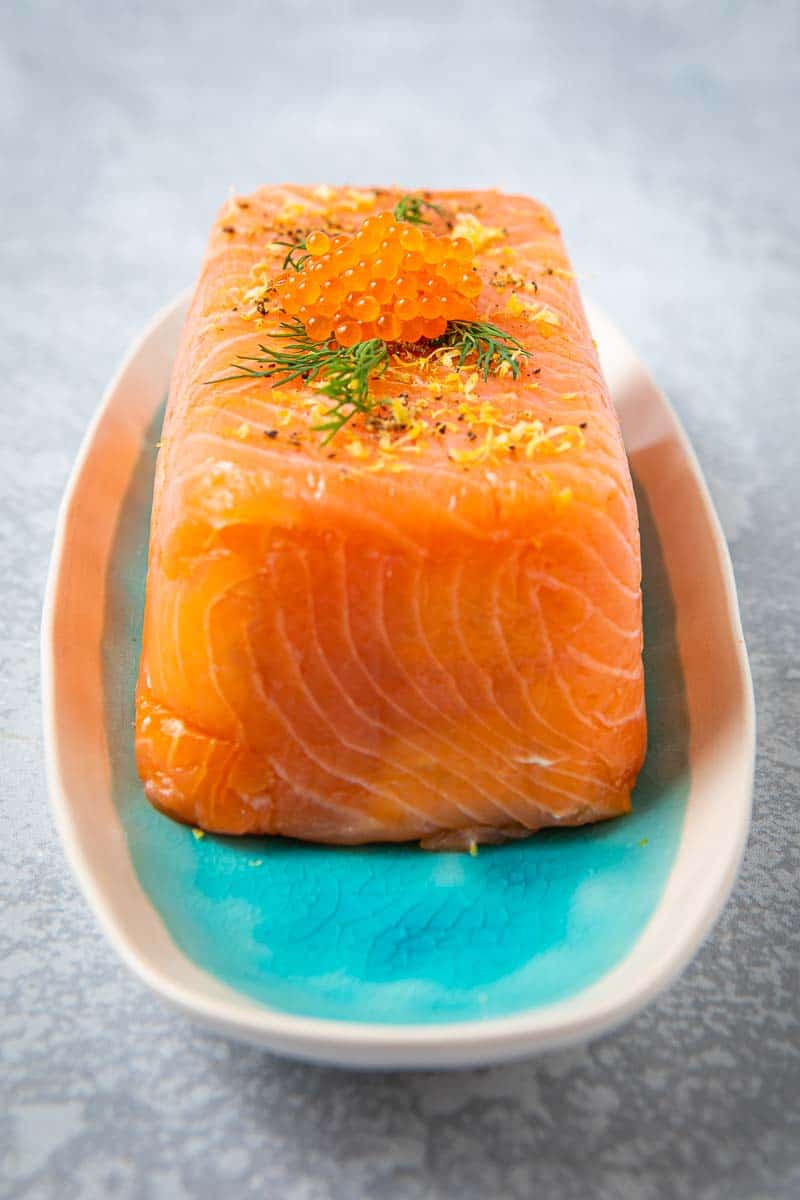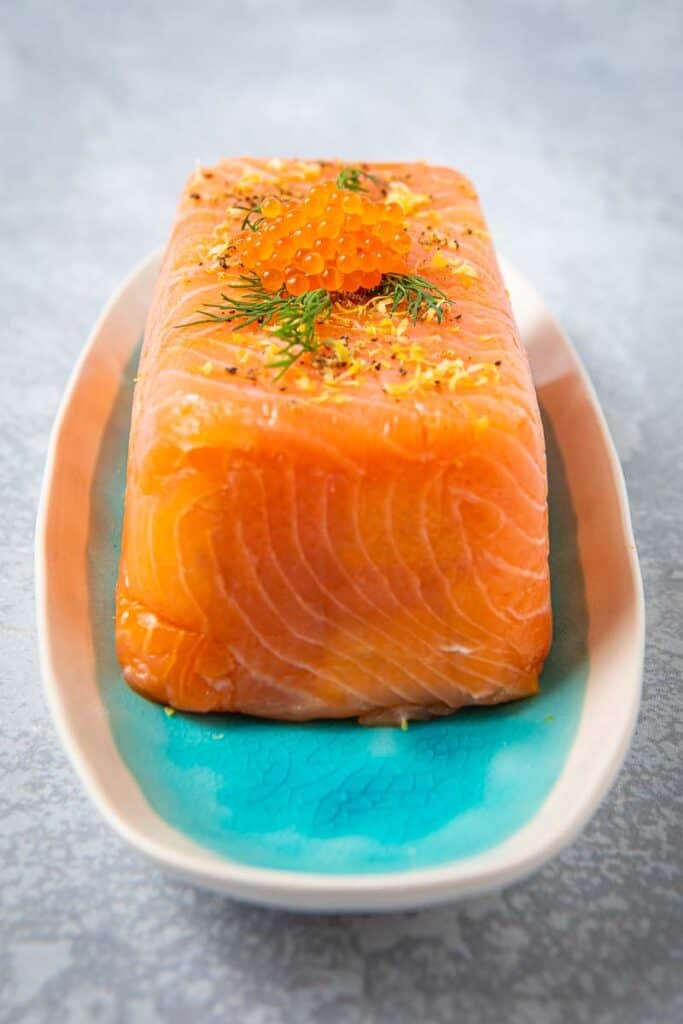 Other smoked salmon recipes
How did your terrine turn out? Let me know in the comments below!
Print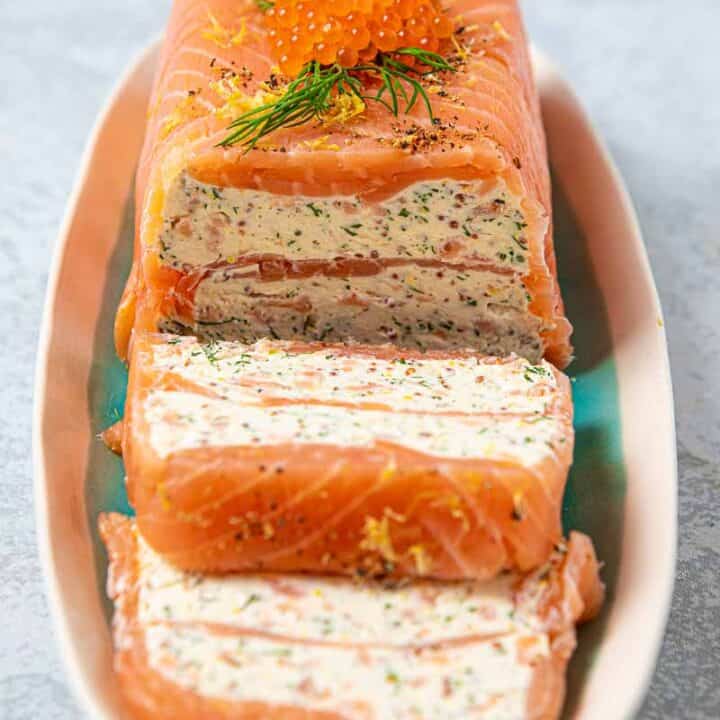 Smoked Salmon Terrine
---
Description
Smoked salmon terrine comprises a creamy filling wrapped in smoked salmon slices. A perfect smoked salmon starter for Christmas. Serve with salad and crackers.
---
---
Instructions
Soak the gelatine in a little bit of water in a small bowl until softened.
Meanwhile, line a 450g/1lb loaf pan or terrine with clear film (plastic wrap). Use some of the smoked salmon to line the pan, laying the slices widthways across the base and up the sides and leaving enough hanging over the edge to fold over the top of the filling.
Set aside enough of the remaining smoked salmon to make a middle layer the length of the pan. Chop the rest finely by hand or in a food processor. Take care not to over-process the salmon; it must not form a paste.
In a bowl, beat the cream cheese, crème fraîche, mustard and dill until well combined. Scrape in the chopped salmon and mix with a rubber spatula or a spoon until well combined.
Squeeze out the gelatine and put the sheets in a small, heavy pan. Add the lime juice. Place over a low heat until the gelatin has melted, cool slightly, then stir into the salmon mixture.
Spoon half the mixture into the lines pan. Lay the reserved smoked salmon sliced on the mixture along the length of the pan, then spoon on the rest of the filling and smooth the top.
Tap the pan on the surface to expel any trapped air. Fold over the overhanging salmon slices to cover the top. Cover the whole pan with clear film and place in the refrigerator to chill for at least 4 hours, preferably 6-8 hours.
Notes
Serve with a lightly dressed leafy salad.
Powdered gelatin can be used instead of the sheets. Substitute 15ml (1 tbsp) powdered gelatin. Sprinkle it over the cold water in a heatproof bowl then set aside until spongy. Place the bowl over simmering water until the gelatine has liquefied completely before adding it to the terrine mixture.
If you can't get hold of dill, you can substitute it with chives.
Dijon mustard is an acceptable alternative to wholegrain mustard.
Prep Time:

30 minutes

Cook Time:

0 minutes

Category:

Starter

Method:

Chill

Cuisine:

French
Keywords: smoked salmon terrine, salmon terrine recipe, smoked salmon starter, salmon mousse, smoked salmon mousse, terrine recipe