Sous vide lamb shoulder is not a dish you can rustle up in half an hour after racing home from work. That said, the sous vide lamb shoulder requires very little preparation. Although it might sound foreign and complicated, it's a surprisingly easy dish to prepare and technology will do most of the work for you. All you need is a high quality lamb shoulder, a vacuum sealer and a Joule sous vide. Your reward? A restaurant quality meal.
This sous vide lamb recipe is an excellent dish if you are having people round for dinner over the weekend. This is because it allows you to spend more time with your guests and less time monitoring the stove in the kitchen. That's the beauty if having an amazing sous vide machine! Furthermore, you can play around with seasoning and take the sous vide lamb shoulder in any direction you like. While the Joule is doing its job, you can prepare side dishes to complement the lamb dish.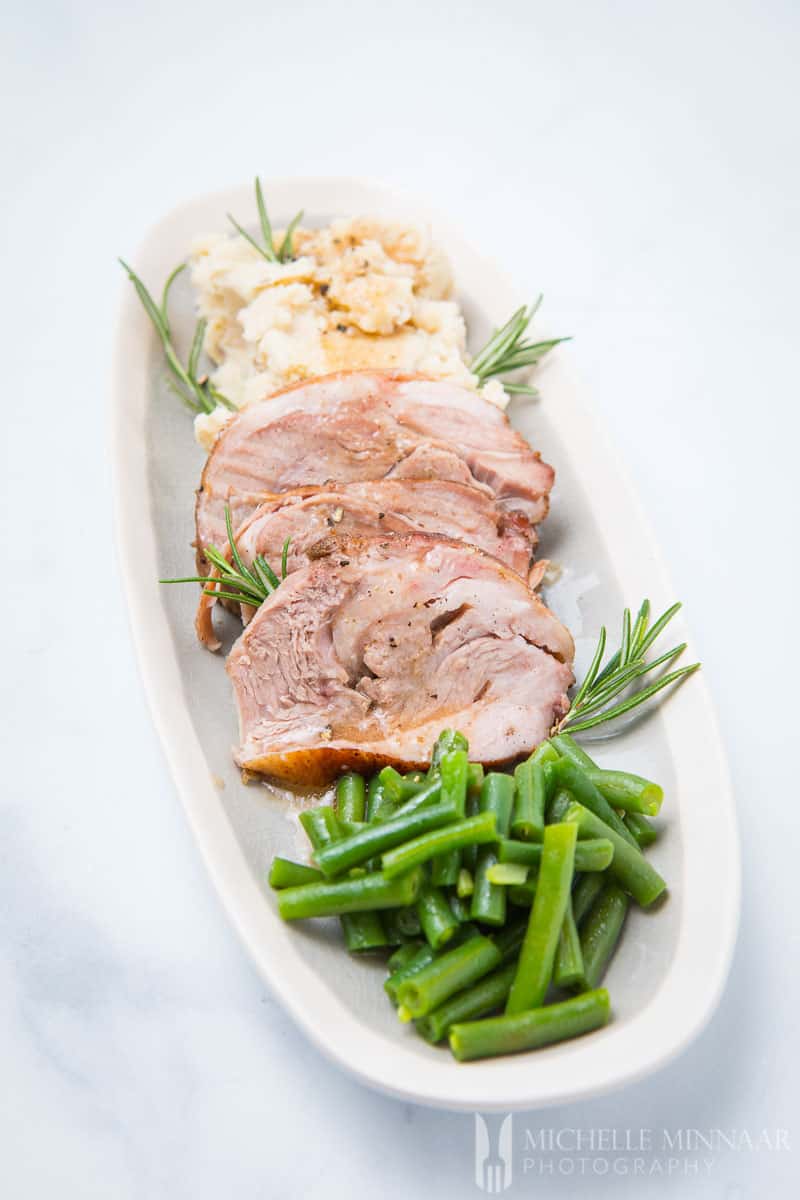 Sous vide lamb shoulder with Joule by Chefsteps
In recent years, the French cooking technique of sous vide has become very popular. As the gadget became cheaper over the years, the cooking technique is not restricted to upper-class restaurant kitchens anymore.
In past years, I've dabbled with sous vide machines and was quite surprised when the Joule Sous Vide by Chefsteps came along. Usually, sous vide machines are quite large and clunky. In stark comparison, the Joule is compact and doesn't take up a lot of storage space – a big plus!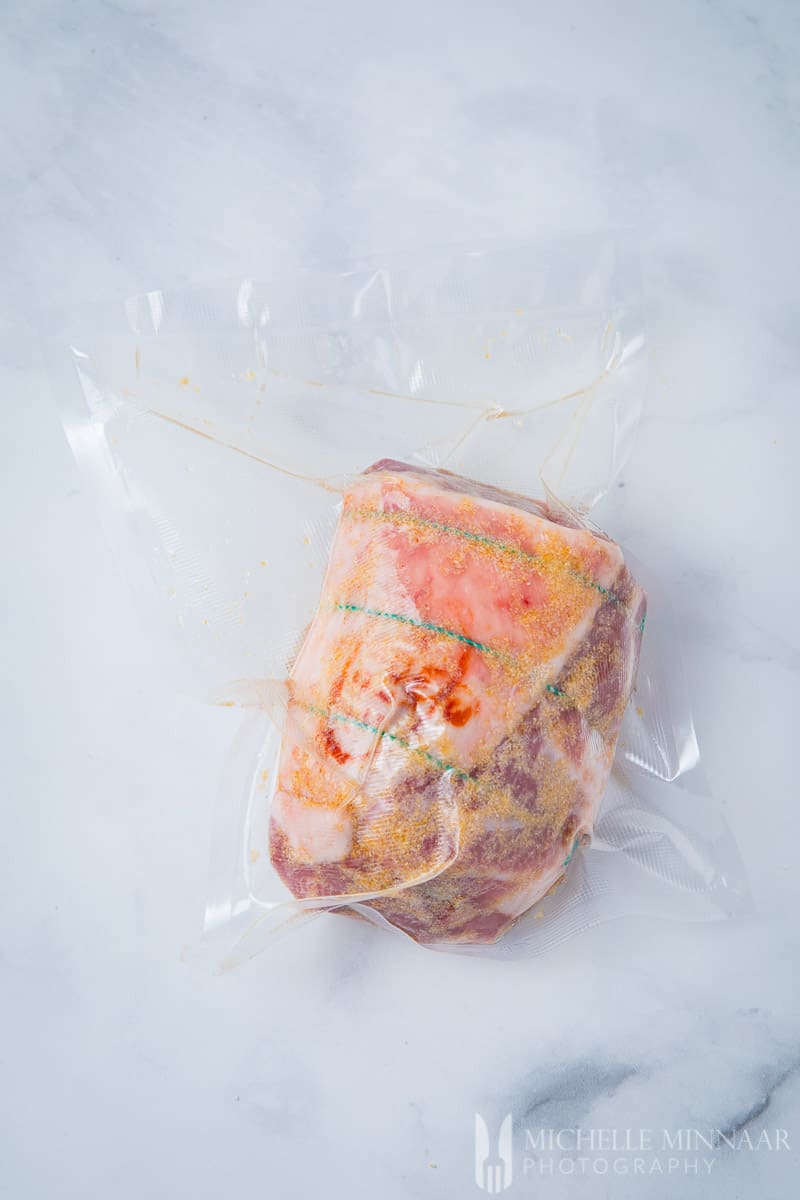 This is due to the Joule not having its own built-in water bath. Instead, you can simply use any saucepan you already own for the purpose and simply attach this handy cooking tool to it. The Joule measured at 27.9cm and weighs 0.5kg, which makes it the smallest, yet smartest and most powerful sous vide available on the market today.
Even better is the fact how smart the Joule is. You can download its app on your Apple or AAndroidphone and control the machine's temperature and cooking time. It doesn't stop there. You also have access to hundreds of cooking guides and delicious recipes for further sous vide adventures. Great thought and effort have been put into making the product easy to use and not intimidating the uninitiated. Now anyone can cook and enjoy top quality meals at home, thanks to the Joule Sous Vide by Chefsteps.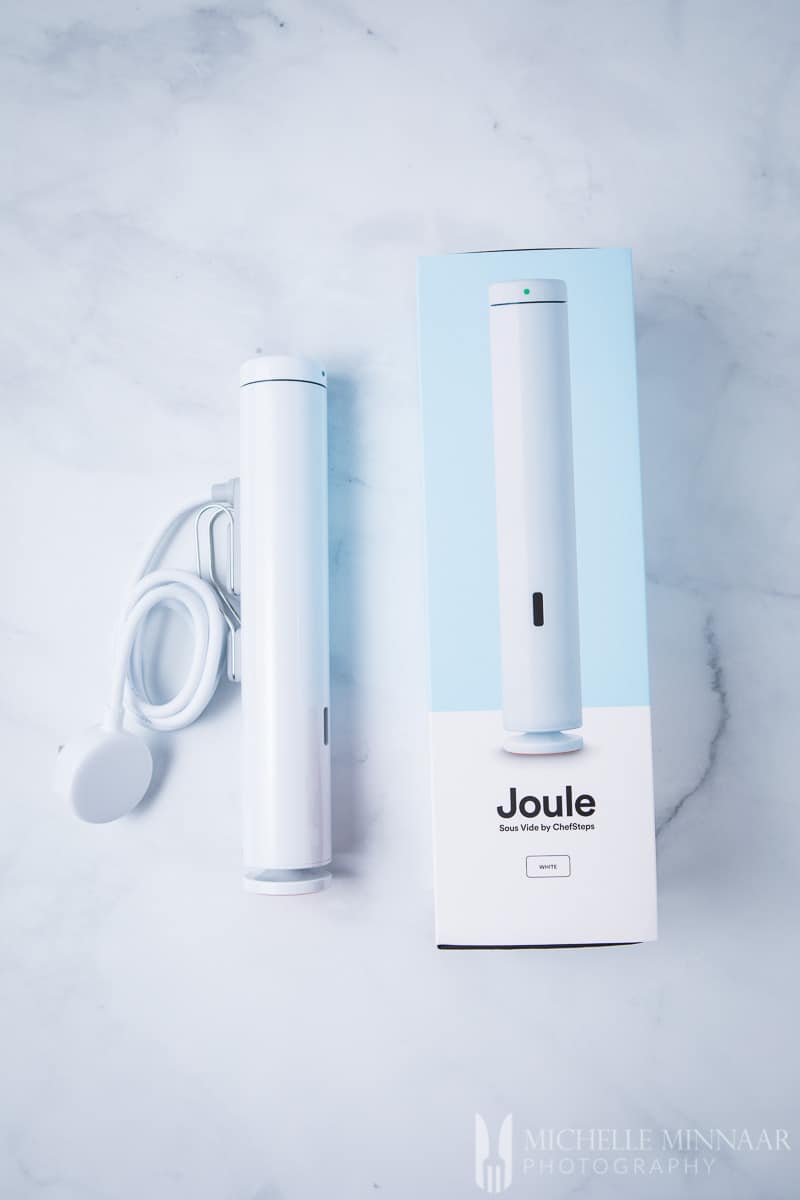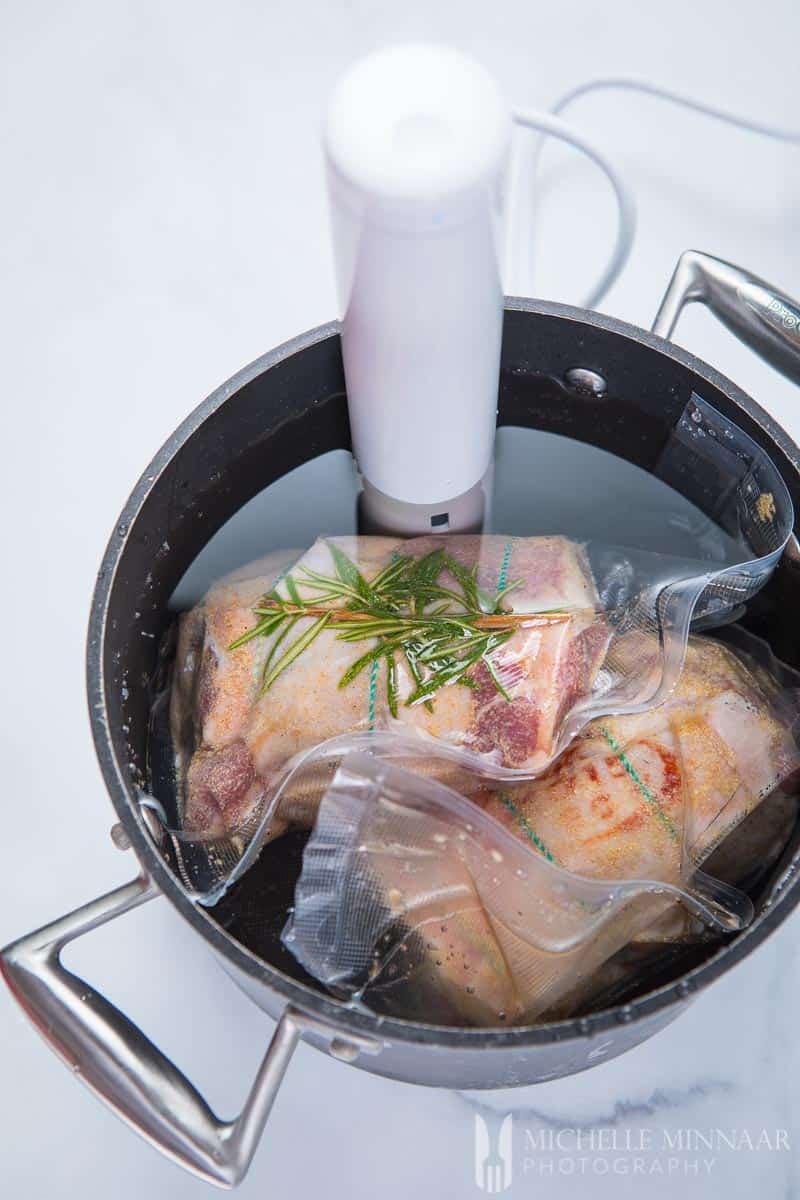 why should you sous vide lamb shoulder?
Well-prepared lamb is one of the tastiest meat you can enjoy. If you love lamb as much as I do, have a look at my BBQ rack of lamb or Indian roast leg of lamb too for more inspiration. These lamb recipes are just spectacular!
However, by cooking lamb with the sous vide technique, you obtain a different kind of elegance in your dish. The sous vide is the safest way to get perfectly cooked meat every time because in the process the food is pasteurised. The long cooking time breaks down the fibres in the meat, giving you the most tender results. As you cook the meat inside a vacuum sealed pouch, all the juices and flavours remain inside, giving you the maximum amount of flavour. Moreover, the seasoning you choose will really sink into the meat during the cooking.
The sous vide technique doesn't only apply to lamb. You can use it with beef, poultry, seafood, eggs, and even vegetables.
how to sous vide lamb shoulder
For my sous vide lamb shoulder, I stuck to a simple seasoning of salt, garlic and rosemary. Garlic and rosemary complement the lamb extremely well and is not without reason one of the most popular seasonings for lamb. These are classic French flavours that won't disappoint.
On the other hand, the use of sous vide allows you to really experiment with flavours and seasoning. You can put your own twist on this recipe. How about a Moroccan inspired lamb shoulder? Add parsley, paprika, cinnamon and lemon zest into the pouch and you have a delicious oriental sou vide lamb shoulder. Otherwise, create an Indian inspired lamb recipe. For ideas, look at this Indian lamb chop recipe.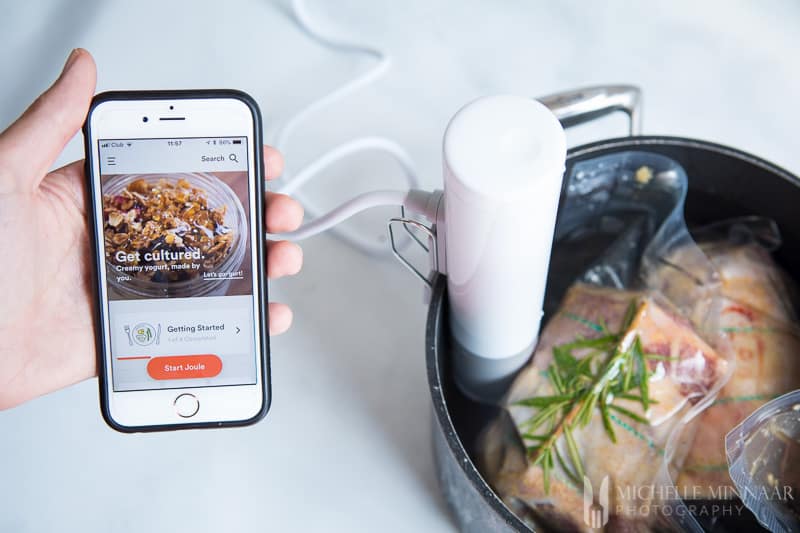 What to serve with the sous vide lamb shoulder
Sometimes less is more, and I have opted for quite some simple sides. By serving the sous vide lamb shoulder with a good mash and green beans, you can enjoy the purest lamb flavour; especially, if you drizzle it with the juices from the cooking pouch.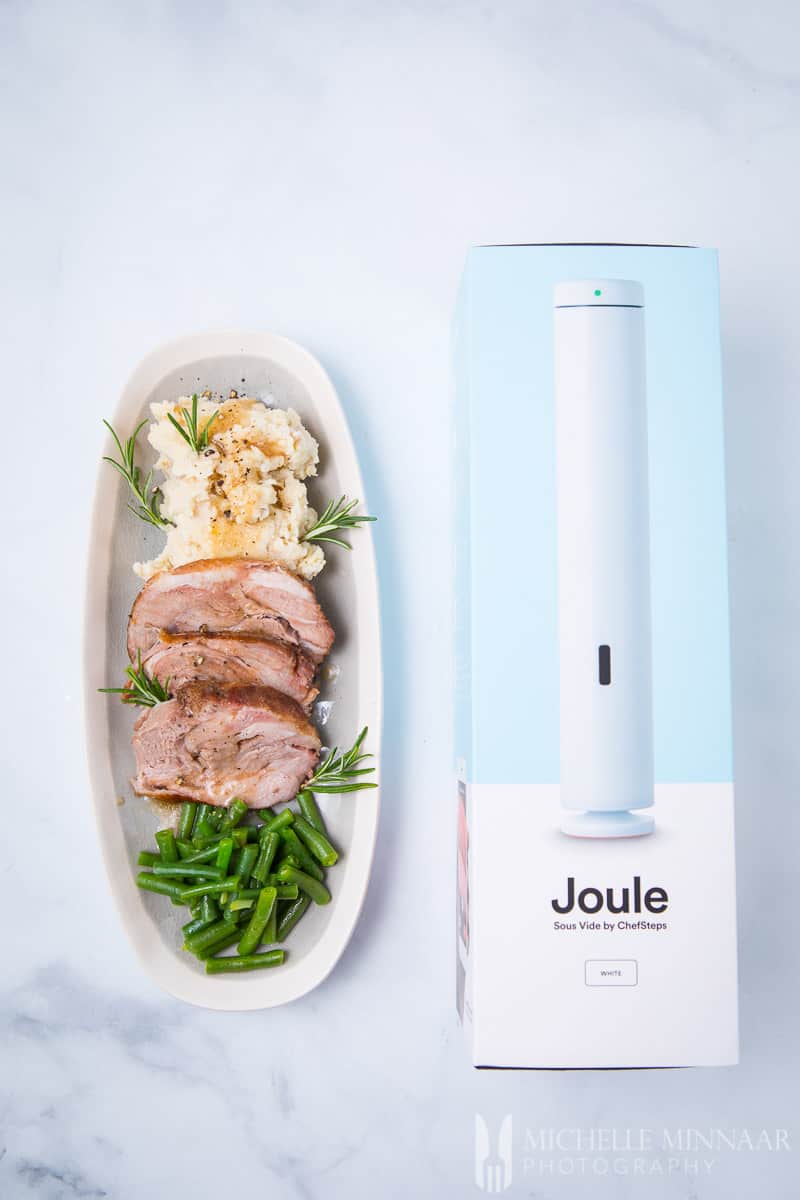 There is nothing better than a good mash with gorgeous slices of meat. However, it doesn't always have to be a classic potato mash. How about cauliflower mash? The sweet, creamy richness of the cauliflower mash is an excellent companion for sous vide lamb shoulder.
Depending on the number of people you are going to feed, you can create even side dishes. For example, if you're planning on hosting on a Sunday, you can create the meal in the style of a classic Sunday roast by serving it with rosemary roast potatoes. Again, the combination of lamb and rosemary is simply heavenly. If you crave sweet potatoes, make this mash!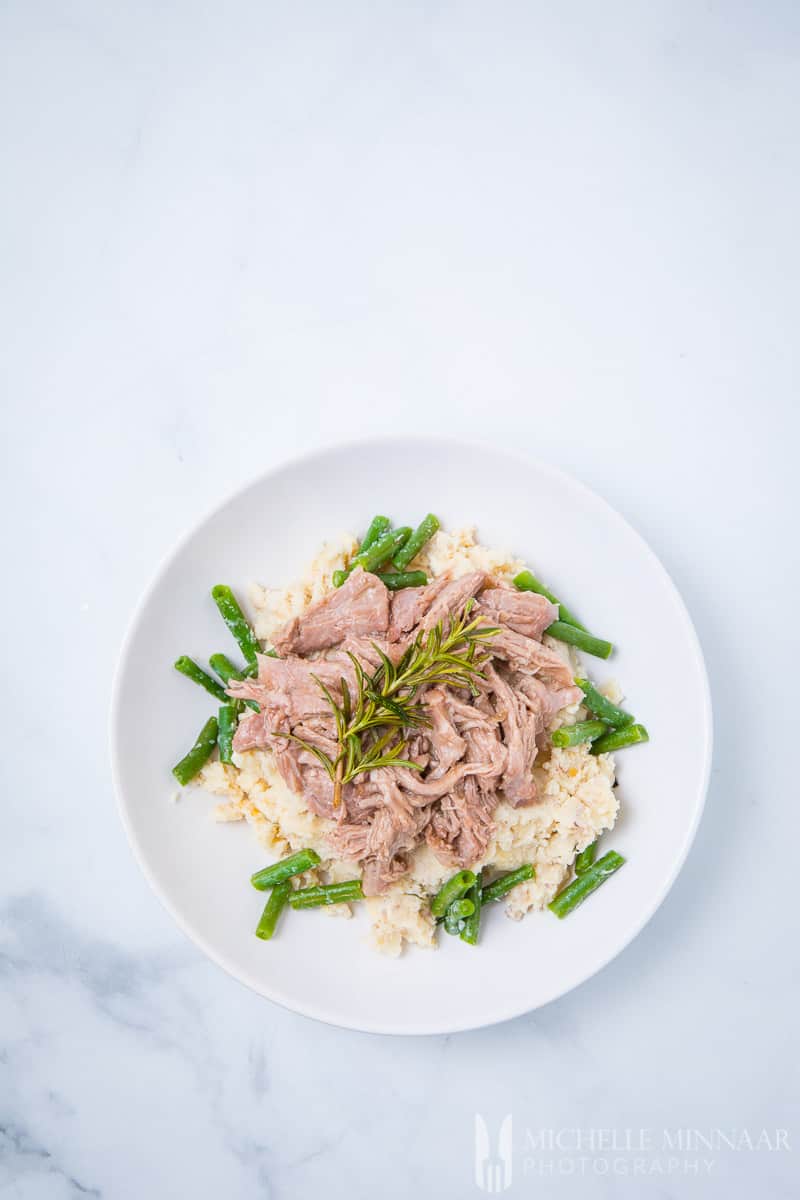 Alternatively, any oven roasting root vegetables, make for a delicious and seasonal side dish. Examples are potatoes, carrots, beetroot, celeriac, parsnips or Jerusalem artichokes.
What is your favourite sous vide recipe?
Print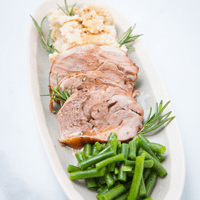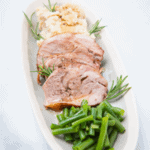 Sous Vide Lamb Shoulder
---
Author:

Michelle Minnaar

Prep Time:

15 minutes

Cook Time:

24 hours

Total Time:

24 hours 15 minutes

Yield:

6

1

x
Description
Sous vide lamb shoulder is so elegant! Refine a lamb shoulder recipe with the sous vide cooking technique. Nobody can resist tender & juicy lamb shoulder.
---
1

kg (2lbs) shoulder of lamb, deboned and rolled

15

ml (1 tbsp) garlic powder

15

ml (1 tbsp) onion salt

2

rosemary springs
---
Instructions
Rub the lamb all over with the garlic powder and onion salt.
Vacuum seal the meat and rosemary in a plastic pouch.
Place the Joule in a large pot filled with water.  
Using the Joule app on your mobile phone, set the Joule to keep the water heated at 70°C (160°F) for 24 hours.
When the water has reached the correct temperature, submerge the pouch in the water.
After the cooking time has transpired, remove the pouch.
Drain the juices in a gravy boat and carve the meat.
Serve immediately with the juices.
Notes
There is a marker on the Joule to indicate the maximum amount of water allowed. Adhere to it!
You can tinker with the juice produced while cooking by adding other ingredients but it tastes lovely as is!
Category:

Main Course

Cuisine:

French
Nutrition
Serving Size:

1 serving

Calories:

301

Sodium:

665 mg

Fat:

16.4 g

Saturated Fat:

6.2 g

Carbohydrates:

1 g

Protein:

35.1 g

Cholesterol:

123 mg
save the recipe to your pinterest board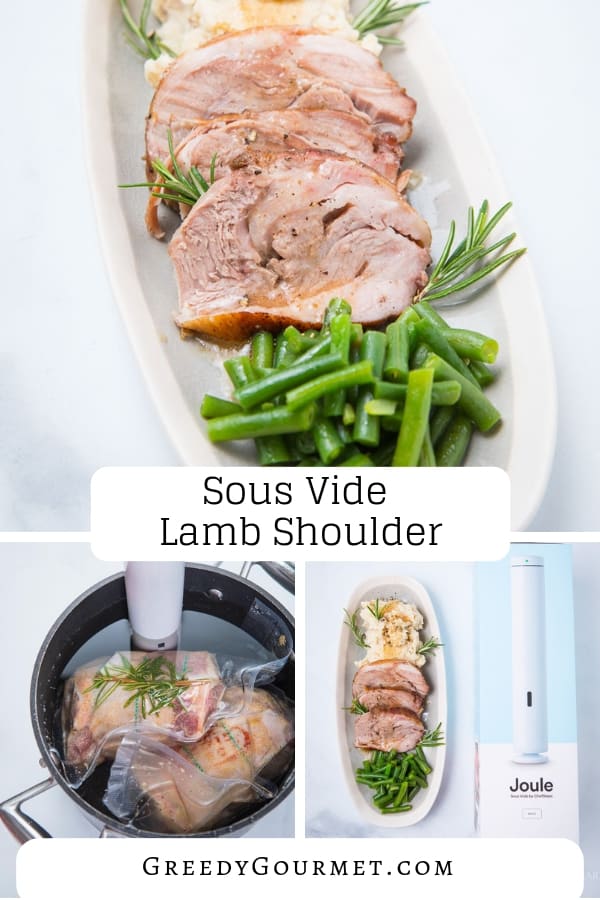 P.S. This is a sponsored post.