If you are looking to master the technique of brining chicken, then look no further. This is literally the best and ultimate guide to brining chicken. In this article, you will learn how to brine chicken correctly. More specifically, this guide will show you how to brine an entire chicken altogether, while also teaching you techniques on how to separate parts of a chicken. For example, after reading this, you will easily be able to make simple brined chicken thighs, breasts, you name it. Ultimately, your chicken will be so juicy and so tender, you'll never go back to cooking chicken without a brine. Keep reading to find out more about brined chicken and the entire brining process.
the ultimate guide to brined chicken and brining chicken parts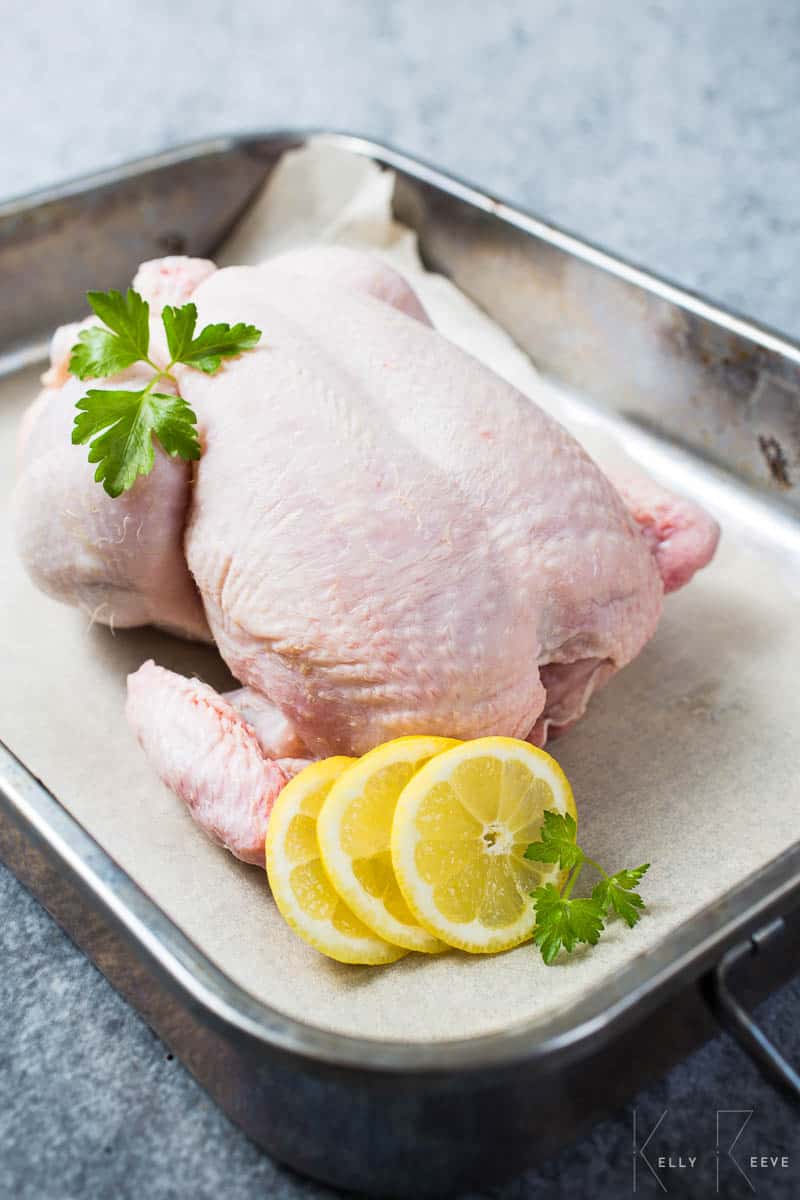 Brining chicken is an age-old process that makes the most delicious and juiciest chicken of all. Once you've made brined chicken, you'll know the difference between a chicken cooked without a brine and brined chicken. Trust me. Brined chicken is known to deliver a moisty, juicy and tender result when properly approached – especially, if you make a brine with your favourite seasoning. If you've never tried cooking a chicken recipe with a brine, then this is your chance. Thanks to this ultimate guide to brined chicken, soon you'll become known for making the best chicken ever!
brining history
The history of brining goes way back to the origins of salt! Do you know when that is? Go back to the year 6050 B.C.! This was the great time of the ancient Egyptians, who used salt as a part of their religious offerings to the gods. It was used throughout the centuries before the Chinese, around 2700 B.C., discovered previously unused pharmaceutical applications. Indeed ancient Chinese traditional medicine took advantage of many varieties of salts. Moreover, this was in essence the first time a salt brine was developed to improve the efficiency of Chinese medicine.
During Roman times in the Mediterranean, salt brines were used to help preserve dried fish. However, people used natural salt brines such as sea water, in which they would dip the fish to reduce any dangerous bacteria. Throughout history, brining evolved and got more sophisticated. Nowadays, brining chicken is a must! I'm sure those of you who are used to brining chicken know that a chicken without a brine will never taste the same!
what is a salt brine?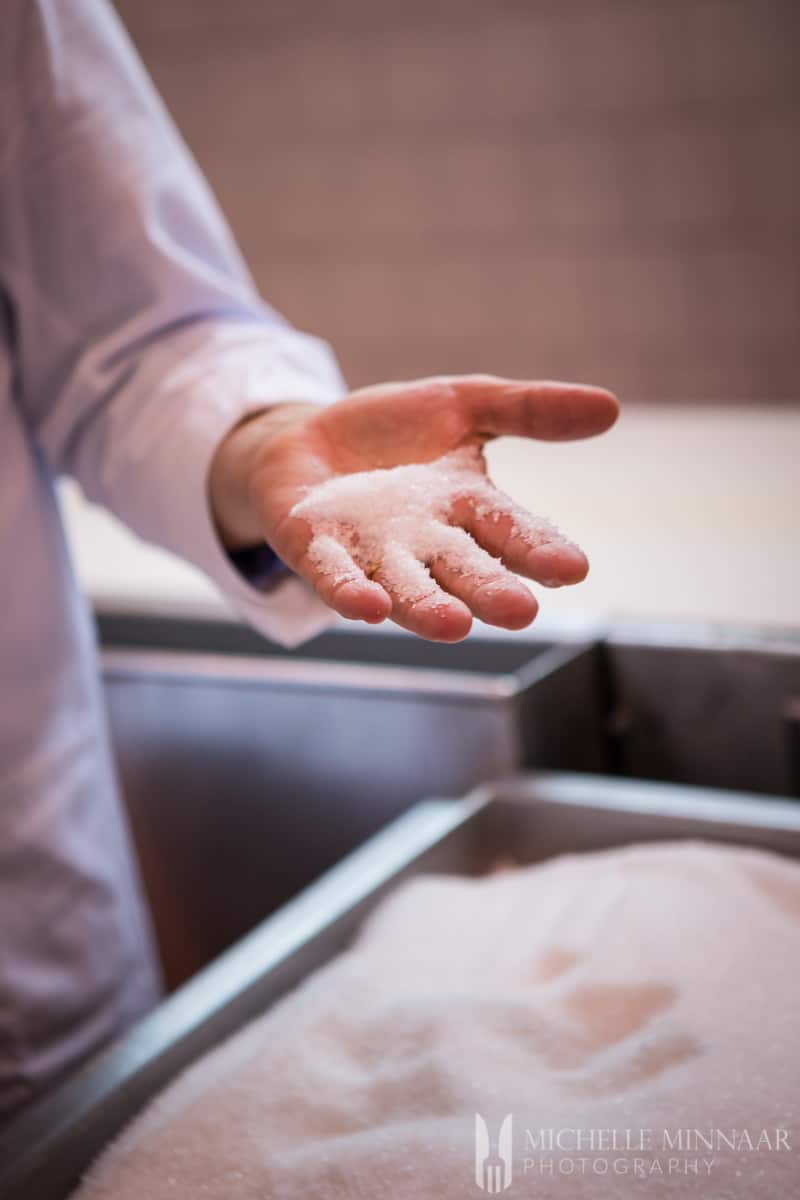 Simply put, a brine is a solution of water, salt and other herbs (often added only for the purpose of seasoning). A brine usually includes water, salt and sugar (sometimes vinegar, caramel, spices and other herbs). You can easily make a salt brine at home, however there are also naturally occurring salt brines that are located deep underground in the vicinity of salt lakes.
In the modern day, a brine is used as a preservative for many ingredients, such has meat, fish, vegetables, cheeses and more. A salt brine is also used for pickling, curing and marinating during the cooking process. Lastly, brines are also used in the processes associated with industrial cooling systems (due to their low freezing temperatures).
brining process explained
The process of brining means treating your chosen ingredient with a dry brine (salt rub) or a wet brine (salt solution). In either case, when taking meat into account, the salt and sugar used in a brine break down the proteins inside the muscles of the meat. Every time you cook meat, fish and vegetables, the cooking process contracts the ingredients forcing moisture out. Basically, the heat from the cooking dehydrates the ingredients.
Now, coming back to the meat, due to the fact that the brine weakened the protein, the muscles will absorb more moisture. In addition, that will release more of the moisture during the cooking process to make your chosen meat super-juicy and tender!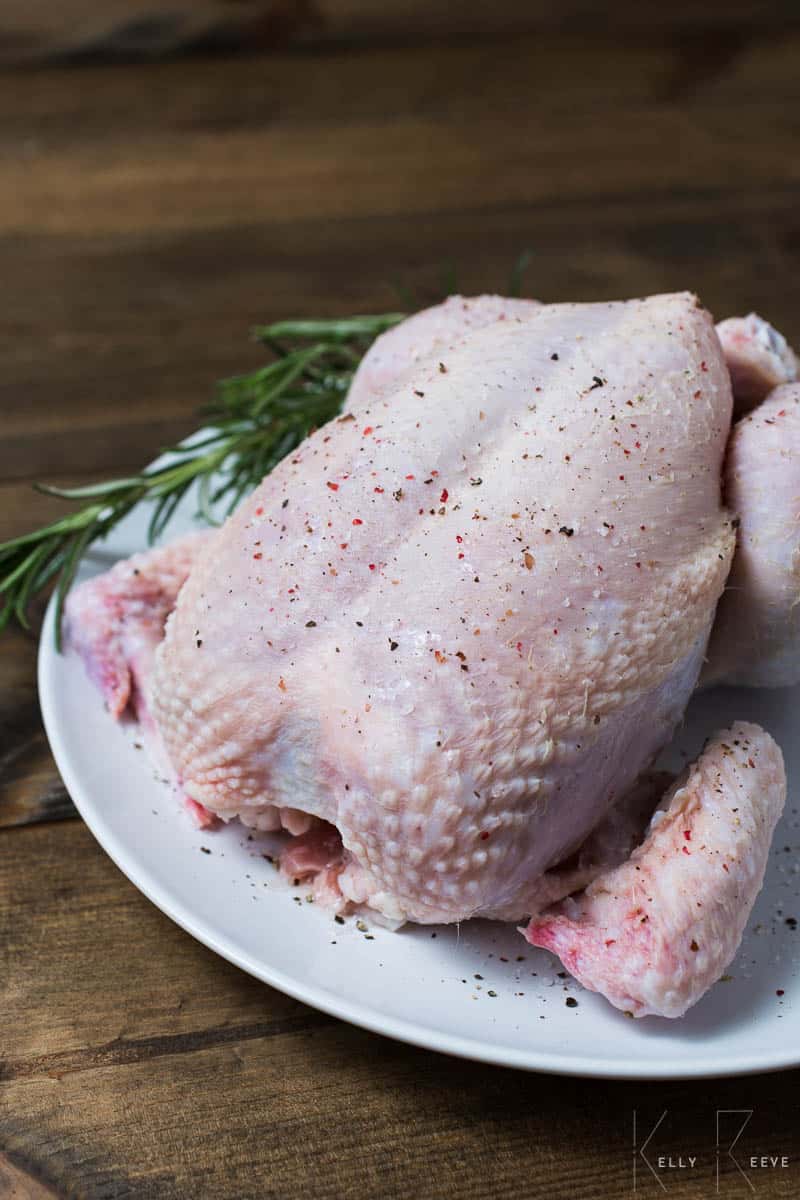 dry brine
Dry brining shares many similarities with the process of curing. A dry brine simply means rubbing salt (can also be ordinary kitchen salt) into the chosen ingredients. Notably, a dry brine works best with meat. So for example, dry brining chicken involves covering the meat with fine or coarse salt which is then left to rest for many hours. In comparison to the curing process, curing always involves drying the ingredients first. Initially, one must dehydrate the ingredient and then apply salt, leaving it to cure for a long period of time. This is commonly done with the world famous Prosciutto di Parma. A dry brine is used more for extracting moisture out of ingredients before the cooking process.
In terms of the chemical process, the applied course salt draws moisture from the meat's surface and interior. The moisture (water molecules) mix with the salt and then get reabsorbed. This means that the meat in fact brines in its own juices. Depending on the size of the meat, you leave the salt rub on anywhere from 30 minutes to a couple of hours. Next, to get the meat ready for cooking, you need to rinse off the salt on the exterior and simply cook.
wet brine
First and foremost, don't confuse applying a wet brine with marinating! Marinating means soaking the ingredient in a brine to add flavour and tenderise prior to the cooking. In addition, pickling is also a whole other process, which does use a brine but for a much longer period of time. Here, the ingredients undergo a process that's called anaerobic fermentation. Typically, the pickling brine also includes vinegar in order to extend the durability of the ingredients.
In contrast, applying a wet brine to ingredients generally takes up to 24 hours.
What usually happens if you apply a wet brine to meat, for example, is that the salt ions diffuse into the cells of the meat. The water from the salt brine is absorbed through the process of osmosis. To make sure that the brine is effective, it has to include at least 20% salt.
The Americans are long-users of applying a wet brine to make their incredibly juicy Thanksgiving turkey.
dry brine vs wet brine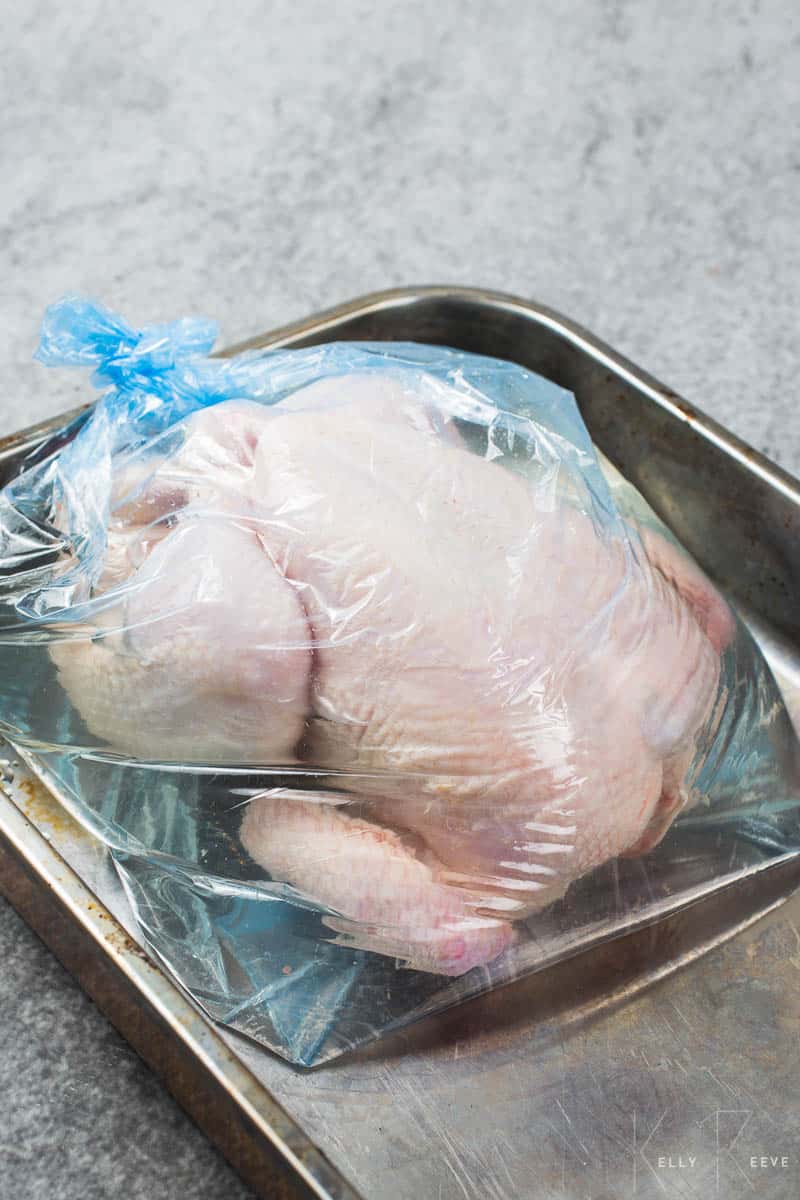 All in all, the difference between these two types of brines comes down to the salt. More specifically, how the salt works with the ingredient. When it comes to applying a dry brine, the brine draws moisture out of the meat. Then the meat's juices mix with the salt from the brine and lastly they are reabsorbed. Since a dry brine is very concentrated, it degenerates the proteins thus preventing them from releasing liquid while cooking.
On the other hand, a wet brine hydrates the meat. In normal circumstances, the meat absorbs wet brines and "pumps up". The salt inside the brine solution helps retain moisture and keeps the juices inside while cooking.
For brining chicken recipes, you can use both types of brine.
other uses and applications
As stated before, there are different ways you can use a brine to your advantage. In essence, you can also prepare a variety of complex gourmet dishes as well as the traditional simple meat dishes. With a brine, you can marinate, pickle and cure your food! In essence, with a brine you can make your food tender and moist, while also helping to preserve it and add more flavour to it. Brining is super-versatile and so are its applications!
brining chicken – proportion rules and timing
Generally speaking, for every quarter cup of salt you use in a wet brine solution, you should add a quart of water. Of course, this depends on the type of recipe and the strength of the brine that you want to accomplish.
The general formula for brining meats is one hour/pound.
different country variations of brine
There are various types of brines you can recreate if you experiment with spices, sugars and herbs. The end result is that you can have multiple brine recipes to choose from for your chosen ingredient. Ultimately, with the help of a brine, you can spin any recipe in the direction of cuisine that your prefer. Take these 9 different brine recipes for example.
9 easy brine recipes and variations
basic brine – click here to get the recipe.
brine Caribbean style – add jerk spice, molasses and dark sugar to the brine
Irish and UK-style brine – add stout of choice and malt syrup
brine Turkish style – add sumac spice, fresh mint, ground cumin, lemon zest and garlic
lamb brine, American-roast style – add white wine, thyme, vinegar and black pepper
brine American-western style – add bourbon, molasses, vanilla extract and Worcestershire sauce
pickling brine – with chilli and vinegar – as used here in this courgetti pickle recipe
Asian brine Chinese-BBQ style – add soy sauce, more sugar, wine vinegar and fermented black bean sauce
Japanese-style brine – add teriyaki sauce, soy sauce, sesame seeds and lime juice
These are just some of the simple brine recipes which will inspire you. For more suggestions, see below.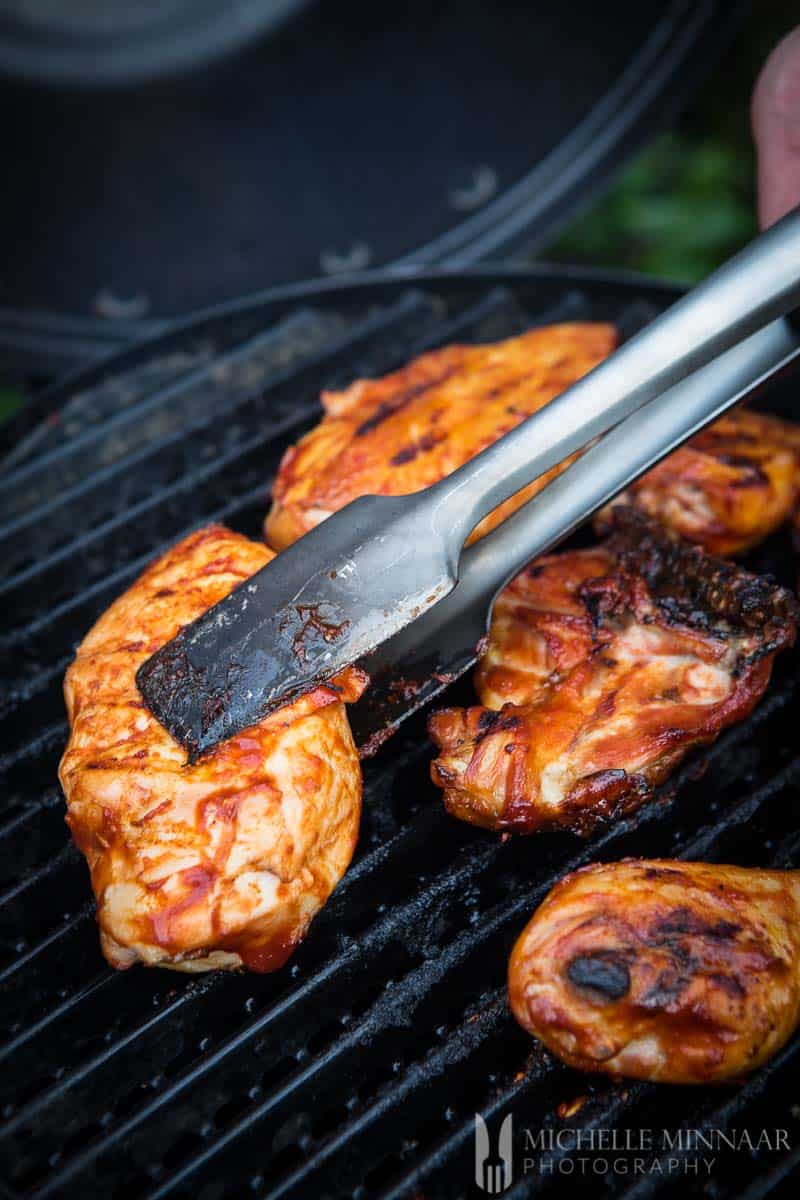 season the brine
Depending on the type of ingredient, you can impress with these flavour combinations that work particularly well. Just toss some of your favourite ones into the brine and don't be afraid to experiment. Again, these are only a few examples for inspiration to enhance the flavour of your brine.
brine seasoning by produce
poultry: sugar, vinegar, lemon juice, lemon zest, soy sauce, teriyaki sauce, olive oil, sage, garlic, garlic powder, cumin powder, basil, oregano, rosemary, thyme, chilli, jerk spice, caraway seeds and much more…
lamb, venison and other game: thyme, oregano, rosemary, juniper berries, mustard, mint, allspice, cumin, garlic powder, lemon juice, fennel seeds, bay leaves, lemon zest…
pork: bay leaves, ginger, sugar, caraway, coriander seeds, curry powder, sage, fennel seeds, thyme, savory, cumin, rosemary, paprika, cayenne pepper, chillies, chilli powder, jerk spice…
beef: ground cloves, black pepper, ground cinnamon, ground ginger, white pepper, chilli powder, granulated onion, ground garlic, cumin, molasses, Worcestershire sauce, Guinness, stout, beer..
white fish: white wine vinegar, dill, vinegar, black pepper, garlic, olive oil, sugar, onion, spring onions, shallots, chilli powder, cayenne pepper, paprika…
pink-flesh fish (salmon): sugar, garlic powder, Worcestershire sauce, black pepper, bay leaves, teriyaki sauce, oyster sauce, miso, soy sauce, sesame oil, paprika, smoked paprika…
prawns and other shellfish: jerk spice, basil, lemon zest, lemon juice, garlic, garlic powder, lemon thyme, oregano, parsley, black pepper, garlic oil, chillies, cayenne pepper, chilli oil, wine vinegar…
vegetables (for pickling): tarragon, garlic powder, vinegar, chilli, allspice, black pepper, garlic cloves, pickling spice, white vinegar, sugar, brown sugar…
brine seasoning by cuisine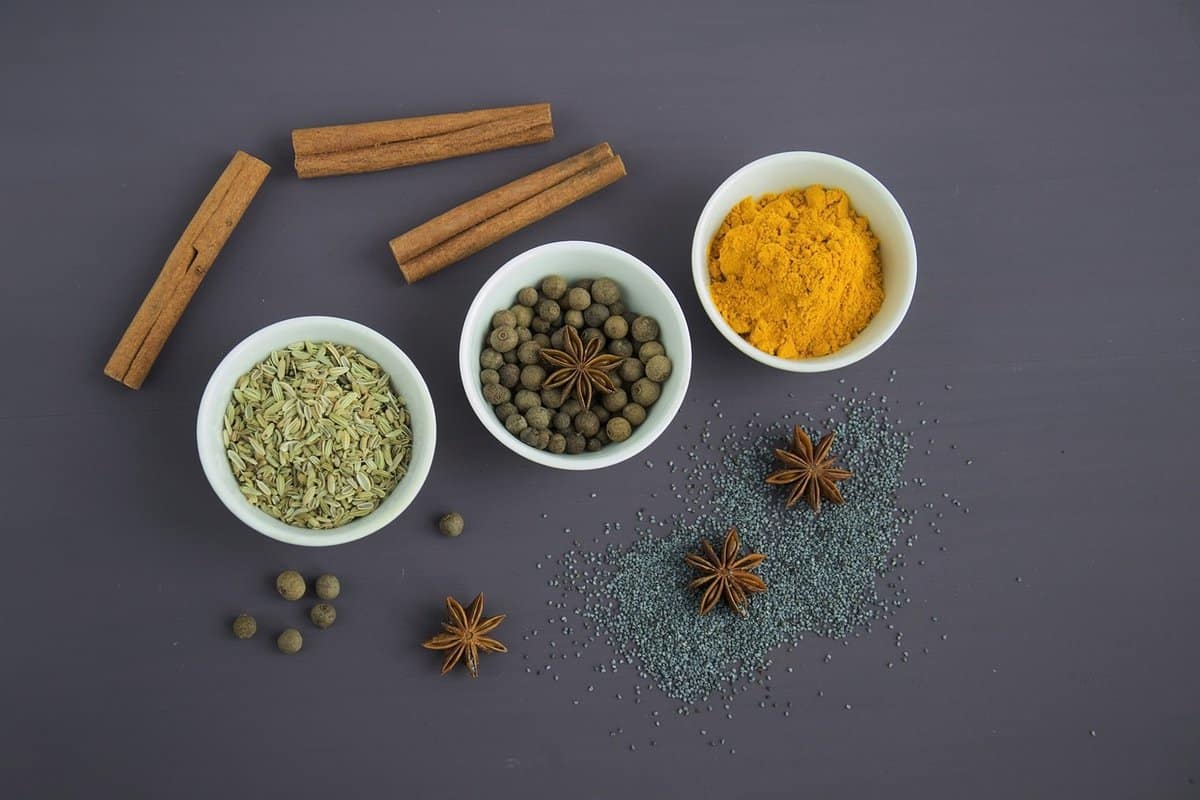 French flavours: tarragon, herbes de Provence, olive oil, cider, cloves, allspice, anise, wine vinegar (red & white), nutmeg, Dijon mustard, chervil, chives
Middle Eastern flavours: saffron, zaatar, black pepper, chilli pepper, cinnamon, allspice, coriander, cumin, cardamom, caraway seeds, garlic powder
Mediterranean flavours: olive oil, dried oregano, dried basil, rosemary, lemon juice, lemon zest, parsley, saffron, sage
Indian flavours: cardamom, turmeric, ground garlic, ground ginger, ground cloves, coconut milk, coconut oil, cassia bark, black peppers, cumin seeds, ground cumin, coriander seeds, ground coriander, madras powder, nutmeg, mustard seeds, fenugreek seeds, curry powder
Japanese flavours: teriyaki sauce, matcha, green tea, miso, seaweed, red bean paste, soy sauce, rice vinegar, wasabi, Sakura, yuzu, mirin, sesame oil
Chinese flavours: Sichuan pepper, sweet and sour sauce, chilli pepper, soy sauce, oyster sauce, sesame oil, rice vinegar, mirin (rice wine), chilli paste, soybean paste, star anise, five spice powder
how to make a brine for brining chicken recipe
Select the type of brine you want to apply on the chicken – wet or dry. Next, add the salt and the other ingredients of your choice. The trick to making a brine is to stir well and let the salt fully dissolve. The brine solution should be completely clear. You can also refrigerate the brine for a couple of hours so that the flavours integrate well.
edible chicken components
Now that you've learned all there is to know about the brining process, let's start with understanding the humble chicken! One can say that chicken is the number one choice of meat across different cultures as well as the most common type of poultry. This is because it is relatively inexpensive and, in comparison with red meat, it also has a much lower level of cholesterol and fat. That's also the reason why chicken is considered a healthier and leaner alternative when it comes to cooking recipes that require white meat.
As a result, there are a million fabulous chicken recipes out there inspired by multiple cultures and adapted to local tastes. I am not sure I've heard of a culture or region where cooking chicken isn't a part of the local cuisine. Have you? If so, please share in the comments below.
Chicken can be prepared in various ways. You can boil, bake, roast, pan-fry, barbecue, grill, smoke and brine a chicken. With chicken being such a versatile and popular component of our everyday meals, you should learn about the different components of a chicken. Don't make the mistake of cooking just with chicken breasts. Explore all of the amazing cuts of chicken.
Once you master these, I have a feeling that you'll be buying a whole chicken a lot more. Besides, it's much more inexpensive than buying separate parts. Give it a go and sharpen your knife skills while you're at it.
edible cuts of a chicken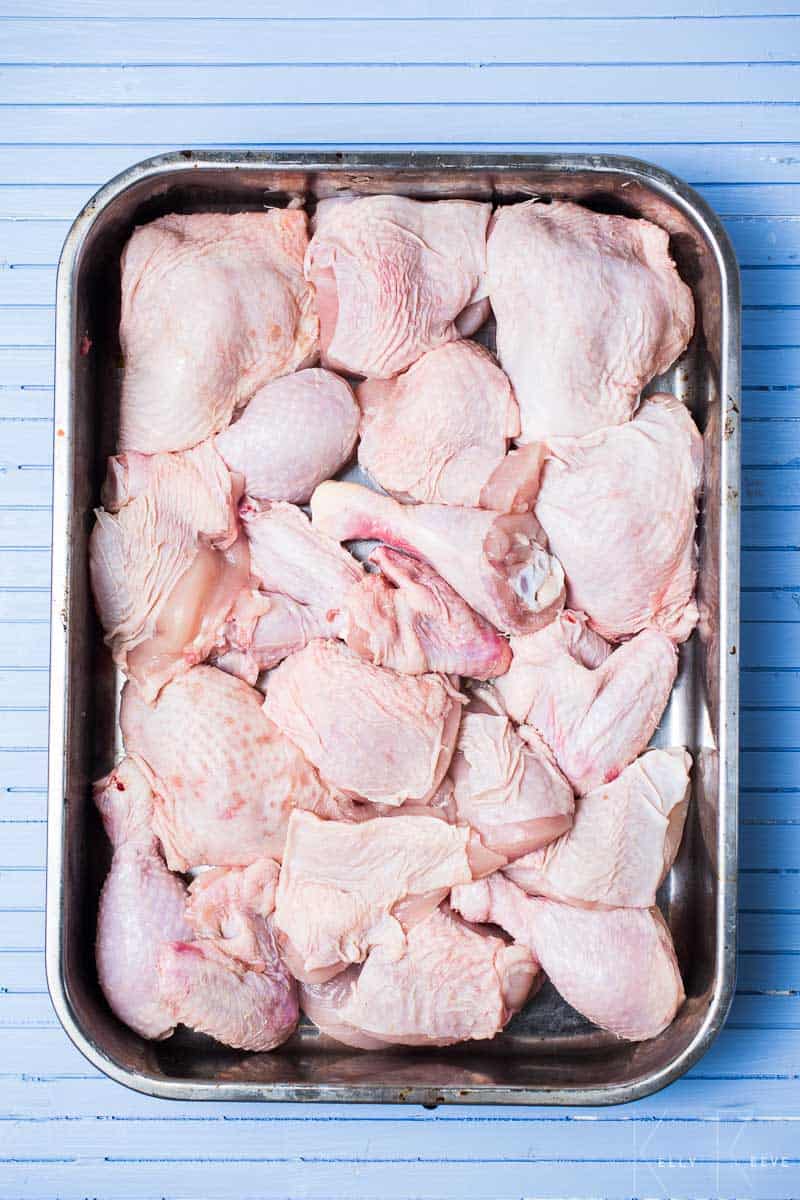 There are multiple edible cuts of a chicken that are perfect for brining. First of all, the chicken is divided into six popular cuts.
Whole chicken
The chicken thigh
Chicken drumstick
The chicken breast
The chicken wing
Chicken leg (drumstick + thigh)
Although, different countries may have more categorisations of cuts. For example, in the USA, on top of the above-mentioned cuts, there are also these specific cuts:
poultry half – an equal part of the chicken from the breast all the way to the back
breast quarter – includes half of the chicken breast, a section of the wing and a bit from the back
leg quarter – includes a thigh, the drumstick and a portion of the back.
chicken tender – a strip of chicken breast commonly found in salads
chicken tenderloin – this is the interior pectoral muscle that goes along the breastbone
the chicken tail – yes, this part is edible for those of you wondering!
I'll dig a little deeper into each cut from the first six most popular cuts. Keep reading.
how to break down a chicken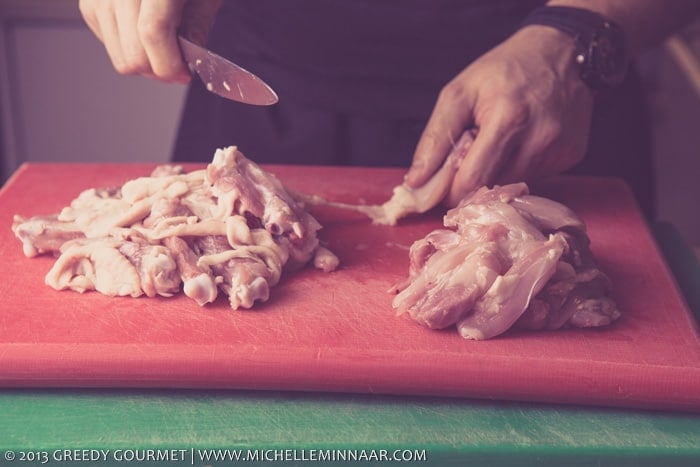 If you've bought an entire chicken or if you've got a half of a chicken, and you feel like making multiple recipes, then listen up. First and foremost, you need to source a boning knife. Otherwise, you'll be completely lost and the knife-work will be a catastrophe. Take a look at these examples below to give you an idea of what a boning knife looks like. In general, it is a very pointy, thin knife that allows you to access different parts of the chicken and carve your way through!
To learn how to break down a chicken, click right here to follow a step-by-step video guide.
chicken dark meat vs white meat
To fully understand the composition of a chicken, one has to differentiate between the white and dark meat of the chicken. I am sure you've come across this term before but haven't paid attention to it. Well, the white and dark meat of the chicken have different textures, so the brining process varies per cut as a result.
Obviously, the whole chicken includes both white and dark meat. However, the white meat cuts include:
The chicken breast
Chicken tenderloin
The chicken wings
The dark meat cuts include:
The chicken drumstick
Chicken leg
The chicken thigh
should I wash raw chicken before cooking or brining it?
The answer is no. This isn't just me giving you advice, but the NHS (National Health Service) also confirms that washing chicken before cooking it is a bad idea. This is simply because it exposes you to a higher risk of food poisoning due to the presence of certain types of bacteria. The germs can spread when you wash the chicken or the chicken part that you are cooking. More importantly, when you wash raw chicken, you can also spread it across various work surfaces, utensils, cooking equipment and more. Did you know that water droplets are able to travel roughly 50 cm? Scary!
Don't worry though, the cooking process kills any bacteria present. Therefore, when you cook chicken, make sure that you cook it thoroughly! To do this, simply cut into the thickest part of the chicken and make sure it's steaming hot. If you've got pink chicken in the centre, put it back on the heat and keep cooking. Never wash raw chicken and never serve raw chicken.
To read more about the health risks that come with washing raw chicken, click here.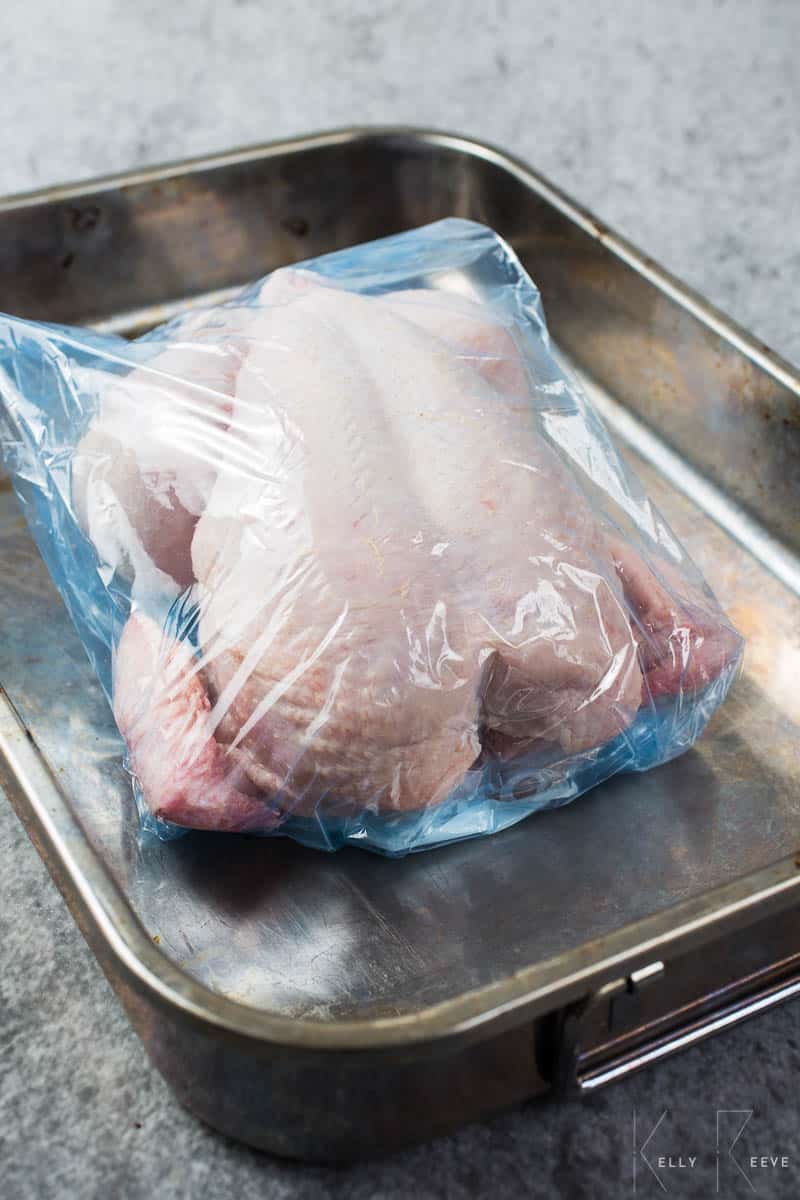 You can brine an entire chicken! The best type of brine to apply in this case is a dry brine. This means, apply the salt rub and let it rest for hours. Click here to learn how to brine an entire chicken.
The recipe also works for other types of poultry. The end result is delicious, tender and juicy chicken!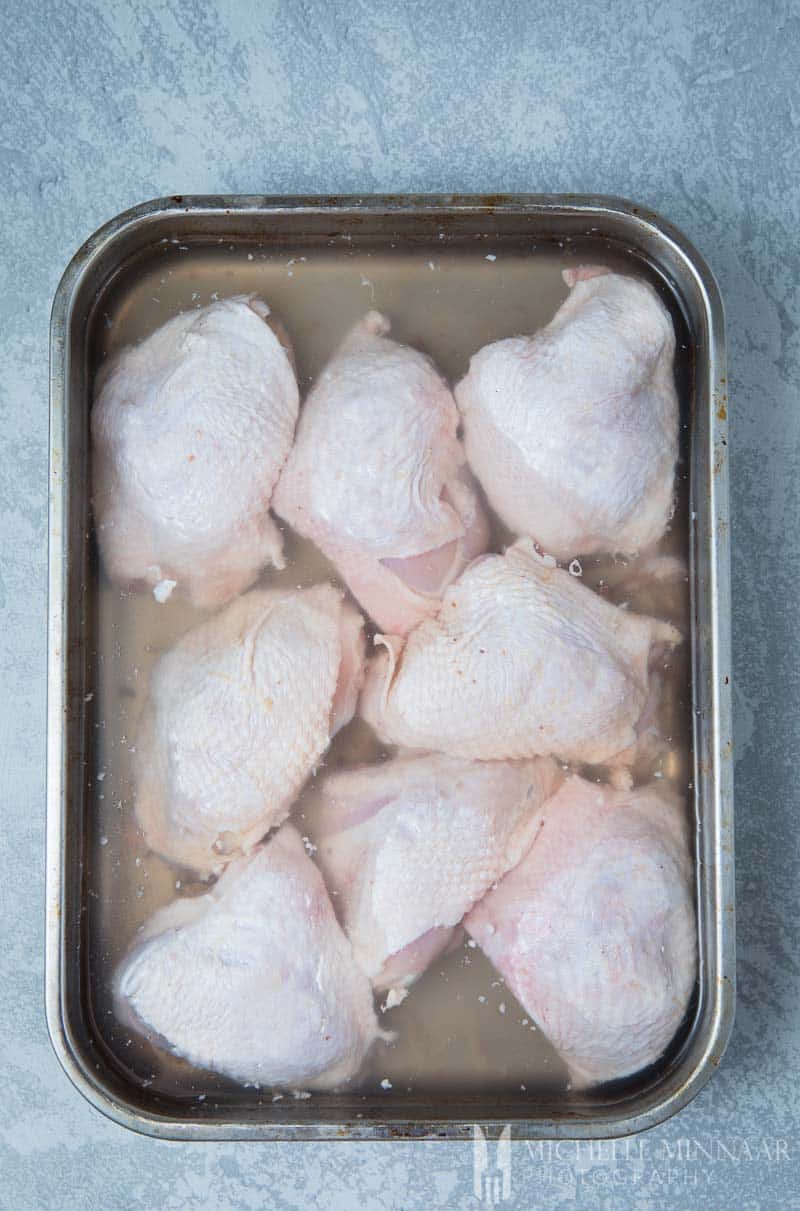 Chicken thighs belong to the dark meat of the chicken. They have a higher fat content compared to chicken breast. Due to the fact that chickens don't fly, they use the thighs and the relevant thigh muscles more. This results in more flavour as well as more nutrients. The brining solution helps retain the umami flavours of the chicken thighs. The best brine application for chicken thighs is submerging the meat into a wet brine solution. Get the recipe for brined chicken here.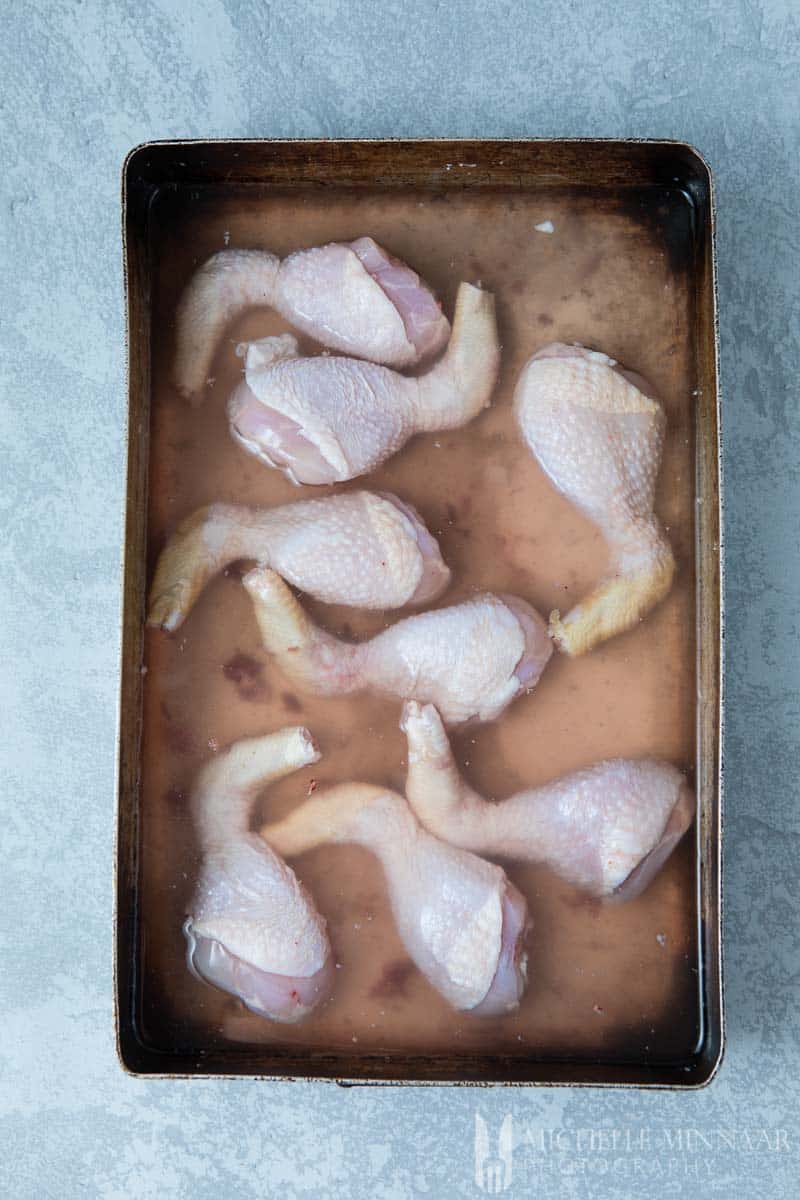 Again, brined chicken drumsticks have a higher fat content, largely because of the skin layer. The chicken drumstick is made up of two parts: the drumsticks as well as the patella. For the best results in terms of brined chicken drumsticks, keep the skin on so that the muscles don't become too stringy and dry. The skin will protect the tenderness of the meat. Apply a wet brine. Get the recipe for brined chicken drumsticks here.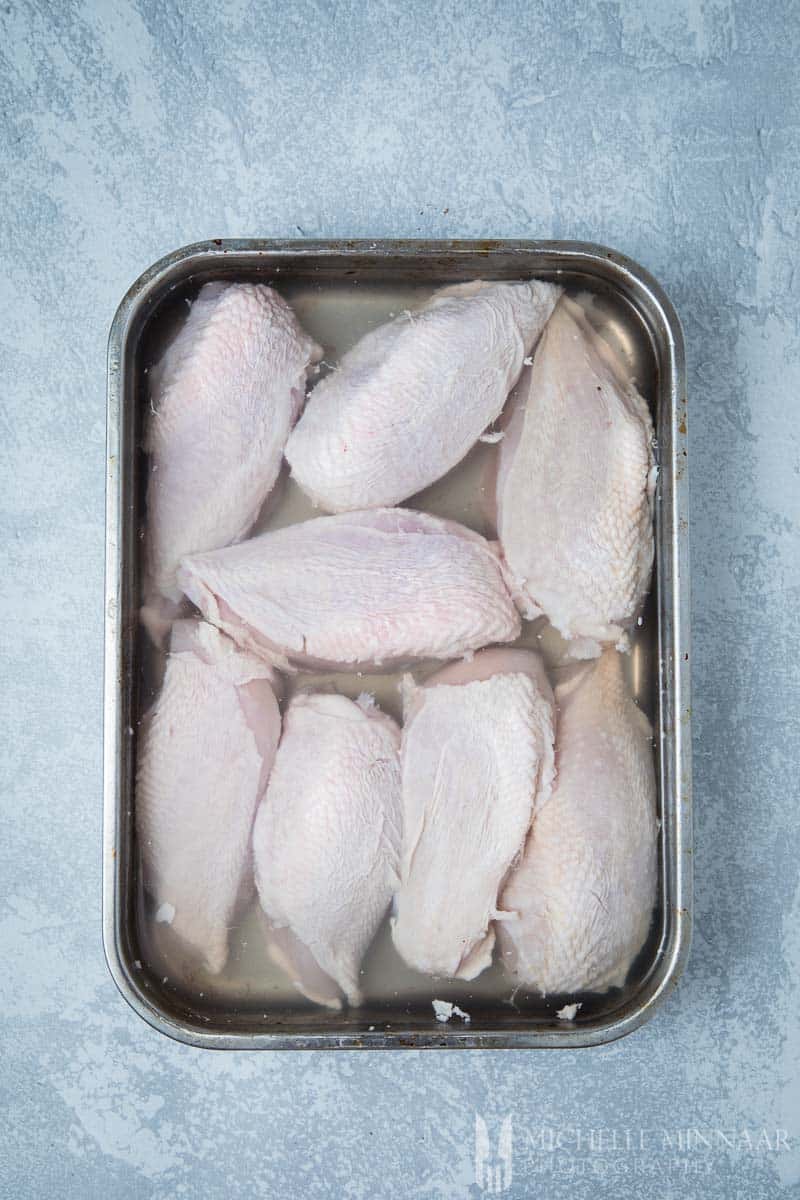 This is the leanest and healthiest part of the chicken due to its naturally low-fat content. You can apply a dry brine as well as a wet brine. Ultimately, the best and juiciest results are achieved with a wet brining solution. Keep the skin on for the most juicy chicken breast ever! Get the recipe from the brined chicken breasts here.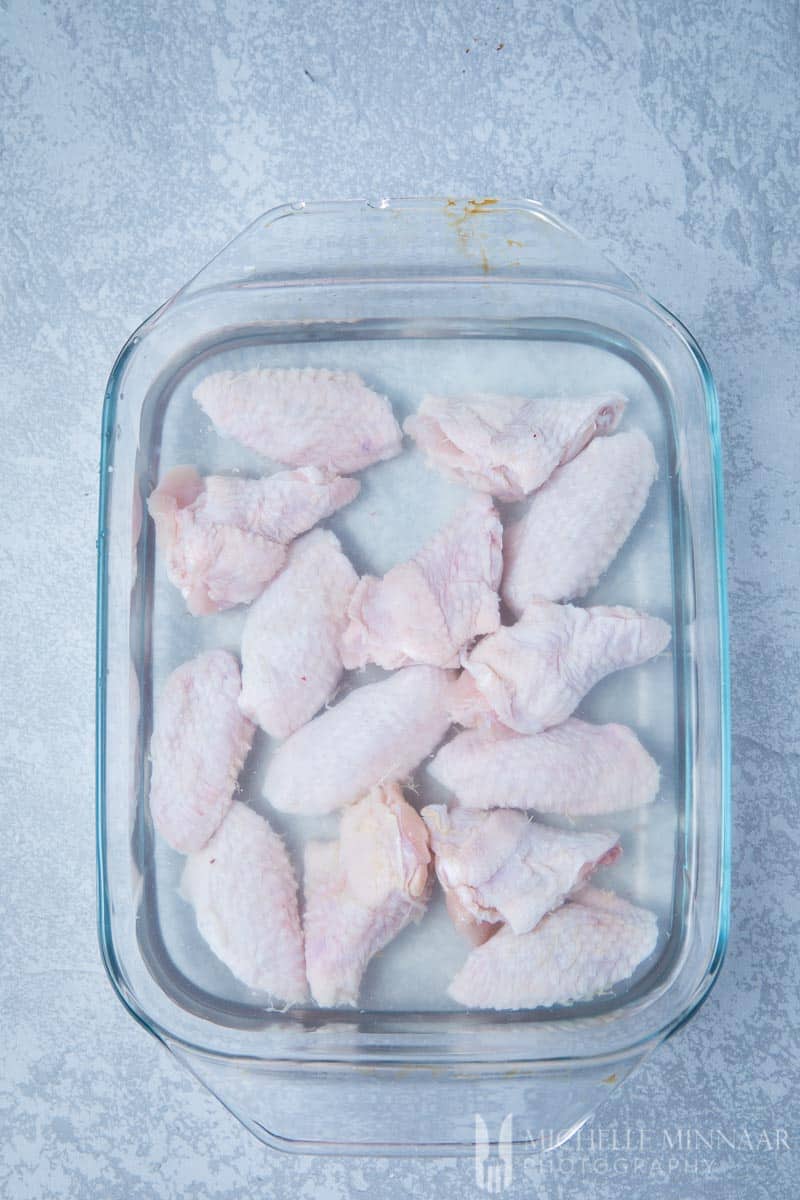 Chicken wings are best enjoyed with a brine. For a finger-licking result, apply a wet brine and follow this recipe for brined chicken wings.
brining chicken faux pas & dont's
Attention! Never reuse the same brining solution twice in a row. First, it won't yield the same results – the effects of the brine will not be impactful. Second, you risk contaminating your food with bacterial growth!
I hope this article helped you gain a lot of knowledge on brining chicken. Now, you too have become the brining chicken master!
15 chicken recipes perfect for brining chicken
Recipes that require a brine are ultimately those that expose the chicken to high heat. So, roasting, grilling and smoking recipes are ideal for brining chicken in advance.
Which one will you attempt first with a brine?
save the recipe to your pinterest board