Whether for a festive occasion or simply an afternoon treat, this Aero Mint cheesecake is going to be a new favourite.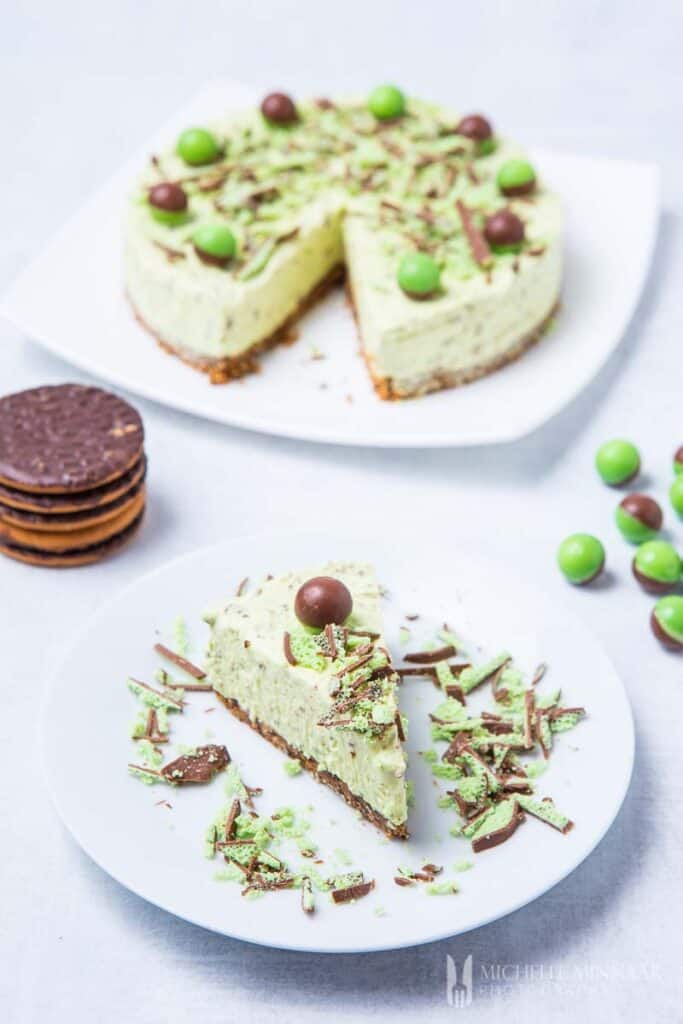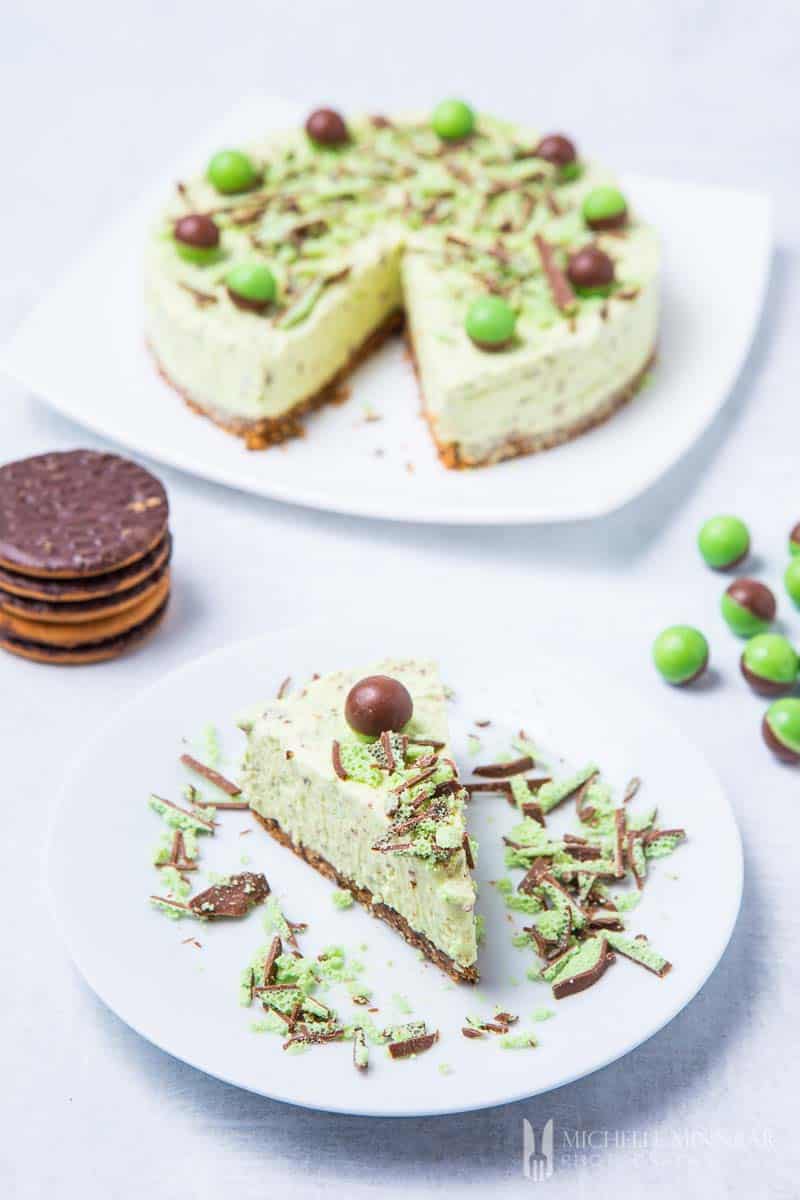 The delicious combination of mint and dark chocolate which we know from Aero Mint – what could be better? It's the perfect side for a good cup of tea or coffee, in the company of friends or family.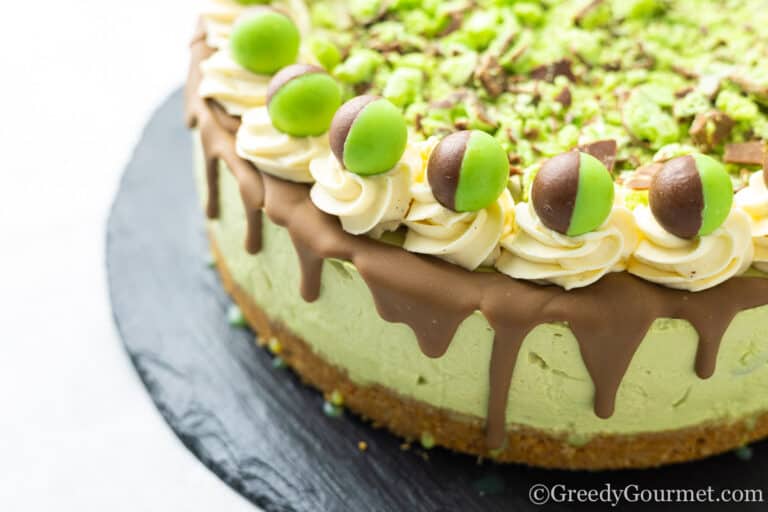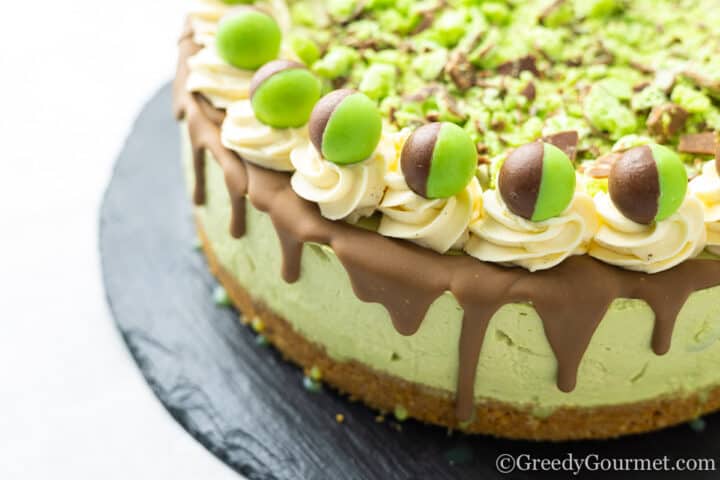 Not to mention, if you thought a nice cheesecake was a pleasure reserved for the coffee house, think again. This Aero Mint cheesecake recipe is very easy to do.
The hardest thing about it is probably to endure the waiting time while it sets. The next time you have people over for an afternoon tea, serve them a piece of this beautiful Aero Mint cheesecake.
You can also serve Aero Mint cheesecake as a dessert after dinner. The surprisingly light texture and refreshing mint and chocolate flavours, make it the perfect ending to a nice meal.
I think this Aero Mint cheesecake recipe comes just in time for St Patrick's Day celebrations. Don't miss out on this recipe and make sure your food is green, too!
Aero Mint cheesecake
Most of us probably know the Aero Mint chocolate bar. The Aero chocolate bar was first brought to British consumers in 1935 by renowned confectionery manufacturer Rowntree's of York.
The unique feature of this chocolate bar is the airy and bubbly texture which collapses as the chocolate melts in your mouth. The Aero Mint was a later variation of the original, flavoured refreshingly with peppermint.
This combination of milk chocolate and mint remains extremely popular to this day. That gave me the idea to incorporate this well-known flavour into a cheesecake.
Sometimes a cheesecake can feel a bit heavy on the pallet. This Aero Mint cheesecake however, is not such a cheesecake.
In fact the mint gives a refreshing lightness to the cheesecake that will probably leave you hungry for a second slice.
Mint Aero cheesecake recipe – BBC
I've taken inspiration from the BBC's Aero cheesecake, especially when it comes to the decoration of the cheesecake. Their version includes an extra layer of whipping cream, which I've opted to exclude, as I believe that it throws the mint flavour out of balance.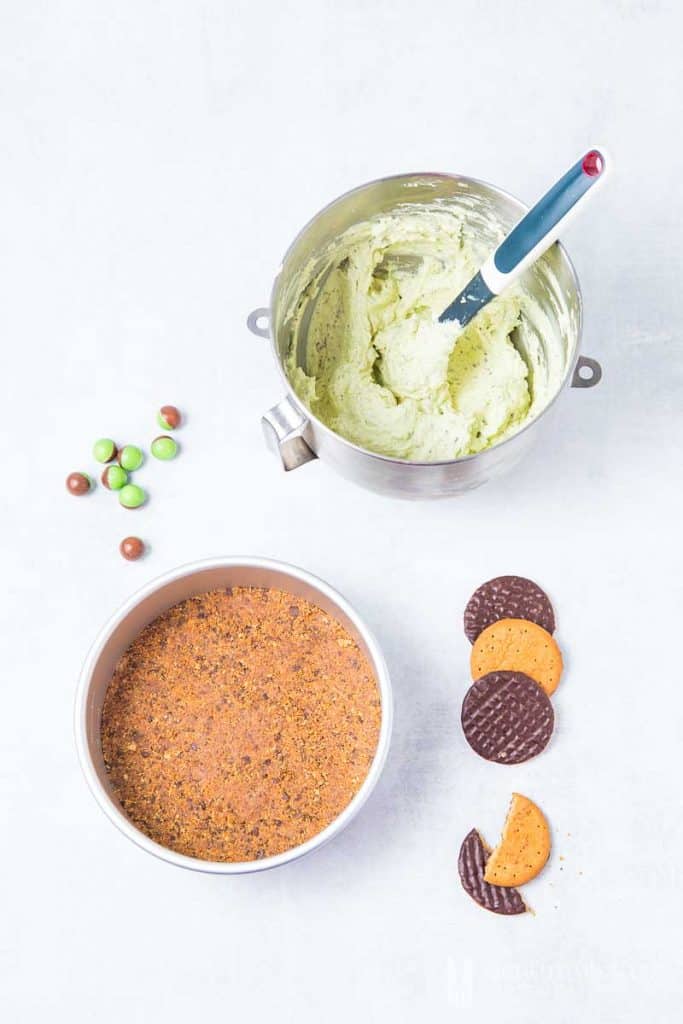 dark chocolate mint cheesecake
Although the Aero Mint chocolate balls are made from milk chocolate, I have used some dark chocolate in my recipe as well. The reason being that the cheesecake would become too sweet if you only use milk chocolate.
The addition of some dark chocolate adds a bitterness which helps to obtain a more balanced flavour in the Aero Mint cheesecake. For this reason I have gone with chocolate digestive biscuits for the crumble.
You could also do with plain digestive biscuits if you prefer. Alternatively, you can add a handful of dark chocolate chips to the cheese mix later on, in order to get that bitterness working for you.
A handy note to remember when doing the biscuit crumble, is to put the biscuits in a sealable plastic freezer bag. This way you save yourself a great deal of mess in the kitchen when you crush the biscuits. Not to mention nothing goes to waste!
After Eight mint cheesecake
An alternative to using Aero Mint chocolate is to use After Eight mint chocolate. After Eight chocolates are made from very dark chocolate with a semi-liquid creamy mint filling.
It is a good alternative to Aero Mint if you want to avoid milk chocolate in your cheesecake. If you want to use After Eight I recommend putting the chocolates in the fridge prior to preparing the cheesecake.
It will be easier to break up the chocolates into smaller pieces if it is really cold. This way you spare yourself a sticky mess.
You can also substitute with other kinds of mint chocolate. If you prefer a specific kind, simply make the recipe your own by using your preferred chocolate.
fresh mint cheesecake
Admittedly I used peppermint essence for the filling of my Aero Mint cheesecake. This is not an attempt to take a shortcut.
On the contrary it means an even flavour of mint in every bite of the cheesecake. That being said, you can also add fresh mint to your Aero Mint cheesecake.
Take a pinch of fresh mint leaves and chop them up very, very finely. You don't want to find big half mint leaves in the cheesecake.
To ensure the most appetising result as well as evenly distributed flavours, make sure to chop the mint extremely fine. Leave some intact mint leaves for decoration.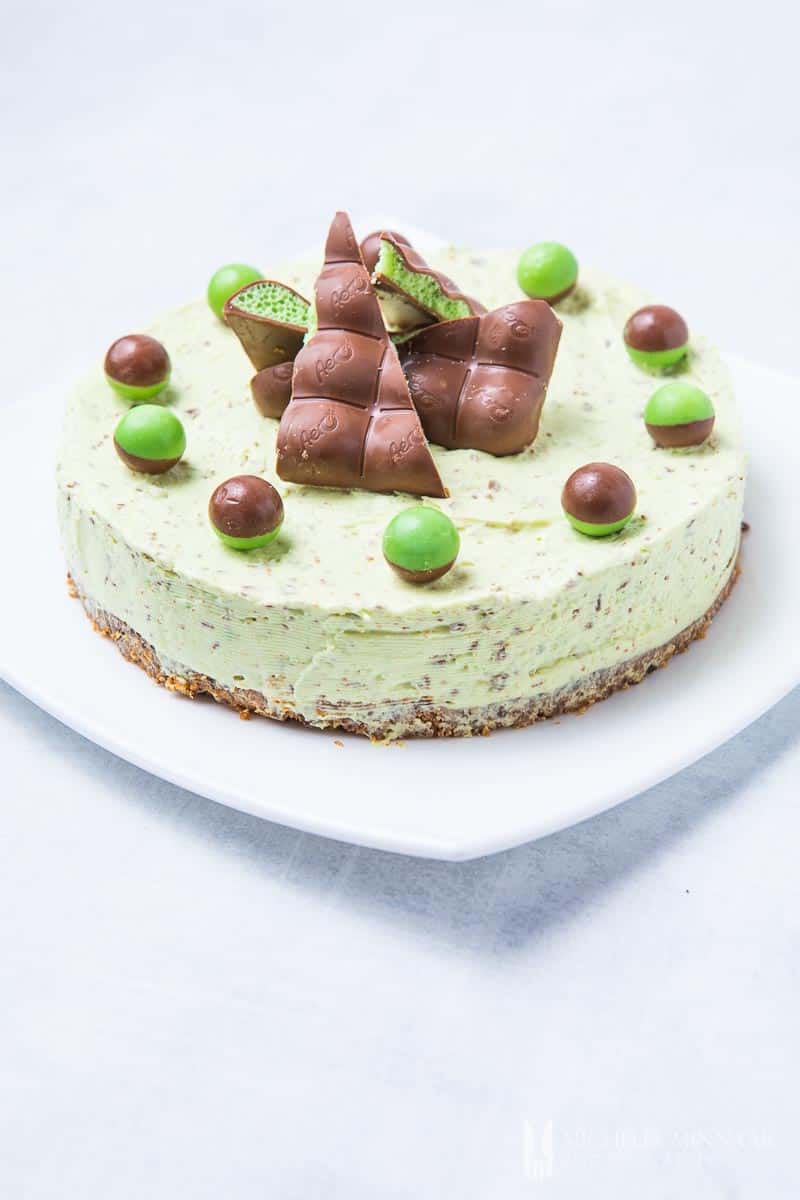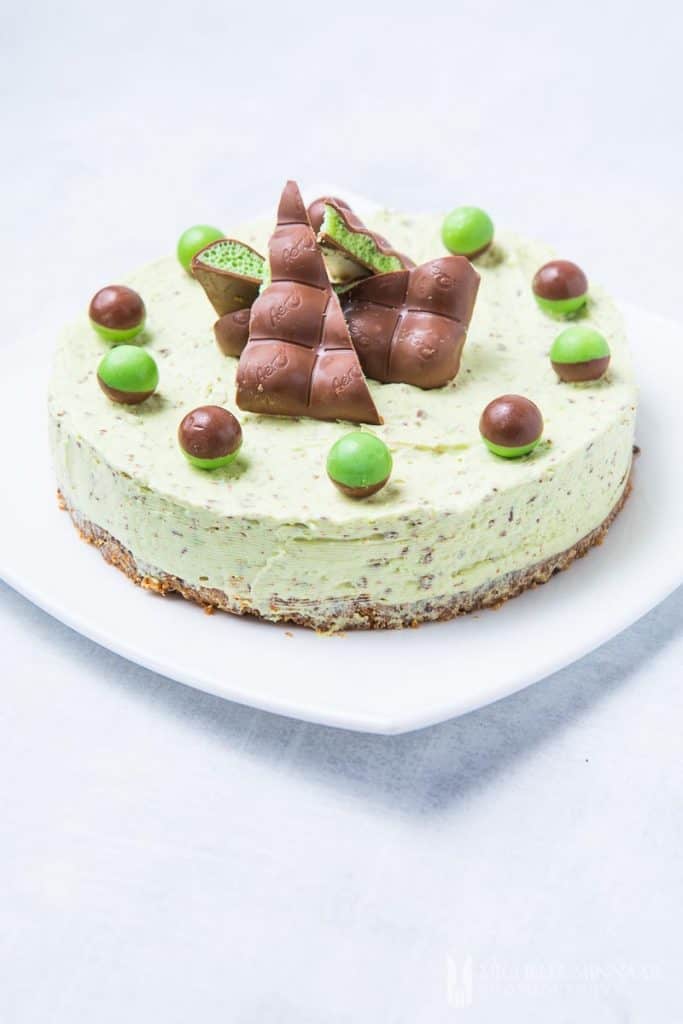 Aero Mint chocolate cheesecake with strawberries
All of us have probably heard of strawberry cheesecake. A bit of a modern classic on dessert menus around the world.
You might think it weird to combine this with Aero Mint. However mint and strawberries is actually a wonderful combination of flavours.
For a bit more freshness leave out the Aero Mint balls on top of the cheesecake and decorate with fresh strawberries instead. Not only does it look stunning, it also tastes stunning.
Although strawberries are by far my favourite for this, you could also do the trick with other berries. Red berries such as raspberries or redcurrants would be best.
For more cheesecake inspiration, have a look at my raspberry and lime cheesecake or this sopapilla cheesecake.
cheesecake variation
The idea of using Aero Mint in a cheesecake was basically to use one of my favourite chocolate snacks in a dessert. This can very easily be done with other things, too!
For example, you can follow the same recipe but use Kit Kat instead of Aero Mint. Think of your favourite chocolate treat, and I bet it can be worked in to a cheesecake.
It is the same principle I followed when I made my cream egg cupcakes.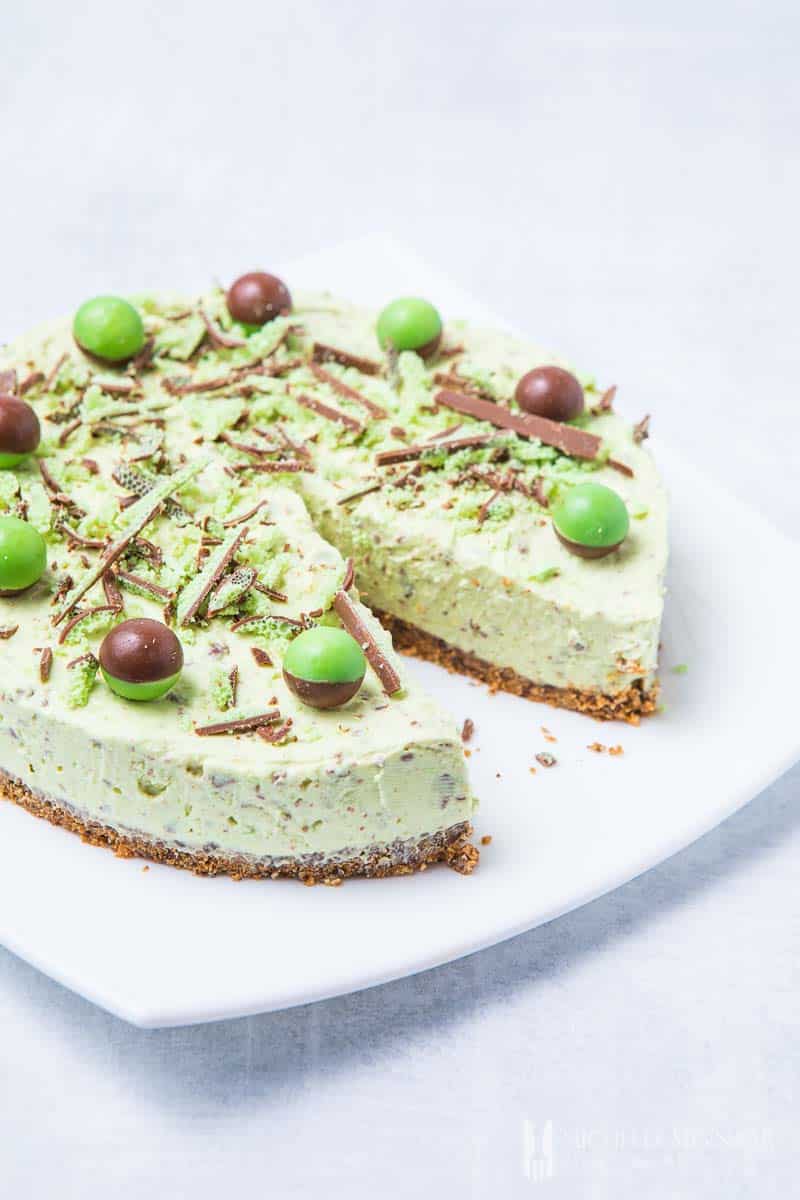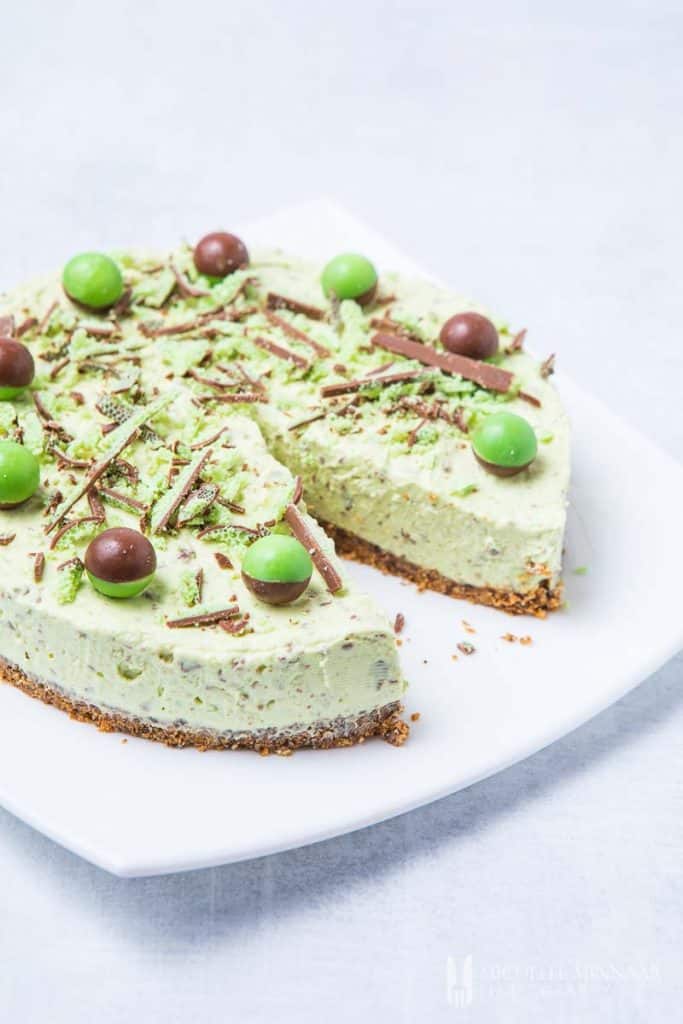 serving
This Aero Mint cheesecake is the perfect finish for a nice dinner. The refreshing taste and light texture make sure that you and your guests leave the table satisfied rather than stuffed.
Aero Mint cheesecake is also excellent for an afternoon tea or coffee during the weekend. All you need to do is plan a bit in advance.
Remember, the cheesecake is best if you allow it to set properly in the fridge overnight. Serve it with a luscious chocolate fudge sauce.
If you feel like a lighter alternative, check out my sugar free angel food cake. Otherwise, you can also opt for a very simple cinnamon bundt cake, cherry brownies or a delicious cobbler with apricots.
What is your favourite cheesecake recipe?
Print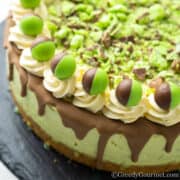 Aero Mint Cheesecake
---
Author:

Michelle Minnaar

Total Time:

35 minutes

Yield:

12

servings

1

x

Diet:

Vegetarian
Description
This Aero Mint Cheesecake is a green dessert, perfect for St. Patrick's Day. Click here to make mint chocolate cheesecake in a few easy steps!
---
175g

(9oz) dark chocolate digestive biscuits

75g

(2 1/2oz) butter, melted

400g

(14oz) cream cheese

100g

(2 1/2oz) icing sugar, sifted

10

ml (1 tsp) peppermint essence

5

ml (1 tsp) green food colouring

300

ml (10fl oz) double cream

150g

(5oz) Mint Aero chocolate, crushed

Extra Mint Aero balls and chocolate, for decorating
---
Instructions
Crush the biscuits in a sealable plastic bag with a rolling pin, until everything turns into crumbs.

Mix the butter with the crumbs.

Spoon the mixture into the base of a 23cm (9in) springform cake tin and level with the back of a spoon.

Combine the cheese, sugar, peppermint and green food colouring in a bowl and beat until well combined.

Pour the cream in another bowl and whisk until peaks form.

Gently fold the cream into the cheese mixture, then add the crushed Aero Mint and incorporate.

Spoon the cheesecake filling on top of the biscuit base and spread evenly.

Place in the fridge for at least 6 hours, but preferably overnight, to set.

Once set, release the side of the cake tin and place on a serving plate.

Decorate with Aero Mint balls and chopped chocolate wedges of chocolate. Enjoy!
Prep Time:

30 minutes

Cook Time:

5 minutes

Category:

Dessert

Method:

No Cook

Cuisine:

English
Nutrition
Serving Size:

1

Calories:

260

Sugar:

12g

Sodium:

189mg

Fat:

20g

Saturated Fat:

12.2g

Carbohydrates:

17.9g

Fiber:

0.4g

Protein:

3.4g

Cholesterol:

50mg
Keywords: mint aero cheesecake recipe, aero mint cheesecake, chocolate mint cheesecake, st Patrick's day dessert recipe, green dessert recipe
save the recipe to your pinterest board