If you can make your own almond brittle then you are a star! Learn how to make this almond brittle in the traditional Sicilian way. What I am about to share with you is the original Sicilian brittle recipe I picked up during my travels to the Sicilian coastal town of Cefalu. Among the typical things to do in Cefalu, I managed to gain as much knowledge as possible on the local cuisine and local recipes by talking to local chefs. This included learning how to cook artichokes and cook with fresh Sicilian sardines.
As such, I was lucky enough to get my hands on this delicious and crunchy almond brittle. It makes the perfect snack, it's healthy, it's nutritious and it's also really easy to store. Plus, you can experiment with different nut variations. So don't shy away from this tempting almond brittle.

make this Sicilian almond brittle recipe
Sicily has historically been famous for its amazing fresh produce and seafood. For example, you can find dishes such as this seared tuna salad or these roasted artichoke hearts. However, Sicily has also influenced Italy with its amazing authentic desserts. These include the infamous Sicilian cannoli (keep a lookout for this upcoming recipe).
In addition, these include almond brittle and other delicious desserts. Indeed, you can find these desserts in most Italian cafes. There you would find people consuming these for breakfast along with their 10 o'clock cappuccinos or for dessert.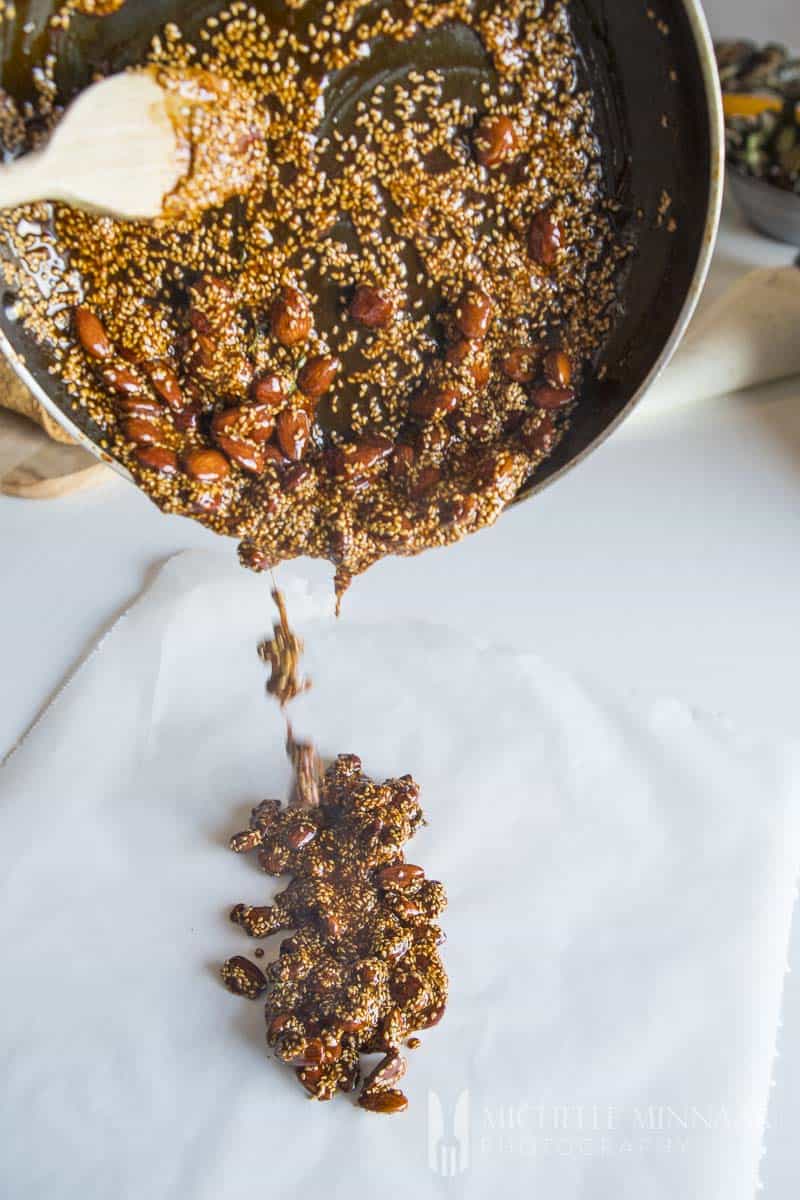 almond brittle recipe – Martha Stewart
As always, I love seeking the best possible inspiration for making a recipe, and this almond brittle was no exception. I was very curious whether or not the traditional Sicilian version would compare to Martha Stewart's version. You can find it here.
I can honestly say that I prefer the Sicilian version I picked up from my travels in Sicily. Martha's version calls for sliced almonds. Almost too thinly sliced in my opinion. Her almond brittle should be used for decorative purposes because it lacks texture. In comparison, my almond brittle recipe is chunky, crunchy and can be enjoyed on its own.
To be precise, a brittle is a dessert (confection) which is made up of hard, broken candy. The candy comprises sugar and various nuts.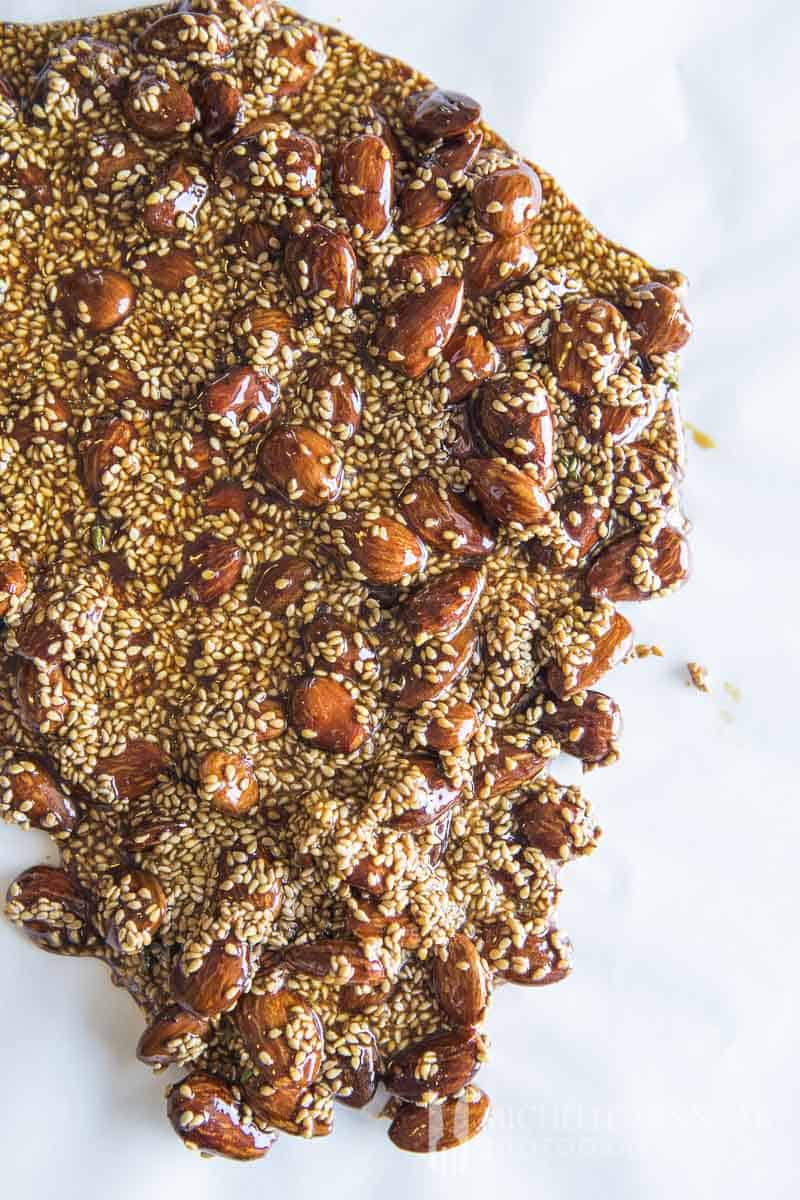 whole almond brittle recipe
So, what makes this almond brittle so perfect in terms of texture? It's the whole almonds. Just make sure that you get unsalted almonds without the skin. In summary, these are the best to replicate and enjoy this brittle recipe. After all, I am sure that you don't want to eat almond skins in a dessert.
slivered almond brittle recipe
Equally, you can sliver the almonds first before you make your almond brittle. Although, this would be following Martha's approach as mentioned above. In the same fashion, you wouldn't really be able to enjoy the texture of the nuts – not to mention the fact that you would most likely have to use the brittle as decoration. I recommend slivering the almonds only if you intend to use the brittle decoratively with another dessert.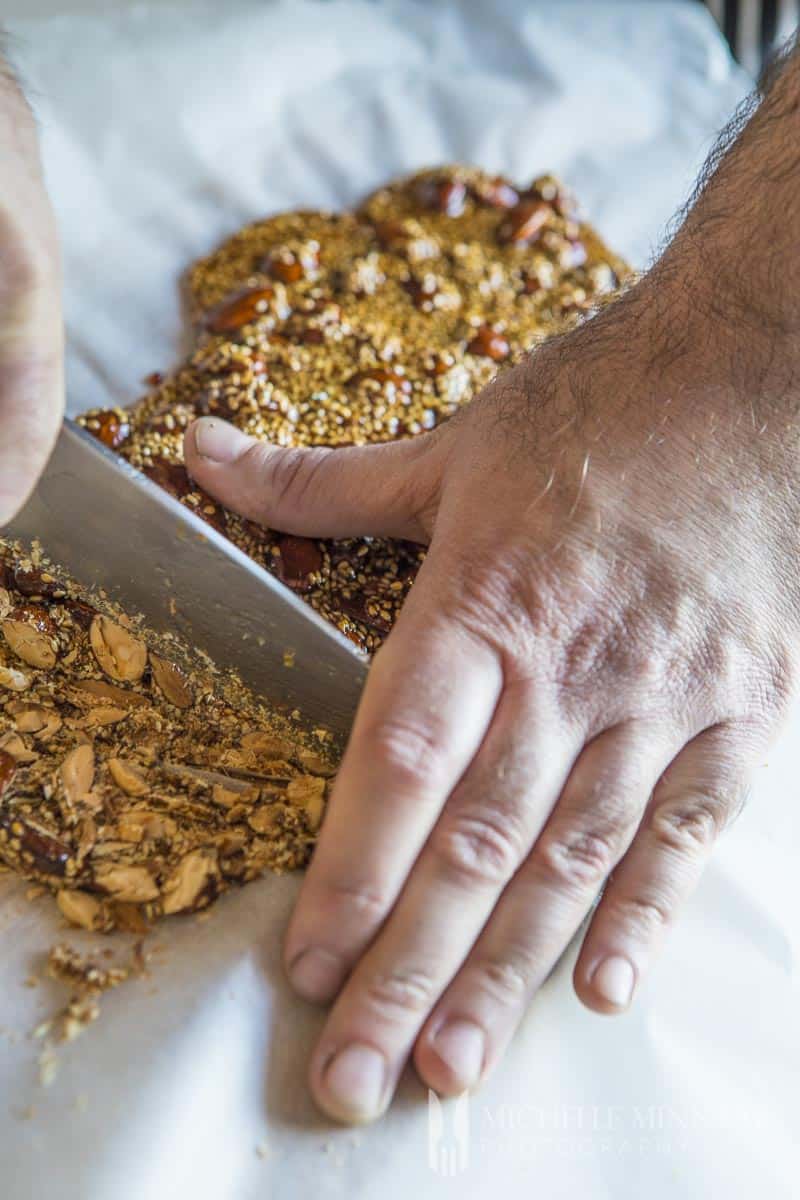 salted almond brittle recipe
In the mood for something refined? Add a pinch of sea salt to the almond brittle. On the whole, the brittle is more refined and less sweet. Let's be honest, sometimes even our favourite desserts can be too sweet. The pinch of salt acts to balance out the flavours.
As such, the addition of the salt will create a lightly salted sugar mixture; almost a caramel.
smoked almond brittle recipe
Yes, there is indeed such a brittle. How is this done you may ask? You need to source a pack of smoked almonds. These might be hard to come by. I recommend looking for these in a premium supermarket.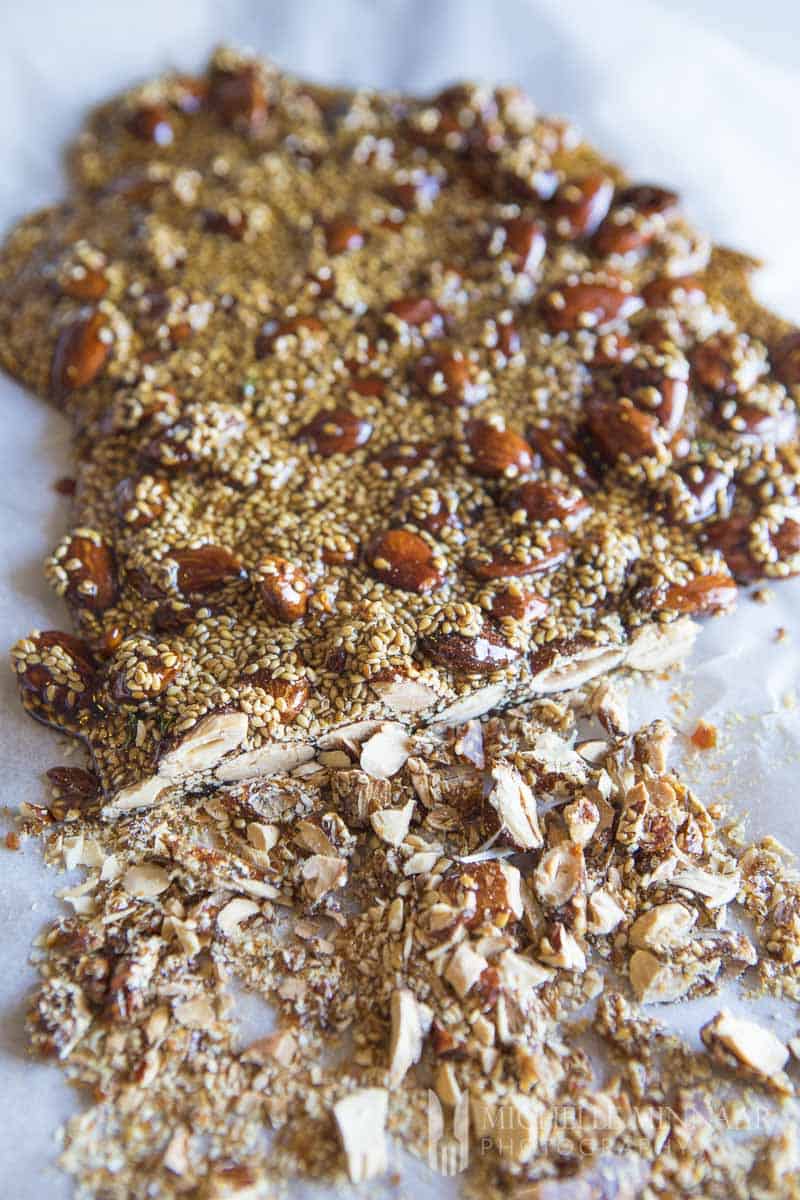 variations of the brittle by region
Here are just a few variations of almond brittle, classified by region:
Greek pasteli – uses a lot more sesame seeds
French croquant – it's not so dissimilar to the Sicilian brittle
Georgian gozinaki – includes caramelised walnuts, eaten only on New Year's Eve and Christmas
Bangladeshi chikki – includes sesame, nuts, puffed rice, and coconut
Middle Eastern brittle – heavy on pistachios and sesame
The Sicilian spin includes the addition of thyme, which is native to the Mediterranean region. Together with the nuts, sugar and vanilla, the thyme creates a refreshing balance. It's a unique almond brittle that stands out from the crowd of available brittles. However, if you don't want to include thyme because it's too fragrant, you can leave out the herb element out of this brittle recipe. It will work just as much.
To sum up, there are many variations you can inspire yourself with. Personally, I would love to replicate a Middle Eastern version and substitute with pistachios.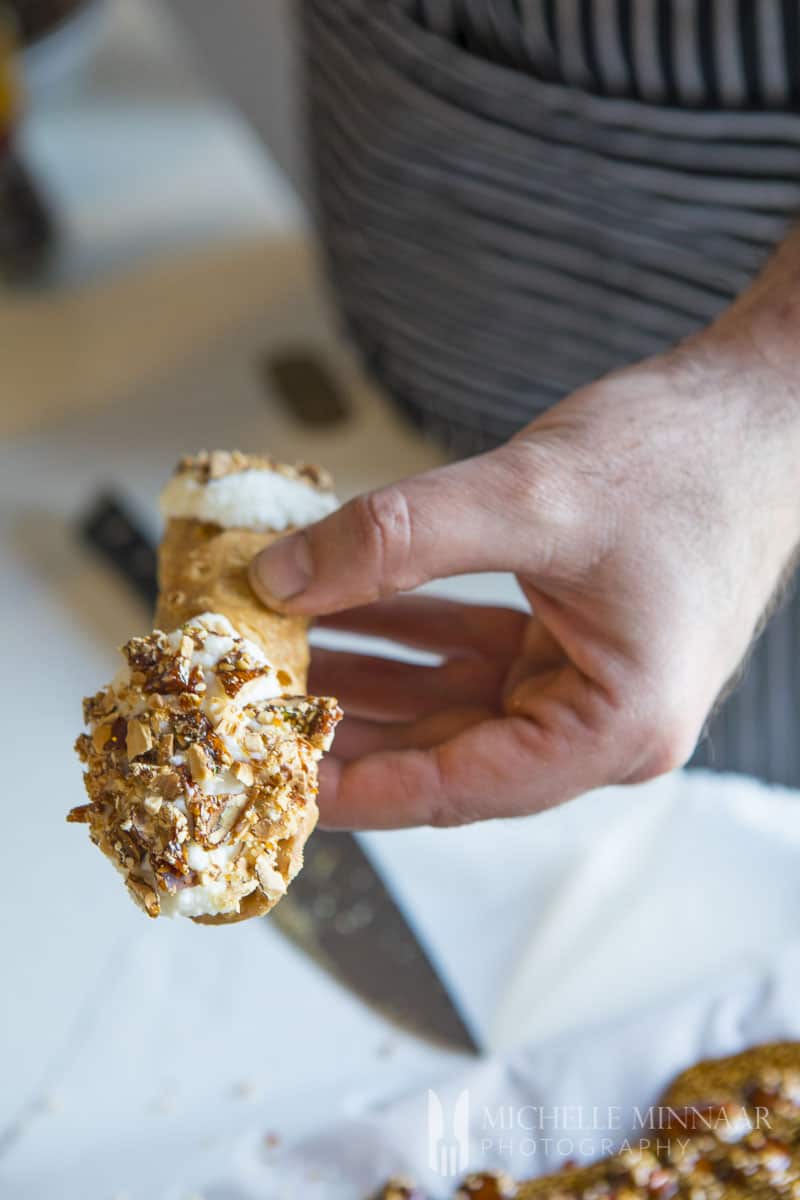 how to serve a brittle
First and foremost, feel free to eat the almond brittle on its own as is. However, should you want to include it with other desserts, you most certainly can.
For the most part, almond brittle works extremely well on top of ice cream. For example, you can place chunks of the brittle on top of these:
In my opinion, the texture of the brittle and the crunch factor of the nuts work perfectly with the creamy ice creams. Plus, it's a great way to jazz up a single-flavoured ice cream.
Next, you can use the brittle instead of the meringue topping in this eton mess recipe. Similarly, you can use it as a topping for these little desserts:
You can also use it as topping for cakes like this raspberry and lime cheesecake.
So as you can see, you can enjoy the brittle in various ways! Which way would you enjoy this fantastic almond brittle?
Print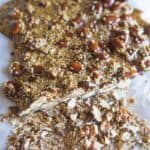 Almond Brittle
---
Author:

Michelle Minnaar

Prep Time:

10 minutes

Cook Time:

60 minutes

Total Time:

1 hour 10 minutes

Yield:

10

1

x
Description
This Sicilian almond brittle is made with whole skinless unsalted almonds, butter, vanilla extract, sesame seeds & thyme. Add a pinch of salt to refine it.
---
450g

(1lb) whole almonds

450g

(1lb)  unsalted butter

450g

(1lb) granulated sugar

5

ml (1 tsp) vanilla extract

150g

(

5oz

) sesame seeds

5

fresh thyme sprigs, washed
---
Instructions
Preheat the oven to 180°C/350°F/Gas mark 4.
To toast the almond, place them on a baking tray and roast for 5 minutes. Check on them and give them a shake. Bake for another 5-10 minutes until they are golden in colour, crunchy and you can smell them. Remove from the heat.
Gently heat the butter in a pan then add the sugar until it's dissolved.
Place a sugar thermometer in the pan and let the mixture reach a bubbling point.
When the sugar mixture has reached a temperature of 120°C (250°F), add the almonds and vanilla.
Continue to stir with a wooden spoon until the mixture reaches 150°C (300°F). Pour in the sesame seeds and thyme, give it a stir and remove from the heat.
Carefully pour the toffee onto greased baking parchment and leave to cool for about an hour.
Break with a hammer or cut with a sharp knife. Enjoy!
Notes
The almonds and sesame seeds can be substituted with different nuts, e.g. peanuts or cashews.
In this case the almond brittle was used as a cannoli topping.
Category:

Dessert

Cuisine:

American
Nutrition
Serving Size:

1

Calories:

379

Sugar:

45.4g

Sodium:

67mg

Fat:

20.2g

Saturated Fat:

7.1g

Carbohydrates:

50.4g

Fiber:

2.9g

Protein:

4.3g

Cholesterol:

24mg
save the recipe to your pinterest board