Sweet tangy apple, juicy blackberries and a buttery crumble topping – what's not to love about apple and blackberry crumble?!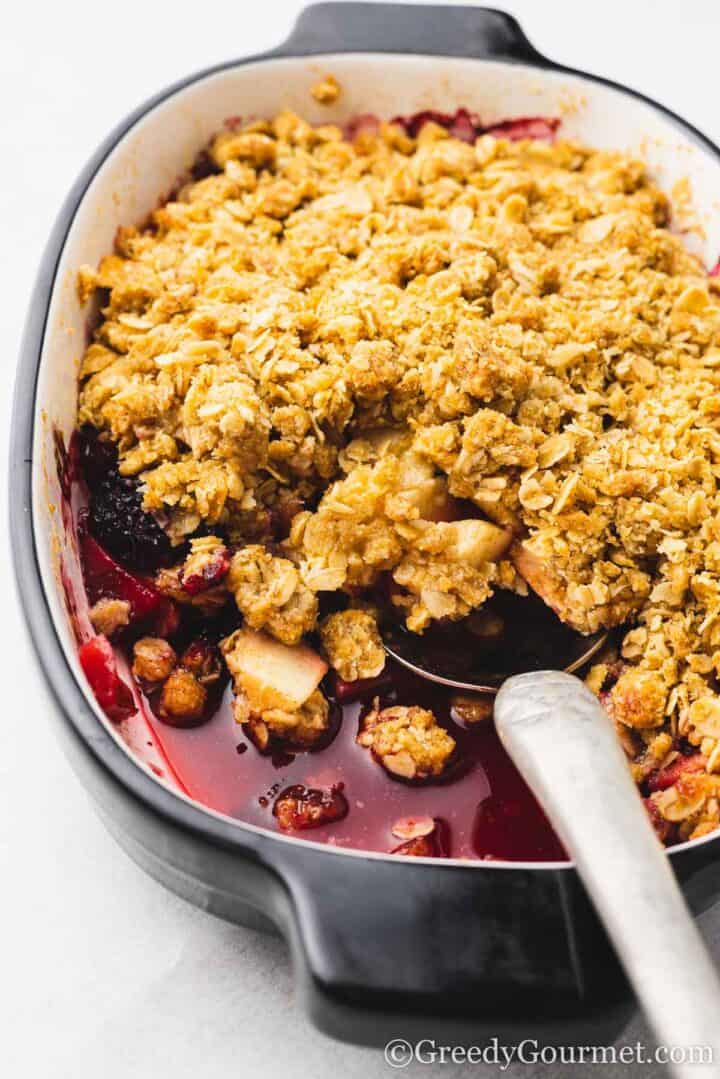 It's one of the most comforting, delicious, lovable traditional British desserts and it's surprisingly easy to whip up. Today, I'm going to show you how to make this classic humble crumble, with all the little tricks of the trade that I've picked up over many years of baking.
By the time this easy apple and blackberry crumble comes out of the oven, it will look and smell like one of the best British desserts you've ever made. Just wait until you taste it!
Why you'll love this apple and blackberry crumble recipe
It's the ultimate comforting dessert – like a big warm hug!
Apple and blackberry crumble prep time is quick
The recipe is surprisingly easy to make
All 8 ingredients in this recipe are very easy to get hold of
It's a dessert that the whole family will love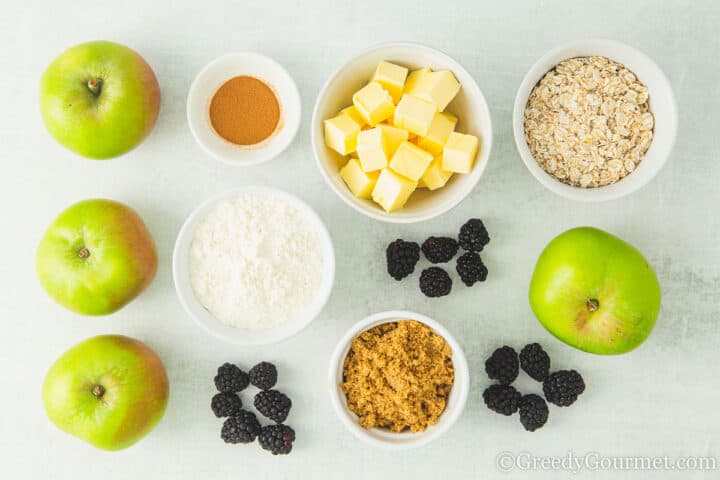 Equipment needed to make this recipe
Baking dish – a good quality baking dish is a key piece of equipment when making any kind of crumble.
Kitchen weighing scales – baking is all about precision. So, take the guesswork out of the equation and invest in a good pair of baking scales.
How to make blackberry and apple crumble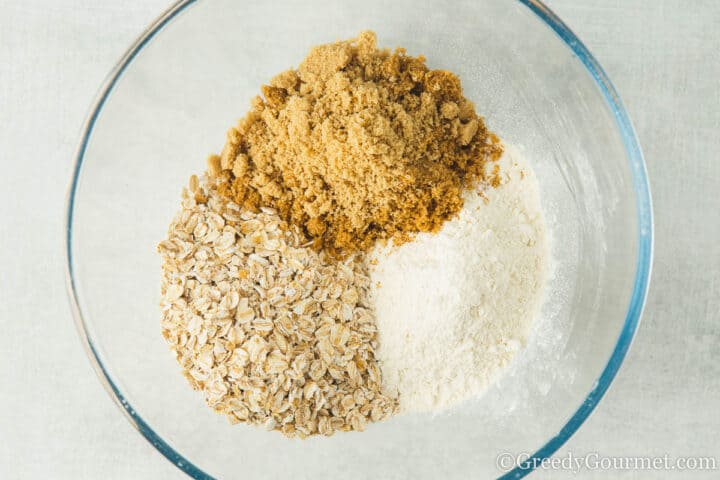 Place the oats, sugar and flour in a bowl.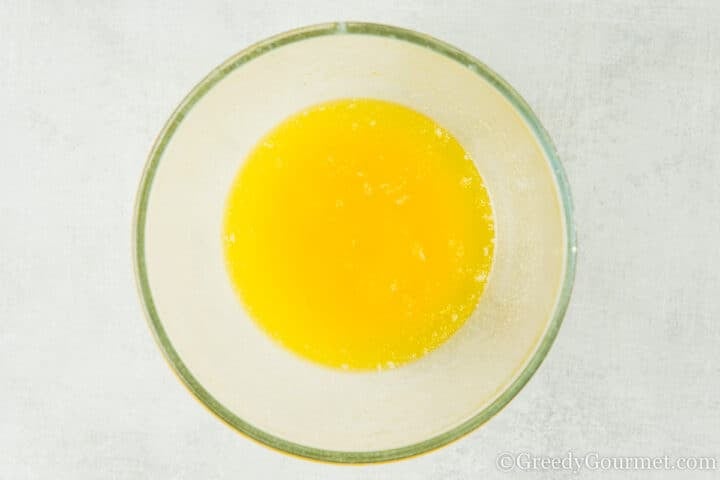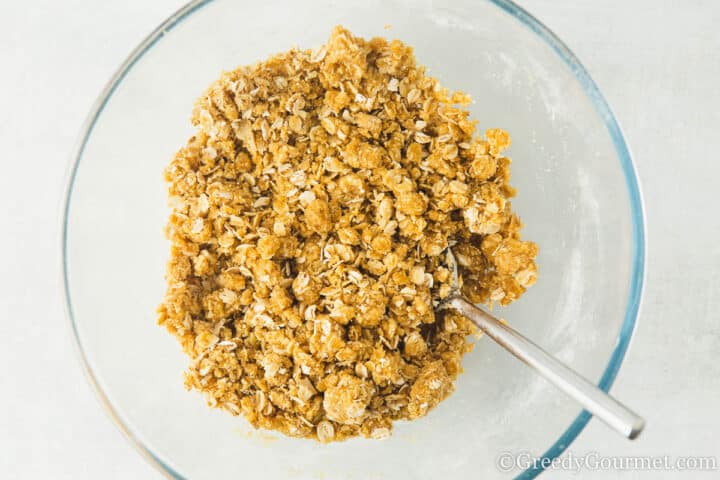 Mix the butter into the dry ingredients until crumb form.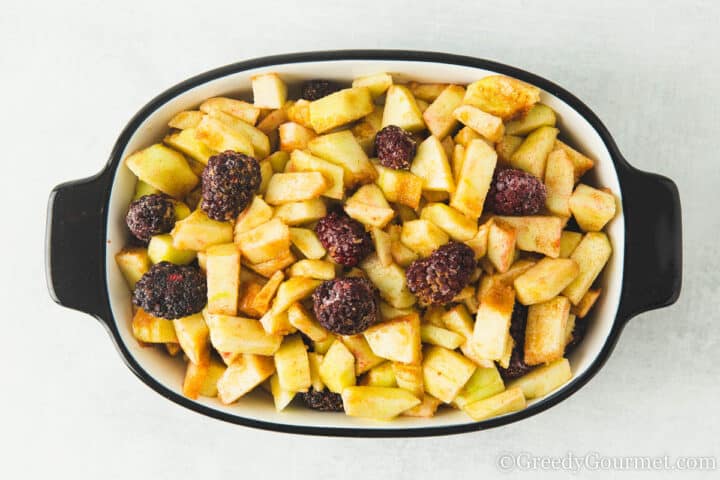 Place the apples, blackberries, sugar and cinnamon in a baking dish.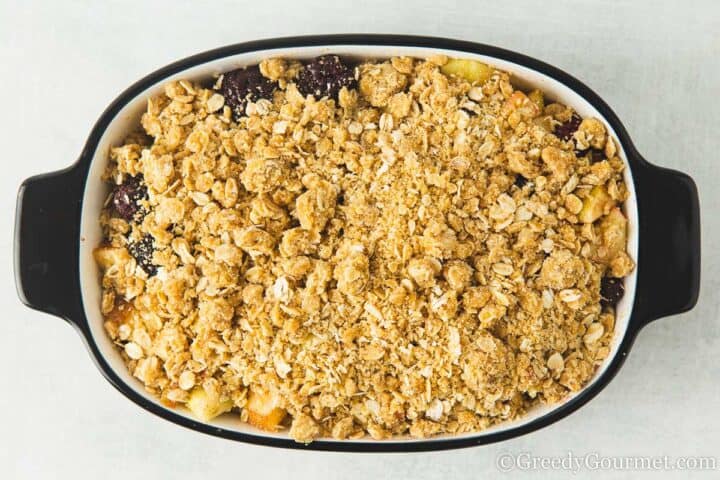 Top the filling with the crumble mixture. Bake until the fruit is cooked and the crumble is golden and crispy. Serve with ice cream or custard. Enjoy!
Top Tip
When you drizzle the melted butter over the crumble mixture, it's important to mix everything together until there's no dry flour and it resembles breadcrumbs. However, don't over-mix, as you might not achieve that perfect golden brown crumble topping.
Variations to this recipe
Gluten free
As it contains plain flour, this recipe isn't suitable for a gluten free diet. However, it can easily be adapted.
Simply replace the plain flour with a gluten free flour, at a like for like ratio. I recommend using almond flour or a suitable almond flour substitute.
Lemon
Lemon is a flavour that goes really well with this apple and blackberry crumble. For a lemon flavour and fragrance, add lemon juice (the juice of one lemon). You could even add a tablespoon of lemon zest.
Spice
If you fancy giving your crumble a spicier dimension, add ½ teaspoon of nutmeg, ground cardamom, ginger or allspice to the filling mixture.
Crumble topping
You can take your crumble mix to another level with the addition of a few simple ingredients:
Add flaked almonds for a wonderful nutty sweet taste and aroma.
You can also use chopped hazlenuts or walnuts.
Add a teaspoon of vanilla essence for extra richness.
Use a tablespoon of desiccated coconut to take your topping to another level.
Crush up some amaretti biscuits and add them into the mix.
Popular substitutions
Different fruit
This apple and blackberry crumble recipe can be easily adapted to include different fruit. Here are a few ideas:
Replace the apples with pears for a pear and blackberry crumble. Swap them at a 1:1 ratio.
Use rhubarb in place of apples for a delicious classic rhubarb crumble.
Not a fan of blackberries? Any berries will do!
This recipe calls for Bramley apples, but any kind of apples will do.
You can also use frozen berries, although you'll need to use double the amount and cook the crumble for longer.
Sugar
Use half demerara sugar with half light brown sugar for a good blend of crunchiness and flavour.
Top Tips
Want to know the secret to the perfect apple and blackberry crumble? Follow this tips and tricks:
Don't over-mix the crumble. The last thing you want is tiny floury crumbs – some buttery bits are completely fine, and will contribute to the perfect nobbly crumble that makes this dish such a rustic delight.
If you're not pressed for time, pop your crumble mix in the fridge or freezer for 20 minutes or so. Chilling it will help to produce a crunchy texture.
Press a fork over the surface of the crumble topping to give it a nice design finish.
For variety, mix up the different types if apples and chop them in different shapes and sizes.
You can make a large batch of crumble topping to keep in the cupboard and add to fruit dishes whenever you please.
What to serve with apple and blackberry crumble
A sweet on the side
This apple and blackberry crumble tastes incredible with a scoop of vanilla ice cream on the side. Simple and delicious! You can jazz things up a little bit and try a more offbeat flavour – check out my hokey pokey ice cream, rum and raisin ice cream, and bubble gum ice cream recipes.
Another terrific addition to this crumble is custard. The classic combo, crumble and custard conjures up feelings of British summers in the countryside. Pure bliss! Add a raspberry twist with my glorious pink custard.
Wine pairing
You normally think of wine pairings with savoury dishes, but trust me... this apple blackberry crumble recipe is made all the more magnificent with the addition of the right wine. Find the right flavours to mingle in harmony with the sweet tangy fruit and the buttery crumble, and you've got a truly memorable double act!
My top tip for tipple would be an off dry German Riesling.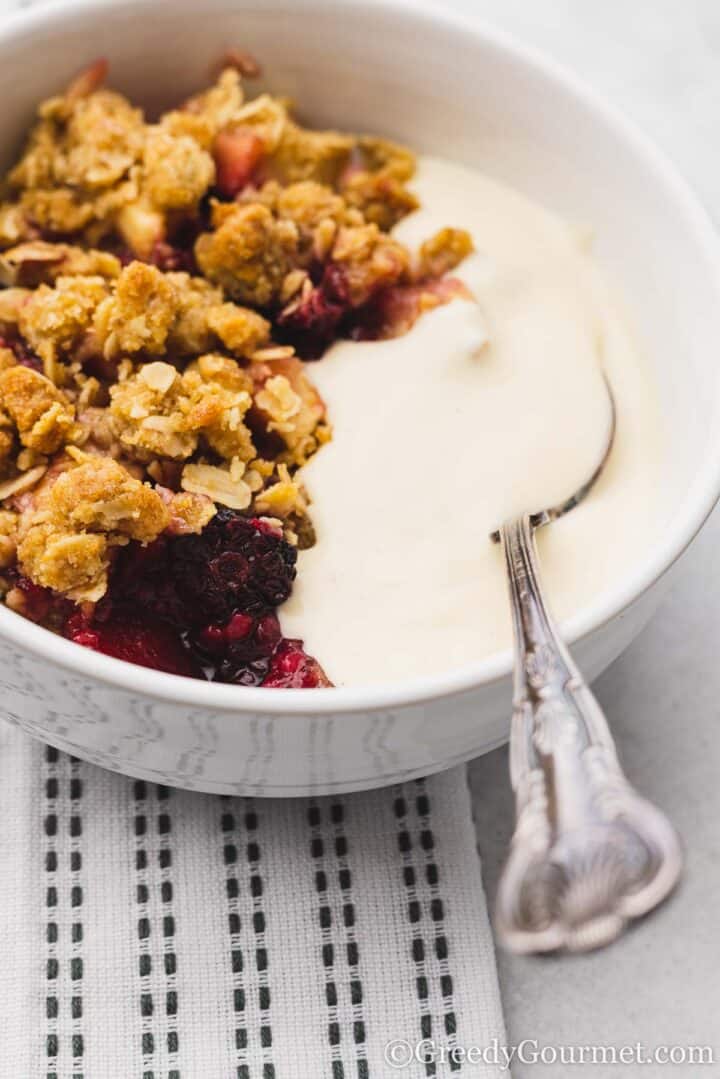 What are the best apples for this crumble?
You might be tempted to use eating apples for this apple and blackberry crumble. After all, you'll most likely have some in the fridge or the cupboard.
However, cooking apples are the best kind to use when it comes to baking recipes like this apple and blackberry crumble. That's because they're firm enough to hold their texture after being baked.
The best kind of baking apples include Granny Smith and Bramley apples. In this recipe, I used Bramley apples. Feel free to experiment with other types of cooking apple.
How do you know when blackberries are ripe?
When the blackberry has a deep colouring, is slightly tender and nice and plump, then it's perfectly ripe!
If you can use foraged blackberries from brambles for this recipe, then all the better! There's nothing quite like using your own apples and blackberries to make a delicious crumble.
Can I use frozen berries to make an apple blackberry crumble?
Yes, you can. However, you'll need to adjust the quantity somewhat. Use 2 cups of frozen blackberries in this recipe. Rinse them under cold water first.
You might also have to extend the cooking time, as starting with frozen ingredients means the crumble will take longer to bake.
What oats should I use for crumble topping?
Rolled oats are the best type to use with an apple bramble crumble. They normally come in two varieties – jumbo oats (or old fashioned oats) and quick cook oats. Both are fine to use, but go for jumbo oats if you can find them – you'll get a crisper texture on top of your crumble.
Why is my crumble topping not crumbly?
This often happens when you over-mix the crumble topping mixture. Also, using too much butter or butter that's too hot can cause the crumble mix to become too soggy. So, make sure you follow the precise measurements below.
How do you store apple and blackberry crumble?
Apple and blackberry crumble should be stored in an airtight container in the fridge. It will keep for up to five days.
Can you freeze fruit crumble?
Yes. Any fruit crumble can be frozen for up to three months. Simply store it in a freezer-safe airtight container – remember to label the container with the date of freezing.
Can you make this crumble ahead of time?
You can make up the crumble topping mix beforehand, but I recommend baking the crumble on the day you plan to serve it.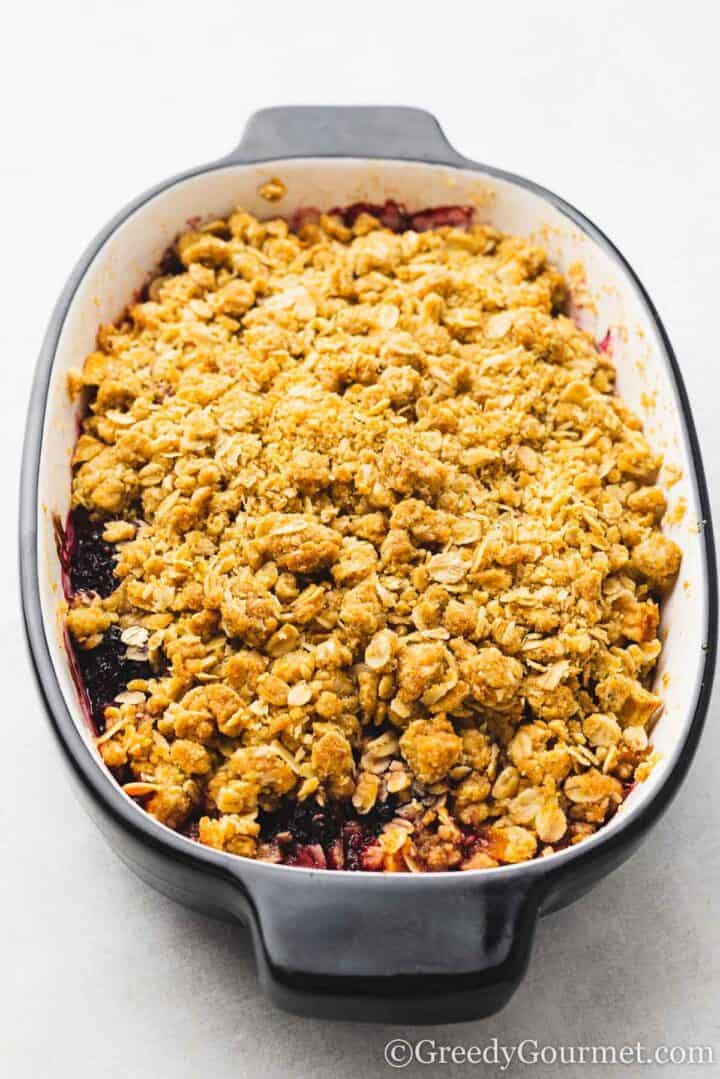 More fabulous fruit crumble recipes
If you're a fan of fruit crumbles, you'll absolutely adore these recipes!
Print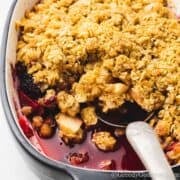 Apple and Blackberry Crumble
---
Author:

Michelle Minnaar

Total Time:

1 hour 40 minutes

Yield:

6

portions

1

x

Diet:

Vegetarian
Description
Apple And Blackberry Crumble is a classic British dessert, best served with custard or ice cream. 
---
Apple and Blackberry Filling
750g

(

5

large) apples, peeled, cored and chopped

250g

(

1¾ cups

) blackberries

75g

(

⅓ cup

) caster sugar

3g

(

1 tsp

) ground cinnamon
Crumble Topping
125g

(

1 cup

) plain flour

125g

(

1½ cups

) oats

125g

(

½ cup

) light brown sugar

125

(½ cup) butter
---
Instructions
Preheat your oven to 180°C/fan 160°C/355°F/gas mark 4.
For the Filling: Place the apple pieces and blackberries pieces in a large ovenproof dish, along with the sugar and cinnamon. Give it a stir and set aside.
For the Crumble Topping: Place the flour, oats and sugar in a separate bowl. Stir until everything is evenly distributed.
Zap the butter in the microwave in 20 second stints until everything has melted. 
Drizzle the butter over the crumble mixture and stir until lumps form and there is no dry flour in sight. 
Cover the filling evenly with the topping and bake in the oven for 50 minutes or until the topping is golden, the juice bubbling on the sides and the fruit is fork tender. 
Serve with custard or vanilla ice cream. Enjoy!
Notes
In this recipe, I used Bramley apples. Feel free to experiment with other types.
Prep Time:

45 minutes

Cook Time:

55 minutes

Category:

Dessert

Method:

Bake

Cuisine:

British
Keywords: apple and blackberry crumble, apple blackberry crumble, apple and blackberry crumble recipe, apple and blackberry crumble with oats, apple and bramble crumble, easy apple and blackberry crumble