Even though reducing your sugar intake may seem like a daunting task, especially during the holidays, is not mission impossible. Limiting the amount you consume doesn't mean you need to avoid your favourite treats, even at Christmas. With Splenda, you can embrace the season of treats – and the sweet life – without compromise! So, you can enjoy this baked chocolate cheesecake guilt free!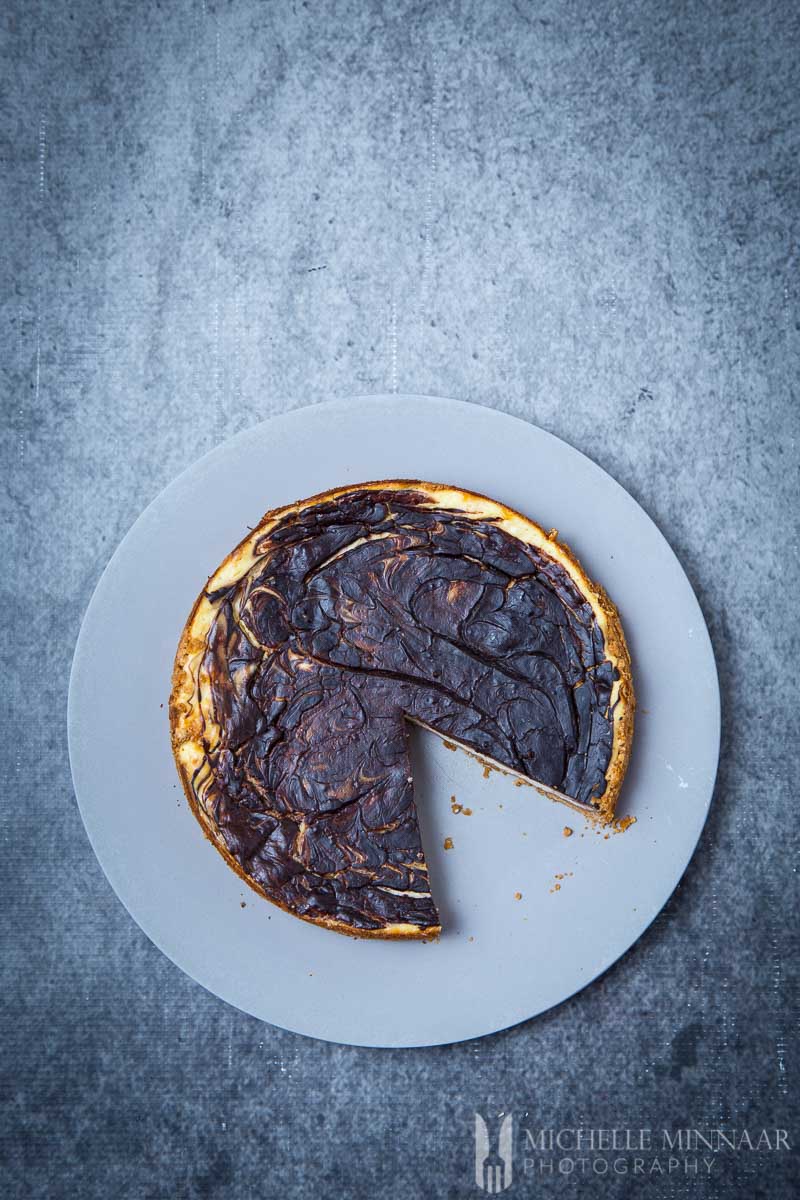 baked chocolate cheesecake with SPLENDA®
SPLENDA® is just what might save a few of us from gaining weight this Christmas. It is a low-calorie sweetener made with sucralose, which means that unlike other low-calorie sweeteners it's heat stable up to 232°C. So, it can easily be used as a replacement for table sugar in most cakes and bakes! Get this, it won't ruin the consistency of your baked goods either and my baked chocolate cheesecake turned out just perfect. Please visit www.splenda.co.uk/recipes for more delicious recipe inspiration and baking tips!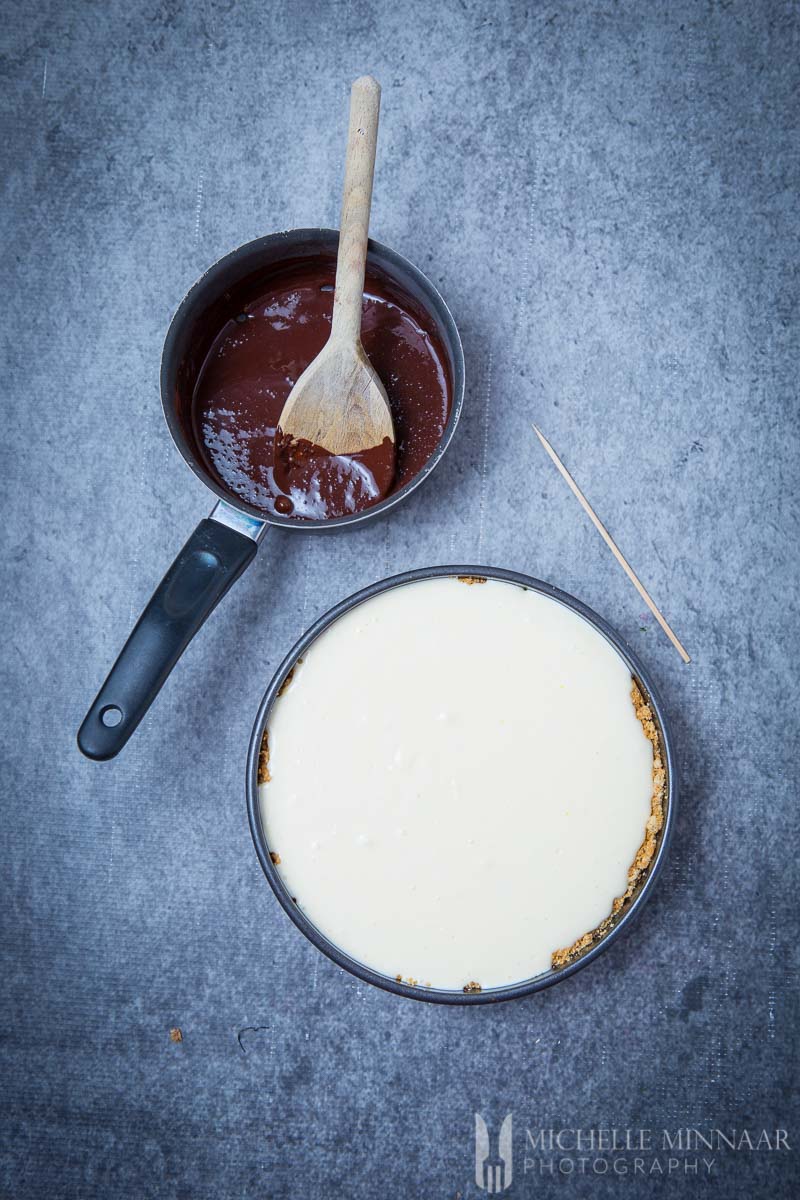 challenge yourself
I know that baking is at the very heart of Christmas and it's something that we all do to celebrate and be creative. However, just think about all the extra food and sugar intake over Christmas and with added bubbly at New Years Eve. In fact, on average people gain between one and five lbs (0.5-2.5kg) over the Christmas period. You only need to take in 500 additional calories (kcals) a day over five weeks to see the scales register an extra 5lbs. Luckily, consultant and dietician Helen Bond offers a few handy tricks how to get into the Christmas spirit in a much healthier way.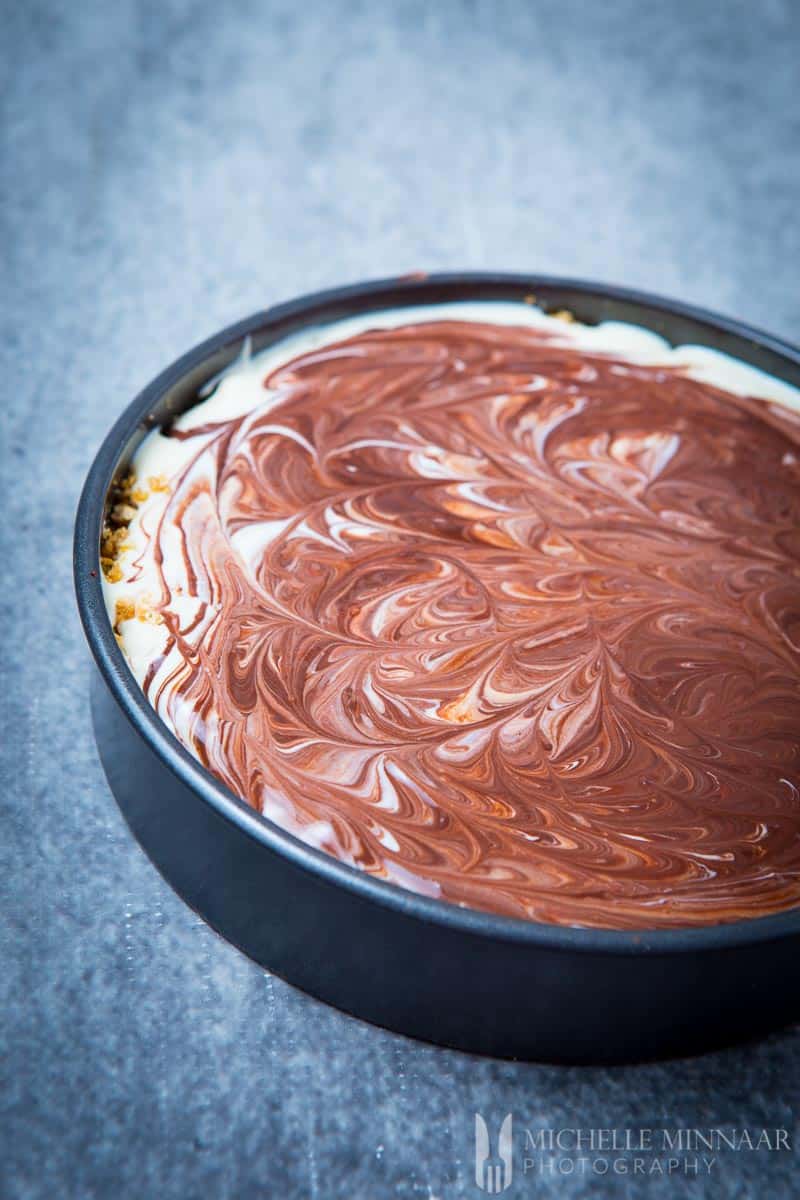 Helen Bond's top 10 tips
Here are Helen Bond's top 10 tips for negotiating festive feast; from daily treats to New Year's toast.
Always start the day with a healthy breakfast. Eating a good breakfast will help kick-start your metabolism and keep you feeling full.
Get creative with your advent calendar. Maybe the countdown to Christmas can be different?
Love seasonal fruit and vegetables. Try piling the vegetables on the plate first, rather than last.
Make time for exercise. It is essential that you schedule your 2.5 hours of moderate intensity exercise into your week now.
Don't skip meals.
Try not to burn the candle at both ends. With parties during the week and weekend hosting duties, can also affect your waistline.
Rethink your tea breaks. Instead of adding sugar to your tea, swap to a low-calorie sweetener, like SPLENDA®.
Treat sweets as treats. Keep healthier seasonal snacks, like clementines, to hand.
Wise-up to the buffet. Before you pick up the plate (and always take the smallest one!), pause for a moment and then prioritise healthy choices.
Keep in mind portion size. Also, try going for smaller tableware.
Keeping these tips can really affect your waistline after the holidays. Remember, eating unhealthy always shows up a week or two later! I will definitely challenge myself and give Helen's tips a go. I can't be bothered not fitting into my jeans.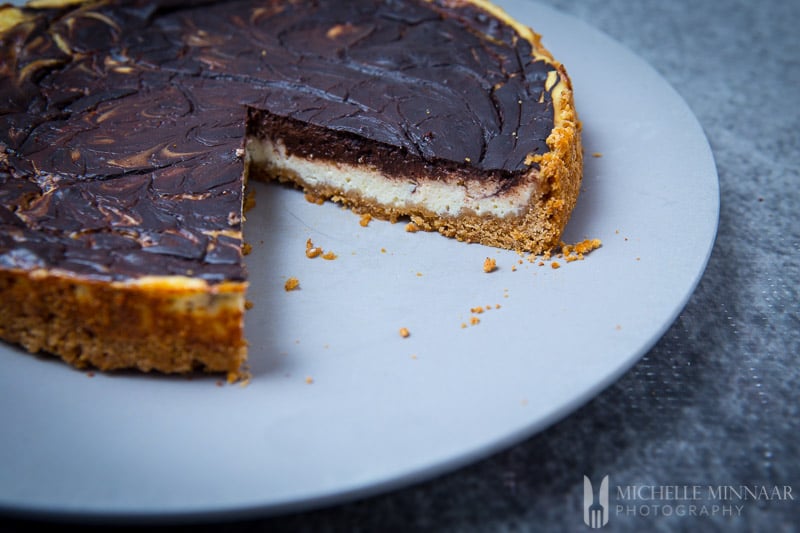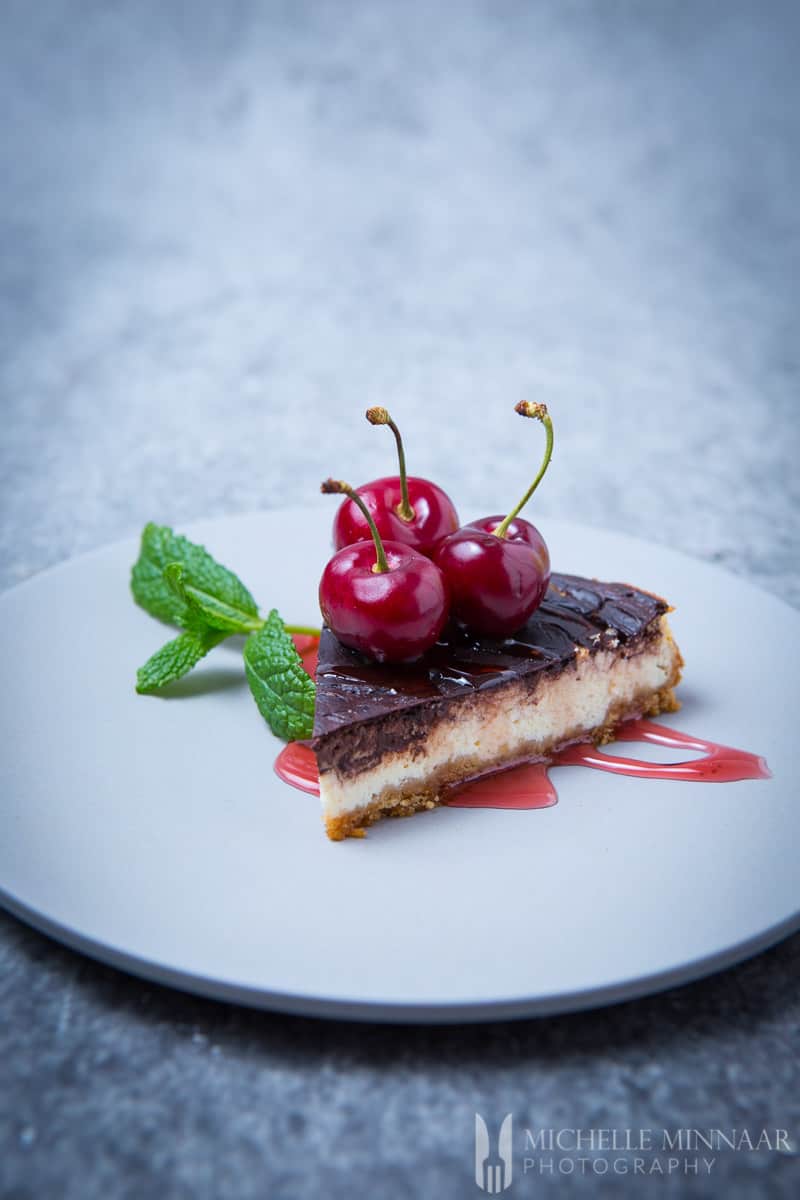 An excellent tip I got from a friend is that the base can be made out of nuts! Yes, simply crush the nuts and bind together with a bit of flour and unscented coconut oil. I am sure you can also use gluten-free flour.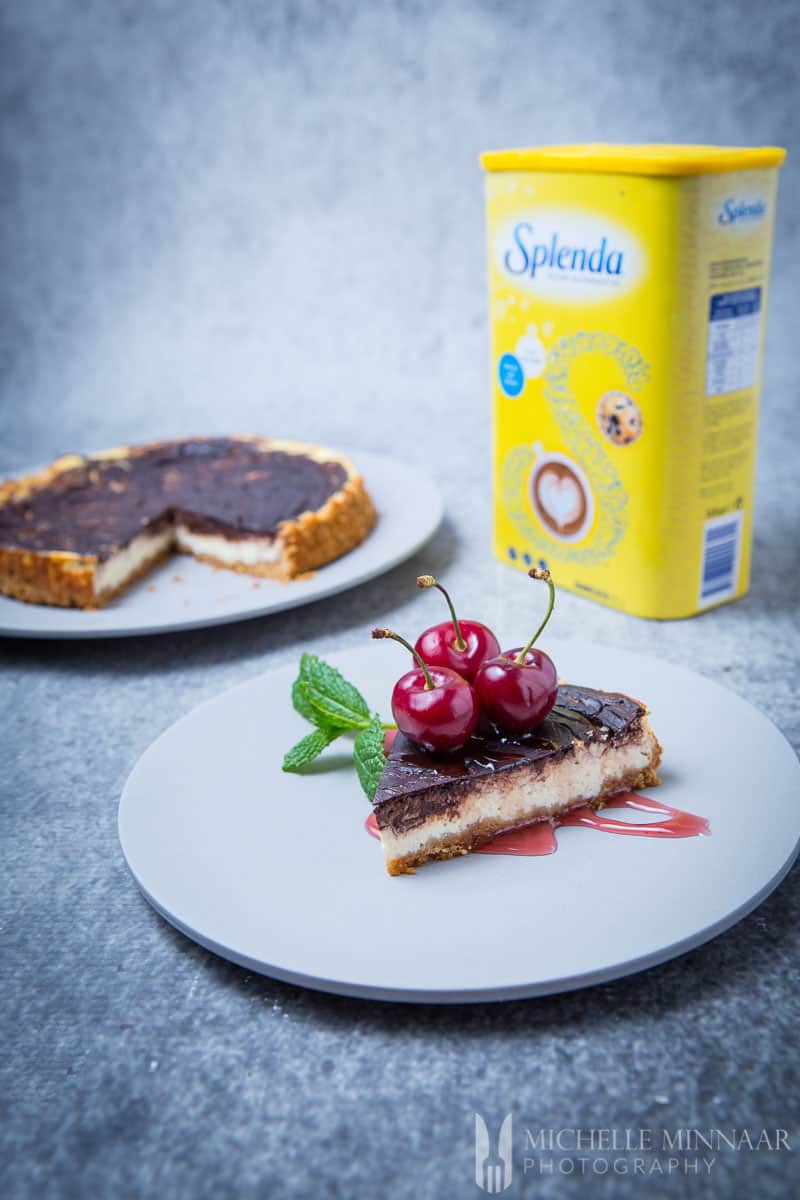 By the way, you can also use the sugar in other cheesecake recipes like Amarula cheesecake.
ricotta cheese
I used ricotta cheese for the baked chocolate cheesecake. Ricotta cheese can also be fatty and high in calorie intake. There are also a couple of ricotta substitutes out there, however they might make the outcome totally different. Tofu or soy-bean curd is a dairy-free alternative to ricotta cheese. Apparently, silken tofu is the best substitute for ricotta cheese because it is creamy and has a custard-like consistency. However, I can imagine that the texture and taste might be impacted. Does anyone have any experience in baking with silken tofu or tofu in general?
In the worst case, simply limit the amount of ricotta cheese used. The cheese layer doesn't have to be that thick. Although, if you've already completed your 2.5 hours of exercise for the week, I guess you can leave the ricotta as is. Or even grab little slice of this delicious raspberry and lime cheesecake.
What is your favourite cheese recipe?
Print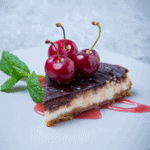 Baked Chocolate Cheesecake with Cherry Coulis
---
2.5

ml (1⁄2 tsp) sunflower oil, for greasing

175g

(

6oz

) reduced fat digestive biscuits, crushed

45

ml (3 tbsp) runny honey

250g

(

8oz

)  ricotta cheese

200g

(

7oz

) low fat cream cheese

2

eggs, beaten

60

ml (4 tbsp) SPLENDA® Granulated

1

lemon, zested

45

ml (3 tbsp) skimmed milk

30

ml (2 tbsp) cocoa powder

450g

(1lb) cherries, washed and deseeded

90

ml (6 tbsp) SPLENDA® Granulated

30

ml (2 tbsp) water
---
Instructions
Start by preheating the oven to 170°C/340°F/gas mark 3 and lining the base of a 20cm (8 inch) springform tin with non-stick baking parchment, brush the tin lightly with oil. Next, combine the crushed biscuits and runny honey. Press firmly into the base of the cake tin and a little way up the sides. Chill until required.
In a large bowl beat together the ricotta cheese, cream cheese and eggs until smooth. Gently stir in the SPLENDA® Granulated.
Pour ¾ of the mixture into a separate bowl and add the lemon zest. Stir until combined and pour into the cake tin. Set this aside for now.
Warm the milk over a low heat, once warm remove from the heat and stir in the cocoa until combined. Beat the combined milk and cocoa into the remaining cheesecake mixture.
Next, pour the cocoa cheesecake mixture into the centre of the plain mixture in the cake tin and, using a skewer or sharp knife, make swirling movements in figure of eight patterns until the mixture has a marbled appearance.
Bake for 45-50 minutes until just golden and set. Put to one side to cool, or chill before serving.
Gently heat the cherries in a pan with the water, for about 5 minutes or until the juices run.
Push through a sieve and stir in the SPLENDA® Granulated.
Serve warm or cold, with the cheesecake.
Notes
You can make a coulis from just about any berryfruit, including raspberry, strawberry, blackberry and cranberry.
Looking for further treats to add to your diet? Try this low calorie wheatabix cake!
Prep Time:

50 minutes

Cook Time:

20 minutes

Category:

Dessert

Cuisine:

American
Nutrition
Serving Size:

1 serving

Calories:

282

Sugar:

5.4 g

Sodium:

224 mg

Fat:

7.9 g

Saturated Fat:

2.3 g

Carbohydrates:

48.3 g

Fiber:

9.1 g

Protein:

12.1 g

Cholesterol:

54 mg
save the recipe to your pinterest board
P.S. This is a sponsored post.