When it comes to classic cheesecakes, banoffee cheesecake might just be the best.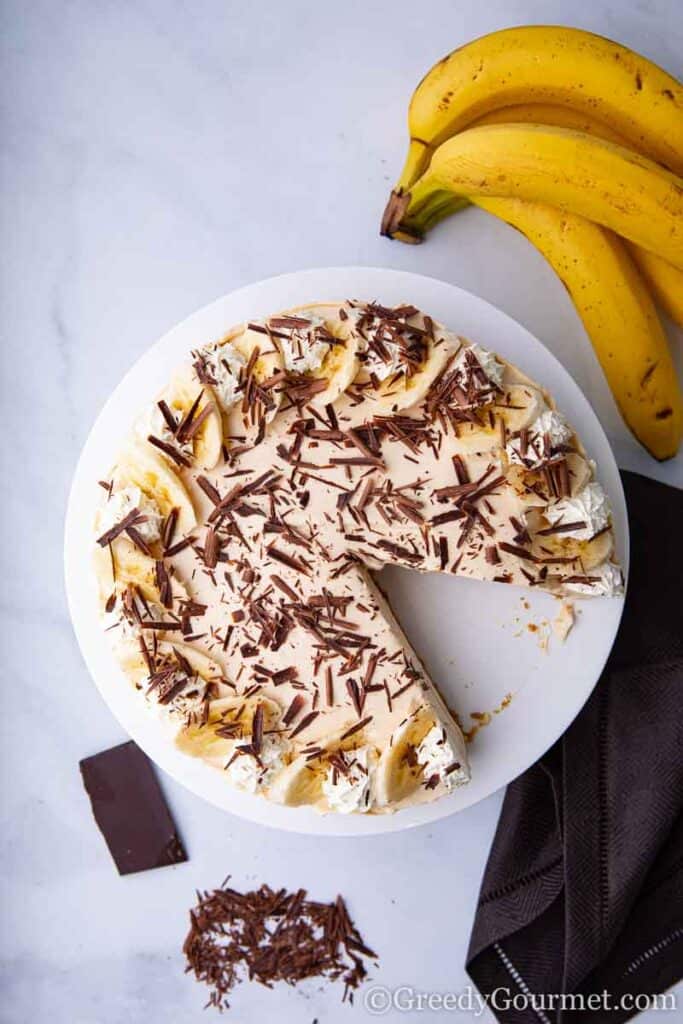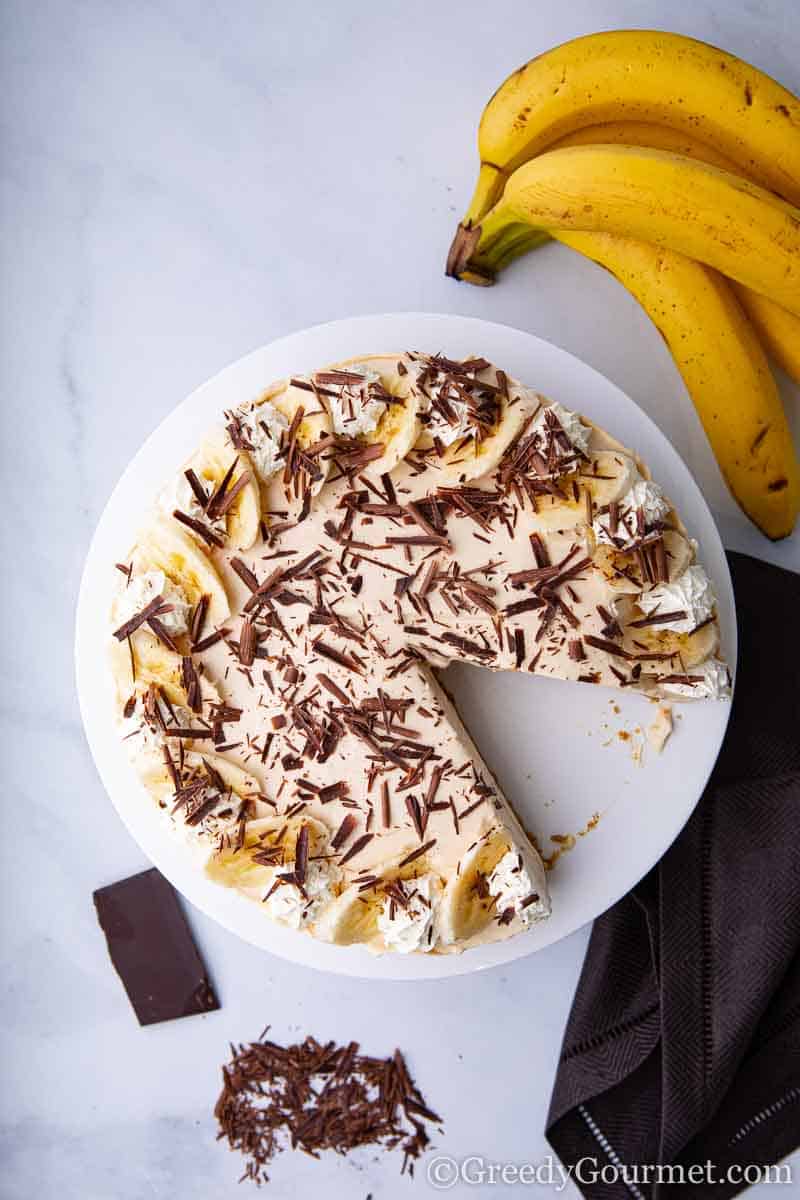 A buttery crunchy biscuit base. A layer of sliced bananas followed by a generous layer of luscious caramel sauce cream cheese filling, topped with chocolate shavings, fresh ripe bananas and another helping of whipped cream.
Pure mouth watering decadence! Here's my take on a classic banoffee cheesecake.
Products you need for this recipe
Before making this banoffee cheesecake, let's take a look at some of the items you'll need: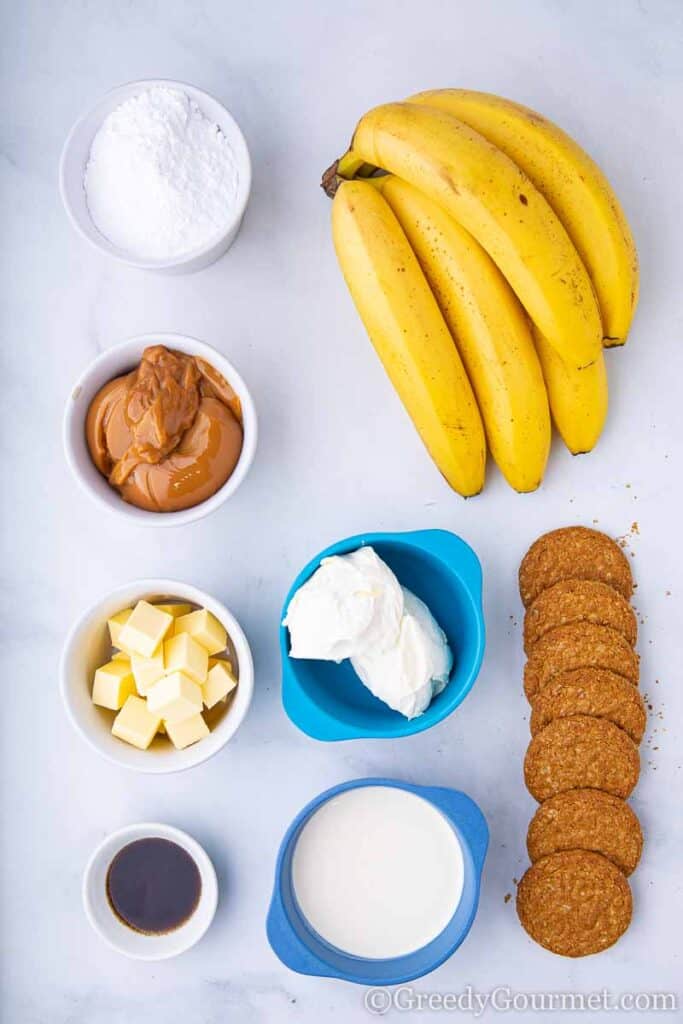 Banoffee cheesecake recipe
Who doesn't love a cheesecake?! A sure-fire way to put a smile on the face of just about everyone, cheesecakes are the ultimate indulgence. When you need to bring a little slice of joy, only a cheesecake will do.
I've got a few favourites and banoffee cheesecake is definitely up there. There's something about the combination of banana and caramel/toffee sauce mixed in with cream cheese and vanilla that's just so simple and so satisfying.
If you're a cheesecake pro, you'll know. If you're a newbie I'm excited for you! This is a great recipe for first-timers – it's pretty straightforward, there's absolutely no baking to worry about and the decoration is all about getting creative.
When all is said and done, you'll be left with a beautiful banoffee cheesecake that looks and tastes like a dream!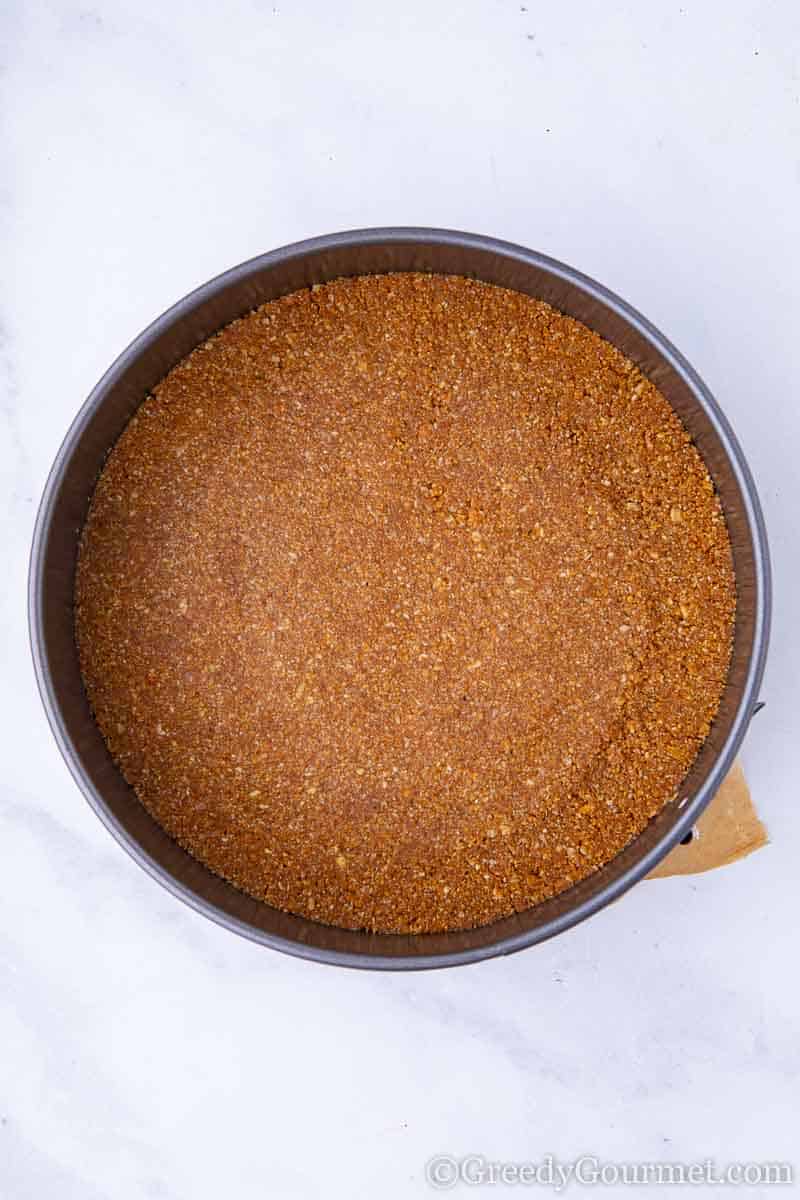 Banoffee pie
This banoffee cheesecake is a twist on a classic British dessert – banoffee pie. Banoffee pie is traditionally made from fresh bananas, cream, and toffee sauce – the toffee sauce is made from condensed milk or dulce de leche.
All this on top of a buttery biscuit base. In fact, it's very similar to a banoffee cheesecake.
It's thought that the original banoffee pie was invented in 1971 by Nigel Mackenzie and Ian Dowding, the owner and chef of the Hungry Monk restaurant in East Sussex, England. They say they were inspired by an old American recipe for coffee toffee pie.
After experimenting with flavours to mix with the toffee sauce for several hours, including mandarin and apple, they settled for banana and instantly knew they'd struck gold.
Banana + toffee = banoffee. There we have it – banoffee pie!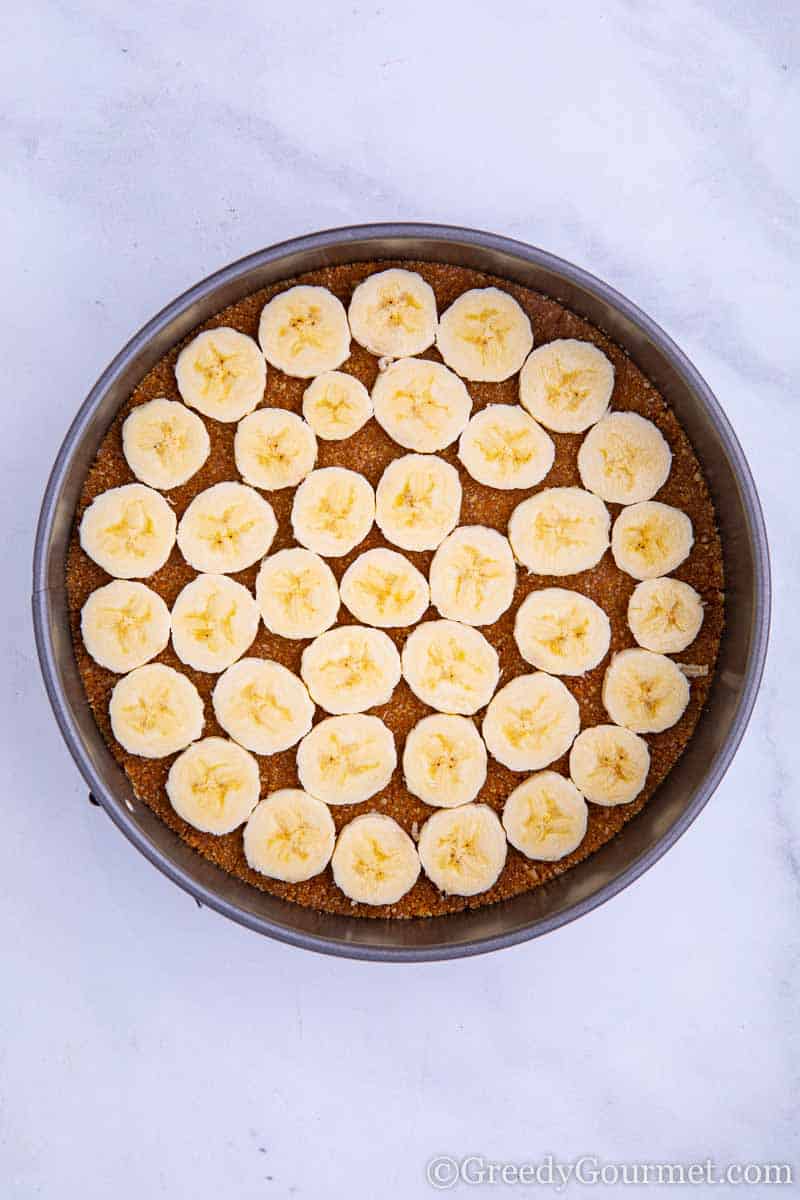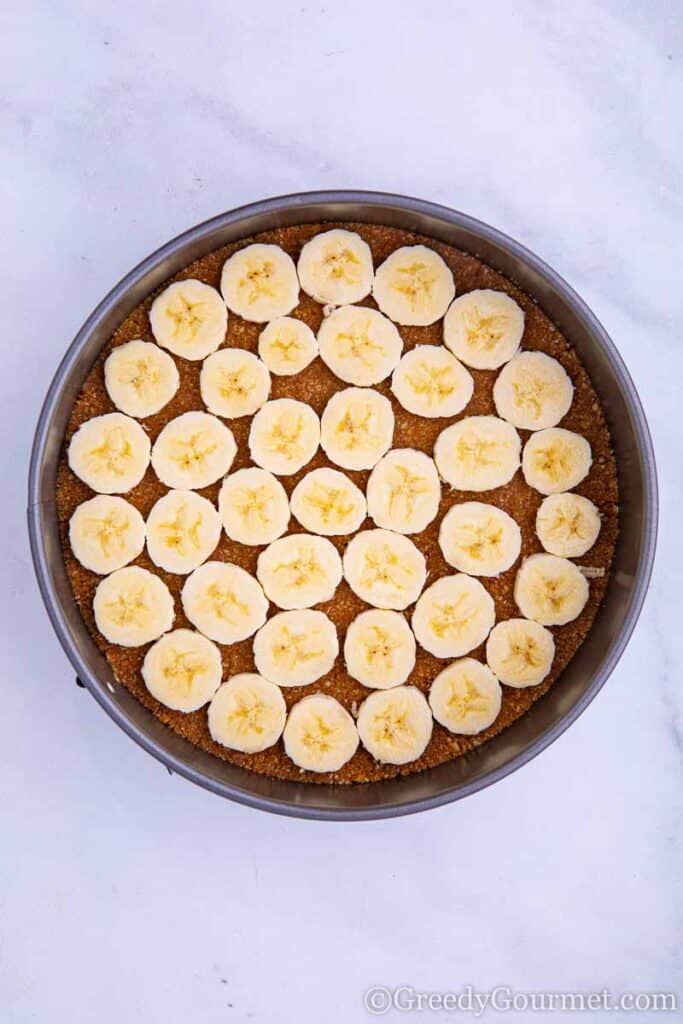 How to make banoffee cheesecake
Making this no bake banoffee cheesecake is pretty straightforward, especially if you have a stand mixer and a food processor.
The first step is to make the buttery biscuit base. It's as easy as melting butter in a pan, blitzing up biscuits in your food processor, then gradually adding the melted butter as you blitz the biscuits.
You'll then make the base of your cheesecake by spooning the crumbly biscuit mixture into the tin. Flattening it down with the back of your wooden spoon or palette knife is important here – you'll want it to be fairly dense. Pop it in the fridge.
Next comes the full fat cream cheese filling. This is where your stand mixer comes into its own. The full fat cream cheese (always full fat) goes into the mixer, along with the vanilla paste.
While it's mixing on a slow speed, you'll add the icing sugar, then the caramel/toffee sauce. This is going to create a velvety soft mixture.
After whipping up the double cream in a separate bowl, you'll fold it into the cream cheese mixture to form the mouth watering cream cheese filling.
The cheesecake base comes out of the fridge, a layer of sliced banana goes on top, then you'll spoon the cream cheese caramel sauce filling on top.
After smoothing it out with your palette knife and resisting the urge to bury your face in it, you'll place it in the fridge to cool for at least six hours.
I know, I know. Six hours! Trust me though, if you can wait that long you'll be rewarded with something truly glorious.
Once your banoffee cheesecake is set, now comes the fun creative part – the decoration! Use fresh banana slices, chocolate shavings, whipped cream, chopped nuts and make sure to drizzle some hot caramel sauce on top!
For proper measurements and detailed instructions, see the recipe at the bottom of the page.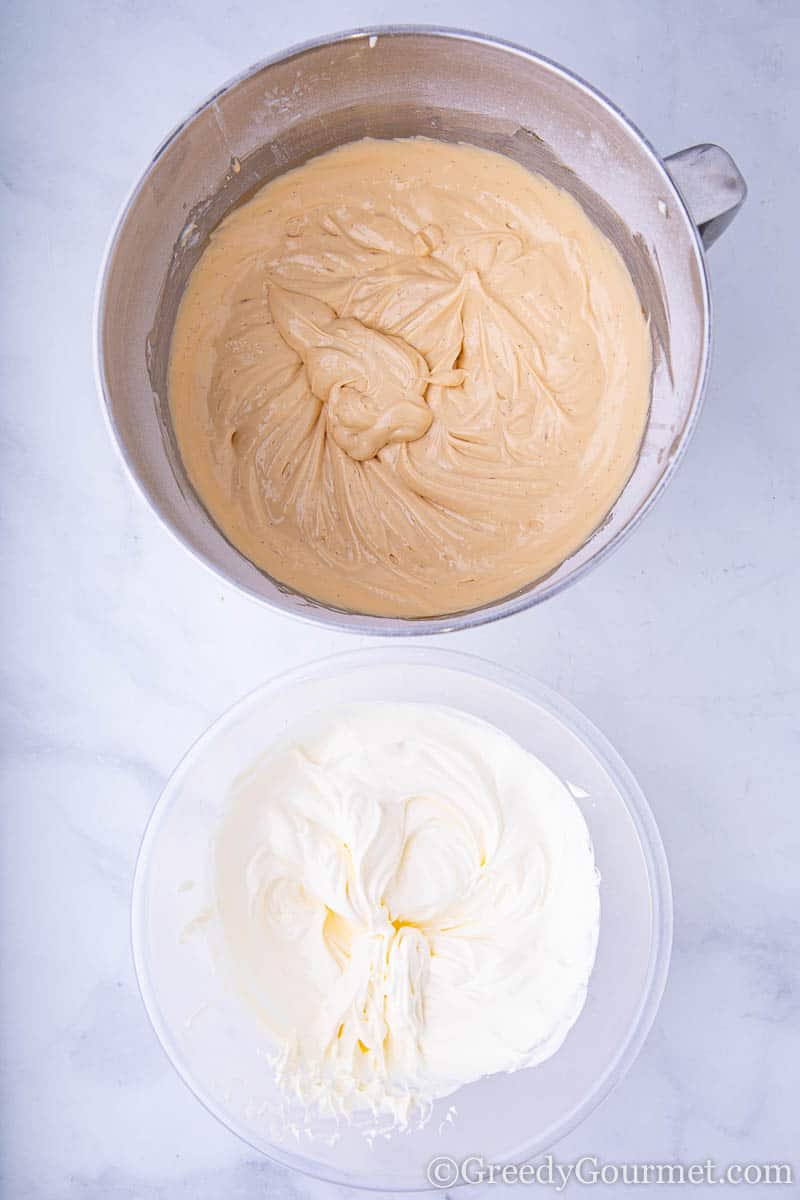 No bake vs baked cheesecake
The big difference between the two is the baked cheesecake contains eggs and is baked in the oven, whereas no bake cheesecake doesn't contain eggs and sets in the fridge.
The filling for no bake cheesecake tends to be a little creamier and almost mouse-like, as there are no eggs. Also, no bake cheesecakes are a lot easier to bake and get right, as you don't have to worry about timings and temperatures.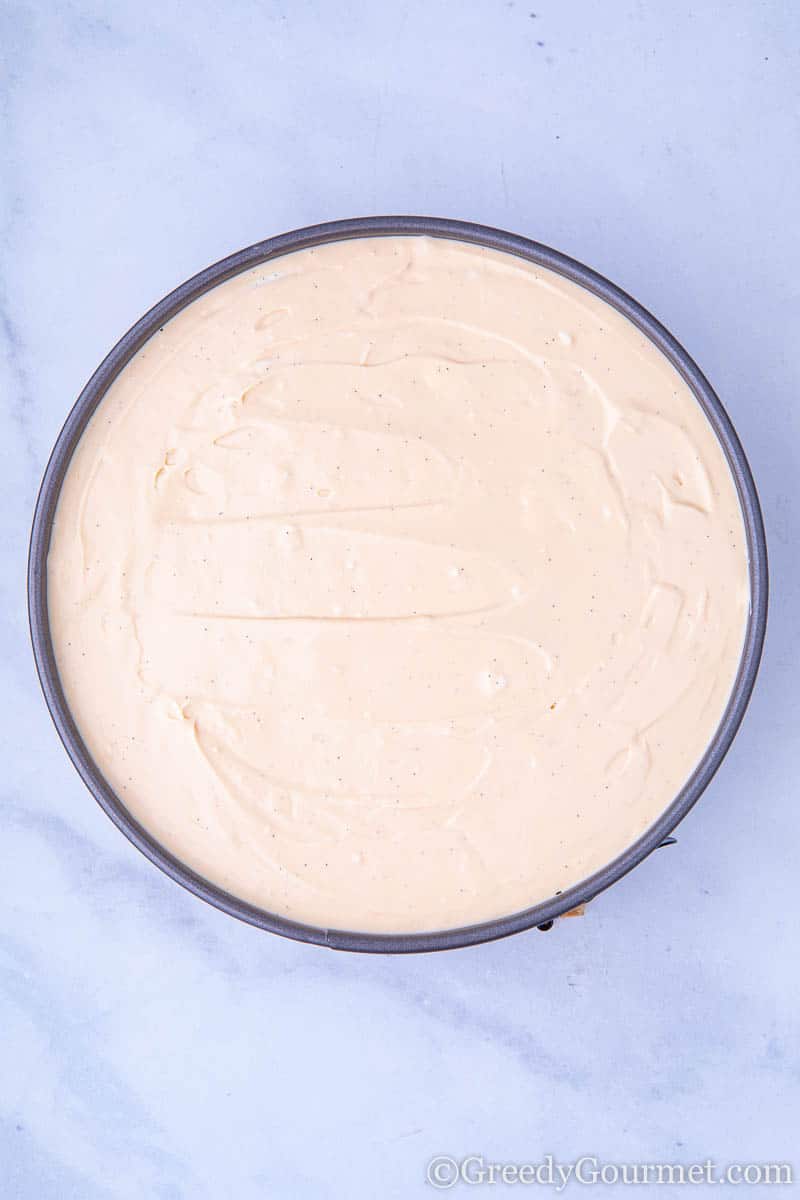 What tin should I use?
When making a cheesecake, the best tin to use is a springform tin – see 'Products You Need For This Recipe' above for the ideal tin. This is because you can't flip cheesecakes out of the tin the way you can other cakes.
With a springform tin, you can just flip the catch on the side, which unlocks the side of the tin. Also, you don't need to line the base of a springform tin when making cheesecake.
How do you remove a no bake cheesecake from the tin?
As long as you use a springform tin when making this no bake banoffee cheesecake, it'll be quite simple to remove.
The first step to being able to remove your cheesecake with ease is to make sure the base of the tin is the right way round.
You'll notice there's a little 'lip' on the base of the springform tin. You want this to be facing downwards.
Make sure you've got a cake stand or a serving plate on hand to transfer your cheesecake after removing it from the tin. 
Once you've unclipped the side of the springform tin, carefully run a butter knife around the edges. Use kitchen towel to keep the knife clean and, eventually, you should be able to make a clean break and remove the side of the tin.
To remove the cheesecake from the base, first run your palette knife around the edges to loosen it. Then, you could either use a cake lifter – a great little tool that makes life so much easier – or two palette knives to carefully lift your cake off the base and onto the plate or stand.   
Finally, use your palette knife to smooth out any imperfections. Now your cheesecake is ready to decorate!
How do I make the crumb mixture if I don't have a food processor?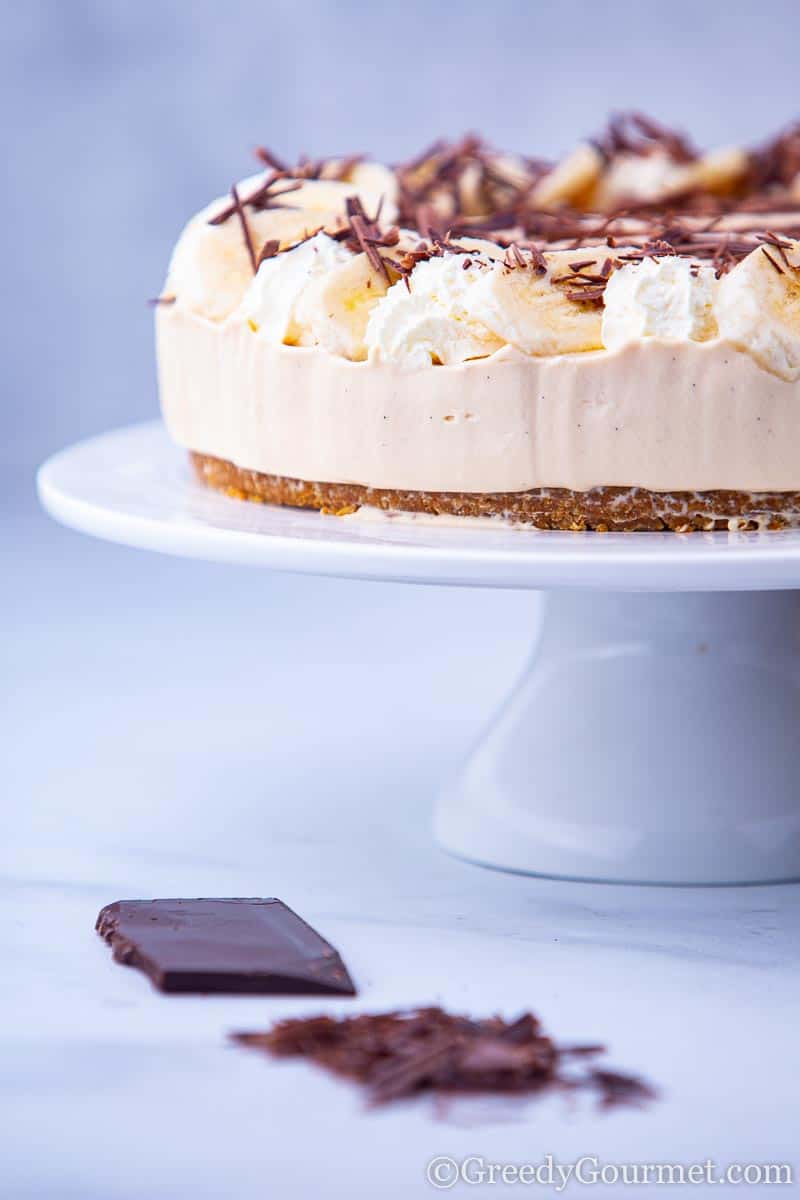 If you don't have a food processor, the easiest way to get the perfect biscuit base is to crush the biscuits in a bowl using an empty wine bottle. Better yet, use a prosecco or cava bottle – the deep groove and the ridges on the bottom make them ideally suited for grinding.
If you're a tee-totaller, fear not! You could also use a rolling pin to grind up the biscuits.
Why does a cheesecake need to cool in the fridge?
When you make a no bake cheesecake, whisking the creamy filling gives it a silky, mousse-like consistency that's absolutely delicious. This airy cream cheese filling needs to set, however.
That's why it needs to be refrigerated. When chilled, the filling becomes solidified, giving it that stable cheesecake structure. Chill it properly and your cheesecake will look professional and irresistible.
Chill your banoffee cheesecake for at least 6 hours. However, for that extra-set perfect texture, chill for 12 hours – essentially overnight. Trust me, it'll be more than worth the wait!
How do you store cheesecake?
Your banoffee cheesecake will stay delicious for up to five days in the fridge. Still, if you can resist the urge to scoff banoffee cheesecake for five days then, quite frankly, you deserve a medal.
Although you can freeze cheesecake, I wouldn't recommend it. Something this divine should be enjoyed at its best. 
If you do want to freeze your banoffee cheesecake, do it before adding the final decorations. Either place it whole in a large freezable airtight container or slice it into portions.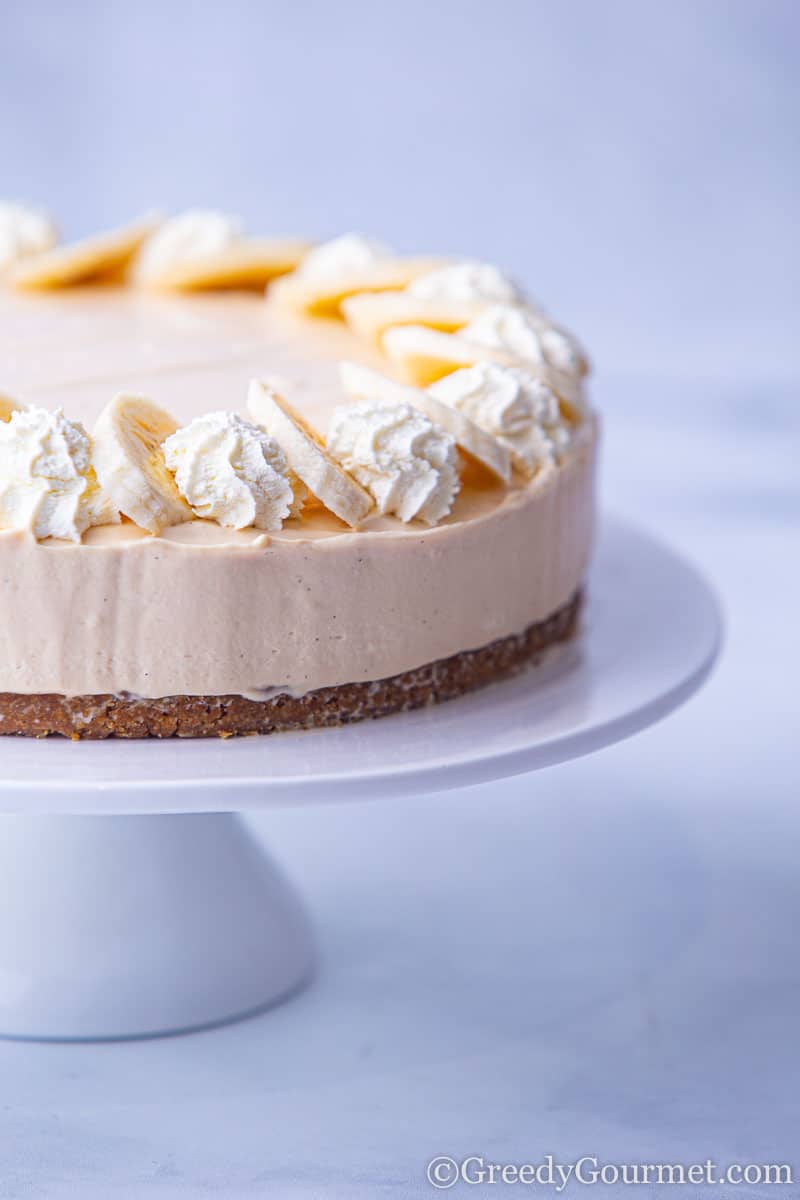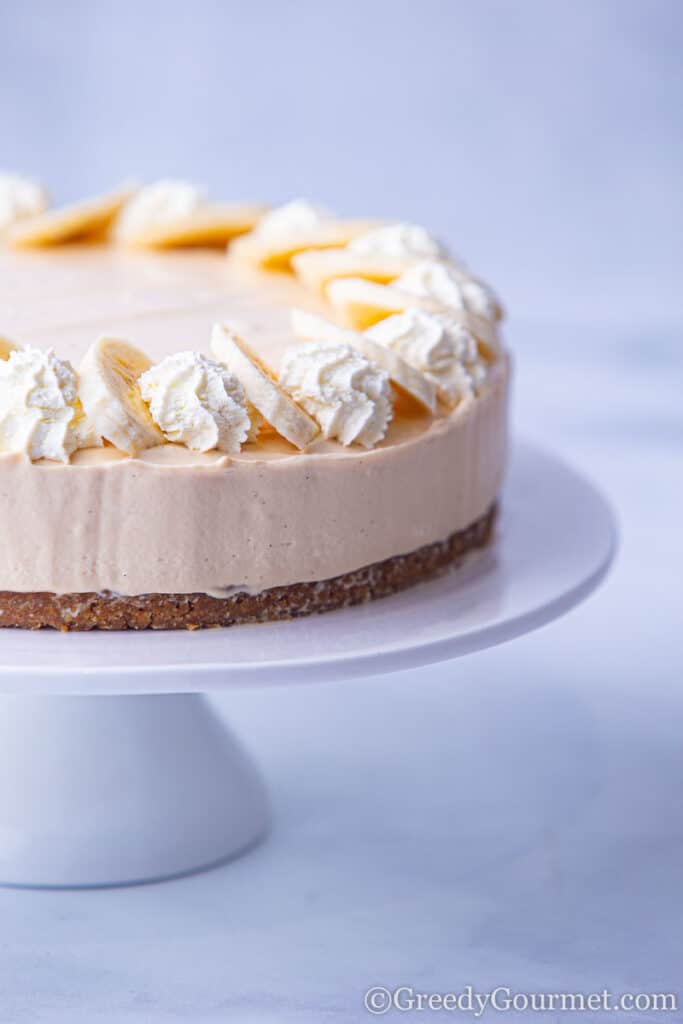 More indulgent cheesecake recipes
If, like me, you're a sucker for a cheesecake, you'll no doubt be demanding more satisfaction. Well, feast your eyes on these:
Print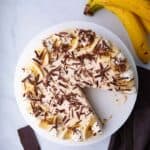 Banoffee Cheesecake
---
Author:

Michelle Minnaar

Total Time:

30 minutes

Yield:

12

servings

1

x

Diet:

Vegetarian
Description
Banoffee Cheesecake is a fun play on the famous British dessert, Banoffee Pie. You can't go wrong with combining toffee and banana. Decorate to your heart's content!
---
Biscuit Base
300

g

(3 cups) oat biscuits, such as Hobnobs

150

g

(2/3 cup) unsalted butter, melted

2

bananas, peeled and sliced
Caramel Cheesecake Filling
500

g

(2 cups) cream cheese

5

ml

(1 tsp) vanilla paste

100

g

(4/5 cup) icing sugar

200

g

(1/2 can) caramel, such as Carnation

300

ml

(1 1/5 cups) double cream
Cheesecake Decoration
125

ml

(1/2 cup) double cream, whipped

1

banana, peeled and chopped

200

g

(1/2 can) Carnation caramel [optional]

50

g

(1/2 cup) chocolate shavings
---
Instructions
For the Biscuit Base: Blitz the biscuits in a food processor until a crumb is formed.
Pour the melted butter while the machine is running.
Spoon the mixture into the base of a 23cm (9in) springform cake tin and level with the back of a spoon.
Place in the fridge to set.
For the Caramel Cheesecake Filling: Place the cream cheese and vanilla paste in a stand mixer.
While running the mixer at a low speed, slowly add the icing sugar, until everything is incorporated.
Add the caramel and continue mixing until everything is well incorporated.
In a separate bowl, whip the double cream until soft peaks form.
Fold the whipped cream into the cream cheese mixture.
Remove the biscuit base from the fridge and arrange a single layer of banana slices on top.
Cover the whole base with the cheesecake filling, then gently drop the tin onto the kitchen counter a few times to let any bubbles out.
Place the cheesecake in the fridge to chill for at least 6 hours, or preferably overnight.
For the Cheesecake Decoration: Use whipped cream, banana slices, drizzled caramel (heat it gently first!) and chocolate shavings to decorate the cheesecake to your preference.
Serve immediately. Enjoy!
Notes
Make sure your banana slices cover the whole biscuit base. If not, use more. If you make the banana slices on the thick side, you will need more bananas.
If you find you have too much cream cheese leftover that you can't use, check out my guide on freezing cream cheese to make sure it doesn't go to waste sitting in your fridge!
Prep Time:

30 minutes

Cook Time:

0 minutes

Category:

Dessert

Method:

Chill

Cuisine:

British
Keywords: banoffee cheesecake, no bake banoffee cheesecake recipe, how to make banoffee cheesecake, banoffee dessert, English dessert recipe