Harry Potter fans rejoice! If you've ever wanted to know what butterbeer fudge really tastes like, feast your eyes on this recipe!
A heavenly combination of soft, creamy butterbeer fudge, delicious white chocolate and a little fruity secret ingredient, it's an absolute knockout.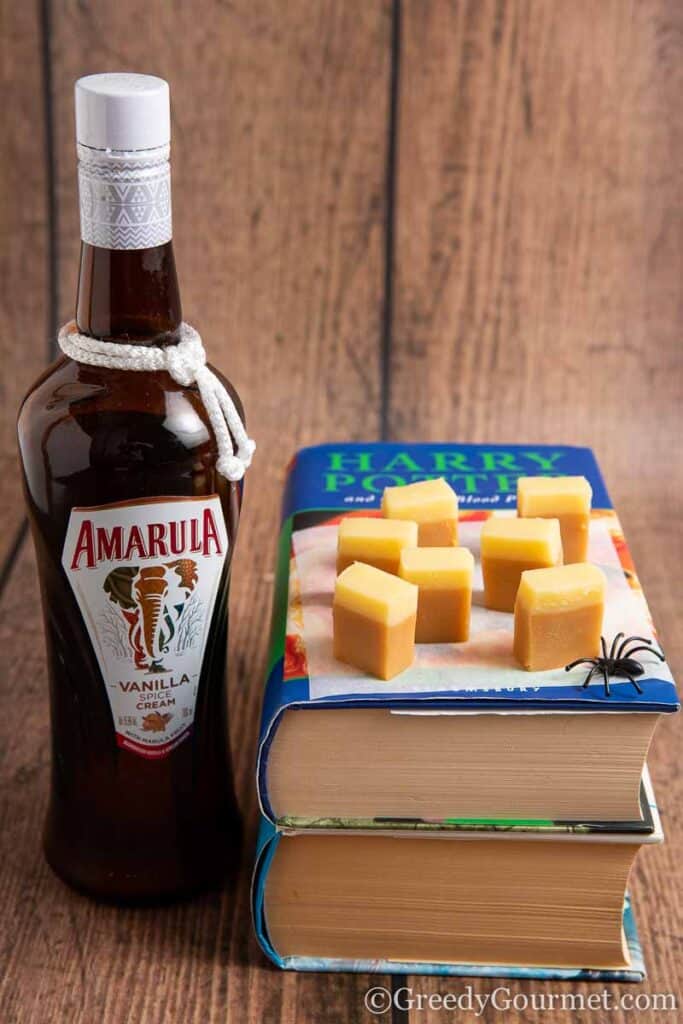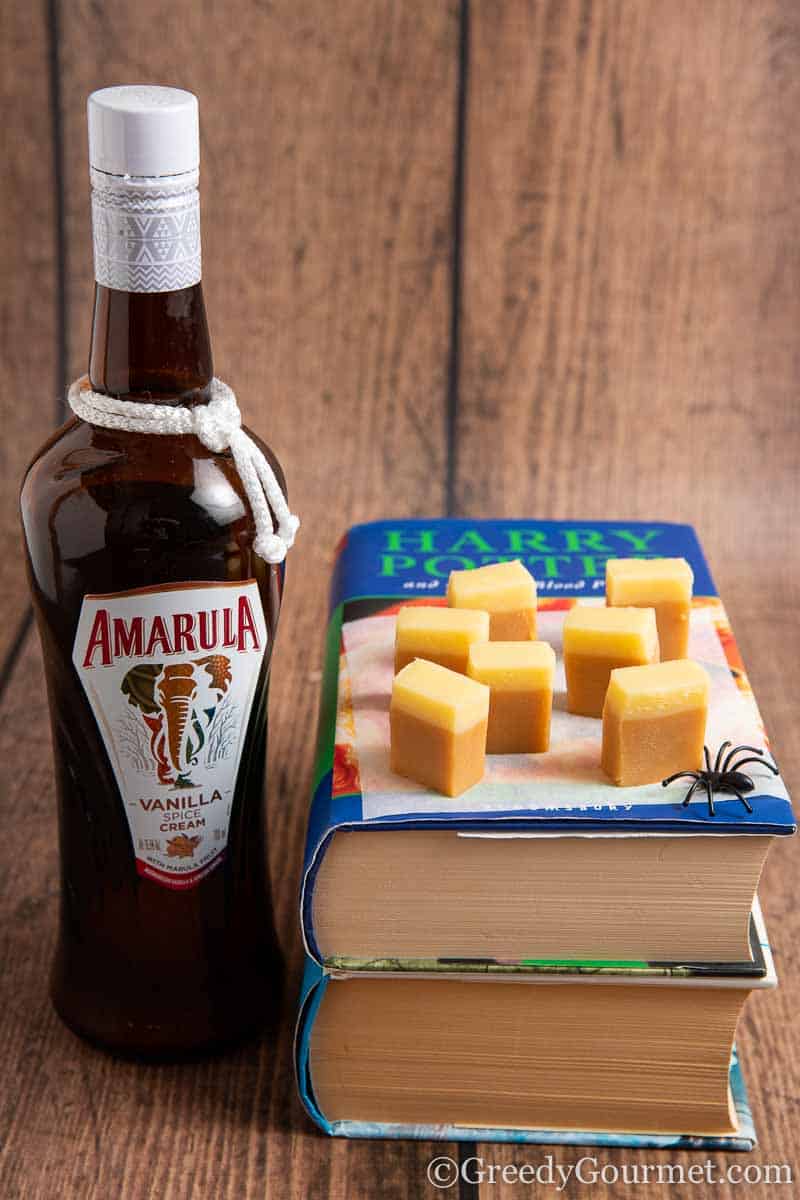 Butterbeer fudge recipe
This butterbeer fudge recipe is a must for any Harry Potter fans. It's absolutely melt-in-your-mouth fantastic, perfect for sharing with other Harry Potter fanatics.
A thicker layer of butterbeer fudge is topped by a thinner layer of white chocolate, for a double decker fudge that that will cast a spell on you! You'll be telling all your friends about this Harry Potter butterbeer fudge recipe.
The Amarula lends a subtle sweetness and depth to the taste that transforms it. It's not boozy at all. There's just a hint of the taste, enough to make this butterbeer fudge that much more special.
What is Amarula?
Amarula is a delicious cream liqueur from South Africa. It tastes fantastic served over ice or when used in cocktails and pairs perfectly with desserts and sweets like this Harry potter fudge recipe.
It's made with the Marula fruit, a special fruit that's native to the Marula tree. Marula trees only grow in one place – on the plains of Africa, just below the equator.
Once a year, the Marula trees bear fruit. The incredible scent of these fruits brings elephants from far and wide, desperate to feast on the irresistible Marula fruit.
Deeply rich and juicy, with a citrus zing and a creamy, nutty taste, Marula fruits turn a rich yellow color when ripe. That's when they're gathered by expert pickers, ready for the Amarula fermentation process.
After fermentation, the 'wine' made from the Marula fruit is distilled and aged in French oak barrels. This takes around two years and is how Amarula gets its incredible vanilla flavors and soft spicey, woody undertones.
If you've never tried it, you're in for a treat. What better way to get your first taste, than with butterbeer fudge?
If you were wondering where to buy Amarula Vanilla Spice, fret not. You can find it at any big supermarket or online.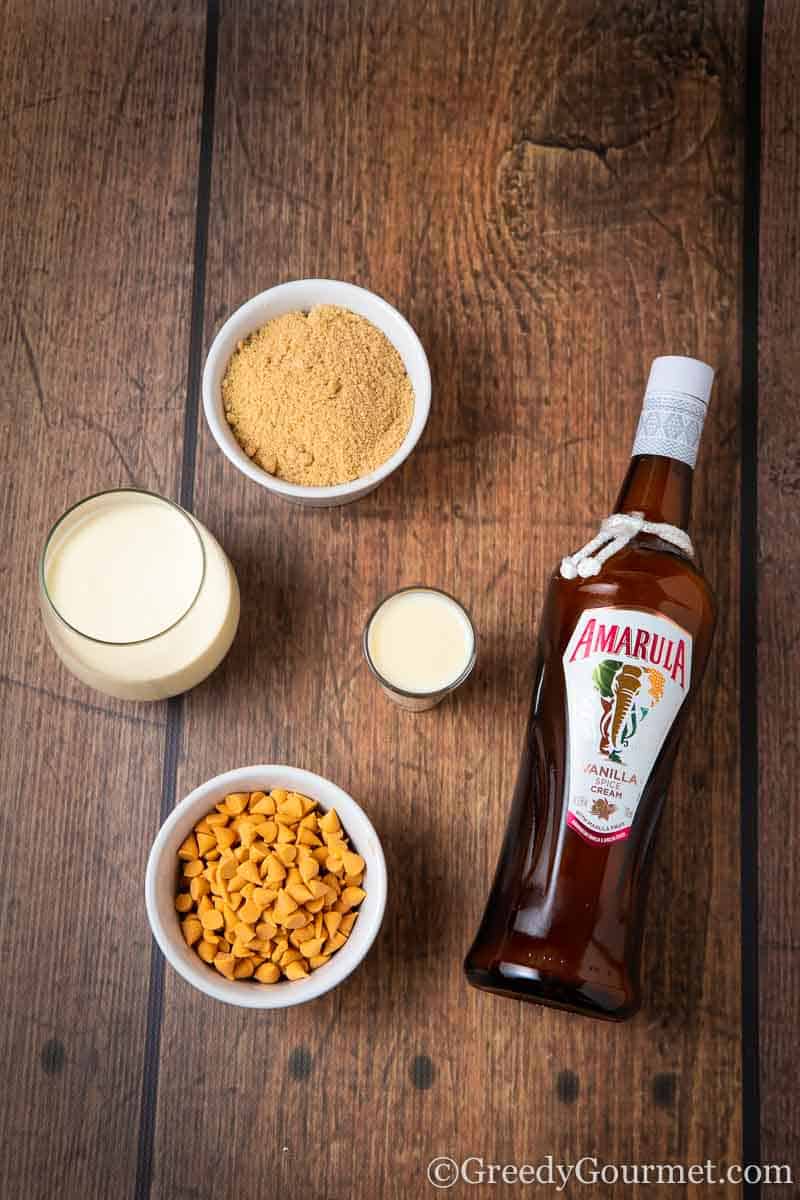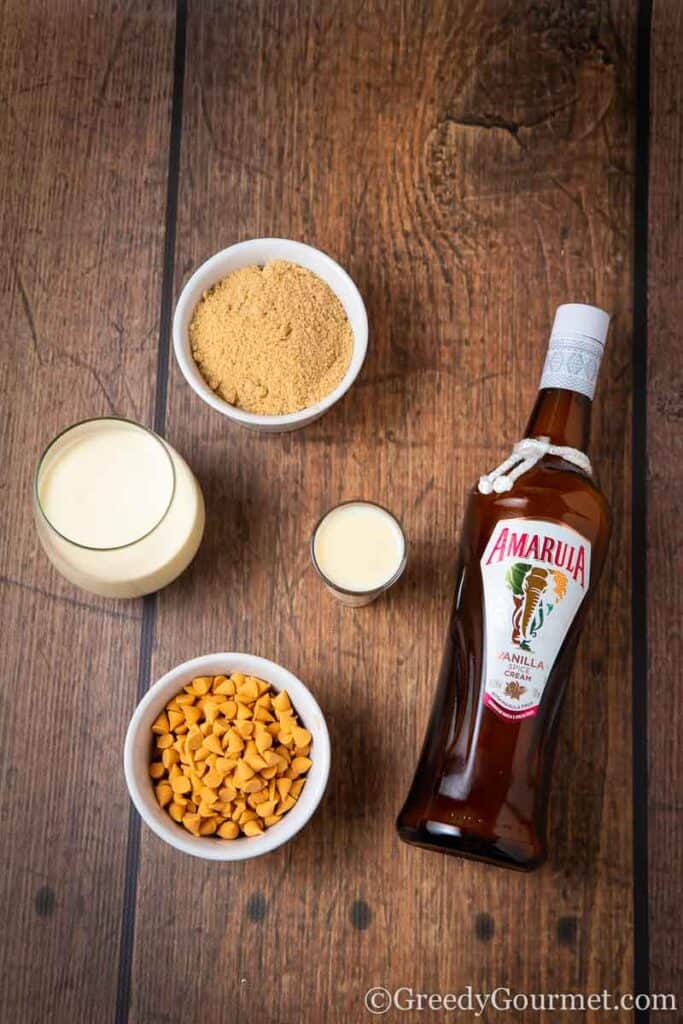 Products you need for this recipe
You'll need a few kitchen items to make this tasty butterscotch-like butterbeer fudge.
Saucepan – you'll need a good saucepan to boil up the fudge.
Butterscotch chips – essential for that butterbeer taste. You can also use white chocolate chips, milk chocolate chips or dark chocolate chips, or a blend of all of them!
Amarula Vanilla Spice – the unique taste that'll take this fudge to another planet!
Candy thermometer – you just know Willy Wonka had one of these. This little tool is invaluable, if you want to make perfect fudge.
Electric mixer – if you want super smooth fudge, you'll need one of these.
Whisk – if you don't have an electric mixer, use a whisk to mix up your fudge once it's cooled.
What is butterbeer?
Butterbeer is a made-up drink that's become part of Harry Potter folklore. It's the favorite drink of young wizards and, although it's said to contain a small amount of alcohol, it doesn't have much effect on wizards or witches. Some house elves are known to get a little tipsy on it though.
JK Rowling has said that she imagines it would taste a little like butterscotch, but not as sickly. Well, she should give this butterbeer fudge a try! The Amarula gives this butterbeer fudge an incredible depth of flavor. I'd like to think she'd absolutely love it!
It's possible that JK Rowling took some inspiration from real buttered beer. This was a popular drink in the taverns of London around the 16th century. It was made from beer, sugar, eggs, nutmeg, cloves and butter.
Later versions of this recipe called for liquorice, aniseed and rum extract to be added.
It's safe to say that JK Rowling's little wizard has taken up the wand and ran with it. Butterbeer is as popular as ever. Nowadays, you can feast on butterbeer candy, butterbeer cupcakes, butterbeer ice cream and, of course, butterbeer fudge. Universal Studios, home of Harry Potter Land, sells it all.
What does fudge taste like?
There are few things as mouthwatering as good fudge. When you bite on a piece, your taste buds explode with the sugary goodness. Close your eyes as you chew on the rich, buttery taste… it's a true sensory experience!
If you've tried fudge, you'll know what I mean. If you haven't, you're in for a real treat!
To make fudge, you boil a mixture of sugar, cream and flavourants. Once it reaches a certain temperature, you let it cool, before stirring.
There are an endless amount of different types you can make. From chocolate and salted caramel to rum and raisin, of course, butterbeer fudge or you can check out this heath bar fudge recipe for a toffee flavoured fudge. There are so many types to try!
Why is my fudge not setting?
If your fudge just won't set, it's most likely because you didn't heat it enough. When you make fudge, you need to cook it until the sugar is concentrated enough. If you don't, you'll end up with watery syrup in the pan and your fudge won't set.
The best way to make sure it sets perfectly, is to cook the fudge to the correct temperature. Ideally, it needs to reach 114-115 °C (237-239°F).
If you're planning on making fudge regularly, it's worthwhile to invest in a candy thermometer so that you succeed each and every time. This product, in particular, is my tool of choice.
Can you fix fudge that didn't set?
If your butterbeer fudge isn't setting properly, put it back in the saucepan along with 15-30ml (1-2 tbsp) of cream. Bring to boil and stir constantly until the sugar melts completely and the temperature reaches 114-115 °C (237-239°F).
How long do you boil fudge for?
You should boil your fudge for about 7-8 minutes. Ideally, use a thermometer and wait until it reaches 114-115 °C (237-239°F).
If you don't boil your fudge for long enough, it'll be too liquidy and won't set properly. If you boil it for too long, it'll be hard and brittle. There needs to be liquid left in the mixture so that, when it cools, the sugar can properly crystalize.
Do you stir fudge while boiling?
No. You don't stir fudge while it's boiling. Instead, you stir it once it has cooled.
If you stir fudge straight away after it has boiled, you'll have big grainy fudge. This is because, when you stir hot syrupy liquid, the sugar molecules form big clumps and attach to each other.
Instead, let it cool in the pot or scrape the fudge into a shallow dish lined with parchment paper. Then, let the butterbeer fudge mixture cool on the parchment paper for about an hour or two. Once it reaches 43-44°C (109-111°F), it'll be ready to stir.
At this point, you want to stir it up! If you use a wooden spoon and a mixing bowl, this will take between 5-15 minutes. I recommend you invest in a good electric whisk. It saves so much time and you'll have your fudge whisked up in just a few minutes. As soon as it starts to lose its shine, it's ready!
What makes fudge greasy on top?
This happens when the butter separates from the syrup. It's normally caused by overheating the mixture or stirring too much after the fudge has cooled.
If your fudge looks too greasy, pour it into a clean bowl and start to stir again. Keep going until you start to work the butter back into the syrupy mixture.
If it's still greasy, add a teaspoon of water and give it another good mix. Repeat this process up to six times until the butter blends back in with the syrup to form non-greasy fudge!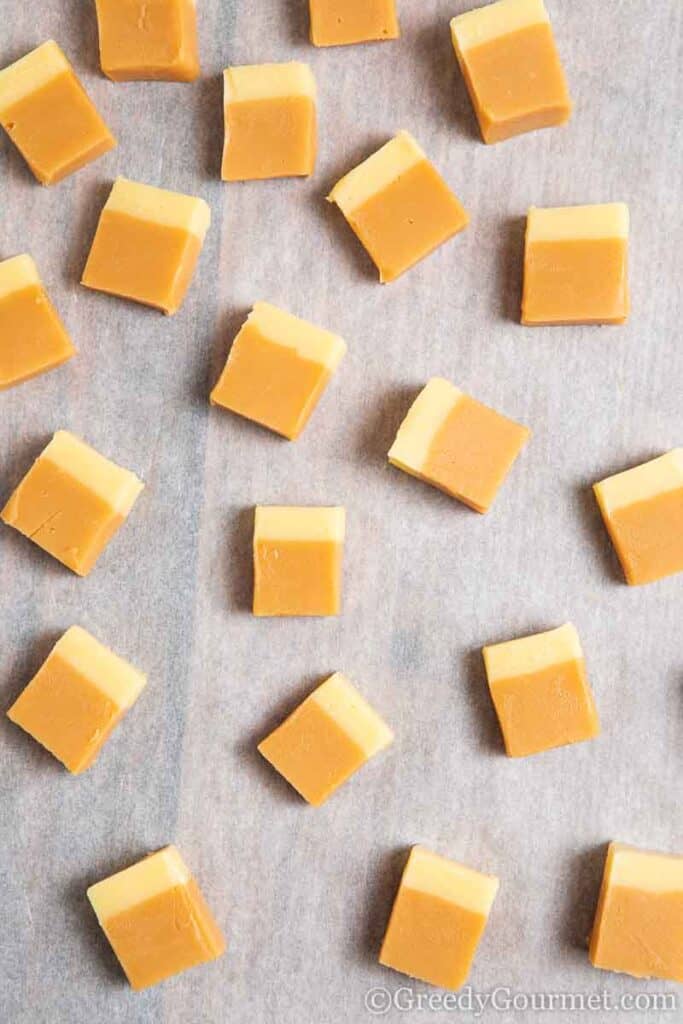 More amazing Amarula recipes
Once you've tried Amarula, you'll be hooked! If you want to sink your teeth into some more marvellous Amarula recipes, here's some tasty inspiration.
How did your butterbeer fudge turn out? Let me know in the comments below!
Print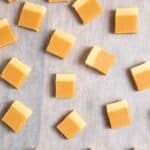 Butterbeer Fudge
---
Author:

Michelle Minnaar

Total Time:

40 minutes

Yield:

60

cubes

1

x

Diet:

Vegetarian
Description
Butter beer fudge is a Harry Potter dessert recipe that is perfect for Halloween. It comprises a butterscotch fudge and white chocolate fudge layer.
---
Amarula Butterscotch Fudge
750

g

(3 3/4 cups) golden caster sugar

750

ml

(3 cups) double cream

150

ml

(1/2 cup) Amarula Vanilla Spice

225

g

(1 1/3 cup) butterscotch chips
Amarula White Chocolate Fudge
300

g

(1 1/2 cups) white caster sugar

300

ml

(1 1/4 cup) double cream

75

ml

(5 tbsp) Amarula Vanilla Spice

100

g

(2/3 cup) white chocolate, finely chopped
---
Instructions
Line a 30x22cm (12 x 8.5in) tin with baking paper. Set aside.
For the Amarula Butterscotch Fudge: Pour the golden caster sugar, double cream and Amarula into a large heavy bottomed saucepan.
Place over medium heat and insert a candy thermometer into the sugar solution.
Stir constantly. Once the mixture reaches a temperature of 100°C (212°F), add in the butterscotch chips.
Continue to stir until the mixture reaches 113-115°C (237-239°F).
Remove from the heat, remove the thermometer and beat mixture until the mixture thickens. This will take approximately 10 minutes.
Transfer the contents to the lined tin then place in the freezer.
While the butterscotch fudge is cooling, you can cook the white fudge.
For the Amarula White Chocolate Fudge: Place the white caster sugar, double cream and Amarula into another heavy bottomed saucepan.
Place over medium heat and insert a candy thermometer into the sugar solution.
Continue to stir until the mixture reaches 113-115°C (237-239°F).
Once the mixture reaches the desired temperature, remove from the heat and stir in the white chocolate pieces.
Stir continuously for 5 to 10 minutes, or until thickened.
Retrieve the butterscotch fudge from the freezer and pour the white fudge evenly over the butterscotch layer.
Transfer the tin to the fridge and allow it to set. For best results, leave it in the fridge overnight.
The next day, remove the fudge from the fridge. Remove from the tin and peel off the baking parchment.
Slice the fudge into 2.5cm (1in) squares and serve at an adult Halloween party.
Notes
I actually buttered the tin first before lining it with baking paper, in order for the paper to stay in place as I pour in the fudge. It's better to use a thicker baking paper, which is more durable.
Storage: Place the fudge in an airtight container at room temperature, which should last for up to 2 weeks. Alternatively, you can refrigerate it if you so desire and it will keep for up to 3 weeks. Lastly, you can freeze fudge and keep it in the freezer for up to 3 months.
Prep Time:

10 minutes

Cook Time:

30 minutes

Category:

Dessert

Method:

Boil

Cuisine:

British
Keywords: butterbeer fudge, Harry Potter dessert, halloween fudge, amarula fudge recipe, butterscotch fudge, white chocolate fudge
P.S. This is a sponsored post.