A cinnamon bundt cake is the sort of recipe that one loves straight from their grandmother's kitchen because it is supposedly the best! You can easily compete with your grandmother's bundt cake with my easy and straightforward recipe.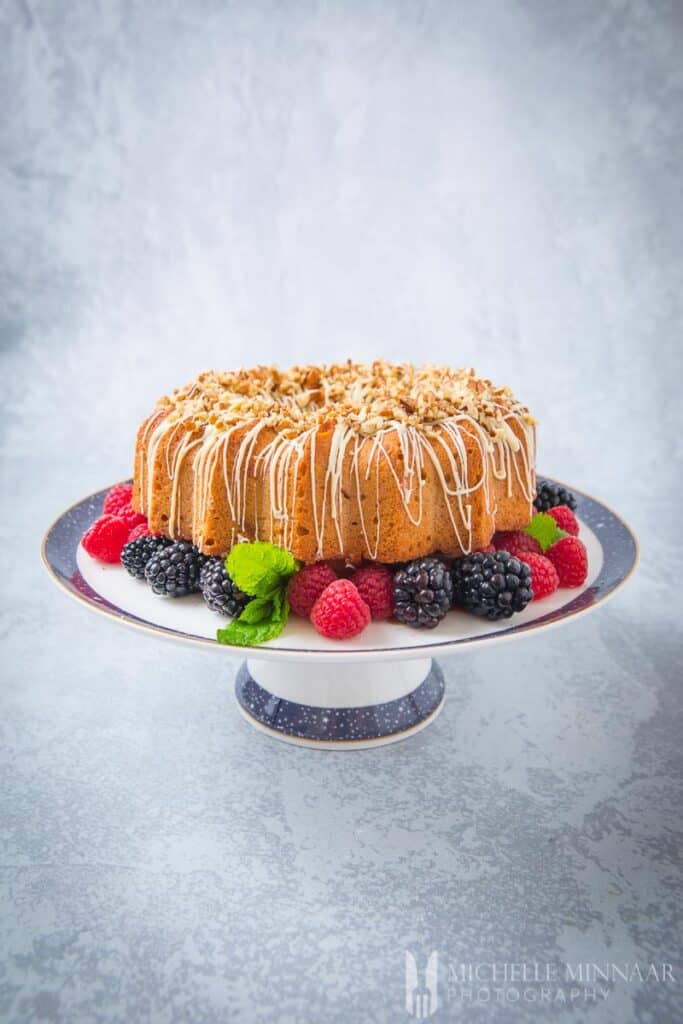 With enough time to perfect your baking skills before the holidays, this cinnamon bundt cake is a delicious and moist cake that I love most with tea or coffee.
You might also know it as a cinnamon swirl bundt cake or coffee bundt cake for its famous combination of batters. Nevertheless, don't miss out on the opportunity to enjoy this light and sweet cinnamon cake.
In my opinion, this cinnamon bundt cake is best when you take it out of the oven and serve it steaming hot! In the light of the colder months ahead, I've put a Christmas spin on this cinnamon bundt cake and made it more dense. Enjoy!
best simple cinnamon bundt cake recipe
A cinnamon bundt cake is a cake which traditionally consists of a sweet vanilla batter known for making marble cake, in combination with cinnamon spice. As a result, a cinnamon bundt cake can also be referred to as cinnamon marble cake.
The most popular version of a cinnamon bundt cake is actually a cinnamon swirl cake. This is where a brown sugar cinnamon batter is combined with the vanilla marble cake batter and swirled together to make one beautiful cake. Hence, it is a blend of light and dark.
As this cake isn't really famous for anything else but its unique shape, this cake requires a bundt pan as it is a recipe designed to feed many people. Thus, it is perfect for any holidays or family celebrations. Notwithstanding the fact that it's so easy and simple to make!
The cake's distinctive circular shape took inspiration from the traditional Gugelhupf cake. This still remains a traditional European cake which is very commonly known as a Christmas cake. However it wasn't until it became popular in the US that it became known as a bundt cake.
Perfect batter for cinnamon bundt cake without sour cream
This recipe doesn't call for sour cream as other bundt cake recipes would. Instead, I use a simple yet sweet vanilla batter which is equally light and airy.
Remember not to overwork the eggs when you make your batter. If you overbeat the eggs, they can get too fluffy and you might end up with a consistency which resembles an angel cake. Remember to beat one egg at a time.
Another trick to making the perfect batter is the folding process. Folding the flour and milk into the egg mixture requires a certain delicacy. If you are not careful and gentle with the folding process, the cake might become too dense. Remember to always be gentle and follow the instructions closely.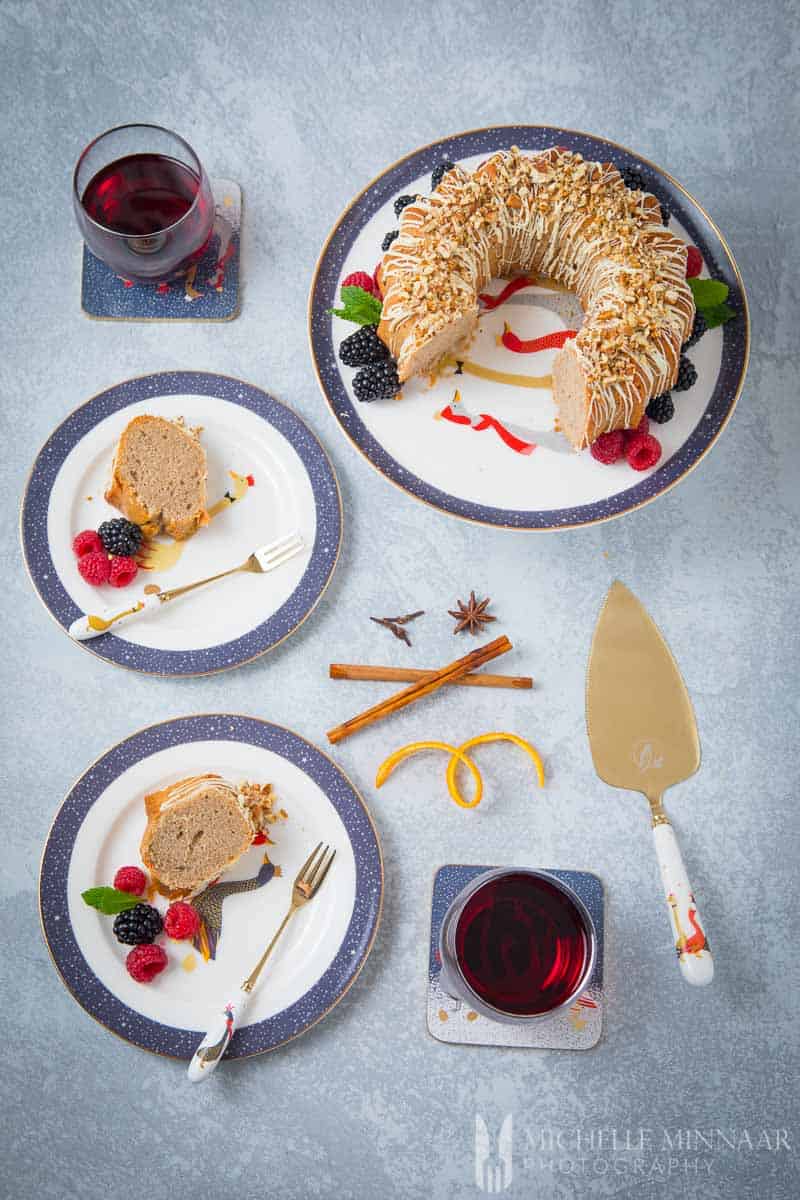 Traditional toppings for cinnamon bundt cake glaze
Who can resist the temptation of a perfectly frosted cinnamon bundt cake? I certainly can't! Cinnamon cakes and frosting are a classic combination that people go crazy for – you often find frosting on cinnamon buns in bakeries or cafes.
My version of this cake is, however, slightly more festive. I love to decorate the cake and take it one step further by drizzling white chocolate all over it. Next, sprinkle with a handful of nuts of your choice.
I adore pecans, but almonds are also an excellent substitute. For freshness, I also love to decorate with forest berries. Simply place them on the bottom so they form a beautiful base layer.
If you thought that this cinnamon bundt cake can't get any more sinful, you were wrong! For the finish, I drizzle with double cream! Now that's a beautiful cinnamon bundt cake–don't you think so?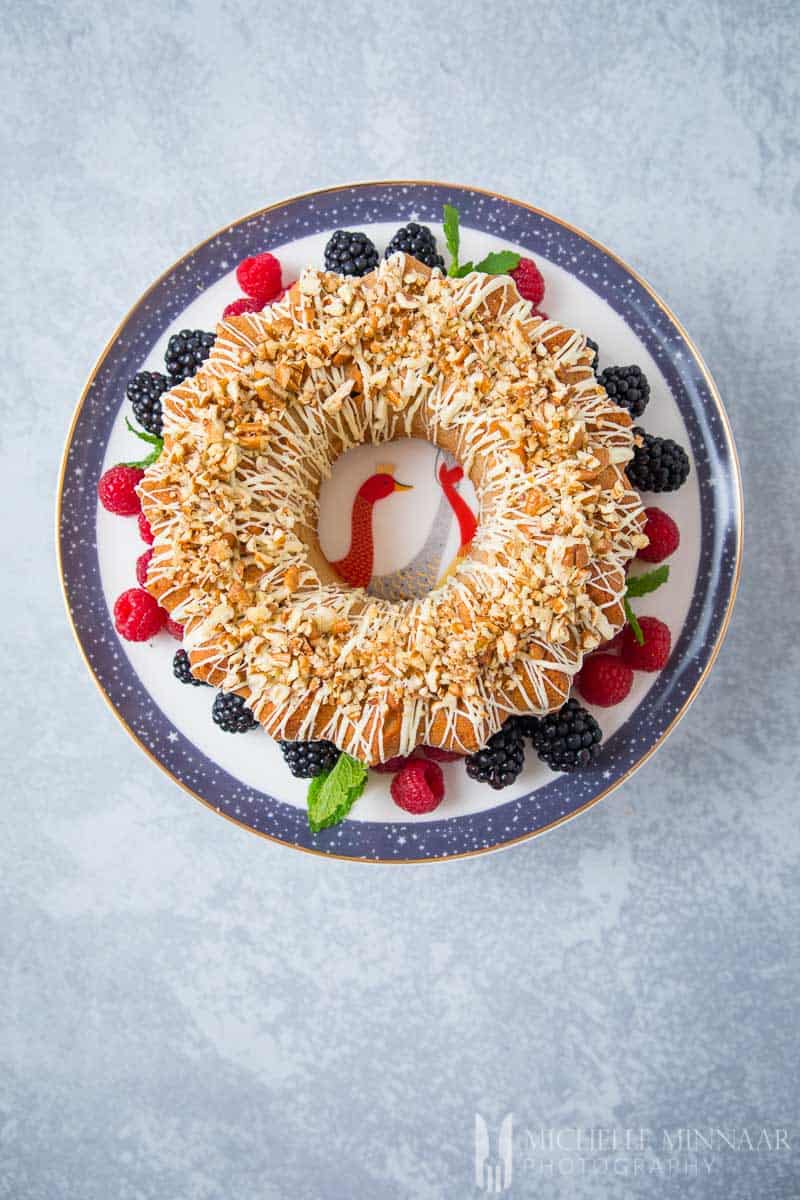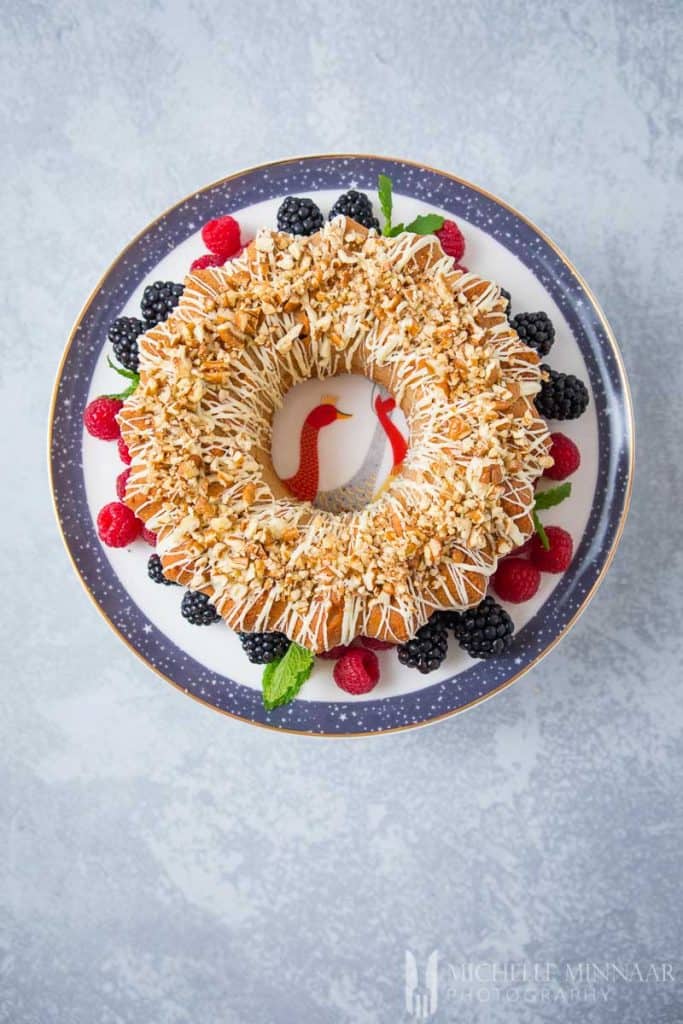 Light toppings for cinnamon bundt cake
Do you want to go easy on the calories? For those trying to spare a few calories before the holidays, this cake recipe can be toned down whilst still being extremely enjoyable to eat.
An easy way is to omit the traditional sugary frosting layer that one generously pours over the cinnamon bundt cake. Take out the cream and chocolate element.
Instead, you can simply sprinkle over some almond flakes to keep it simple. Otherwise, you can still decorate with berries. You can even serve it with pink custard! As you can see, there are many ways to jazz up a cake recipe.
I hope this cake will get you in the mood for the upcoming holidays.
For something on the lighter and healthier side, check out these sugar free flapjacks.
Print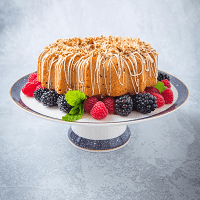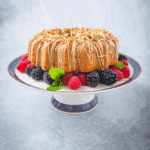 Cinnamon Bundt Cake
---
Description
Making cinnamon bundt cake is really a piece of cake. It calls for a cinnamon cake vanilla batter and of course is decorated with a creamy cake frosting.
---
180g

(3/4 cup) butter, at room temperature

96g

(3/4 cup) caster sugar

5

ml (1 tsp) vanilla extract

2

eggs

185g

(1 1/4 cups) self-raising flour

40g

(1/4 cup) plain flour

10

ml (2 tsp) ground cinnamon

125

ml (1/2 cup) milk

200g

(7 oz) white chocolate, melted

20

pecan nuts, peeled and crushed

Berries, for garnishing

Double cream, for drizzling [optional]
---
Instructions
Preheat oven to 170°C/340°F/gas mark 3.

Lightly grease a bundt baking pan with butter.

Beat butter, sugar and vanilla together until pale and creamy.

Add the eggs one at a time, beating well after each addition.

Sift flours and cinnamon together.

Alternating between the flour and milk, gently fold them into the egg mixture.

Spoon the batter into the pan and flatten the surface.

Bake for 1 hour or until skewer inserted into the centre comes out clean.

Cool in pan for at least 15 minutes, then carefully turn out onto a wire rack.

Drizzle with white chocolate, sprinkle with pecans and decorate with berries. Drizzle with cream!
Prep Time:

15 minutes

Cook Time:

1 hours

Category:

Dessert

Cuisine:

English
Nutrition
Serving Size:

1 serving

Calories:

493

Sugar:

29.1 g

Sodium:

176 mg

Fat:

31.2 g

Saturated Fat:

17.7 g

Carbohydrates:

48.6 g

Fiber:

2 g

Protein:

6.5 g

Cholesterol:

98 mg
save the recipe to your pinterest board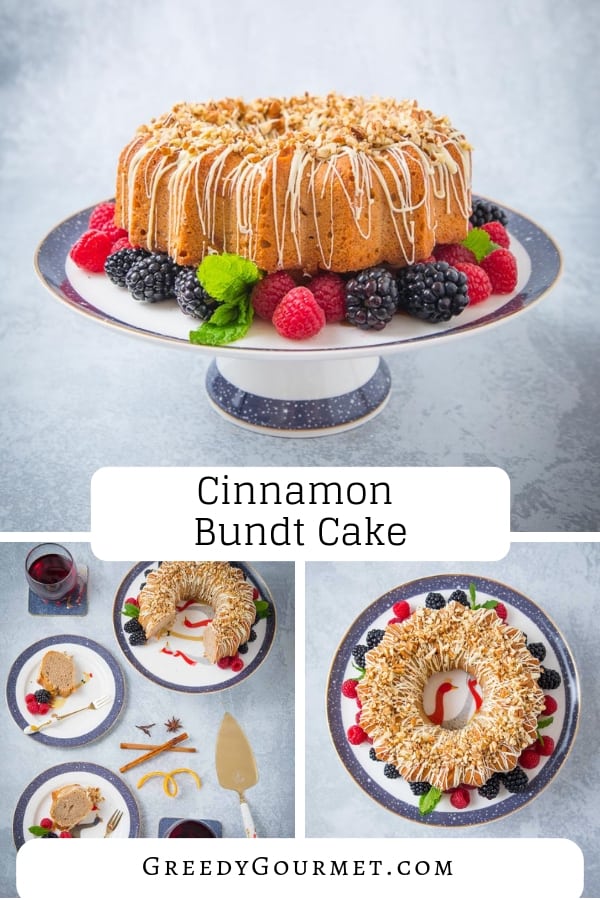 P.S. This is a sponsored post.