Quick, simple and delicious… the holy trinity of easy dessert recipes and these dessert tortilla wraps does all three and then some.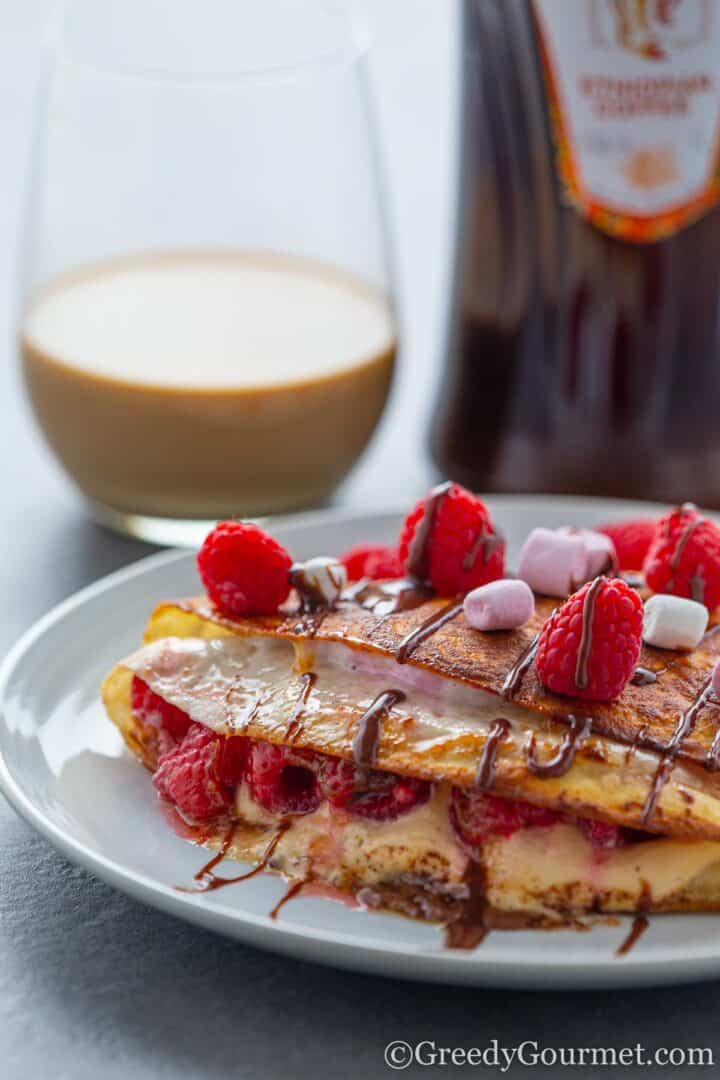 It's the perfect snack dessert for the whole family and comes courtesy of a clever little trick that takes it from good to flippin' fantastic!
So, if you have some leftover flour tortillas, some favorite fillings and a spare 10 minutes, this recipe is for you.
Products you need for this recipe
There are a few essential items you'll need for this recipe:
Dessert tortilla wrap recipe
Have you heard of the Tiktok tortilla trend? It's a tortilla hack where you use four different fillings in each quarter of the tortilla. Then, you fold the tortilla until you have a single slice, with several layers of deliciousness!
What started off as savory tortilla wraps soon became tortilla desserts as the tortilla trend took a sweet twist. These sweet wraps make an awesome breakfast and the most satisfying snack! They are a lot of fun to make, for both adults and kids, so this recipe is the perfect excuse to get the whole family involved.
The best thing about this layered tortilla dessert? The sheer crazy versatility of it! The concept is simple and ingenious, setting you up to get creative with your favorite fillings.
What is the TikTok tortilla wrap hack?
It all started as a viral trend on TikTok, where foodies would add four different fillings to four separate quarters of a fresh flour tortilla. They'd then fold each quarter on top of the next, to form a layered wrap.
The savory flavors soon gave way to sweet, as sweet-toothed gluttons soon realized the decadent potential of such a gloriously simple yet utterly irresistible concept.
Layer upon layer of melted, fruity, chocolatey, gooey, sweet indulgence… sound good? 
 
The original version included chicken and other savory wrap fillings. Now, we're giving that tortilla hack the dessert treatment with chocolate spread and peanut butter.
Heat the tortilla in a frying pan until golden brown and dig in! The result is layers upon layers of decadent, sweet melty goodness.
What are the fillings for this recipe?
I've gone for a mouthwatering mix of Amarula coffee cream cheese, raspberries, chocolate spread and mini marshmallows.
Can I use an alternative to coffee liqueur?
I really recommend using Amarula, as it has an incredible taste that makes this recipe unique. If you're not a fan of coffee, you can use the original Amarula in its place.
Is this recipe suitable for vegans?
It's not, but you can easily adapt it to be vegan-friendly.
Replace the cream cheese and butter called for in this recipe with almond butter, or your favorite nut butter. You can also use vegan Amarula made using plant based ingredients.
Can I use a different fruit in place of raspberries?
Absolutely! I recommend sliced strawberries, blueberries or banana slices. 
What are the best tortillas to use?
Flour tortillas are the best to use, as they are malleable and can be easily folded without breaking.
Can you use corn tortillas?
I don't recommend using corn tortillas. They tend to be too brittle and the flavor is a little too bold, especially with sweet ingredients.
Why did my tortillas break or crack?
If you are using leftover tortillas that have been sitting around for a few days, there's a chance they will become too fragile. Try heating them up before you add your spreads and other ingredients. This will make them easier to roll.
Why isn't the middle layer of my wrap melting?
Try turning the heat down a notch or two. When it comes to melting the ingredients of your TikTok tortilla wraps, slower works better.
Can you make the TikTok tortilla wrap in the toaster oven?
Yes, you can! Fire up your toaster oven to a low to medium setting and toast your tortillas for a few minutes until they are gloriously golden brown.
What's the best way to wrap a tortilla?
This TikTok tortilla wrap hack really is the best way to wrap a dessert tortilla. Once you've got the hang of it, you'll realize just how easy it is. Then you take a bite and you're completely sold!
There are only three steps… lay out the tortilla and make one cut, from the center to the outside; add your four luscious ingredients in each of the quarters; then fold each section on top of the next, until you have the perfect layered tortilla wrap!
It's so easy when you know how! See below for detailed instructions on how to wrap your tortilla and how to make each of the delicious fillings.
How do you get perfect dessert wraps?
These wraps may well be simple, but to get them just right takes a bit of dedication to the details.
Here's a summary of my key tips on how to end up with a pitch perfect dessert tortilla wrap.
If you do want to experiment and add your own fillings, think about where you are going to place them. Ingredients that you want to become deliciously melty and gooey, like chocolate spread or peanut butter, should go on the outside – quadrant 1 and 4.
The inside layers are best kept for fruit.
If you have a particularly sweet tooth, you can dust the top of your tortilla wrap with powdered sugar. It will tastes extra sweet and look great.
Pair with ice cream for an amazing decadent dessert. Try my hokey pokey ice cream, peanut butter and jelly ice cream, tin roof ice cream or just a plain vanilla.
Don't cook your tortilla wrap on too high a heat. You want the fillings to melt at the same speed as the tortilla browns.
If you want to use Marshmallow Fluff in place of marshmallow for the final quarter, go ahead! Just don't add anything else to this quadrant, otherwise it might not stick properly.
How to store dessert tortilla wraps
These tortilla wraps taste so great fresh off the stove, that you won't want to keep any leftovers! Plus, the cream cheese will begin to harden, which won't be particularly pleasant.
Instead of thinking about leftovers, only make as much as you need each time. That way you can enjoy good food at its best.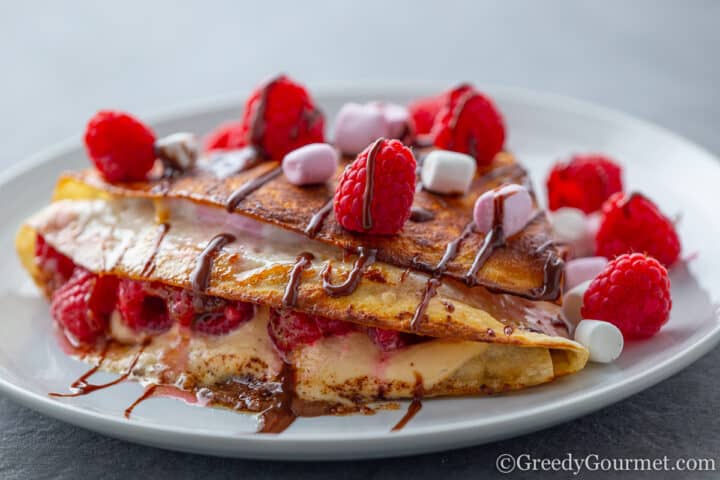 Other variations on this recipe
This recipe is all about having fun and getting creative! So, get the family involved and feel free to get everyone experimenting with their personal favorite fillings.
Think about indulgent spreads like peanut butter, Biscoff or dulce de leche. You could also add jam, desiccated coconut, chocolate chips or chocolate shavings, and sprinkle with vanilla or coconut sugar, or even a cinnamon sugar mixture.
Think about using classic combinations when making your layers. For instance, a PB&J tortilla wrap would be heavenly – just add peanut butter to an outside layer, jam in the middle alongside another matching flavor (I'm thinking banana slices) with another melty layer on the outside (marshmallow would work a charm).
More dessert recipes
Has this wonderful recipe given you inspiration to learn more dessert recipes? I have so many recommended recipes to share with you! So, have a look at the following and pick your favorite:
Print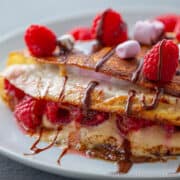 Dessert tortilla wraps
---
Author:

Michelle Minnaar

Total Time:

13 minutes

Yield:

6

Servings

1

x

Diet:

Vegetarian
Description
Quick, simple and delicious. These Dessert Tortilla Wraps take less than 15 minutes to make and are bursting with flavours.
---
Amarula Filling
Other Tortilla Fillings
Amarula filling, see above

220

g

(1 3/4 cup) raspberries

90

ml

(6 tbsp) chocolate spread

100g

(

2 cups

) mini marshmallows

90

g

(6 tbsp) butter
---
Instructions
For the Amarula Filling: In a medium bowl, mix the cream cheese and Amarula together until smooth. 
In a separate bowl, whip the cream until soft peaks form. 
Add the whipped cream, icing sugar and cornstarch(optional) into the Amarula filling then set aside. 
For the Dessert Tortilla Wraps: Lay tortilla flat. Fold in half to create a seam in the tortilla marking the middle. Unfold, then starting from the center, cut down the seam, ending at the 6 o'clock position.
Imagine the tortilla is split into 4 equal sections. Quadrant 1 is bottom left. Spoon a dollop of Amarula filling in this quarter and spread evenly with a spoon.
Quadrant 2 is top left. Arrange raspberries in an even layer in this section. 
Quadrant 3 is top right. Smear one tablespoon of chocolate spread in the section. 
Quadrant 4 is bottom right. Arrange the mini marshmallows in a single layer in this section. 
Fold Quadrant 1 onto Quadrant 2, then into 3 and lastly into 4. You'll end up with a triangle, almost resembling an open ended samosa. 
Heat a knob of butter in a nonstick frying pan on a medium heat. 
When the butter starts sizzling, place the wrap in the pan and fry for 90 seconds on each side, or until crispy and golden brown. 
Drizzle with more chocolate, raspberries and marshmallows and serve immediately with a glass of Amarula Ethiopian Coffee Cream Liqueur. Enjoy!
Notes
It's easy to get carried away with quantities. You might have an abundance mindset but you will end up with the various fillings spilling out during the frying process. It will be messy but still taste good!
If you're not a fan of coffee, use original Amarula instead. It works just as well!
In this case, dark chocolate overpowers the flavours, so stick with milk chocolate. 
You can use chopped up milk chocolate instead of chocolate spread. 
For extra ease, you can use Marshmallow Fluff instead of plain marshmallows. 
Prep Time:

10 minutes

Cook Time:

3 minutes

Category:

Dessert

Method:

Pan Fry

Cuisine:

Mexican
Keywords: tortilla wraps, tiktok recipe, dessert tortilla wraps, amarula recipe, tiktok dessert tortilla wraps