Imagine this! You come home from work, sit back and put your feet up with a glass of Don Pedro.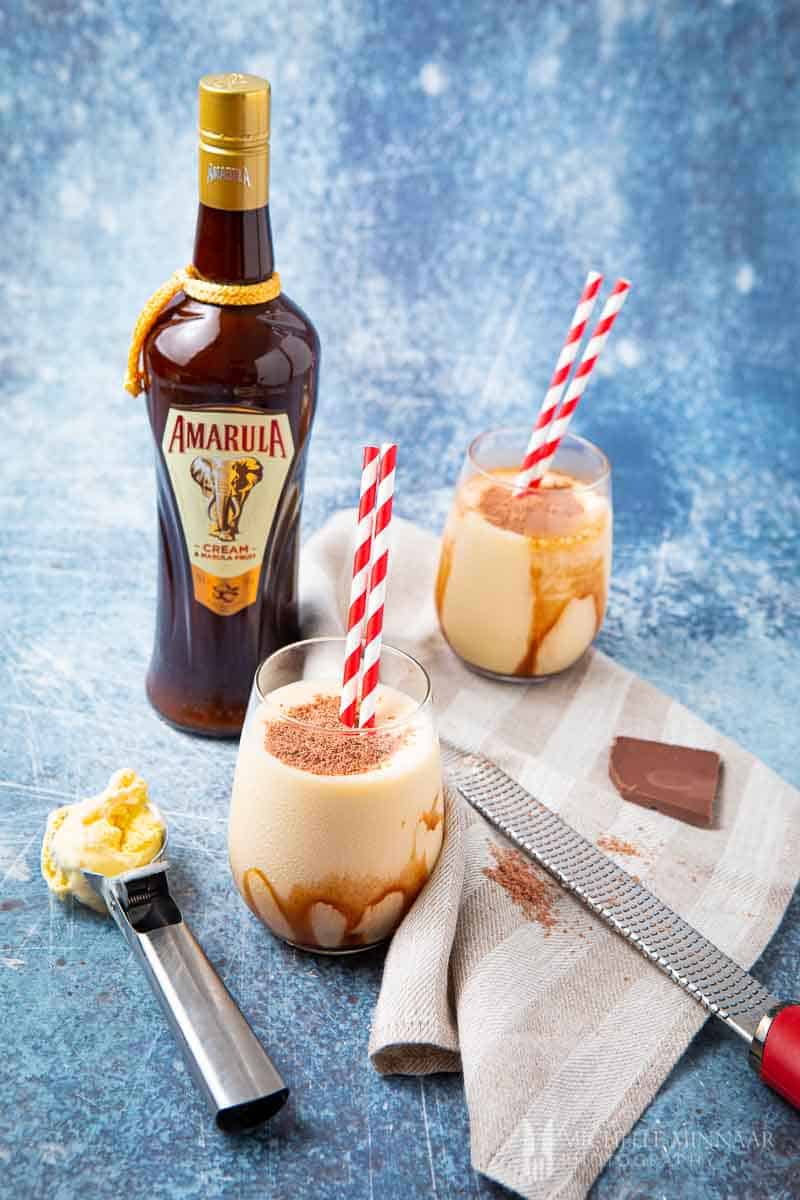 Traditionally, Don Pedro is a dessert beverage made with vanilla ice cream, double cream and whisky. Only, this time I jazzed up my favourite South African dessert beverage with a generous drizzle of Amarula liqueur.
A Don Pedro is an adult-only beverage, which is perfect if you like throwing adult only dinner parties and like to show off your cocktail-making prowess.
The best part is that you can alter the portions of the ingredients and make the beverage as strong as you want. This homemade cocktail is best served immediately topped with grated chocolate, cocoa powder or a stick of chocolate.
If you are serving the Don Pedro drink on a particularly hot day, include some ice cubes.
What's best you can also experiment with other types of alcohol to make it a stronger cocktail. These include coffee liqueur, kahlua, and brandy.
Keep in mind though, Amarula liqueur is your best option, as it is one of Africa's hidden treasures and most awarded alcohol brands!
Don Pedro - a South African cocktail
Don Pedro is one of South Africa's most popular cocktails. You can practically find it on almost every single restaurant menu in the country.
The Afrikaans community also refers to it as Dom Pedro, the running joke being that if you drink too many of these babies, you turn into a Dumb Pedro. I.e. "dom" in Afrikaans means "dumb" in English. At your first sip, you'll understand why it will be difficult to have just one cocktail.
In fact, the Don Pedro drink is very similar to the typical Irish coffee beverage, just minus the coffee element, although I am pretty sure it would also work well in this Don Pedro recipe. Just think of a Don Pedro cocktail as a milkshake for adults.
The addition of smooth Amarula liqueur lights up the Don Pedro and lends it a fruity undertone. To complete any meal, you can served it with other South African desserts like peppermint crisp tart or these chocolate and coconut clusters.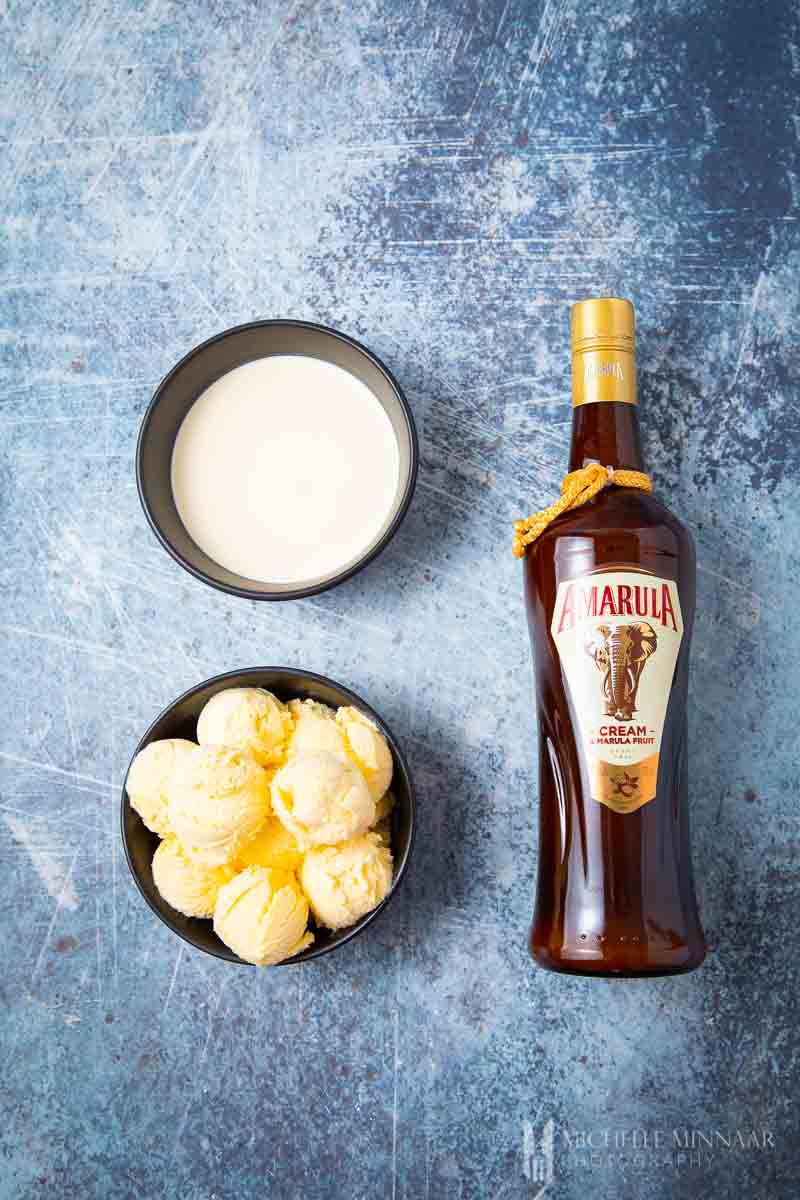 How is Amarula made?
Actually, it's very similar to the wine-making process. The spirit is distilled and aged for roughly two years in French oak barrels. The French oak gives it that lovely velvety texture and vanilla flavour.
Since Amarula liqueur is so tasty and versatile, I've used it in many desserts too. For instance, I've used Amarula liqueur in this amazing Amarula cheesecake recipe. Also, I made this incredible malva pudding. It can even be used in savoury recipes!
Don't you just love how versatile Amarula is? It is no surprise that it received the 2018 Brand of the Year Award and many others. It is Africa's most awarded cream liqueur!
To read more about Amarula liqueur, click here.
don pedro's history
The Don Pedro dessert beverage first popped up on the South African scene during the 1970s. Nobody really understands how Don Pedro came about and how it became so popular. However, some claim that they have found the origins of this South African drink.
Apparently, chef Danny Ferris of the Belinzona restaurant based in Blouberg created it. The Don Pedro came to existence when Danny travelled on a holiday to Scotland.
When he visited a whisky distillery for whisky tastings, one of the owners poured whisky directly over some ice cream. As soon as the ice cream began to melt, the whisky started to infuse with the cream.
Thus, the Don Pedro was born! Since then, he began serving it in his restaurant and it gained popularity like wild fire, and with good reason!
Do you think that this is the true origin of the Don Pedro? Let me know.
It's not the first time that liqueurs and cream were combined. In fact, back in the 18th and 19th century, coffee as well as rum were topped with whipped cream in Vienna.
If you sat in one of those Viennese coffee houses, your alcoholic beverage would be served in a see-through glass with a spoon and whipped cream.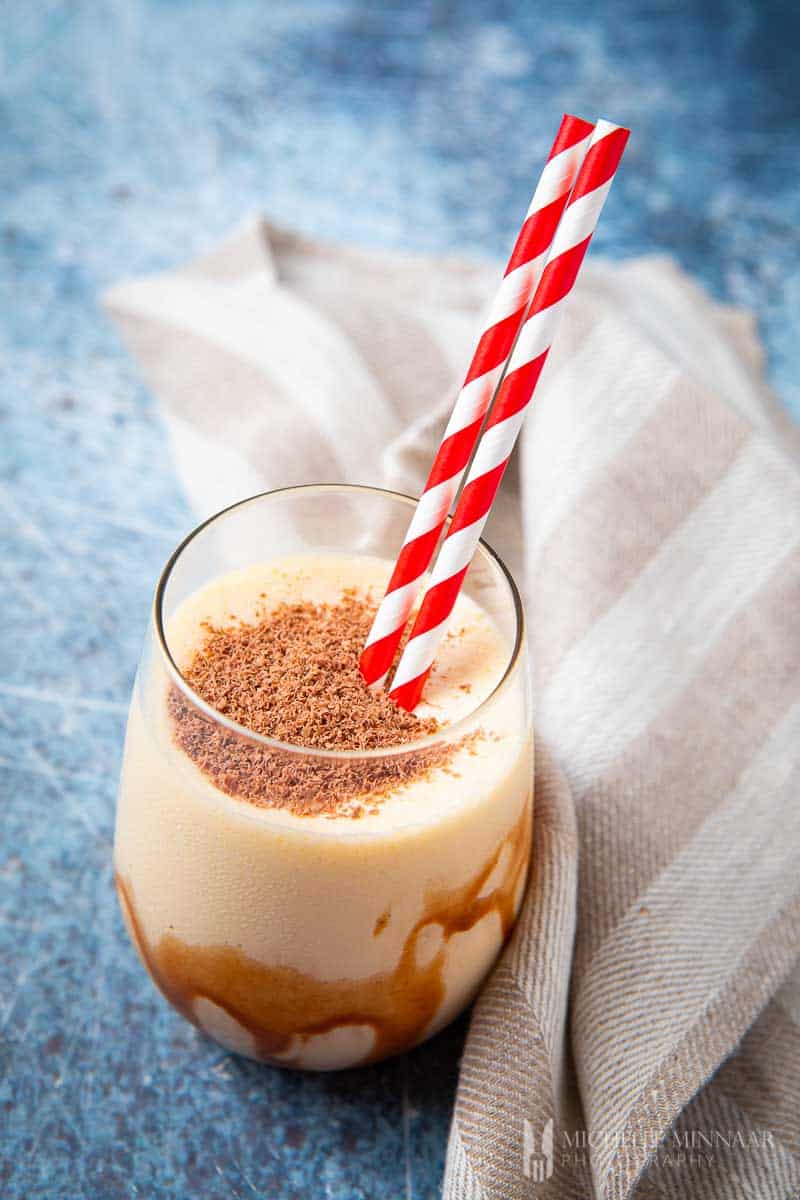 don pedro's alcohol content
Amarula contains 17% alcohol. As you can imagine, with Don Pedro traditionally being whisky based, is quite high in alcohol. That's why you can easily substitute the whisky with Amarula liqueur which is slightly lower in terms of alcohol content.
However, if you really enjoy a stronger Don Pedro, play around with the ratios. For instance, since the Amarula liqueur is already creamy, you don't need to add so much heavy cream. So, don't be afraid to add more of this delicious liqueur.
In addition, you can always add more alcohol. For instance, add a pinch of whisky to cut through the creamy textures. You can also add these sorts of alcohol and beverages:
coffee liqueur - make it reminiscent of the Irish coffee or just add a shot of espresso
brandy - if whisky is too smoky and intense for you
chocolate liqueur - if you wish to max out on the chocolatey flavour
Also, you can use these additional beverages for consistency control. If you find your Don Pedro too thick, you also have two options without having to top up with even more alcohol.
Firstly, wait for the ice cream to melt a bit, which I prefer, or add more milk or cream to make it a thinner consistency.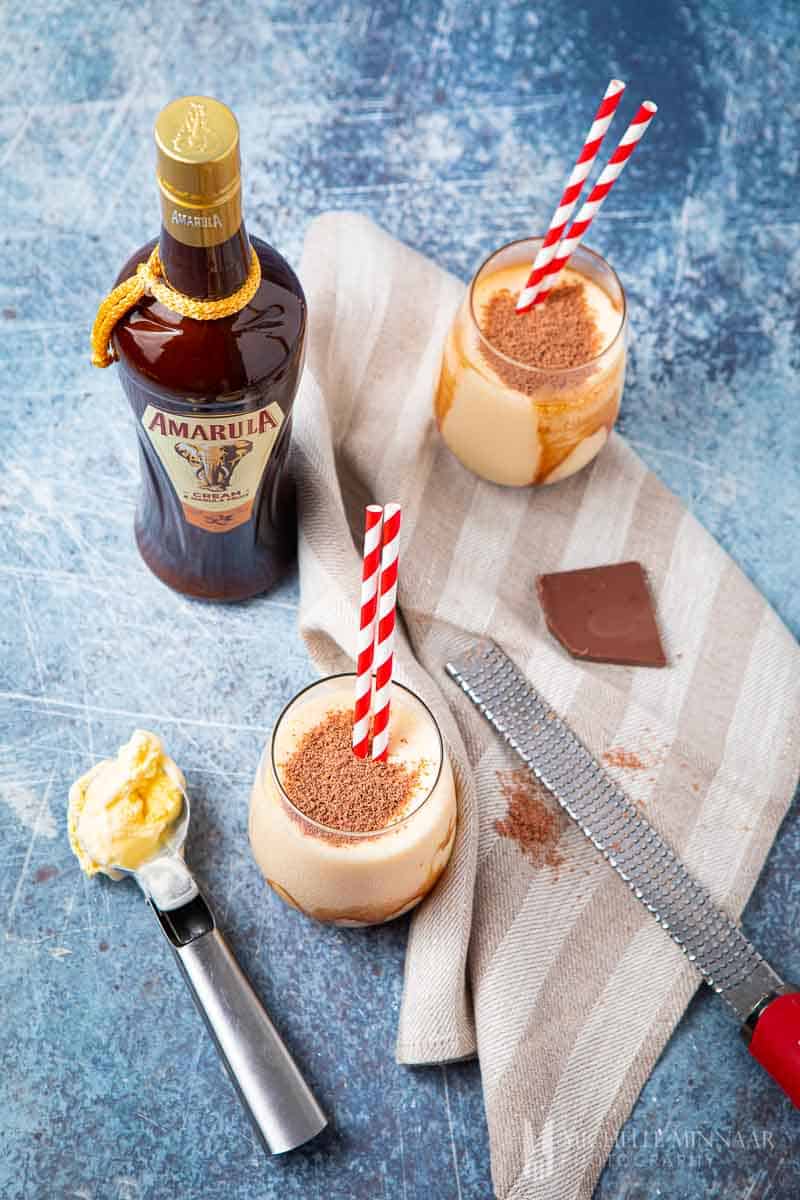 South African cocktails
Now, as Amarula is the star of this Don Pedro recipe, you can also make other delicious South African cocktail recipes with it. For example:
Amarula Brandy Alexander - it is basically brandy, Amarula and heavy cream
Amarula Martini - combine gin, lemon zest, Amarula and add ice cubes
Spiced Amarula Cocktail - cinnamon whisky, Amarula and topped with pumpkin spice
Amarula & Eve Cocktail - with grapefruit, citrus vodka, lychee juice and Amarula
Why not add some Amarula to boiled custard? These are just a few cocktail recipes you can make with the delicious Amarula.
Next, you can also make South African non-alcoholic beverages. For instance, you can make this refreshing iced Rooibos tea with raspberries and mint.
If you like creamy shots, check out Alien Brain Hemorrhage. For a super green cocktail recipe, check out the Incredible Hulk Drink. Or make this old classic, Amaretto and Coke.
Have you ever tried Amarula liqueur? Would you drink it alone or would you combine it with other ingredients?
Print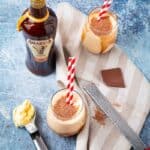 Don Pedro Drink
---
Description
The Don Pedro drink is a must-have alcoholic dessert recipe from South Africa. This version is made with vanilla ice cream, cream and Amarula.
---
450

g

(1 lb) soft vanilla ice cream

120

ml

(4 fl oz) double [heavy] cream

180

ml

(6fl oz) Amarula
grated chocolate, for garnishing
---
Instructions
Put all the ingredients in a blender and blend until smooth.
Pour into glasses and sprinkle the chocolate on top.
Serve immediately and enjoy!
Notes
I use Cadbury's Flake for the chocolate.
Instead of double cream, you can use milk.
Alternatively, you can use other liqueurs like Kahlua, Bailey's, Amaretto, Disaronno, Cointreau, brandy and whisky. Check their percentage of alcohol though and adjust measurements accordingly. E.g. 60ml (4 tbsp) for whiskey serving 4.
You can make the Don Pedro as strong as you like!
Prep Time:

5 minutes

Cook Time:

0 minutes

Category:

Cocktail

Method:

Blend

Cuisine:

South African
Keywords: Don Pedro drink, dom Pedro recipe, Amarula recipe, South African dessert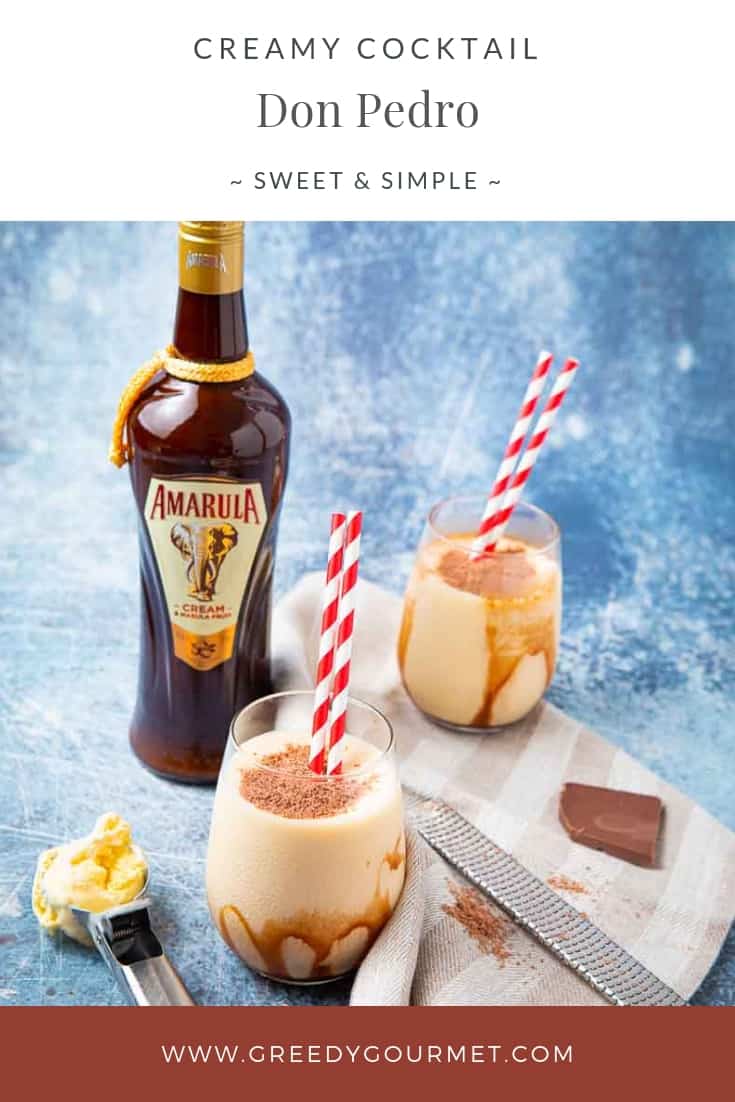 P.S. This is a sponsored post.