Whether it's a last minute dinner party or something for a summer's evening, a gooseberry fool is a classic English dessert that's so very simple to whip up, with a taste that's pure bliss.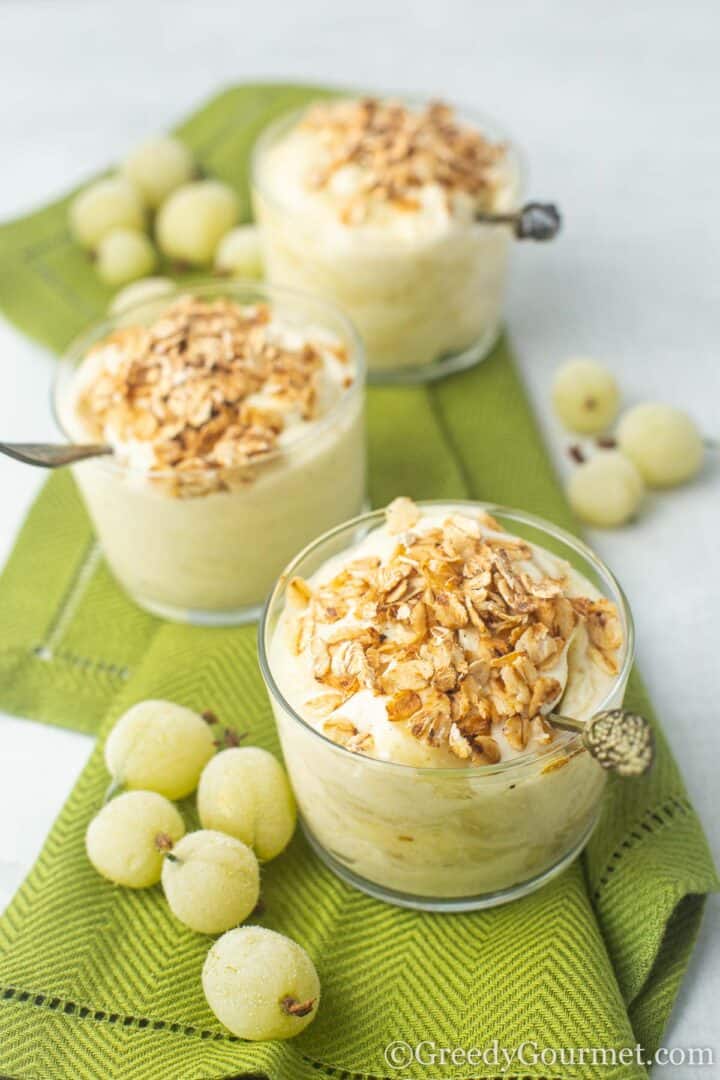 So, if you're bored of standard berries and are looking to make a dessert that's a little different, this could be the recipe for you!
Products you need for this recipe
Here are a few items you'll need to get hold of before you start this recipe: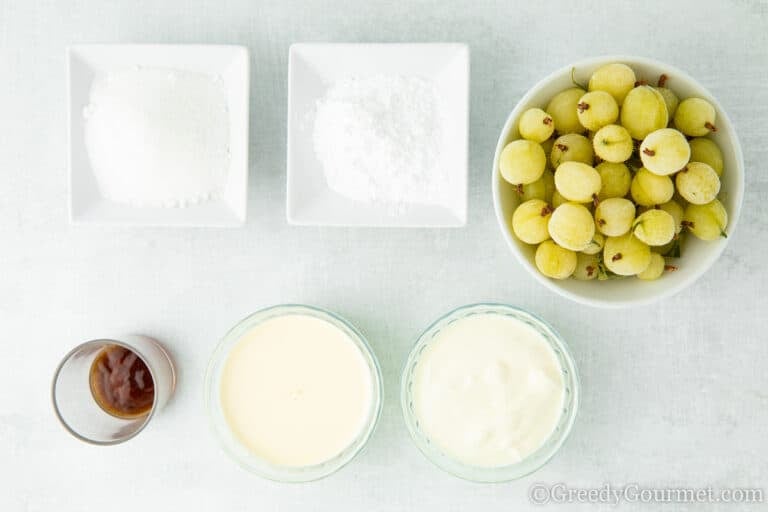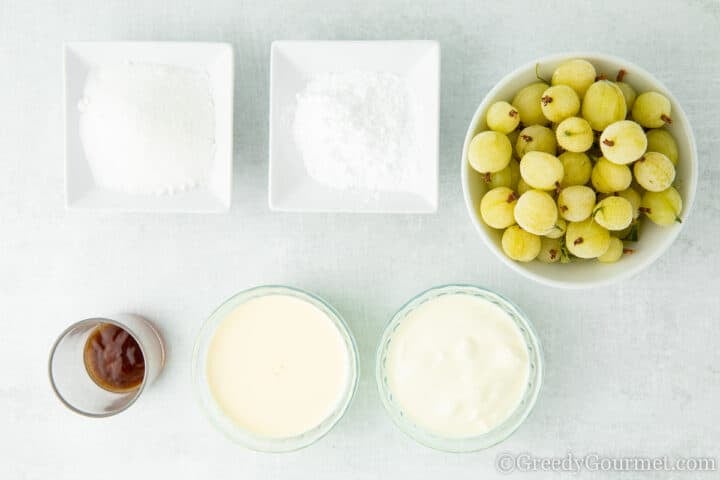 Gooseberry fool recipe
Easy to make, healthy and delicious, this gooseberry fool recipe is the perfect summer treat! It's a combination of gooseberries, yoghurt, cream and sugar, with a dash of vanilla. If you're a fan of cream and fruit, you're going to absolutely love it!
A gooseberry fool consists of cooked gooseberries folded into a whisked yoghurt, cream, sugar and vanilla mixture. After you cook them, you'll mash them up a little, just to get that wonderful juiciness in the final fool.
Gooseberry fool is so quick and easy to make – you'll be done in 5 minutes, tops!
Don't forget… save some reserved gooseberries for decoration!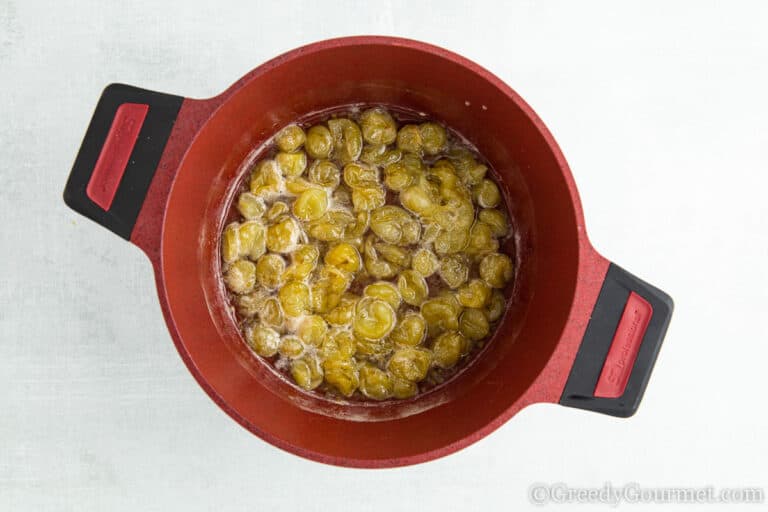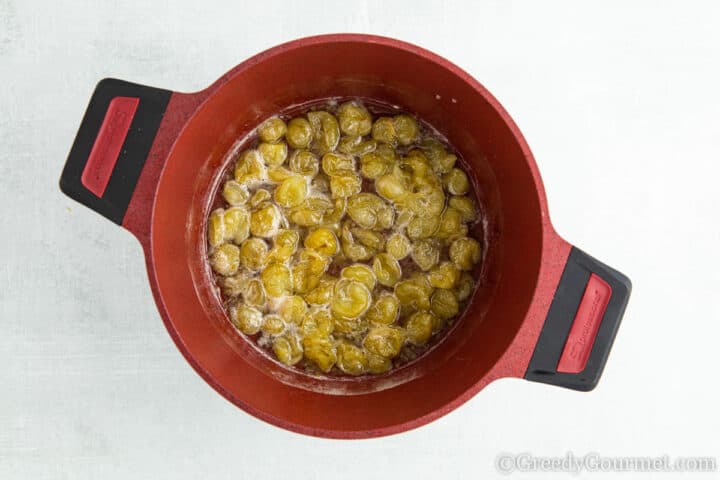 How do you pronounce 'gooseberry'?
Don't fall into the trap of calling them 'goose berries' – like berries that a goose might enjoy! Instead, they are pronounced 'guuzberries.' 
So, try saying 'good' but replace the 'd' with 'z'.
What are gooseberries?
If you grew up in the English countryside, chances are you would have had a gooseberry dessert at some point. Or maybe even enjoyed them straight off the bush!
Popular throughout Europe and increasingly sought out in the States, gooseberries are a lesser-known berry that have been traditionally used in pies and sweet desserts for centuries.
When they're ripe, they have a reddish-purple colour with a jammy sweetness and when they're unripe they're green and tangy. 
The reason gooseberries aren't as common in the US as they are throughout Europe is because they were banned! In 1911, a federal ban was placed on the cultivation of gooseberries, as they acted as a host for 'white pine blister rust', a condition that kills pine trees.
Still, the ban was repealed in the 1960s, replaced with careful regulations. Now gooseberries are making a comeback in the US. In the UK and throughout Europe, they are definitely still under-appreciated, although more and more dessert recipes are focused on this delicious, underrated fruit.
Are they good for you?
Gooseberry fool is a great way to feel less guilty about eating desserts! In fact, any kind of fruit fool is. Gooseberries, in particular, have many healthy benefits. Here are a few:
Gooseberries are rich of antioxidants
They are high in fibre and low in calories
They are packed with nutrients and good for you heart
Gooseberries are easy to add into your diet. Add them to your cereal, munch them as a snack or make a dessert like this gooseberry fool!
What are the best gooseberries to use for this recipe?
Fresh is best! Not too fresh mind… you want some tang to contrast with the sweet creaminess of the fool.
Gooseberry is a common fruit in the UK in terms of growth, but it's still underused. You should be able to find them in most large supermarkets and quality grocers.
Gooseberry season is between May and September, with the best gooseberries growing in the middle of Summer, between June and August.
Another great option is to forage for gooseberries. They thrive in cooler climates, which makes them perfect for growing in the UK. Look in hedgerows and woodland areas, along streams and riverbanks. Follow a foraging guide and you'll get enough gooseberries to cook lots of different recipes!
How do you store gooseberries?
If you plan to use them within a few days, store them in a cool dry place. Otherwise, you can chill them for up to a week in the fridge. Just cover them in a shallow container.
Don't wash gooseberries until you're ready to use them. The moisture can speed up the decaying process, so they won't stay as fresh as they normally would.
What's the history of gooseberry fools?
Fruit fools go way back to the 15th century. Back then, they were called 'fooles.' 
While strawberries, apples, rhubarb, raspberries and other seasonal fruits were all used in a fruit fool, the first and original of the fruit fool recipes was most likely the humble gooseberry fool. 
By the 18th and 19th centuries, gooseberry fools were hugely popular throughout the UK and France, as well as the rest of northern Europe.
Why is it called a 'gooseberry fool'?
I'm definitely a fool for a gooseberry fool! Still, the term 'fool' doesn't refer to a dumbstruck foodie, hypnotised by the sheer deliciousness of this divine dessert.
Instead, the term comes from the French word 'fouler' meaning to crush – hench crushing up the fruit before folding it into the cream.
How do you prepare gooseberries?
When making a gooseberry fool, the gooseberries will need to be topped, tailed and washed, before being cooked in the pan.
How do you store a gooseberry fool?
A gooseberry fool is best eaten straight away, in one delicious sitting! However, you can keep it in the fridge up to 24 hours before you serve it. Just be sure to keep it covered.
Can you freeze this dessert?
I definitely don't recommend it! This is one dish that really needs to be made to eat the same day. If you're not sure you'll want to eat it all, don't make it!
How should I decorate this recipe?
Don't overdo things – the beauty of a fruit fool is the simplicity of flavour. A sprig of mint and some chopped nuts would be perfect.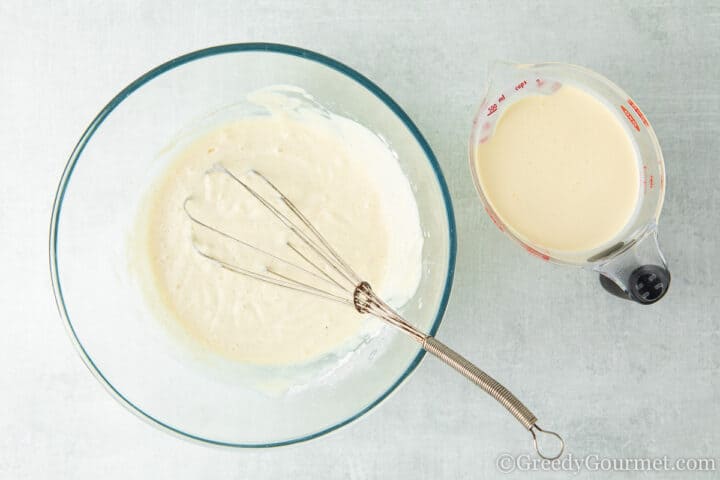 What can you serve with a gooseberry fool?
Here are a few serving suggestions for your delicious gooseberry fool:
Orange tart – a deliciously fruity cake, this would make a wonderful pairing for a delectable dessert feast
Shortbread – the crunchiness of the shortbread makes a great contrast with the creamy, fruity fool
Vegan oat cookies – again… it's all about the contrast of the crunch!
Elderberry gin – for pure summer bliss, pair your gooseberry fool with some homemade elderberry gin. The flavours are a match made in heaven!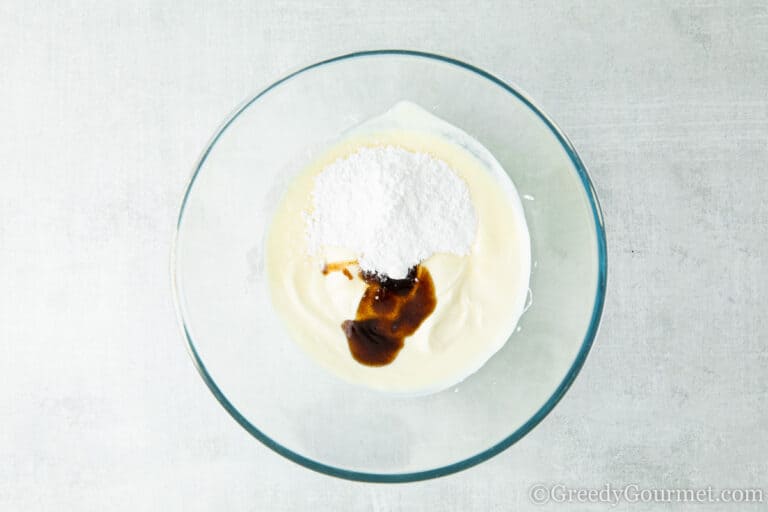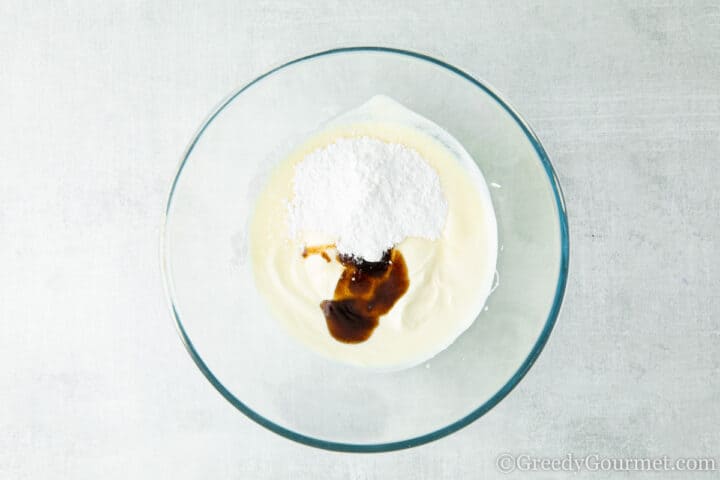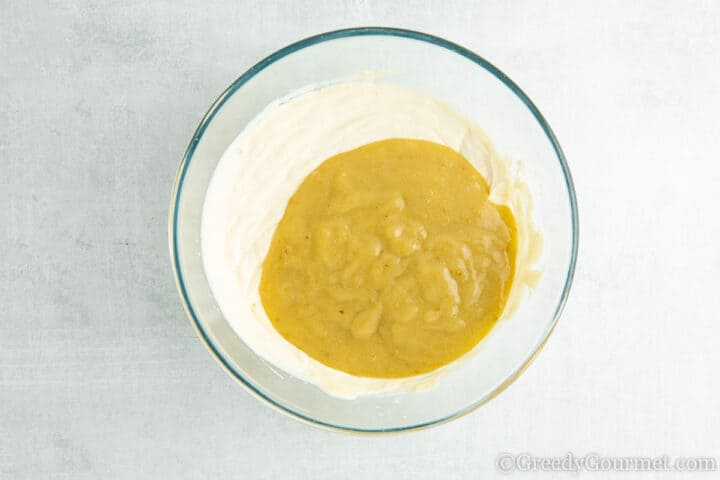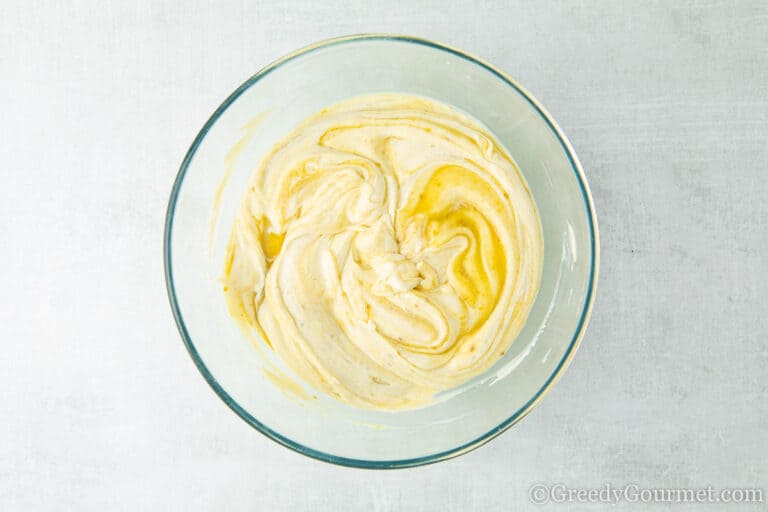 More fruity desserts
The summer months call for some seriously refreshing desserts. With that in mind, I thought I'd give you some more inspiration with some of my favourite fruity desserts. Enjoy!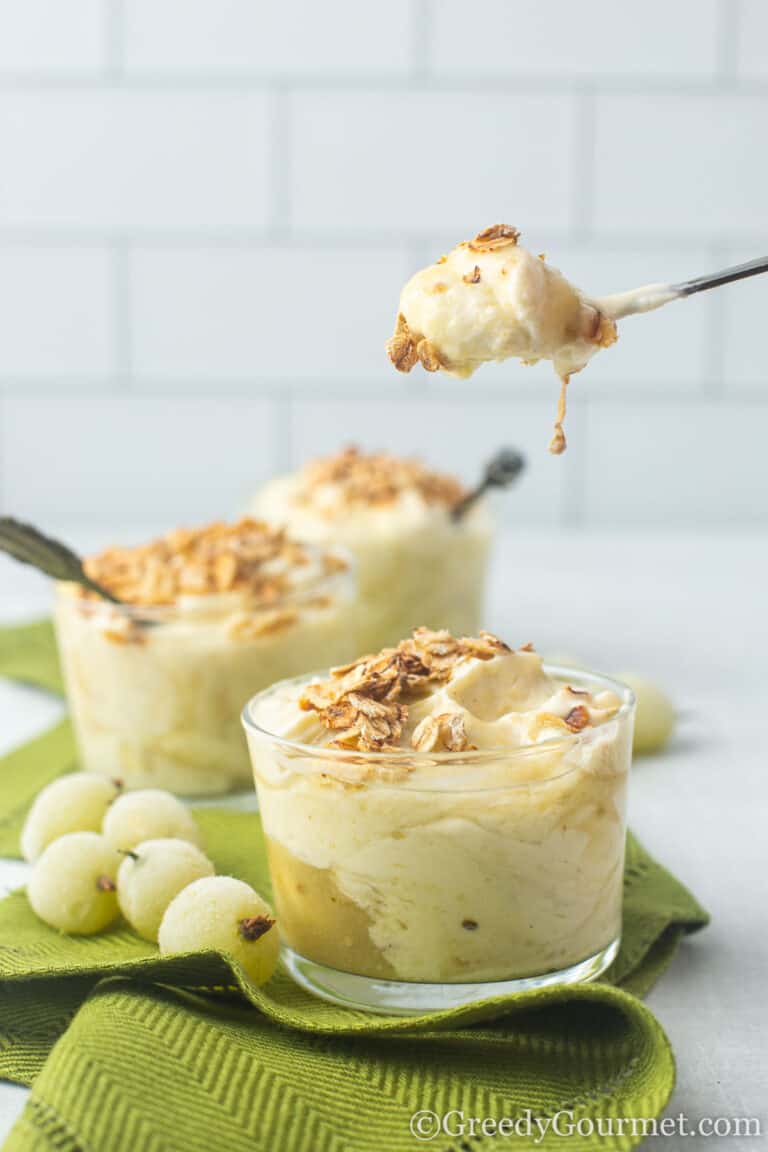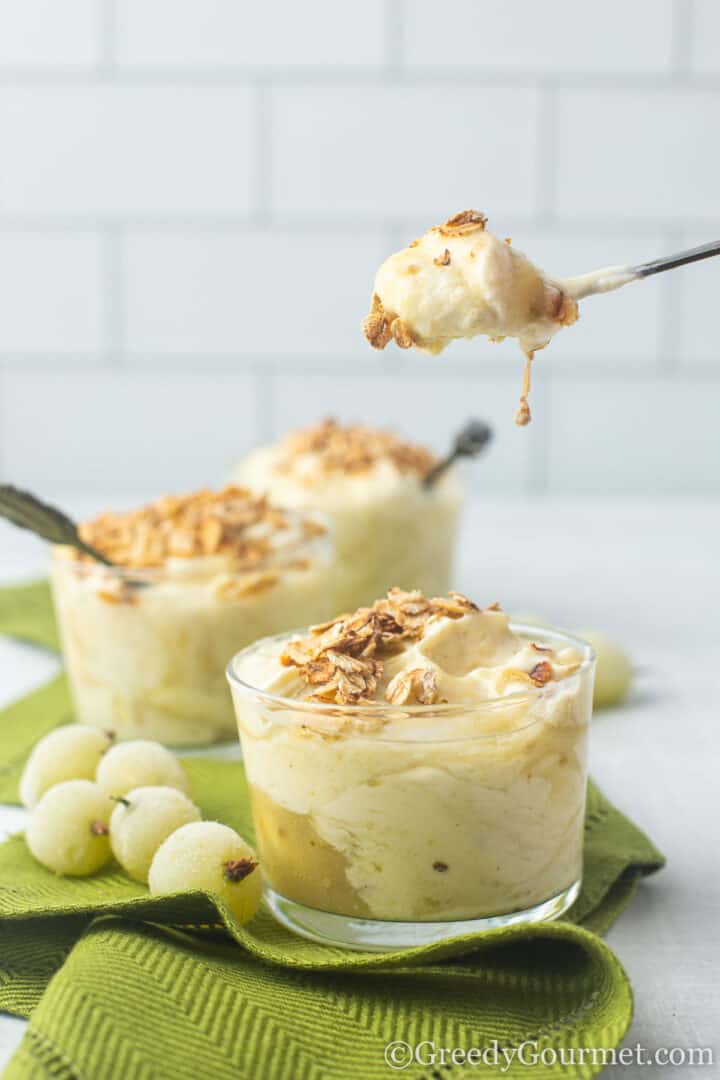 Print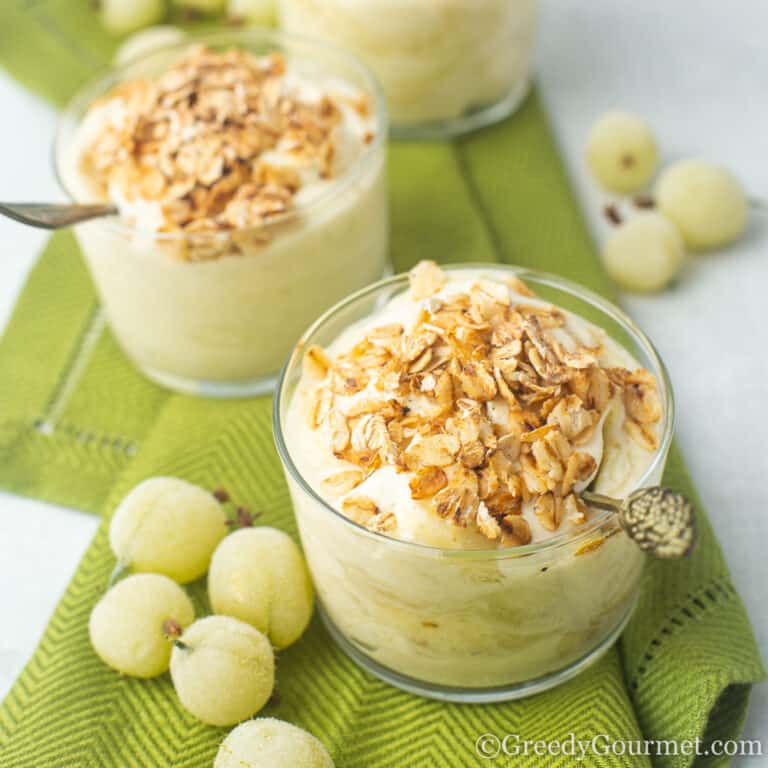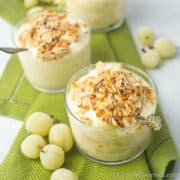 Gooseberry Fool
---
Author:

Michelle Minnaar

Total Time:

20 minutes

Yield:

8

servings

1

x

Diet:

Vegetarian
Description
A British classic, Gooseberry Fool is a refreshing dessert that is simple to make. A perfect summertime treat. Make the most of gooseberry season!
---
500

g

(3 1/2 cups) gooseberries, top and tailed

42

g

(6 tbsp) caster sugar

400

g

(1 1/2 cups) Greek yogurt

24

g

(3 tbsp) icing sugar

5

ml

(1 tsp) vanilla paste

400

ml

(1 3/4 cups) double cream
---
Instructions
Place the gooseberries and the caster sugar into a saucepan with a splash of water. Heat gently and bring to a simmer, stir continuously.
When the gooseberries start to burst, take them off the heat and mash them with a potato masher, fork or even the back of the spoon that you have used for stirring.
Set aside and allow to cool.
In a bowl, whisk together the Greek yogurt, icing sugar and vanilla paste until smooth
Add the double cream and continue to whisk, it will thicken as you whisk so please don't overdo it.
Fold through the gooseberries, don't feel you have to mix thoroughly though as the ripple effect of the gooseberries can be aesthetically pleasing.
Spoon in ramekins or glasses of your choice. Enjoy!
Prep Time:

10 minutes

Cook Time:

10 minutes

Category:

Dessert

Method:

Chill

Cuisine:

British
Keywords: gooseberry fool, fool dessert, fool recipe, gooseberry recipe, gooseberry dessert, british dessert recipe