Ever since I have gotten into making my own ice cream, I love to try out new flavours. This time, I tried my hand at making my own hokey pokey ice cream. Hokey pokey ice cream is an interesting twist on otherwise conventional vanilla ice cream.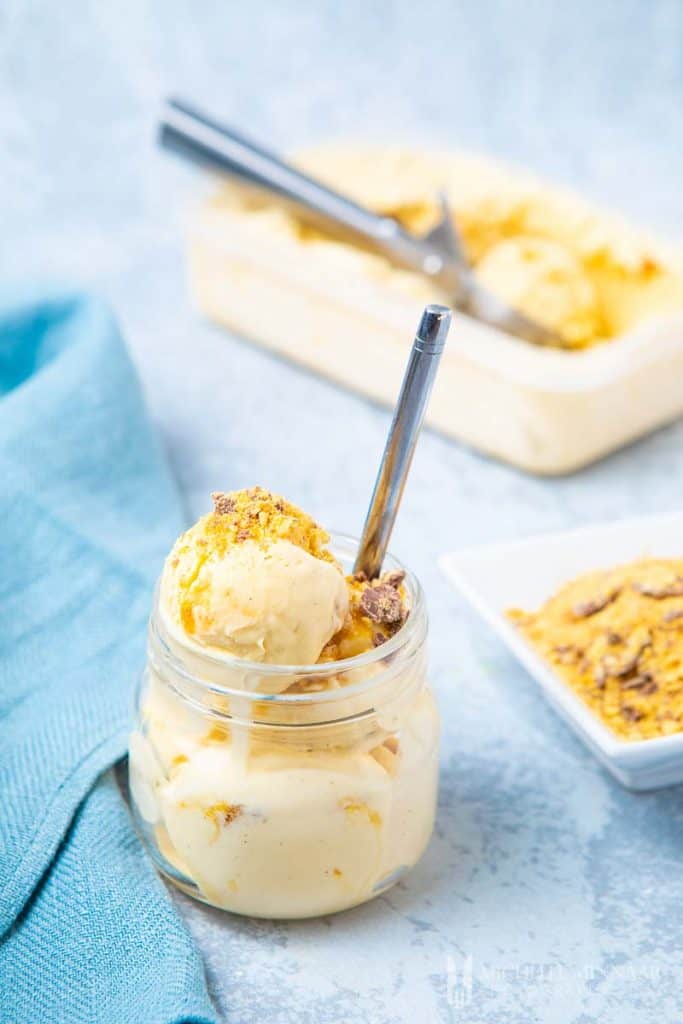 Despite being well known in New Zealand, 'hokey pokey' is unheard of outside this small, remote country. At the very least, I haven't really seen it in any of the shops where I normally buy groceries in the UK.
Nor have I ever seen the flavour at any ice cream parlour. However, there is no reason why you should not make hokey pokey the flavour of your summer anyway. You can simply make your own ice cream. In short, it's super easy.
homemade hokey pokey ice cream
First, you will need an ice cream churner to make your own hokey pokey ice cream. That being said, I must admit that I am extremely happy with my ice cream churner.
If you are a foodie with a sweet tooth, this is something that should be on your wish list. In essence, there is so much you can do with it, and most of all you can control the ingredients yourself.
No more industrial additives or fake flavour enhancers. As a matter of fact, you can make your own ice cream at home with exactly the ingredients and flavours you like.
All things considered, if you are new to ice cream making, hokey pokey ice cream will be a good place to start. In essence, hokey pokey ice cream recipe is just a normal vanilla ice cream mixed with bits of hokey pokey candy or, as most people know it, honeycomb.
The latter brings a lovely crunchy element to the soft ice cream, plus a delicious flavour. The best thing about homemade hokey pokey ice cream is that can add as much hokey pokey candy as you want!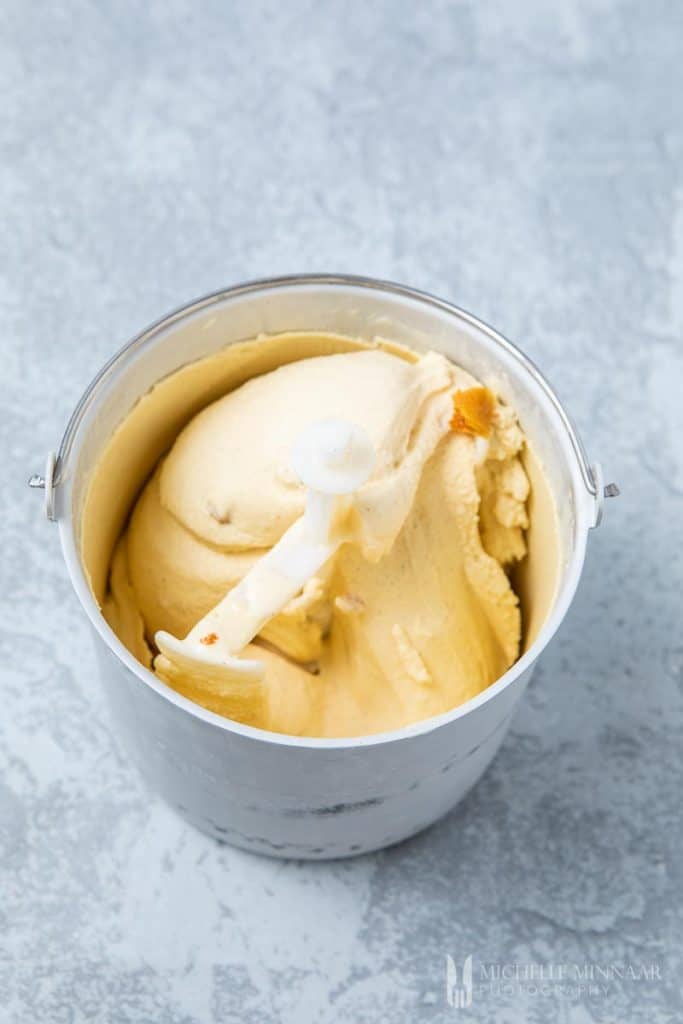 what is hokey pokey ice cream?
Perhaps you are wondering what "hokey pokey" actually is. In summary, hokey pokey is the New Zealand term for honeycomb toffee.
Hokey pokey ice cream is a vanilla ice cream enriched with delicious honeycomb toffee. Sometimes, it also comes with a sauce. I can easily imagine honeycomb enriching my lovely peanut butter and jelly ice cream recipe.
All in all, there is some discussion about where the phrase "hokey pokey" comes from. In several places in the English-speaking world, it was used as a slang term for ice cream sold by street vendors.
Some speculate that the term is derived from the word pocco, meaning little in Italian. Since most of the ice cream vendors in the 19th and 20th century were of Italian origin, it could refer to them giving out small samples of ice cream for the customers to taste.
Others say that it comes from the term "hocus pocus", frequently used by magicians and entertainers. Given these points, whichever story is true, hokey pokey ice cream certainly tastes magical.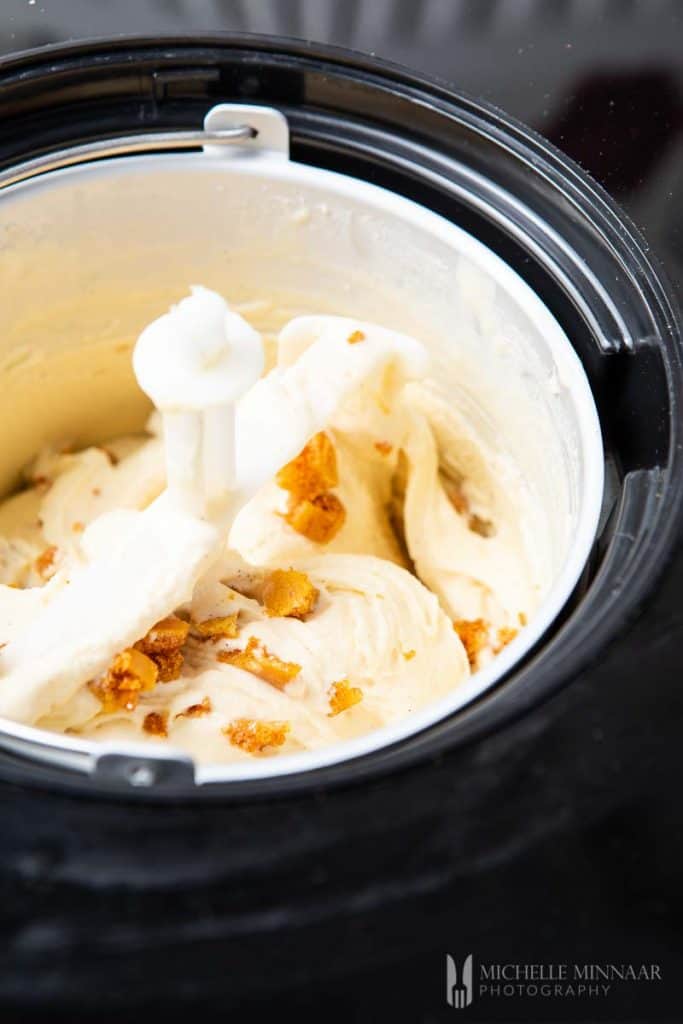 hokey pokey candy
In short, hokey pokey candy simply means honeycomb toffee. Some of you may know it as cinder toffee. Hokey pokey is one if the better kept culinary secrets of New Zealand, and you might have to look around a bit to find hokey pokey candy in Britain.
Some of the major brands such as Whittaker's for example, are being exported, also to the UK. Once you start making your own ice cream, it is easy to create new flavours using your favourite candy or chocolates.
For more inspiration have a look at my Ferrero rocher ice cream or this no churn peanut butter Oreo ice cream.
honeycomb ice cream
As shown above, for your hokey pokey ice cream, you simply need to break up the honeycomb toffee into smaller bits suitable in an ice cream for that desirable crunch. Fold the crushed honeycomb into the ice cream base, and let the ice cream churn in the ice cream maker.
If you don't like to have the crunchy bits in your ice cream, you can simply use the honeycomb as a topping for the quintessential vanilla ice cream.
You might not be able to find any hokey pokey honeycomb candy in the shops. If that is the case, you can have a go at making your own honeycomb. Be warned though, this can be a bit tricky as you have to warm up the honeycomb base to a precise temperature to make it work.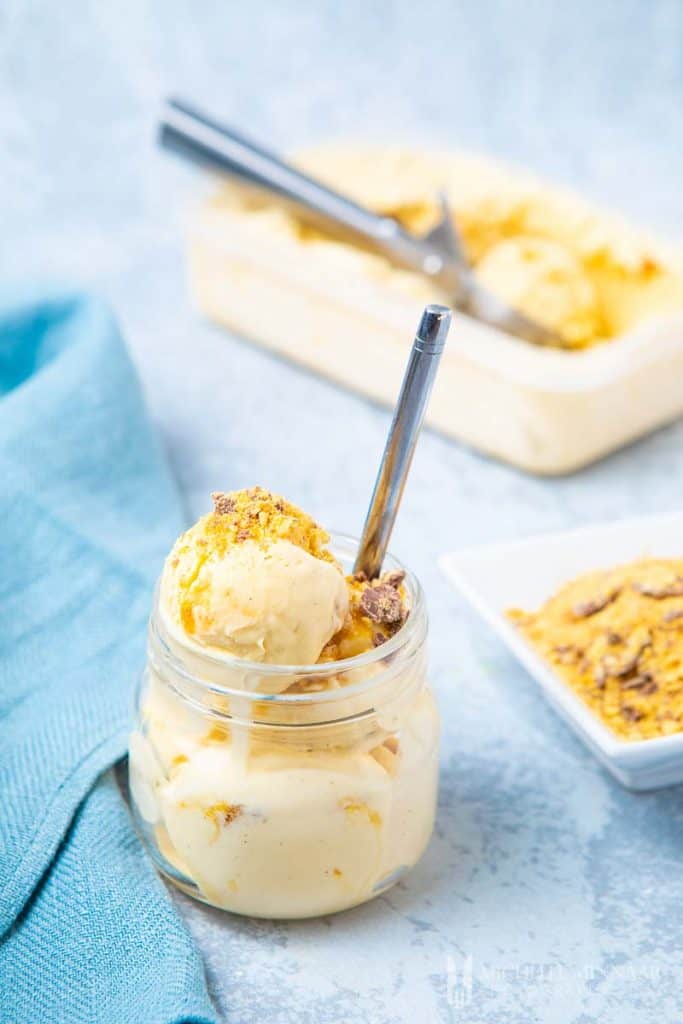 how to serve hokey pokey ice cream
Even though hokey pokey ice cream tastes great on its own, it can sometimes benefit from a fresher element. This is particularly desirable on a hot summer's day or if you are serving the hokey pokey ice cream as a dessert for a big dinner.
To get a bit of acidity onto the plate, I like to top off the hokey pokey ice cream with some fresh berries, like what I did in my sugar free angel food cake recipe.
I recommend you use whatever is in season as the moment, although the berries you pick should not be overly sweet in my opinion. Good suggestions would be raspberries or blackberries, which both offer a great balance between sweetness and acidity.
Moreover, the vibrant colours of the fresh berries make the bowl of ice cream look even more irresistible. If berries are not your favourite thing you can serve the hokey pokey ice cream with other types of exotic fruit as well. Alternatively, simply drizzle the ice cream with a caramel sauce.
If you fancy something extraordinary, then why don't you drizzle the ice cream with a bit of Amarula liqueur? Go check out how I served my Amarula cheesecake recipe.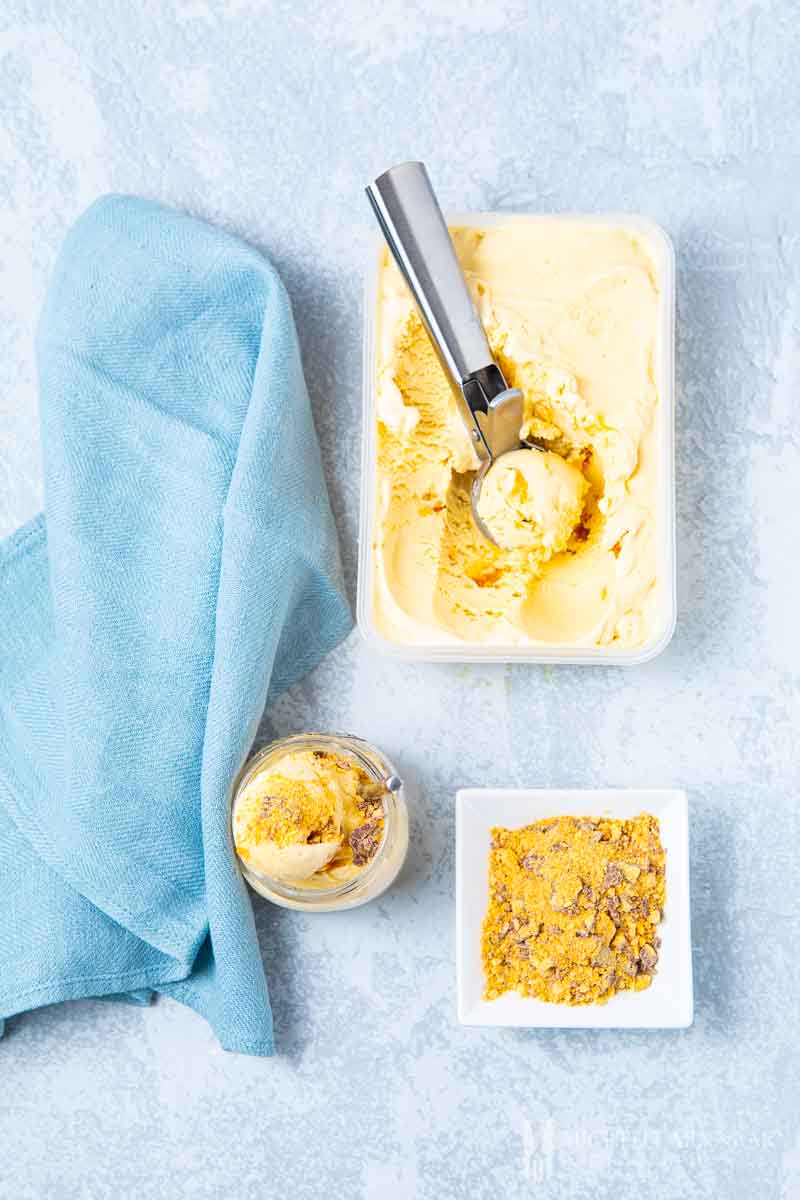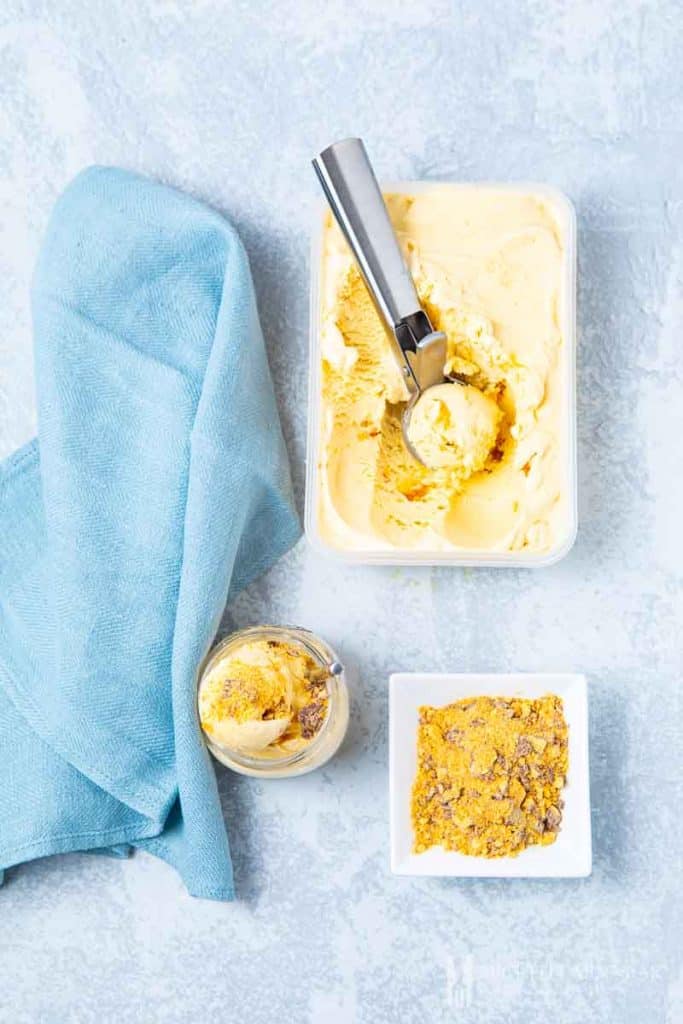 storage
Admittedly, it takes a some time and effort to make your own ice cream. However, it is also a fun activity that you can do with your kids, who will most likely be over the moon about making their own ice cream.
If you make a bigger batch than you need, you can easily store the hokey pokey ice cream in the freezer for a couple of months. If the ice cream was churned correctly there should be no ice crystals when you freeze it.
That being said, you might find the ice cream slightly hard when you take it out of the freezer. This is because your hokey pokey ice cream does not contain the stabilisers used in the industry.
Not to worry, all you have to do is wait an five to ten minutes and your hokey pokey ice cream will be soft enough to scoop.
Print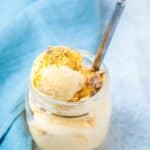 Hokey Pokey Ice Cream
---
Description
Have you heard of Hokey Pokey Ice Cream? This is a honeycomb ice cream recipe all the way from New Zealand. You'll be hooked at the first lick!
---
500

ml (2 cups) double cream

250

ml (1 cup) whole milk

125

ml (1/2 cup) +

15

ml (

1 tbsp

) granulated sugar

4

large egg yolks

7.5

ml

(1/2 tbsp) vanilla paste

60

g

(2oz) honeycomb, crushed
---
Instructions
Combine the cream, vanilla, milk and 15ml (1 tbsp) sugar in a saucepan. Bring to the boil then remove from the heat.
In a large bowl, whisk together the 125ml (1/2 cup) sugar and egg yolks, until the mixture has gone pale in colour and doubled in size.
Temper hot milk into the sugar yolk mixture, by slowly adding hot milk about 60ml (1/4 cup) at a time, whisking to distribute heat. Once all the milk has been added, transfer mixture back into the saucepan.
Place the saucepan over medium-low heat. Stir until mixture reaches nappé consistency, or 80°C (180°F) on a kitchen thermometer. Let mixture sit at this temperature for 5 minutes to pasteurise the eggs.
Remove from heat and pour the custard into a large mixing bowl. Place the bowl into icy water and stir until the custard has cooled.
Pour the custard into an ice cream maker and churn according to your unit's instructions. After 40 minutes of churning, add the honeycomb.
Transfer the ice cream to a sealable container and place in the freezer. Freeze for at least 3 hours or overnight.
Notes
You can adjust the quantity of vanilla paste to taste.
Alternatively, one vanilla pod instead of the vanilla extract. Halve the vanilla pod, scrape the seeds out and add to the milk and cream mixture, along with the pod itself. After the boiling process, remove the pod.
Ice cream makers vary in timings. The one I use will finish churning in 50 minutes. If your machine's process takes longer, adjust the timings accordingly. The end result should be that the honeycomb maintains its crunch.
Prep Time:

10 minutes

Cook Time:

1 hour 30 minutes

Category:

Ice Cream

Method:

Freeze

Cuisine:

New Zealand
Keywords: honeycomb ice cream recipe, hokey pokey ice cream, New Zealand dessert recipe
save the recipe to your pinterest board