Kinder Bueno cookie bars, cookies but in bar form, what's not to love about that? This recipe is thicker than a cookie and more like a brownie or a blondie.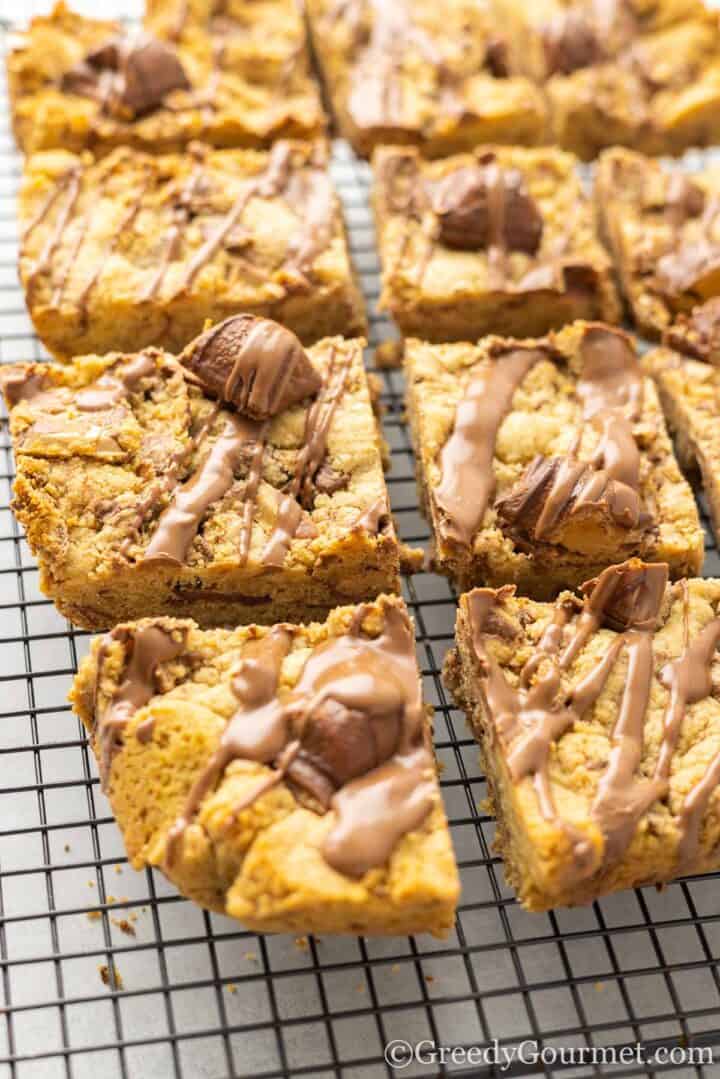 Loaded with pieces of Kinder Bueno candy and topped with melted chocolate chips, there's no need to convince you to make these cookie bars!
Chopped Kinder Bueno bars give this giant cookie dessert some crunchy texture from its crispy wafer. The creamy hazelnut filling softens even more when baked, infusing its nutty flavor into the cookie bars.
You can use the traditional Kinder Bueno chocolate, Kinder Bueno white chocolate, or regular Kinder chocolate bars. Added melted chocolate chips drizzled on top give these cookie bars even more of a chocolate infusion.
This recipe is inspired by my Mini Egg Brownies, which you can also find on my site. There are also several other Kinder Bueno recipes available on my blog.
These Kinder Bueno cookie bars are perfect for an after-school treat or as a special weekend dessert for the family. You can enjoy these Kinder Bueno cookie bars any time of the year because they are versatile and so so delicious!
Why You'll Love This Recipe
Your kids can help make this recipe
It's simple and has easy-to-find ingredients
It's decadent and a real crowd pleaser
You can customize it by adding any additional candy
Equipment Needed to Make This Recipe
Ingredients You Need to Make This Recipe
Kinder Bueno Candy - chopped Kinder chocolate pieces mix into these cookie bars to give them irresistible sweetness and texture. You can also use Kinder Bueno white chocolate bars, or Kinder chocolate instead.
Vanilla Paste - vanilla extract paste is thick with vanilla bean flecks that add extra flavor. Unlike vanilla extract, vanilla paste adds to the texture of the Kinder Bueno cookie bars.
Caster Sugar - this ultra-fine sand-like sugar dissolves quickly into melted butter, creating a smooth and silky cookie batter in these Kinder Bueno cookie bars
How to Make This Recipe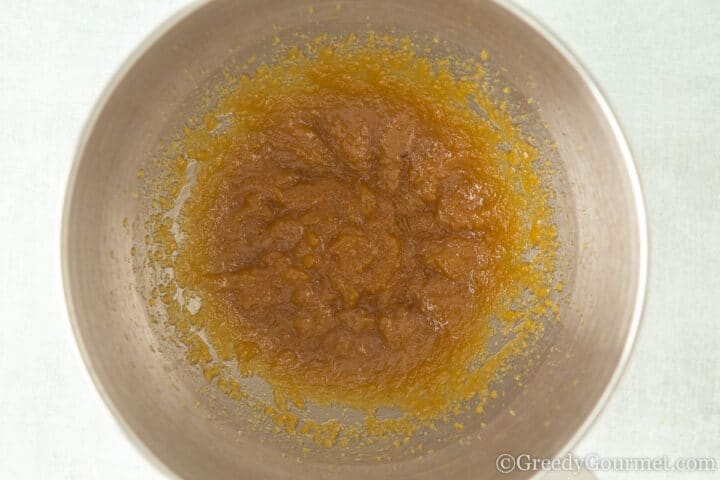 Whisk the butter and sugars together.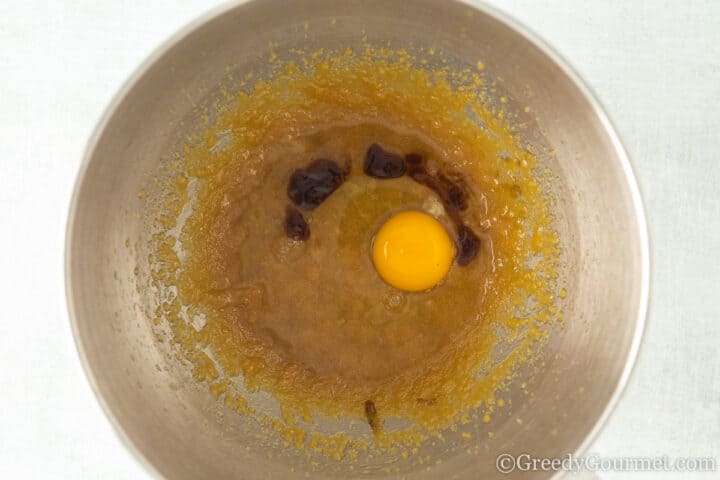 Add egg and vanilla paste.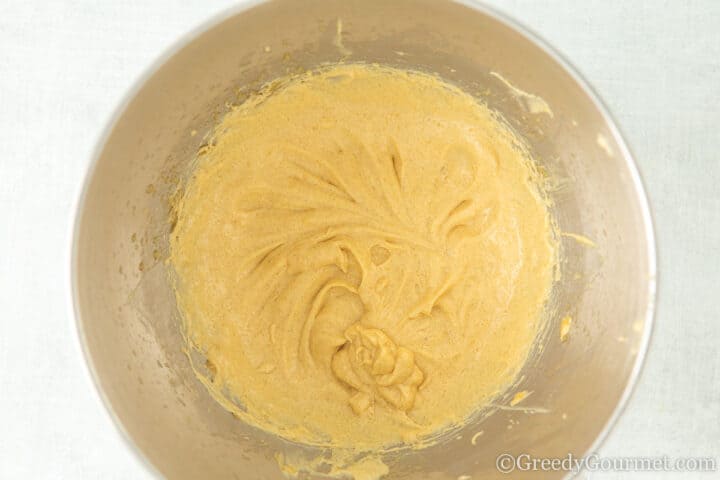 Whisk all together until light and creamy.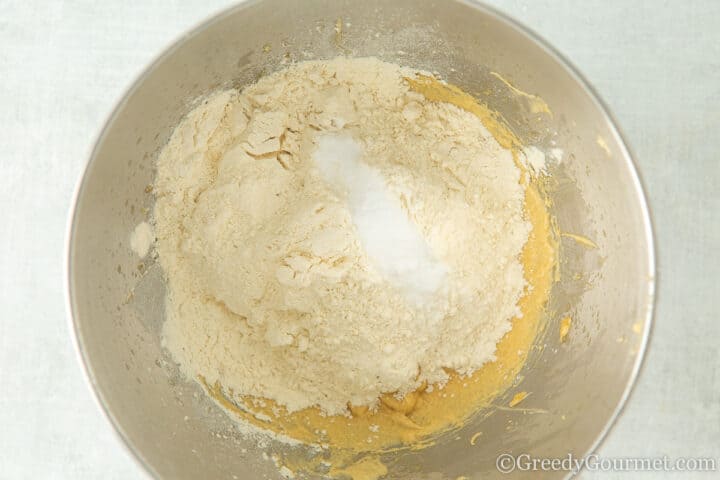 Add flour and bicarbonate of soda.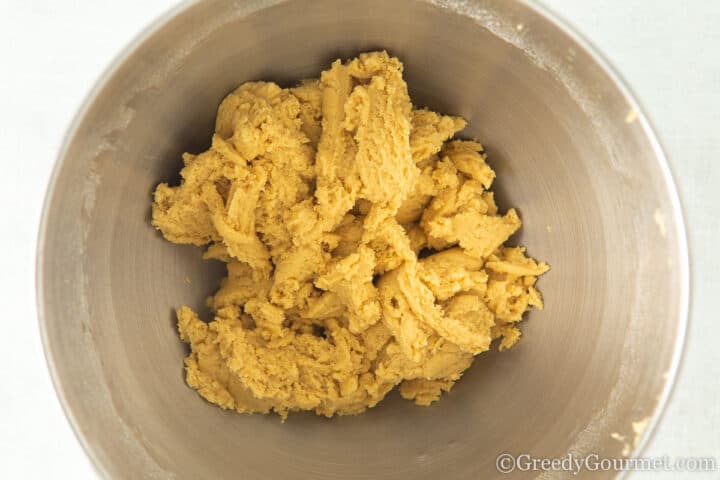 Mix until a cookie dough forms.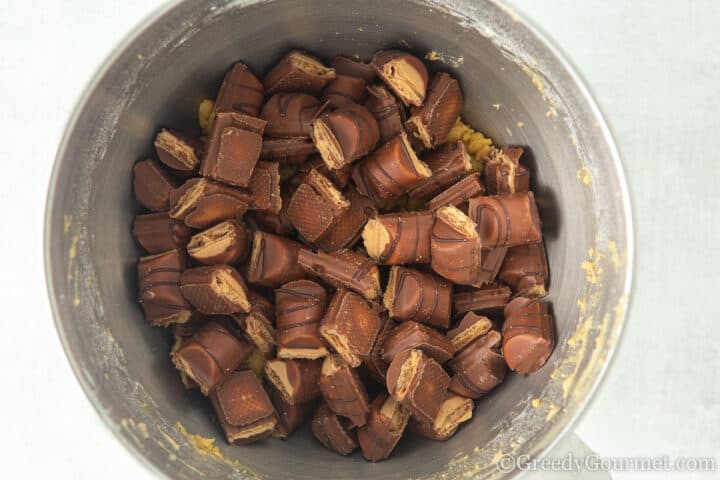 Add Kinder Bueno chocolate pieces.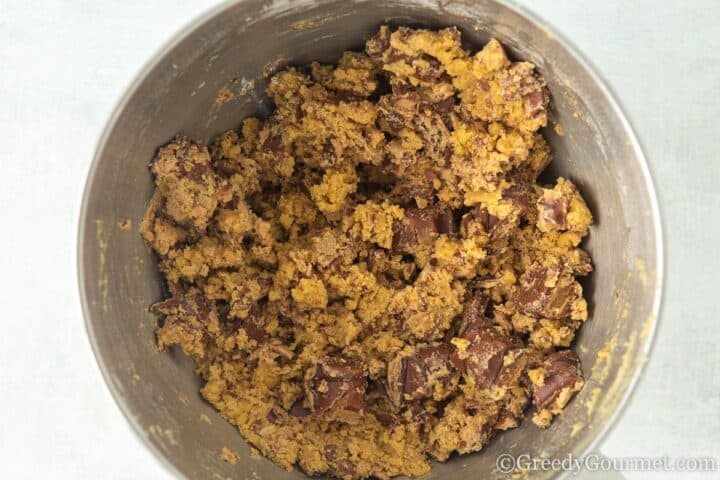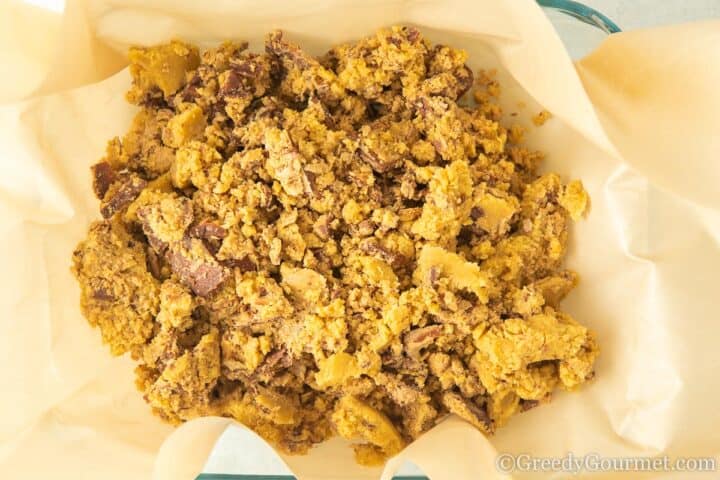 Tip the chocolatey cookie dough into lined baking tin.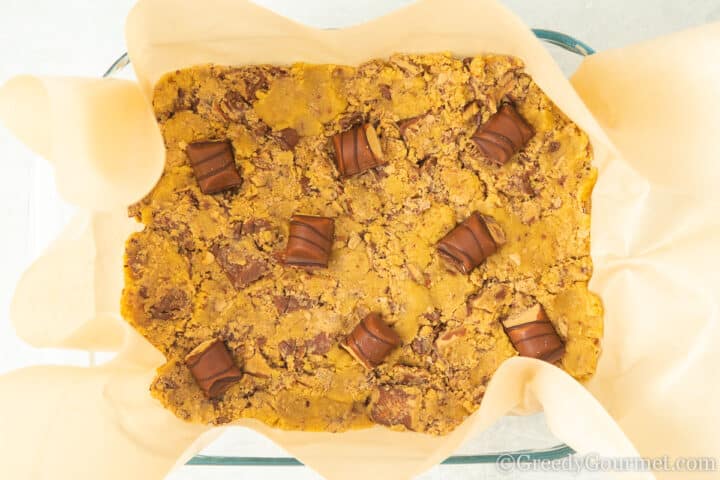 Decorate with Kinder Bueno chocolate pieces.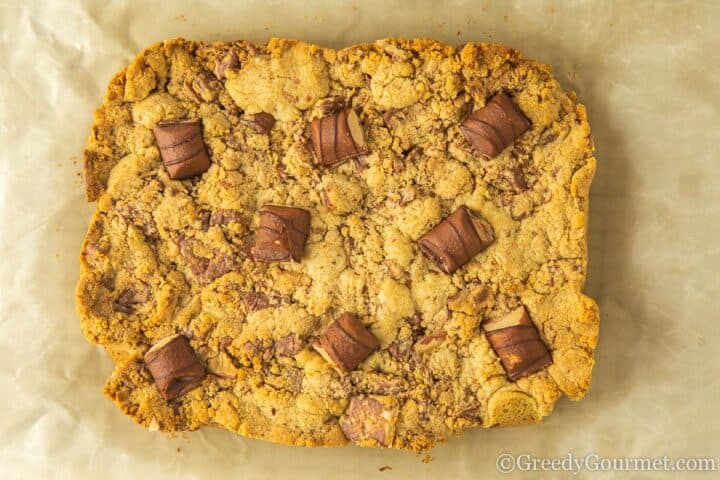 Bake until golden and crispy on the outside.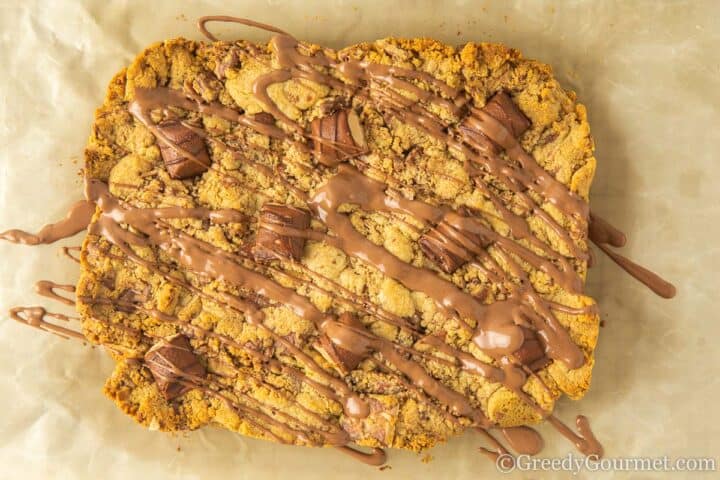 Drizzle with even more melted chocolate.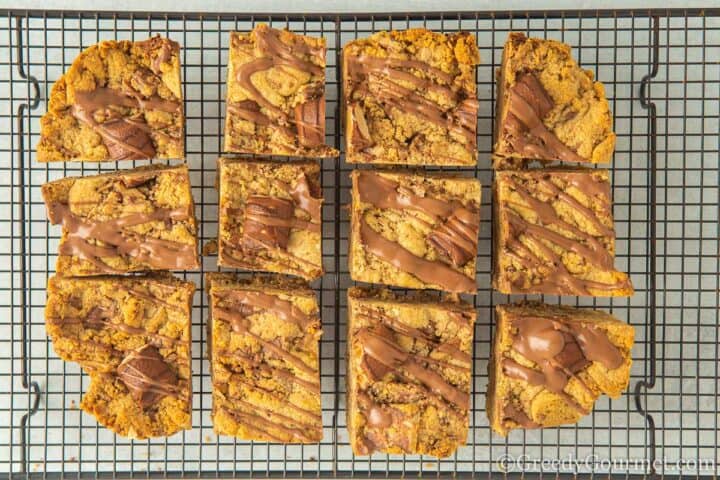 Once completely cooled, cut into individual portion sizes.
Top Tip
Melt the white chocolate chips or regular chocolate chips in a double boiler or the microwave briefly. Using a double boiler takes a bit more time and effort to melt the chocolate chips. You can easily melt the chocolate chips in the microwave using a microwave safe bowl, just heat in short increments and stir often.
What to Pair With Your Kinder Bueno Cookie Bars
These Kinder chocolate bars are so tempting your whole family will love them. Serve them alongside ice cream, with a drink pairing, or along with other desserts at a party.
Sides
Ice cream is the perfect accompaniment for a Kinder chocolate cookie bar, cool and refreshing and oh so delicious. Try on of these homemade recipes!
Eggnog Ice Cream - this delicious eggnog ice cream is a flavor typical around the holidays, but can certainly be enjoyed anytime of the year. The milk and white chocolate in the Kinder chocolate bars will compliment the warm flavors perfectly.
Bubble Gum Ice Cream - another flavor reminiscent of childhood, this bubble gum ice cream recipe is unique and may take you back to the simpler days of youth, especially when pair with this cookie bar.
Peppermint Ice Cream - peppermint is an excellent pairing with any chocolate, even white chocolate. Try a cooling scoop of this delicious homemade ice cream along with your Kinder Bueno cookie bars for a refreshingly different treat.
Drinks
Wash down these Kinder chocolate bars with a nice glass of something cold
Milk - cookies and ice cold milk are a classic combination and these bars are no exception.
Cashew Milk - if you'd rather drink nut milk, or you're lactose intolerant, this cashew milk is the perfect creamy substitute for regular cow's milk.
Toblerone Cocktail - this rich cocktail is made with plenty of booze and definitely not kid friendly!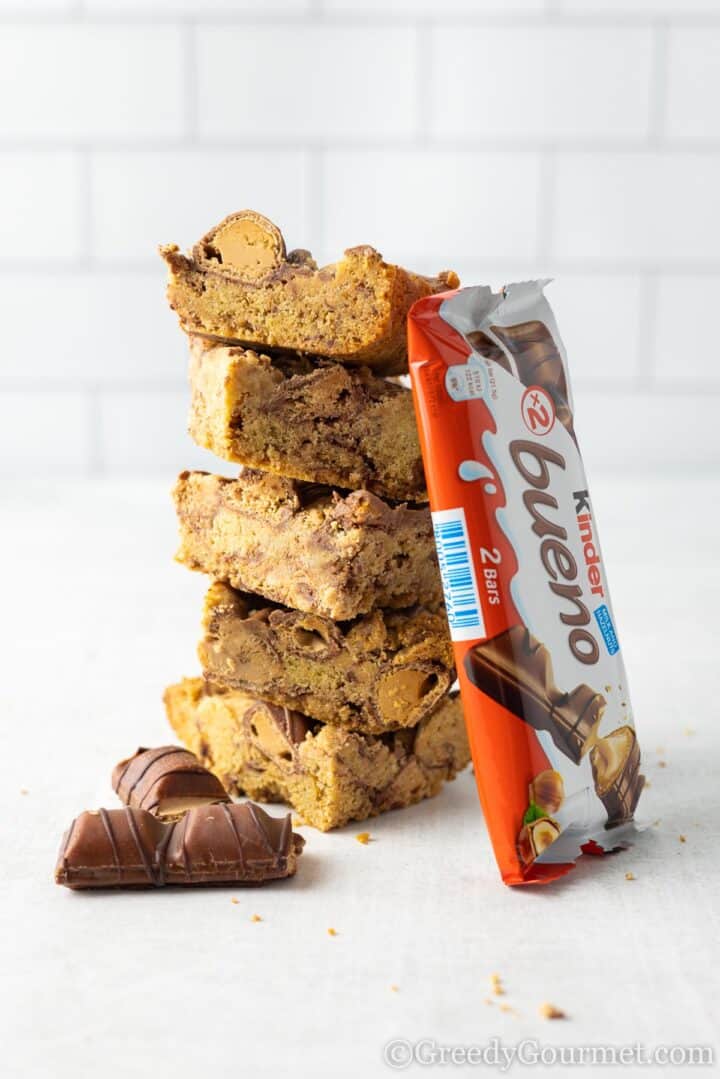 Desserts
Accompany these delicious cookie bars with an array of other tasty desserts that will satisfy everyone's sweet tooth
Marrow Cake - dessert with a healthy twist. Marrow gives this cake batter some extra moistness and is a great way to use up extra marrow from the grocery or garden
Gooseberry Crumble - fruity and tart, this classic dessert is refreshing and different than Kinder chocolate bars, making it a nice contrast on the dessert table
White Dark Chocolate Peanut Butter Chunks - made with dark and white chocolate chips as well as crunchy peanut butter
Popular Substitutions For This Recipe
Sugar
If you don't have caster sugar, granulated sugar works just as well in it's place. Replace it in a 1:1 ratio.
Butter
To control the amount of salt in your recipe, use unsalted butter and add a pinch of salt to the recipe yourself. You can also use baking spread instead of butter if you prefer.
Flour
Use a 1:1 GF flour instead of regular flour to make this recipe gluten free.
Kinder chocolate
Use Kinder Chocolate instead of Kinder Bueno if you prefer. If you are trying to keep this recipe GF, Kinder chocolate is a great alternative.
Chocolate Chips
Use white chocolate chips instead of chocolate for a different flavor. White chocolate chips will melt just like regular chocolate and can be easily substituted.
Variations to This Recipe
Corn Flour
Adding this will help to make your cookie bars thicker and chewier
Top Tip
For fluffier Kinder Bueno cookie bars, use three times the amount of baking powder instead of baking soda. Since baking soda is much stronger, this will balance out the difference, making for a lighter and airier Kinder Bueno cookie bars.
How Do I Store Leftovers?
Store in an airtight container for a maximum of 7 days at room temp. Trust me, they will disappear long before then!
Can I Freeze This Recipe?
Yes, freeze the dough for this recipe before baking for up to three months tightly wrapped or in an airtight container.
What Are White Chocolate Chips Made of?
White chocolate chips are not made with real chocolate. Instead, they are made with a blend of cocoa butter, vanilla, sugar, milk products, and lecithin.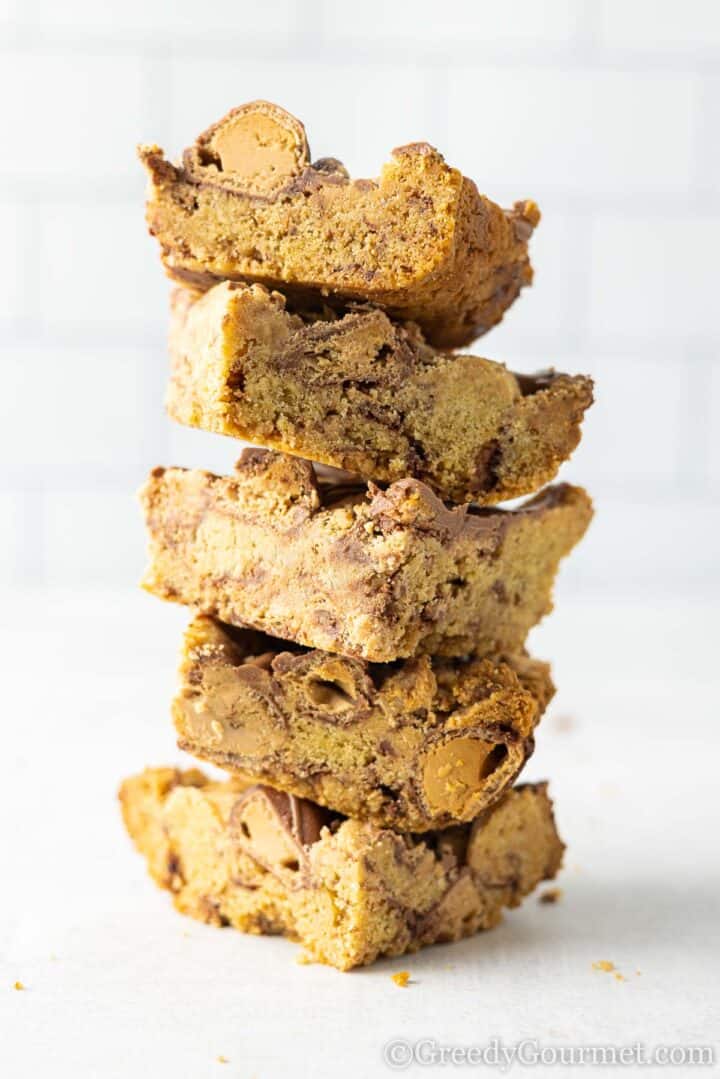 Print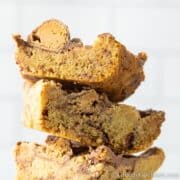 Kinder Bueno Cookie Bars Recipe
---
Author:

Michelle Minnaar

Total Time:

40 minutes

Yield:

12

large cookies

1

x

Diet:

Vegetarian
Description
These Kinder Bueno Cookie Bars are irresistible. Kids can easily make this recipe and it's made under 1 hour. 
---
115g

(

½ cup

) salted butter, melted

55g

(

¼ cup

) caster sugar

135g

(

⅔ cup

) brown sugar

1

large egg

5

ml (1 tsp) vanilla paste

300g

(

1¾ cups

) plain flour

5g

(

1 tsp

) bicarbonate of soda

400g

(

19

bars) Kinder Bueno, segmented

50g

(

2oz

) milk chocolate, melted [optional]
---
Instructions
Preheat the oven to 190°C / fan 170°C / 375°F / gas mark 5.
Whisk the butter, caster and brown sugar together until the sugar has dissolved.
Add the egg and vanilla and mix until well incorporated.
Add the flour and bicarbonate of soda until the cookie dough is smooth.
Tip in most of the Kinder Bueno pieces. Keep a few pieces to the side for decoration purposes.
Transfer the cookie dough to a 9 x 13 in (23 x 30cm) lined baking tin. Be sure to flatten it out evenly. Decorate with the remaining Kinder Bueno pieces by pushing them lightly into the dough.
Bake for 30 minutes or until the top of the cookie dough looks golden, solid and dull.
Remove from the oven and leave to cool completely.
[Optional] Drizzle the melted chocolate over the giant cookie.
When the drizzled chocolate has set, tip out the cookie and slice into 12 even portions. Enjoy!
Notes
For an easier life, I suggest you use a stand mixer or electric whisk to get the mixing done properly and quickly.
Store in an airtight container for a maximum of 7 days at room temperature. Trust me, they will disappear long before then!
Prep Time:

10 minutes

Cook Time:

30 minutes

Category:

Dessert

Method:

Bake

Cuisine:

British
Keywords: kinder bueno dessert, kinder bueno recipe, kinder bueno cookie bars, cookie bar recipe, easy cookie bars