Malva pudding, also called malvapoeding or marshmallow pudding, is a traditional South African dessert. Since South African restaurants are a rarity overseas, you probably haven't come across malva pudding until now.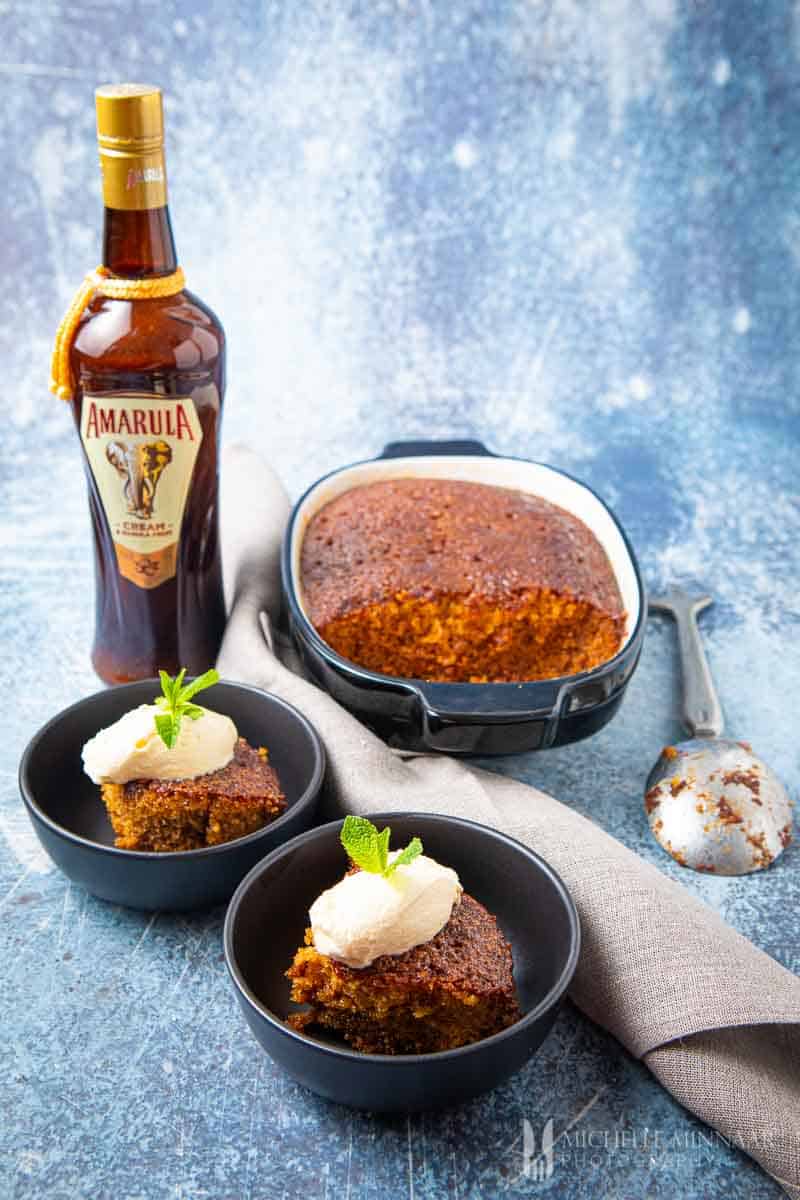 It is a sweet pudding recipe with a yellow sponge drenched in a decadent sauce. Generally, it also contains apricot jam, which is a classic ingredient in South African cuisine.
As a finishing touch, it's topped with either vanilla custard or fresh cream. On this occasion, my malva pudding is all kinds of special. My secret? Amarula liqueur, a drink made with marula fruit from Africa.
In total, it will take roughly one hour to complete this malva pudding recipe. It's best served hot, straight out of the oven.
However, you can also consume it when it is cool. In any event, you will fall in love with this South African malva pudding recipe at first bite. Enjoy exploring the joys of South African cooking.
malva pudding with Amarula liqueur
Usually, the sauce comprises butter, cream and sugar. To make it family-friendly, orange juice can be added. For the grown ups, a touch of alcohol can be used such as Amarula liqueur, sherry or your favourite liqueur.
I've used South Africa's favourite liqueur before in my amazing Amarula cheesecake recipe. It's visually stunning thanks to the vibrant colour of the liqueur and simply tastes incredible!
what is Amarula?
Amarula is a traditional cream liqueur made with marula fruit, which comes from the African Marula tree, called Sclerocarya Birrea. The Marula tree only grows in one place in the entire in the entire world. So many people tried to cultivate the tree, but have failed to succeed. This picky tree can only be found in the sub-Equatorial region of Africa.
In African folklore legends, the tree is also known as The Elephant Tree or the Marriage Tree. Many tribes have acknowledged that that the tree and its fruit has aphrodisiac qualities. Believed to be fit for royalty, this tree is protected by African law, just like elephants.
The Marula tree only bears fruit once a year at the peak of summer. What's best that this magical tree is that it attracts elephants. They travel for miles to eat from it. This is also a signal to farmers that the harvest can commence, otherwise the elephants wouldn't leave any fruit for anyone else!
So, once the Marula fruit has ripened, it is harvested and stoned. In fact, the way the spirit is distilled is very similar to the winemaking process. It ages for approximately two years in French oak, which is where it gets its vanilla flavour and velvety texture from.
Last year, Amarula received the 2018 Brand of the Year Award amongst many others, which has made it Africa's most awarded cream liqueur!
To learn more about Amarula and how it's made, click here.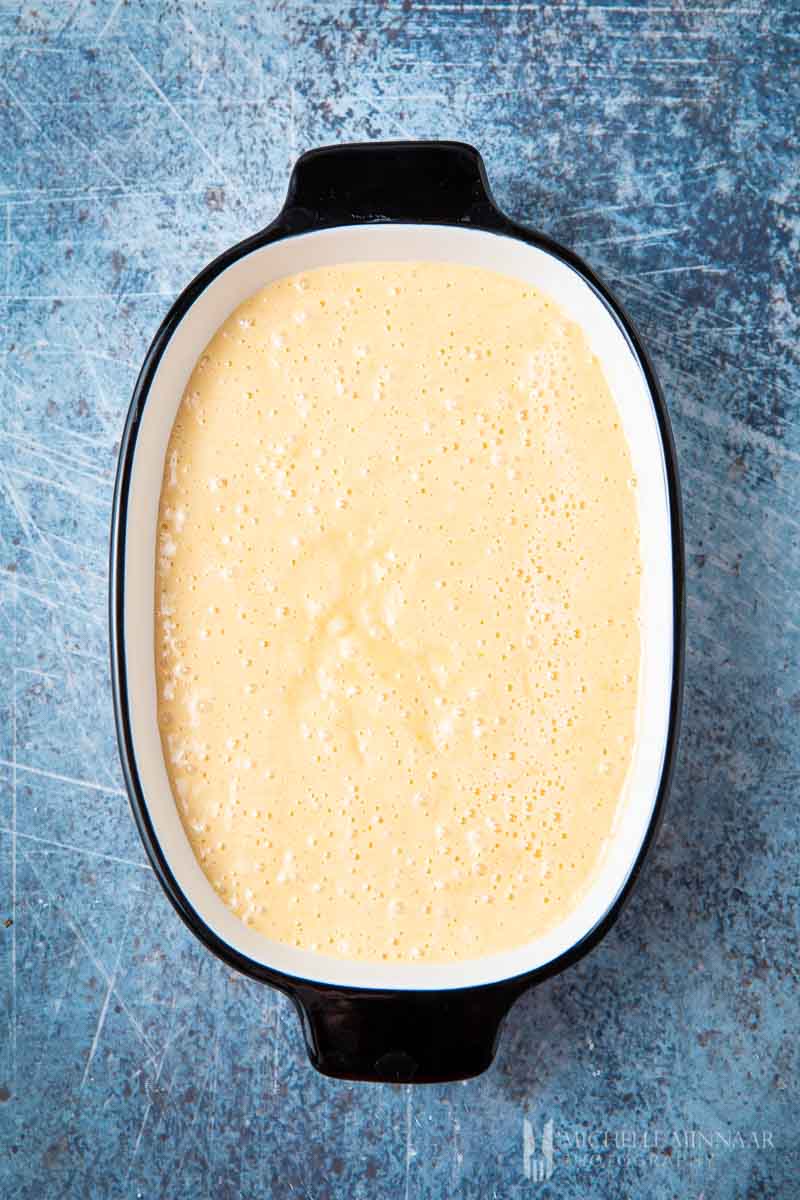 Oprah's malva pudding recipe
Would you believe me if I told you that malva pudding only started gaining popularity in 2006 in the USA? Back then, Oprah's personal chef Art Smith, served it on the show for Christmas.
Instantly, malva pudding became a hit in the USA, especially around the West Coast. Slowly, it became an international sensation and more people started to enjoy the South African cuisine.
individual malva pudding recipe
Traditionally, malva pudding is made in a large baking dish. However, for cuter presentation, you can use ramekins to serve as individual portions. In this way everyone will have they own little malva pudding cake.
The key to this malva pudding recipe though is to get the texture right. Just like the name suggests, malvalekker which means marshmallow, the pudding should possess a soft texture.
So make sure that you don't over-bake the malva pudding. Otherwise, it will lose its soft texture and the taste might be compromised. If in doubt, fix it with the Amarula liqueur which will moisten it.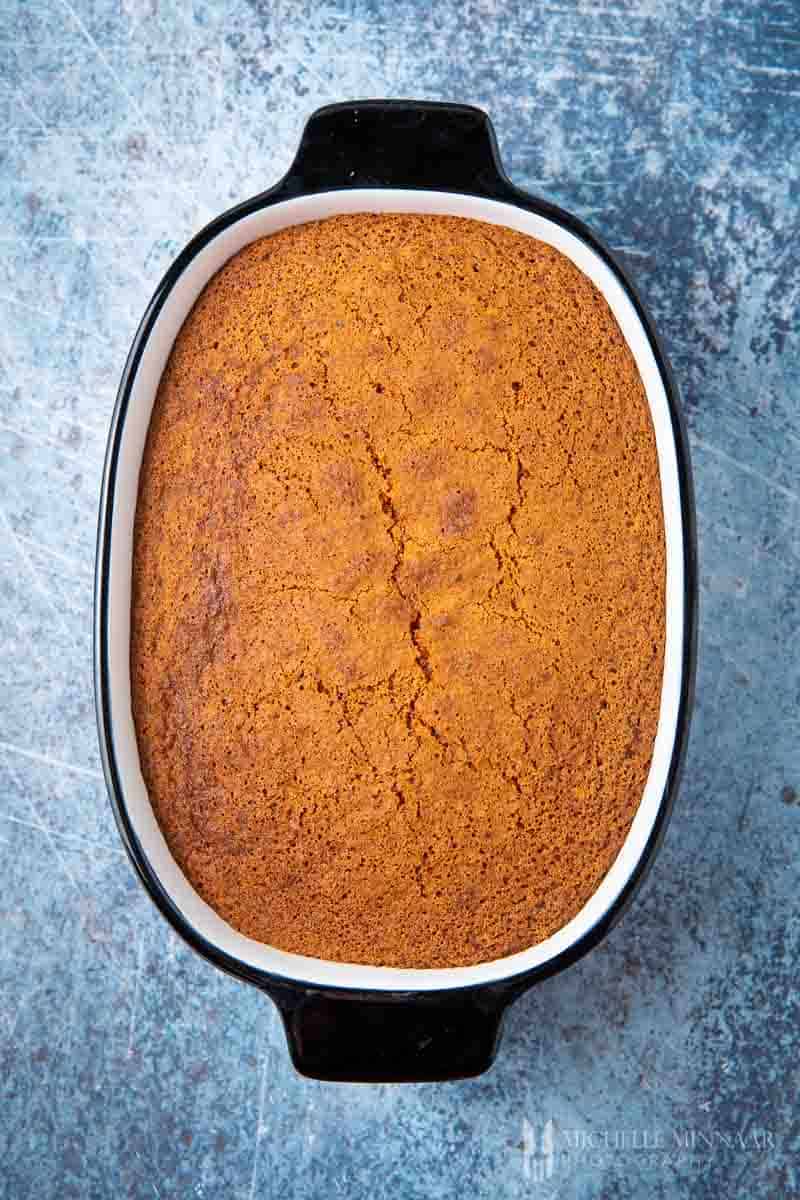 What to serve with Malva pudding
I highly recommend you to serve this malva pudding with a small glass of Amarula liqueur with ice. Beware though, this is then an adult-only dessert.
Other toppings you can consider are:
hot vanilla cream or custard
whipped cream
other types of syrups
fresh fruit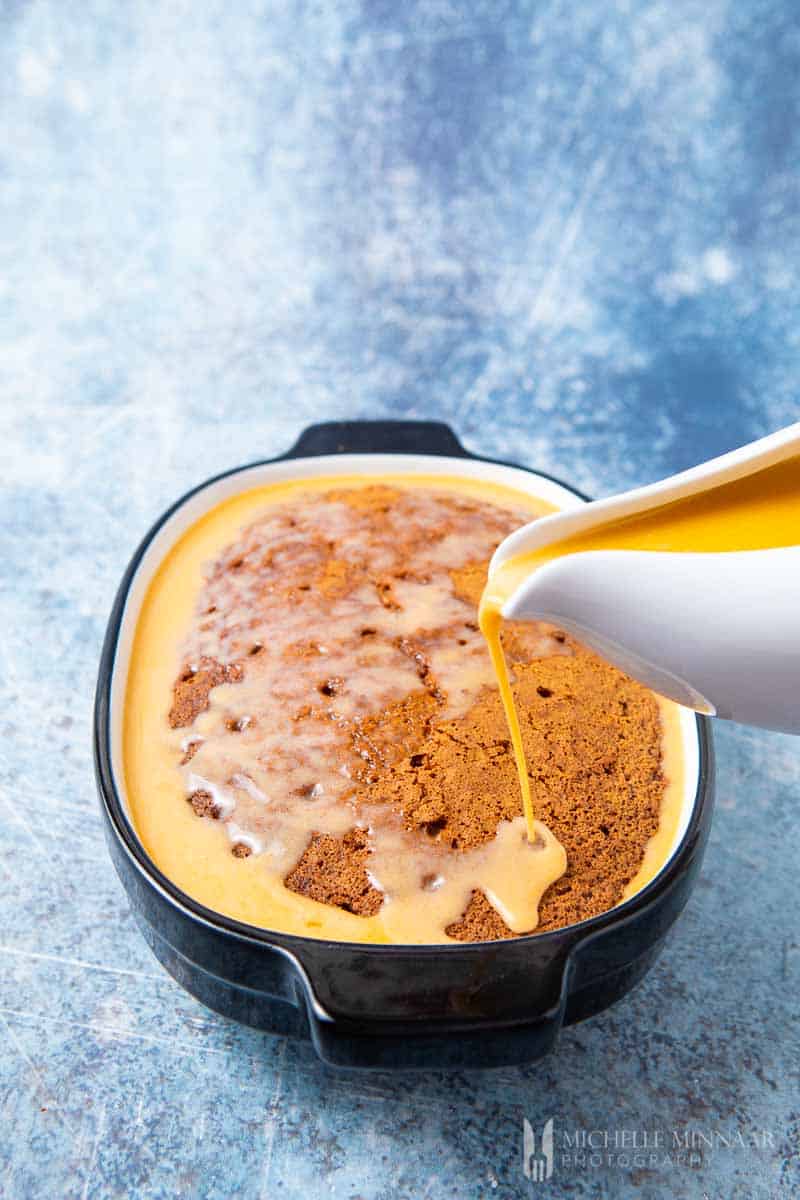 South African cuisine
Generally speaking, South African cuisine is a mishmash of cultures due to its long history of colonisation. On the whole, can find influences from the Dutch, English, French, English, Portuguese, Bengalese, Java and Malaysian people.
Of course, the indigenous people had an influence as well! As you can tell, there is always a recipe for everyone.
For instance, if you really would like to make a South African feast, try these savoury dishes: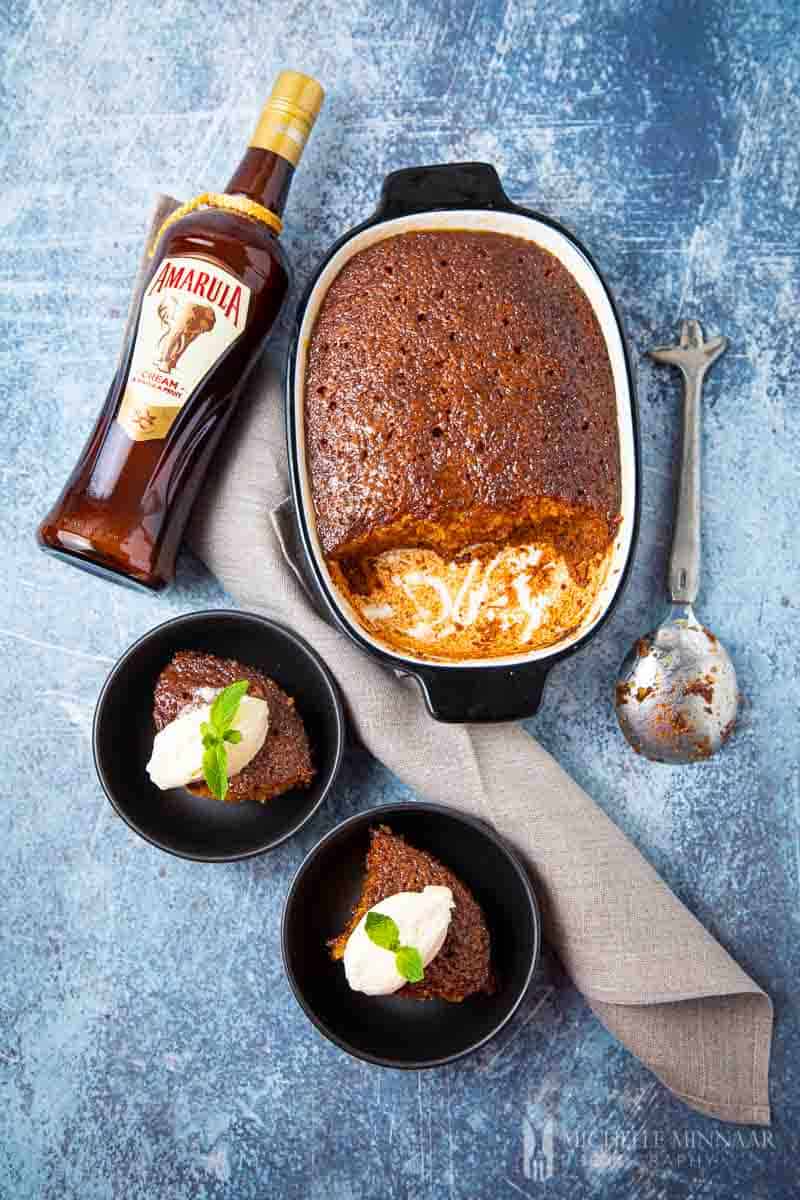 If you feel like these South African recipe are too exotic for you, then I strongly suggest you try this malva pudding first. It really does conquer the heart of any non-adventurious eater!
Have you ever had the opportunity to taste Amarula liqueur? Have you ever tried any South African dish like this malva pudding? Let me know!
Print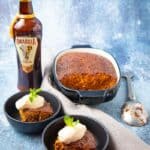 Malva Pudding
---
Description
This malva pudding recipe, also known as malvapoeding, is a classic South African dessert loved by many in the Rainbow Nation. You will love this easy recipe, especially with Amarula.
---
250

ml

(1 cup) caster sugar

2

large eggs

15

ml

(1 tbsp) smooth apricot jam

185

g

(6 1/2 oz) plain flour

5

ml

(1 tsp) bicarbonate of soda
pinch of salt

30

ml

(2 tbsp) butter

5

ml

(1 tsp) white vinegar

125

ml

(1/2 cup) milk

250

ml

(1 cup) double cream

125

ml

(1/2 cup) butter

125

ml

(1/2 cup) white sugar

125

ml

(1/2 cup) Amarula
---
Instructions
Preheat the oven to 180°C/fan 160°C /350°F/gas mark 4.
Beat the caster sugar and eggs until fluffy and light.
Beat in the apricot jam.
Sift the flour, bicarbonate of soda and salt together 3 times.
Melt the butter with vinegar and milk over low heat.
Fold the flour mixture and the milk mixture alternately into the egg mixture and pour the batter into a greased ovenproof dish.
Bake the pudding for about 45 minutes, or until a knife inserted in the center comes out clean.
Meanwhile, place the cream, butter, sugar and Amarula into a saucepan and stir over moderate heat until the butter has melted and the sugar has dissolved. Do not allow the mixture to boil.
Remove the pudding from the oven, pierce it in a number of places with a skewer and pour the hot sauce over it immediately.
Serve hot or cold with cream.
Notes
Substitute the Amarula with sherry, orange juice or water if you prefer.
Want some extra punch to the Amarula sauce? Add no more than an extra 100ml (3fl oz) to the sauce. You might end up not using all the sauce to soak the sponge with. Just serve the leftover sauce on the side.
If there are sherry-averse eaters in the crowd, serve the sauce separately from the pudding to give them a choice.
You can also serve the pudding with custard or ice-cream.
Prep Time:

45 minutes

Cook Time:

15 minutes

Category:

Dessert

Method:

Bake

Cuisine:

South African
Keywords: Malva Pudding, malvapoeding recipe, South African dessert recipes, South African pudding