For the ultimate taste of summer, you can't get better than a rhubarb cheesecake. Fresh, sweet, tangy, indulgent and with hardly any prep time, this no bake rhubarb cheesecake will quickly become your favourite summer dessert.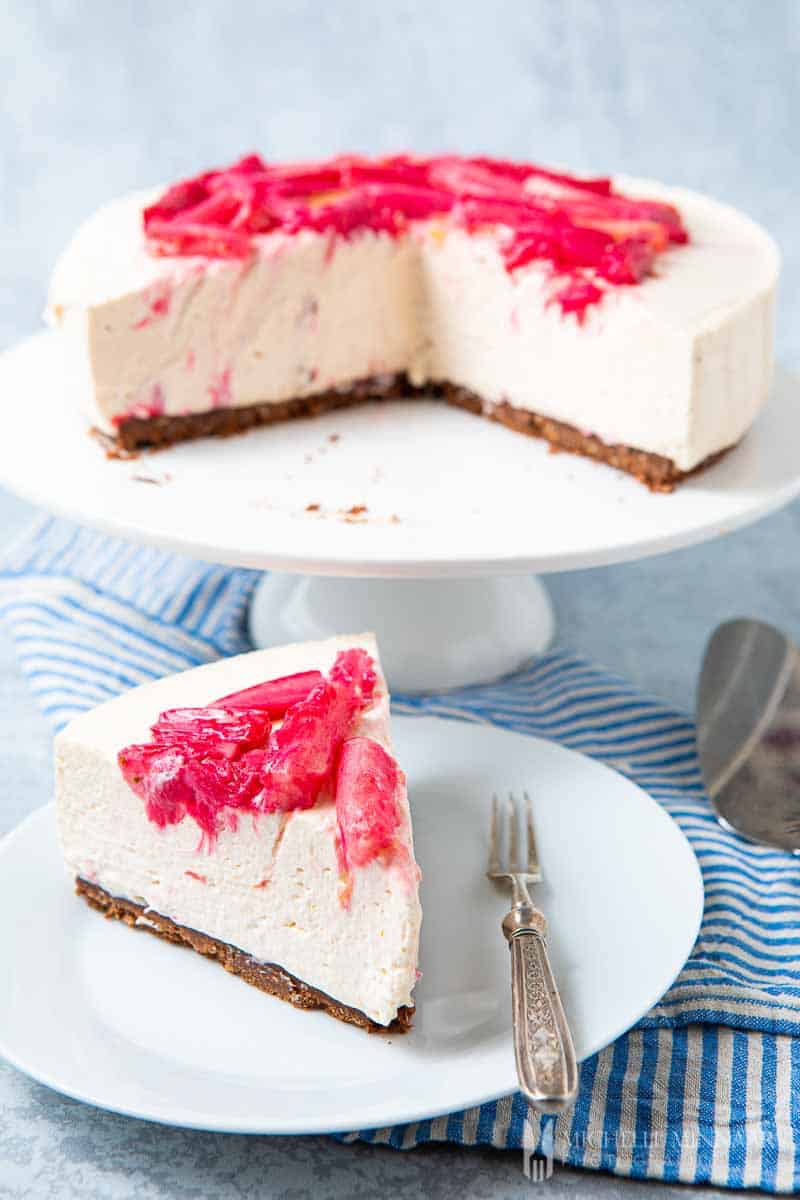 So, if you want to serve up a slice of summer, look no further. This easy no-bake cheesecake recipe is all you need.
No bake rhubarb cheesecake
If you want to make a simple yet incredible tasting dessert, a no bake rhubarb cheesecake is the way to go. Rhubarb is very underrated and it goes particularly well when paired with cream cheese and a buttery biscuit base.
Although you won't need to bake the cheesecake, you'll need to bake the rhubarb itself. This is because, when you bake rhubarb, it becomes sweet and delicious.
With minimal prep time, a simple list of ingredients and zero baking involved, this no-bake cheesecake recipe is an absolute winner. So, don your apron, prepare your tastebuds and read on!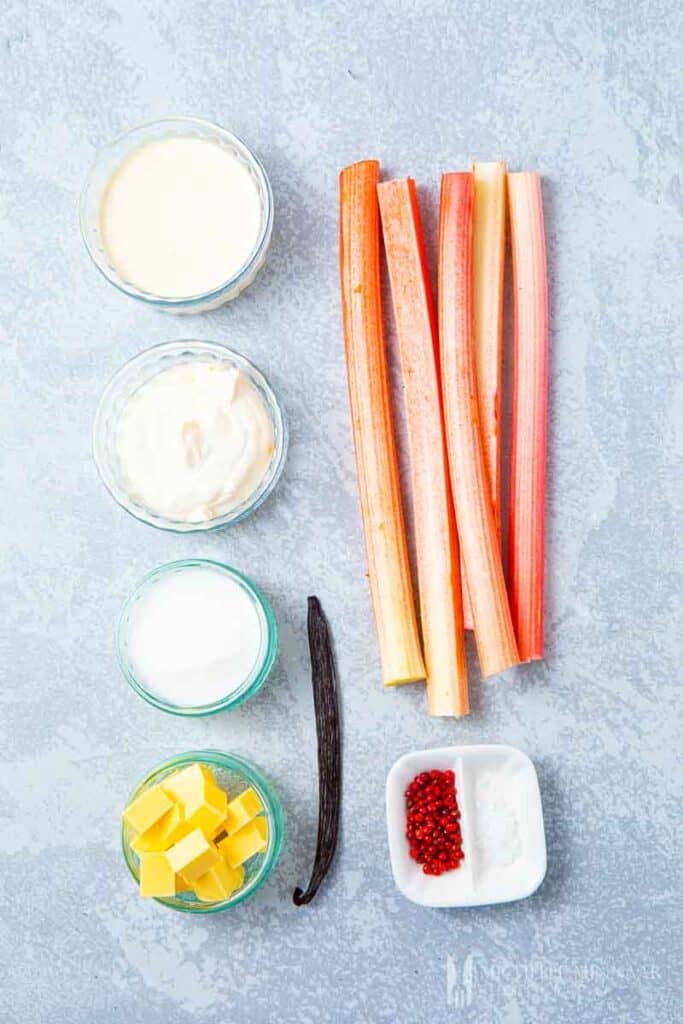 Products you need for this recipe
Before you roll up your sleeves and don your apron, there are a few essential items you'll need for this no bake cheesecake recipe.
Rhubarb – fruit or veg?
Many people make the mistake of thinking rhubarb is a fruit. In fact, it's technically a vegetable. It's an amazing ingredient in pies, crumbles, jams and jellies, hence the belief that it's a fruit.
Only the stalks of the rhubarb plant are edible – the leaves are poisonous and are removed at the harvesting stage.
A perennial plant, rhubarb grows best in wet, cooler climates – which makes the UK an ideal home!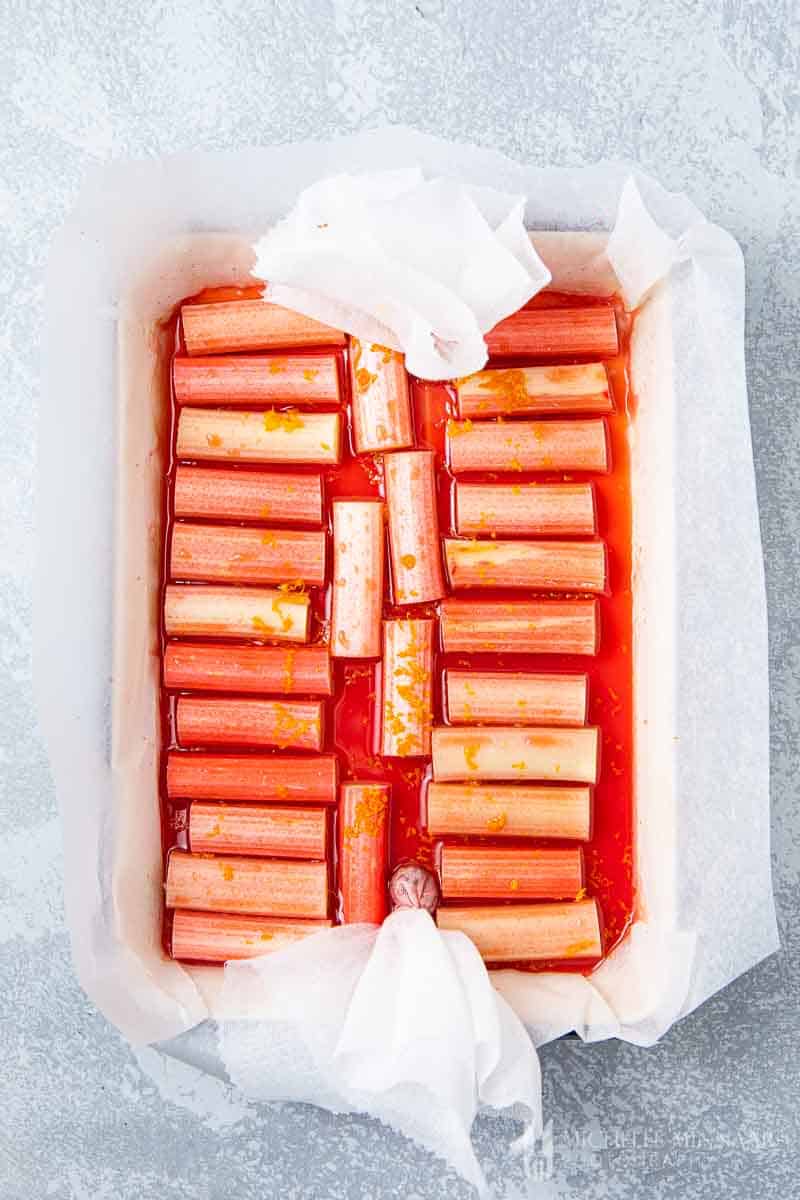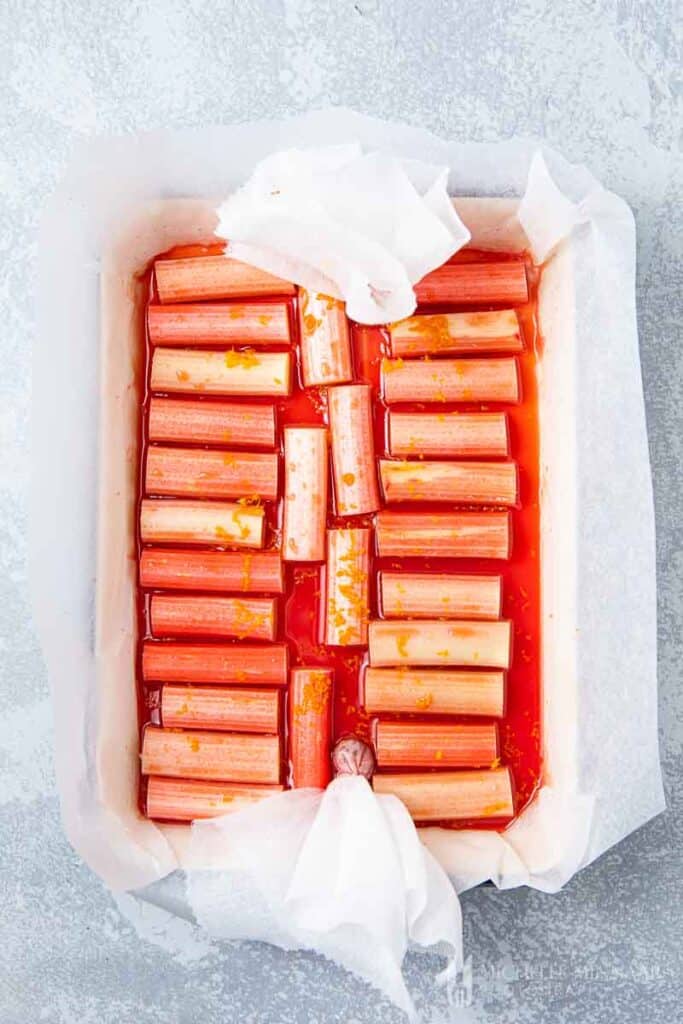 What does rhubarb taste like?
Raw rhubarb has a crunchy texture with a tart sour taste, a little bit like a granny smith apple.
When you bake rhubarb, however, rhubarb takes on a much sweeter, richer taste. Cooked with a little bit of sugar and something with a little zest, like orange, and it becomes absolutes divine!
Other essential ingredients
Here are some of the ingredients you'll be using in this recipe: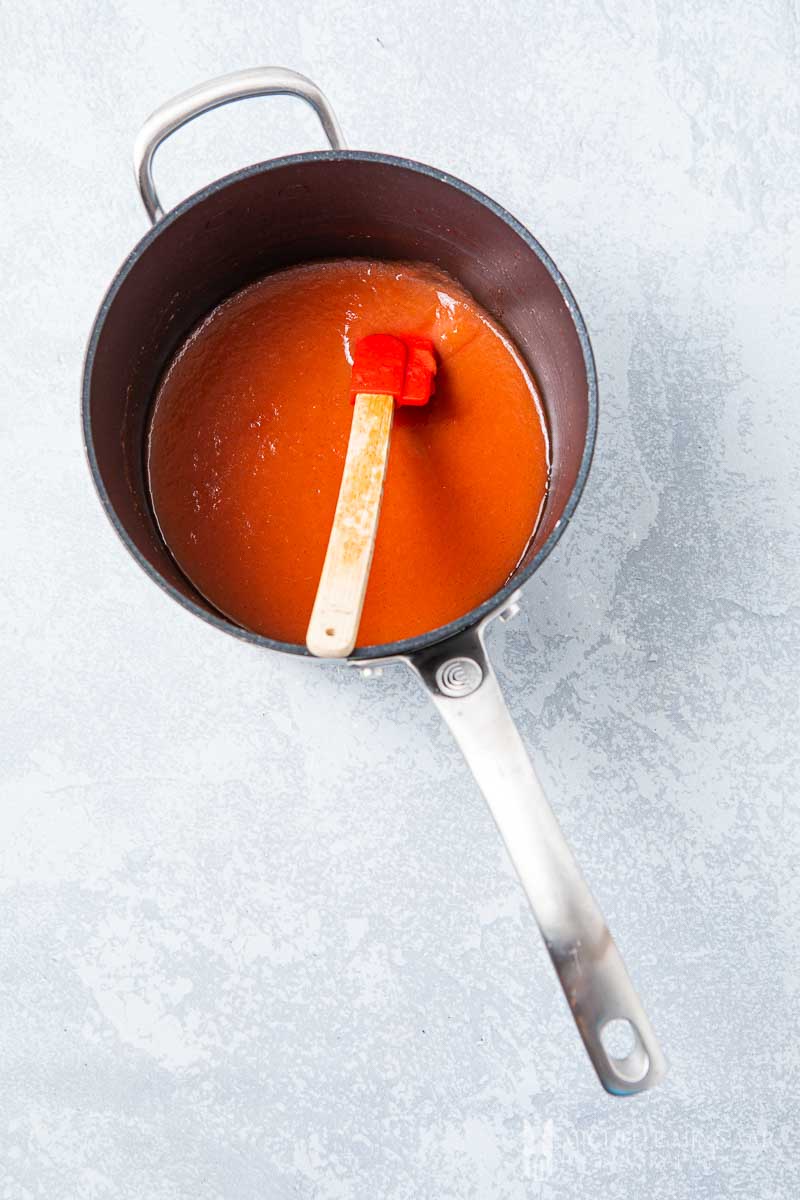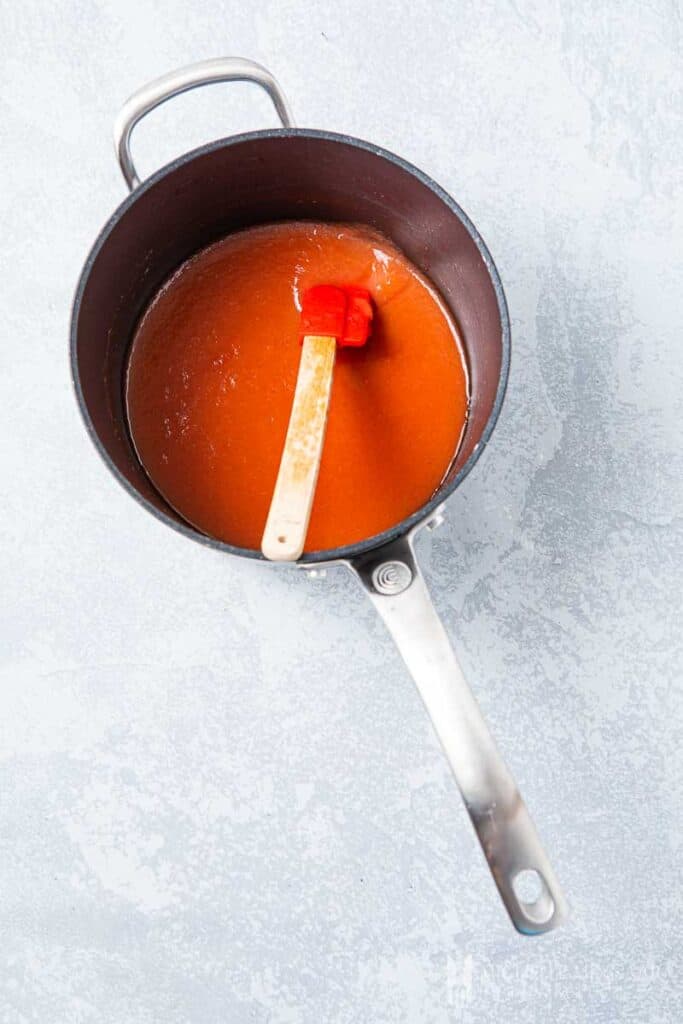 Is rhubarb healthy?
Rhubarb is packed full of essential vitamins and minerals. These include vitamin C and K, calcium, potassium and lutein.
It's beneficial to health in a variety of ways, including helping to build a healthy immune system, improving bone strength, helping weight loss and supporting stable blood sugar levels.
Rhubarb was also long been used as a traditional Chinese medicine to help promote stomach and intestinal health.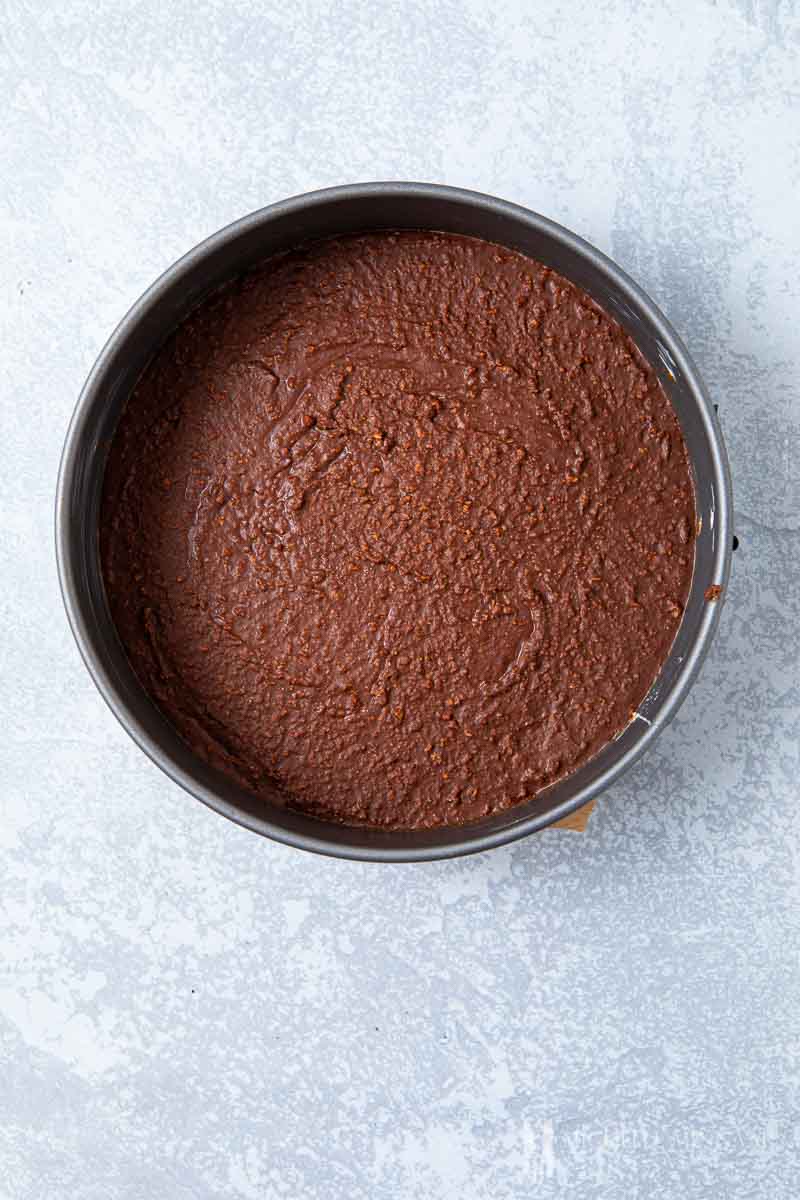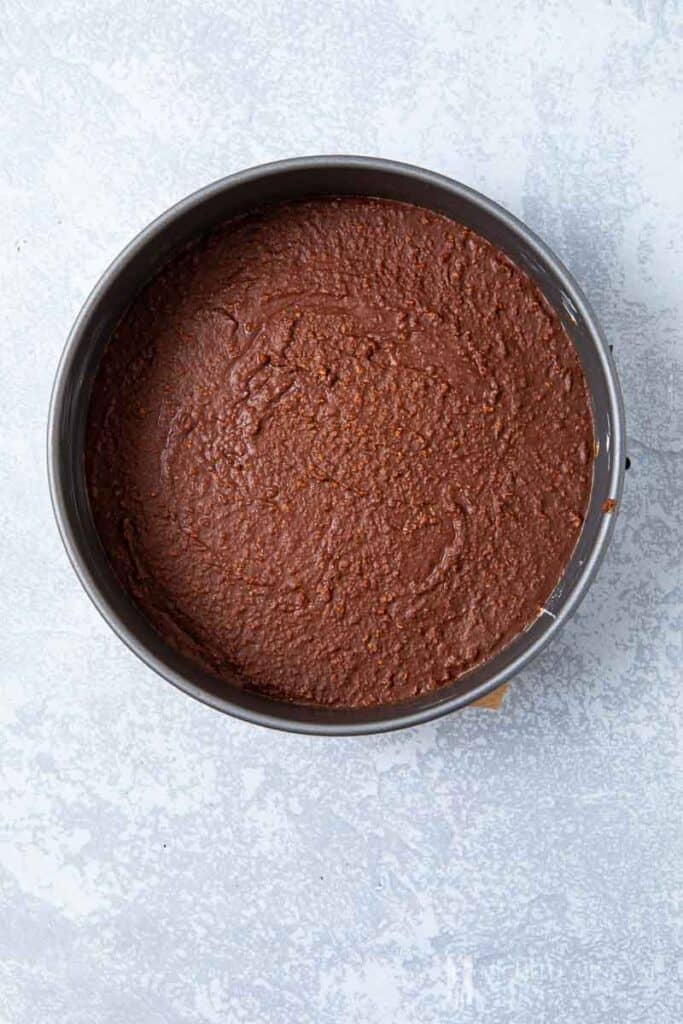 What is forced rhubarb?
Forcing rhubarb is a process that involves covering the rhubarb to prevent them receiving light. This encourages the plants to grow early, producing rhubarb that is sweeter and more delicately flavoured, with a vibrant pink colouring.
The process of forcing rhubarb has its roots firmly in Yorkshire. In 1877, the world's first forcing sheds were constructed. Heat was produced by burning excess coal from local mines, helping to produce an early yield of rhubarb during a time of year when other fruit was scarce.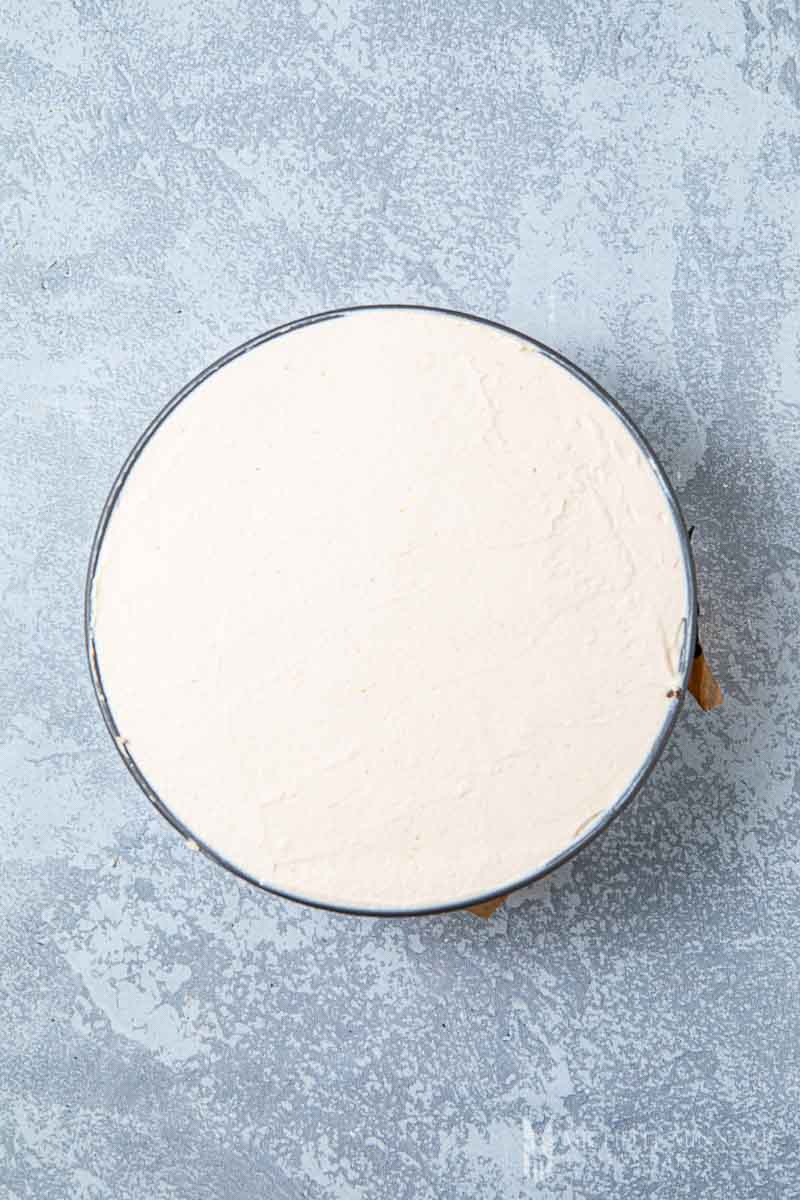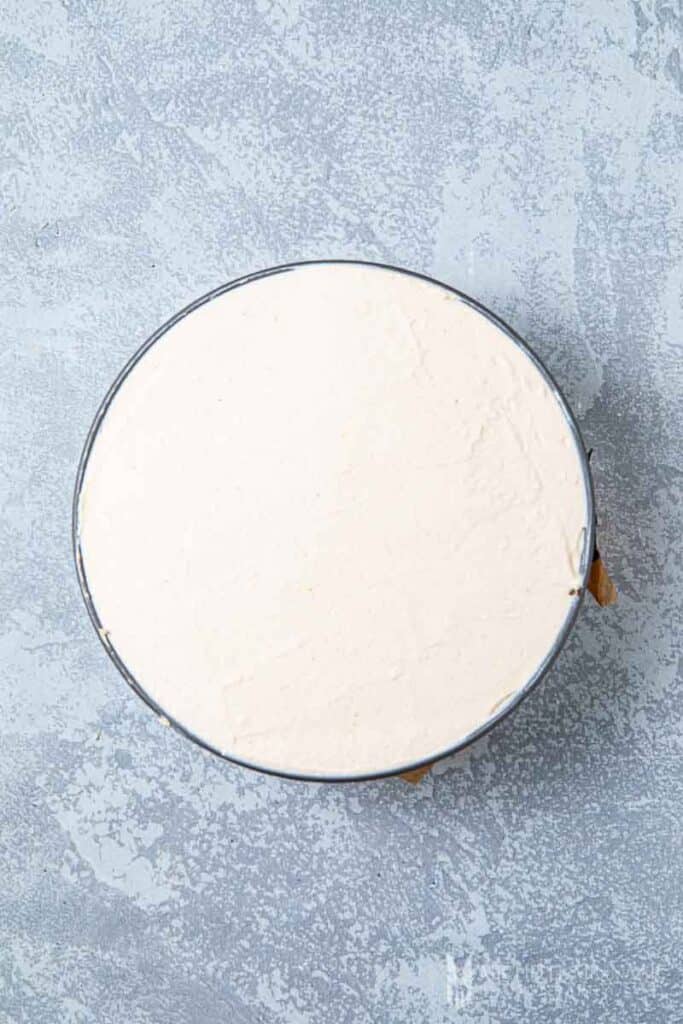 So, forcing rhubarb is a process born out of necessity, now used to perfect the taste of this already wonderful ingredient.
Rhubarb that isn't forced is known as maincrop rhubarb. This type normally has thicker stalks that have a deep red colour, although they can sometimes be green.
If you can, get hold of forced rhubarb. It'll take the taste of your cheesecake to another level.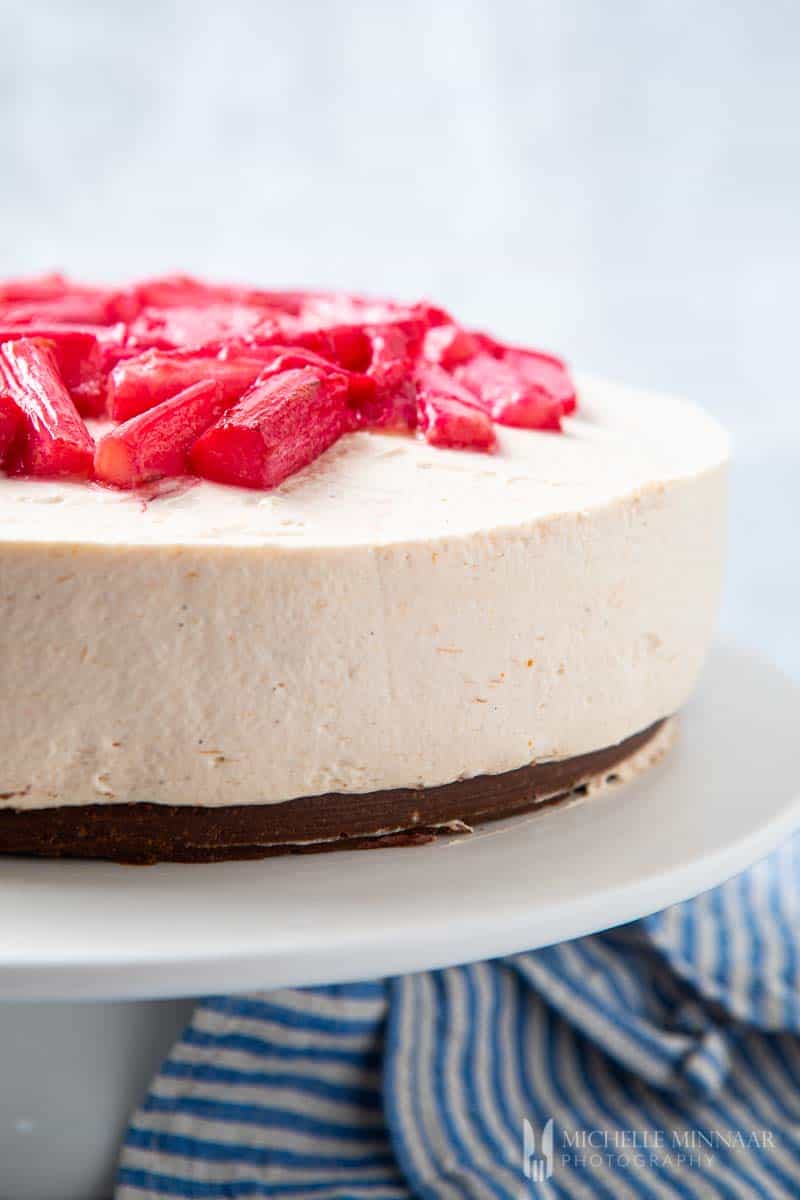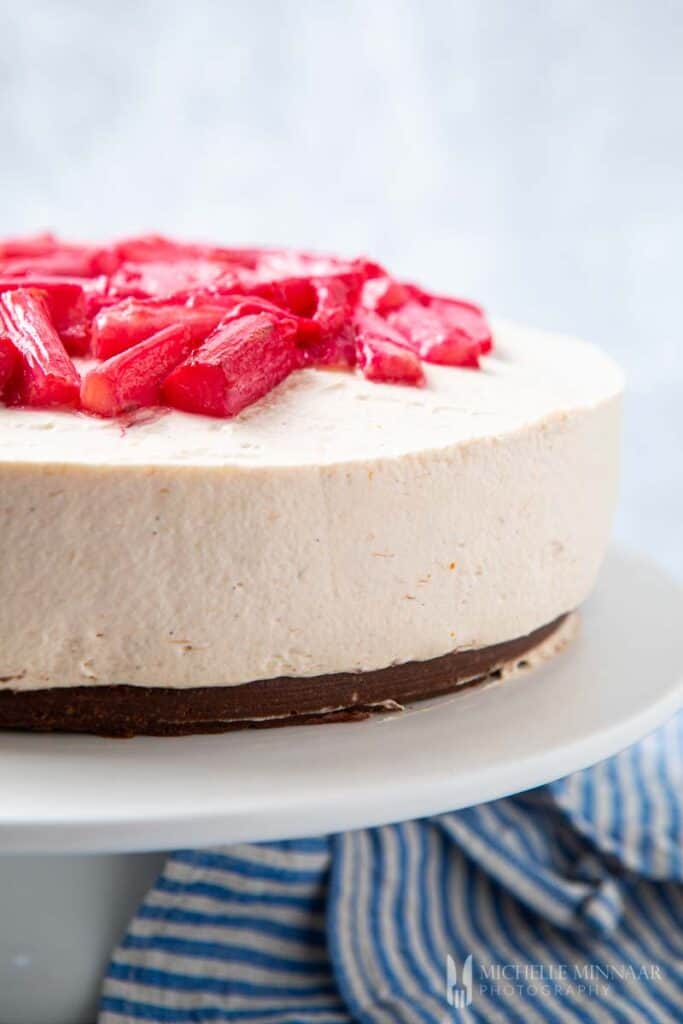 More ravishing rhubarb recipes
Why not buy a whole load of rhubarb and try your hand at these recipes?
Chicken with rhubarb sauce – a very popular dish in Scandinavian countries like Denmark and Sweden, this hearty meal is incredibly satisfying
Apple and rhubarb crumble – an absolute classic, this dessert is practically a British institution that you can make and enjoy all year round
Rhubarb dump cake – brilliantly simple and absolutely scrumptious, this dessert will make an ideal mid afternoon treat on those lazy summer days
What's your favourite rhubarb recipe? Let me know in the comments below!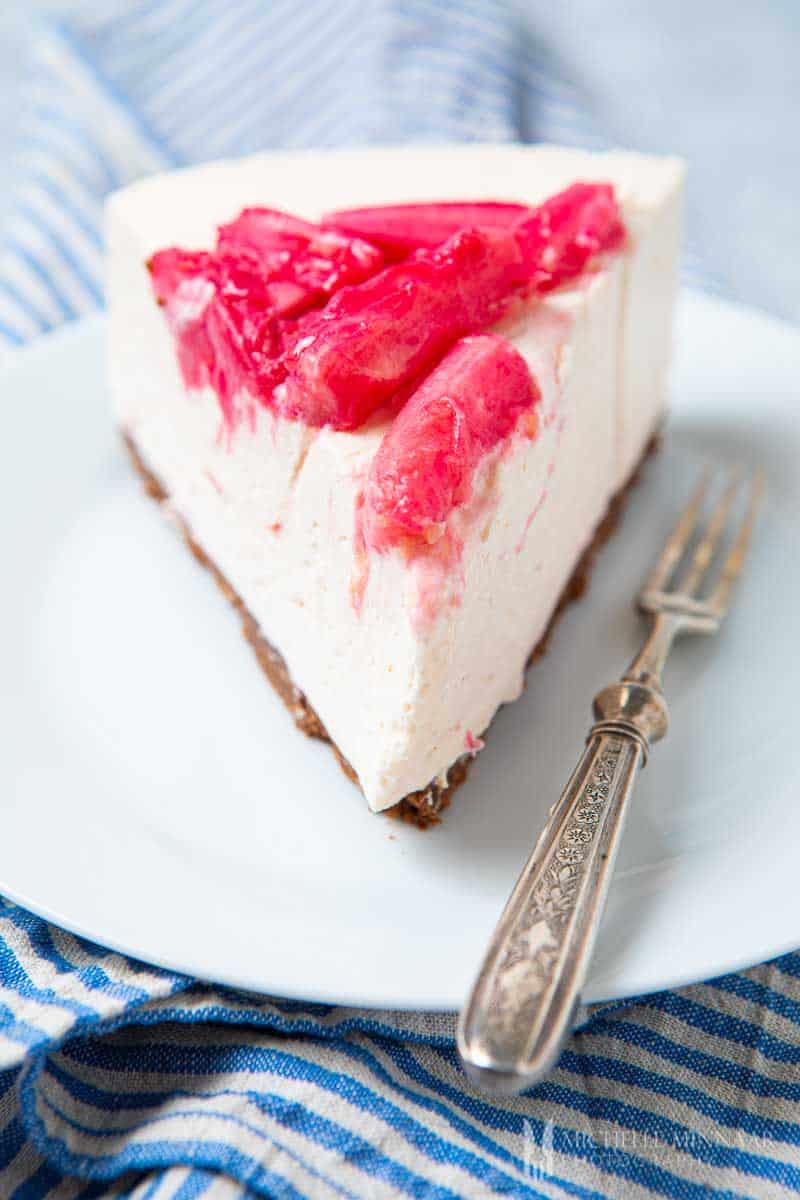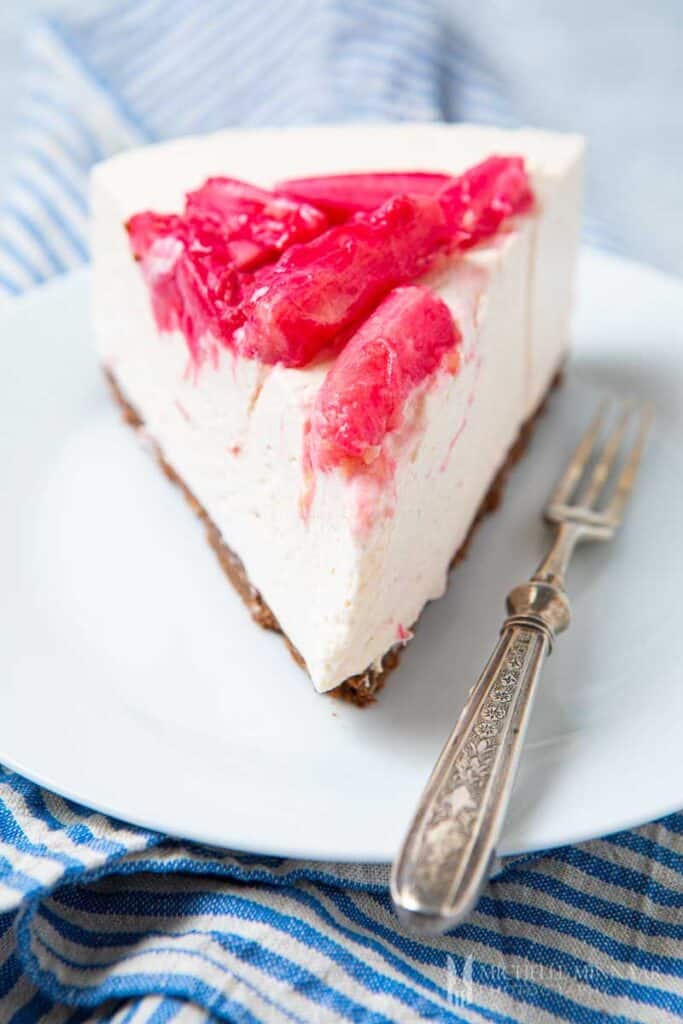 Print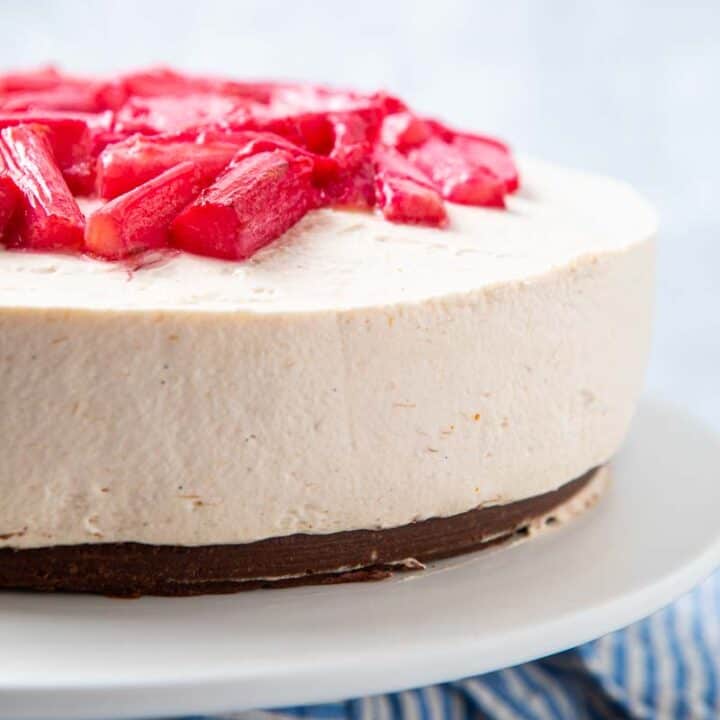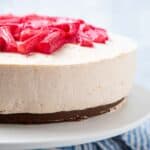 No Bake Rhubarb Cheesecake
---
Author:

Michelle Minnaar

Total Time:

1 hour 20 minutes

Yield:

1

2

1

x

Diet:

Vegetarian
Description
No Bake Rhubarb Cheesecake comprises a ginger biscuit base, a creamy orange scented filling topped with roasted rhubarb batons. 
---
Cheesecake Base
Cheesecake Topping
500

g

(1lb) rhubarb, washed and cut into 5cm (2in) batons

1

blood orange, zest and juice

15

ml

(1 tbsp) pink peppercorns [optional]

150

g

(3/4 cup) caster sugar
Cheesecake Filling
500

g

(2 cups) cream cheese

300

ml

(1 1/4 cup) double cream

50

g

(1/2 cup) icing sugar, sifted
---
Instructions
For the Cheesecake Base:
Crush the biscuits in a sealable plastic bag with a rolling pin until everything turns into crumbs.
Mix the butter and salt with the crumbs.
Spoon the mixture into the base of a 23cm (9in) springform cake tin and level with the back of a spoon.
Place in the fridge to set.
For the Cheesecake Topping:
Preheat the oven to 200°C / fan 180°C / 390°F / gas mark 6.
Line a large baking tray with parchment paper.  
Align the rhubarb in a single layer on top of the parchment paper.
Sprinkle evenly with caster sugar.
Sprinkle with the blood orange zest and juice. 
[Optional] Place peppercorns in muslim and tie it up. Put in the orange juice.
Bake in the oven for 20 minutes, then leave to cool. 
For the Cheesecake Filling:
Drain the rhubarb juices into a small saucepan and place over a low heat. Place the gelatine leaves in the liquid to soften and stir until everything is dissolved. 
Place the liquid and three quarters of the cooled rhubarb batons into a food mixer and process until smooth. Set aside the rhubarb puree and store the remaining rhubarb batons in the fridge.  
Place the cream cheese in a stand mixer.
While it's running, slowly add the icing sugar. 
Fold the rhubarb puree into the cream cheese mixture.
In a separate bowl, whisk double cream until soft peaks form.
Fold the double cream into the cream cheese mixture a bit at a time. Repeat until the double cream is finished. 
Remove the cheesecake base from the fridge and tip the mixture into the springform tin. Gently drop the tin onto the kitchen counter a few times to let any bubbles out. 
Place the cheesecake in the fridge to chill for at least 6 hours.
Before serving, decorate with the remaining rhubarb batons. Enjoy!
Notes
You can use regular gingernut biscuits as well.
Use forced rhubarb where possible.
Prep Time:

60 minutes

Cook Time:

20 minutes

Category:

Dessert

Method:

Chill

Cuisine:

British
Keywords: no bake rhubarb cheesecake, rhubarb cheesecake recipe, rhubarb recipe, rhubarb dessert, summer dessert