Orange tart
With its zesty, refreshing, bittersweet filling and buttery shortcrust pastry, orange tart is the perfect dessert for all year round.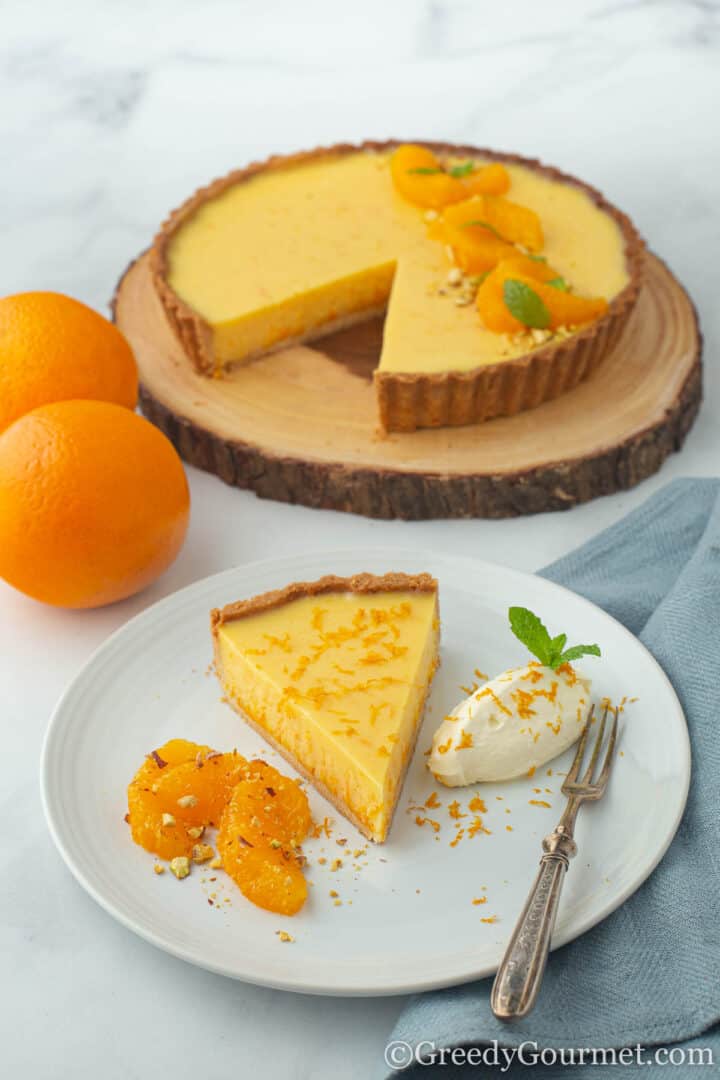 It's a great showcase for one of baking's most underused fruits and, best of all, can be made in advance. Ideal for impressing your dinner party guests!
Products you need for this recipe
There are a few important items you'll need to track down for this orange tart recipe: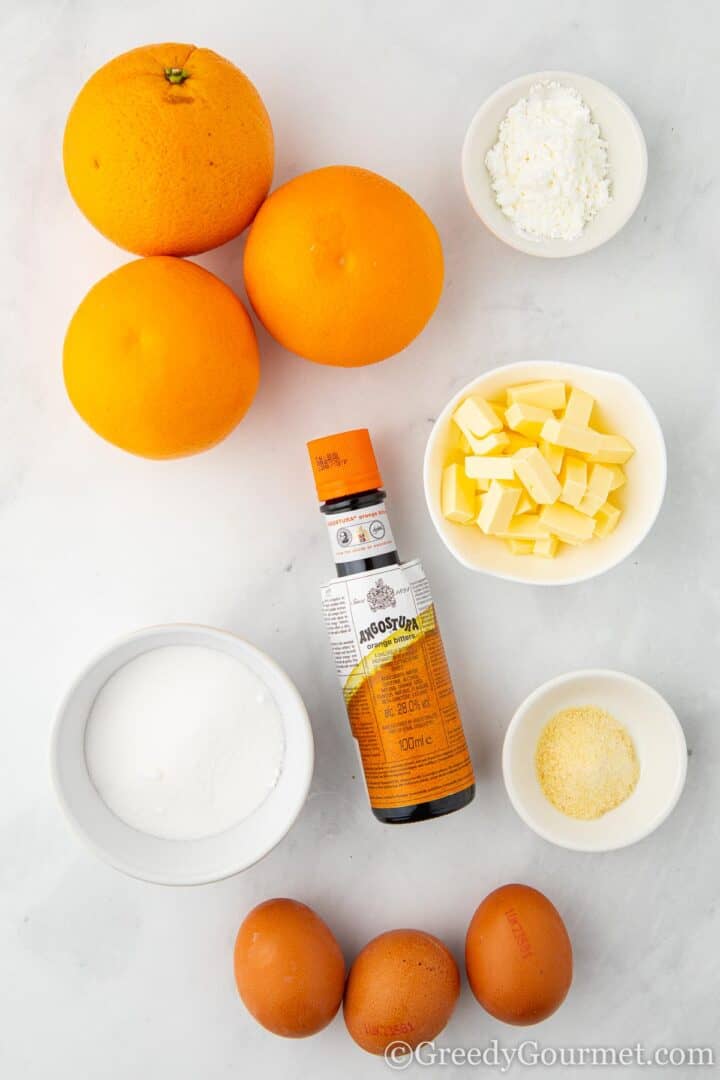 Orange tart recipe
This recipe is pretty straightforward and the result is a wonderfully tasty tart. Less sharp and a lot sweeter than lemon tart, orange tart is a great recipe that, for me, doesn't get enough love.
The whole process is split into two parts: the shortcrust pastry base and the orange filling. Baking time is short and sweet – not much more than 25 minutes, while the filling is simple to make.
Shortcrust pastry
The orange tart shell is crumbly, buttery and delicious. Almond flour gives it that extra bit of character that works really well with the orange flavors.
Speaking of orange flavors, the orange zest in the pastry is a little trick of mine that works so well with fruity desserts. It's only a subtle detail, but it's those little details that make all the difference in my opinion.
The tart shell is blind baked using baking beans for 15 minutes, before being finished off for around 10 minutes until beautifully golden brown.
Orange filling
This orange filling is so tasty! There's a richness that really tantalizes the taste buds. It's like an orange curd, with eggs bringing a silky texture and rich taste, orange juice and zest bringing the fresh citrus and confectioner's sugar to balance out the sweetness.
The Angostura orange bitters is an optional extra, although I definitely recommend getting hold of some. It brings next level character.
It's so good, you could even make extra and spread it on your toast!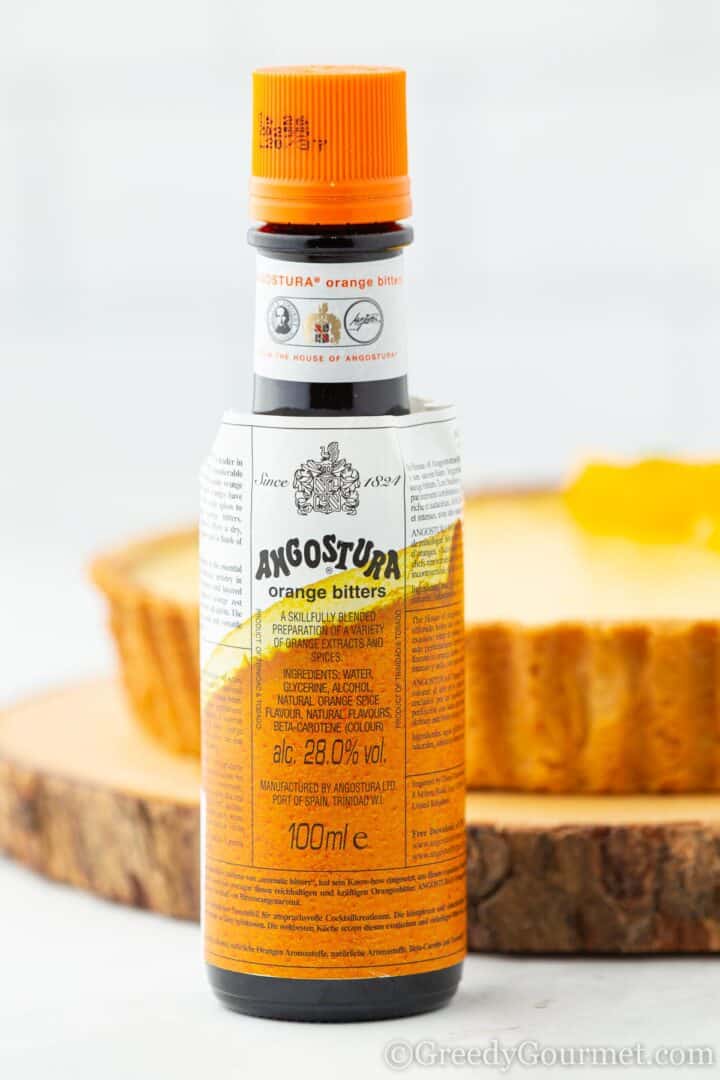 Where does orange tart come from?
Fruit tarts go back hundreds of years and most likely originated in France and Italy. Renaissance chefs would develop pastry dessert recipes using all kinds of fruits, from apples and oranges to pears and various berries.
Orange tarts in particular have been hugely popular in kitchens throughout Sicily and Spain, where fresh oranges are plentiful.
What are the best types of oranges to use?
It depends on your individual taste. Most likely, you'll get hold of the most readily available oranges at your local grocery store or supermarket. If you really want to go all out, you could try to track down any of the following.
Seville oranges are famous for their intense taste and aroma. They are more bitter and sour than the average orange. That actually works better in desserts, where sugar can be used to balance out the flavor. 
Valencia oranges are great juicing oranges. They have a particularly good balance of sweet and tart flavor and would be perfect for this recipe.
Temple oranges have a unique flavor and would taste fantastic in this orange tart. They have a subtle spiciness to them, along with a vibrant tartness that really punches through. In fact, temple oranges are part orange part tangerine. 
Can you use blood oranges in this recipe?
A blood orange tart? Absolutely! Another great orange variety that's widely available, a blood orange is subtly sweet and brings complex notes of cherry, raspberry and grapefruit.
A blood orange does tend to be slightly more bitter than most oranges. So, if you do go for blood oranges, it might be an idea to leave out the Angostura orange bitters. Otherwise you might end up with a particularly bitter blood orange tart.
Is this recipe suitable for vegetarians?
No. Unfortunately, this recipe is not suitable for vegetarians. It contains gelatine. 
You can, however, leave the gelatine out and replace it with agar powder. Substitute gelatine for agar powder at a 1:1 ratio.
How do you store orange tart?
You'll need to store your orange tart in the fridge. It will stay fresh for up to five days. Be sure to properly cover the tart to create an airtight seal. Plastic wrap is ideal, or you could keep it in an airtight container.
Can it be frozen?
This tart doesn't freeze well. It will lose a lot of its texture and taste when kept in the freezer.
If you really want to freeze it, make sure it's properly sealed in an airtight container and don't freeze it for any longer than a month.
Can I make this tart in advance?
You can make the shortcrust pastry dough for the tart shell up to a day before you're ready to bake. It can also be blind-baked in advance, again up to a day before. 
Keep it in the fridge. Then, when you're ready, you can add the orange filling.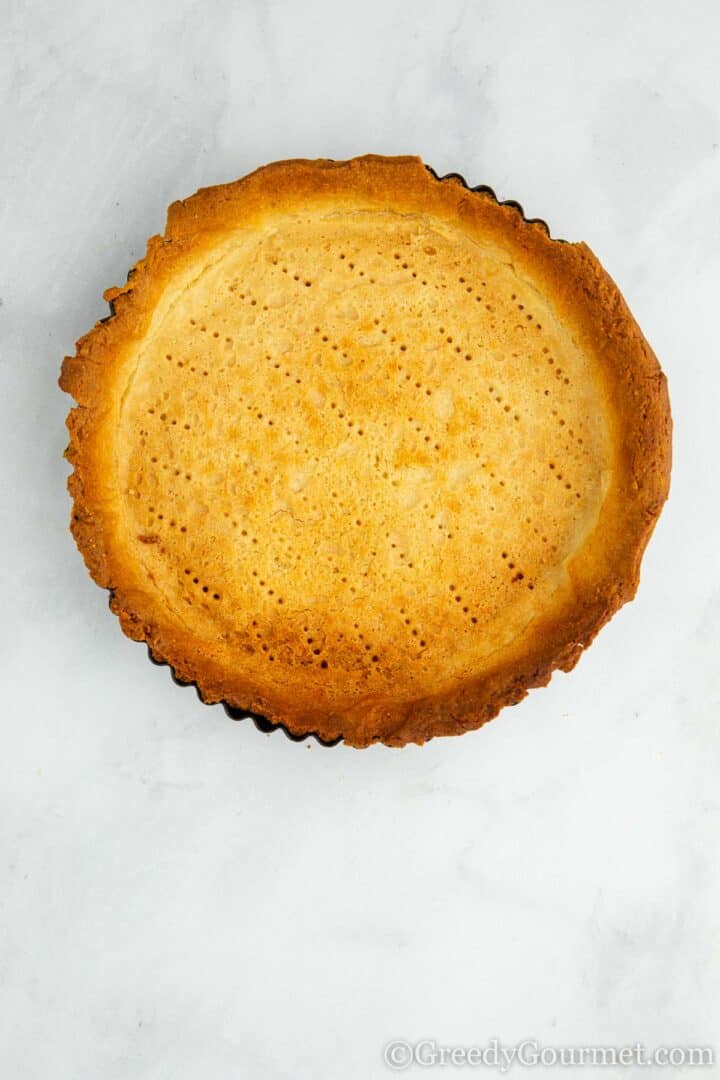 How to decorate this tart
I've gone for a blend of cream, confectioner's sugar and Angostura orange bitters to create a creamy orange sauce that's to die for! You can get creative with this – try using a piping bag for some elegant effects.
You could also add something simple like fresh orange slices. Use your imagination – maybe layer the orange slices across one half of the tart, or just around the border. Have a play and see what looks good.
You could also add some extra orange zest. Or a scattering of mint leaves.
Why not try desiccated coconut or almond flakes? If you want to go for a mixed fruit feel, throw some strawberries, raspberries or blueberries on top. Or go for some vivid color and add goji berries.
If you're a fan of spice, a light sprinkling of ground cloves, ginger, cinnamon or nutmeg would add a really interesting dimension.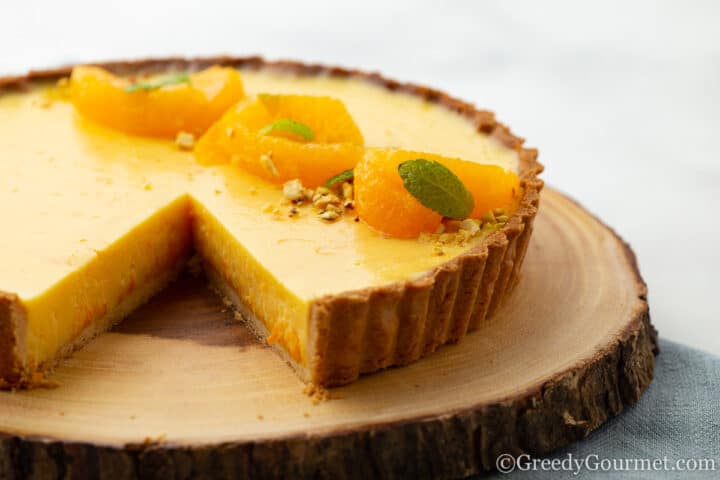 Tips for a top notch tart
Make sure your butter is slightly cold when making the pastry
Taste your orange filling and adjust the sugar to taste. Different oranges will require different amounts of sweetening to get that balance just right. Also, everyone has different tastes!
It's all about the chilling time! For a perfect orange tart, chill overnight
More orange recipes
Print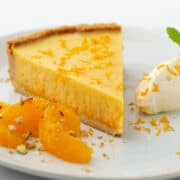 Orange Tart
---
Author:

Michelle Minnaar

Total Time:

1 hour 30 minutes

Yield:

10

portions

1

x

Diet:

Vegetarian
Description
This easy Orange Tart has a creamy, sweet and smooth filling which is encased in a  homemade shortbread pastry. Every bite is bliss! You can use blood oranges in this recipe too.
---
Shortcrust Pastry
200g

(

1¼ cups

) plain flour

50g

(

½ cup

) confectioners' sugar

40g

(

¼ cup

) almond flour

6g

(

1 tsp

) salt

1

orange, zested [optional]

150g

(

⅔ cup

) unsalted butter, cold

1

egg yolk

15

ml (1 tbsp) cold water
Orange filling
300

ml (1¼ cups) orange juice, about

3

large oranges 

4

eggs

60g

(

¼ cup

) caster sugar

25g

(

3½ tbsp

) cornstarch

6g

(

2 tsp

) gelatine powder

115g

(

½ cup

) unsalted butter

15

ml (1 tbsp) Angostura orange bitters [optional]
Decoration
250

ml (1 cup) heavy (double) cream

23g

(

3 tbsp

) confectioners' sugar

5

ml (1 tsp) Angostura orange bitters [optional]

1

orange, peeled and segmented

7g

(

10

nuts) shelled pistachios, crushed
mint leaves
---
Instructions
Shortcrust Pastry
Place the flour, confectioners' sugar, almond flour, salt, orange zest and the cold butter into a food processor. Pulse the ingredients until a fine breadcrumb consistency has been formed.
Add the egg yolk and cold water, pulse again until the mixture sticks together in clumps.
Tip the contents of the food processor onto your work surface and bring together into a ball with your hands. Knead the pastry a few times until nice and smooth. (If your butter wasn't cold and was a bit too soft your pastry might be too. If so, wrap it in parchment paper and chill in the fridge for 15 minutes.) Set aside.
Grease a 23cm/9in loose-bottomed tart tin.
Lay a piece of parchment paper on the work surface. Remove the base of the tart tin and lay it on the paper. Using a pencil, draw a circle onto the paper 4cm/1½ins bigger than the base of the tin.
Dust the base of the tin with flour. Place the pastry ball in the centre of the tin base and flatten out slightly. Roll out the pastry, still on the tin base, until it meets the circle marks. As you are rolling the pastry, turn the pastry by turning the paper. 
Gently fold the pastry into the centre of the tin base. Carefully lift the tin base off the work surface, drop it into the tin, ease the pastry into the corners and up the sides of the tin, pressing the overhang lightly over the rim. If the pastry has cracked at all, simply press it together to seal. 
Press the pastry into the curves of the tin then lightly prick the base with a fork, but not all the way through. Place the pastry-lined tin onto a baking tray, cover loosely with cling film or tea towel and chill in the fridge for 30 minutes.
Preheat the oven to 200°C/180°C Fan/390°F/gas mark 6.
Remove the pastry from the fridge and uncover. 
Line the inside of the pastry with foil so it supports the sides, then fill with baking beans. 
Bake blind for 12-15 minutes, until the pastry is set, then lift out the foil and beans. 
Carefully trim the excess pastry from the sides using a potato peeler, lightly run the peeler over the top of the excess pastry until it falls away, leaving you a smooth top to your edges. Remove the trimmings from the sheet. 
Return the empty pastry case to the oven for another 10-12 minutes or until it is pale golden and completely dry. 
Set aside and allow to cool while you make your orange filling.
Orange filling
[Optional] If you are using fresh oranges, zest the oranges and set aside the zest for later. Now juice the oranges and place the juice into a small pot. 
Heat the orange juice on the stove over low heat until it simmers.
While the juice is heating up, whisk together the eggs, sugar and cornstarch in a bowl until smooth.
Once the juice starts to simmer, slowly pour it over the egg mixture while whisking. Mix well until combined and smooth, then pour it back into the pot.
Place the pot back over a low heat and keep mixing until the liquid starts to thicken. Remove from the heat and transfer into a mixing bowl. Add the gelatine powder and whisk until fully incorporated.
Leave the filling to cool down slightly then add the soft butter, orange zest and Angostura orange bitters. Quickly mix it in with a whisk until fully combined.
Pour the orange filling into the pastry case and lightly drop the case onto your counter, from about 2.5cm (1 inch) off of the counter, a few times until all bubbles have been released from the filling. Place in the fridge to set for at least 3 hours or, for best results, overnight.
Decoration
Remove the tart from the tin.
Place the cream, confectioners' sugar and the Angostura orange bitters into a bowl and whisk together until firm.
Now decorate as you see fit. Feel free to take inspiration from the photos or just go with your own ideas. Enjoy! 
Prep Time:

1 hour

Cook Time:

30 minutes

Category:

Dessert

Method:

Bake

Cuisine:

British
Keywords: orange tart, orange tart recipe, orange pastry cream, French orange tart, orange dessert, blood orange tart, citrus tart, orange angostura recipe