Oreo cupcakes are those classic types of cupcakes that are always popular at birthday parties, play dates or any type of celebration. They are are surprisingly sophisticated in terms of flavour.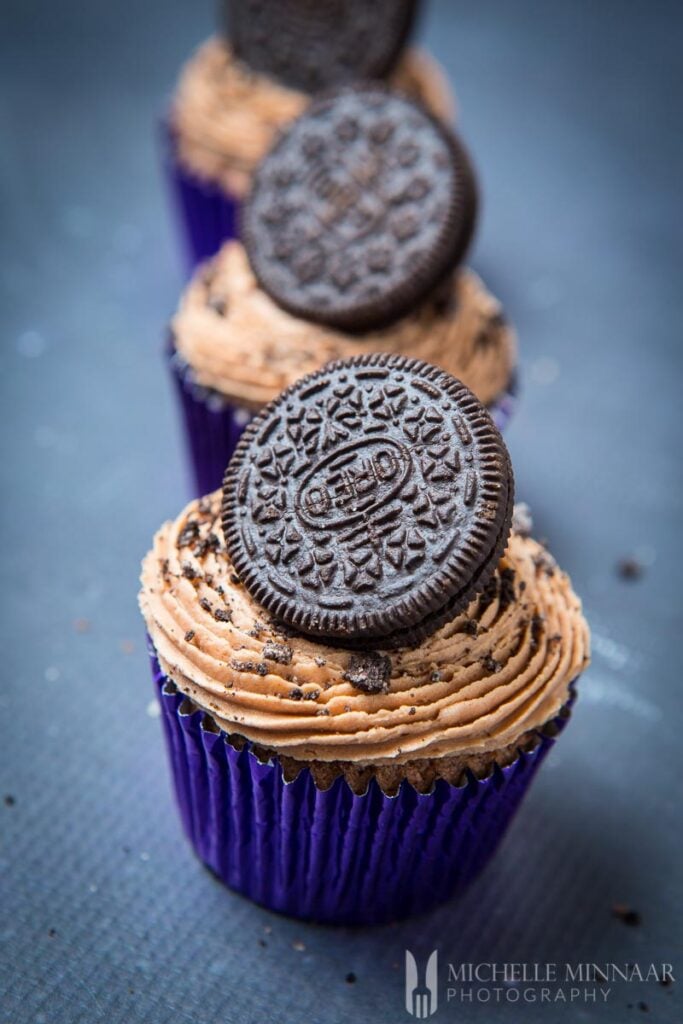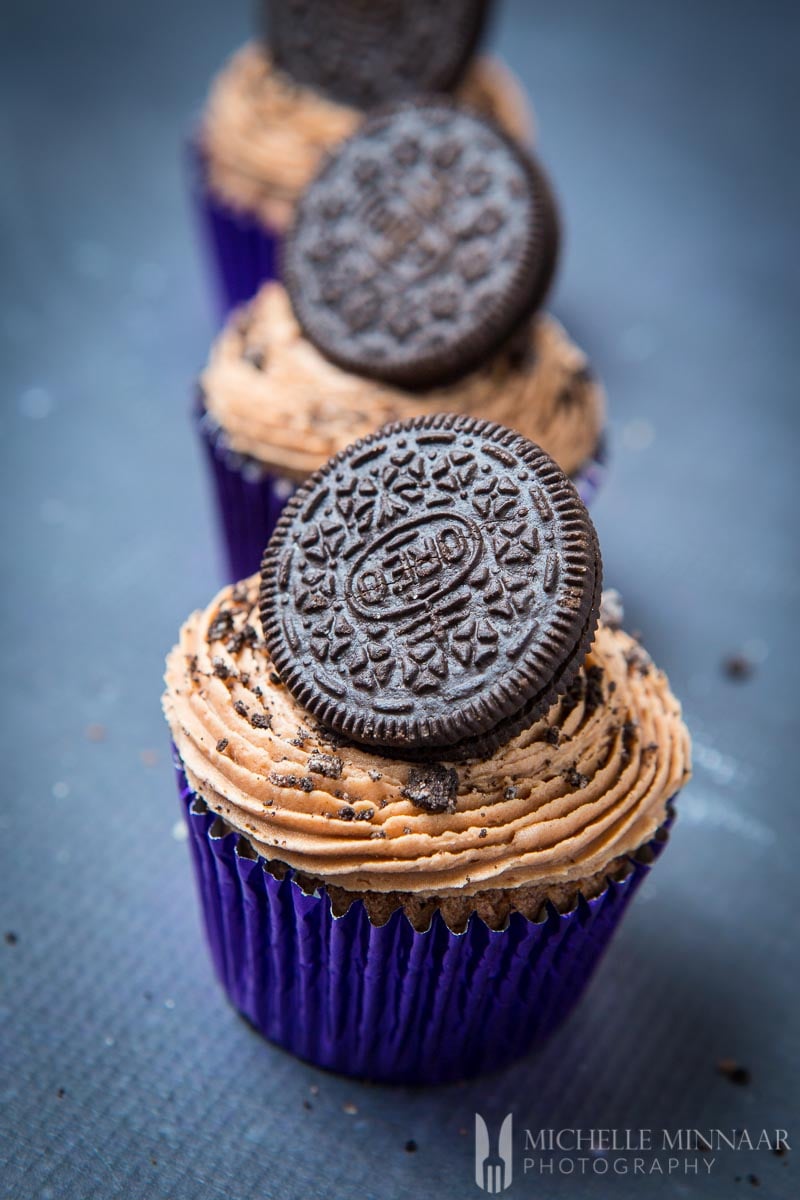 With the rich moist chocolaty center of the cupcakes complemented by the sweet icing, they are agreeably finger-licking worthy! Oreo cupcakes don't take too much time to prepare and are relatively cheap in terms of ingredients.
You'll need the Oreo cookies, but make sure you hide these babies so that your family members don't get to them before you do! I can't even mention how many times I've had this happen to me in my kitchen.
Confessions of an Oreo addict
The thing that make these cupcakes irresistible are the Oreo cookies themselves. Are you also an Oreo addict? These cookies are truly addictive and once you start, it's really hard to stop. I find myself sneaking a cookie at home or at work on occasion. Always in secret of course!
Did you know that there is actually a technique to eating Oreo cookies? Or so I've heard. First, you take the cookie out of the cookie bag. Second, you separate the two halves of the cookie and you'll find the sweet white filling inside. Third, you lick or scrub the filling off. Finally, you eat the cookie itself. I've seen multiple advertisements on this, no joke! I, myself, like to just eat the whole cookie at once. Yum!
Our American neighbours eat their Oreos with milk. It is a classic American tradition, I suppose, to eat your cookies with milk. I can't imagine dipping these in milk, warm or cold. I don't like to get Oreo cookie bits in there. As you can probably see, I like to make moist Oreo cupcakes with my Oreos. How do you enjoy your Oreo cookies? The surprising thing about Oreo cookies is that everyone has their own technique on eating them. Please share in the comment section below, I am very curious!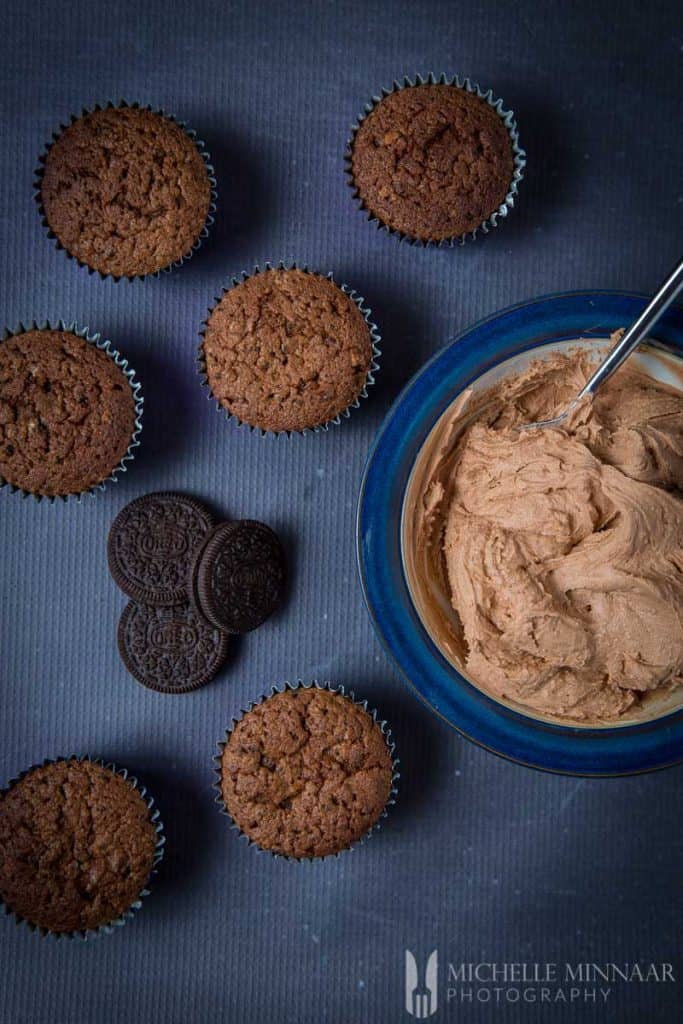 Versatility
This recipe is very versatile when it comes to the Oreo cookies themselves. Most people are only aware of the traditional chocolate Oreos with white filling. You can purchase at least three or four different types of Oreo cookies for making your batter. Thus, you can mix it up and make three different kinds of Oreo cupcakes if you have some spare time on your hands. You might come across these in the store:
Mint Oreo
Lemon Oreo Sandwich
Berry Oreo: with berry filling – very hard to find
Chocolate Oreo: with chocolate filling instead of white
Golden Oreo: vanilla based cookie instead of the dark chocolate
I am very tempted to try the Mint Oreo cookies one day and make green Oreo cupcakes out of them. They sound tangy and tasty! I bet I can also try and make green icing. Could be a useful recipe for Christmas. Has anyone ever tried any of the above-mentioned Oreos?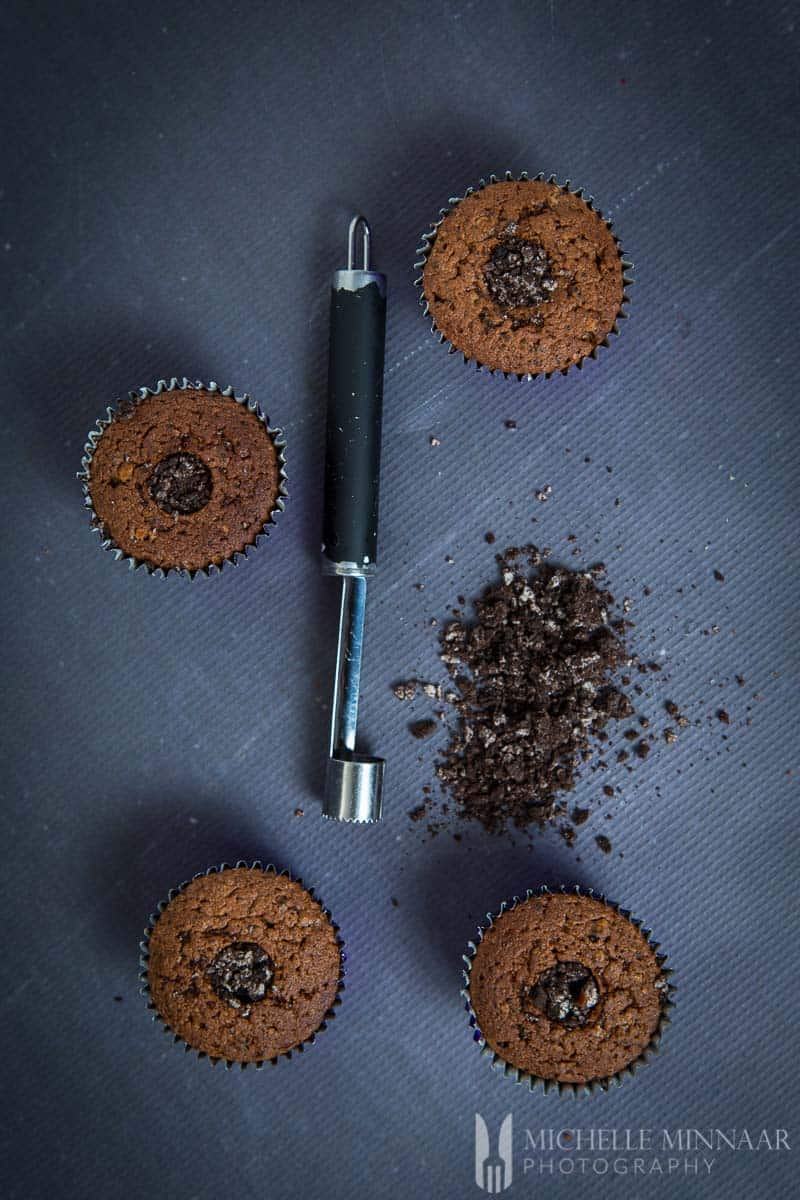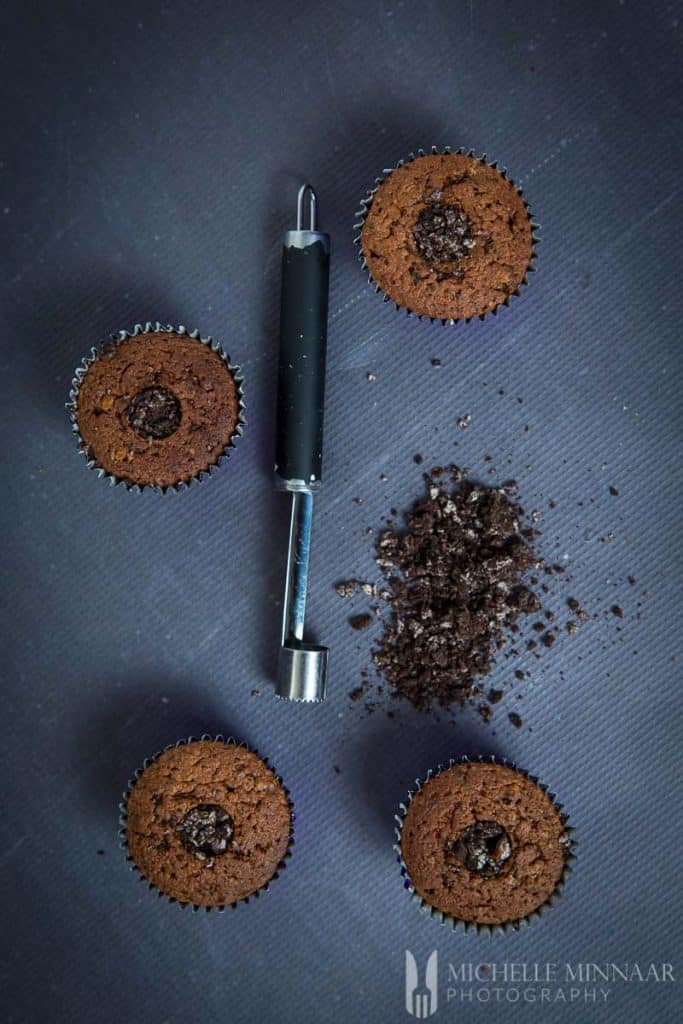 Cupcake fillings
Sometimes, I like the element of surprise in my cupcakes. When we made Creme Egg cupcakes, we inserted the Creme Egg inside the cupcake. It has a little peek-a-boo effect. Who doesn't love more chocolate with their cupcakes? Moreover, what I really think would go great with the Oreo cupcakes, is cream cheese filling. We've all heard about Oreo cheesecakes and how delicious they are. Why not incorporate the cheese inside the Oreo cupcakes? First, it will add a new creamy texture to the Oreo cupcakes. Second, the cream cheese filling will make the cupcakes moist and soft. Third, you can scoop the white filling of the Oreo cookies and incorporate them into the cream cheese. Thus, you'll have true Oreo cupcakes with delicious filling inside. There are so many options! You can also consider these types of filling:
Fruit curd: I've included a fruit curd in my drizzled lemon curd cupcakes
Single piece of fruit, such as a strawberry
Oreo cookie
Oreo chocolate – there are two different brands you can use and both are delicious
Topping
As you can see, we made delicious chocolate icing because I think there still isn't enough chocolate in this recipe(!). The best topping to the chocolate icing is to place an Oreo cookie on top. It makes the Oreo cupcakes inviting and shows who the hero of the dish is! You can also consider adding:
sugar pearls
chocolate or strawberry syrup
bits of Oreo cupcake sponge, like I've done in the Mother's Day cupcakes recipe
vanilla ice-cream, only to be added when the cupcakes have cooled down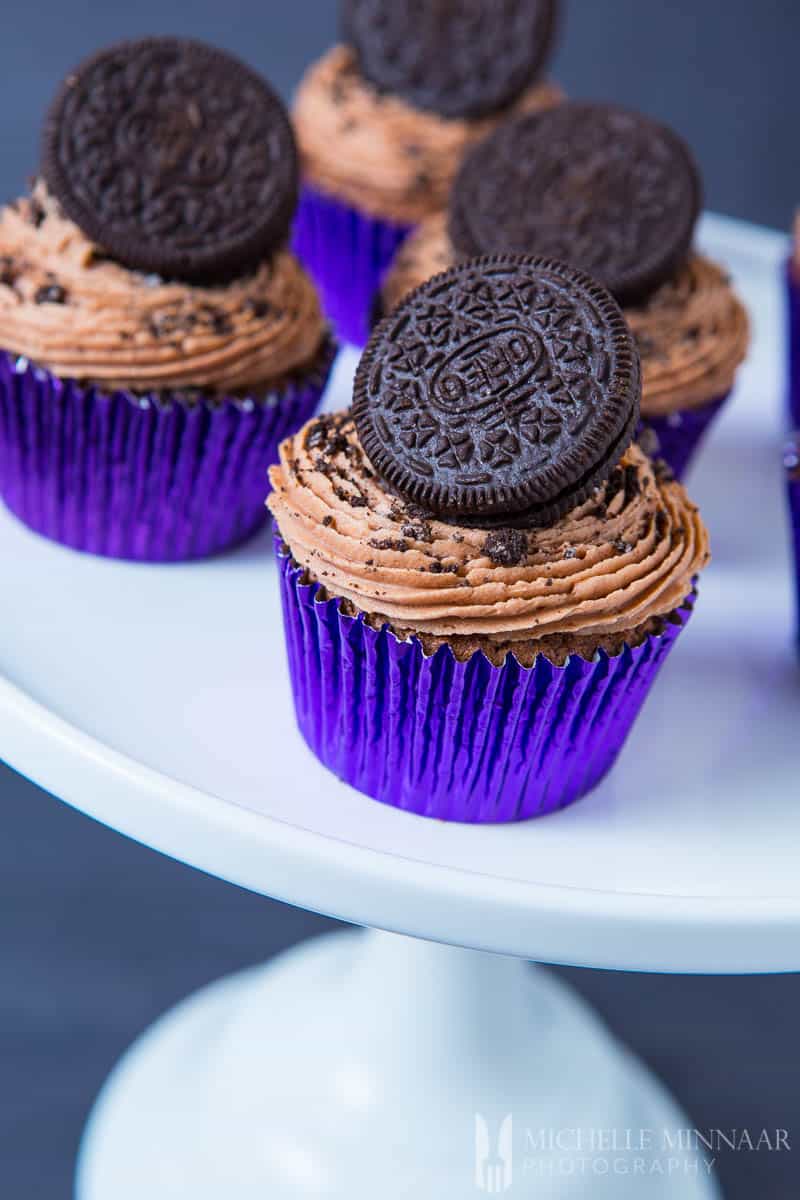 The ultimate spring dessert
This is a wonderful spring dessert that involves the use of your Oreo cupcakes. It's especially useful if you've made too many Oreo cupcakes and you end up with drier left-overs, which doesn't happen very often. Select one of your finest looking glasses. Tear the Oreo cupcakes into larger bits and place them on the bottom of the glass. Next, cut at least five to seven strawberries in half. Place a handful on top of the Oreo cupcake sponge. Finally, add some homemade whipped cream! Make at least three layers. Now, you've got yourself a beautiful Oreo cookie strawberry-cream "sundae". If you really want to push the boat out you can use ice-cream too. This is the ultimate Oreo cupcake dessert for spring, as you can use those fresh seasonal strawberries purchased directly from the market or picked from your lovely garden. The strawberries will counter the rich and bitter taste of the cookies.
Love Oreos as much as I do? Check out this Oreo Fluff recipe, the perfect party pleaser!
Print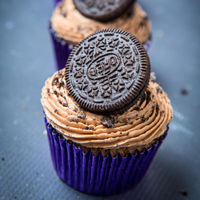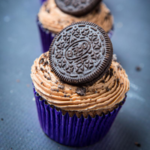 Oreo Cupcakes
---
130

g

(4 1/2oz) self raising flour

130

g

(4 1/2oz) caster sugar

130

g

(4 1/2oz) butter or marg

2

large eggs

20

ml

(4 tsp) water or milk

2.5

ml

(1/2 tsp) baking powder

60

ml

(4 tbsp) Cadbury's drinking chocolate

1

pack of Oreos

2

packs of mini Oreos [optional]

125

g

(4 1/2oz) unsalted butter

250

g

(9oz) icing sugar

60

ml

(4 tbsp) Cadbury's drinking chocolate [optional]
---
Instructions
Preheat oven to 175°C/350°F/gas mark 4 and place appropriate number of muffin cases in a muffin tray.
Measure out butter and sugar into same bowl and cream together until well mixed and turns lighter in colour.
Measure out flour and drinking chocolate into a separate bowl and add the baking powder. Gently stir together.
Add 1 egg to the creamed butter and sugar along with a tablespoon of the flour and mix well. Repeat this part of the process 1 egg at a time to give a lighter mix.
Finely chop 6 whole Oreos, including the centres.
Gently stir in the remaining flour, chopped oreos and water. If you want a stronger chocolate flavour you can add another tablespoon of drinking chocolate to the mix at this stage.
Scoop mixture into cases, about half-full. An ice cream scoop is very handy for doing this.
Place the mixture in the oven for approximately 15-20 minutes. Check after 15 minutes to see if cooked. Cakes will be cooked when they are springy and return to shape when lightly pressed on top.
Leave cakes to cool on a wire rack.
For the butter icing soften the butter.
Carefully add icing sugar and if you want a chocolate butter icing topping, you can now add the remaining 60ml (4 tbsp) of drinking chocolate.
Mix until fully incorporated and butter icing becomes whiter. You can do this by hand but a mixer makes it much easier – just keep the mixer on a slow speed.
Using an apple corer, remove a small sections from the middle of each cupcake. Finely chop up 4 more Oreos and fill the middles of each cake with the crumbed mixture.
Using a large star nozzle, pipe swirls of butter icing onto the cakes.
Decorate with any remaining crumbed Oreo and for an extra "Oreo-ness" add an oreo to the top of each cake. You can either use any remaining Oreos from the pack or use mini Oreos.
Notes
The temperature varies in each oven so you may need to make your oven slightly hotter or cooler when preheating.
When make smaller batches of cupcakes, it's better to mix smaller mixes by hand, but for larger quantities a food mixer is easier to use.
If you'd like to soften butter, it works well to microwave it in 10 second bursts, checking each time to see if butter is softening.
Prep Time:

60 minutes

Cook Time:

20 minutes
Nutrition
Serving Size:

1 serving

Calories:

251

Sugar:

31.3 g

Sodium:

75 mg

Fat:

9.7 g

Saturated Fat:

5.8 g

Carbohydrates:

40 g

Protein:

2.3 g

Cholesterol:

54 mg
save the recipe to your pinterest board