Celebrate rhubarb season with this delightful rhubarb and pear crumble. Using fresh rhubarb, a criminally underrated and underutilized fruit, you'll love this delightful combo with the pear mixture. It's the perfect summer treat!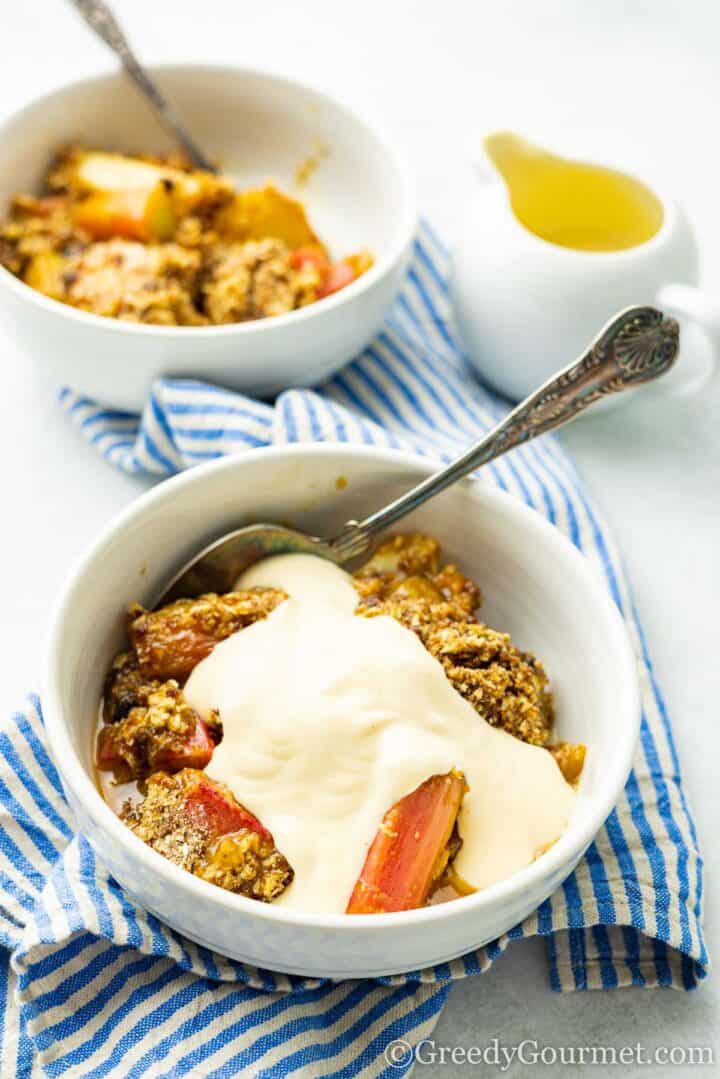 Why You'll Love This Recipe
You'll love this rhubarb and pear crumble because it has just a few fresh ingredients, it's quick and easy to toss together, and it's a major crowd-pleaser.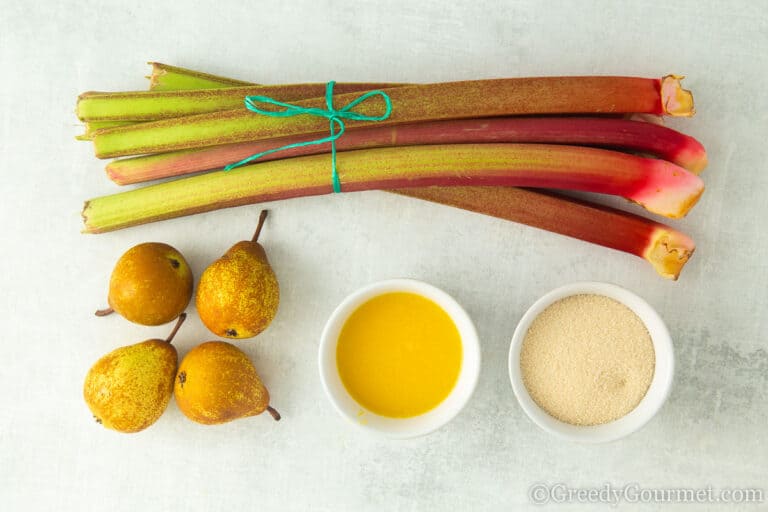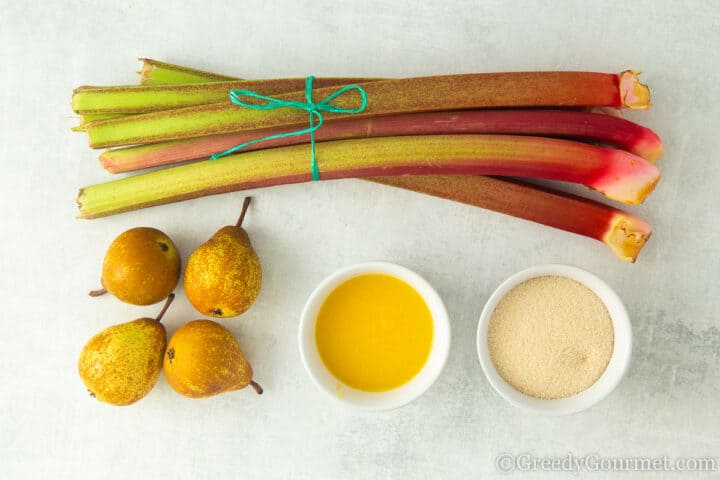 Special Ingredients You Need For This Recipe
The most special ingredient you'll need for this recipe is rhubarb. It can be challenging to find rhubarb when it is not rhubarb season, but you should be able to find rhubarb at a farmers' market stand.
However, it also grows wild, so you may have a friend who has some in their backyard. Otherwise, keep an eye out for it at your local grocery store and buy it when you can. You can freeze it and use it for this recipe later.
How To Make This Recipe
Place the washed and chopped rhubarb pieces in an ovenproof dish.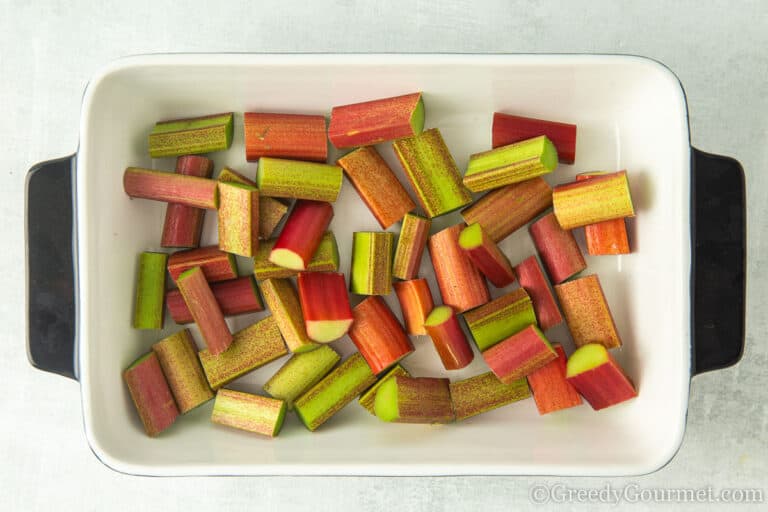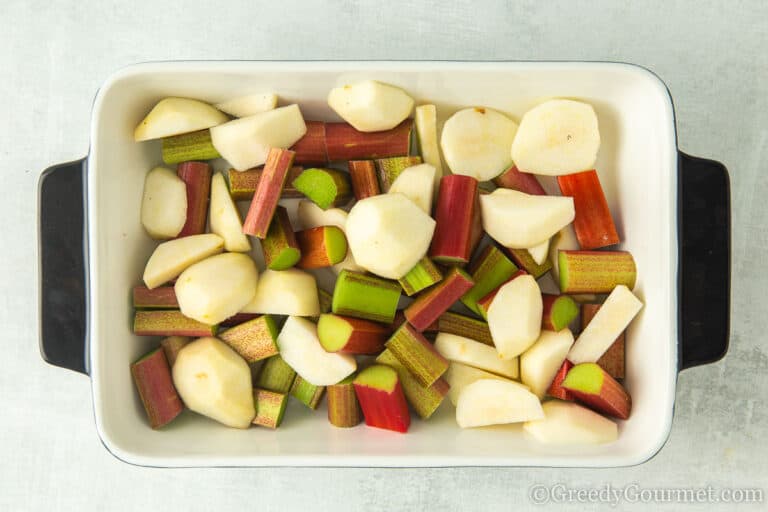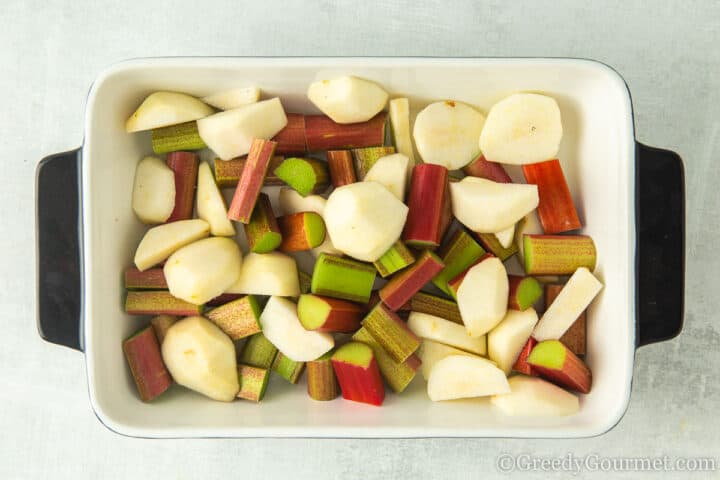 Add the peeled pear pieces in too.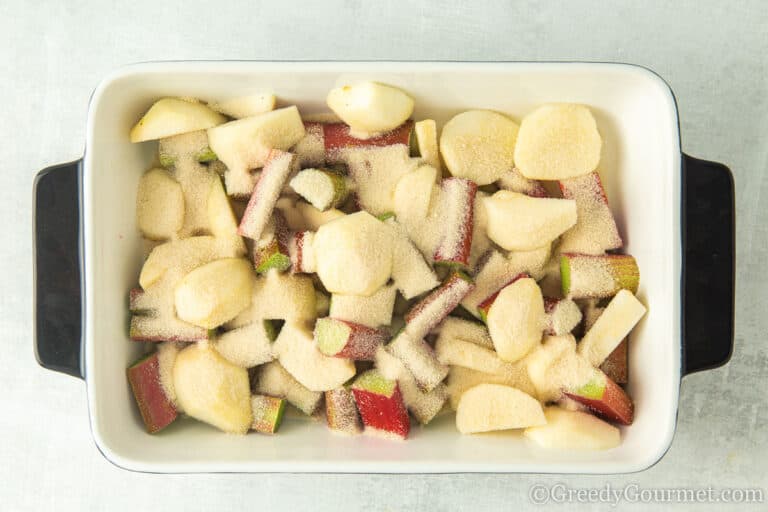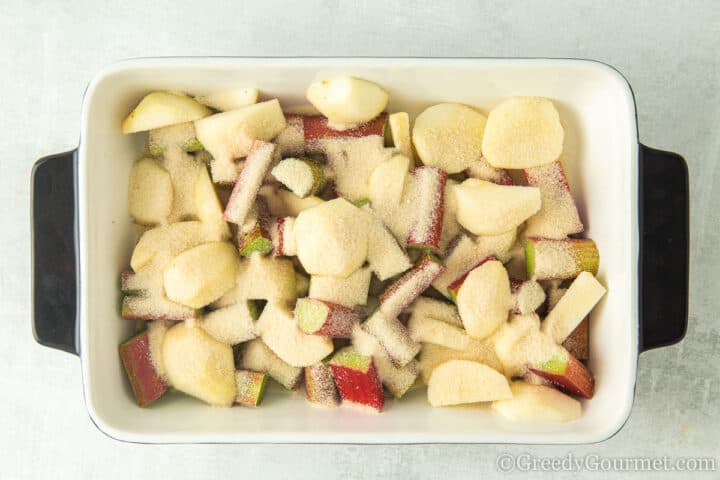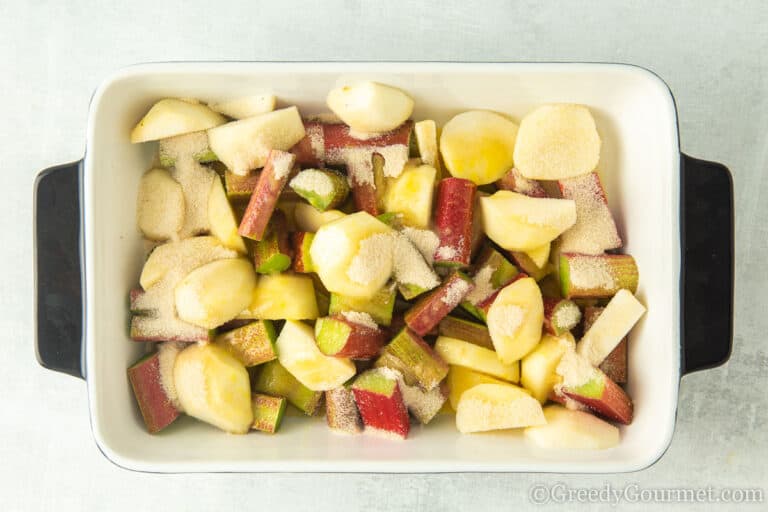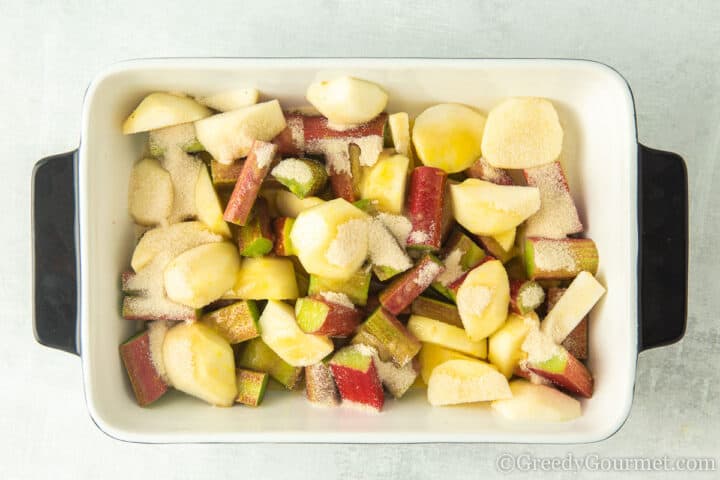 Drizzle on the orange juice.
Get the oats, flour, butter and sugar together.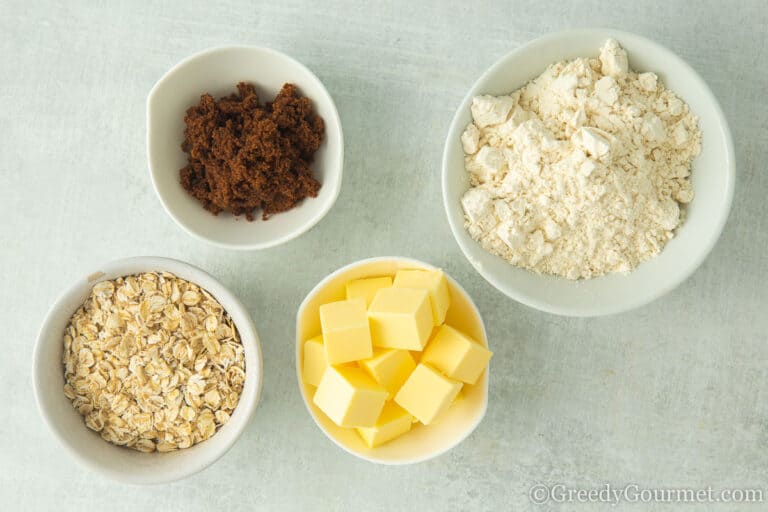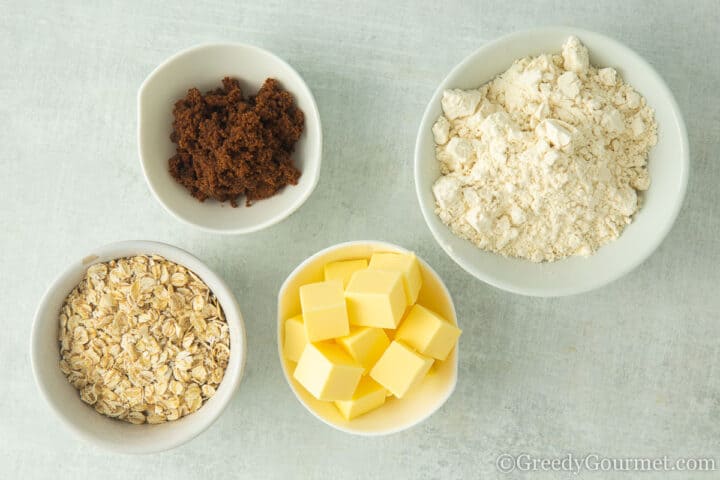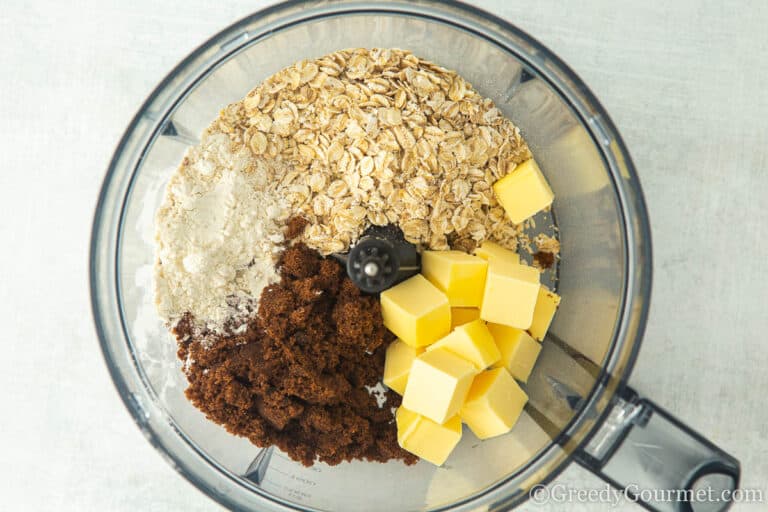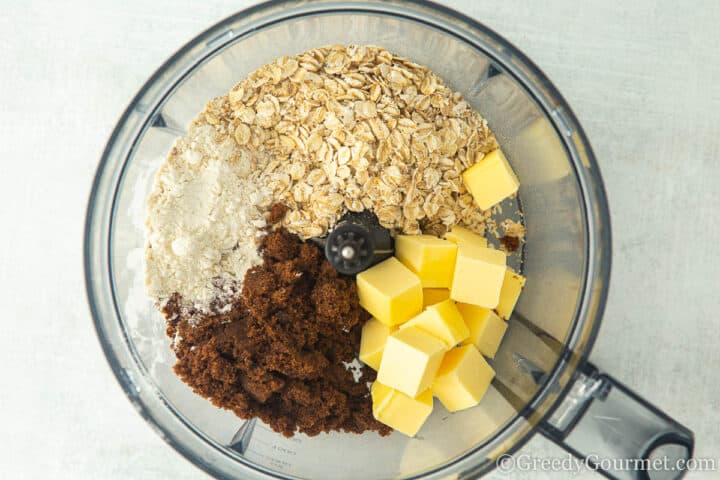 Blitz everything in a food processor.
The crumble should have a rough consistency.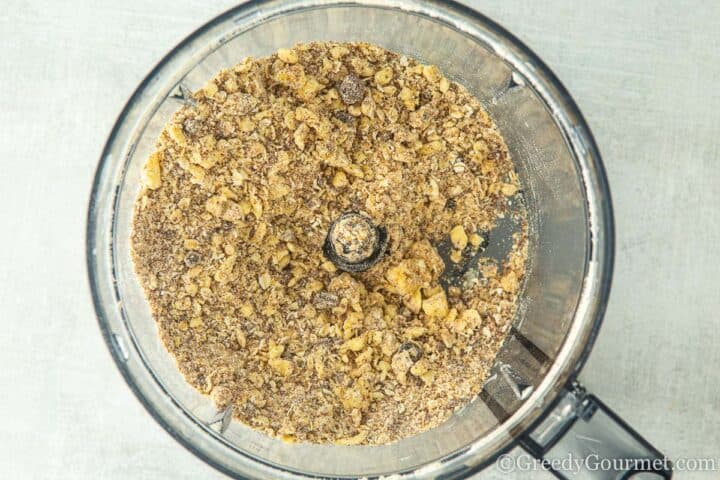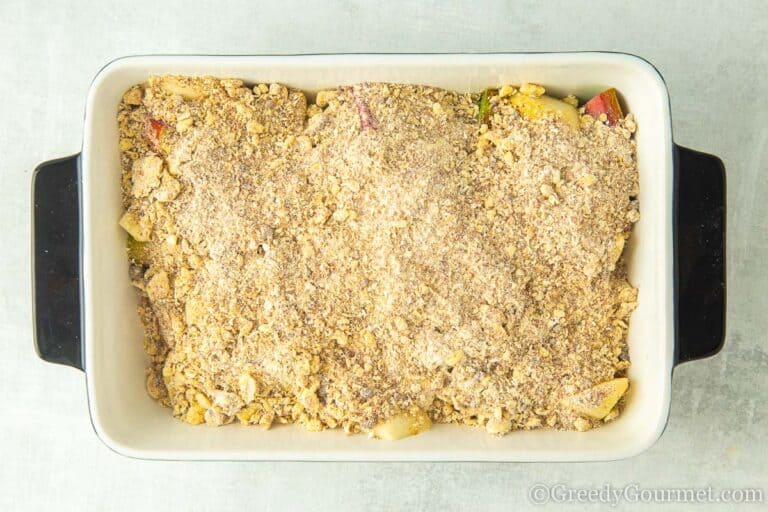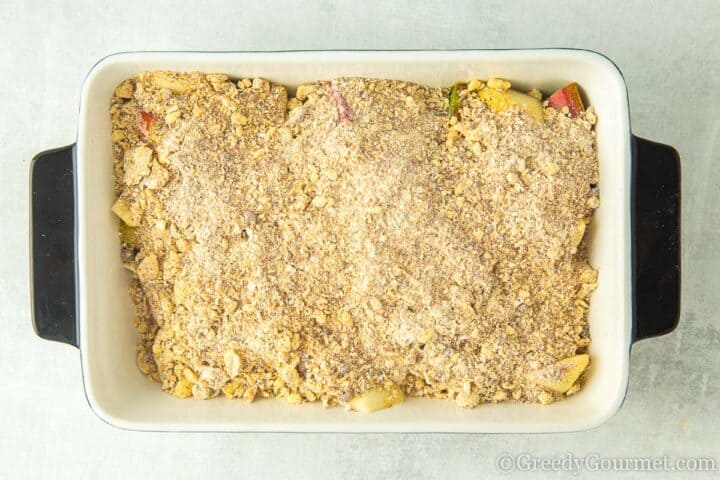 Pour the crumble evenly on top of the fruit.
Bake until the fruit is tender and the crumble crisp and golden. Serve with custard. Enjoy!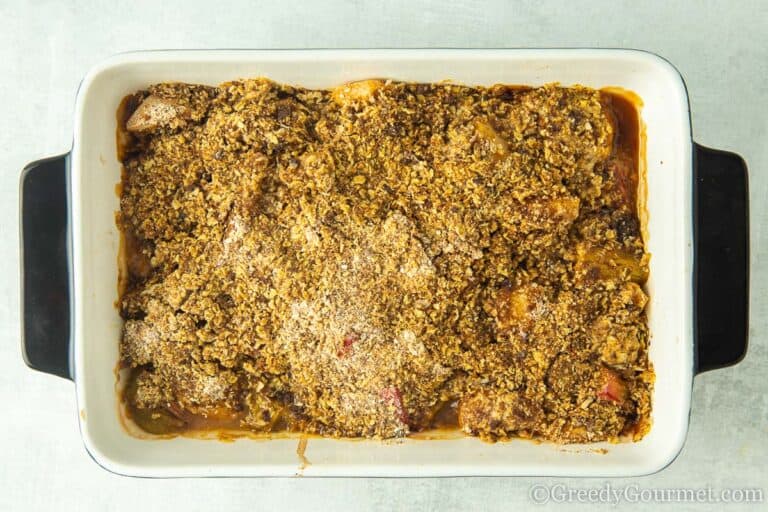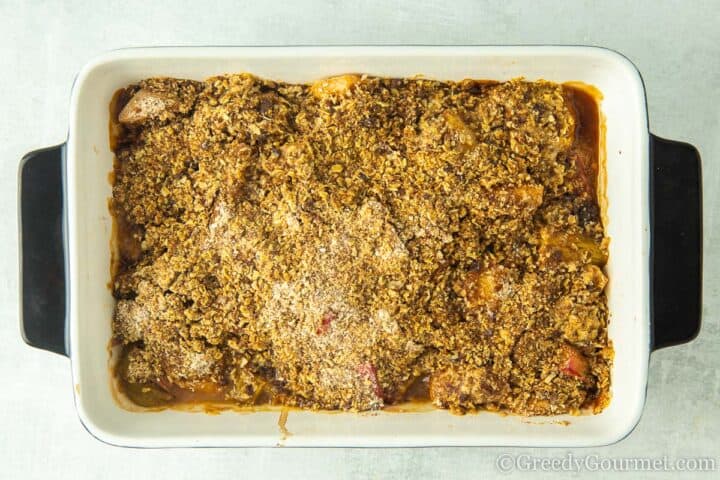 Top Tip
Make sure your butter is cold! This will give the topping mixture the correct consistency.
What to Serve with Your Pear Crumble
Sides
Lemon Curd - If you're not a fan of ice cream, skip it and use lemon curd instead. Made with eggs, sugar, lemon, and butter, this creamy delight tastes amazing with rhubarb and pears. It's the perfect side to any dessert.
Hokey Pokey Ice Cream - This is another great substitute for plain vanilla, and like lemon curd, it is delectable with rhubarb and pears. I love it on its own, but it's amazing with this crumble, too.
Cocktails and drinks
Cashew Milk - Cashew milk is a lovely drink to pair with your pears and rhubarb because it's lighter than cow's milk, but still gives that familiar richness that is so desirable when eating dessert.
Long Beach Iced Tea - If you'd like a cocktail with your rhubarb and pear crumble, have a Long Beach Iced Tea. It's refreshing without being too fruity and perfectly complements the dessert.
Popular Substitutions For This Recipe
Sugars
You can use regular castor sugar or brown sugar for your filling, and you can use regular sugar in place of brown sugar for your crumble topping.
Flour
If you are gluten-free, you can use almond flour instead of regular flour.
Butter
To make this recipe totally vegan, use margarine instead of butter for your crumble.
Fruit
This recipe calls for fresh fruit, but you can use frozen instead. If you have any pears leftover you can follow this guide on how to make Canned Pears!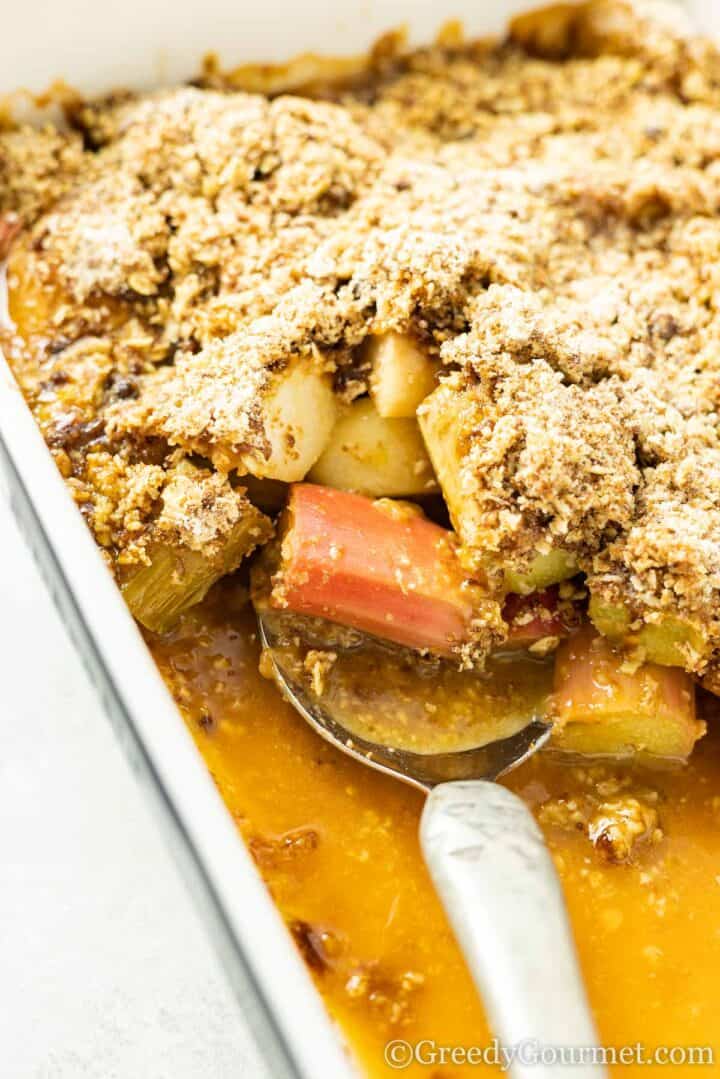 Variations To This Recipe
Dutch oven over the fire
You can bake this rhubarb and pear crumble outside. Whether you are camping or just want to give it a really smoky taste, you can cook it in a Dutch oven over an open flame.
Crumble top
You can adjust your crumble top to include ingredients that you prefer such as almonds or cinnamon. This will give it more chunks and make it ultra crunchy.
Seasonings
You can give this crumble recipe a different variation by adjusting the seasonings a bit. For example, you can use brown sugar in the filling, as mentioned above, as well as orange zest to brighten it up a bit. You can also add cinnamon to the crumble topping or the filling.
Serving
You can eat your rhubarb pear crumble on its own, or you can serve it in a small bowl with some ice cream for a lovely dessert. Top it with more brown sugar for a super sweet taste, or some cinnamon for a little zip.
Top Tip
For an easy way to cut your crumble without using a food processor or blender and avoid using your hands, you can use a pastry cutter. This will give the crumble mixture a lovely texture without too much work from you.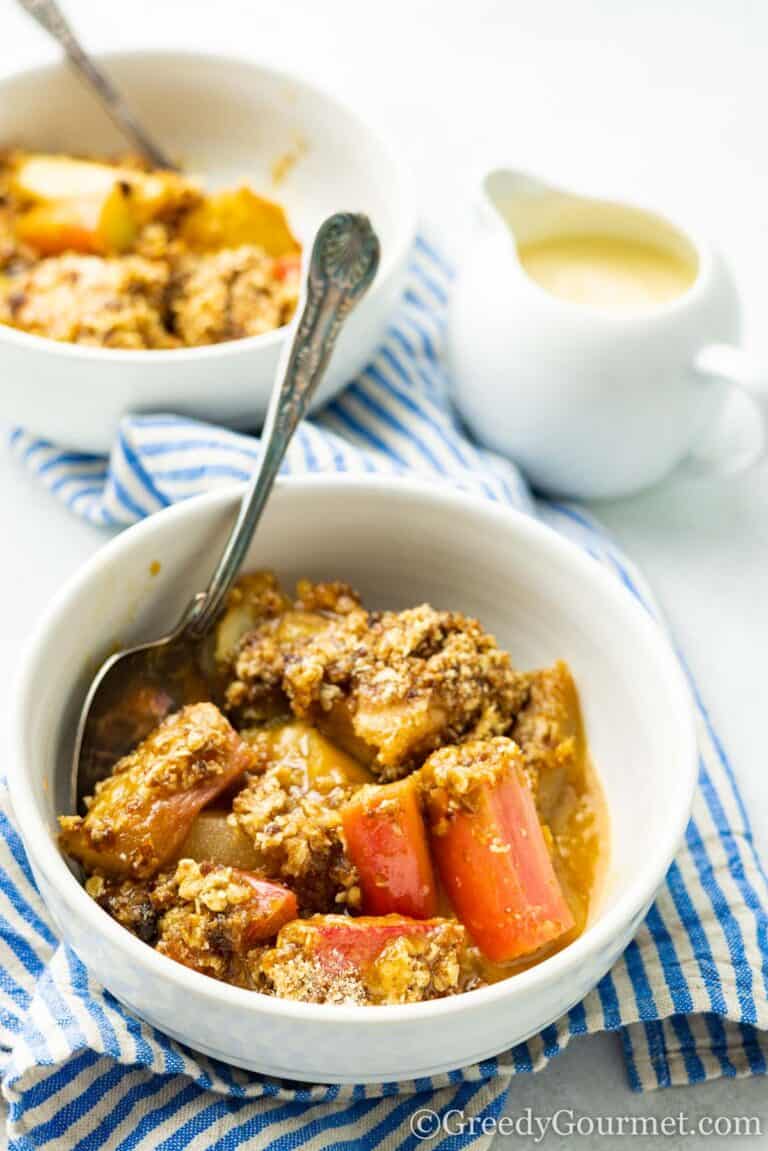 How do I store leftovers?
Store leftovers in an airtight container. You can leave the rhubarb and pear crumble on your countertop or put it in the fridge. It should last a couple of days on the countertop, and up to five days in the fridge.
Can I freeze this recipe?
Yes, you can freeze this recipe. Make sure your rhubarb and pear crumble is in an airtight container. It should stay in the freezer for 2 to 3 months.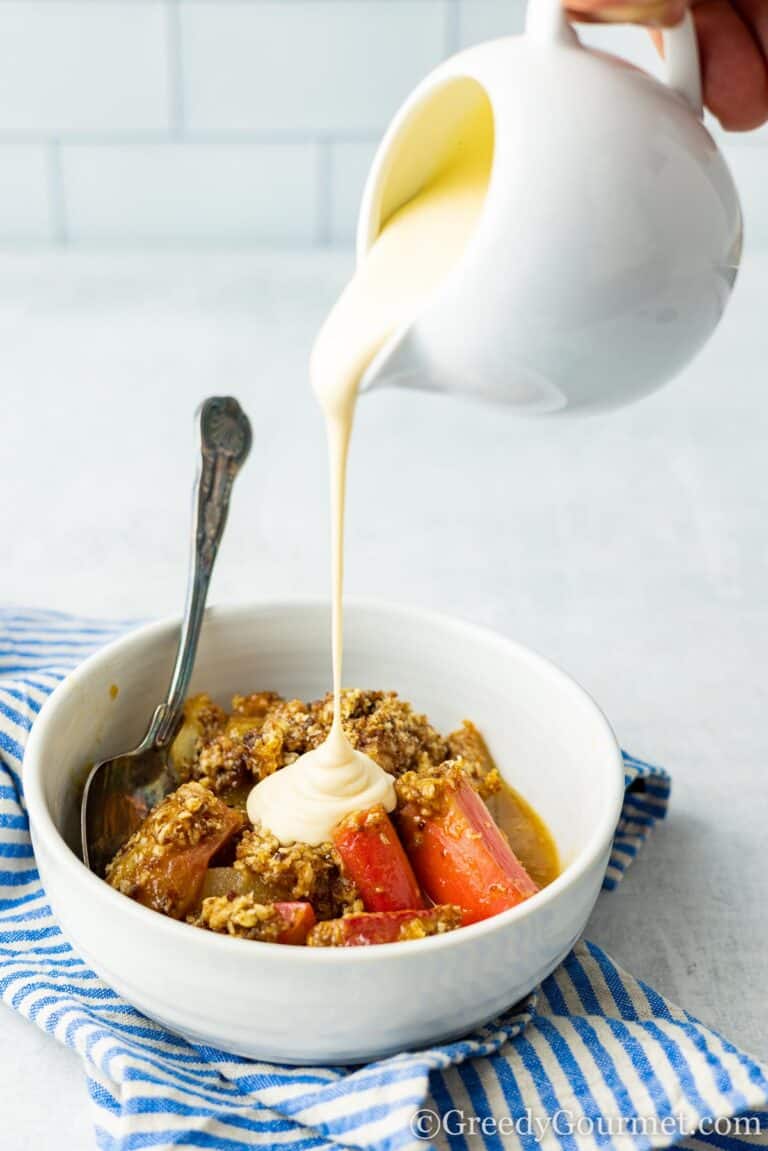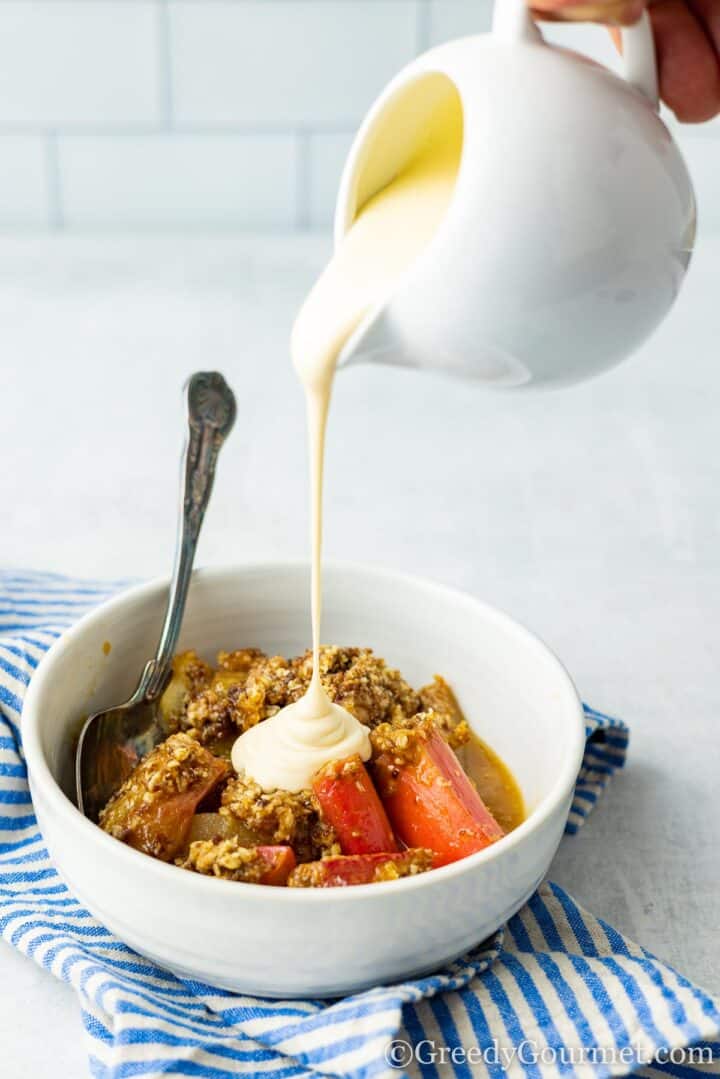 Other Crumble Recipes You'll Love
Gooseberry Crumble - This crumble utilizes yummy gooseberries in the most delicious way, and you'll already have lots of the ingredients on hand from making your rhubarb pear dessert.
Salted Caramel Apple Crumble - If you can't get enough of your pear and rhubarb crumble, try this salted caramel one next. It's got the most lovely flavor combination, similar to that of pears and rhubarb. I promise you'll love it.
Don't Forget To Come Back And Let Me Know How Your Recipe Turned Out!
I can't wait to hear how your rhubarb pear dessert turns out! If you adjust the recipe at all, let me know. Happy baking!
Print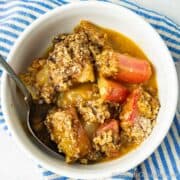 Rhubarb and Pear Crumble Recipe
---
Author:

Michelle Minnaar

Total Time:

1 hour 10 minutes

Yield:

8

servings

1

x

Diet:

Vegetarian
Description
Rhubarb And Pear Crumble is a classic British dessert, best served with custard or ice cream.
---
Crumble Filling
750

g

(1 2/3lbs) rhubarb

600

g

(1 1/3lbs) pears

125

g

(1/2 cup) golden caster sugar

125

ml

(1/2 cup) orange juice
Crumble Topping
75

g

(1/2 cup) oats

150

g

(1 cup) flour

125

g

(1/2 cup) cold butter

125

g

(1/2 cup) brown sugar
---
Instructions
Preheat your oven to 200°C/fan 180°C/392°F/gas mark 6.
Trim the rhubarb stalks then cut into short batons.
Peel and core the pears and cut into chunks.
Tip the rhubarb and pear pieces into a large ovenproof dish, along with the sugar and orange juice. Give it a stir and set aside.
Place the Crumble Topping ingredients in a separate bowl. Rub all the ingredients together, using your finger tips, until a light breadcrumb texture forms. Alternatively, you can zap everything in a food processor for a short duration.
Cover the filling evenly with the topping and bake in the oven for 50 minutes or until the topping is golden, the juice bubbling on the sides and the fruit are fork tender.
Serve with custard or vanilla ice cream. Enjoy!
Notes
Add grated ginger or vanilla essence to the filling to give the dessert extra zing.
In this recipe, I used Rocha pears. Feel free to experiment with other varieties.
Prep Time:

20 minutes

Cook Time:

50 minutes

Category:

Dessert

Method:

Bake

Cuisine:

British
Keywords: rhubarb and pear crumble, rhubarb crumble recipe, best pear crumble, british summer dessert, crumble and custard