An indulgent twist on an old school British classic, salted caramel apple crumble is a delightful autumn dessert that's certain to please the whole family.
A buttery crumbly topping with a juicy apple filling would be delicious enough, but my recipe takes things one sublime step further with the addition of an irresistible salted caramel sauce. So, prepare your taste buds to be stunned… this one is something truly special!
Products you need for this recipe
Large cast iron skillet – for best results, you need one of these. If you can't get one, you can use a normal frying pan and transfer the mixture into a baking dish before placing it in the oven
Salted caramel sauce – for that essential richness and sweetness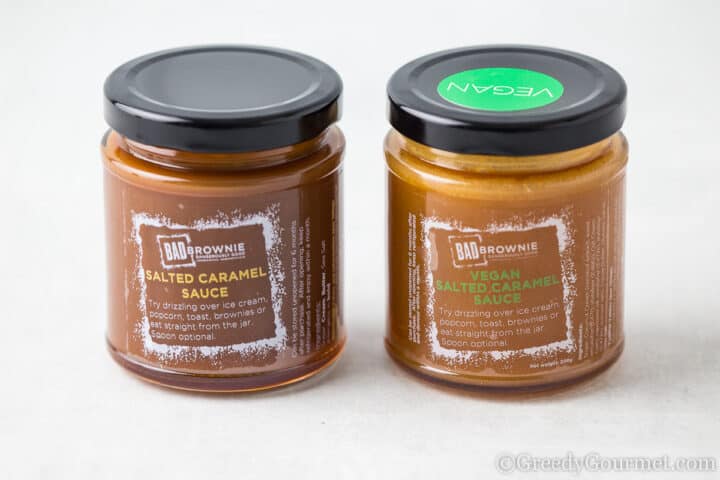 Salted caramel apple crumble recipe
Decadent desserts are never far from my mind, especially in the autumn/fall time. It's that time of year when the days are shorter, the weather turns colder and warm comfort food takes on an added importance.
When it comes to baked fruit desserts, apple crumble really takes some beating. Well, this recipe beats it by adding a decadent twist!
Far from just a drizzling sauce, the caramel sauce plays a starring role in this recipe. It brings that unique rounded sweetness that perfectly complements the two main parts of this dish – the apple filling and the crumb topping.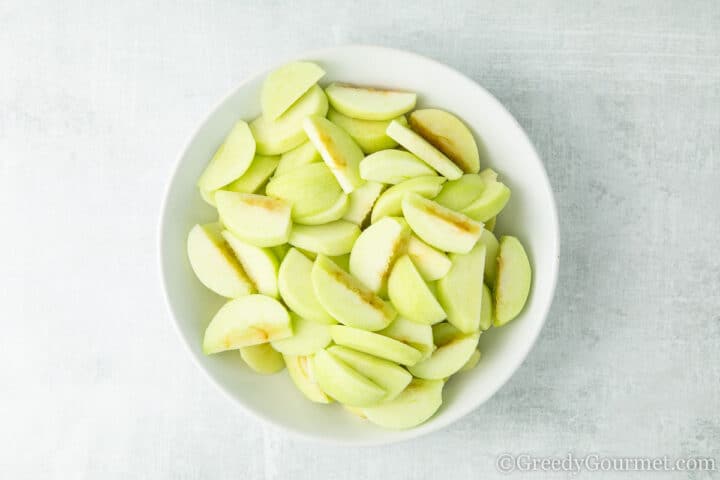 Apple filing
The apple filling is made up of just a few simple ingredients. First, the all-important apples. See 'What are the best apples to use for this recipe' for the ideal cooking apples to use.
The apples are cooked in unsalted butter, while lemon juice brings some extra acidity to the filling. You'll also add a pinch of salt to taste. Once they've slightly softened, the apple slices are coated with the delicious salted caramel sauce.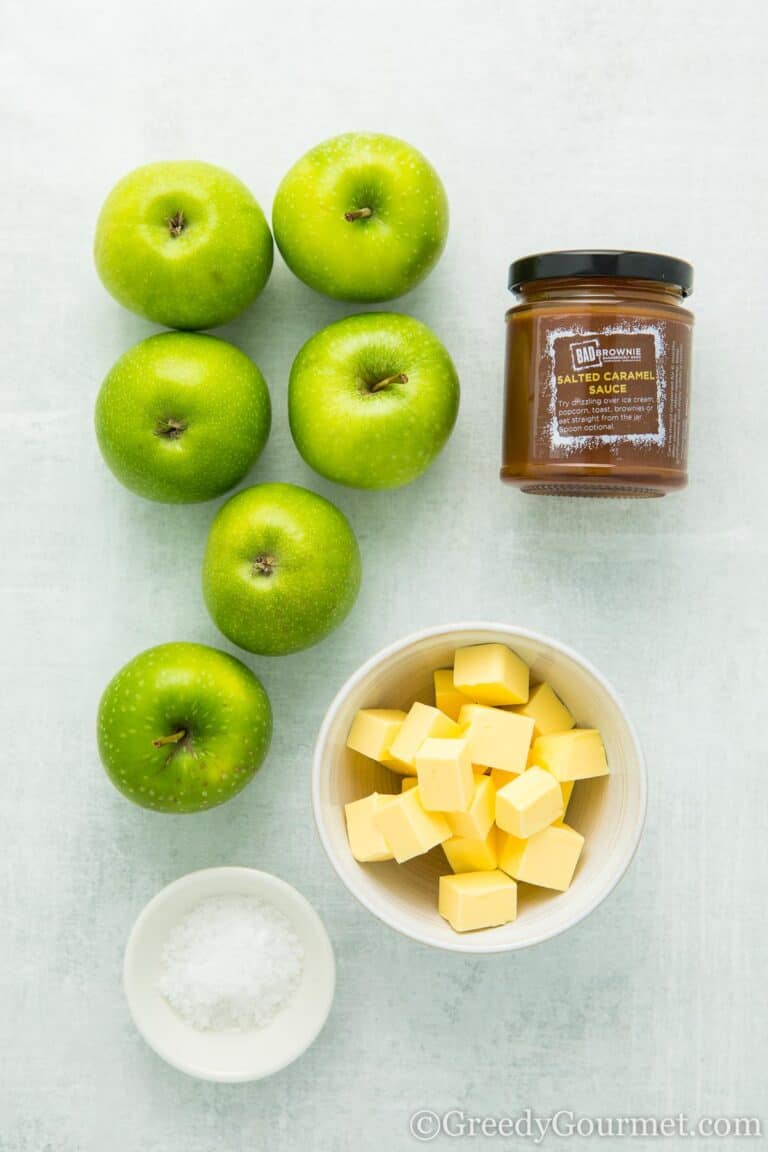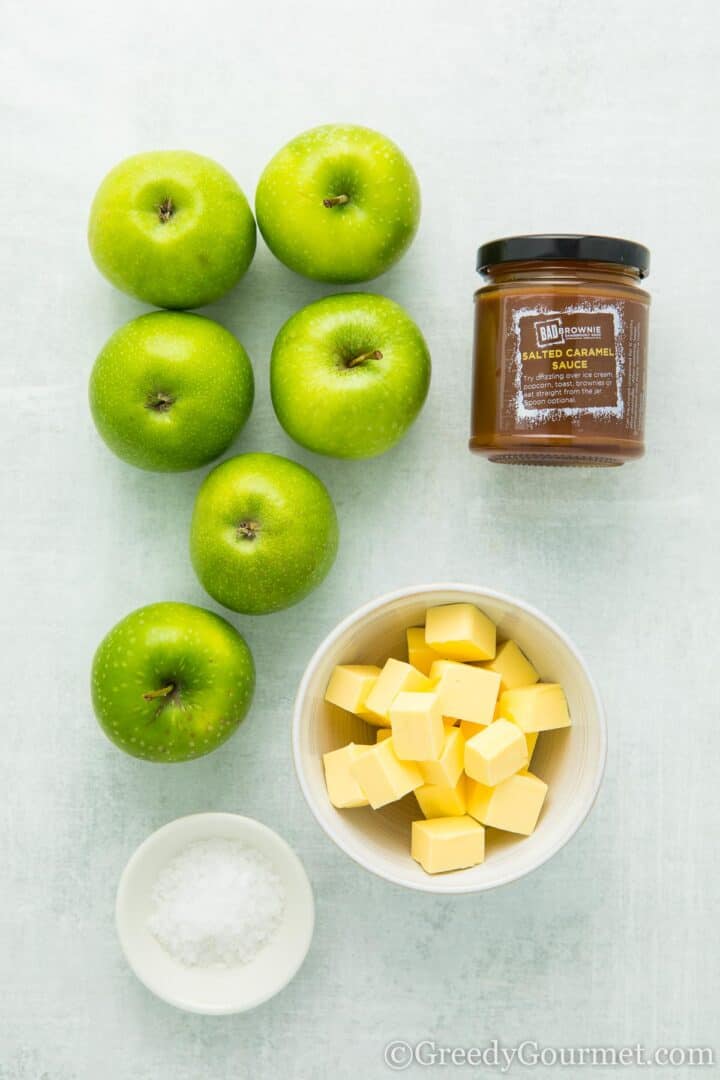 Crumb topping
The perfect golden brown crispy crumble is what makes this dessert so special. The smell of this topping as it bakes will really make your mouth water!
My crumb topping is made from flour, oats, brown sugar, granulated sugar, a pinch of salt and, not forgetting, the salted caramel sauce!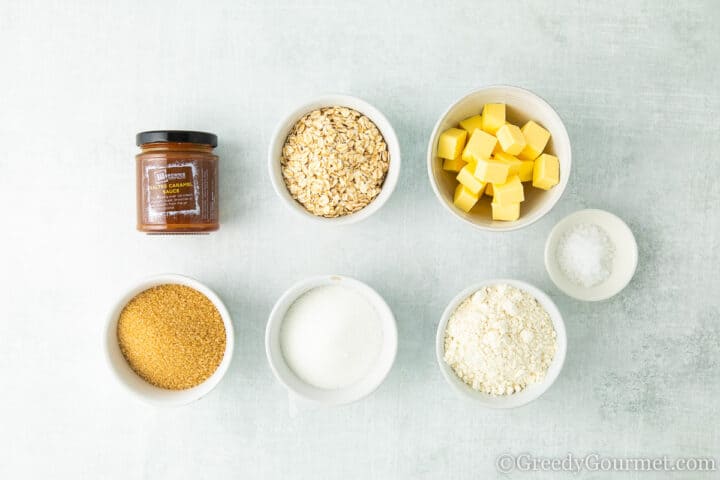 Origins of apple crumble
This classic baked dessert orinigated in Britain during World War II. It came about as a less expensive alternative to the popular apple pie.
Due to food rations, baking ingredients were in short supply. So, instead of baking pastry, cooks made a quicker, easier and less expensive topping for the standard baked apple dessert.
Over the years, apple crumble has become a staple dish in British cuisine and has even gained popularity in neighbouring France, particularly during apple picking season in the autumn.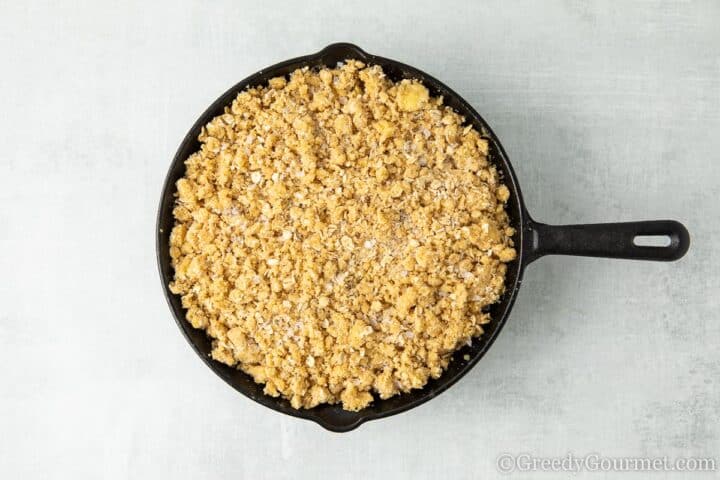 Crisp, crumble or cobbler… what's the difference?
There is very little difference between them actually! It's all in the details.
Apple crumble
The apple is normally sauteed in butter before being baked. The topping traditionally consists of flour, sugar and butter.
Apple crisp
While in the UK, the terms apple crisp and apple crumble are used to mean the same thing, in America they differ. Apple crisp has the addition of oats in the topping, much like this recipe.
So, if you're in the US, feel free to think of this as an apple crisp recipe!
Interestingly, the origins of apple crisp actually predate apple crumble. The first mention of apple crisp is way back in 1924, in an everyday US cookbook.
Apple cobbler
Cobblers usually have a deeper filling with a thick crust, often made from biscuits or pie dough. They originated in British American colonies as a cheaper way to make puddings in the autumn/fall.
A popular US variation on an apple cobbler is a Brown Betty, made with alternating layers of apple filling and crumbs.
Why add salted caramel to apple crumble?
Baked apple crumbles can sometimes taste too sour. This is because the tartness of the apple needs to be sweetened and, oftentimes, isn't sweetened enough.
While most apple crumble recipes call for a certain amount of sugar, this doesn't always add up to a satisfying taste. That's why I've gone for something that's not just sweet, but brings a more complex flavour to bring some harmony to the flavour of the apple.
With hints of sweetness, sourness, bitterness, saltiness and an umami quality, salted caramel brings a completely different dimension to this classic recipe.
What salted caramel sauce should I use?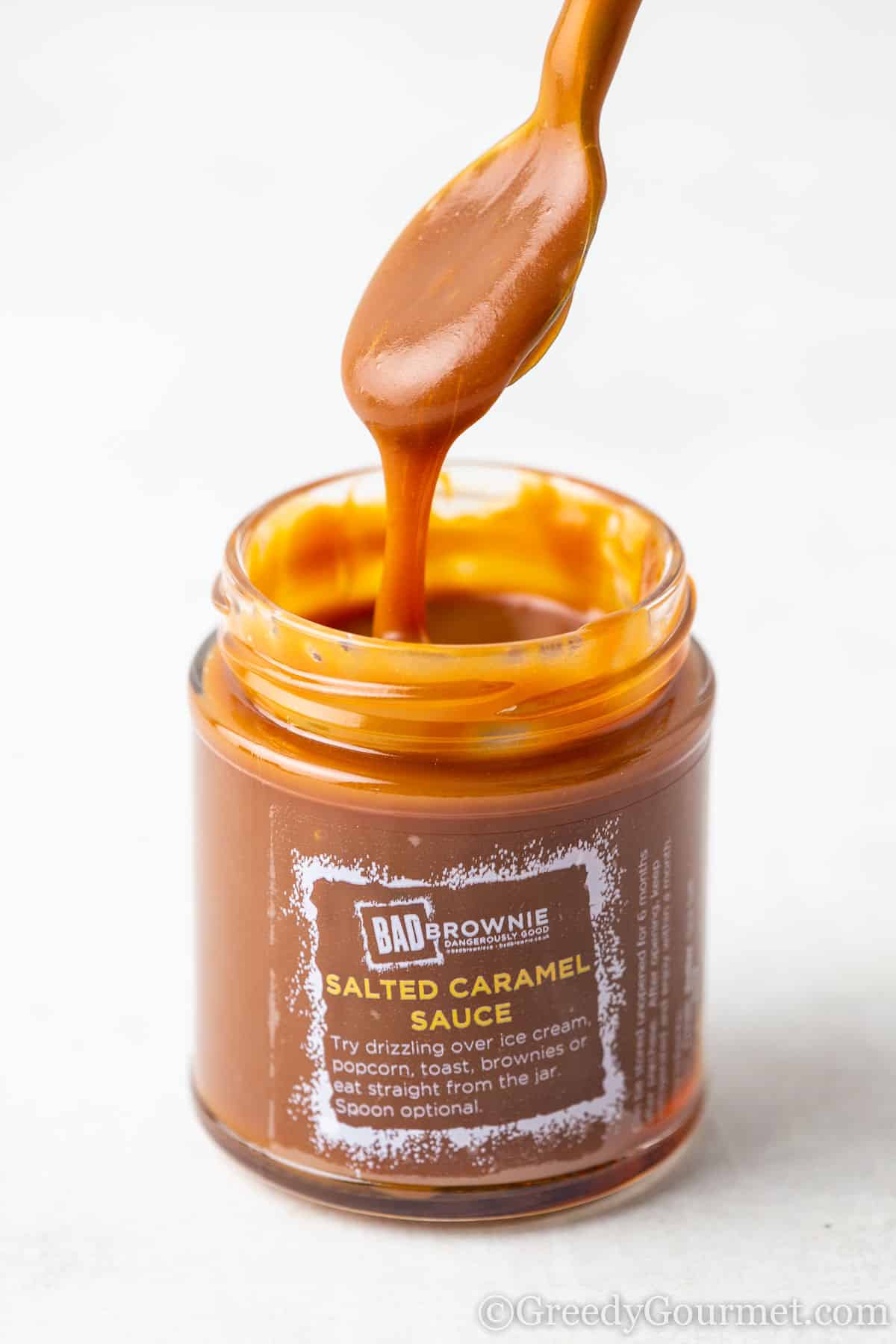 For this salted caramel apple crumble recipe, I've gone for Bad Brownie's Salted Caramel Sauce. Of course, if you've got the time, you can make your own homemade salted caramel sauce for an extra special apple crumble.
What are the best apples to use for this recipe?
There are a variety of different cooking apples you can use in this recipe. Here are some of my favourites:
Granny Smith
Crisp and hard with a very sharp taste, these tart cooking apples are the best for this recipe.
Bramley
This robust apple is perfect for cooking with, as it holds its texture. Large in size and tangy in taste, Bramley apples are more popular in the UK and Ireland than Granny Smith.
Golden Delicious
They have a sweeter, more mellow flavour than Granny Smith or Bramley apples.
Pink lady
A good all-rounder, Pink Lady apples are on the sweeter side, although they don't hold up as well as Granny Smith or Bramley when baked.
Is this salted caramel apple crumble gluten free?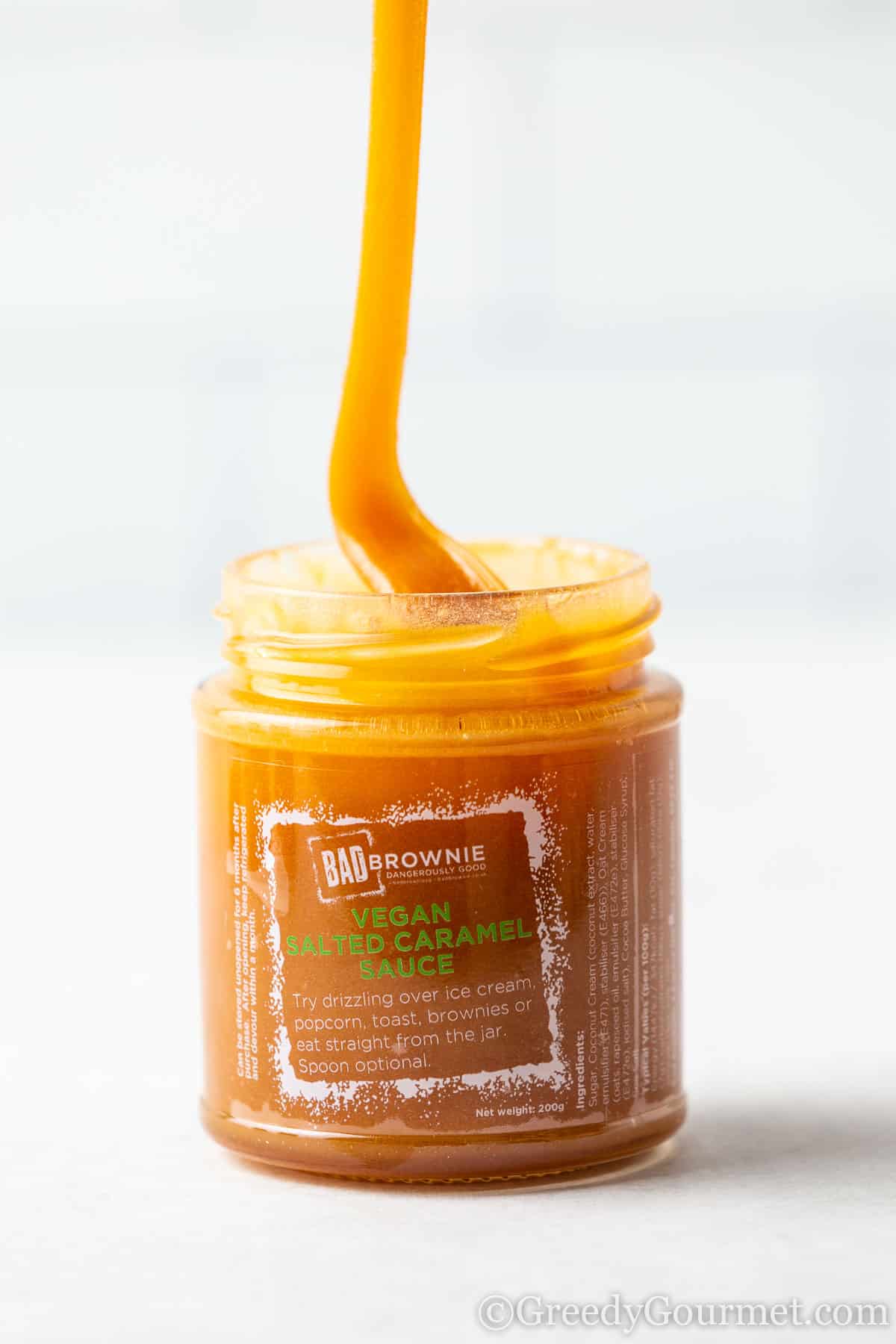 No, it's not, as plain flour is used for the crumble topping and the salted caramel sauce contains gluten.
What do you do with leftover salted caramel apple crumble?
If you summon up the ability to resist scoffing the lot in one go, you can keep your apple crumble leftovers fresh for up to four days. Just place the leftovers in an airtight container and keep them in the fridge.
Can you freeze it?
Yes you can! Store apple crumble in a freezer safe airtight container and keep it in the freezer for up to 4 months.
How do I reheat the leftovers?
The easiest way is to pop your apple crumble onto a microwaveable plate, loosely cover and microwave for 30 seconds to a minute.
You can also reheat your leftovers in the oven. Just place it in an oven dish and heat at 180°C/356°F for 5 to 10 minutes.
Why is my apple crumble not crunchy?
The most common reason for this is the type of sugar used. Brown demerrera sugar gets the best results, ensuring your crumble is golden brown and crunchy. 
Another reason could be that the ratio of flour to butter is off. You need just the right balance to achieve that perfect crunch.
So, follow the recipe precisely and you should be fine.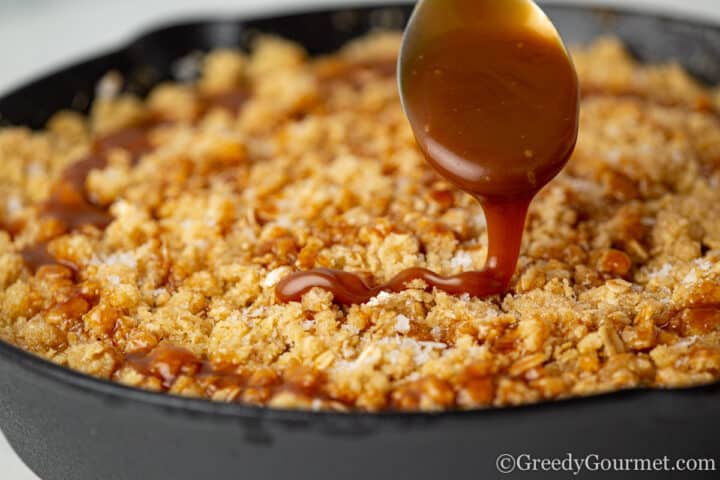 What to serve with this recipe
In my opinion, the best thing to serve with salted caramel apple crumble is vanilla ice cream. You could also serve it with warm vanilla custard or, if you're feeling in a fun and fruity mood, serve it with my delicious pink custard.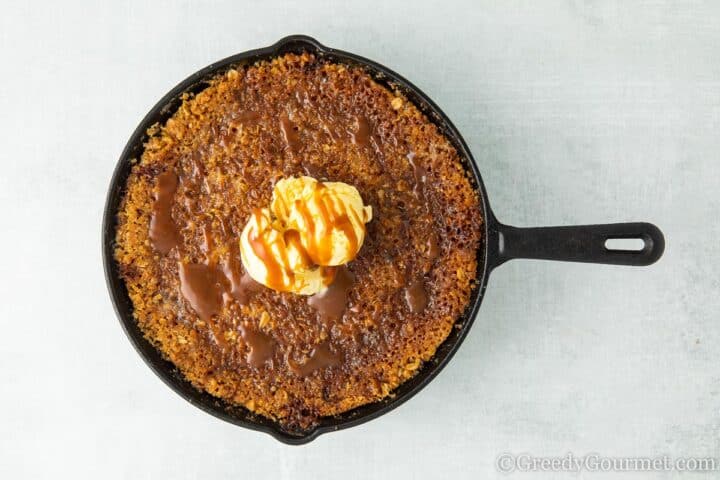 Tips for the perfect salted caramel apple crumble
Let's recap on a few key points that will make this salted caramel apple crumble extra special:
Slice your apple slices to about ½ cm thickness. If your sliced apples are too thin and they want hold their shape and will become too soggy
After baking, allow the crumble to cool. As it cools, the crumb coating will harden and become crisp
For best results, serve your salted caramel apple crumble while it's still deliciously warm
Use Granny Smith apples for best results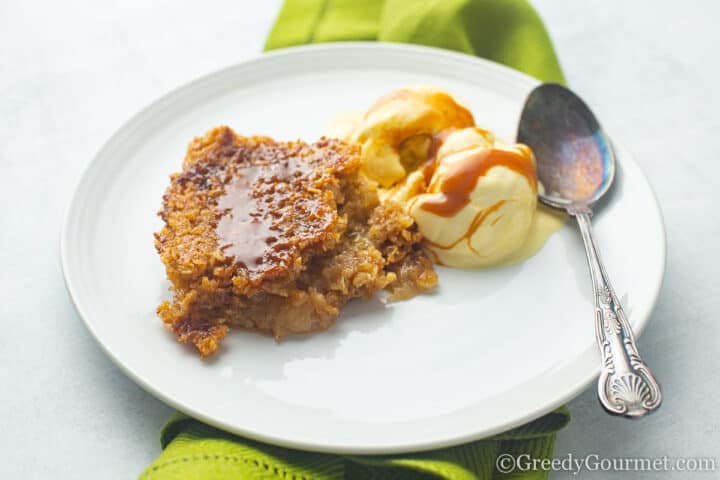 More apple recipes
Once you've mastered this salted caramel apple crumble recipe, try out some of these delicious apple dessert recipes: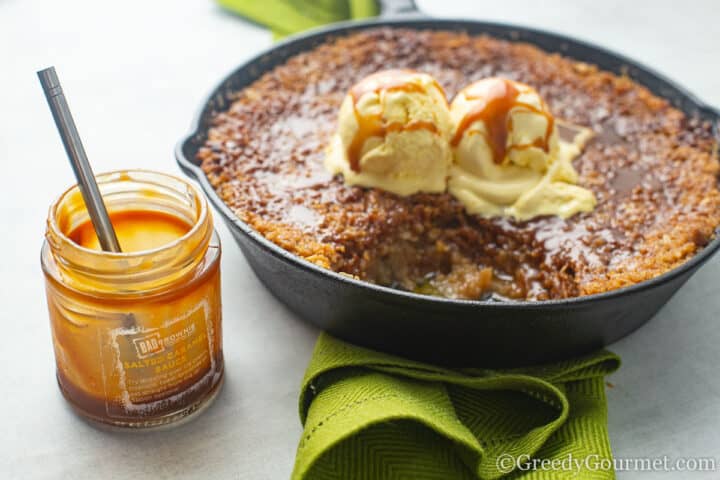 Print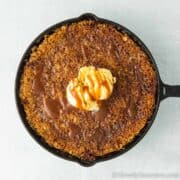 Salted Caramel Apple Crumble Recipe
---
Author:

Michelle Minnaar

Total Time:

55 minutes

Yield:

6

portions

1

x

Diet:

Vegetarian
Description
Learn to make Salted Caramel Apple Crumble. A charming twist on a classic British recipe, this dessert is perfect for Autumn and the caramel is a sweet addition that will leave you wanting more. Best served with vanilla ice cream or custard.
---
Apple Filling
500

g

(4 cups) Granny Smith apples, peeled, cored and sliced

60

ml

(4 tbsp) lemon juice

60

g

(4 tbsp) butter

1.5

g

(1/4 tsp) sea salt

100

g

(1/2 jar) salted caramel sauce
Crumble Topping
140

g

(1 cup) plain flour

80

g

(1 cup) oats

140

g

(2/3 cup) brown sugar

140

g

(2/3 cup) granulated sugar

3

g

(1/2 tsp) sea salt

50

g

(1/4 jar) salted caramel sauce
Decoration
vanilla ice cream
salted caramel sauce
---
Instructions
Preheat oven to 200°C fan / 180°C / 360°F / Gas mark 4
For the Apple Filling: Place a skillet pan, mine is 23cm (9in) wide, on a medium to high heat.
Add the apples, butter and lemon to the pan and cook until the liquid has evaporated, around 5-10 minutes.
Remove from heat and stir in the salted caramel and the sea salt.
For the Crumble Topping: In a mixing bowl, place all the ingredients for the topping and combine them using your fingers. (I used my fingers to prevent the butter from melting).
Sprinkle the crumble topping over the apples, distributing evenly.
Transfer to the oven and allow to cook for 15 minutes.
Take the crumble out of the oven and drizzle the salted caramel sauce and return to the oven for a further 10 minutes
Remove and allow to cool for 5 to 10 minutes, or until the topping has hardened, before serving. 
To Decorate: Serve it with vanilla ice cream and the salted caramel sauce. Enjoy!
Notes
If you don't have or like oats then feel free to replace with an extra cup of flour.
If you don't have a skillet, cook the apples in a regular frying pan and then transfer to a baking dish once cooked. Top with the crumble topping, cooking time and temperature should remain the same.
You can easily divide the filling between mini skillets or individual baking dishes and follow the recipe as is. 
Don't worry if the crumble looks gloopy while cooking in the oven. This is due to its high butter and sugar content. Once out of the oven it will cool and harden. It will have a moreish, chewy crunch to it - trust me!
Don't feel like ice cream? You can have custard instead.
Prep Time:

20 minutes

Cook Time:

35 minutes

Category:

Dessert

Method:

Bake

Cuisine:

British
Keywords: salted caramel Apple Crumble, Salted Caramel sauce, apple crumble recipe, Salted Caramel Dessert, autumn dessert, fall dessert recipe, apple dessert recipe