Air fryer chicken wings are the new hit for the summer at my house. Forget those oily and soggy chicken wings that come out of a traditional deep fryer, these will convert you into using an air fryer for the rest of your life.
These air fryer chicken wings are an excellent idea for barbecue parties. Why don't you serve them with some BBQ chicken kebabs or BBQ smoked ribs? Don't forget to serve everything with fresh cold lager – a heavenly combination!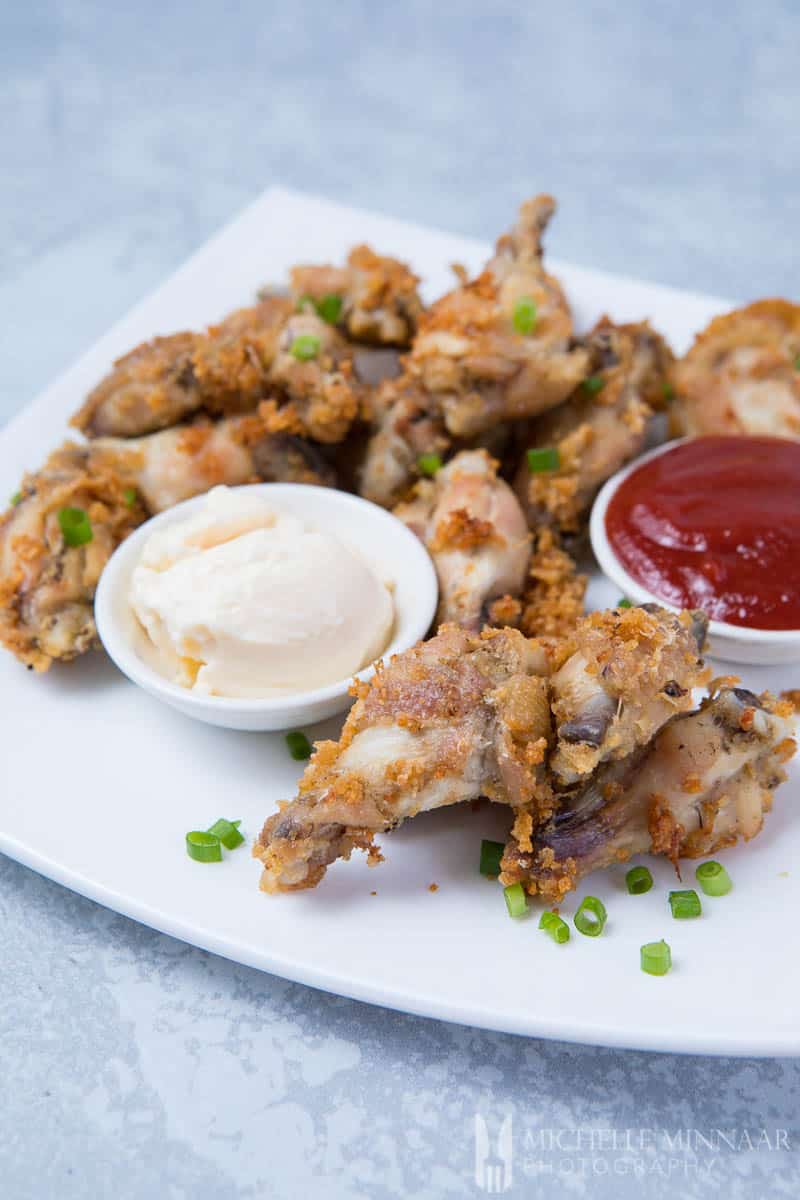 air fryer chicken wings
Air fryer chicken wings are a much healthier way to enjoy fried food. Firstly, this recipe calls for much less oil that you would need with a traditional deep fryer. All you need is a mountain of chicken wings, which are coated with a spiced flour rub and then air fried. As you can see, this recipe is far from complicated and the preparation time takes only a few minutes! This leaves you plenty of time to prepare a BBQ dip.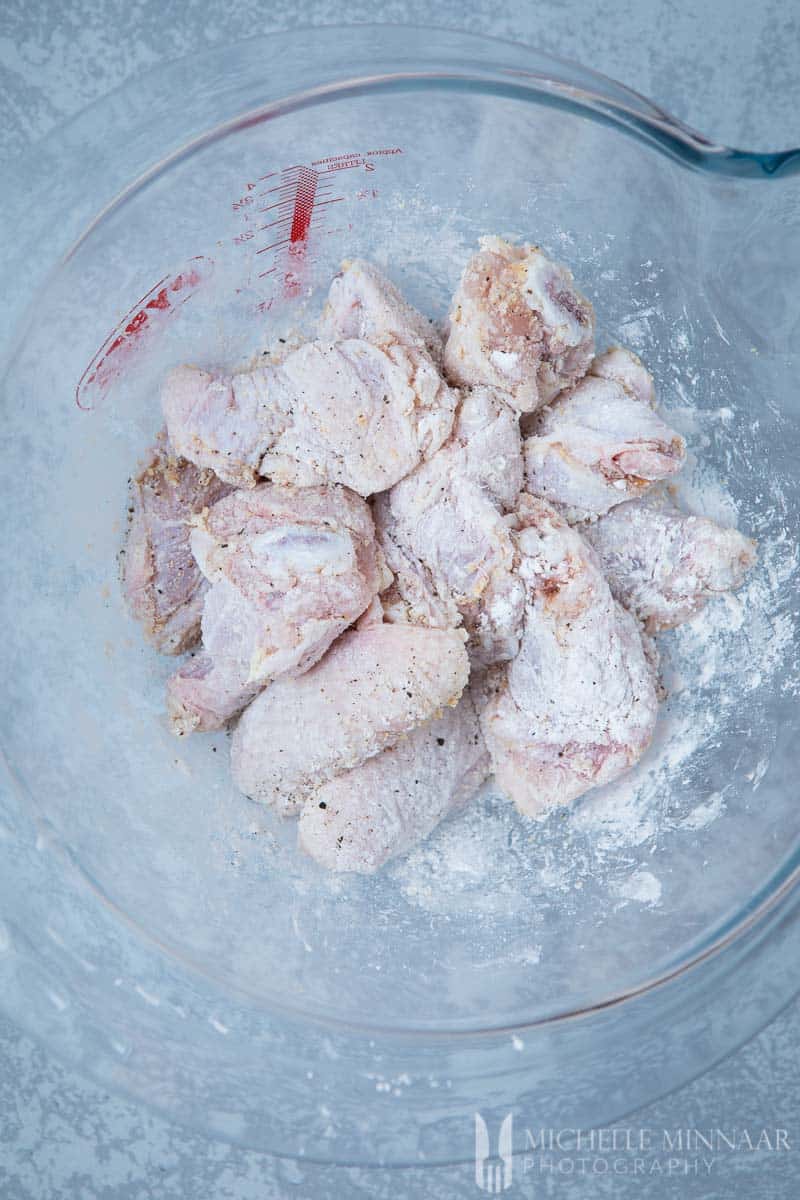 air fryer
What exactly is an air fryer? Surprisingly, it has become quite a popular kitchen appliance which is used to prepare a variety of dishes. More specifically, it is a fantastic way to reduce your dependency on frying oil when it comes to recipes where frying is the main cooking method. You'll end up with a much healthier end-result, using much less oil. For example, you can use an air fryer to make delicious, crispy and oil free fries or juicy air fryer chicken wings.
The process of air frying basically comes down to science. Simply put, when you cook with an air fryer, the mechanical fan circulates hot air around the food at high speed. This process is also called convection, which refers to heat transfer through the movement of molecules and atoms within fluids. If you want to learn more about convection and how it all works in detail, click here.
Nevertheless, once the hot air travels through the food, it creates a lovely crispy layer via the Millard effect. This is a chemical reaction, founded by Louis-Camille Maillard in 1912, which reduces sugars. When this reaction happens between amino acids, it gives food its distinct flavour.
Now, the air fryer will induce the Maillard effect by coating the food with a very thin layer of oil while circulating very hot air. To learn more about the cooking method of air frying as well as the Maillard effect, click right here.
air fryer appliances
You might be thinking that these types of appliances are difficult to come by, but they are not. Today, they are generally available in the larger appliance and electronics stores. Otherwise, you can easily purchase them online.
Some air fryers take the appearance of a coffee brewing machine, while others resemble more of a typical frying pan. If you click on some of the examples of the air fryers below, you'll know exactly what I mean.
With an air fryer, you can then create amazing recipes, like these luscious air fryer meatballs.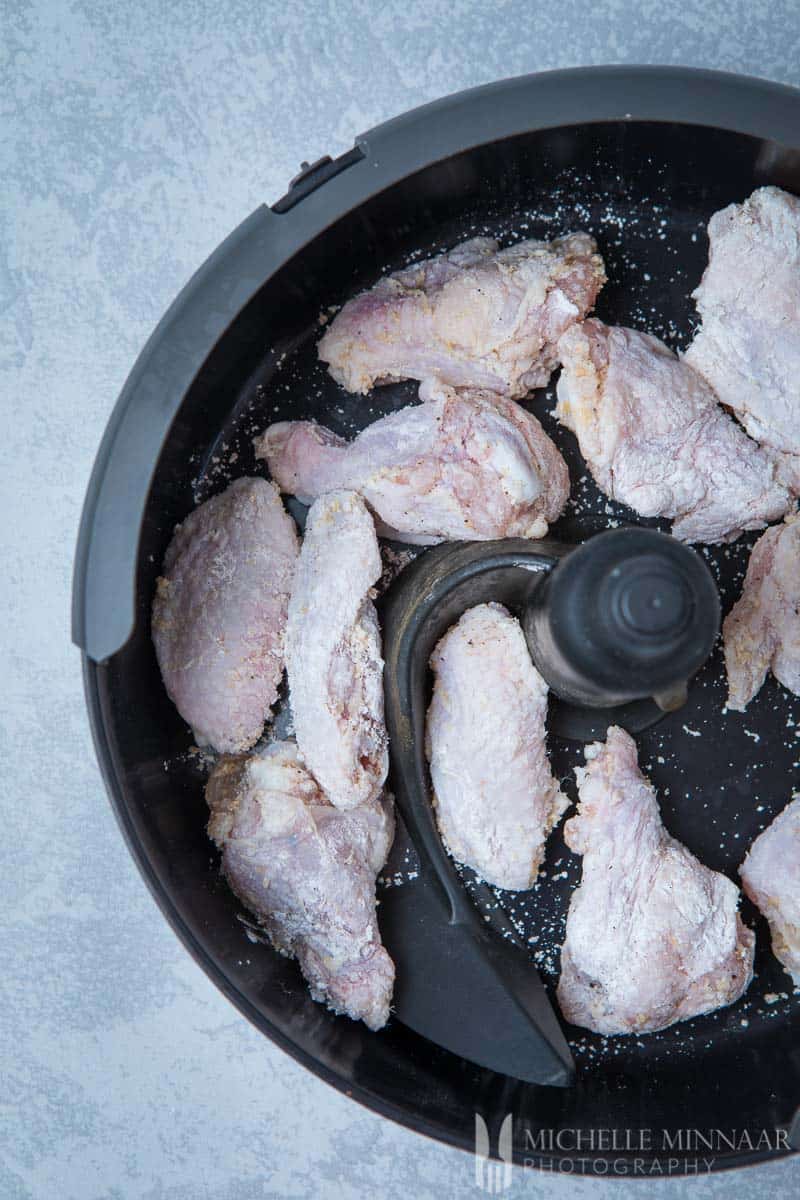 the wings
A chicken wing consists of three parts: the drumette, the wingette and the tip. The drumette is the part that's actually attached to the chicken. Since the drumettes get lot's of exercise, the meat on the bone is dark meat. Winglettes are the middle part of the chicken wing. The meat inside the winglette is the most tender. The tip is the pointy end of the chicken wing, and generally has no meat on it at all.
Chicken wings are readily available in supermarkets. Since they have a higher proportion of bones and skin to meat, they are excellent option for making a flavourful chicken stock!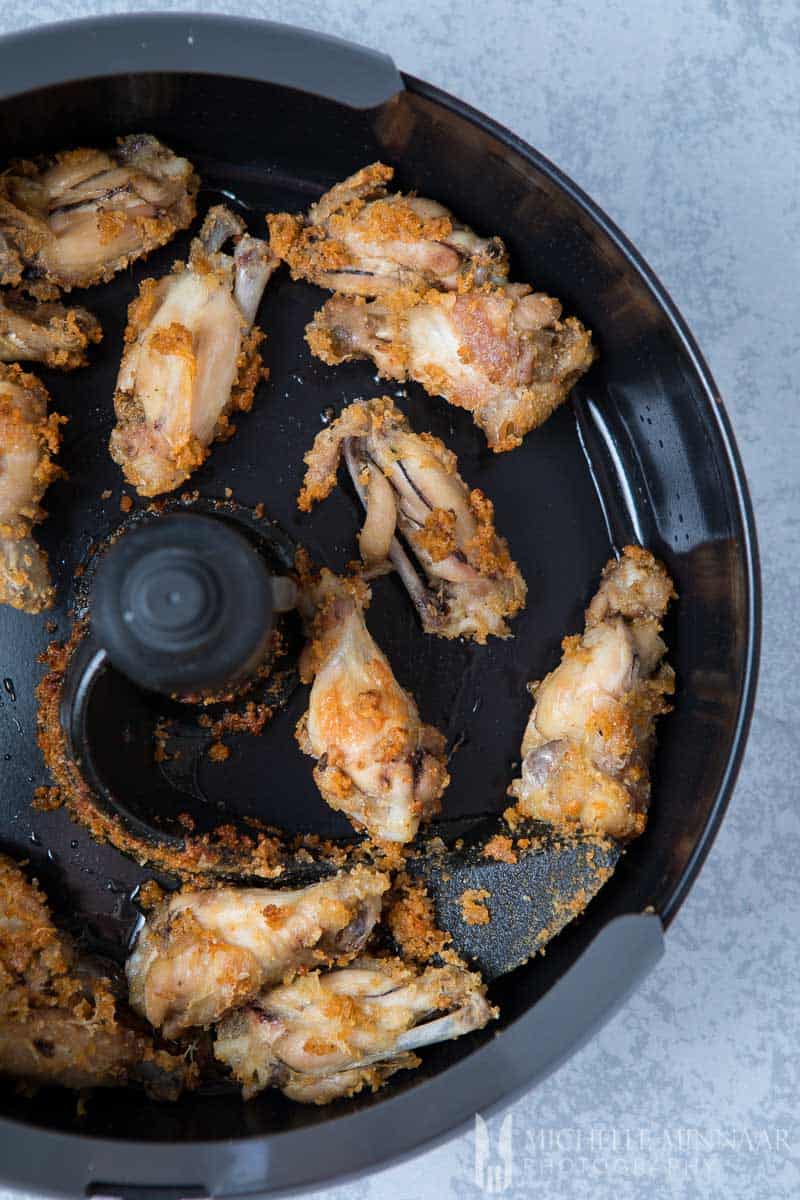 air fryer chicken wings dry rub
The best way to get those air fryer chicken wings juicy is to brine them beforehand. If you want to learn how to brine a chicken, click here. Keep in mind, that compared to the whole chicken, the length of the brining process is shorter when it comes to just brining the chicken wings.
Flavour-wise, it is best to coat the chicken wings with a spiced flour rub. Coat the chicken wings evenly and add any type of spices that you love cooking with. These can include smoked paprika powder, cayenne pepper powder, chipotle powder, jerk spice and much more. In fact, why don't you take a look at these paprika substitutes as there are spices there worthy of this air fryer chicken wings recipe?
Also, don't be shy to incorporate some fresh herbs into the flour as well such as dried oregano, basil or thyme.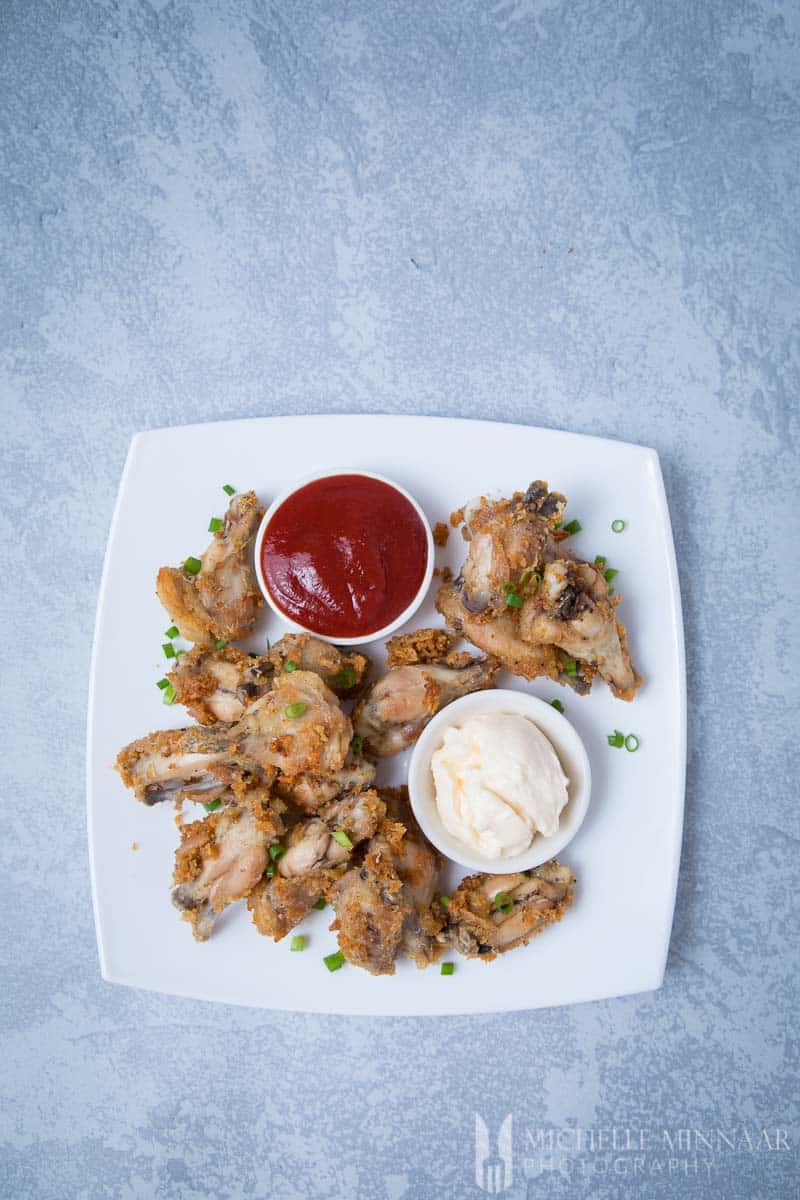 the chicken
As this is a versatile recipe, you can use it on other cuts of the chicken. In fact, you can use other meats as well, such as turkey, pork, beef – you name it. Alternatively, for more omega 3 vitamins, you can also air fry fillets of fish. Give this air fried salmon recipe a go. You'll see that the fish will be juicy and flaky!
the sauce
As with ribs, you might also be looking for that special element that sets these air fryer chicken wings apart! For a finger-licking intense BBQ sauce to pair with the wings, check out oven-baked barbecue chicken recipe here. Otherwise, you can inspire yourself with making a honey glaze like this one or a hoisin glaze, as I did here.
You might also want to try out this sweet potato fries recipe in the air fryer. It will pair perfectly with the chicken wings. Do you feel like you are missing a green element? Roast some garlicky green beans or make some simple roasted asparagus. That should take care of things!
Print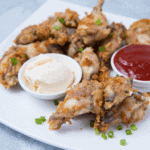 Air Fryer Chicken Wings
---
Author:

Michelle Minnaar

Prep Time:

10 minutes

Cook Time:

40 minutes

Total Time:

50 minutes

Yield:

4

1

x
Description
Air fryer chicken wings are not your traditional deep-fried chicken wings. They are healthier, crispy and use much less oil. Enjoy with a thick BBQ sauce.
---
Scale
Ingredients
2.5

ml (½ tsp) garlic powder

1.25

ml (¼ tsp) salt

0.6

ml (⅛ tsp) pepper

60

ml (4 tbsp) cornflour

8

chicken wings

15

ml (1 tbsp) oil
---
Instructions
Mix the garlic, salt, pepper and cornflour in a large bowl.
Place the chicken wings in the bowl and mix with the dry ingredients until all the chicken's surfaces are covered.
Place the chicken in the air fryer and cook for around 40 minutes or until cooked through and the skin is crispy.
Serve immediately as a starter with mayo, ketchup or barbecue sauce.
---
Notes
Ensure the chicken is completely dry before mixing with the dry ingredients.
The chicken wings can be served as a main course as well, 4 wings per adult.
For best results, brine the chicken wings first.
Category:

Starter

Cuisine:

American
Nutrition
Serving Size:

1 serving

Calories:

325

Sodium:

198 mg

Fat:

14.1 g

Saturated Fat:

3.4 g

Carbohydrates:

6 g

Protein:

41.1 g

Cholesterol:

125 mg
save the recipe to your pinterest board