When was the last time you ate a juicy meatballs recipe? I am not talking about the classic spaghetti and meatballs, but something quite different. Have you ever tried air fryer meatballs? Meatballs cooked with an air fryer are the best types of meatballs. Simply because they are perfectly cooked! In essence, air fryer meatballs are the perfect meatballs with a juicy and luscious centre, which makes these babies so addictive. In essence, this meatballs recipe has Scandinavian origins. There isn't a single home in Scandinavia which hasn't cooked up their own version of air fryer meatballs as well as non-air-fryer meatballs. However, the experts know that meatballs using an air fryer are the best.
Serve them immediately out of the air fryer, they don't take took long to cook. Pair them up with a creamy mash like this carrot and parsnip mash or a light salad like this one. Try not to eat all the air fryer meatballs at once! I dare you.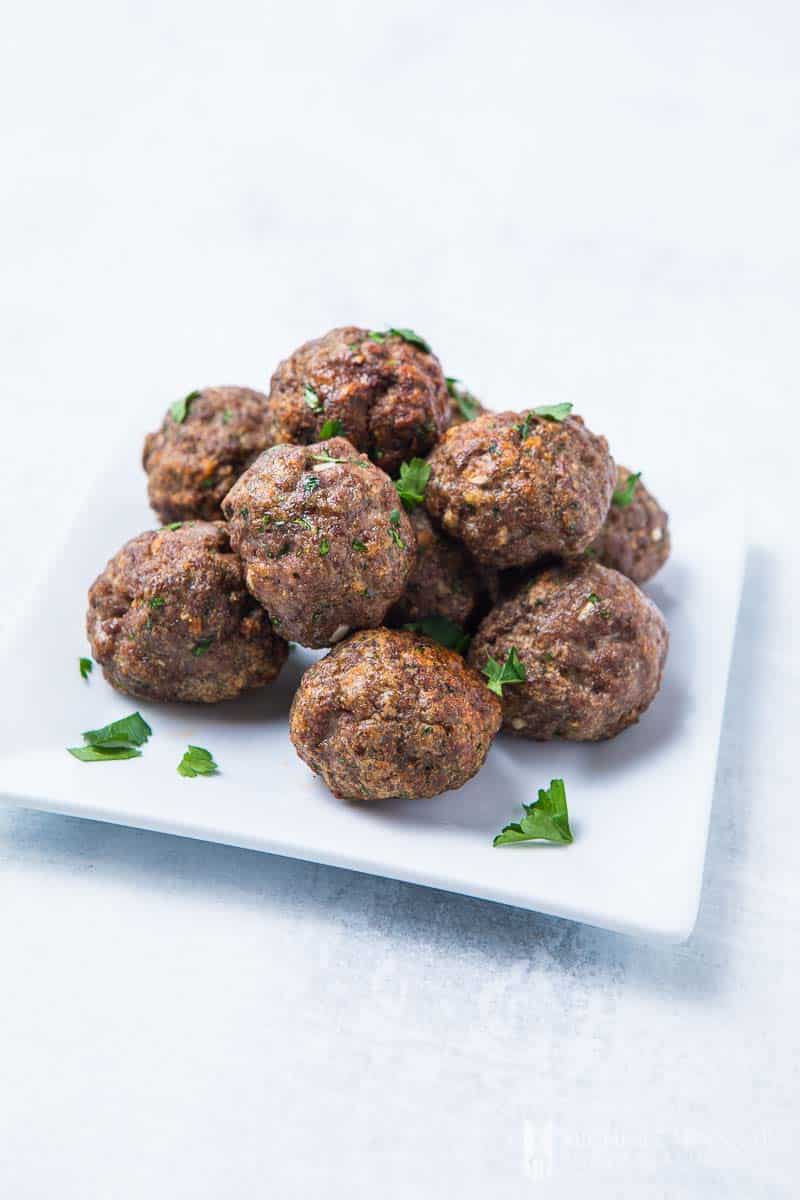 easy air fryer meatballs recipe
I must reiterate the fact that these air fryer meatballs are one of the simplest meatball recipes out there. If you've got an air fryer, they take approximately 8 to 15 minutes to cook, depending on your temperature setting. Of course, if you decide to oven bake the meatballs or pan fry them, that's also an option. Just note that with the oven, they won't cook as fast. In addition, if you pan fry them, it's so difficult to get an even cook on all sides. Use an air fryer for best results. The meatballs will be perfect on every side.
Scandinavian meatballs recipe
Something about these meatballs takes me back to my childhood. Back then, I remember being introduced to frikadeller. Frikadeller is a typical Scandinavian (Danish) dish that every mother and grandmother knows how to make. The meatballs are not as round or circular in shape, they look more like ovals. However, the concept is the same. Consider this the Danish version of air fryer meatballs. Since I had the opportunity to taste frikadeller, I just loved the taste of minced meat in the form of meatballs. Usually, the Danes serve it with a potato mayonnaise salad and a side of pickled cucumbers. Delicious.
I'm sure you've been in IKEA. Do you remember that Swedish meatball dish called Kottbullar? This dish is like one of the national dishes of Sweden! Generally speaking, the meatballs are served with a potato puree, pickled cucumber, gravy or brown sauce and lingonberry sauce. In IKEA, I remember they generally served this dish with boiled potatoes or fries – both very good options. As you can see, meatballs are at the heart of Scandinavian cuisine. Make sure you don't miss out on this recipe. You can opt to serve them Scandinavian style.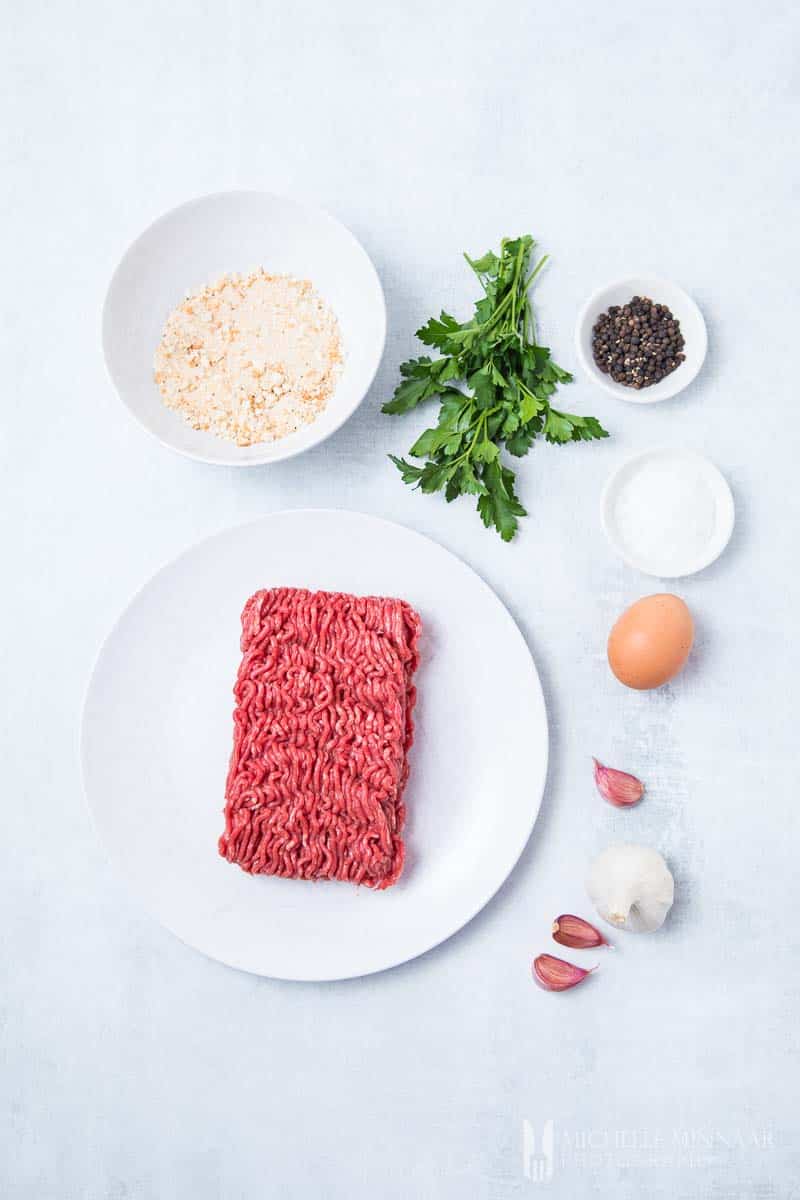 low-carb air fryer meatballs recipe
Naturally, breadcrumbs are used to safeguard the consistency of the air fryer meatballs. Even if you want to go low-carb, I recommend adding a pinch of breadcrumbs nonetheless. Perhaps you can even add pangritata. You can make a fabulous pasta dish if you've got leftovers. For example, you can make spaghetti alla carrettiera which comprises leftover pangritata.
air fryer meatballs temperature setting
Well this is a fun topic. Actually this is the number one question I get with air fryer recipes. First of all, if your air fryer is advanced enough, then cook the meatballs at 180°C for 8 minutes. Unfortunately, my air fryer doesn't have this advanced temperature setting. So, for my air fryer meatballs to be completely perfect, it took approximately 13 minutes. If your air fryer doesn't have a temperature setting, then I have a handy tip for you. Take an internal thermometer to read the internal temperature of the meatballs. This should be around 160 - 165 Fahrenheit or approximately 70-73°C.
If you don't know what an internal thermometer looks like or you'd like to get one, look at these:
air fryer recipes
With these, you can practically cook any type of meat recipes. For example, you can cook the following meat recipes perfectly:
Trust me, the internal thermometer will practically work with anything!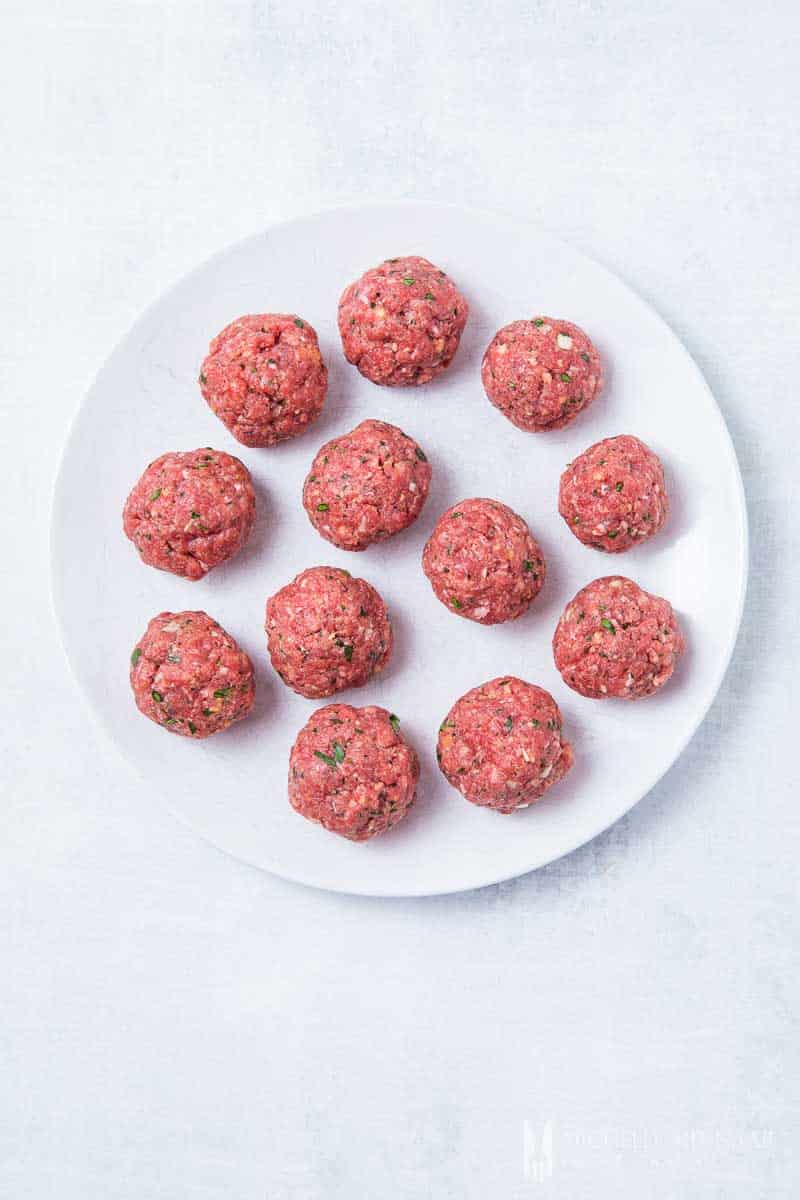 meatballs recipes using an air fryer
Having an air fryer at home can be quite practical. Here are some other meatball recipes you can try out in the air fryer:
Of course, air fryer meatballs are not the only thing you can try cooking in an air fryer. You can also make these:
As you can see, your choices are endless! Let creativity inspire your cooking.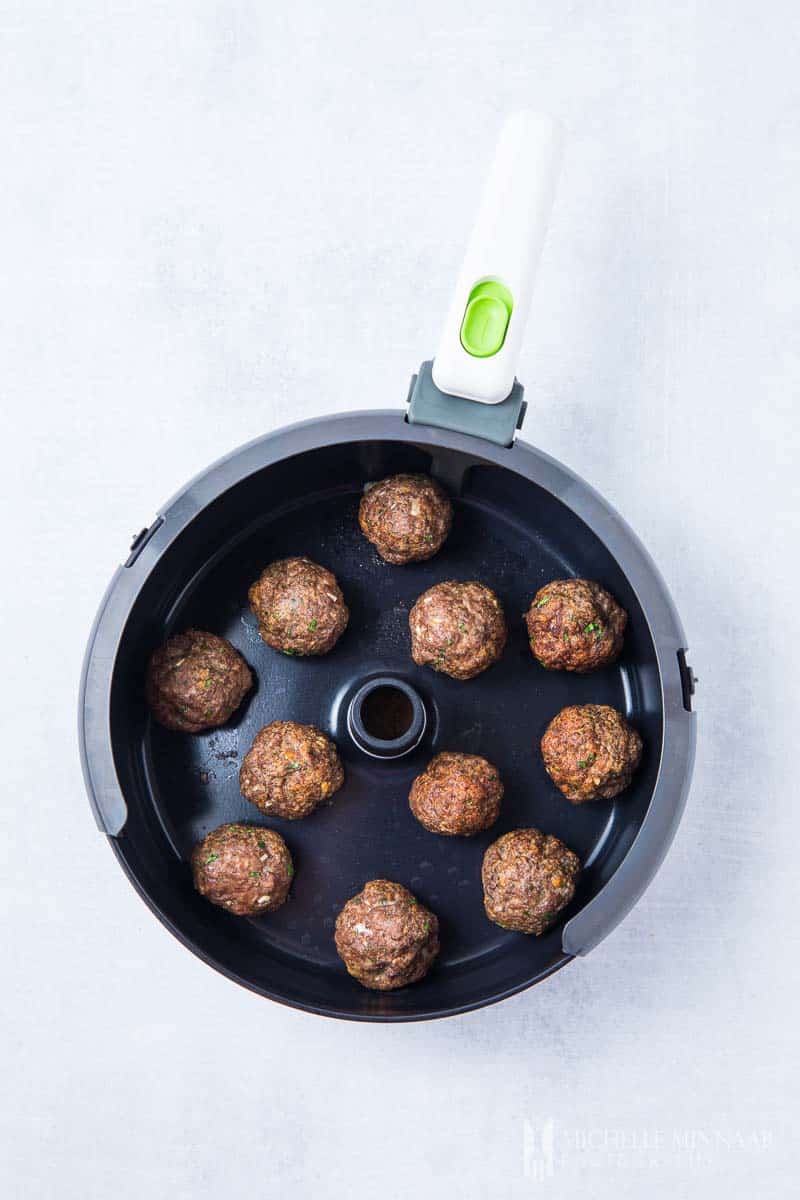 serving
First of all, I wholeheartedly recommend serving the meatballs with a side. Just take a look at the following mashes and choose:
These are just a few examples of my delicious mashes. Check out my page for even more amazing mash recipes, I've got tons.
Next, you should consider making a cream sauce, brown sauce or a gravy. Combined with the mash, it's gonna be a killer combination. For a little sweet and acidic touch to balance out the flavours, add a berry jam. The most suitable types would be lingonberry or cranberry.
Print
Description
Make these delicious & juicy air fryer meatballs using your very own air fryer. This Scandinavian meatballs recipe is worth trying. Pair with a mash and jam.
---
450

g

(1lb) beef mince

1

garlic clove, peeled and crushed

1

egg, whisked

60

g

(2oz) fresh breadcrumbs

30

ml

(2 tbsp) finely chopped fresh parsley

2.5

ml

(1/2 tsp) salt

1.25

ml

(1/4 tsp) freshly ground black pepper

5

ml

(1 tsp) vegetable oil [optional]
---
Instructions
Place all the ingredients, except the oil, in a large mixing bowl and incorporate everything well.
Form 5cm (2in) in diameter meatballs, which will leave you with approximately 12 meatballs, i.e. 3 meatballs per serving.
[Optional] Lightly brush each meatball with a bit of oil. (You don't have to. It just means that the meatballs will be slightly dried out on the outside.)
Place the meatballs in the air fryer. If yours has a rotating arm, remove it because the meatballs should stay put while cooking.
If your air fryer has the functionality, cook the meatballs at 180°C for 8 minutes. My air fryer doesn't have temperature settings and took 13 minutes to cook the meatballs. If in doubt, use a thermometer to read the internal temperature of the meatballs.
Prep Time:

30 minutes

Cook Time:

15 minutes

Category:

Main Course

Cuisine:

Swedish
save the recipe to your pinterest board