This curried pumpkin bean soup is so satisfying and really easy to make... it'll go straight to the top of your weekday favorites list!
Simple, healthy ingredients and big flavors make this recipe a must make! So, read on to find out how to make this delicious soup.
Why You'll Love This Recipe
Fresh pumpkin brings a wonderful depth of flavor
Such a simple recipe that is quick to make
Really easy to adapt to your personal tastes
Perfect for an easy weekday meal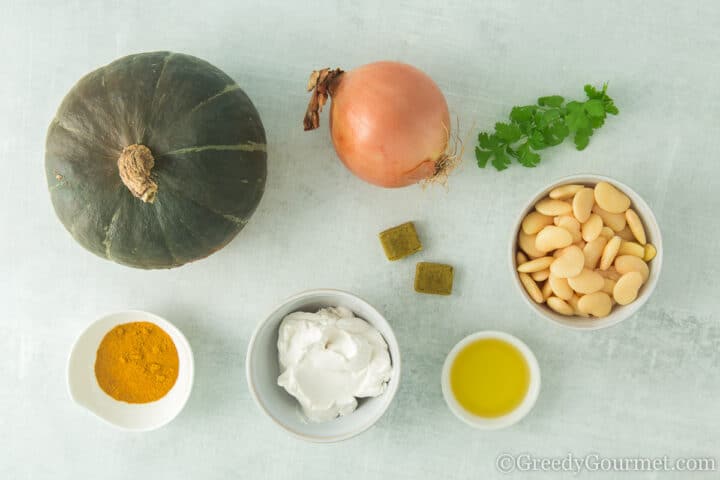 Equipment Needed To Make This Recipe
There are a few essential items you'll need to make this curried pumpkin bean soup recipe:
How To Make Simple Kabocha Squash Soup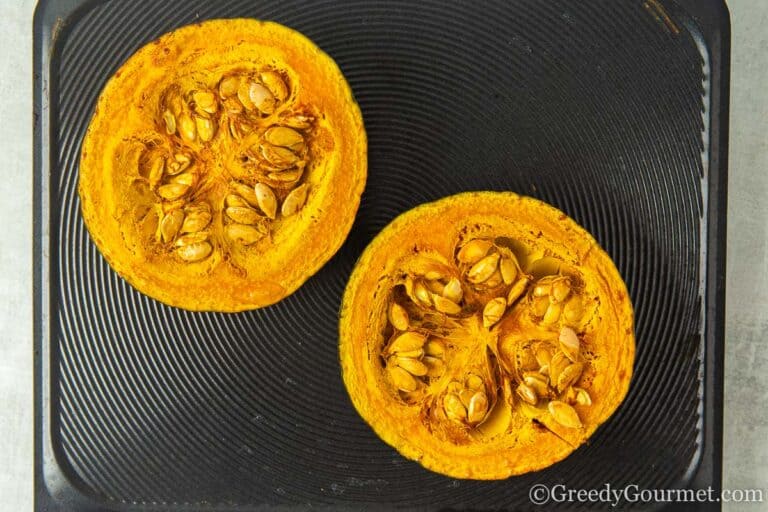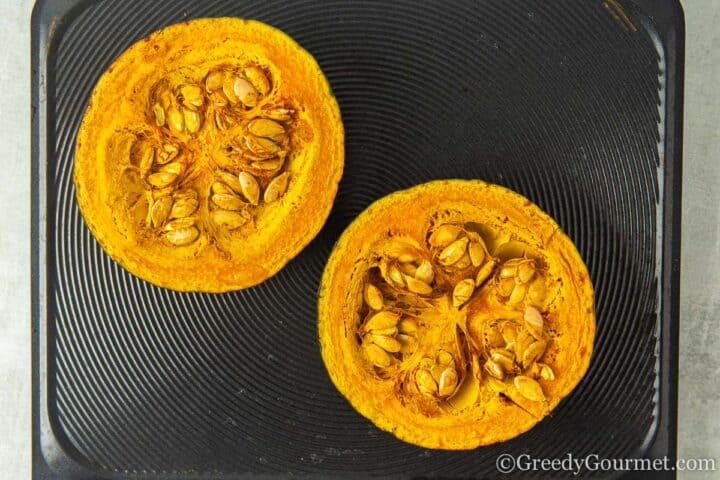 Halve the pumpkin and roast them until tender.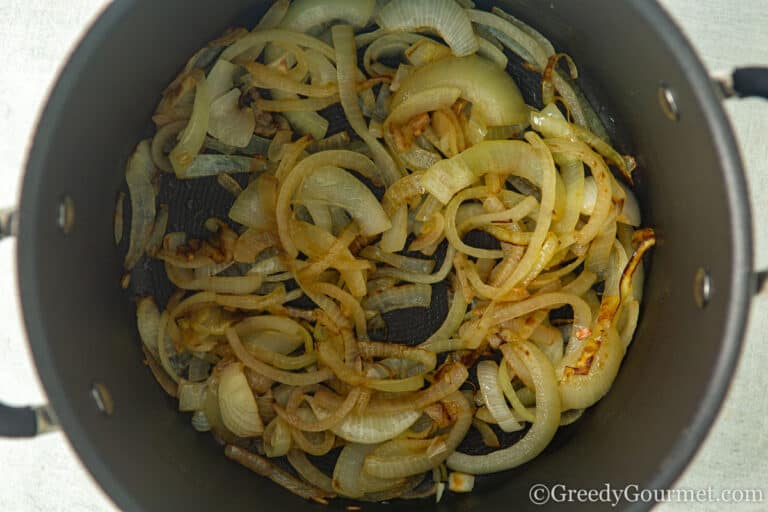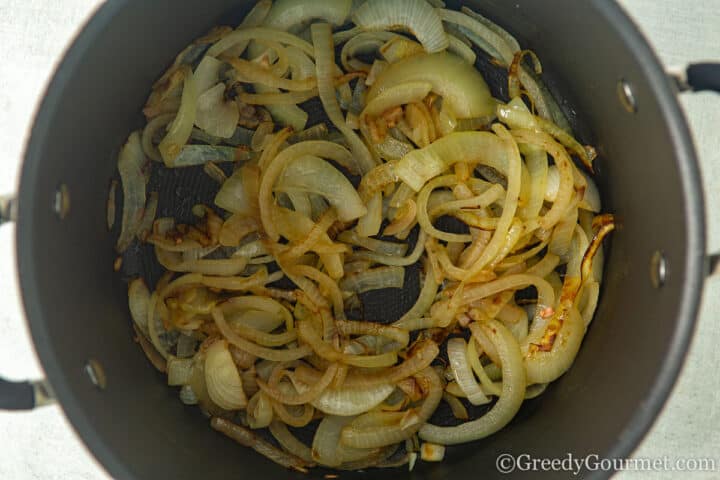 Gently fry the onions until softened.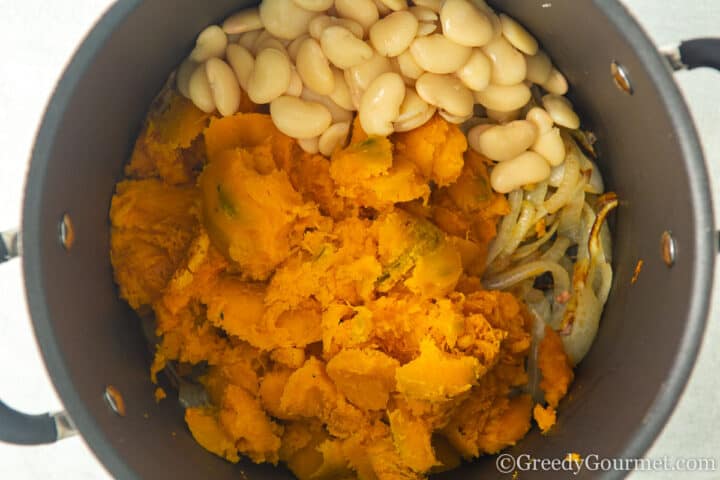 Tip in the cooked pumpkin flesh and butter beans.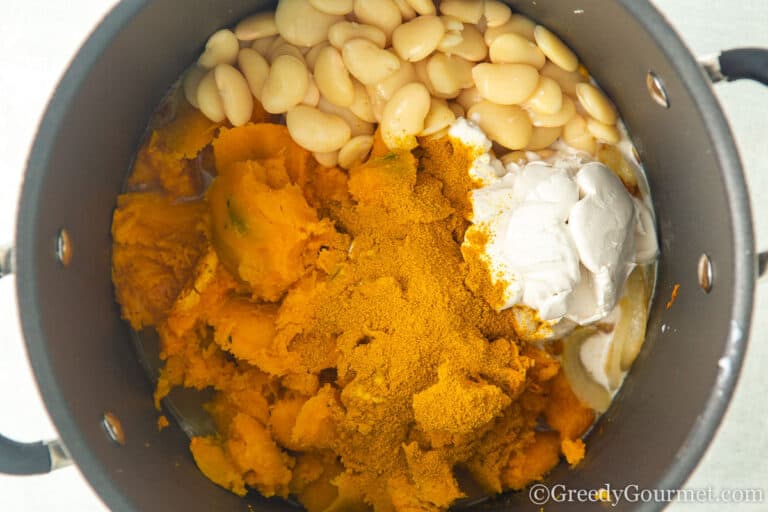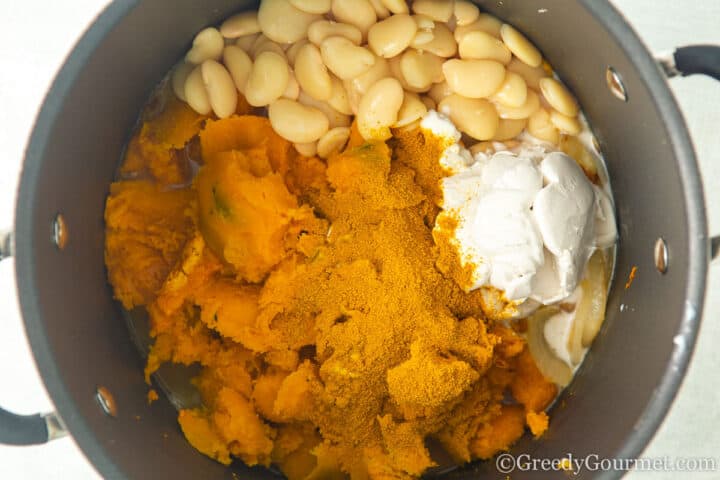 Add the stock, coconut cream and curry powder.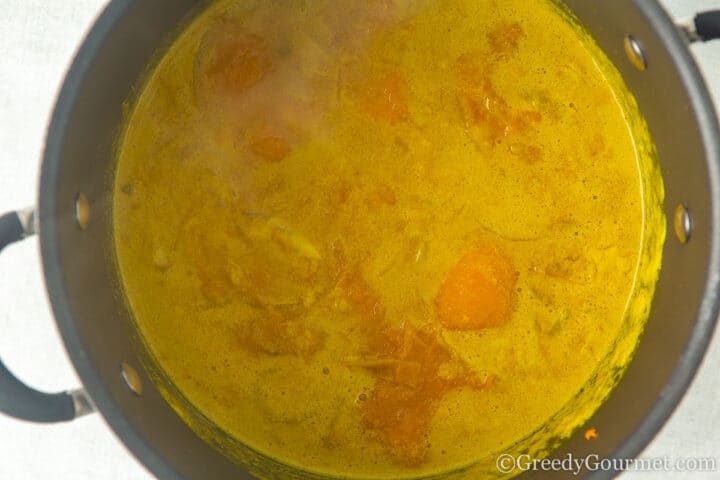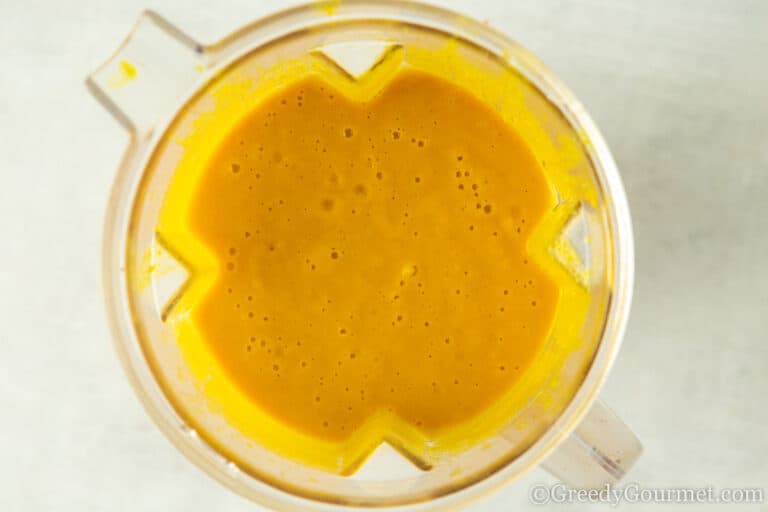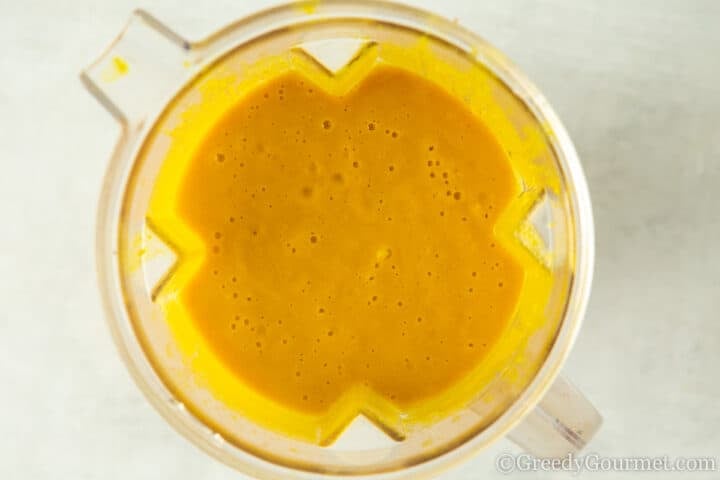 Blend until smooth in food processor. Serve with crusty bread. Enjoy!
Top Tip
Be very careful when halving your squash. Use a non-slip chopping board and a quality sharp chef's knife.
What to Serve with Kabocha Squash Soup
Sides
Wine pairing
Chardonnay is the perfect pairing option for most squash and pumpkin recipes, and it works especially well with this roasted kabocha squash soup.
You could also go for a Pinot Gris or a Riesling, both of which complement the subtle sweetness and light spiciness perfectly.
Variations To This Recipe
Add pieces of cooked meat if you want to bulk out your soup and make it an extra hearty soup.
Add diced tomatoes for a nice tomatoey flavor
This recipe calls for curry powder, which brings a nice arm earthy flavor to the soup. You can add extra spices, such as cumin, turmeric, paprika, cayenne pepper or chilli powder to bring extra spice.
You can also add your favorite herbs to this soup. Parsley is a great garnish for any vegetable soup, but you can also add oregano, rosemary, mint, chives, thyme, marjoram, basil or sage... even wild garlic!
For an extra pumpkin flavor, add a jar of pumpkin puree.
Popular substitutions
Kabocha squashes are delicious, but aren't so widely available. Feel free to use a different variety of pie pumpkin – butternut squash, acorn squash or any other type of squash, whatever you find available. Locally grown is best!
I've gone with vegetable broth in this recipe, but feel free to replace it with chicken broth if you prefer.
If you're not a fan of coconut milk, you can replace it with vegan sour cream.
Top Tip
To pick the perfect kabocha, look for one that is firm with a deep color. Also, try and find one that feels heavy for its size.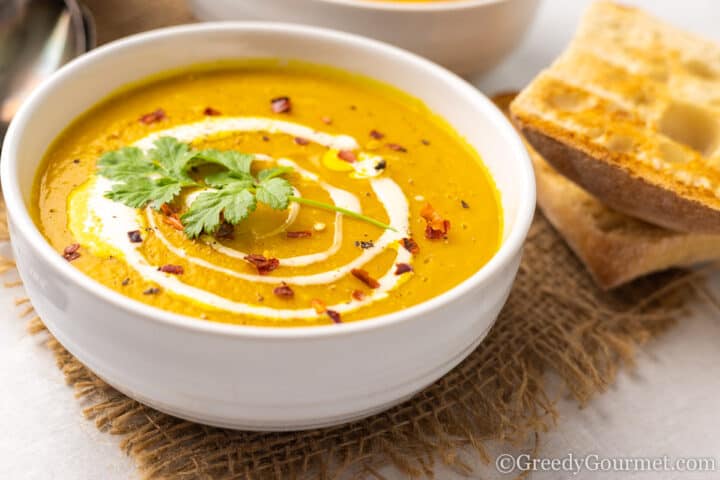 What is kabocha squash?
Kabocha Squash, sometimes referred to as Japanese pumpkin, is a type of winter squash with hard knobbly green skin. Despite its deep green outside appearance, on the inside a kabocha squash has a bright orange coloring.
A kabocha squash is actually quite similar to a butternut squash. However, there are key differences. One of the main differences is the taste. A kabocha is even sweeter than a butternut, with a unique earthiness that's kind of similar to a chestnut or a russet potato.
The first time I tasted the kabocha squash it reminded me of something else. At first, I couldn't quite put my finger on it but, after a while, it hit me that it tasted like a good old gem squash, which is a very common type of squash in South Africa.
In terms of texture, it's somewhere between a pumpkin and a sweet potato.
Kabocha is grown in California, Florida, Colorado and Mexico, as well as Japan and other countries around the world. It grows best in late summer and early fall.
What beans should I use for this soup?
For this recipe, I've gone for cooked butter beans.
You can also use cannellini beans or black beans for a black bean soup
How do I store leftovers?
Storing soup leftovers is easy. First, wait until the soup has completely cooled. Then, transfer it into an airtight container. You can keep kabocha soup fresh in the fridge for up to four days.
Can you freeze curried pumpkin bean soup?
Yes! Most soup freezes really well, and this one is no exception.
To freeze kabocha soup, allow it to cool, then transfer it into a freezable airtight container. You can even freeze your soup in individual servings, either by spooning it into freezer bags or by using smaller containers.
Frozen soup will keep for up to three months.
How do you thaw this dish?
Thaw your frozen soup in the refrigerator for a few hours. I recommend allowing it to defrost overnight.
How do you reheat leftovers?
You can either reheat leftover kabocha soup in a saucepan on the hob or in the microwave.
To reheat soup on the hob, place the pan on a medium heat and gently heat the soup, stirring continuously until piping hot.
To heat leftovers in the microwave, loosely cover and reheat for a total of 3 minutes, pausing to stir the soup every minute.
Can this recipe be scaled?
Yes, it can easily be scaled. You can use two or three squashes to make an extra big batch of soup. Simply double or triple the ingredients below, ensuring all the ratios remain the same.
Can I make curried pumpkin bean soup ahead of time?
Yes! Soup actually takes on more flavor if allowed to sit for a while. This soup can be made beforehand, then reheated on the stove just before serving. Just follow the storage and reheating guidelines above.
Other Sumptuous Soup Recipes You'll Love
During the winter months, few things hit the spot quite like a soothing soup. Check out these other delicious recipes and find a new favorite!
Don't forget to come back and let me know how your recipe turned out!
Print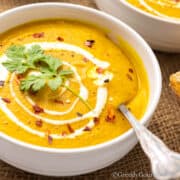 Pumpkin Bean Soup Recipe
---
Author:

Michelle Minnaar

Total Time:

1 hour 15 minutes

Yield:

6

portions

1

x

Diet:

Vegan
Description
This Pumpkin Bean Soup is super easy to prepare. Best served with a dash of cream and some fresh buttered bread.
---
1.5

kg

(3lbs) kabocha squash or similar pumpkin

30

ml

(2 tbsp) olive oil

1

medium onion, peeled and roughly chopped

240

g

(1 14oz can) cooked butter beans, drained

12

g

(2 tbsp) curry powder

400

ml

(1 14oz can) coconut milk

750

ml

(3 cups) vegetable stock
---
Instructions
Preheat the oven to 180°C/fan 160°C/355°F/gas mark 4. Halve the pumpkin crosswise and scoop out seeds and strings. Place pumpkin halves in a large baking dish. Bake, uncovered, for 30-45 minutes, or until fork tender. When it is cool enough to touch, discard the seeds. Scoop out the flesh and set it aside.
Meanwhile, heat the oil in a large pot. When the mixture starts sizzling, add the onion and fry gently until softened and translucent, which should take about 8 minutes.
Tip in the pumpkin, butter beans, coconut milk and vegetable stock. 
Turn up the heat and let the contents start boiling. Lower the heat until a simmering point is reached and cook for 10 minutes, or until the onions are completely cooked. 
Transfer the contents in batches to a food processor and blend until desired consistency. I prefer my soup to be silky smooth. 
Garnish to your heart's content and serve immediately. Enjoy!
Notes
For a complete meal you can serve brown bread with lashes of butter on the side.
A dash of cream goes nicely with the soup.
Different ovens cook different things at different rates. My old oven used to take about 90 minutes to bake a halved pumpkin. My new one takes 30 minutes. If you would rather want to play it safe, bake the pumpkin first, then only start cooking the beans.
Feel free to use a different variety of pumpkin; whatever you find available. Locally grown is best!
This soup freezes well. 
Prep Time:

15 minutes

Cook Time:

1 hour

Category:

Soup

Method:

Boil

Cuisine:

American
Keywords: pumpkin bean soup, curried pumpkin soup, tuscan white bean pumpkin soup, pumpkin soup recipe, pumpkin soup with coconut milk, vegan pumpkin bean soup, pumpkin white bean soup, roasted pumpkin curry soup, vegan curried pumpkin soup