Few foods bring me as much unbridled joy as soup, especially when I know everyone who tries it is going to love it. I love broccoli, and I love peas, so there's nothing more pleasant to me than broccoli and pea soup.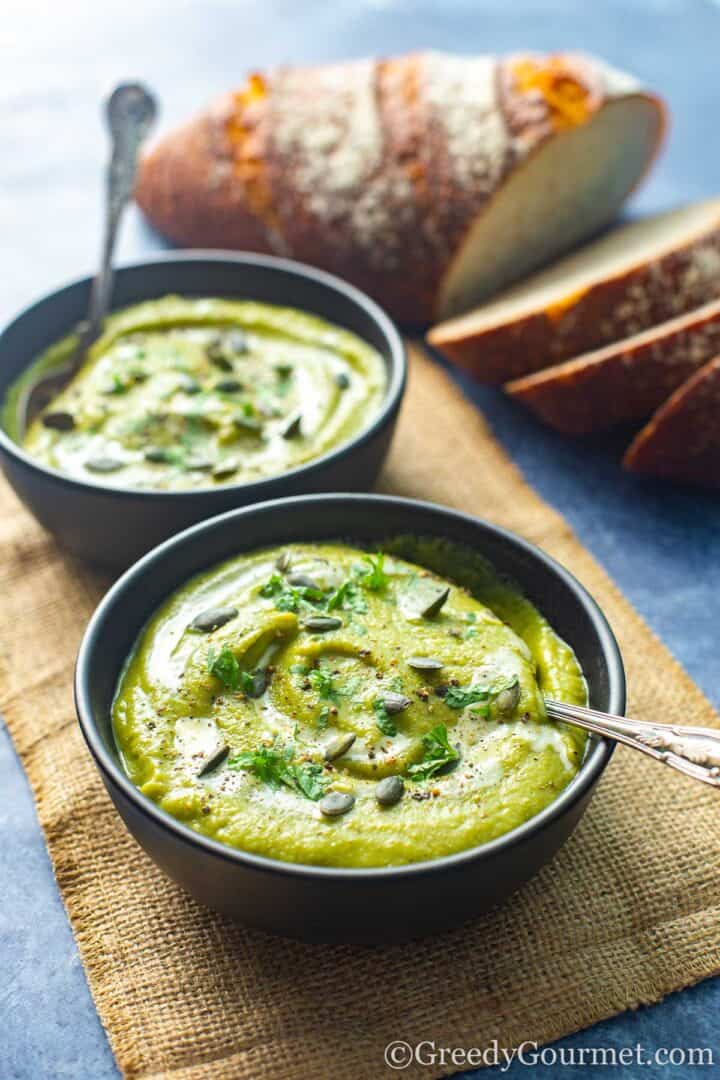 This recipe is especially tasty thanks to all its delicious vegetables and soft, creamy texture. I promise you're going to love it!
Why You'll Love This Recipe
You'll love this delicious recipe because it's light and fresh, while still having a creamy texture and a hearty feel. It's perfect to pair with a variety of other foods, too.
Important Ingredients
Here are the most important ingredients in the soup, as well as potential substitutes:
Peas – Peas are one of the stars of the show, and without them the soup won't be quite as tasty or creamy.
Broccoli – Broccoli is the other star here, and you need quite a bit. The recipe calls for three heads of broccoli, but you can use the equivalent amount in broccoli florets if that is how you purchase it. Broccoli is going to add the most amazing texture to the soup, so you don't want to skip it.
Leek – Leeks add lots of flavour to this soup. If you don't have any, you can use shallots or onion finely chopped onions instead. You could even substitute it with garlic cloves if you want the zippy taste without the texture.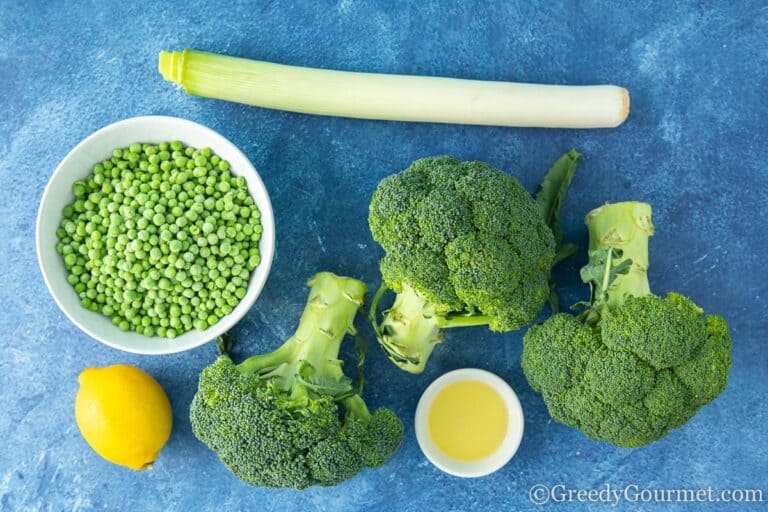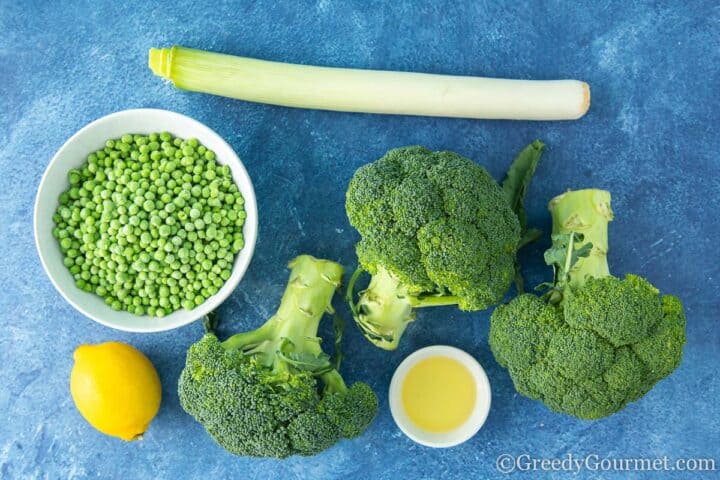 Equipment Needed
Here's what you'll need to make this pea and broccoli soup recipe:
Recipe Tips
Do not dump all the ingredients in at once. The recipe is ordered as such intentionally. Broccoli and peas have different cook times, and not just for their texture, but their flavour, too. Even though everything is going into the blender, you do not want the peas to cook for as long as the broccoli, as it will affect their delicious flavour.
Do not put the soup in the blender immediately. The soup will thicken as it cools. If you wait for it to cool, you'll get a more accurate estimation of its thickness before blending.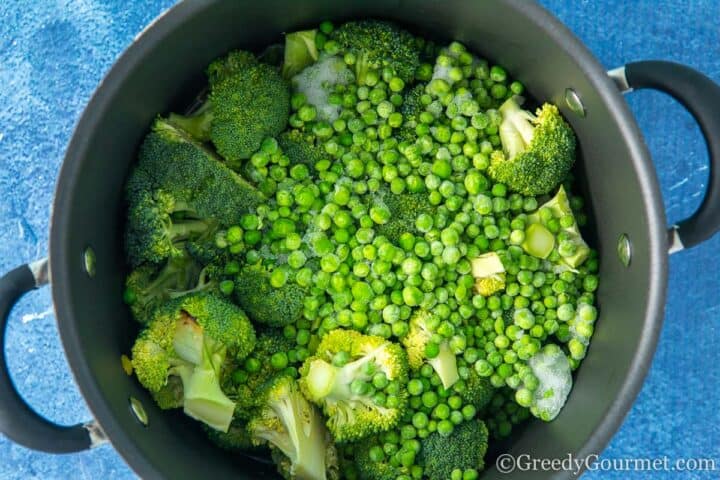 Are There Other Soups Like It?
There are lots of broccoli and pea soup recipes, and similar recipes, too. If you don't like how it's made, feel free to omit any of the ingredients you don't care for. And feel free to add things you think would make it suit your preference better.
Can You Use an Immersion Blender Instead?
You can absolutely use a stick blender instead of a regular blender. To do so, keep all of the ingredients in the saucepan and blend until smooth.
Can You Add Any Extra Vegetables?
You can absolutely add extra veggies. The addition will make it more nutrient-dense and add some flavour. I suggest adding onion, or even potatoes. Make sure that anything you add is finely chopped, and that your onion softens before continuing with the recipe. Cook it down with the leeks and olive oil at the beginning of the recipe. Stir occasionally to prevent scorching.
Can You Use Lemon Zest?
This recipe calls for lemon juice, but if you do not want all the acidity, you can use lemon zest instead. You can also add it along with the juice if you want a fresh, more lemony taste to your soup.
Can You Use Frozen Peas?
You can absolutely use frozen peas in this recipe. You can use canned or fresh, as well. I suggest using fresh or frozen peas, as canned can have an unpleasant flavour sometimes.
Can You Use Frozen Broccoli?
You can use frozen broccoli for this recipe, just make sure you use a package with small florets. If you use fresh broccoli, make sure you chop the broccoli florets finely as this will make them easier to blend later.
Can You Use Additional Seasonings?
Feel free to season this to fit your taste, but do keep in mind that it is very flavorful on its own. However if you are looking for some extra flavour, I suggest adding crushed garlic, fresh basil, and freshly ground black pepper to taste.
How Can You Make it Thinner?
If you want thinner soup, add more liquids. You can add vegetable stock, chicken stock, lemon juice, or even water to your soup to thin it out a little bit. If you do thin it out, try it as you go along to make sure it still tastes balanced. 
The additional liquids could affect the flavour a bit.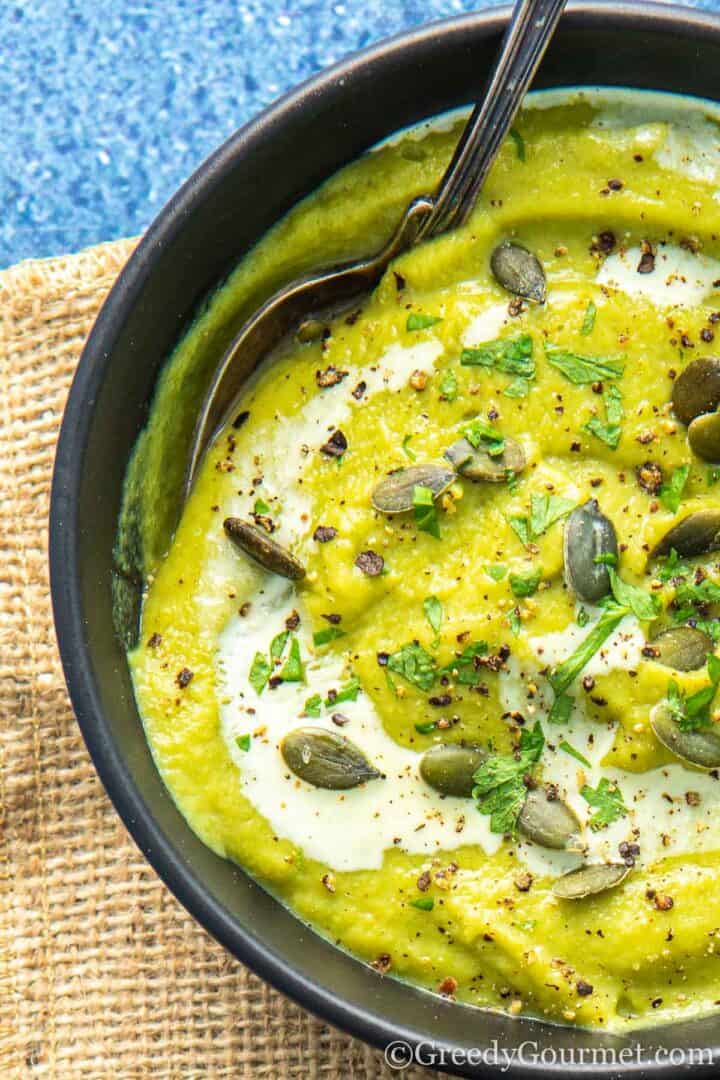 How Can You Make it Thicker?
To make your soup thicker, you can do a couple things. You can add broccoli and peas, or you can not blend it quite as long. You can also add some cream to your soup.
Another easy way to thicken your soup is by making a slurry. Use either cornstarch or flour and water and add to your soup.
How Do You Reheat Broccoli Soup?
You can easily reheat broccoli soup. If you stored it in the pan you cooked it in, just put the pot over medium heat and stir occasionally to prevent scorching.
If you notice that it's thickened while in the fridge, and you do not want thinner soup, add some stock and bring to a boil to thin it out a bit.
How Many People Will This Serve?
This vegan recipe should serve about 8 to 10 people.
Is This Recipe Gluten Free?
Yes, this recipe is gluten free! If you adhere to a gluten-free diet feel free to make it without any ingredient substitutions.
How Can You Make Pea Soup Fit a Vegan Diet?
This recipe is already vegan as it does not have any animal products. If you want it to use animal products, you can use chicken stock or even add some red meat, like ground beef.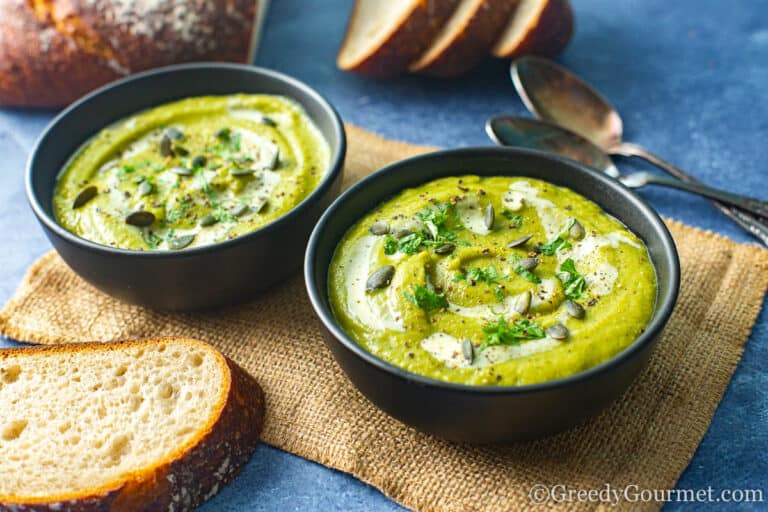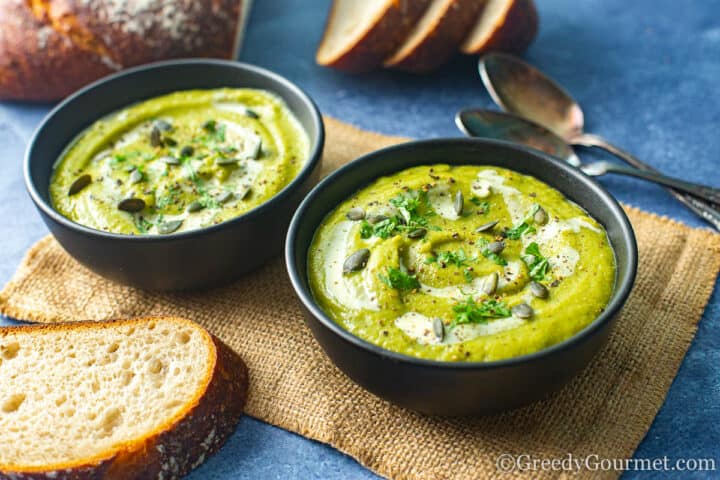 Storage Tips
Pea soup can be easily stored. You can keep it in the pot you cooked it in, or you can transfer it to a smaller bowl. It should keep in the fridge for up to five days.
If you'd like to freeze it, make sure you put it in a freezer safe container, label and date it, and eat it within three months.
Serving Suggestions
This soup is delicious on its own, but if you want some additional flavors, top it with sea salt flakes, add some garlic, or chop some fresh basil to put on top. And of course you can never go wrong with the addition of freshly ground black pepper.
You can serve the soup with the following dishes:
Print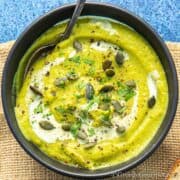 Broccoli, Pea & Leek Soup
---
Author:

Michelle Minnaar

Total Time:

30 minutes

Yield:

4

Servings

1

x

Diet:

Vegan
Description
Broccoli and Pea Soup is a healthy vegan soup that is quick and easy to prepare. Serve with you favourite crusty bread.
---
30

ml (2 tbsp) olive oil

1

leek (weighing about

145g

), chopped

750

ml (3 cups) vegetable stock

3

heads of broccoli, chopped

300g

(

2½ cups

) peas

1

lemon, juiced [optional]
salt and ground black pepper, taste
---
Instructions
Heat the oil in a large saucepan.  Add the leek and sauté for 3 minutes.
Add the stock and broccoli. Cover, bring to the boil and simmer for 7 minutes.
Add peas, cover, return to the boil and simmer for a further 5 minutes, stirring occasionally.
Set aside to cool slightly, then purée in a blender or food processor, with the lemon juice, until smooth.
Season with salt and pepper and return to the saucepan and reheat gently until piping hot.
Ladle into soup bowls and serve with your favourite bread. Enjoy!
Notes
You can add the stalks of the broccoli to the soup as well. No waste!
Fresh or frozen peas can be used in this recipe.
This soup is freezer-friendly. 
Add a splash of vegan cream if you like. If you're not vegan, use double cream instead.
Prep Time:

15 minutes

Cook Time:

15 minutes

Category:

Soup

Method:

Boil

Cuisine:

British
Keywords: broccoli and pea soup, vegan broccoli soup, vegan pea soup recipe, vegan green vegetable soup, pea and leek soup, broccoli and leek soup