If you love butter beans, I've got the recipe for you. There's nothing more comforting than a soup, especially when it's made with delicious cooked butter beans.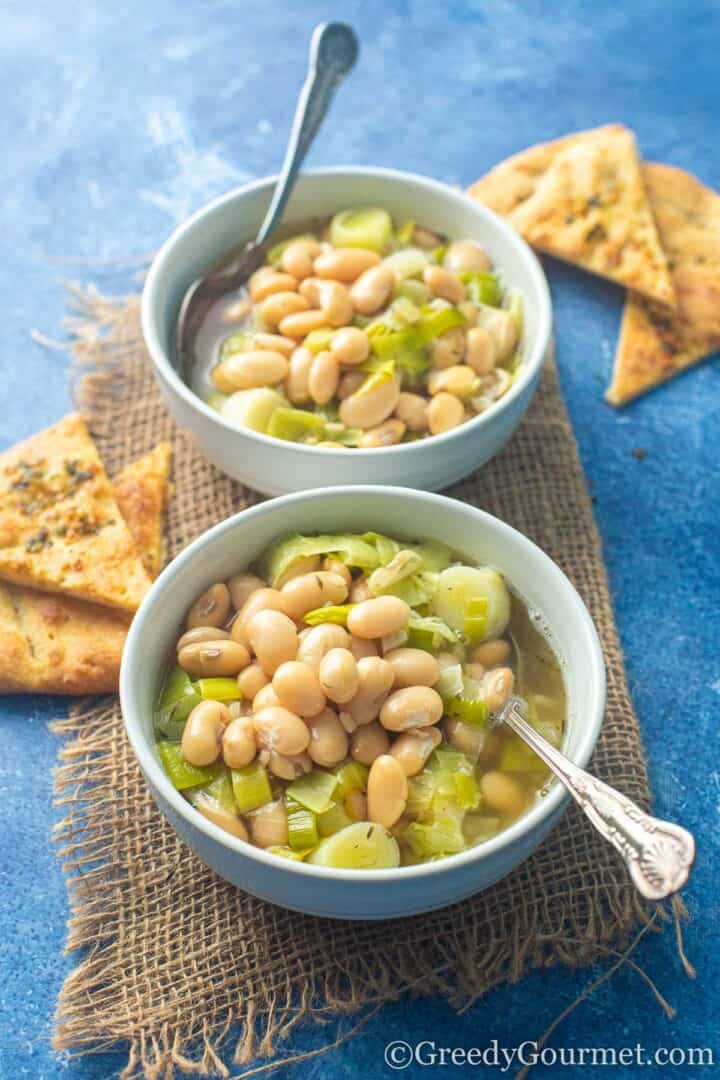 You'll love everything about the soup. The texture, the taste, the smell. If I haven't convinced you already, keep reading, and after a few sentences you'll be headed to the grocery store to buy the ingredients. I guarantee it!
Equipment Needed for Butter Bean Soup
Here's what you'll need to make butter bean soup:
Saucepan – I told you, this recipe is easy. So easy you only need one special piece of equipment, maybe two. First, you'll need a large saucepan. This recipe makes for a lot of butter bean soup, so you'll want to make sure it's large. If you don't have a saucepan, feel free to use a large pot.
Blender – Using a blender is optional. You only need it if you want to make this into a creamy butter bean soup. If not, feel free to skip it. If you do want creamy butter bean soup, and you don't have a standard blender. You can use a stick blender instead. You may even want to use that rather than a standard blender, as a hand blender can give you a little bit more control over the consistency.
Other helpful items to have:
Chef's knife – This recipe involves cutting leeks, and it'll be easier to cut them if you have a good knife. A chef's knife makes cutting a simple task, and can be used for other things in this recipe, such as crushing cloves. Other knives will work, but this type will work best.
Garlic press – This butter bean soup recipe also calls for crushed garlic. You can use a chef's knife to crush it, or you can use a press. Keep in mind if you use a press, your clove will technically be minced and therefore take on a slightly stronger flavour, but you may want that if you love the flavour of garlic.
Why You'll Love this Butter Bean Soup Recipe
Like I said, everything about this soup is nearly perfect. But I promise what you'll love even more than the flavour is that it's so easy to make!
I know that people say that about every soup, but I'm serious about this one. Making this healthy vegan soup is about as easy as it gets.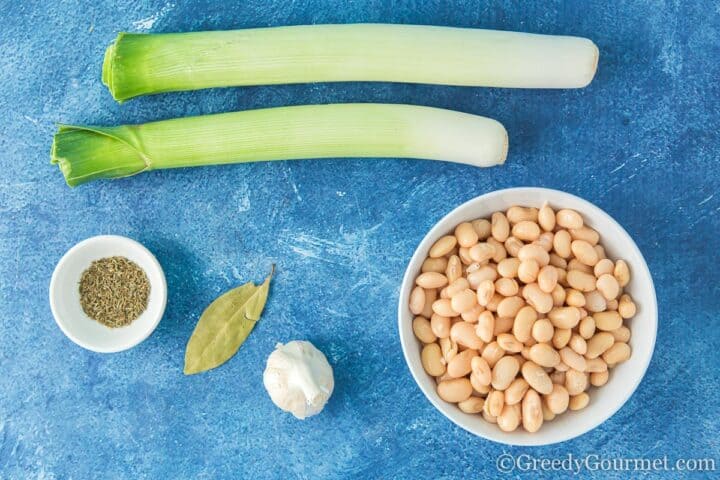 What is a Butter Bean?
A butter bean is a creamy bean that originated in Peru. It's used in cuisine from all around the world, and is commonly referred to as lima beans. You'll also hear them referred to as butter peas, Madagascar beans, and Chad beans.
You might also hear people call this soup lima bean soup. 
Best Time to Eat Butter Beans 
Thanks to modern advances, we can eat butter beans, or lima beans, whenever we like. They come canned and dried so we can use them in our recipes at any time of the year. However, they are at their peak in fall. 
This is when you will have that fork tender bite that you know and love in butter bean soup. Plus in the fall, you can use it in your favourite recipes. 
Whether you're using the latest recipes, or new recipes to you, you can't go wrong when using butter beans.
Canned or Fresh?
Canned or fresh vegetables is an age old debate, and it is just as relevant when debating butter beans. Thankfully, for us, when making butter bean soup, it really doesn't matter. 
If you have fresh butter beans that you want to use, great! They'll taste wonderful. If you have canned butter beans in your pantry that you've been trying to incorporate into a recipe for months now, use them. 
This butter bean soup is going to cook down, so it really doesn't matter whether you use dried beans that were stored in the pantry or the freezer for a couple months, or if you pop them out of their pod in the morning.
Creamy Butter Beans
If you want to add some dimension to the soup, try using creamy butter beans. This adds flavour and is easy to make right alongside your butter bean soup.
Calories in this Soup
Lucky for us, there aren't many calories in butter bean soup. It's healthy for a variety of reasons, including its relatively low calorie count!
If you're in the mood for this tasty soup, you'll only be consuming about 150 calories per bowl.
Other Ingredients Needed
To make butter bean soup so delicious, you'll need a few key ingredients:
Olive oil – You'll need olive oil to cook down the leeks before adding the garlic, butter beans, and other ingredients.
Leeks – Leeks are the perfect addition to this butter bean soup recipe. They are sweet and have the flavour of an onion without actually using an onion.
Vegetable stock – Use vegetable stock instead of another liquid like water for greater flavour.
Notes on Butter Beans
When making butter bean soup, make sure you are tending to your butter beans correctly. If you are using canned butter beans, make sure you drain the liquid and use drained butter beans instead. 
If you are using dried butter beans, make sure you cook them first. If you put dried butter beans in without them being cooked, it will affect the cook time and recipe steps.
Olive Oil Substitutes 
No olive oil? No problem. Though you do need an oil to cook the leeks and the garlic, it doesn't have to be olive oil necessarily. Avocado oil, sunflower seed oil, and even vegetable oil will suffice. 
Make sure that whatever oil you use, you are careful to look at the smoke point. You want to use an oil with a similar smoke point as whatever olive oil you are used to cooking with.
Leek Substitutes
If you don't have leeks, you can absolutely substitute something else. Shallots and any type of onion will both work as a substitute, as well chives, and even celery if you are really in a pinch.
Garlic Substitutes
If you don't have cloves, you can use chives, shallots, or whatever type you do have. Whether you have powder or minced you bought at the store, they will all work fine. You could even use salt if you are really in a bind.
Vegetable Stock Substitutes
One of the reasons I love this butter bean soup recipe is because it is vegan and gluten free. However if you are not vegan, and you don't have vegetable stock, you can substitute for chicken stock. 
The good news is that when you substitute chicken, the recipe still remains gluten free.
Can You Add Anything to It?
You can absolutely add to this gluten-free butter bean soup recipe. It is already swimming in beans, but you can add any veggies you'd like. Feel free to add carrots, potatoes, or even tomatoes to it. 
If you don't have fresh tomatoes, adding a tomato puree or diced tomatoes will be great, as well. This is already a hearty soup, but adding veggies to it will make it even healthier. And adding those veggies will add nutrients while keeping it vegan.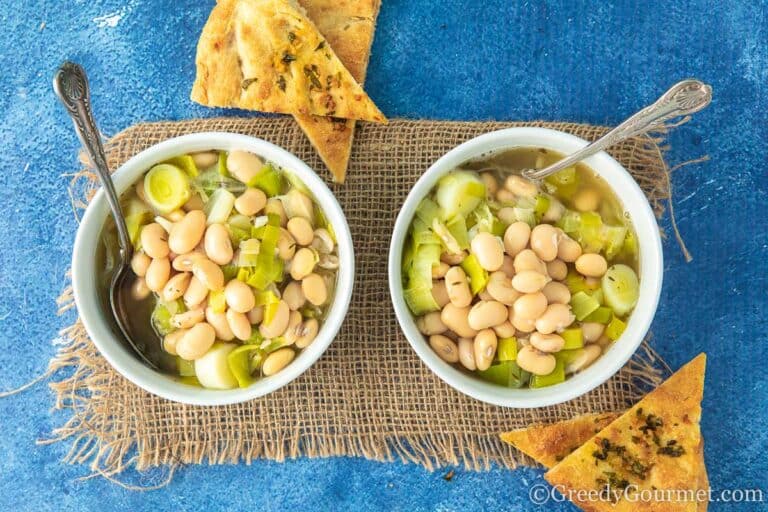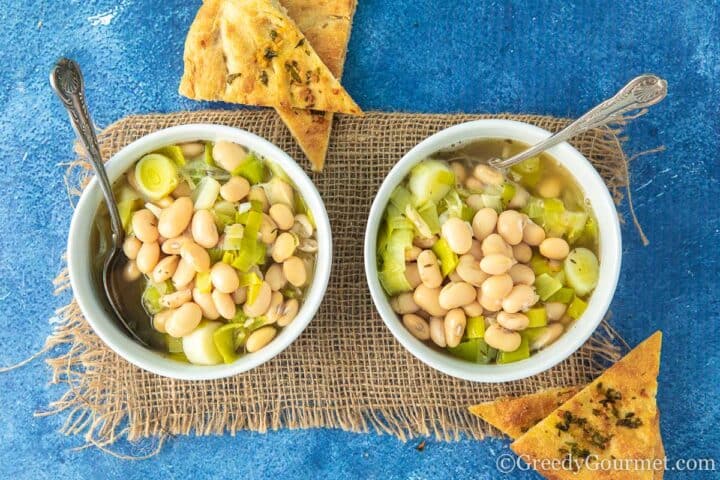 Recipe Tips
Don't skip the simmer. Keeping your butter bean soup on simmer will help you achieve that desired texture, so don't skip it just to shave off a couple minutes on your cooking time.
Seasoning notes. If you want a stronger garlic flavour, either add more at the end, or just wait until the end to add it entirely. The longer the garlic cooks, the less intense its flavour becomes. If you really want to taste it, don't let it cook as long.
Serving Tips
Butter bean soup tastes so delicious on its own, but feel free to spice it up a bit with a few additions. It is seasoned with dried thyme and bay leaves, but if you want you can season with salt and freshly ground black pepper.
You can also add diced tomatoes to the top for a fresh take.
Be sure to pour into individual bowls, and offer crackers or a plate of crudites on the side. It'll taste wonderful with a carrot or celery stick dipped in.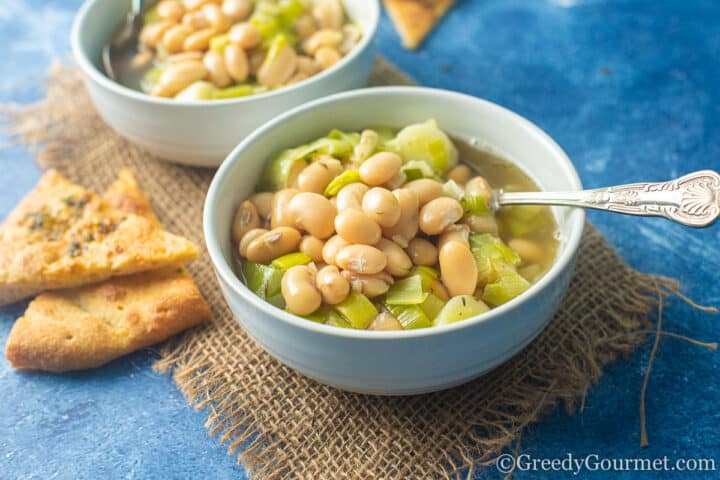 What to Eat With Butter Bean Soup
Butter bean soup is hearty and filling on its own, but it does not have a lot of protein, making it important that you serve it with something else to get all the nutrients you need out of a meal.
Here are some of my favourite things to serve alongside butter bean soup:
Storage Tips
Butter bean soup is easy to store. You can keep it in the fridge for a few days, or you can freeze it.
If you store it in the fridge, feel free to just keep it in the pot you cooked it in. But if you want to freeze it, be sure to put it in a freezer safe, airtight container. Butter bean soup will last up to three months in the freezer.
To reheat, put the soup in a pot over medium heat until it simmers, stirring occasionally.
Print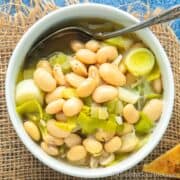 Butter Bean Soup Recipe
---
Author:

Michelle Minnaar

Total Time:

30 minutes

Yield:

6

servings

1

x

Diet:

Vegan
Description
If you love butter beans this is the soup for you, from texture to taste to smell, this Butter Bean Soup is delicious. It's healthy and vegan too!
---
30

ml (2 tbsp) olive oil

450g

(1lb) leeks, cut into 1cm (

½

in) rounds

3

garlic cloves, crushed

500g

(4 x

400g

[

14oz

] tins) cooked butter beans, drained

1

L (4 cups) vegetable stock

1g

(

1 tsp

) dried thyme

1

bay leaf
---
Instructions
Heat the oil in a large saucepan and gently fry the leeks for 5 minutes or until softened.
Add the garlic and fry for another 2 minutes.
Add the butter beans, stock, thyme and bay leaf to the saucepan and bring the contents to a boil.
Lower the heat to a slow and steady simmer and cook for 10 minutes.
Divide the soup between bowls and serve with your favourite crusty bread.
[Optional] If you're dealing with fussy kids or simply prefer smooth soups, transfer the contents to a high powered blender and process until desired consistency is achieved. Add more stock or water, if necessary.
Notes
You can easily add more greens to this recipe, such as spinach, broccoli or kale. Add it just before cooking the soup for 10 minutes.
Prep Time:

10 minutes

Cook Time:

20 minutes

Category:

Main

Method:

Boil

Cuisine:

English
Keywords: butter bean soup, butter bean recipe, vegan soup recipe, vegan butter bean dish, butter beans and leeks, tinned butter bean recipe