There is no better way to celebrate the arrival of spring than making a gorgeous butter bean salad with avocado, pesto and pumpkin seeds. I know that the weather hasn't quite caught up with the spring season.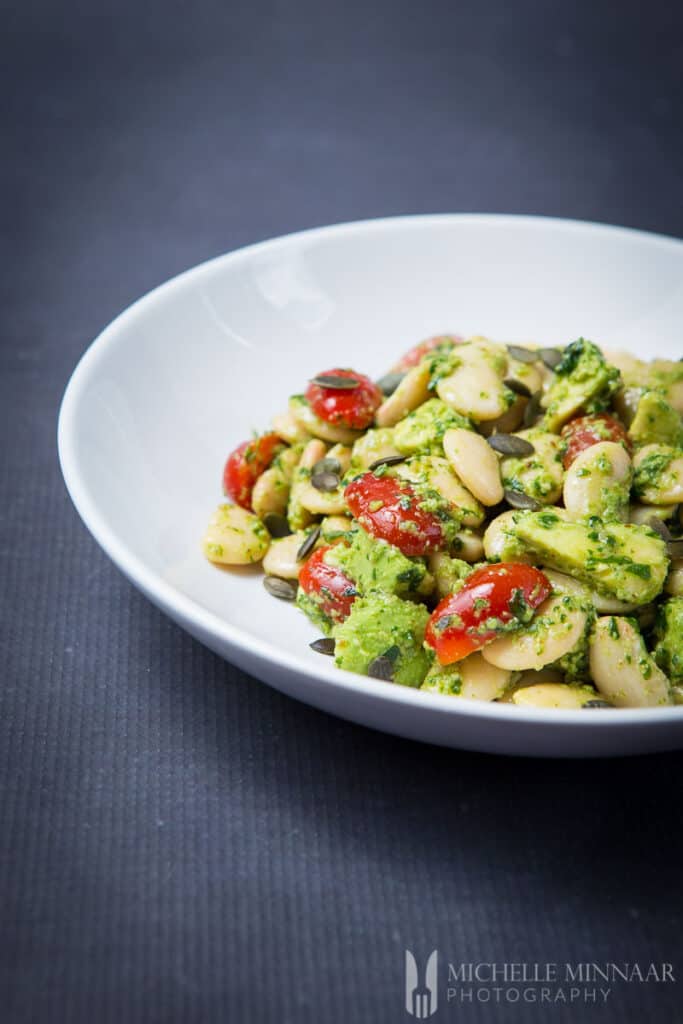 If the weather is not there, why not enjoy spring in spirit? The butter bean salad with avocado, pesto and pumpkin seeds will create a wonderful harmony in your mouth, that will leave you craving for more.
It's extremely easy to prepare as you only mix all the ingredients together. What I love about this recipe, is that you can make it even healthier by either mixing your own pesto or throwing in other types of sauces.
If you are saving up and on a shoestring budget, then check out this lovely butter bean salad recipe. It's vegan, cheap and super healthy.
If pushed, avocado can be omitted and cucumber used instead although you'll be missing out on the essential fatty acids which is so good for you!
Butter beans
No, there isn't any butter in butter beans. I just had to state the obvious. Outside UK butter beans are also referred to as lima beans.
You can eat butterbeans in their fresh state or in their dried, but soaked and cooked, state. Fresh butter beans are green!
Mature butter beans are dried and white. The latter is the most commonly used. I encourage you to try the fresh butter beans but they are very hard to come by.
If you are cooking the dried butterbeans, be careful not to overcook them. Otherwise this recipe would turn into a rather mushy salad.
who ate them first?
As you may have guessed, this butter bean salad with avocado, pesto and pumpkin seeds recipe heroes the butter beans! Did you know that butter beans actually come from South America?
They have been around since 2000 B.C. and have been a part of the diet of the ancient people living in the Andes. The traditional techniques that the ancient people used to prepare butterbeans are roasting, boiling and drying.
Would you believe that they even used to paint dried beans and create pendants out of them? Fascinating!
Over time, the beans became popular in the North. Soon people started eating butter beans all the way up in Mexico and North America. Once the beans arrived in North America, people started to export them to Europe.
substitutes
If you are not so keen on using butterbeans in your salad, try using chickpeas as a substitute. Furthermore, you roast them in the oven to give them until crispy.
Roasted chickpeas are an excellent substitute to consider for the butterbean salad with avocado, pesto and pumpkin seeds.
Needless to say that you can consider all the other types of pulses, for example lentils. Even green beans would work!
Avocado
I think avocado is a lovely addition to this butter bean salad. Its creamy and nutty flavour will complement the sweetness given by the butter beans.
Trust me, you'll get addicted to this tasty combination, and will soon wish that you'd made a larger batch! The avocado has a large amount of those "good fats".
The fatty acids are very healthy, and will supply you with energy all day! If you don't want to include the pesto, you can create an avocado sauce.
Take a fork and mush up the avocado. Season the avocado mixture and stir in with other ingredients very gently!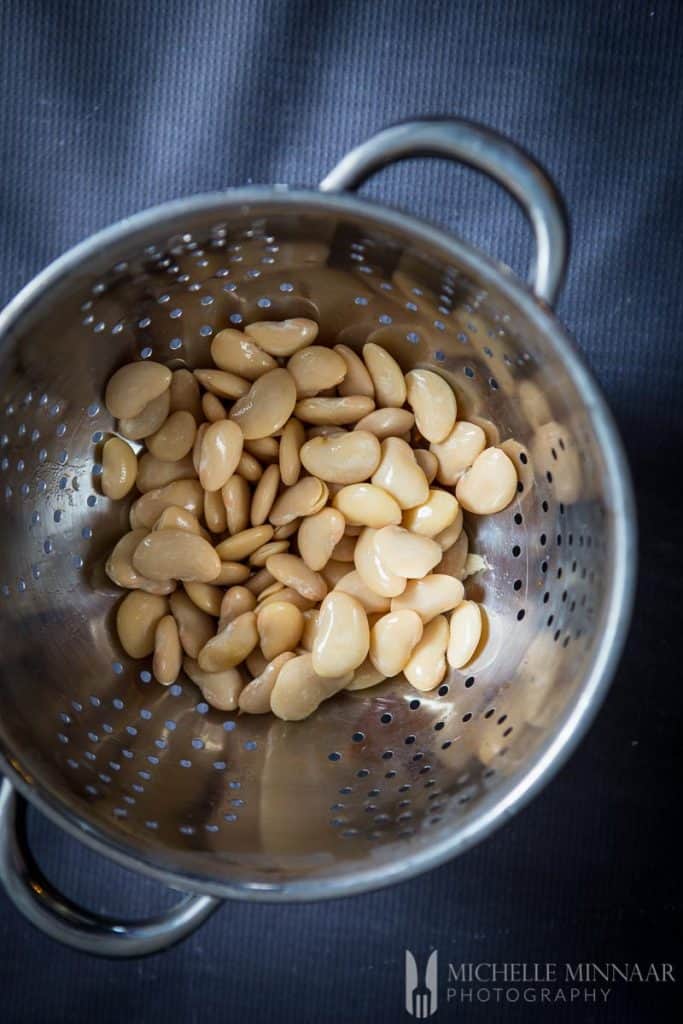 Pesto
Obviously, you can use the traditional pesto alla Genovese. Very easy to make and delicious. However, this is not the only pesto you can use.
There are various types of pesto you can use for the butterbean salad. This is what ultimately gives this recipe a twist. It's versatile and easy to make.
Have you ever made your own pesto before? I've made a delicious avocado pesto. If avocado is not your thing, why don't you try making the watercress pesto? The watercress will freshen up your butterbean salad.
Substitutes for pesto
Firstly, I love pesto. In fact, any type of pesto, but there are some other options you can consider. I love hummus as well.
I've made a roasted carrot hummus recently, and I think it would be a nice substitute. It would make the butterbean salad with avocado, pesto and pumpkin seeds recipe a little but sweeter. Besides, who doesn't love hummus?
Lastly, if you want to keep things simple, then I would recommend using a traditional vinaigrette. Take some mustard, balsamic vinegar, extra virgin olive oil, seasoning and whisk until smooth.
This French style vinaigrette is a must in France and is practically present in almost every side salad.
Nuts and everything that crunches
I suggested using pumpkin seeds. They are very aromatic and oily. If you don't fancy pumpkin seeds, you can also consider the following:
Walnuts
Pine nuts
Hazelnuts
Almonds
It's totally up to you and also depends on what you have in your cabinets. On the other hand, if you love pumpkins seeds, try experimenting with pumpkin seed oil instead of using the pesto.
It has a very specific flavour, but it's becoming increasingly popular. Try it out and leaves a comment.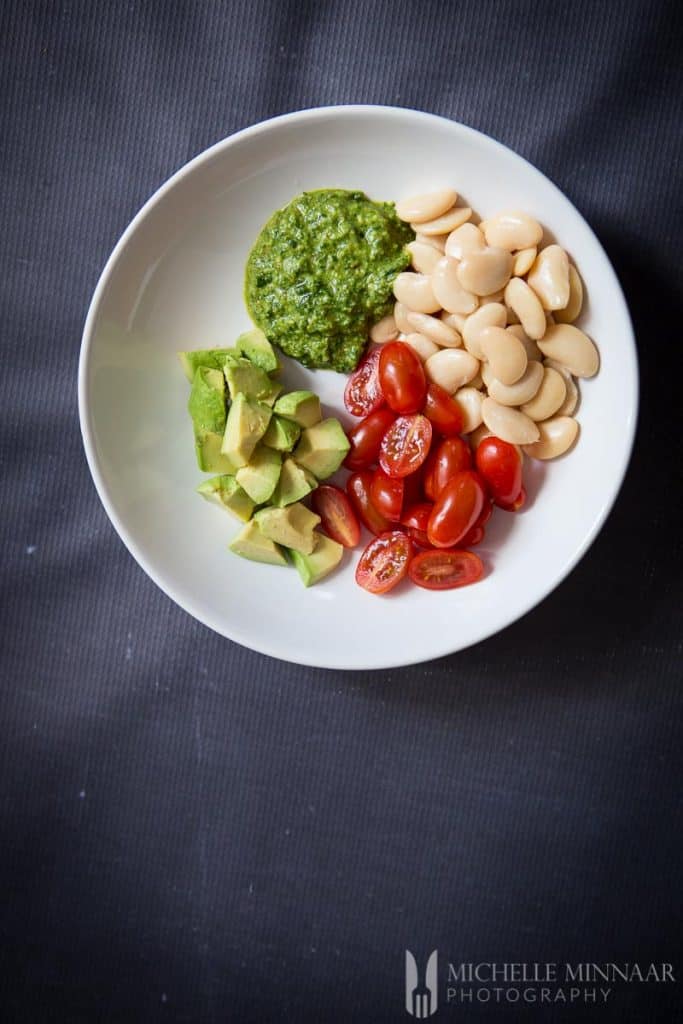 Cherry tomatoes
I wouldn't add any other types of tomatoes other than the cherry tomatoes. The other types of tomatoes are too soft and have a high water content, which makes them not suitable for the butterbean salad.
However, I do encourage you to include other types of veggies. Examples include pepper, broccoli, etc. The options are endless and you can pick whatever you feel like.
Usually when I have cherry tomatoes in my fridge, I prepare the cherry tomato salad. If you like butter beans you'll love this white bean dip recipe.
Enjoy your salad and let me know how it worked out for you! For more salad inspiration, see:
Print
Butterbean Salad with Avocado, Tomato and Pesto
---
Author:

Michelle Minnaar

Cook Time:

10 minutes

Total Time:

10 minutes

Yield:

2

1

x
400g

(

1

can) cooked butter beans

20

cherry tomatoes, halved

1

avocado, peeled and chopped

45

ml (3 tbsp) pesto

15

ml (1 tbsp) pumpkin seeds
Salt and pepper, to taste
---
Instructions
Mix all the ingredients together and serve.
Notes
You can substitute the butter beans with different pulses of your choice.
You can make a big batch of the salad but keep the avocado out until the last moment before serving.
Nutrition
Serving Size:

1 serving

Calories:

378

Sugar:

18.7 g

Sodium:

113 mg

Fat:

16.8 g

Saturated Fat:

3.4 g

Carbohydrates:

49.2 g

Fiber:

15.8 g

Protein:

14.3 g

Cholesterol:

3 mg
save the recipe to your pinterest board

P.S. This post is sponsored by Studio B.