This peppercorn chicken is a classic at my house. Packed full of flavour and very easy to prepare. Chicken breasts with creamy green peppercorn sauce only requires a few ingredients and takes no time at all to cook. I enjoy it as a tasty weekday dinner, however it is so good that you can easily serve it for guests, too. Even though chicken breasts with creamy peppercorn sauce is an easy dish, you can do many variations of it. You can choose all sorts of different sides to go with it. Even though the green peppercorn sauce is bold in flavour, it is surprisingly versatile. You can even turn the dish into a casserole or a peppercorn chicken pasta. If you love chicken recipes, you'd also like my simple chicken caldereta.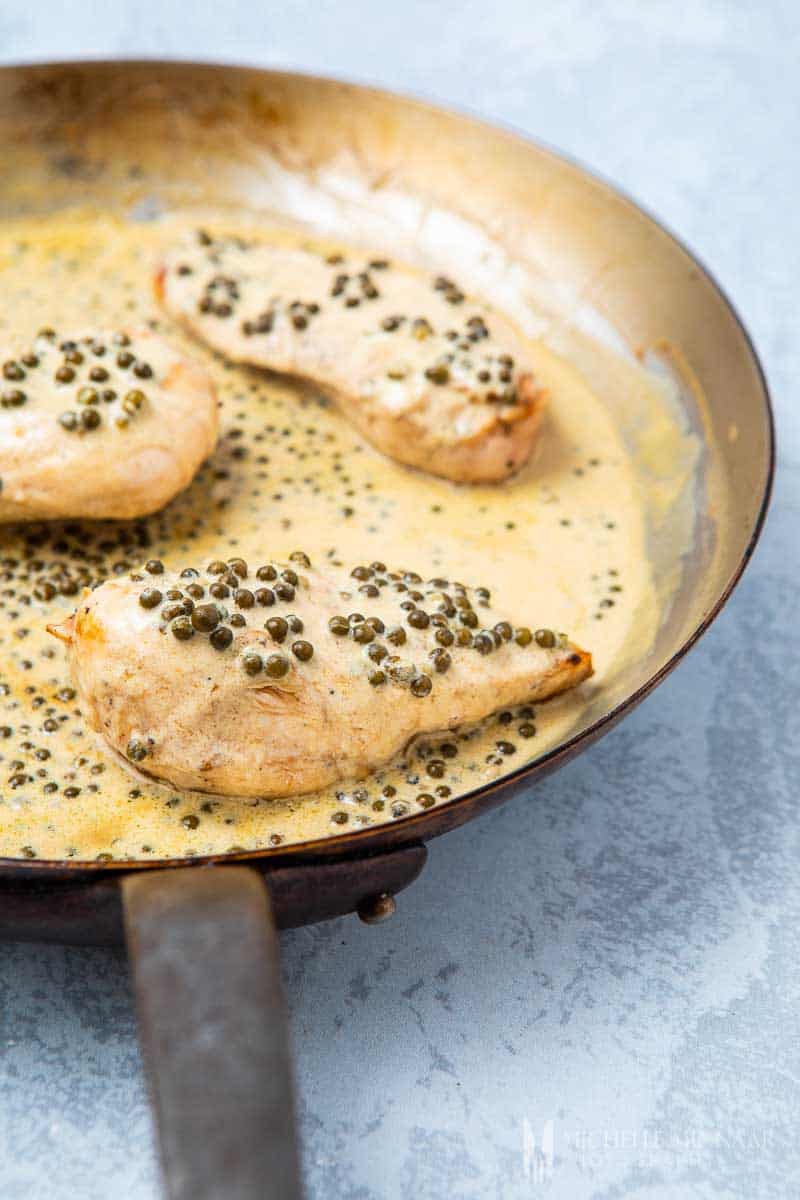 peppercorn chicken with creamy green peppercorn sauce
This peppercorn chicken recipe is out of this world. Plus, it's so easy to master. Try this chicken breast with creamy green peppercorn sauce, and I bet it will be your new favourite dish. Let's start with the basics.
what are green peppercorns?
Green peppercorns are actually picked from the very same plant that brings us the well-known black pepper. The green peppercorns are picked from the vine while the berries are still unripe and green. In order for them to maintain the green colour, the peppercorns need to be freeze-dried or brined. This means you can get green peppercorns in dried form or in a tin, kept moist in a brine.
To make the best creamy green peppercorn sauce, you definitely need to go for the brined ones. Drain them before adding to the sauce, as the brine could throw off the balance. You will find tinned, brined green peppercorns in most large supermarkets. Don't be afraid to stock up a bit. The tins can last for years without going bad, and that way you will always have the ingredients for a creamy green peppercorn sauce at hand.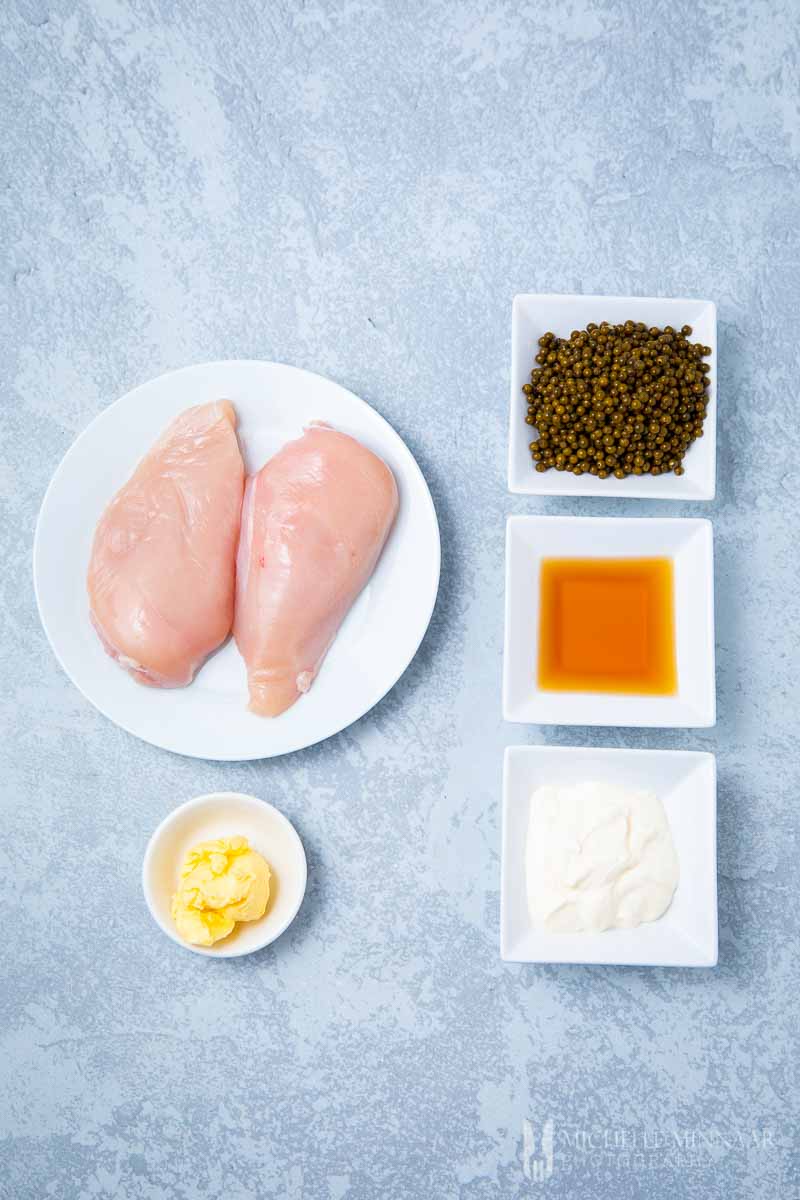 creamy green peppercorn sauce
No need to say that what makes the difference for a good chicken breast with creamy green peppercorn sauce is the sauce itself. It needs to have the right creamy texture, and above all the right punch off that green pepper. In order to get my green peppercorn sauce as nice and creamy as possible, I use crème fraiche. You can of course use normal double cream and let it reduce, however I find the best result comes from crème fraiche.
In case you prefer to cook without dairy, you can now get plant-based cream substitutes, which you can use for cooking instead of cream. Should you still find the sauce a little too thin, you can add a teaspoon of corn-starch to thicken it.
a touch of brandy
Another secret to why this chicken breast with creamy green peppercorn sauce is such a flavourful dish is the brandy. After frying the chicken, I add brandy and flambé the pan with it. This way the brandy flavour does not overpower the sauce in any way but stays as a subtle note in the background. Don't worry though, the alcohol will have burnt off long before serving time.
If you don't have any brandy you can add a splash of dry sherry or Madeira wine instead. These fortified wines have a much lower alcohol content, and will therefore not catch fire. In this case, simply cook for a few minutes and let the alcohol evaporate, leaving behind only the flavour.
chicken in peppercorn sauce with rice
What kind of side you choose for your chicken breast with creamy green peppercorn sauce will simply demonstrate how versatile this dish is. You can go for a classic version and serve the chicken with a side of potato gratin or a nice mash. Another option is rice. I like to do a combination of normal white rice and wild rice. Wild rice is black and much tougher than normal rice, however it adds a nice texture to the standard rice. Moreover, when served with the creamy green peppercorn sauce, it will be anything but plain!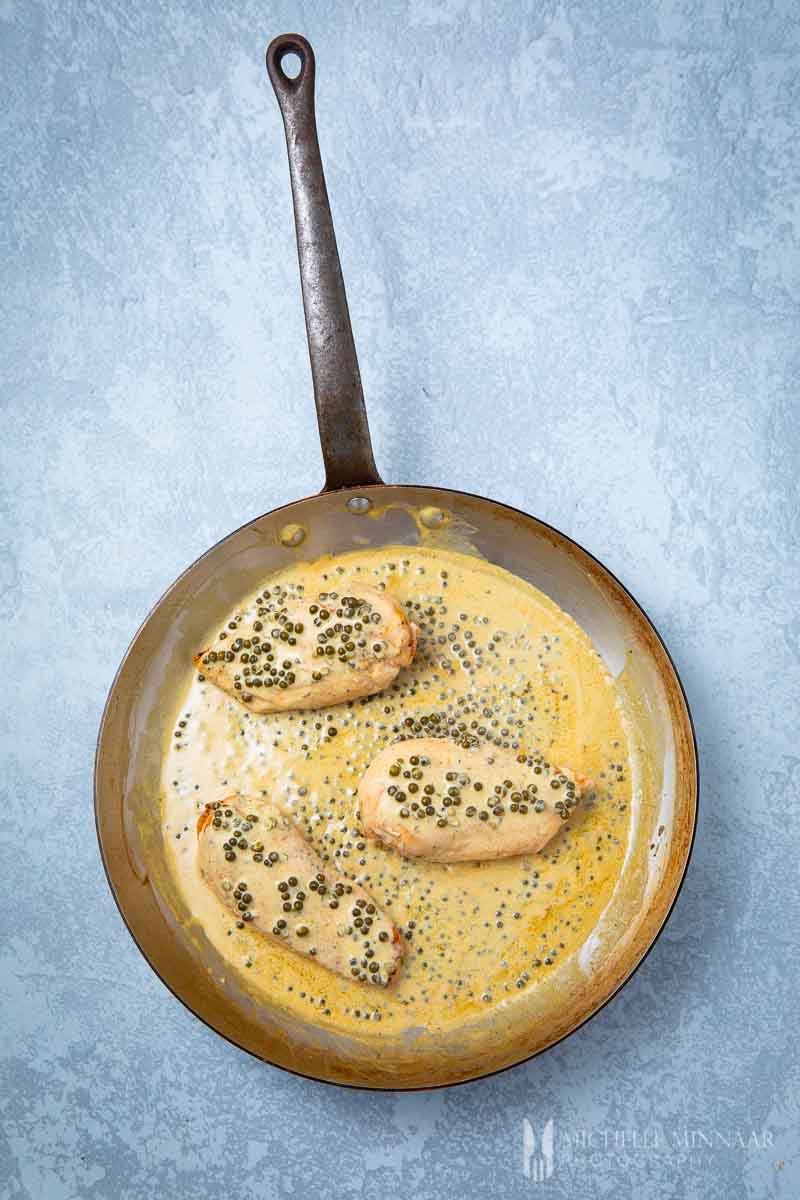 peppercorn chicken pasta
A different spin on chicken breast with creamy green peppercorn sauce is to make it into a pasta dish. Of course, you can simply serve it with pasta on the side. However, you can also make it an actual pasta dish. After frying the chicken, cut the chicken breast up into bite-sized strips. Do the sauce as normal and add the chicken strips. Serve on top of freshly cooked pasta. For example fettuccine, the broad, long pasta bands which are great for sucking up the delicious peppercorn sauce. I used the same sort for my pancetta, leek and mushroom pasta.
If you go with the pasta version, you can even serve it for lunch. You can also store leftovers in the fridge for the next day.
peppercorn chicken casserole
Similarly you can always go for making a peppercorn chicken casserole using these ingredients. What's not to love about a hearty peppercorn chicken casserole? Just take a look at my game casserole, perhaps you can inspire yourself with other ingredients.
peppercorn chicken Chinese
I know what you are thinking. You are probably thinking of the salt and pepper chicken recipe, a very similar recipe to my salt and chilli chicken. Well, sorry to disappoint you, but this recipe is not Chinese. You can make it Chinese by adding some black bean sauce, soy sauce or hoisin sauce. Sprinkle with some sesame seeds.
However, if you prefer to stick to this peppercorn chicken, at least your side can be Chinese. Take these salt and chili chips, they are excellent.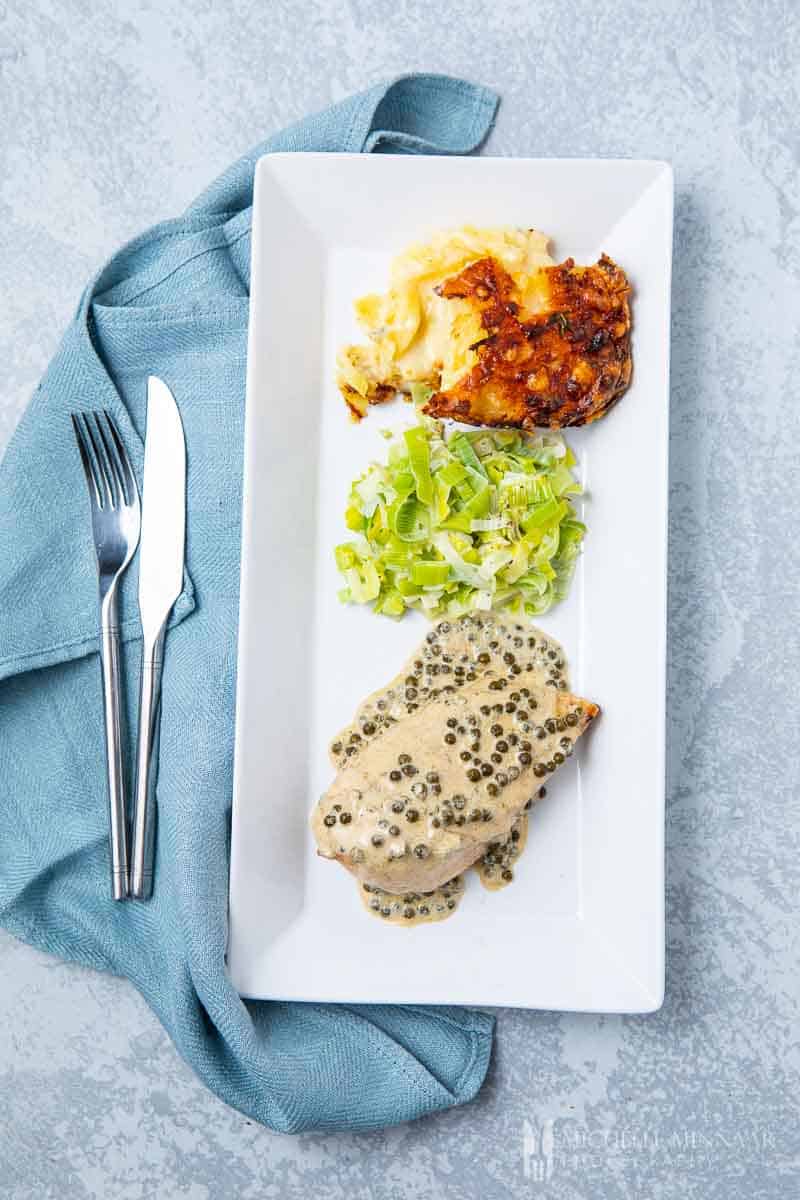 serve with greens
In order to make the dish more diverse and not least healthy, it is a good idea to add some vegetables to the plate. Some fried or steamed leeks are great with chicken. If you want to go all in on cream then try the creamed leeks.
For more inspiration on this great combination have a look at my chicken & leeks with creamy cider sauce.
Alternatively, simply boil some fresh carrots, broccoli, green beans or whichever kind of vegetables you normally enjoy with meat. Don't forget to top it all with a pinch of freshly chopped parsley. Not only does it look more refined, it also adds a nice herbal flavour to the dish.
veal and creamy peppercorn sauce
This mouth-wateringly delicious creamy green peppercorn sauce is not only great with chicken breast. It is also an excellent combination for other kinds of meat. One of my favourite substitutes for chicken in this dish is veal cutlet. The delicate veal flavour pairs great with the creamy green peppercorn sauce.
Needless to say, you can also serve the creamy green peppercorn sauce with beef. In fact a well-cooked steak is an excellent match. If you want tips on how to get the most tender steak you have ever had, try my sous vide steak guide.
Print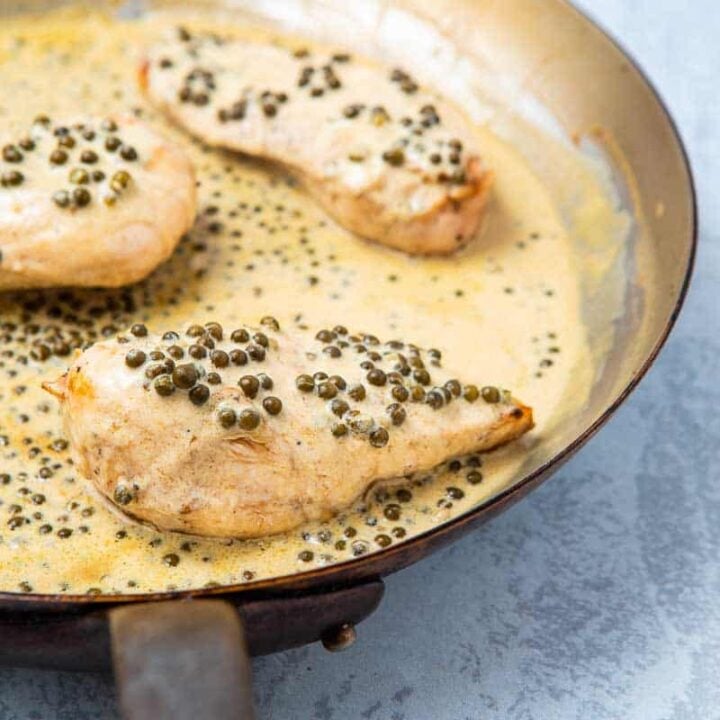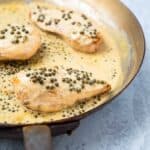 Chicken Breast with Creamy Green Peppercorn Sauce
---
Description
Peppercorn chicken is an easy weeknight recipe you can prepare under 30 minutes. This green peppercorn sauce recipe comprises brandy, green peppercorns and crème fraîche.
---
4

boneless chicken breasts, skinned

25

g

(1 oz) butter

45

ml

(3 tbsp) brandy

120

ml

(4 fl oz) hot chicken stock

10

ml

(2 tsp) drained green peppercorns in brine

45

ml

(3 tbsp) crème fraîche
---
Instructions
Season chicken breasts lightly on both sides.
Heat the butter until foaming in a large frying pan, then add the chicken breasts and cook gently for 4 minutes until lightly browned.
Turn the meat over and cook for a further 5-6 minutes, or until tender. Remove the chicken from the pan and set aside.
Add the brandy to the pan, ignite and cook for 1 minute until the flames die down.
Add the stock and green peppercorns to the pan, then simmer rapidly for 30 seconds or until the liquid has reduced slightly.
Remove the pan from the heat and stir in the crème fraîche.
Return to the heat and simmer for 30 seconds.
Returns the chicken to the pan cook for 1-2 minutes.
Notes
Serve with mashed potatoes, butter-fried leeks and sweet carrots.
Use green peppercorns preserved in brine for this dish, because they have a milder flavor than dried ones. Always remember to drain and rinse well before using.
Make sure the chicken is cooked by inserting a knife into the thickest part. The juices should run clear.
You can cook the breasts with their skins on. Just cook the meat skin-side down first for 4-5 minutes, or until golden, then turn around to cook the other side.
The sauce will go well with beef steak too.
Prep Time:

10 minutes

Cook Time:

20 minutes

Category:

Dinner

Method:

Pan Fry

Cuisine:

French
Keywords: peppercorn chicken, green peppercorn sauce, chicken with peppercorn sauce, peppercorn sauce recipe
save the recipe to your pinterest board