Chinese chicken and sweetcorn soup is a definite winter warmer. It is not the traditional chicken soup or chicken broth as we are accustomed to eating in Europe and the US.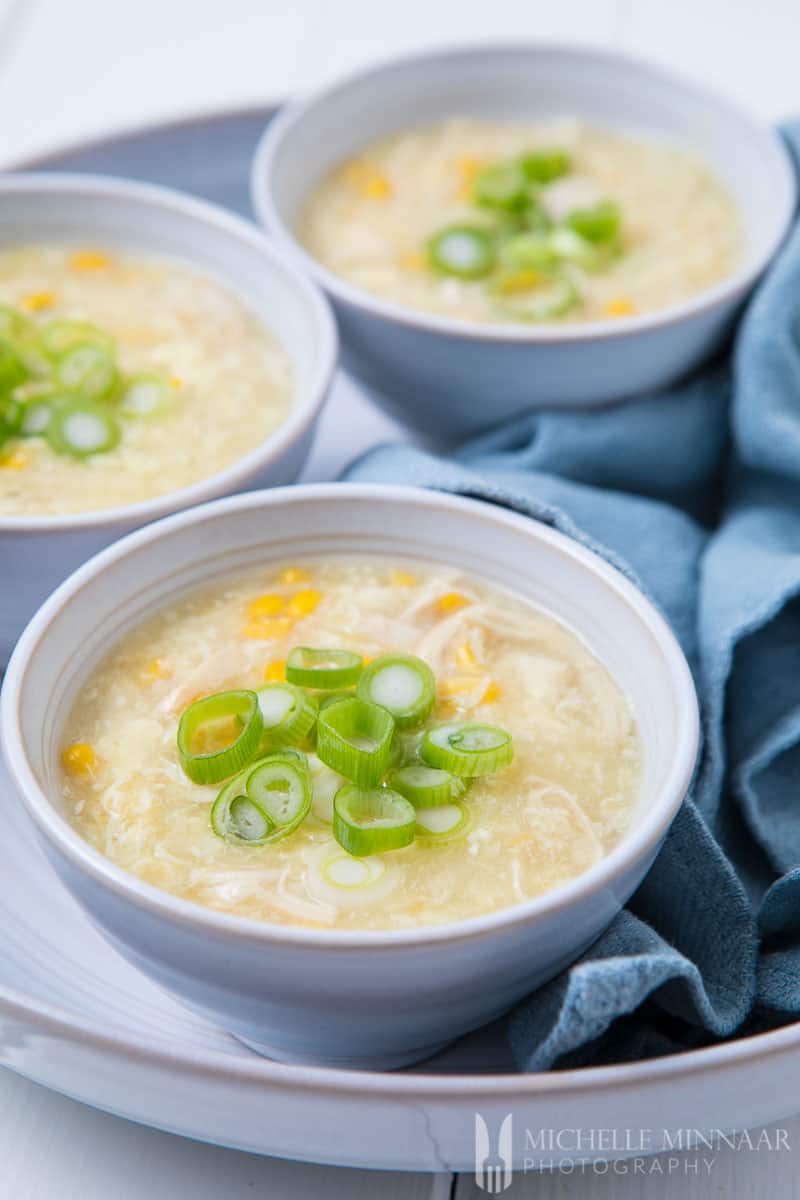 In comparison, this chicken soup recipe has tons of Asian flavour running through it. The best part is that this Chinese chicken and sweetcorn soup only takes twenty minutes to prepare.
Unlike the usual chicken soup that takes hours to cook in a crockpot, with this Chinese recipe you can relax and enjoy your evening. So don't even think for a second that you should order this soup from a Chinese takeaway.
Make your very own fakeaway in the comfort of your own kitchen in just a matter of minutes. In addition, you can use leftovers from a chicken or a smoked turkey from yesterday's dinner.
This soup is all about being sustainable which I am all about! I hope you enjoy making this classic Chinese chicken and sweetcorn soup.
Don't be afraid to add ingredients to make it your own and use up the leftovers in your fridge. Indulge in this comfort-food chicken recipe!
authentic Chinese chicken and sweetcorn soup
When it comes to keeping to traditional Chinese cooking, you have to try this Chinese chicken and sweetcorn soup. It is made up of very few ingredients such as garlic, ginger, sweetcorn, chicken stock, chicken and spring onions simmered in a saucepan.
Hence, the soup is perfect for making a cheap meal during the week, as it contains inexpensive ingredients. It is generally seasoned with a variety of sauces. These include soy sauce and of course the addition of sesame oil.
However, if you don't have these at home you won't ruin the integrity of the soup. Ultimately, what gives this Chinese soup its nutritional value and originality is the addition of egg, which also gives a creamy consistency.
So, you too can make an authentic Chinese chicken and sweetcorn soup wherever you are, and it will still taste as if it's been made in China!
products you need for this recipe
Here's a list of the top products you'll need to make this classic Chinese takeaway recipe:
best chicken for Chinese chicken soup
I always say that the best recipes don't necessarily have to be made up of gourmet ingredients for them to taste out of this world. My secret to making the best Chinese chicken soup is the main ingredient – which is the chicken, of course!
First of all, as with any chicken recipe, I encourage you to always brine your chicken beforehand for the juiciest and most tender results. The last thing you want is stringy chicken, even if you serve it in a soup. So, check out my guide on brining chicken.
Next, have you ever eaten smoked chicken in a salad or a sandwich? It makes all the difference when it comes to adding that rich taste! The same goes for this Chinese chicken and sweetcorn soup.
My advice is, make a whole smoked chicken for dinner and serve it the night before. You can toss any leftovers from the chicken into the soup.
Furthermore, even if you separately make smoked chicken breasts or smoked chicken thighs, you can pull the meat off and use it. That smoky flavour will be present throughout the soup.
It will pair very well with the freshness of the spring onions and the sweetness of the corn.
Chinese chicken and sweetcorn noodle soup
If you feel like the chicken soup lacks filling, even though it has lots of protein in it, you can still add egg noodles. Consider using the noodles as I did in this Asian recipe.
Alternatively, you can also use rice noodles, which are a little bit thinner and more appropriate for this Chinese soup. In authentic Chinese cuisine, most soups are made with noodles.
Also, it is not uncommon to add ginger, rice wine and dried goji berries. For more extensive information on traditional Chinese soups, click right here.
healthy chicken and sweetcorn soup
If you are cautious about calories, you needn't worry. You can easily spin this recipe in a lighter direction. Although, the soup itself is already light in calories and quite nutritional.
First, to make this soup more filling but light, add courgetti instead of noodles. The courgetti will fill you up in an instant. Next, you can also consider using a light soy sauce instead of the normal one.
Most importantly, to cut down on sugar, limit the amount of sweetcorn. You can also choose not to include the sweetcorn at all.
Instead, opt for using more green vegetables such as bok choy, broccoli, Chinese cabbage, or similar. I also like including mustards, because they pair excellently with the chicken stock. Feel free to choose the vegetables that you most enjoy.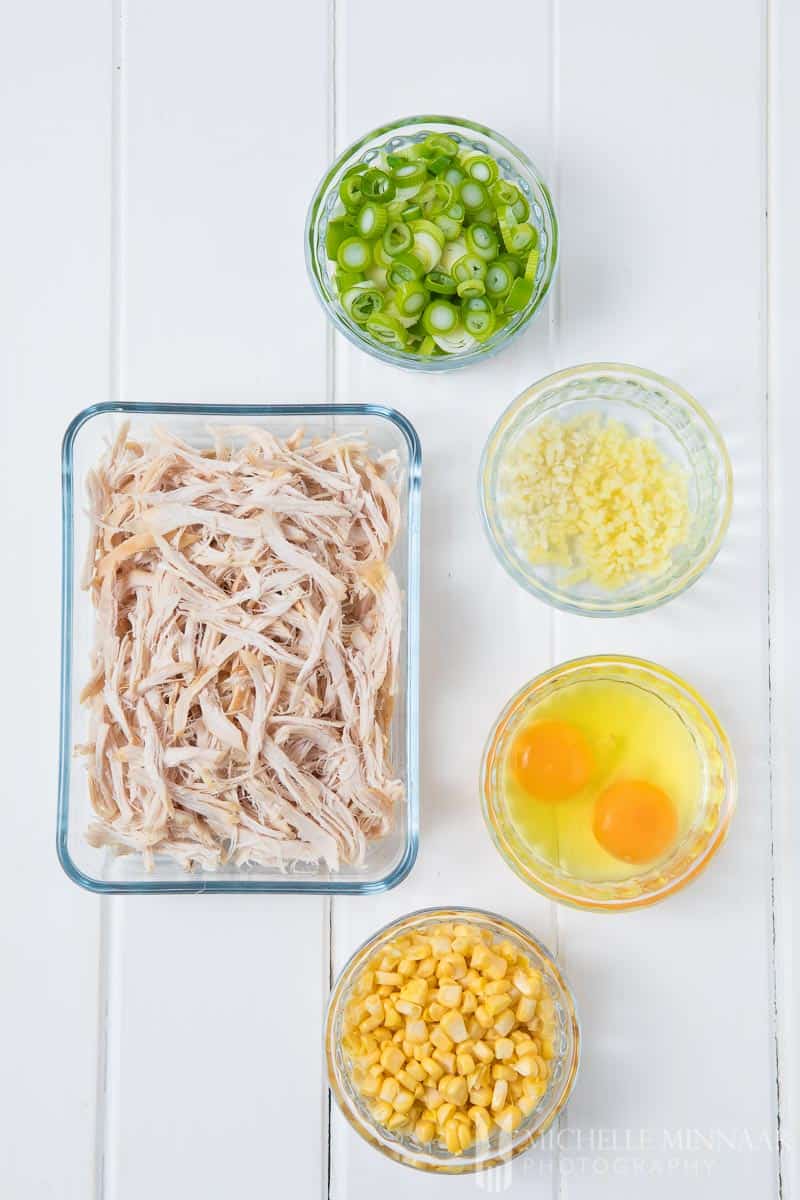 creamy chicken and sweetcorn soup
For a creamy version of the Chinese chicken and sweetcorn soup, simply add cream – though I recommend blending the cream, chicken stock and sweetcorn together with a blender prior to adding any other ingredients.
The sweetcorn will give it that extra sweet punch of flavour, as found in corn chowder recipes. Otherwise, if you've got your hands on a can of creamed corn and some cornstarch, that will also do the trick.
Some people also like to make a version with unscented coconut milk. However, the taste profile of this soup then resembles more of a Thai chicken soup.
I would definitely throw in some lime leaves and lemongrass and steer this recipe in a Thai direction. Ultimately, if you want to, you can do so!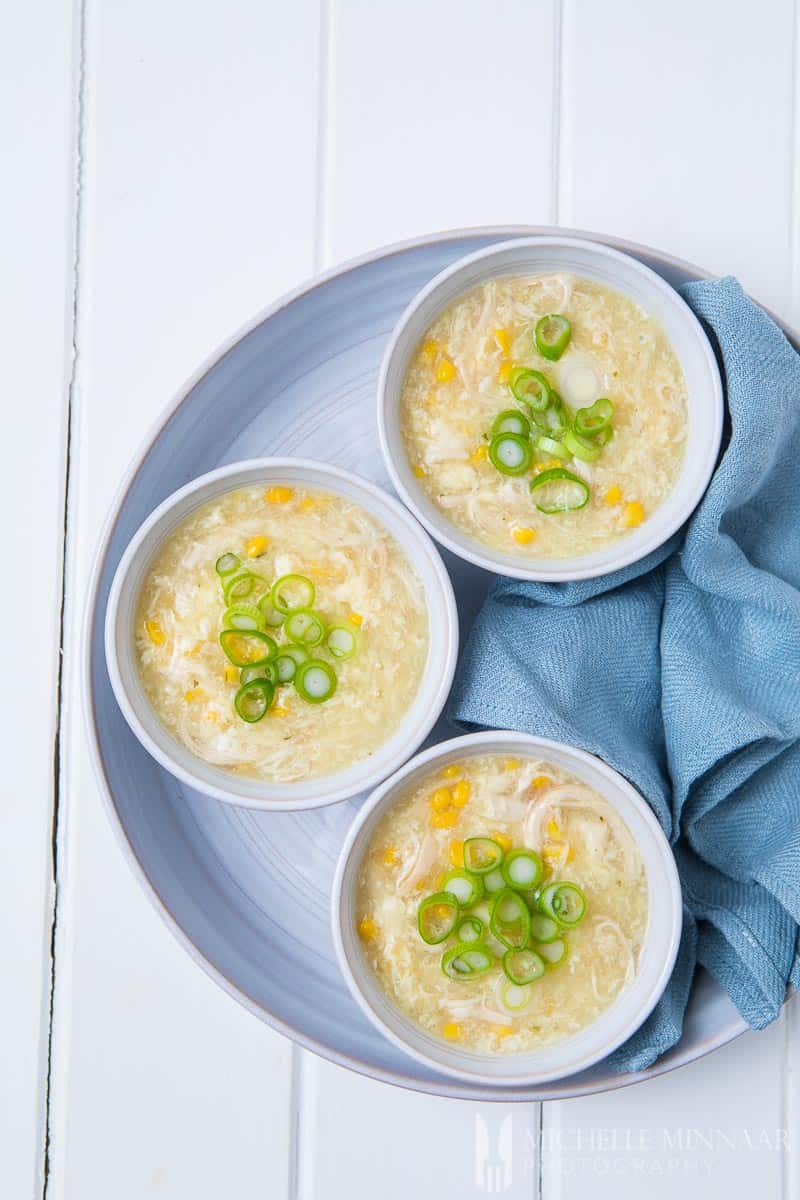 toppings
I adore toppings on any soup, curry, stew, you name it. The best toppings for this Chinese chicken and sweetcorn soup are the classic Asian toppings. These include a few bean sprouts, a dash of fresh coriander or parsley leaves.
For a bit of a kick, feel free to cut fresh red chillies and sprinkle them over. Traditionally, you can also add fresh chives, even more spring onions or fresh mushrooms for an earthier flavour.
Lastly, I love to add a splash of lemon or lime juice for a bit of acidity. Again, feel free to make this Chinese soup your own!
Print
Chinese Chicken and Sweetcorn Soup
---
Description
Learn to make an authentic Chinese chicken and sweetcorn soup recipe in the comfort of your kitchen. Use leftover ingredients to create this chicken soup.
---
15

ml

(1 tbsp) vegetable oil

2

garlic cloves, peeled and finely chopped

2.5

cm (1in) ginger, peeled and finely chopped

15

ml

(1 tbsp) light soy sauce

2

cobs (300g/10oz) sweetcorn kernels

1.5

ℓ (6 cups) chicken stock

45

ml

(3 tbsp) cornflour

2

cooked chicken breasts, shredded

2

eggs, whisked

15

ml

(1 tbsp) sesame oil

2

spring onions, washed and finely sliced
---
Instructions
Fry the garlic and ginger in the oil for 1 minute in a large saucepan.
Add the sweetcorn and soy sauce then fry for 3 minutes.
Pour in the stock and let the soup bubble.
Create a slurry with the cornflour by adding a bit of water with the flour in a cup.
Slowly add the slurry in a thin drizzle to the soup while stirring. The soup should thicken after a short while.
Stir in the chicken.
Just like you did with the slurry, add the whisked eggs to the soup while stirring.
Finish off with a splash of sesame oil and after dividing the soup between bowls, sprinkle with spring onion. Serve immediately.
Notes
If you use dark soy sauce it will turn the soup brown. There's nothing wrong with it, but it will look slightly different from what you're used to from the takeaway shop.
I cut the kernels off fresh sweetcorn cobs. You can use frozen sweetcorn or 1 can of creamed corn instead.
Two cooked chicken breasts were used, which weighed around 200g (7oz).
Try my classic Hong-Kong style sweet and sour chicken recipe!
Prep Time:

10 minutes

Cook Time:

10 minutes

Category:

Soup

Method:

Boil

Cuisine:

Chinese
Nutrition
Serving Size:

1 serving

Calories:

252

Sugar:

24.1 g

Sodium:

1199 mg

Fat:

11.1 g

Saturated Fat:

2.4 g

Carbohydrates:

50.4 g

Fiber:

1.9 g

Protein:

26 g

Cholesterol:

96 mg
Keywords: chicken and sweetcorn soup recipe, Chinese chicken and sweetcorn soup
save the recipe to your pinterest board