You wouldn't believe how good a courgette tart could taste… until you've tried this recipe, that is!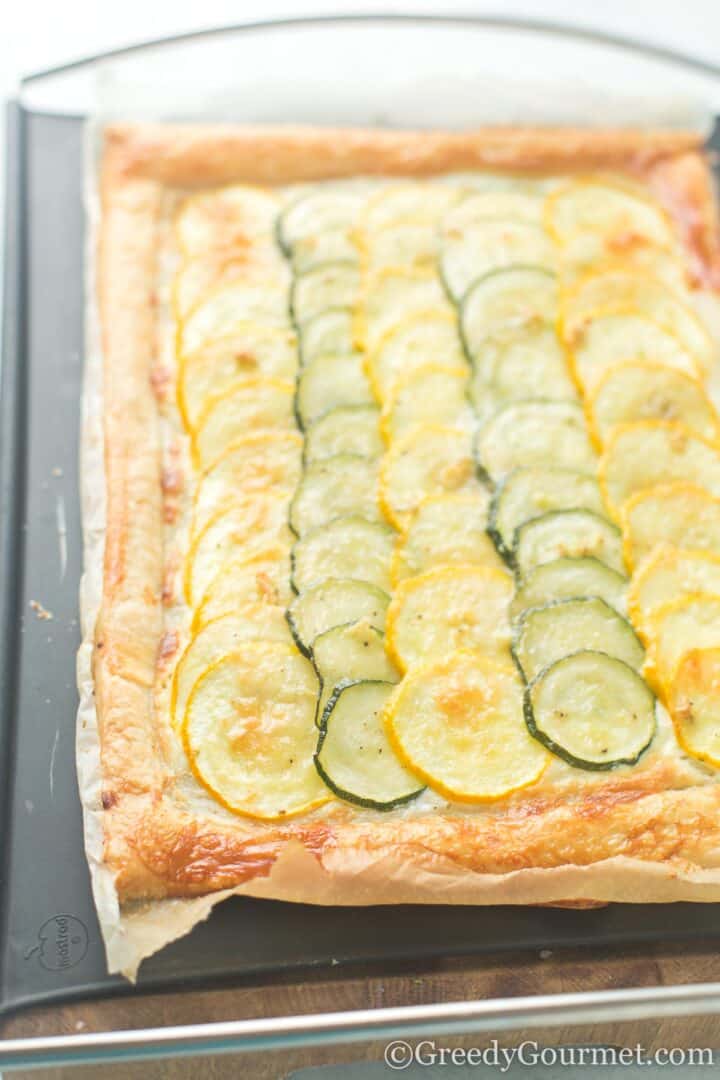 Flaky puff pastry, aromatic garlic and olive oil, plus the freshness of the courgette, the richness of the sprinkled parmesan and the creaminess of the mascarpone makes for a delicious combination.
Perfect for a light yet tasty lunch, this courgette tart is quick to make and tastes like an absolute dream!
So, let's find out how to make this sublime courgette, parmesan and mascarpone tart.
Why You'll Love This Recipe
The combination of pastry, cream cheese, courgettes and parmesan is delicious.
It's very simple to put together – perfect for an easy lunch option or midweek vegetarian dinner.
It's healthy and light, yet with a wonderful taste.
You don't need lots of ingredients to make this courgette tart – there are 7 in total and they're all readily available
This recipe is as versatile as they come – it works with just about any kind of veg, so you can get creative and experiment to suit your tastes.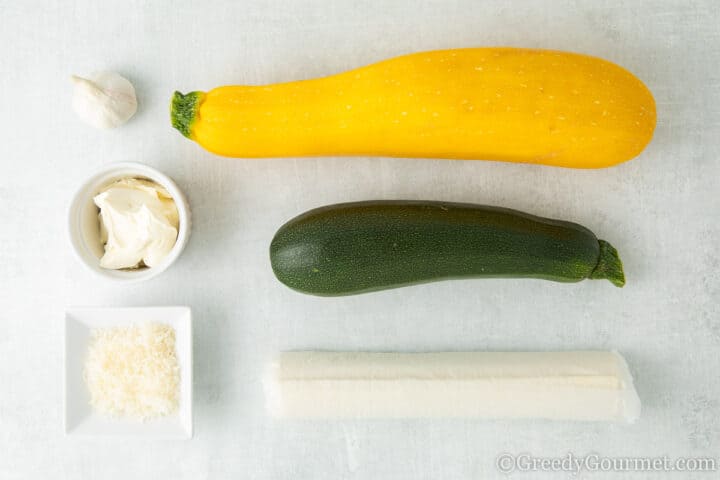 Equipment Needed To Make This Recipe
There are a few essential items you'll need to make this courgette tart:
Baking tray – a baking tray or baking sheet is essential to bake this tart in the oven
Sharp knife – you'll need to have a quality sharp knife for this courgette tart recipe
Glazing brush – a simple pastry glazing brush will help you to get that beautiful golden brown colouring on your puff pastry.
Top Tip
Liberally season your garlic, olive oil and courgette mixture. This is the basis for the overall flavour of your tart.
What to Serve with This Recipe
Sides
Salad is an ideal accompaniment to courgettes, or tart recipes in general. I would recommend pairing this recipe with any of the following delicious salads: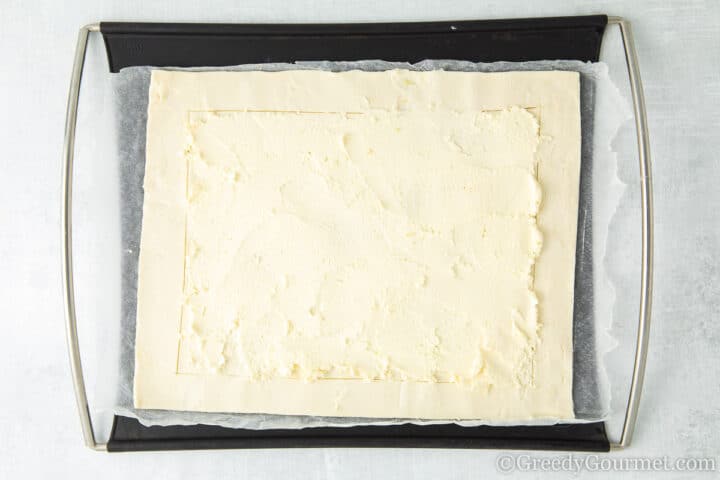 Wine pairing
Chilled white wine and a slice of courgette tart are truly a match made in heaven.
For me, the best kind of wine pairing would be a Sauvignon Blanc. Something from California, Australia or France is ideal.
Each of these go well with pastry and cream cheese, as well as vegetables.
If you prefer red, you could plump for an Argentinian Malbec which is just flat out delicious and goes with any kind of pastry dish.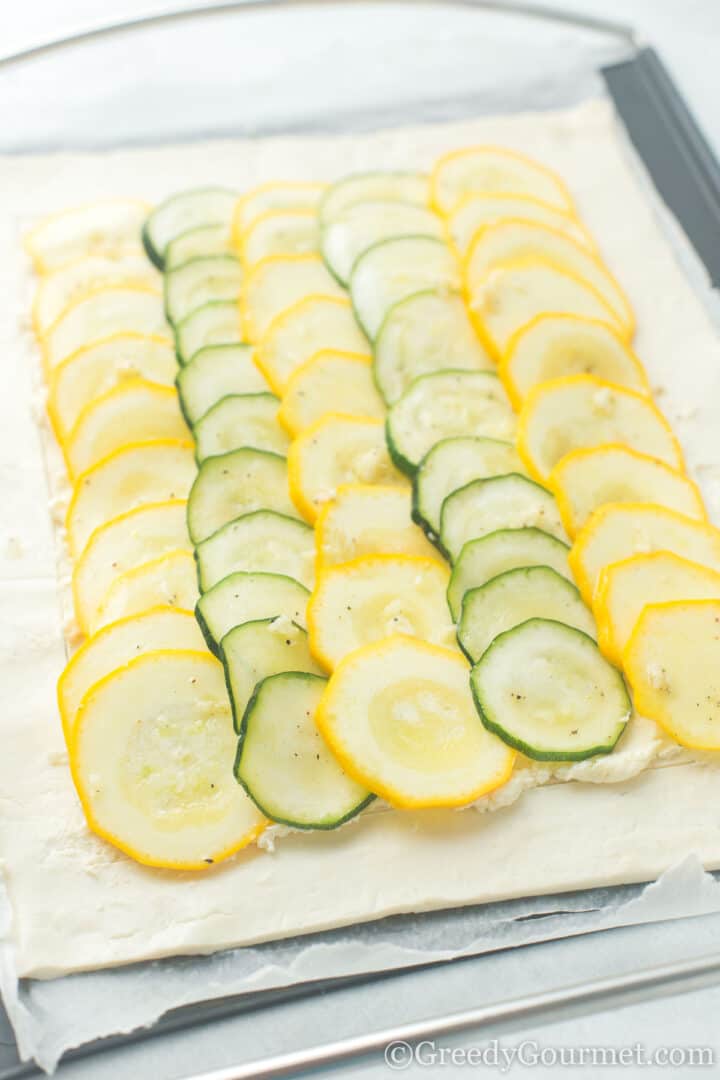 Variations To This Recipe
Courgettes are the perfect vegetable for this puff pastry tart. However, there are many different vegetables you can use, including any of the following:
Red pepper
Green pepper
Yellow pepper
Tomatoes
Sun-dried tomato
Asparagus
Caramelised red onion
Leek
Spinach
Mushrooms
Beetroot
Broccoli
Potatoes
You can also make this a meaty feast by adding any of these:
Cooked pieces of chicken or turkey
Pastrami
Ham
Aside from parmesan and a cream cheese like mascarpone, you can also use a wide variety of different cheeses and other complementary ingredients with this courgette recipe:
Goat's cheese
Cheddar cheese
Gruyère
Feta
Walnut
Lemon juice
Basil
Parsley
Thyme
Mint
You could also make this vegetarian tart a vegan tart. Simply omit the cheese and replace with nutritional yeast. Then glaze with oat or almond milk instead of egg wash.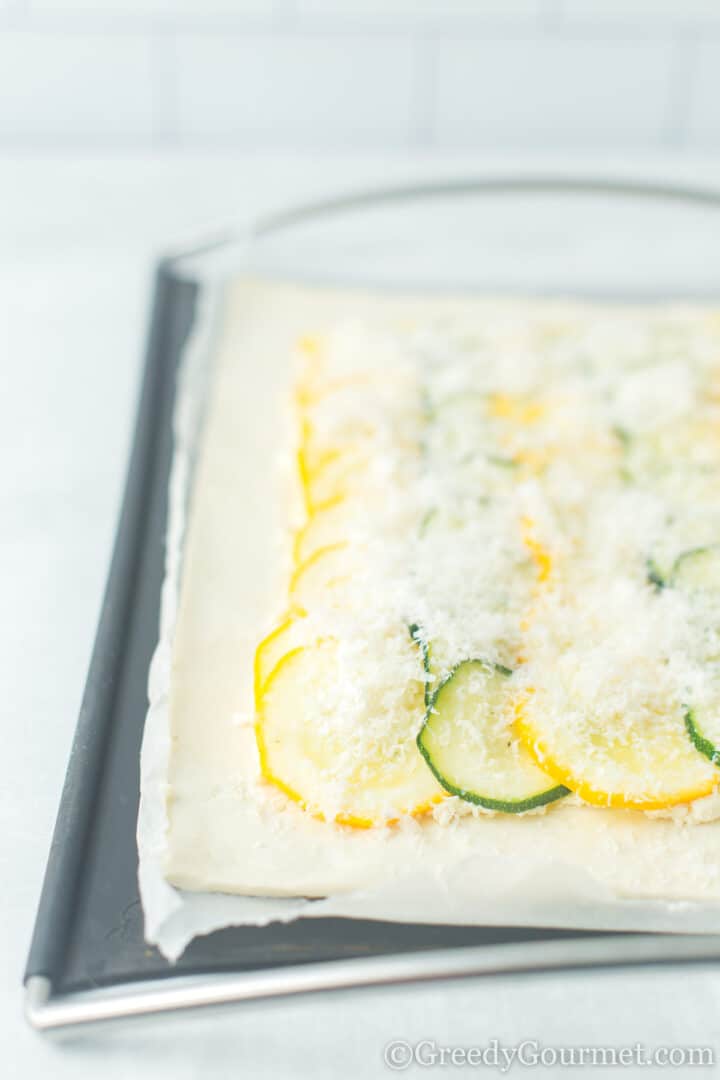 Popular substitutions
This recipe calls for mascarpone cheese, which is mixed with the parmesan to bring a delicious flavour to the tart. However, you can use any other type of cream cheese. Ricotta would be a good substitute. You can even go for a reduced fat cream cheese if you want to be healthier.
You can also make it gluten free. Simply swap the ready rolled white flour puff pastry for a gluten free puff pastry.
If you prefer, you can swap puff pastry for shortcrust, although I much prefer puff for this recipe.
Top Tip
Don't forget to glaze the puff pastry with egg wash. This will bring that wonderful golden glow that elevates the dish to the next level.
What courgettes should I use for this tart?
There are lots of different courgettes to choose from! I recommend opting for a mixture, to bring a range of flavours and also a blend of colours. 
Here are a few of the most commonly available courgettes:
Black beauty – Widely available due to how easy they are to grow, black beauties are, despite their name, dark green in colour. With tender white flesh and a mild flavour, they are perfect for salads and especially for this tart recipe. 
Gadzukes – Another long green variety of courgette, these ones have a subtle sweetness and a crispy texture, making them perfect for salads and pasta dishes. 
Dunja – Often used to make fritters, due to their taste and texture, a Dunja courgette also makes the perfect addition to this tart.
Altena polka – These courgettes are remarkable for their vibrant yellow colour. A mixture of yellow and green courgettes makes for a more interesting dish, visually.
When do courgettes grow?
Courgette season begins in early summer, typically around June. They grow for quite a long time, normally all the way throughout summer, sometimes up until the first frost.
Also, did you know that there's no difference between courgettes and marrows? 
They're actually the same thing! The only difference is the amount of time they are left on the plant to grow. A marrow is a courgette that has been left on the plant to grow larger.
How do I store leftovers?
Storing your courgette tart leftovers is easy. 
All you need is an airtight container, which will help to preserve the puff pastry and the topping of your courgette tart. 
You can store it in the fridge for up to five days.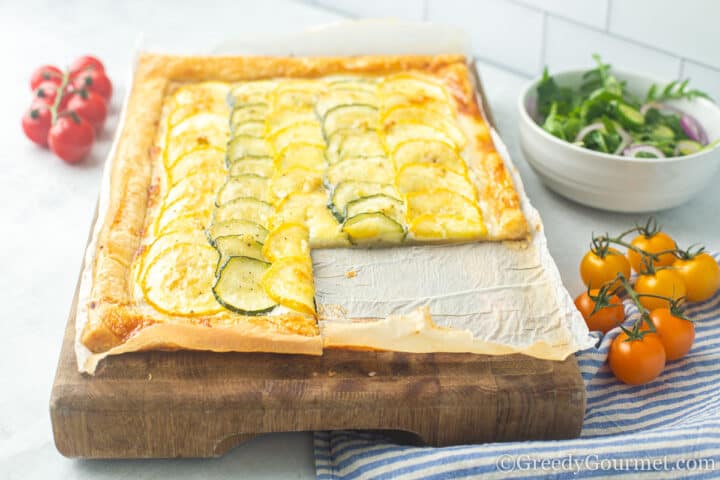 Can you freeze courgette tart?
Yes. If you want to store your cooked tart for longer than five days, it can easily be frozen. 
Simply wrap your tart in clingfilm, then store it in a freezer safe airtight container.
 
It will stay good for up to three months.
How do you reheat leftovers?
The best way to reheat your vegetable tart is in the oven. Preheat the oven to 170°C (fan 150°C/350°F/gas 3). Heat in the oven for 15-20 minutes until fully warmed.
Can this recipe be scaled?
Yes, it can easily be scaled. Simple double or triple the measurements below if you want to make a larger batch.
Can I make this tart ahead of time?
Yes. You can assemble the entire dish ahead of time, rolling out the puff pastry, spreading on the cream cheese and layering on the courgettes. 
Then, cover in a suitable container and store in the fridge until you're ready to bake in the oven.
Should I use ready rolled puff pastry or shortcrust pastry for a courgette tart?
When it comes to making vegetable tarts, puff pastry is the way to go.
Can I make my own puff pastry?
Absolutely! For this recipe, I've gone for puff pastry. This is better suited for a quick and easy recipe where time is an issue. 
However, if you want to put in a little more effort, making your own puff pastry is pretty straightforward.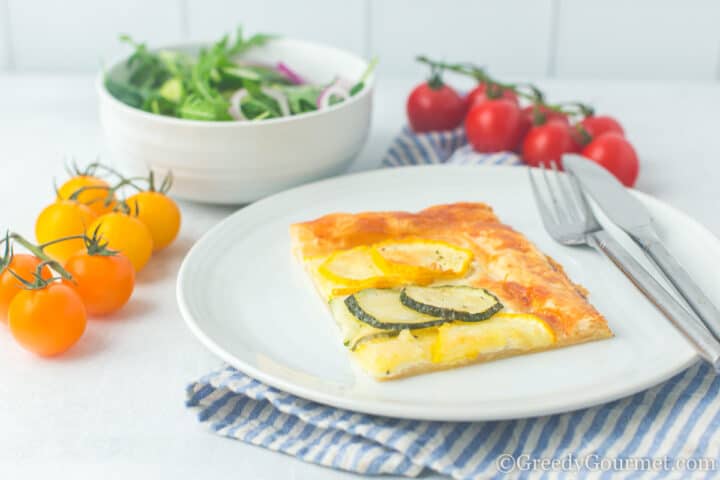 Other Courgette and Marrow Recipes You'll Love
Courgettes and marrows are so underrated. However, if you cook them right and serve them with the right ingredients, they can be so delicious!
Here's some of my very favourite recipes that showcase how to use these wonderful vegetables:
Don't forget to come back and let me know how your recipe turned out!
Print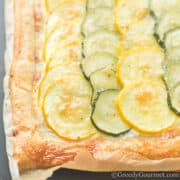 Courgette Tart Recipe
---
Author:

Michelle Minnaar

Total Time:

50 minutes

Yield:

4

servings

1

x

Diet:

Vegetarian
Description
Flaky puff pastry, fresh courgette, aromatic garlic and olive oil. What's not to love about Courgette Tart?
---
1

x 375g sheet ready-rolled puff pastry

3

courgettes, thinly sliced

2

garlic cloves, crushed
olive oil

60

ml (4 tbsp) mascarpone cheese

50g

(

1½oz

) Parmesan cheese, grated

1

egg, whisked
---
Instructions
Preheat the oven to 200°C (fan 180°C/390°F/gas 6). 
Unroll the pastry onto the baking sheet and score a border 2.5cm (1 inch) in from the edge.
Toss the courgettes and garlic with the olive oil and season liberally.
Mix the mascarpone with half the parmesan and spread inside the border. Arrange the courgettes in overlapping rows. 
Stir the egg with 15ml (1 tbsp) of water then gently brush the puff pastry borders with the egg wash. 
Bake for 15 minutes, then scatter with parmesan. Bake for 15-20 minutes, or until the puff pastry is crispy and golden. 
Notes
Use different coloured courgettes to make the tart vibrant and unique.
Serve with chilled white wine and a tangy salad on the side.
Prep Time:

30 minutes

Cook Time:

20 minutes

Category:

Dinner

Method:

Bake

Cuisine:

French
Keywords: courgette tart, french courgette tart, courgette tart puff pastry recipe, courgette puff pastry tart, courgette mascarpone parmesan tart, courgette recipe