It is no secret that we like our sausages in Britain, and admittedly these devilled sausages are pure comfort food. Moreover there is a lot more to sausages than just plain old hotdogs. Devilled sausages is a rich and warming dish, packed full of flavour. It's quite simple to prepare, using normal ingredients from your pantry. It is the ultimate Sunday evening dinner if you have had a busy weekend out. Or a perfect choice for an easy and enjoyable meal after a long day at work. I used chicken sausages for my version of devilled sausages. However you can just as well use traditional pork sausages or any other type of sausages which you prefer.
There are a ton of ways in which you can spin your own version of devilled sausages. Not only the choice of the actual sausages. Let yourself be inspired by my devilled sausages and set your imagination free to create your own favourite version.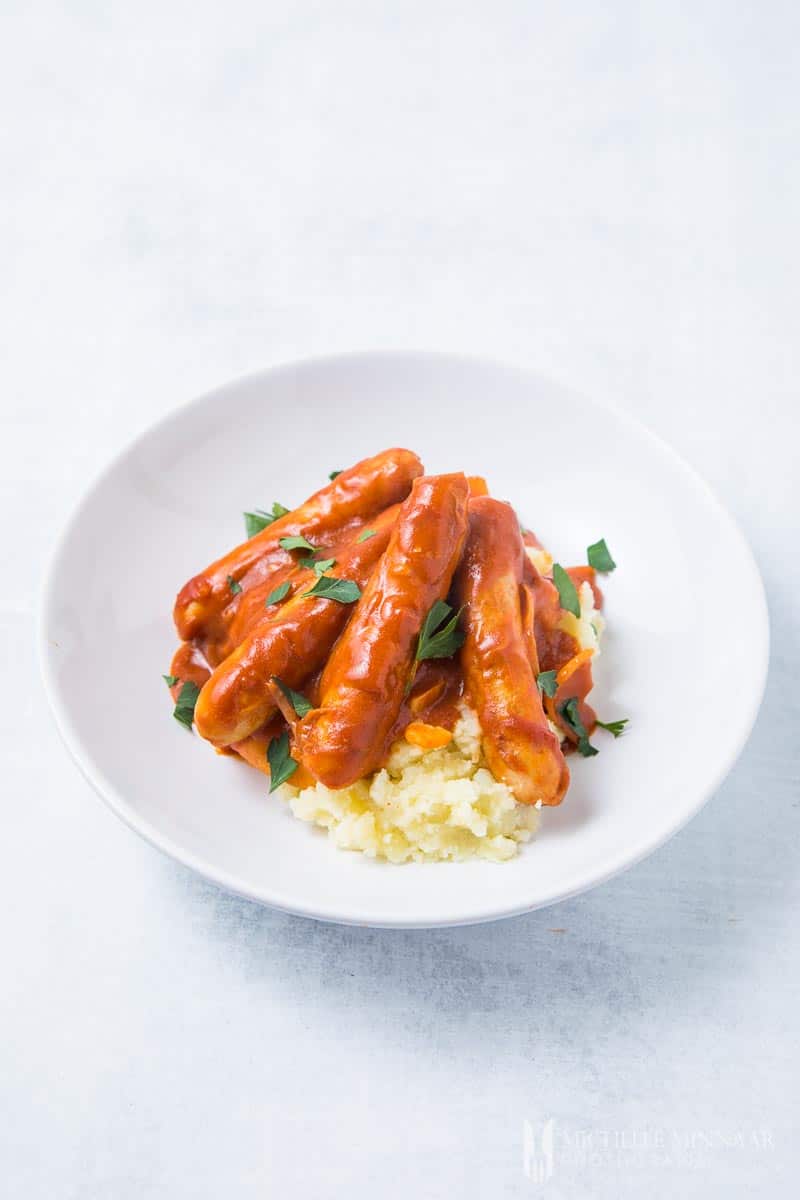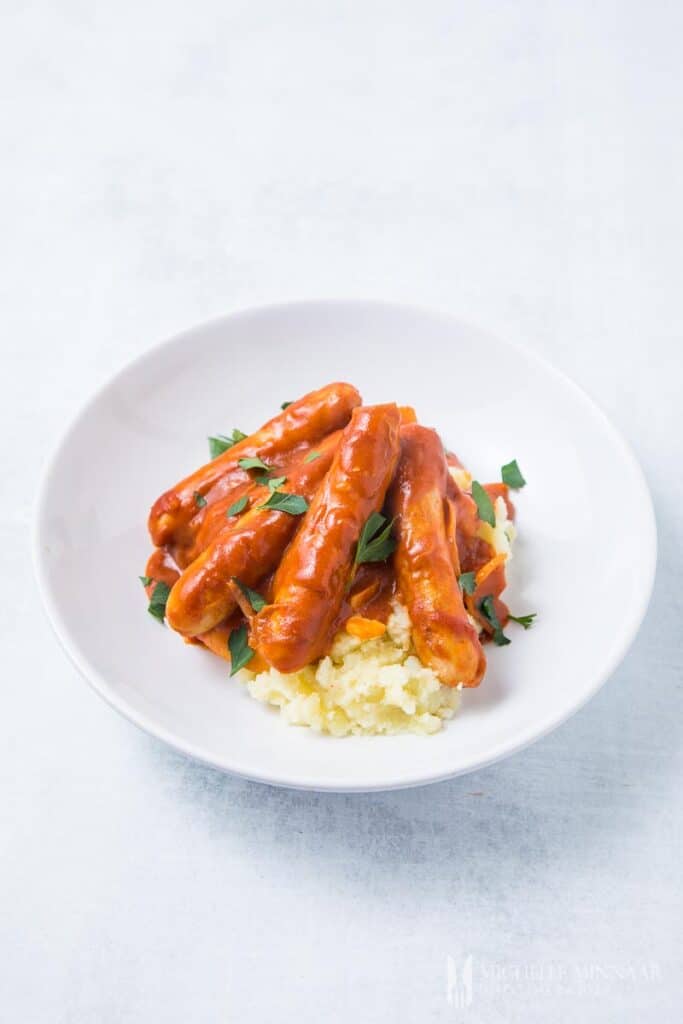 what are devilled sausages?
The term devilled refers to the use of strong spices. The term is believed to date back to the 18th century when more and more exotic spices started finding their way to Europe. Devilled became a common term for hot and spicy foods. Most famously devilled eggs, prepared with mustard pepper and other spices. Devilled sausages follow the same principle, in terms of using strong spices and mustard to get a flavourful dish.
You can basically make devilled sausages with any type of sausages that you like. The spicy flavour comes from the sauce. The ideal sauce will warm you up without being extremely spicy. Through the combination of spices you get a warming dish that makes you long for a second serving.
devilled sausages with cayenne pepper
In order to obtain the right amount of spiciness for my devilled sausages I have used a number of ingredients. The one that gives the dish its kick is cayenne pepper.
This medium-hot type of pepper shares its name with the capital city of French Guiana, though it is believed to originate from South America. Cayenne pepper bears a nice aroma without being extremely hot, making it perfect for devilled sausages. After all you want to be able to enjoy the taste of the sausages, too, without having your head blown off from hot chilli! That being said, everybody's tastes are different and if you simply can't get your food spicy enough, then add a bit more cayenne pepper to the sauce. If on the other hand you are not a fan of spicy food, simply leave it out. The other spices will still result in a flavourful dish.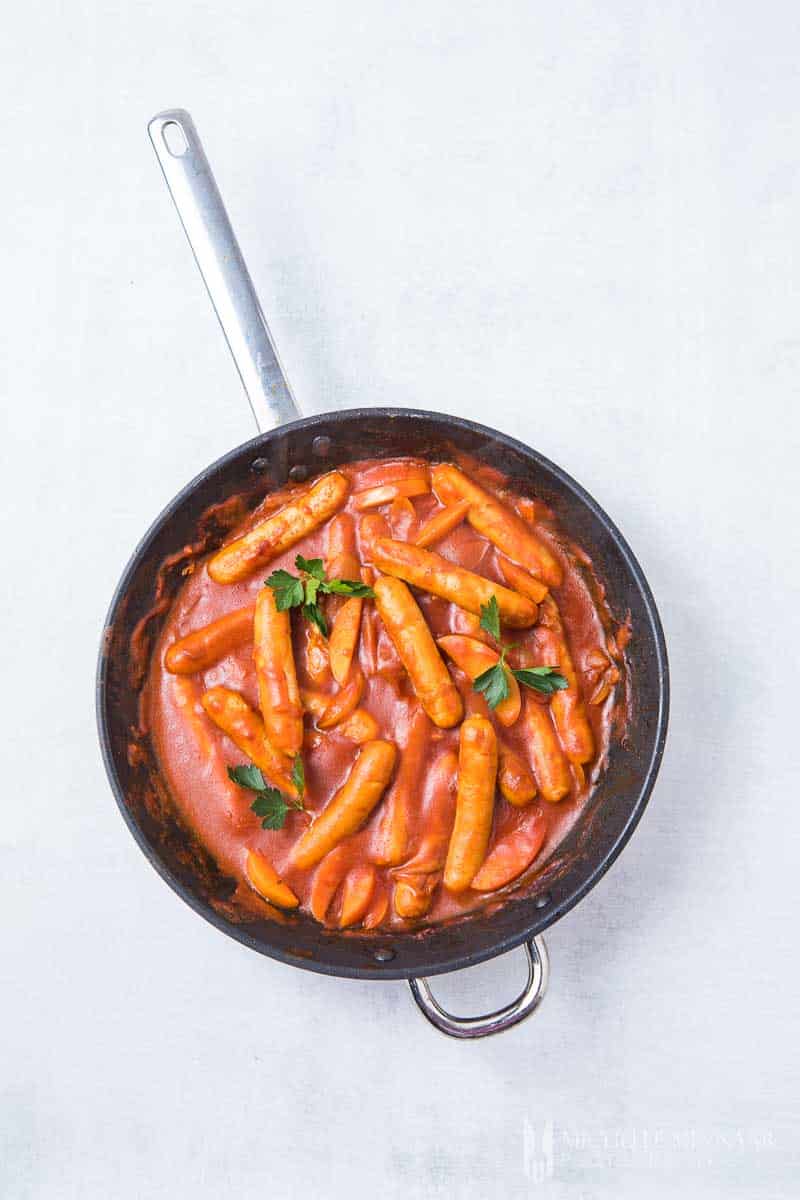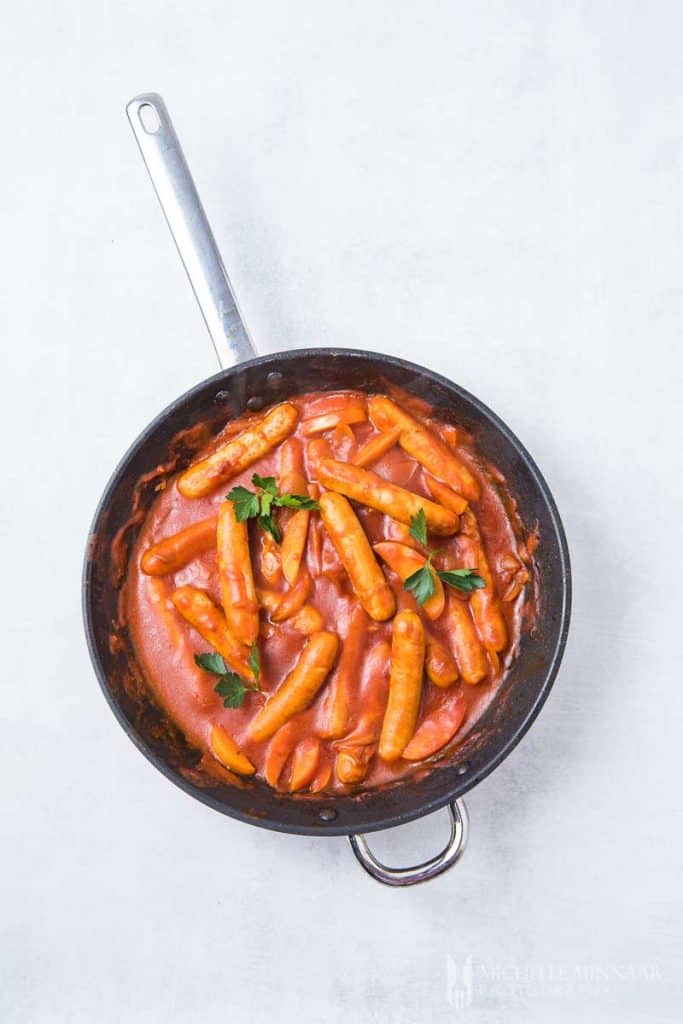 how to season devilled sausages
I find it is important to have a balance of flavours. It can't just be all spices. For this reason I have also used soy sauce in my devilled sausages recipe. The soy sauce gives the dish a bit of that umami flavour as well as some sweetness to counteract the sharp spices and the mustard. Similarly I used apple to give some acidity. Altogether these different flavours create the balance in the dish that makes it so enjoyable to eat.
Nevertheless, the seasoning is where you yourself can try some creative flair. For example, I used smoked paprika in my version. However if you don't like the smoked flavour you can use normal sweet paprika instead. You could also go in a bit more of a Cajun spice direction by adding ground thyme and oregano. Even a pinch of nutmeg or cumin can lead to quite interesting results here. With these spices, the flavour will go in the direction of classic Hungarian goulash. Let me know what you come up with – share your ideas by leaving a comment below.
devilled sausages with mash
Now I know you are probably thinking school cafeteria and bangers and mash but don't be fooled. These devilled sausages are something completely different, and with the right quality mash you can really lift this dish to another level. A well-made classic potato mash is of course always a winner. Make sure to get the texture right and season it well with salt, so that it isn't bland. The mash should be a significant part of the serving, and not just a plain backdrop with no flavour.
If you are feeling slightly more adventurous you can serve the devilled sausages with another type of mash. For example you could try my roasted sweet potato mash. The complex flavours of this mash really plays well with the devilled sausages, not to mention the many benefits of sweet potatoes, especially in terms of vitamin content.
Another good alternative is carrot and parsnip mash an equally delicious and healthy alternative to a classic mash.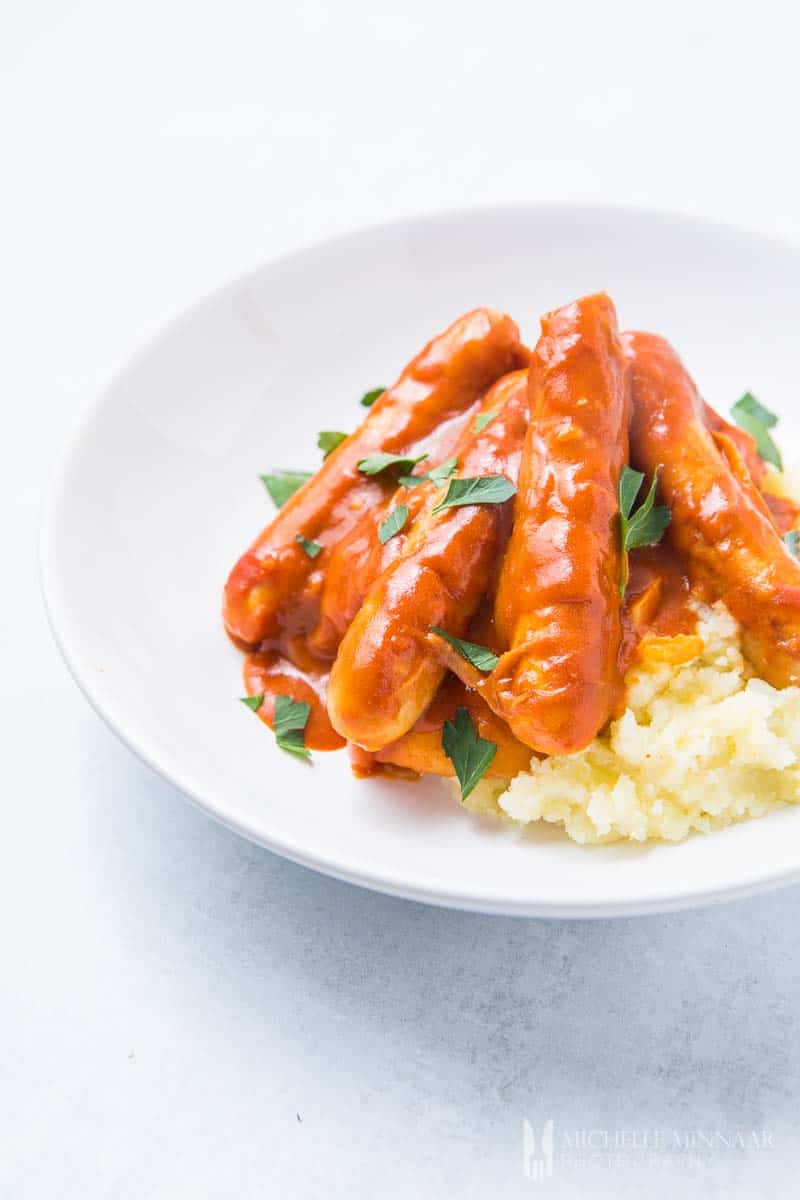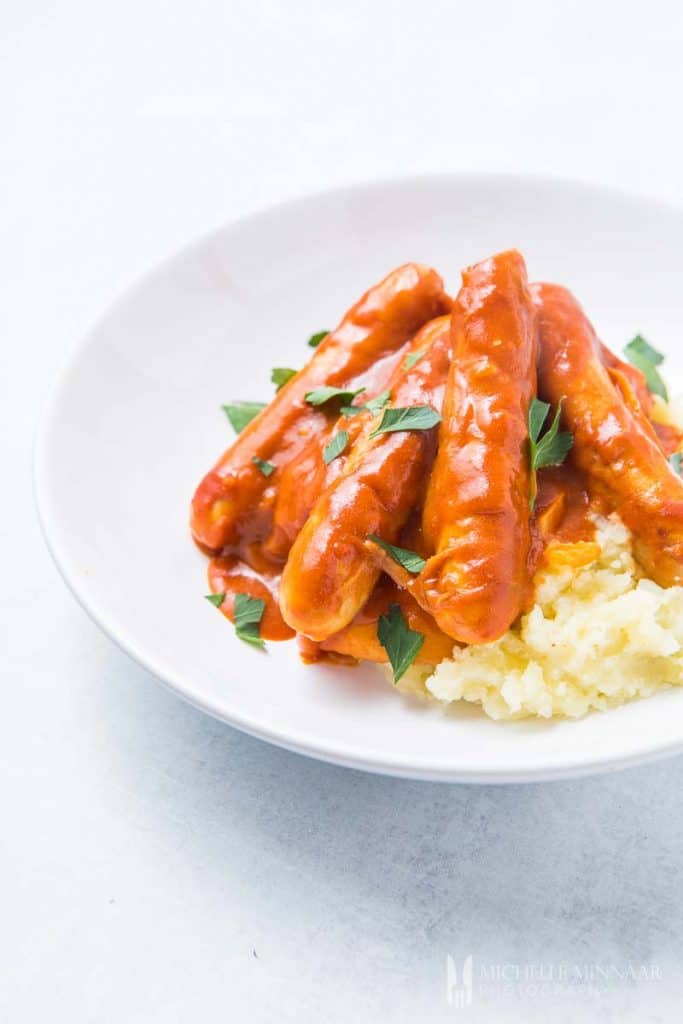 vegetarian devilled sausages
Believe it or not, it is actually possible to make a vegetarian version of this dish. Nowadays it is possible to get tasty vegetarian sausages, like the ones I used for my sausage traybake.
Instead of the chicken stock, simply use vegetable stock instead. You can also add extra vegetables into the sauce. Finely chopped carrots, celery or bell peppers are nice additions.
Whether you go for the vegetarian version or not, a sprinkle of green gives the final touch. Some freshly chopped parsley or chives not only make the dish more pleasant to the eye, it also gives a refreshing finish to the flavour. I bet you didn't imagine a vegetarian dish could be this tasty.
sausage dinner ideas
Sausage dinners have an undeservedly poor reputation. This is a pity because there is actually quite a number of ways to produce delicious and also nutritious sausage dinners. Apart from these amazing devilled sausages I have tried my hand with a couple of other sausage recipes recently. If you are looking for more inspiration for your upcoming dinners, have a look at my venison sausage casserole.
For something a bit out of the ordinary, you can also try my sausage soup with butterbeans.
For something similar, just without the spicy element, try my bacon-wrapped pork sausages with sweet sticky apple.
In either case, if you a re a fan of sausages, you can also try to make this recipe with andouille sausages. If you can't get any, try to source any of these andouille sausage substitutes.
What is your favourite way to cook sausages?
Print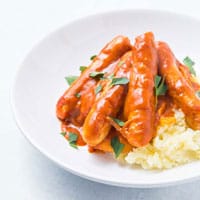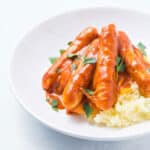 Devilled Sausages
---
Description
Don't let the name Devilled Sausages scare you from cooking this flavourful sausage recipe. Select your favourite sausages and cook them in a spicy sauce.
---
30

ml (2 tbsp) vegetable oil

2

onions, peeled and sliced

500g

(1lb) chicken sausages

4

garlic cloves, peeled and crushed

15

ml (1 tbsp) cornstarch

1

apple, washed and sliced

400g

(1 can) chopped tomatoes

15

ml (1 tbsp) Worcestershire sauce

15

ml (1 tbsp) Dijon mustard

15

ml (1 tbsp) soy sauce

5

ml (1 tsp) smoked paprika

5

ml (1 tsp) cayenne pepper

250

ml (1 cup) chicken stock
---
Instructions
Heat the oil in a large frying pan.

Fry the onions at a high heat for 2 minutes then add the sausages and brown all over.

Lower the heat to medium and add the garlic and cook for another 2 minutes.

Stir in the cornstarch and add the apple wedges.

Pour in the tomatoes, Worcestershire sauce, mustard, soy, paprika, pepper and stock. Give everything a stir until the ingredients are evenly distributed.

Let the sausage stew bubble away gently for 10 to 15 minutes or until the meat is cooked through. (Use a meat thermometer if you have one.)

Serve on a big pile of buttery mash.
Notes
In this recipe I used chicken sausages, but feel free to substitute it with the meat of your choice. Even vegetarian or vegan ones will work! Just use vegetable stock instead.
Prep Time:

15 minutes

Cook Time:

30 minutes

Category:

Main Course

Cuisine:

American
Nutrition
Serving Size:

1

Calories:

383

Sugar:

12.4g

Sodium:

1004mg

Fat:

20.9g

Saturated Fat:

5.7g

Carbohydrates:

29.6g

Fiber:

5g

Protein:

18.2g
save the recipe to your pinterest board