This grilled bonito recipe is light and low in calories. It is also a recipe using Atlantic bonito freshly caught during my excursion with Fish On! when I went fishing for bonito. You can read all about my fishing experience here. The meat of a bonito fish has a firm texture with strong umami flavours, along the lines of tuna. It is the perfect alternative for all you meat lovers out there to get some nice protein on the plate. So, not only is the bonito rich in protein, it won't fall apart on the grill due to its texture. Altogether, grilled bonito is a beautiful healthy dish.
grilled bonito and fishing for bonito
As you know, I recently undertook an excursion to go fishing for bonito. Now, as soon as we caught the bonito we learned how to prepare it for the plate with the help of Chef Juan from the Bohemia Suites & Spa, a five star hotel in Gran Canaria. Chef Juan Manuel Bertolin Fuertes is an Aragonese chef who works at the Bohemia Suites & Spa. Having completed at the San Blas School in Teruel and the High School of Hospitality in Aragon, his technical and culinary skills soon caught the attention of professionals. His inspiration comes from spending his summers in his sister's kitchen as well as from his curiosity about the food from his grandmother Maria.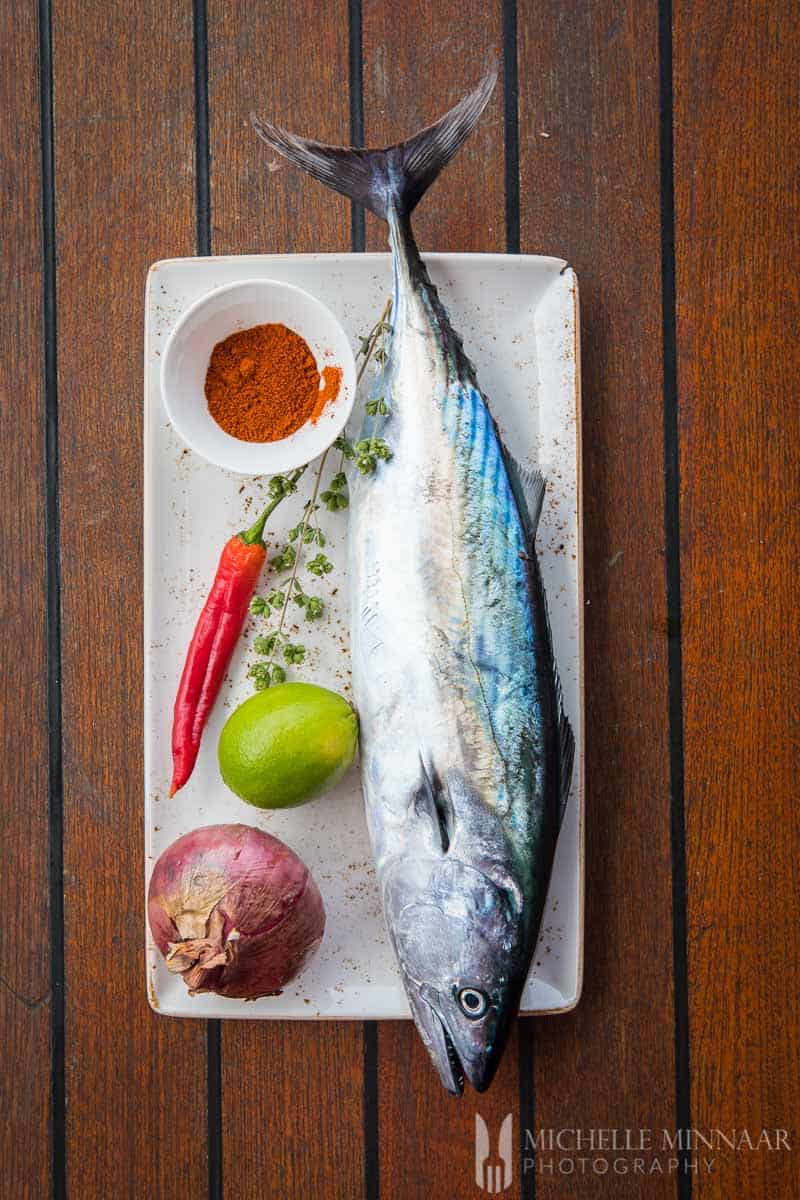 "I still remember myself running out from my house to find out what she was cooking and eat it with her. Her food had a special flavour," he says.
Soon, he began to work in some of the best restaurants in Aragon. Today, he continues to seek the best combination of textures and flavours of food. This can definitely be seen at the Bohemia Spa & Suites restaurant menu. They offer a wide selection of fabulous seafood dishes with freshly caught fish. Hence, it was a pleasure to go with Chef Juan to the local market after my fishing for bonito excursion. Now I know exactly which herbs and produce to go for when it comes to a grilled bonito recipe or a grilled wreckfish recipe.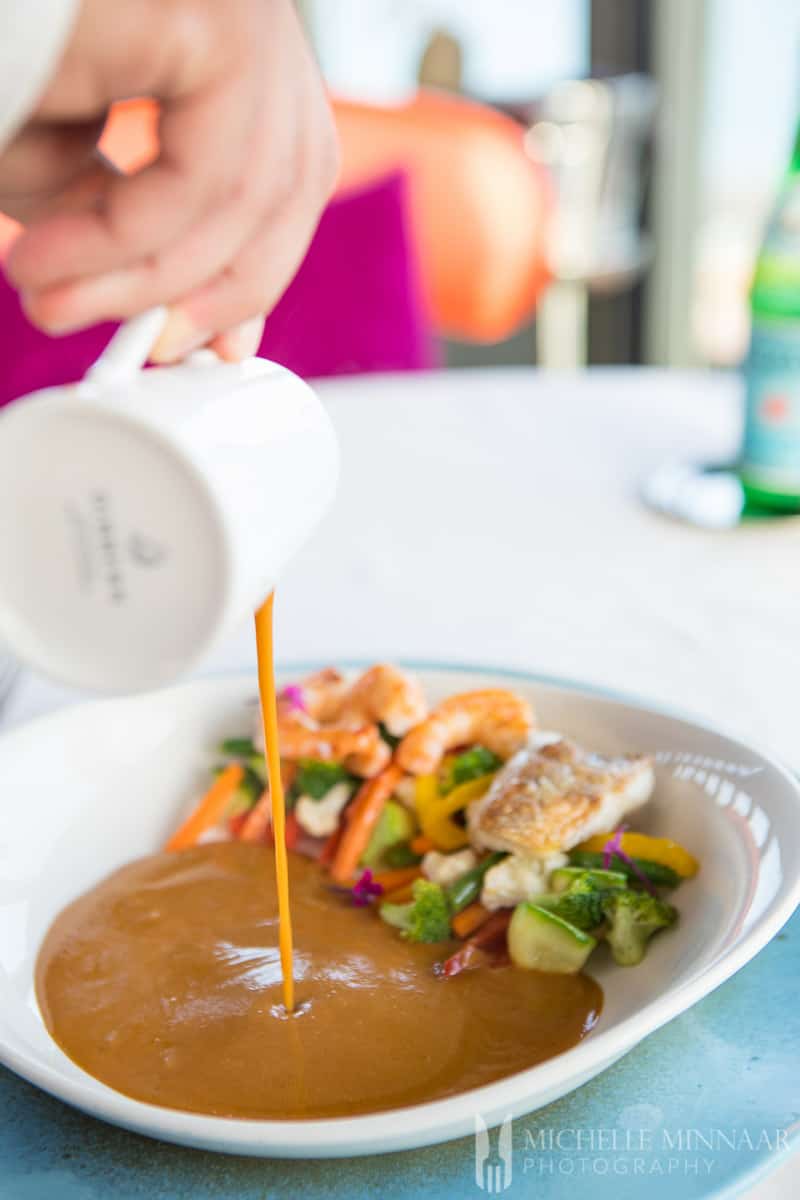 excursion to the market
The market is called Mercadillo de Vega de San Mateo and it is located at Vega de San Mateo in the centre of the village. At this market, I was exposed to a beautiful selection of fresh produce, including vegetables, fish and local cheeses. So tempting! You can also indulge in the traditional, locally baked goods. When you visit the market, you will certainly get an understanding of just how fertile the island is. It is also a great way to experience the culture and blend in with the local crowd. Make sure you visit it!
Overall, it was a beautiful excursion. First I went fishing for bonito. Next, I took a masterclass on how to prepare and gut fish. Then, I went with a top chef to the local market to shop for the ingredients that pair well with the fish that we caught. Lastly, I learned how to cook it!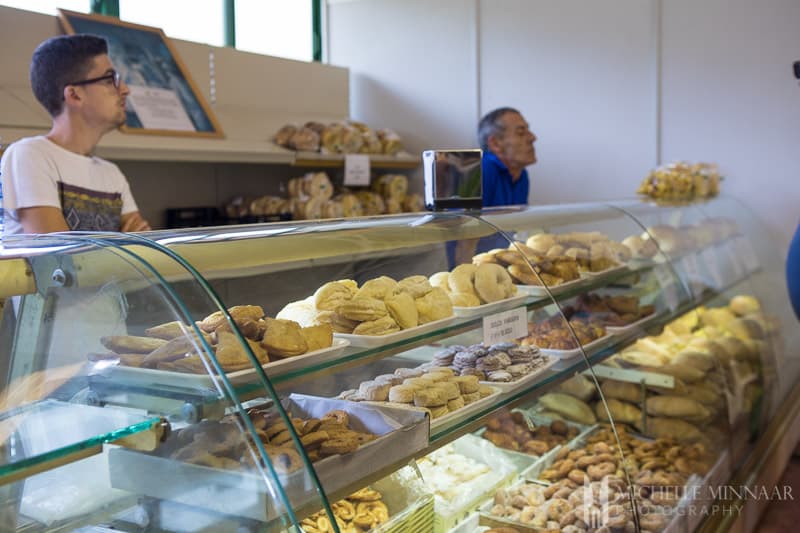 grilled bonito whole bonito fish recipes
Perhaps you have never heard of the bonito. Admittedly, it is not a fish which is caught on a massive commercial scale. However, every so often you will probably come across it at your local fishmonger. Bonito – its name comes from the Spanish word for beautiful – is actually a family of fish. The most common by far is the Atlantic bonito. Other types include the Australian bonito and the Eastern Pacific bonito. As you can tell, the bonito is home to those waters. Moreover, they are related to the tuna and mackerel family. So, you can expect the grilled bonito to cook similarly.
Atlantic bonito fishing
The Atlantic bonito is native to the Atlantic Ocean, however, it can also be found in the Mediterranean Sea. The meat of the bonito has a firm texture similar to a tuna and is a dark reddish colour. This means that its taste is not quite as delicate as some of the more usual white fish that we grill or eat. The older the fish, the darker the meat will be. The younger ones will be lighter in the meat as well as in the flavour. The bonito can grow to a staggering 30 inches (75 centimetres) in length, although most of the ones caught and sold are only about half that size.
The bonito is known to travel close to the shore in large schools. It is quite a popular game fish for sports fishers, especially in the USA. If you or someone in your family enjoys fishing in your free time, maybe you can even catch one yourself. There's nothing better than enjoying a grilled bonito that you caught yourself! To learn more about the bonito, click here.
Also, check out this masterclass from my excursion where you learn to gut and prepare the fish from a top expert.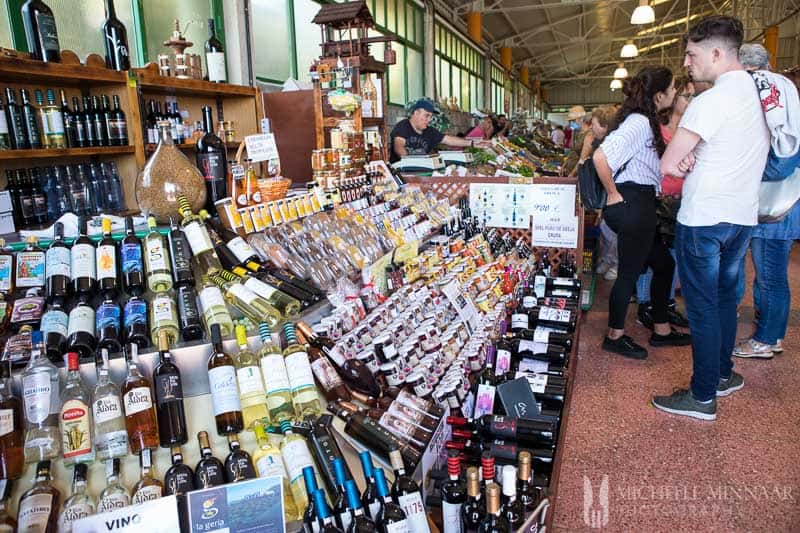 best bonito fish substitutes
If you can't find bonito anywhere in the shops, look for fish such as Spanish mackerel, which has a similar type of meat. In fact, the two fish are so alike that I would recommend Spanish mackerel as the best direct substitute for the grilled bonito recipe. However, it is also relatively uncommon in the shops, so you might have to turn to a different type of mackerel. The easiest substitute would be the normal Atlantic mackerel for instance.
If you do switch the bonito for the mackerel, keep in mind that cooking time will be lower as the mackerel is a smaller fish. Also, mackerel have a lot of small bones so be careful with those when eating it.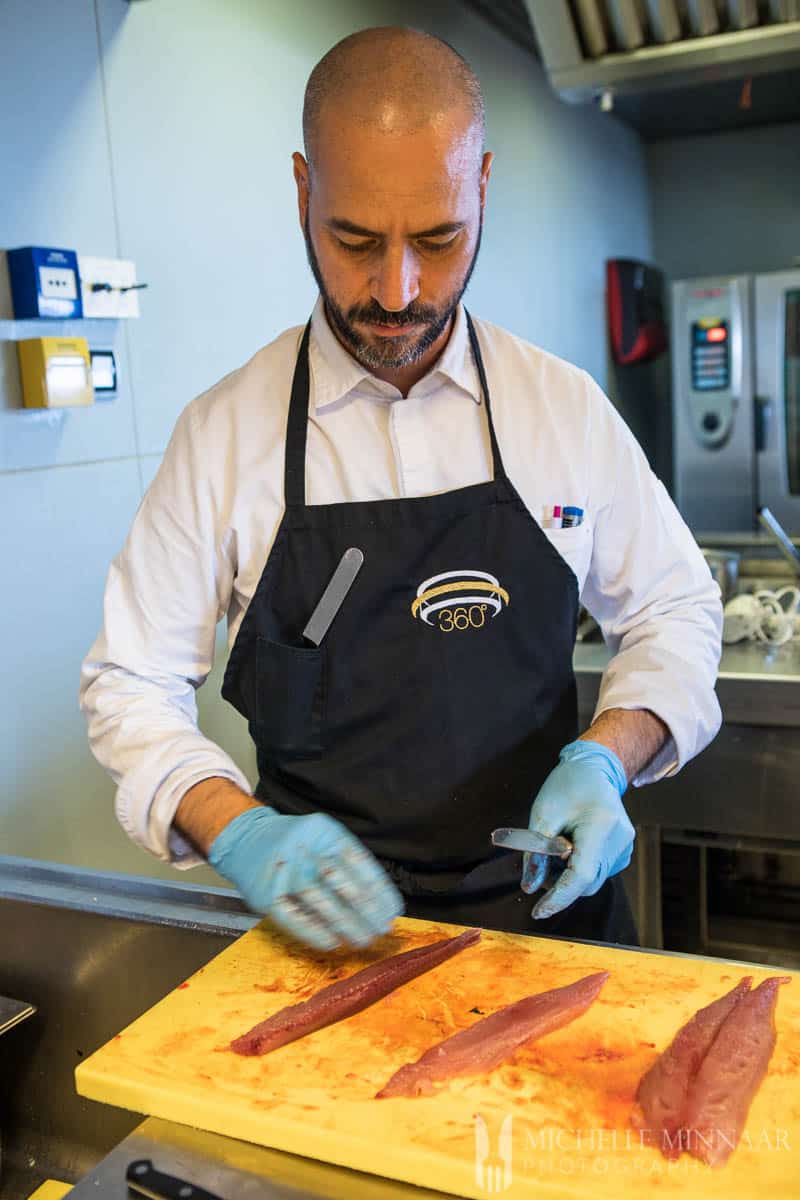 a good fish to eat
Indeed it is! Before grilling the bonito, rub it with salt and pepper and any spices you might wish to use on the fish. My suggestions would be lemon, thyme or paprika and garlic. For Asian flavours, try a miso rub. After grilling the fish, drizzle with a mixture of lemon juice, olive oil and freshly chopped parsley. You can also use more fragrant herbs such as tarragon or dill. If you don't have tarragon, take a look at these excellent tarragon substitutes.
Alternatively, throw a generous amount of fresh watercress on top of the fish when serving. The watercress has a lovely bitter freshness that gives a good contrast to the meaty fish. In fact, I suggest you make this delicious, creamy watercress sauce. It pairs very well with darker types of fish. Even so, don't forget that all-important lemon juice.
If you have a smoker at home and want more intense flavours, then inspire yourself with this hot smoked salmon recipe.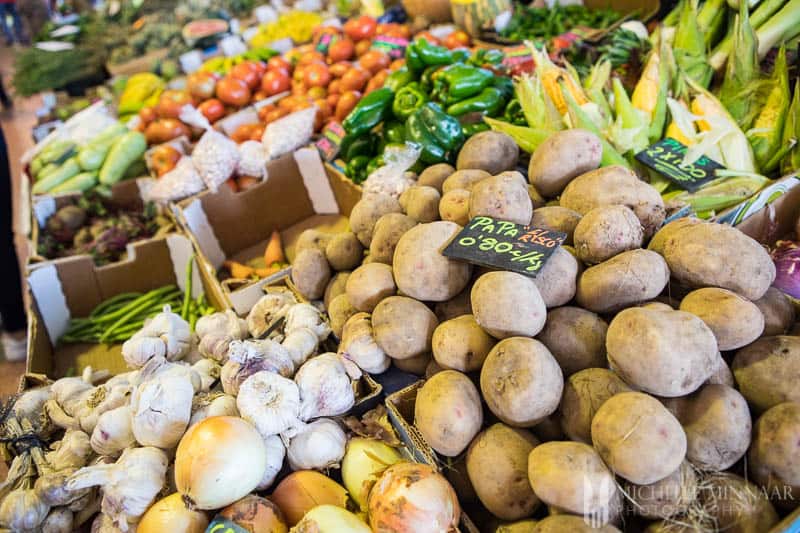 Atlantic grilled bonito serving suggestions
As with any fish, I believe that the sides should be of a somewhat lighter nature. Especially if you want to keep it a low-calorie meal. That being said, the grilled bonito is darker in the meat and fuller in flavour than most white fish. Therefore, it can handle bolder flavours in the sides.
Something green is always nice for a fish. It looks great on the plate and it freshens up your palate. A good alternative to boiled vegetables or a plain green salad could be my cucumber salad with avocado and cashews. Refreshing due to the cucumber, though full bodied due to the avocado and toasted cashews, this salad makes a nutritious side for the grilled bonito.
If you would like the meal to be even more filling, you can serve the grilled bonito with my pomegranate couscous salad. It is a combination that will certainly transport you to the Mediterranean seaside in an instant. The fresh cucumber, spring onion, pomegranate seeds and fresh mint are all refreshing!
A very simple alternative is to just grill some vegetables since you have the barbecue going anyway. Some bell peppers, courgettes and asparagus done on the grill are tasty sides for a grilled bonito. Make sure to get a bit of char from the grill on those vegetables and they will be irresistible.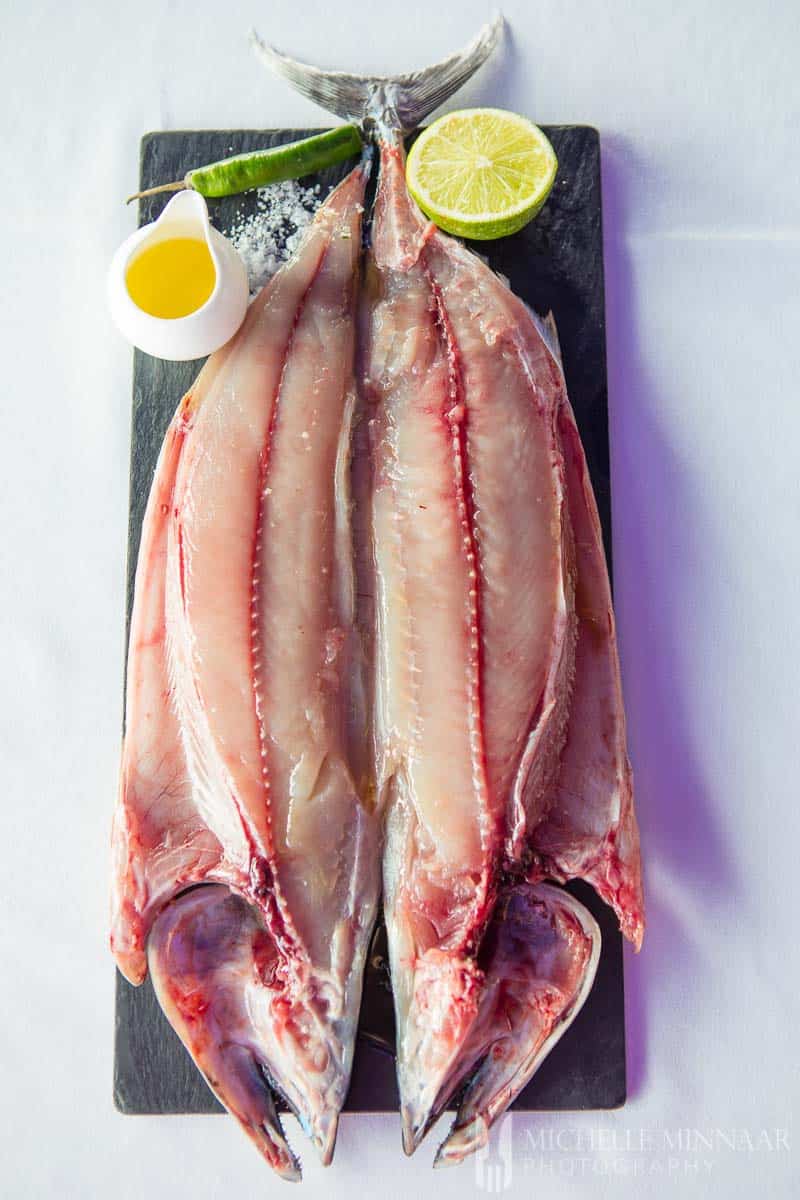 wine pairing
Every now and again we can allow ourselves to add to the joy of a good meal by drinking a lovely wine with it. I reckon that the grilled bonito could be one of those meals. Because of the somewhat denser meat and fuller flavour, you should not go for too light a wine. Some light white wines may be great for white fish, but they will not quite do it for the grilled bonito. If you want to stick with white I recommend a full bodied one. For example a Chardonnay, perhaps with a bit of barrel aging to give it some weight.
Otherwise, you could go for a nice fruity rosé. In this case I would go for an overseas wine such as South African or Australian. Alternatively a Chilean. These should all pack some good flavours that will match the grilled bonito.
Print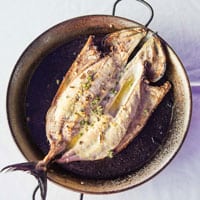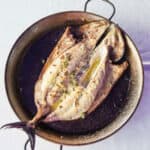 Grilled Bonito
---
Description
Grilled bonito is a healthy recipe that uses Atlantic bonito fish. If you've just fished and don't know how to cook bonito, then here's your answer!
---
1

whole Atlantic bonito, cleaned and gutted

30

ml

(2 tbsp) olive oil

1

garlic cloves, peeled and crushed

1

green chilli, washed and finely chopped

1

lime, juiced
Salt and pepper, to taste
---
Instructions
Butterfly the fish.
Brush the flesh with the oil and grill on the barbecue or under the grill for 8-10 minutes. Remove from the heat.
Mix the garlic, chilli and lime and sprinkle on the fish.
Serve immediately with a fresh salad and new potatoes.
Prep Time:

5 minutes

Cook Time:

10 minutes

Category:

Dinner

Method:

Grill

Cuisine:

Spanish
Nutrition
Serving Size:

1 serving

Calories:

203

Sugar:

1.1 g

Sodium:

598 mg

Fat:

17.8 g

Saturated Fat:

2.6 g

Carbohydrates:

5.1 g

Fiber:

1.2 g

Protein:

8.6 g
Keywords: bonito fish, bonito recipes, how to cook bonito
save the recipe to your pinterest board