Of all the BBQ recipes I've been posting recently, this one takes the cake. The beauty of cooking curried lamb chops is that when you get them right, they will taste like a dish straight out of a restaurant. Honey glazed smoked ribs will complement the barbecue spread. What I love about both recipes is the smoky flavours! Here are plenty of salad recipes to inspire you to complete the meal.
iceland can help with your bbq garden party
Sourcing high quality meat might sometimes be a challenge. This is where Iceland comes in! Thanks to Iceland, you can easily find your favourite BBQ meats such as: churrasco skewers and the peri peri chicken skewers. As a matter of fact, the latter actually won best poultry product at the Meat & Fish Awards 2016. Suspicion ruled until I got to taste a skewer and it was simply divine. Indeed, tasting is believing.
The best thing is that with the high-quality meat products from Iceland, you can have tasty dishes waiting in your freezer. Soon enough, they will be ready for the next sunny afternoon that comes around. You too can stock up for your next garden party here.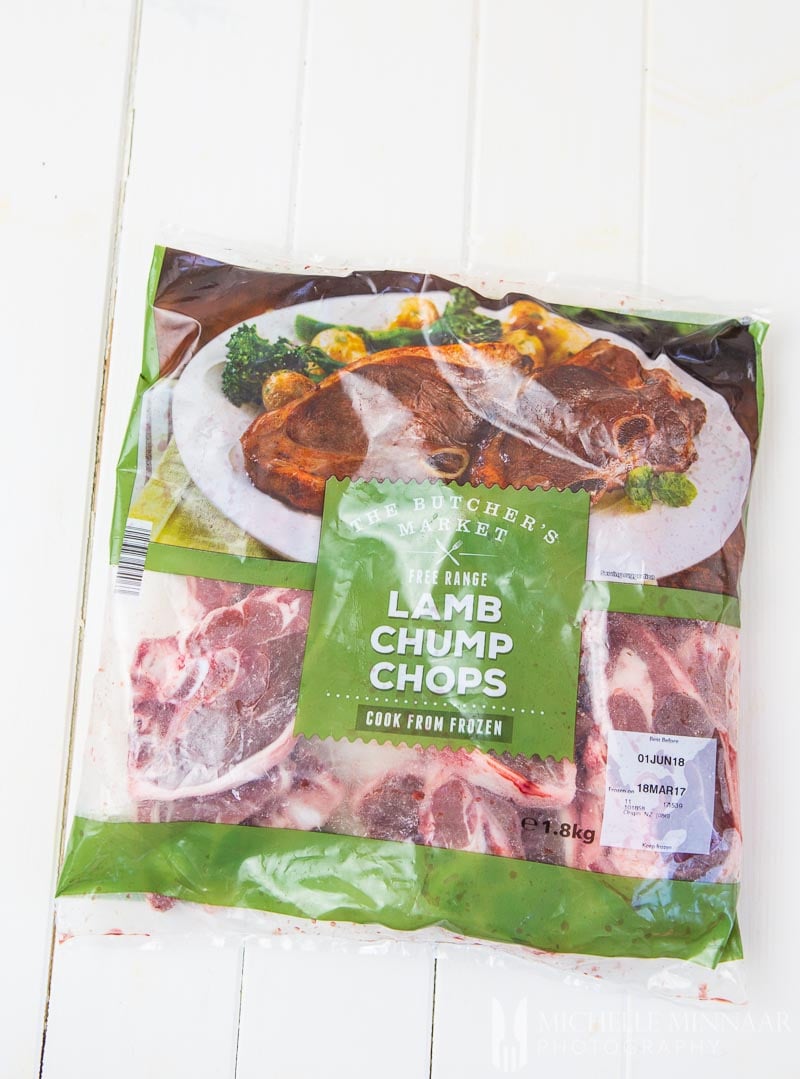 #poweroffrozen
Like I used to, you might still be clinging to old superstitions about frozen food being of a lesser quality. Those days are long gone because thanks to modern technology, frozen food can in many cases actually be superior to fresh food! This is especially true for vegetables. The best part is that farmers pick and harvest the veggies at exactly the ideal moment. The produce is then taken to the processing plant, where they cut, clean and freeze them. This is done all within a very short time span to lock in the freshness.
Many of the vitamins and nutrition, that are normally lost in storage time with fresh food, are kept intact. Add in the convenience factor and it's an obvious win-win situation. What could be better than having a freezer full of healthy ingredients that you can use any time you desire? No longer will you have to throw away half of a broccoli from the bottom of the fridge because you didn't use it in time. Just have the frozen ones in stock instead.
flavour of lamb
The taste of lamb is very specific and quite different to the taste of beef. Lamb tends to be much fattier and can also be heavy. You might upset your tummy if you eat too much of the curried lamb chops. A friend of mine once had lamb shoulder for Sunday lunch. She loved it so much, that she ordered a second portion. This of course turned out to be a very bad decision! Gosh, she even had it with mash. Talk about a calorie bomb. For this reason, you might want to prepare a light salad with some acidity, to cut through the fat. It will give the entire meal a lift.
In this recipe I used Iceland's lamb chump chops.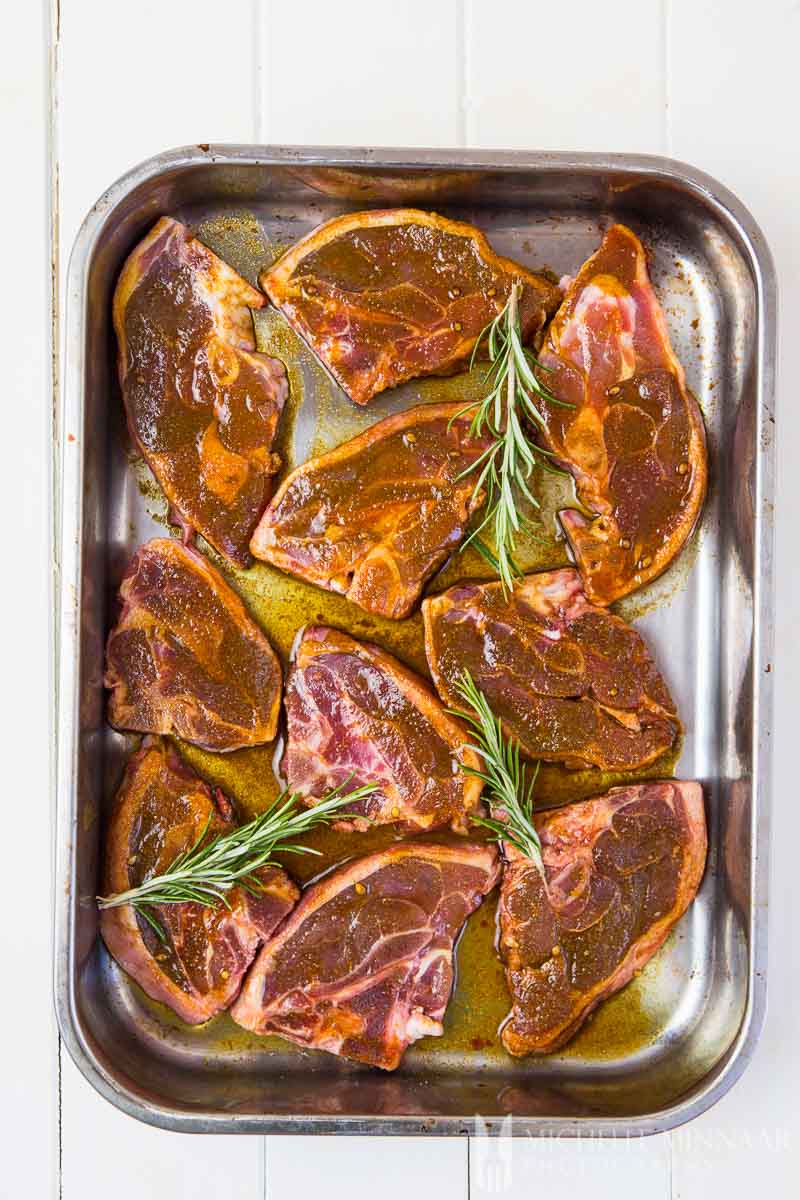 oil and curry powder marinade
For these curried lamb chops, I have used a fantastically simple, but nonetheless super tasty marinade. Consisting of just olive oil and curry powder, it really can't get any easier. Furthermore, the curry goes great with lamb, and will give you BBQ an exotic edge. This is very different to the usual American barbecue sauce flavours we have grown accustomed to. With recipes this simple there is really no excuse for serving up boring food this summer, right? Try it out, along with some of my other delicious recipes for BBQs.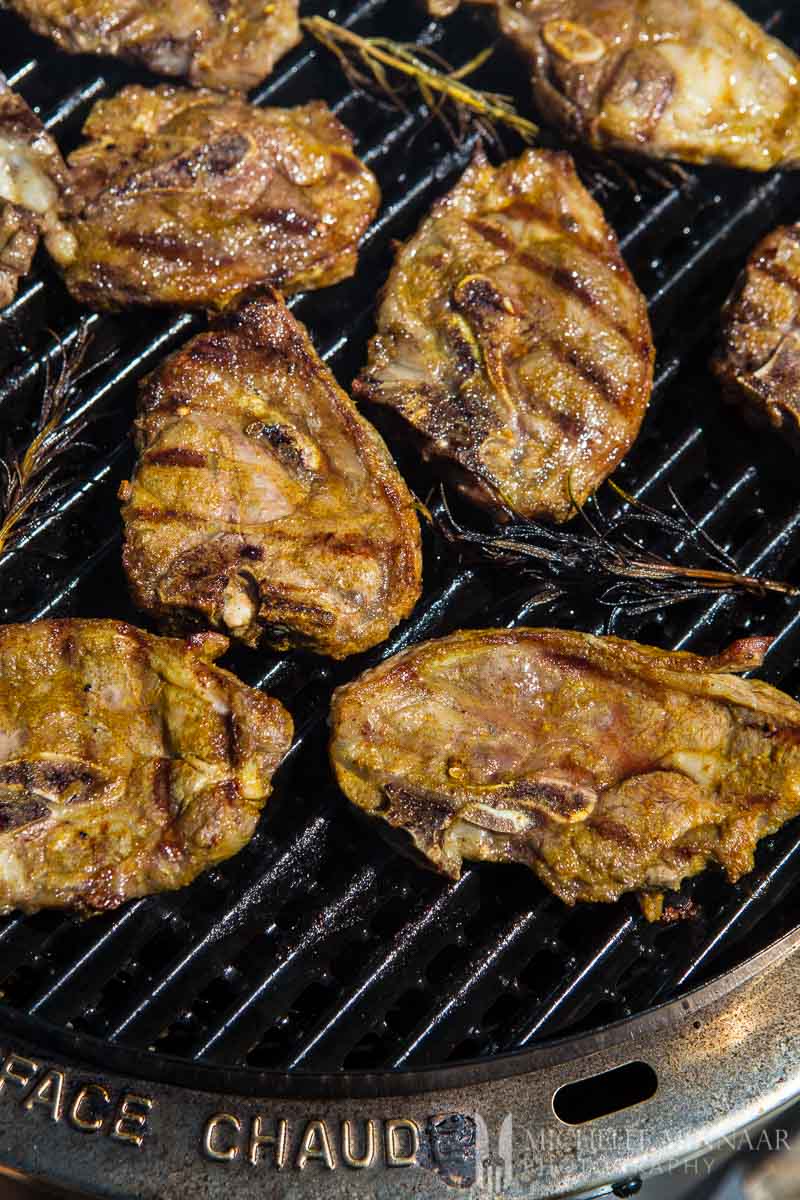 grilled fresh apricots
Apricots are coming into season just now, so it's time to enjoy these delicious fruits. If you thought they only work for breakfast or as a dessert you thought wrong. When prepared correctly, apricots can actually be turned into a great side dish for meat. Simply wash, halve, pit and then grill the apricots. It's important that the apricots are ripe and not too hard because then they will be sour. On the other hand, they cannot be too ripe: otherwise they will most likely break up on the grill in a soggy mess. Give them three to four minutes and they will char nicely and taste fantastic. Garnish with a drizzle of olive oil and salt and pepper. As an extra touch, you can add fresh herbs. In this case I would recommend fresh rosemary. However, if it is not your favourite, you could also use thyme or even mint.
fresh rosemary
Fresh rosemary is an extremely aromatic herb that has its origins in the Mediterranean countries. Don't worry though you can easily grow it in your own garden, even up here in Britain. Along with garlic and the curry powder, it's simply a must when you cook lamb. Also, it works well with the grilled apricots giving an aromatic edge to the sweet and sour fruits.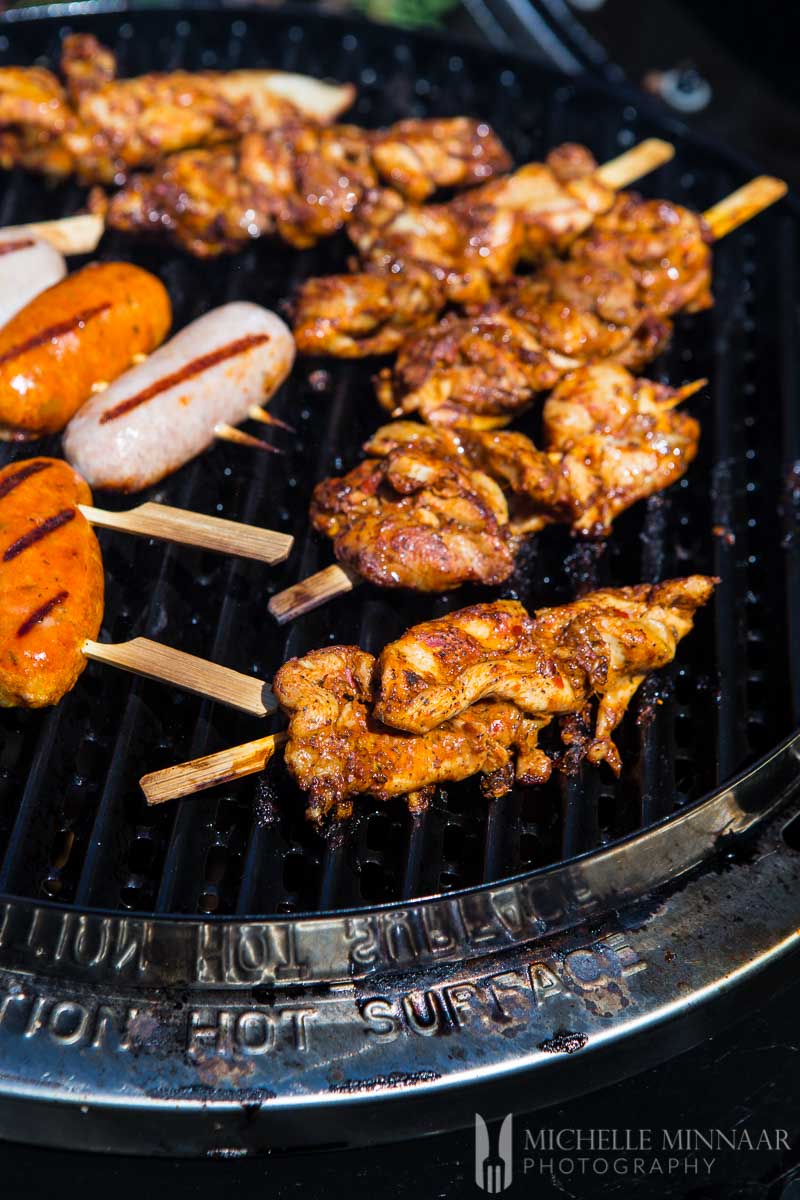 handy tricks that might just save your tummy
In order to avoid risking food poisoning, it's advisable to use a cooking thermometer to ascertain whether meat is cooked correctly. In the case of lamb, for medium the internal temperature should be 60-66°C (140-150°F). Well done should be about 150-165°F (66-74°C). After all, you want guests to leave with happy memories.
clever substitutes
Love curry powder or any exotic spice mix, just not a big fan of meat? No problem! Why don't you give my masala grilled aubergine a go! Spicy, hearty and delicious! Not only is it nutritious, but it leaves an impact in terms of flavour.
More fresh apricot recipes for you
Print
Grilled Curried Lamb Chops with Apricots
---
Author:

Michelle Minnaar

Prep Time:

10 minutes

Cook Time:

20 minutes

Total Time:

30 minutes

Yield:

4

1

x
30

ml (2 tbsp) vegetable oil

30

ml (2 tbsp) curry powder

8

lamb chump chops

8

apricots, washed and halved
Salt and pepper, to taste
---
Instructions
Mix the oil and curry powder in a cup until blended.
Place the lamb chops in a tray in a single layer and rub the curry on both sides of each chop.
Leave to marinade at least 2 hours or overnight.
Grill the apricots on the side and barbecue the lamb chops until medium or well done.
Season to taste and serve with sprigs of mint and dollops of yogurt.
Notes
Notes To avoid risking food poisoning, it's advisable to use a cooking thermometer to ascertain whether meat is cooked correctly. In the case of lamb, for medium the internal temperature should be 140-150°F (60-66°C) and well done 150-165°F (66-74°C).
Nutrition
Serving Size:

1 serving

Calories:

424

Sugar:

6.4 g

Sodium:

67 mg

Fat:

33.8 g

Saturated Fat:

12.4 g

Carbohydrates:

9.5 g

Fiber:

2.4 g

Protein:

20.3 g

Cholesterol:

80 mg
save the recipe to your pinterest board
P.S. This is a sponsored post.