Have you ever wanted to make your own shish kebabs? While you might have sampled these skewered little beauties before, making your own is always best.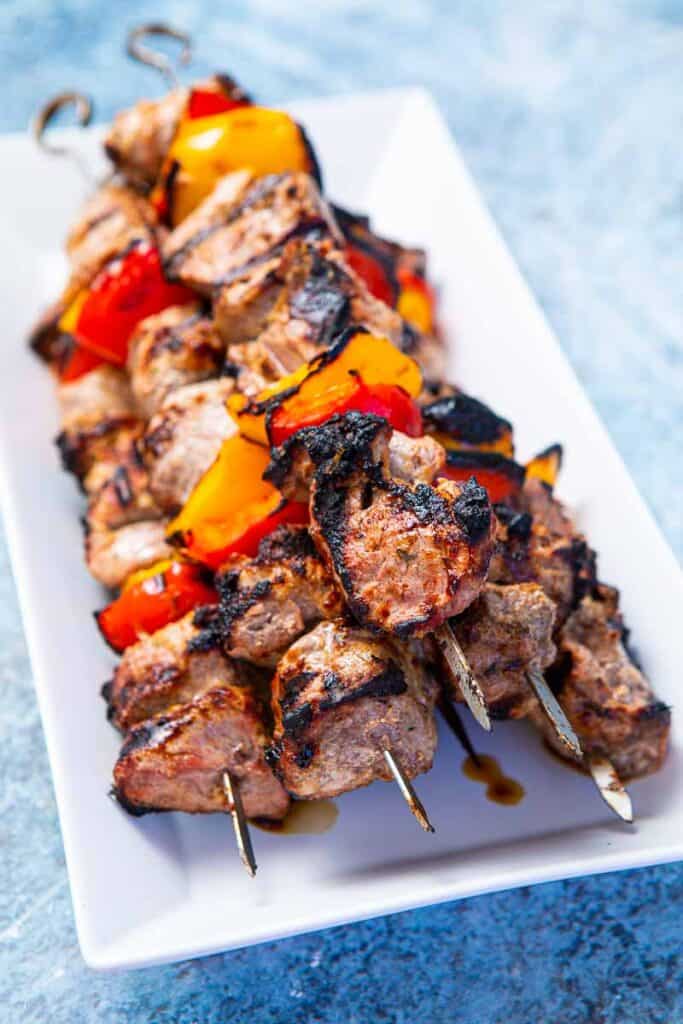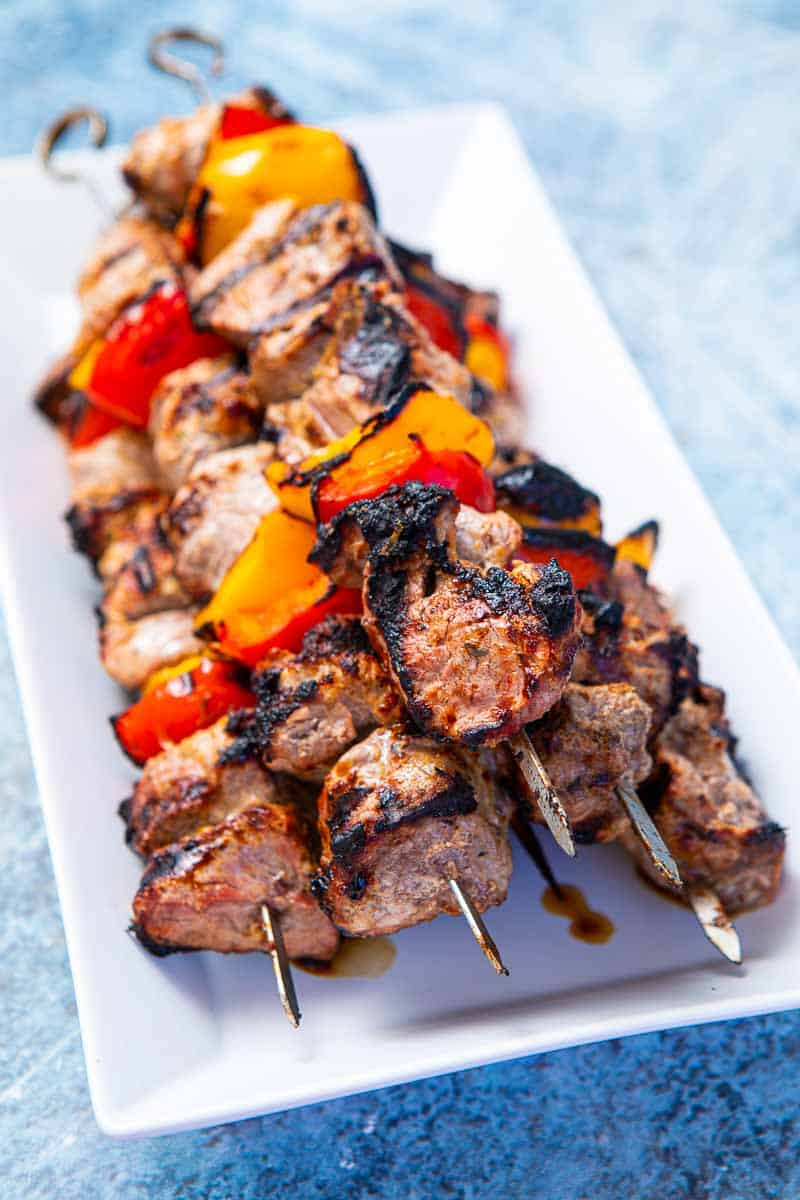 Plus, this recipe is so easy, you'll be serving up shish kebabs at every single barbecue.
So, if you've ever wondered how to make your own shish kebabs, you've come to the right place.
Lamb - Try it, love it
When it comes to meat, lamb is as good as it gets. It's so under appreciated though! Cooked in the right way, with the right ingredients, lamb is utterly delicious. Despite popular perceptions, it's inexpensive and good for you.
An EU funded campaign, 'Lamb. Try it, love it' aims to banish bland cooking and share the joys of cooking lamb with people all across Europe. Their recipes are quick, easy to make and taste great – they truly showcase just how amazing lamb can be when cooked in the right way.
So does this delicious shish kebab recipe. If you've never taken the time to tantalise your tastebuds with a proper lamb recipe, stop everything, don your apron, get in the kitchen and try something new because cooking lamb is a cinch… and the rewards are glorious!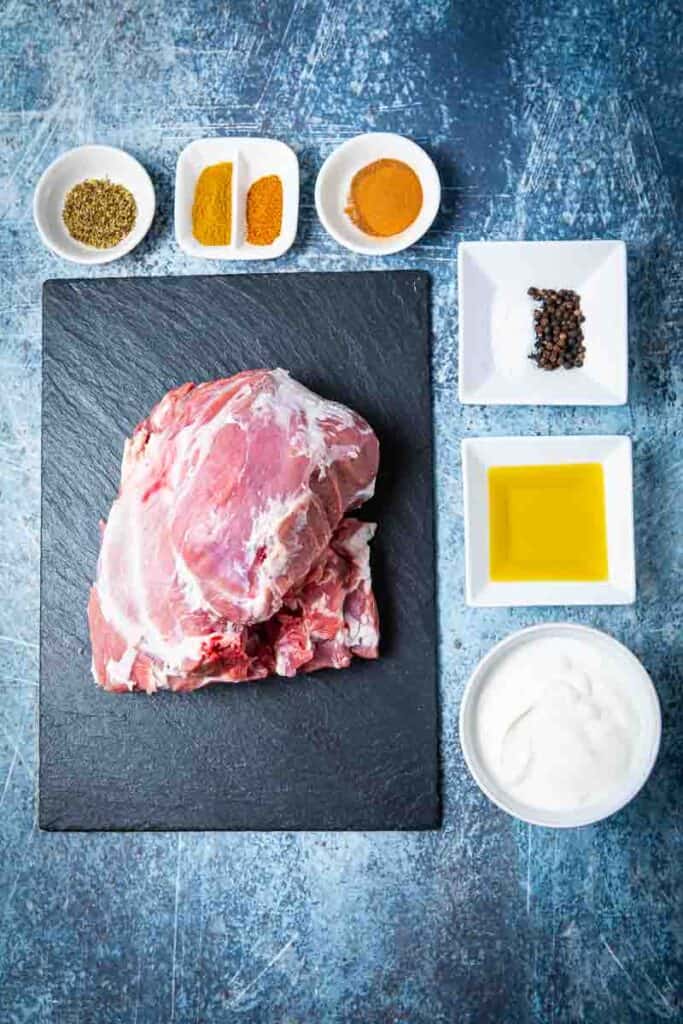 It's also a fantastically versatile meat. Whether slow cooked for hours in the oven, grilled at a high heat, or pan fried with a sprig of rosemary and a pinch of salt, lamb is a luscious meat. And with so many different cuts of lamb, there are lots of options when it comes to creating recipes.
It's also a lot more affordable than people think. You just need to know what cut to buy and how to cook it to really get your money's worth.
So, be sure to check out 'Lamb. Try it, love it' and find out more about cooking with this very tasty and highly underrated meat. As they put it… "life's too short to eat boring food." I couldn't agree more!
Lamb shish kebabs
An absolute stone cold classic, lamb shish kebabs are easy to prepare and make and taste amazing. Even better, they cook on the grill in a total time of less than 10 minutes.
With this recipe, you get maximum taste for minimal effort. The secret comes down to just two key factors that make shish kebabs so damn tasty.
The first is marinating the meat the night before. This is the secret to flavoursome lamb that will send your tastebuds into overdrive. Don't worry – the total time for prepping the meat is just a matter of minutes, then you let the ingredients do the work, as they infuse into the meat overnight. This will make the meat incredibly tender.
The second secret is to grill the lamb hot and fast. This really opens up the flavour, both of the meat and the marinade. Everything cooks in minutes and tastes like a dream. This is what makes lamb shish kebabs such an amazing addition to a barbecue.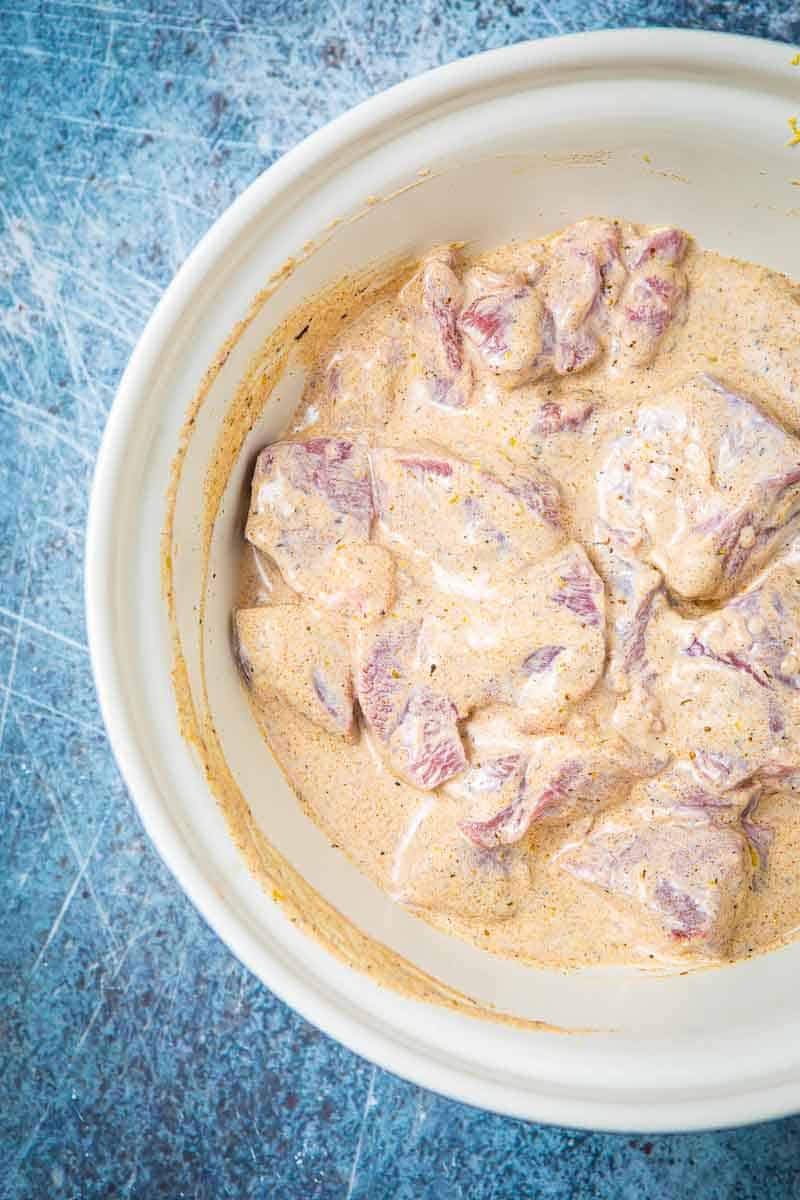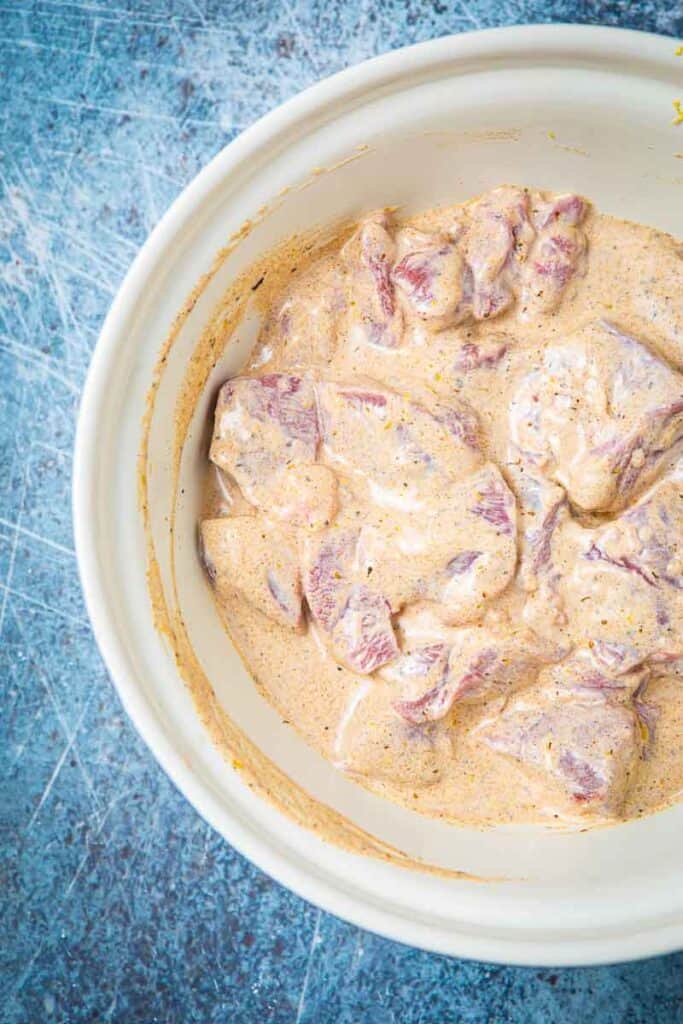 What are shish kebabs?
Shish kebabs are a combo of pieces of meat and vegetables on a skewer. Lots of different types of meat are used, such as chicken, beef or even fish, although lamb was the original choice. Different types of vegetables used include peppers, onions and mushrooms – anything that lends well to being slightly charred.
The skewer is then placed on a hot grill and turned to get evenly cooked kebabs. Pieces of meat and vegetables normally alternate on the skewer (–meat–veg–meat–veg–meat–veg–etc.) to get a nice balance of flavour.
What country do shish kebabs come from?
Shish kebabs are thought to have originated in Persia, which today is Iran. They were a simple source of food during war time (skewers over fire – as simple and delicious as it gets). Since then, shish kebabs have been a staple dish for many across the Middle East, as well as the wider world.
Many cultures around the world have taken inspiration from shish kebabs, cooking skewered meat on a grill to develop an array of great recipes. From Asian satays and French brochettes to Portuguese espetadas and Lebanese Lahm mishwy, marinated meat on skewers has proven popular throughout the world.
What is the difference between shish kebab and kebab?
'Shish' kebabs are always eaten on skewers – that's what the 'shish' part refers to. So, you've got deliciously marinated meat mixed in with colourful veg, all flash grilled to create a flavour sensation on a simple skewer.
The other traditional type of kebab is a 'doner'. When people in the UK talk about a kebab, this is what they're normally referring to. The meat used in doner kebabs is cooked on a vertical rotisserie and served inside a pitta bread, with shredded lettuce and a mix of other veg and sauces.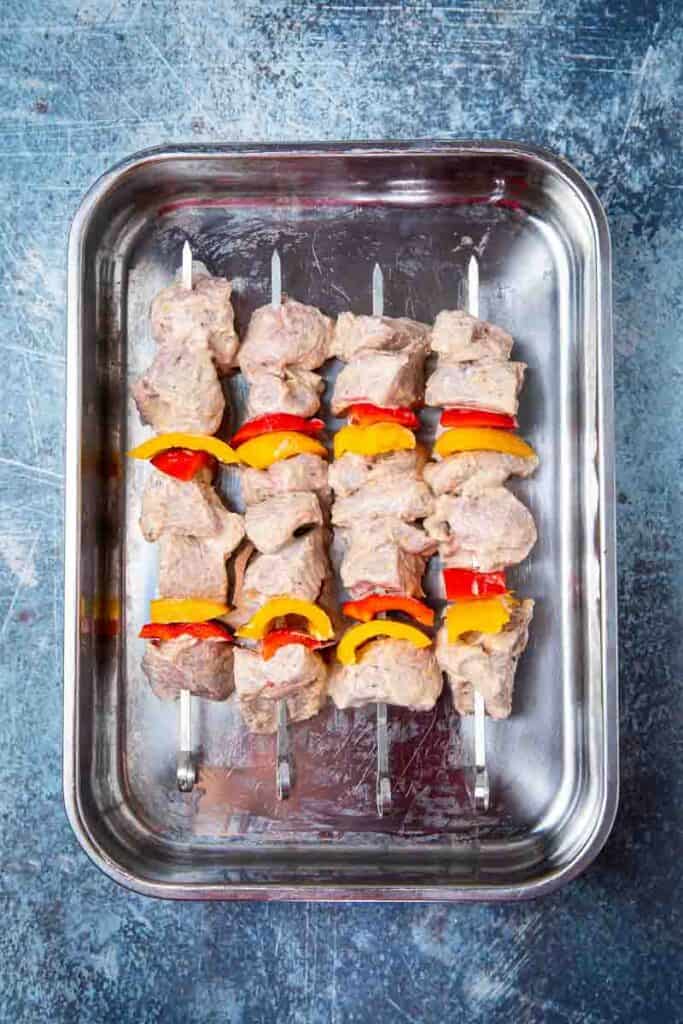 Other types of lamb kebabs
Lamb kebabs are hugely popular in traditional Middle Eastern cooking. Here are a few of the most common types of lamb kebabs:
Shami – one of the most delicious kebabs from Mughlai cuisine, shami combines minced lamb with spices to form a melt in your mouth patty that goes well with salad
Lamb kathi – a popular Indian dish, lamb kathi is made with a kathi roll and lamb marinated in yoghurt, ginger, garlic, salt, pepper and a variety of spices
Lamb chelow – the national dish of Iran, this delicious dish combines steamed saffron rice with marinated pieces of lamb
Where does the word 'shish kebab' come from?
The term 'shish' comes from the Turkish word şiş, which means sword or skewer. It was first used in English at the beginning of the 20th century. 'Kebab' comes from the Turkish word kebap, which translates as 'roasted meat dish' and is thought to have been adopted into the English language in the late 17th century.
So when you hear the 'shish' part, you know it comes on a skewer.
Which skewers to use for lamb shish kebabs
You might not think that the type of skewers you use for shish kebabs makes a difference. But it does… and here's why.
When you've got your shish kebabs on the grill, wooden skewers can absorb all the delicious juices from the meat. Now, when you consider the prep you put in to making them – with the incredible marinade working its magic overnight – this matters!
You want to be able to savour that marinade as it's drawn into the meat, not have it soaked up by a wooden skewer. That's why the professionals always work with metal skewers. So, if you can, invest in some metal skewers – they're totally worth it.
Another issue with wooden skewers is that they can char slightly on the grill, which can infuse the metal with an unpleasant burnt aroma. If you do use wooden skewers, make sure to soak them in water for 10 minutes before putting them on the grill. This will stop them from burning.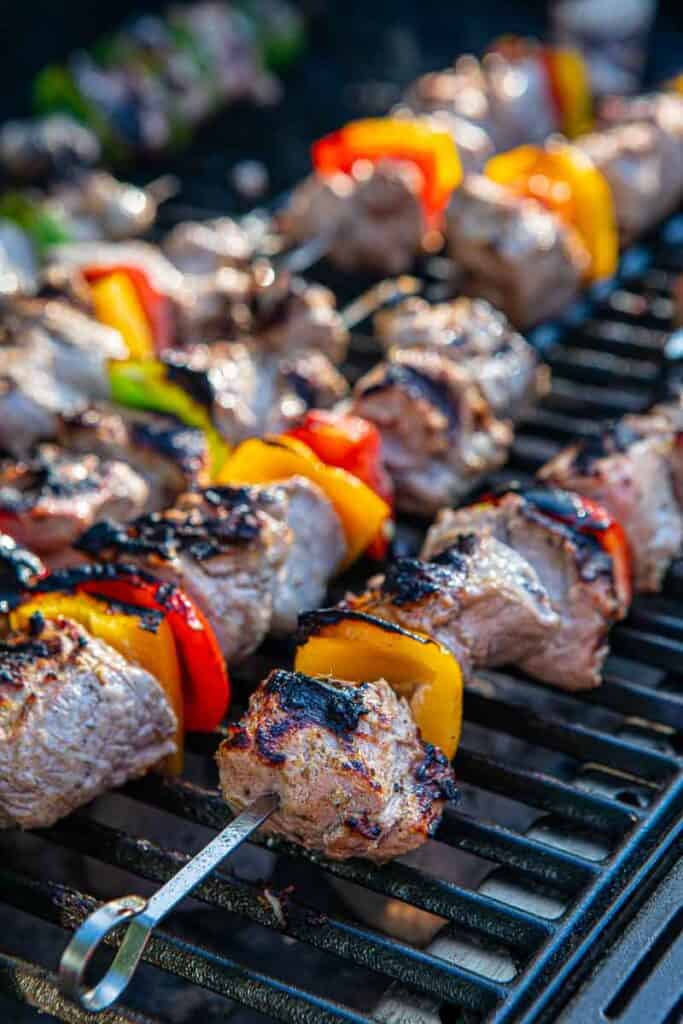 Other skewered meat recipes
If you want to get back to basics and serve up some sensational skewers, here are a few more recipes that'll have you making the most of your grill.
These finger-licking fantastic chicken skewers are marinated in the most amazing barbecue sauce
This underrated meat has a delicate, unique flavour – when grilled on a skewer it's an absolute winner
These Japanese chicken kebabs are glazed in soy sauce for a deep rich taste
What meat is used for shish kebabs?
While beef and chicken are commonly used throughout the US, the traditional choice for Middle Eastern foodies has always been lamb. It's easy to understand why – not only is lamb a hugely popular meat in Middle Eastern cuisine, it really does lend well to being grilled fast and hot, especially when marinated.
While other meat might become too dry when cooked fast on a skewer, marinated lamb makes an amazingly tender meat – you can cook it to perfection and serve it up to a salivating audience in under 10 minutes.
The marinade
Marinating your lamb overnight will give you extremely tender meat. It'll also infuse your lamb with a complex flavour that will make you want to marinate everything you cook from now on!
For these shish kebabs, the marinade is made up of yoghurt, olive oil and lemon juice (to tenderise the meat) and garlic, cumin, oregano, cinnamon, chilli powder, salt and pepper (to make sure the flavour packs a punch). It's almost like a barbecue sauce – one that will take your lamb to another level.
Once you've mastered this marinade, feel free to experiment. There are so many different spices and herbs that really make lamb sing. Swap up the chilli powder for another spice. Or take the thyme to find the right herb for the job.
Here's one piece of herb advice – if you've never tried lamb and rosemary together, now's the time to experience a match made in heaven!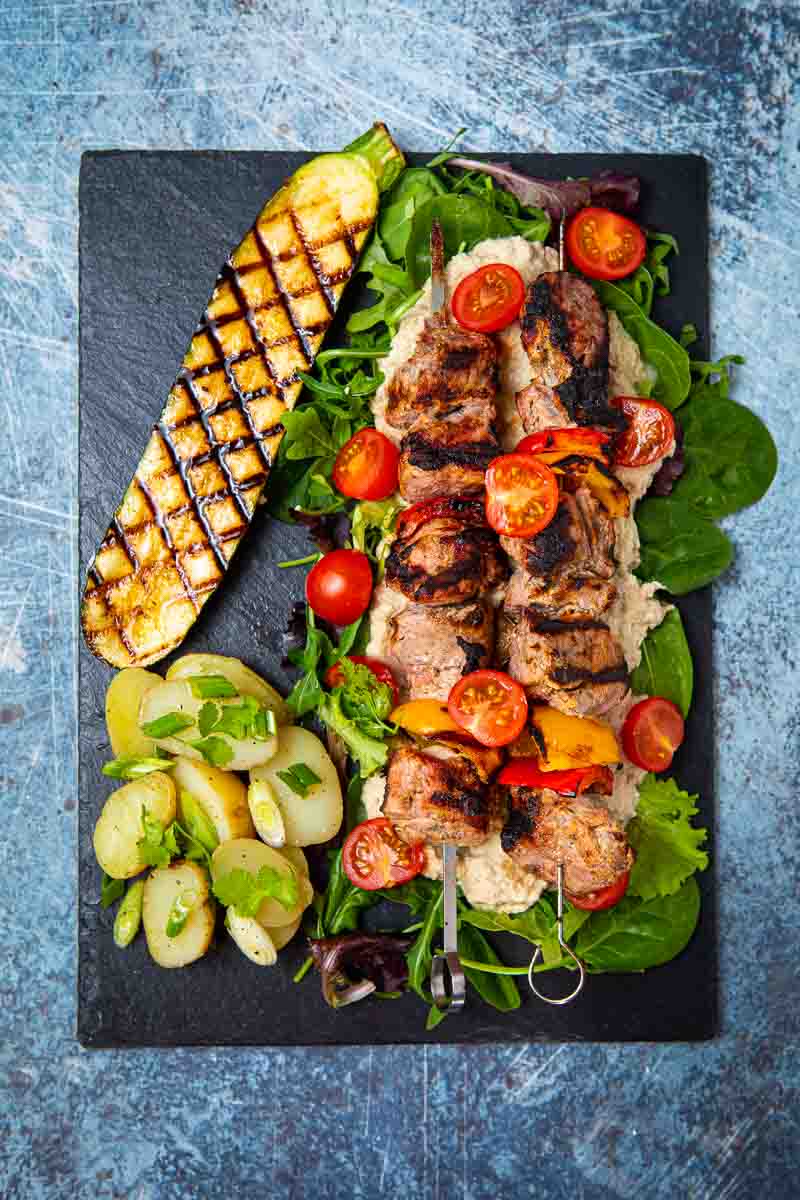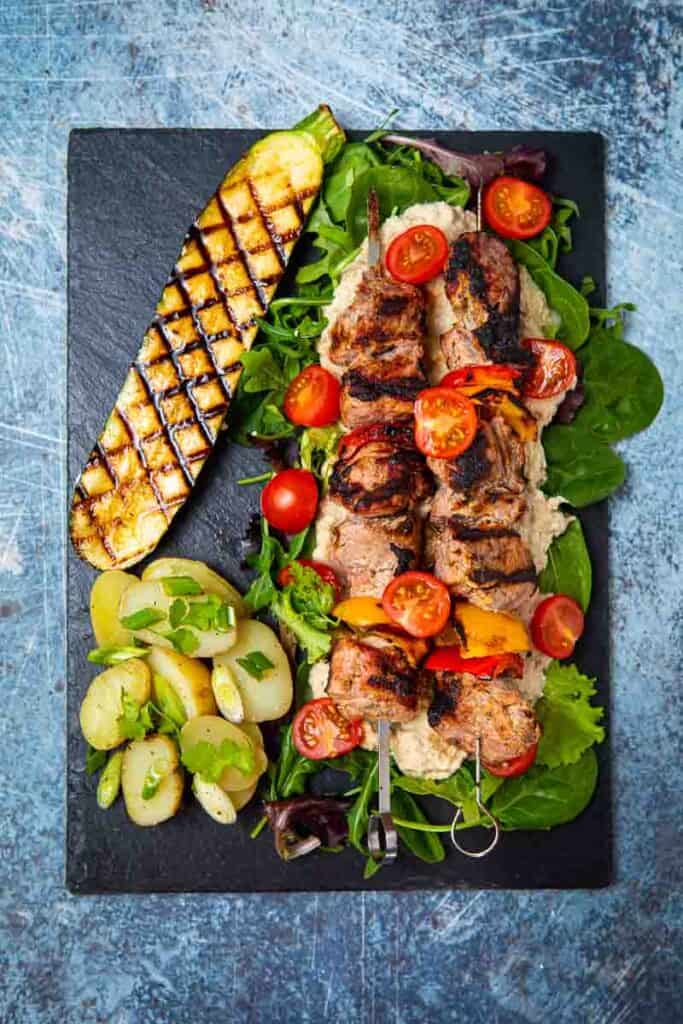 Best vegetables to use for lamb shish kebabs
Different shish kebab recipes will use different types of vegetables. This recipe uses cherry tomatoes, cucumbers, courgettes and a mix of green and yellow peppers. It also mixes in rosemary and thyme sprigs.
What a colourful concoction! This is one thing that really gives lamb shish kebabs such an amazing addition to a barbecue. Just imagine the bright, red, yellow and green veg, mixed with lightly browned, tender, juicy, lamb. It's absolutely irresistible.
From the juicy zing of the tomatoes and the crunch of the peppers to the freshness of the cucumber and the courgettes, this combo is the perfect complement to the succulent lamb.
Add the incredible aroma of the rosemary and thyme and you've got heaven on a skewer. Htipiti is an excellent dip to serve with this meal!
Are shish kebabs healthy?
Absolutely! Ok, let's concentrate on the meat first. Not only is lamb a great source of quality protein, it's also packed full of many essential vitamins and minerals, such as iron, zinc and vitamin B12 – all crucial for a healthy immune system.
The marinade for shish kebabs contains some ingredients with amazing health benefits, including cumin, garlic, chilli powder and cinnamon. From reducing the risk of heart disease and strokes to lowering blood pressure and building the immune system, these are some of the super foods that will help you maintain a healthy lifestyle.
Then of course there's the veg. Take your pick – from tomatoes and cucumbers to courgettes, peppers and onions, shish kebabs skewer healthy veg into the mix.
So there you have it. A healthy kebab, that's packed full of essential vitamins and minerals per serving.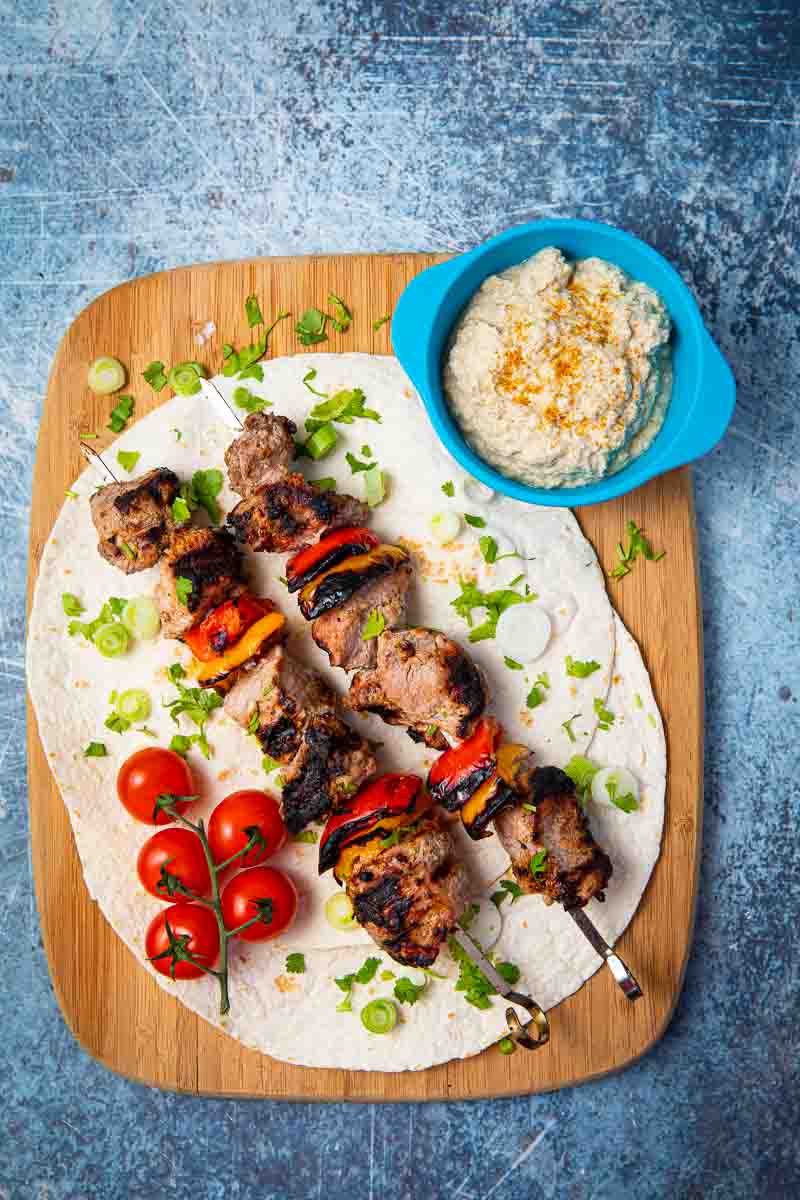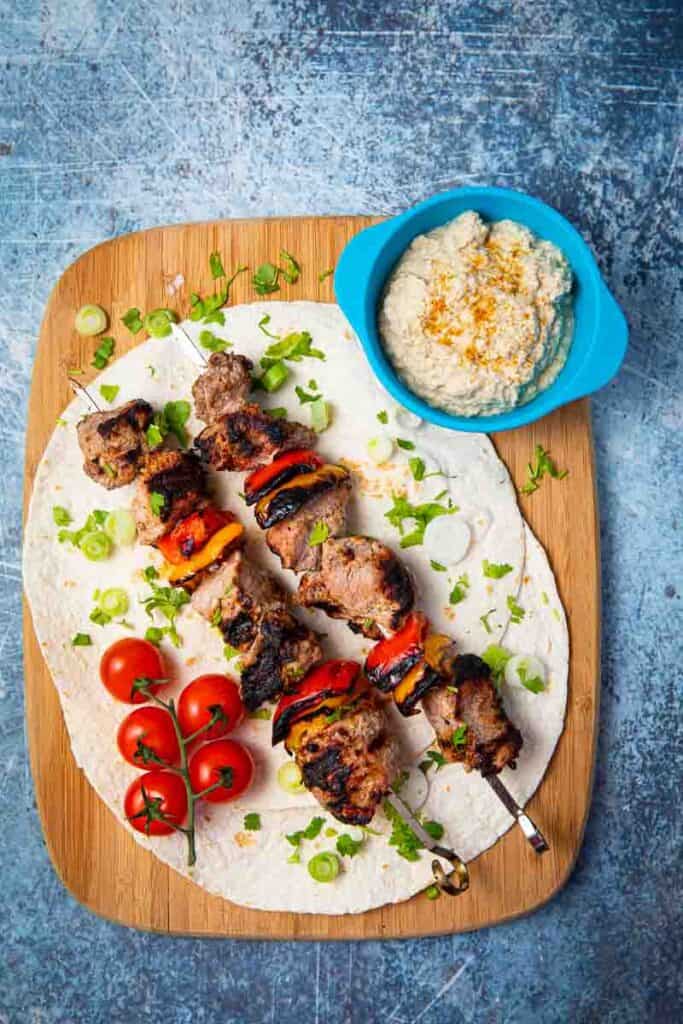 More mouthwatering lamb recipes
Once you get a taste for lamb, you'll realise what an amazing meat it is. But don't stop at shish kebabs – get grilling, roasting and frying some of the most irresistible lamb recipes around.
Print
Lamb Shish Kebab
---
Description
Lamb Shish Kebab is a Turkish recipe comprising skewered pieces of lamb alternating with vegetables. Marinate the meat first for best results.
---
Marinade:
60

ml

(4 tbsp) olive oil

250

ml

(1 cup) plain yogurt

3

garlic cloves, peeled and crushed

30

ml

(2 tbsp) lemon juice

5

ml

(1 tsp) ground cumin

5

ml

(1 tsp) dried oregano

5

ml

(1 tsp) ground cinnamon

2.5

ml

(1/2 tsp) chilli powder

5

ml

(1 tsp) salt

5

ml

(1 tsp) ground black pepper
Skewers:
1

kg

(2lbs) boneless leg of lamb

2

red peppers, washed and cut into squares

2

yellow peppers, washed and cut into squares
---
Instructions
Mix all the marinade ingredients in a large bowl. Set aside.
Remove any excess fat or gristle from the lamb then cut into 5cm (2in) cubes.
Place the meat into the marinade and ensure that all surfaces are covered. 
Leave to marinate in the fridge for at least 3 hours but preferably overnight.
Thread the cubes onto metal skewers, alternating with yellow and red pepper squares.
Grill on the barbecue for 8 minutes on each side for medium doneness.
Serve with green salad, new potatoes and Baba Ghanoush.
Notes
For best results, use boneless lamb shoulder, lamb neck fillets or boneless leg of lamb. 
Cooking time will vary accordingly to the heat of your barbecue paired with the thickness of meat plus how well done you like your meat. If you use smaller cubes the meat will cook faster.
Prep Time:

30 minutes

Cook Time:

15 minutes

Category:

Main Course

Method:

Grill

Cuisine:

Turkish
Keywords: lamb shish, Shish Kebab, lamb Shish Kebab recipe, lamb kabob, shish kabob, bbq lamb recipe, Turkish lamb recipe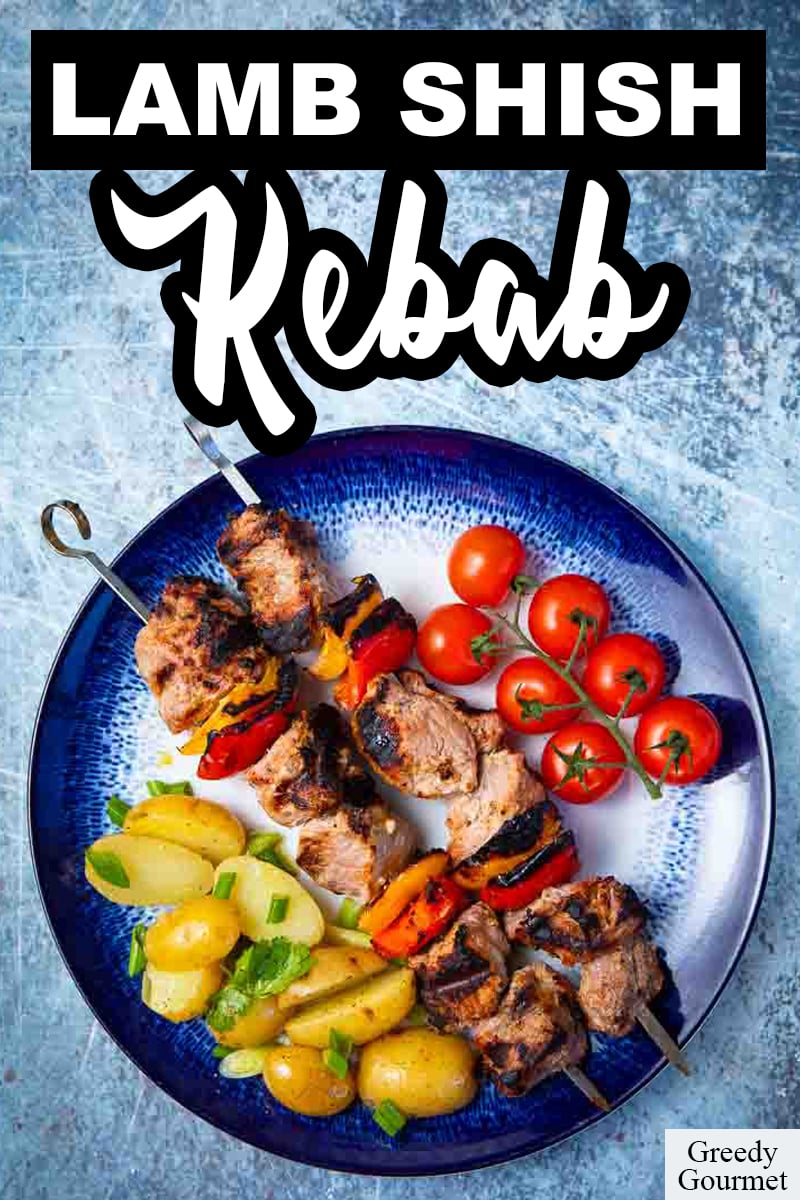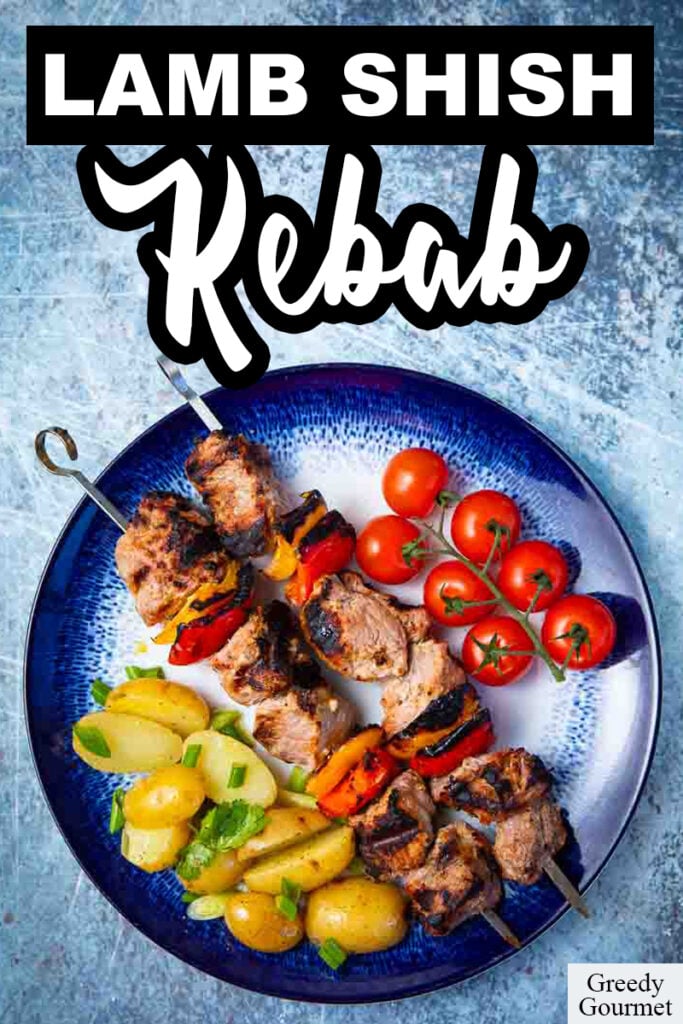 P.S. This is a sponsored post.