Lamb stir fry is so delicious it would be a pity for you not to try this recipe. What's best, is that this recipe works extremely well with different cuts of lamb. For this Thai version of the lamb stir fry, I've selected the amazing lamb steak. I bet you've never tried a Thai lamb dish before. It's not the most common ingredient in modern Thai cuisine. Hence, for this reason I wanted to show you that lamb is truly versatile and works exquisitely with Thai flavours as well. For best results, cook this lamb stir fry in a wok where you can stir fry the ingredients in the flavourful sauce.
To make this lamb stir fry your own, add your favourite stir-fry vegetables. As you can see, I simply couldn't resist adding broccoli. Serve it immediately – best sizzling hot out of the wok with a side of white rice. To go low on carbohydrates, you can also serve it with pan-fried vegetables. Keep reading to find out more about what your options are in terms of selecting a healthy low-calorie side dish. Enjoy!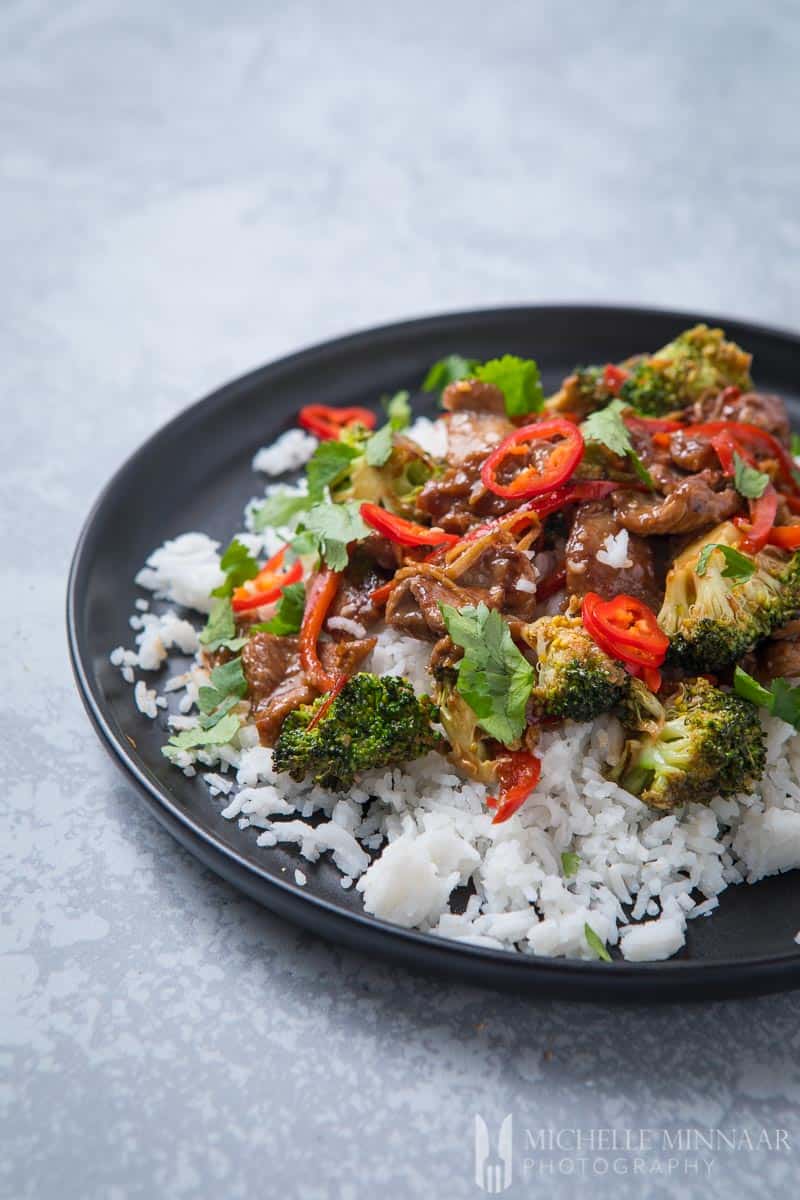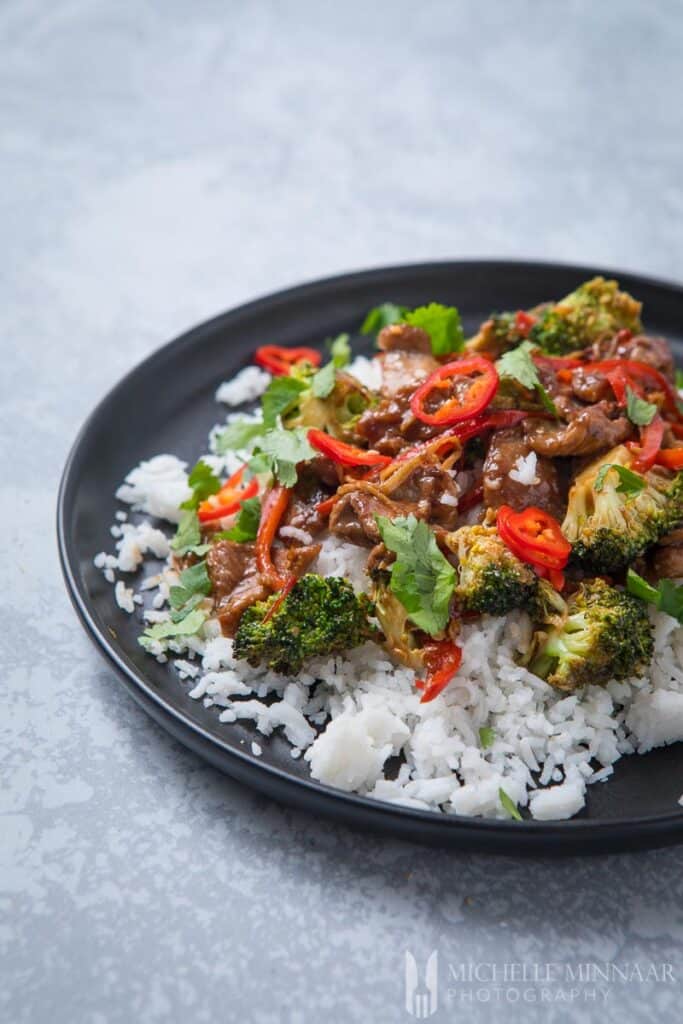 Asian lamb stir fry with rice
Make this Thai lamb stir fry in just a matter of minutes. Lamb steak strips cook relatively quickly. Therefore, before you decide to cook the lamb stir fry, you should have a very clear picture of the exact ingredients you wish to cook with. This way, you can prioritise them in terms of cooking time. For example, since broccoli can take a longer time to cook, you might want to add it into the wok as one of the first ingredients.
This Thai lamb stir fry is actually quite reminiscent of my other Asian stir fry recipes. Just take a look at other Asian flavoured stir-fried recipes that I usually pair with rice:
As you can tell, other types of meat make an excellent substitute in stir fries. The best substitute for lamb steaks in fact would arguably be beef or venison. Similarly to lamb, venison has gamey notes as well. Hence this venison stir fry is a very similar version to this lamb stir fry recipe.
Nonetheless, as you can see, any type of meat works well. So, this lamb stir fry recipe also works with chicken, pork, turkey and more.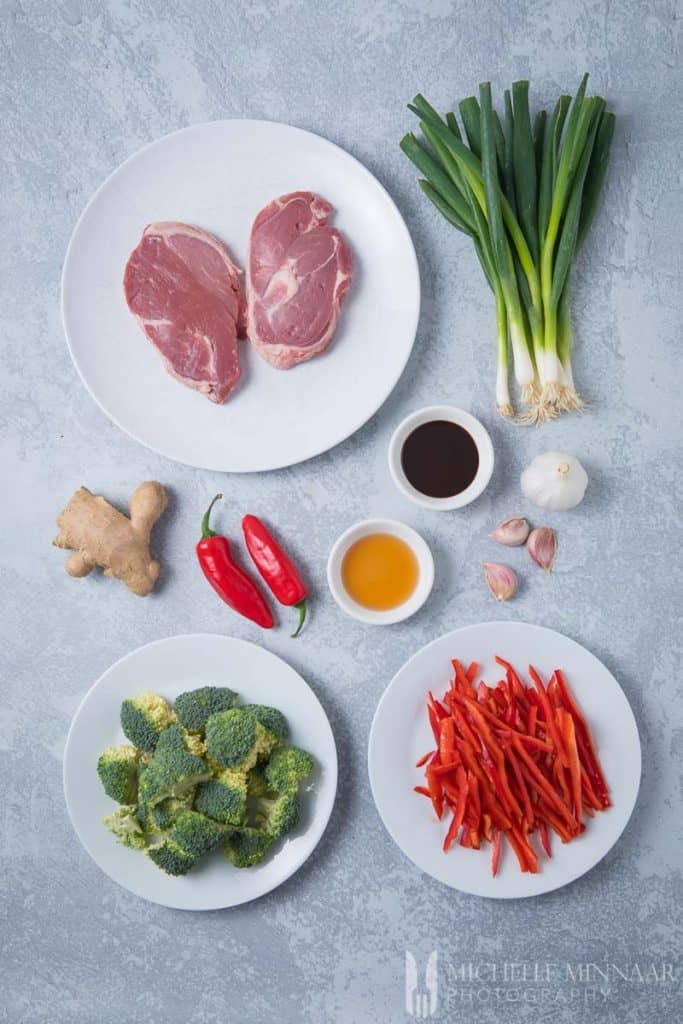 ground lamb stir fry
If you want to make this lamb stir fry recipe out of the ordinary, then use ground lamb instead. You can add ground lamb mince all the way at the end of the stir-frying as it will cook in no time at all. I love cooking with lamb mince. In fact, I've used it in other recipes like this savoury mince before.
lamb stir fry with noodles
Your options are truly endless when it comes to enjoying this lamb stir fry recipe with noodles. There are so many noodles which you can choose from. For example, the most typical noodles you can go for are egg noodles. Historically speaking, noodles originated in China thousands of years ago, all the way back in the Eastern Han dynasty period. Following this logic, if you add wheat or egg noodles, you can make this lamb stir fry Chinese style. For example, take a look at my broccoli, mushroom and cashew noodle stir fry.
However, you can also opt for Udon noodles, which are very common in Japan. These are thick wheat noodles, which are often used in ramens or curries. So, naturally they would make a perfect fit for this lamb stir fry. This is because it has a significant amount of sauce.
Similarly, you can also opt for different versions of rice noodles. If you look around in an Asian specialty store, you'll see that you can find many versions. Thin ones, very thin ones (angel-hair like), thicker ones, and much more. It is completely up to you which you prefer most. Just keep in mind, rice noodles can dry up your dish in a hot minute. This is due to the fact that rice noodles are quite absorbent. They might dry out the lamb stir fry by absorbing all of the sauce.
To make sure that you still have some of the leftover lamb stir fry sauce, make sure you cook the rice noodles long enough in water. This way, they'll absorb as much water as possible.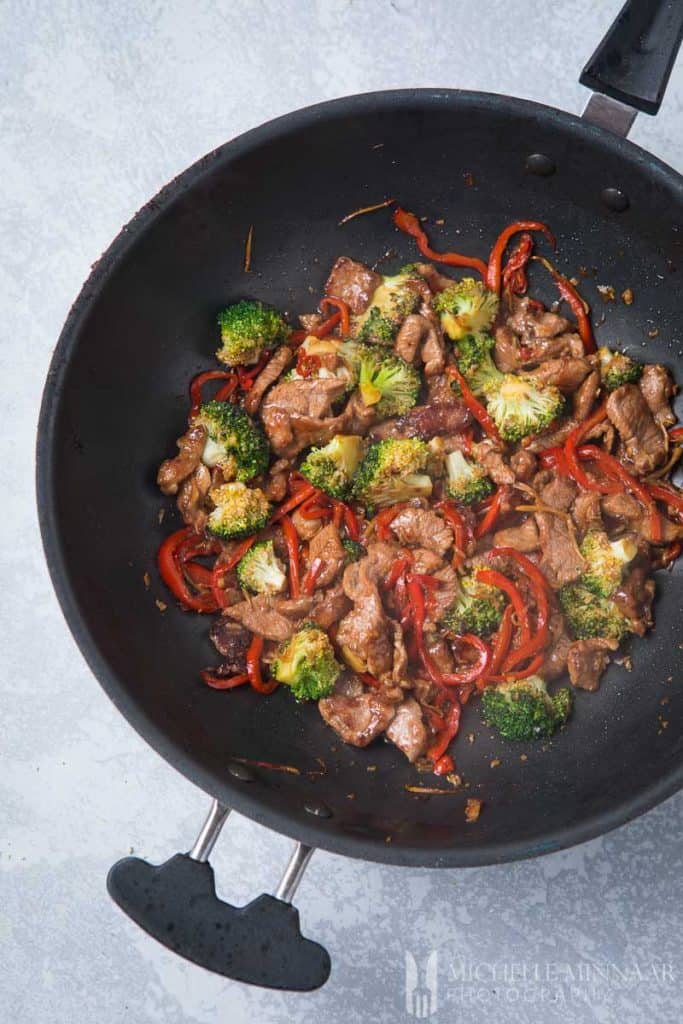 low calorie healthy lamb stir fry
First and foremost, you can opt for serving this lamb stir fry alone. I can easily munch on this directly from the wok. However, if you want to make a healthier and low-calorie version of this dish, then take the following steps.
Step number one includes going heavy on the greens. This doesn't necessarily mean that you need to take out the meat element. However, go heavy on the broccoli and red pepper. I also recommend adding green beans and spinach. Just take a look at my Chinese mixed vegetable stir fry – it's all vegetables in there!
Next, you can also opt for serving this lamb stir fry with something else instead of the rice or noodles. For example, go for these garlic and chilli courgetti. This is the best alternative if you want to go low on carbohydrates.
toppings
One of my favourite toppings for this lamb stir fry recipe is fresh red chilli peppers. Asian food – for myself at least – wouldn't be the same without that extra kick. You can also top this stir fry with traditional toppings like fresh spring onions, fresh coriander leaves or fresh parsley.
You can also go for chives or fresh sugar snap peas for a bit of crunch. Whatever you decide, I am sure you'll make the right choice.
Print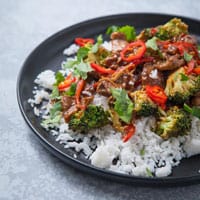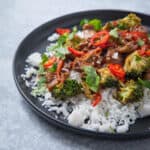 Lamb Stir Fry
---
Description
This is the ultimate lamb stir fry recipe. It involves lamb steak strips, broccoli, red peppers and a very flavourful sauce. Learn which sides work best.
---
30

ml (2 tbsp) cornstarch

30

ml (2 tbsp) dry sherry

30

ml (2 tbsp) soy sauce

450g

(1lb) lamb steak, cut into thin strips

30

ml (2 tbsp) oil

3

garlic cloves, peeled and crushed

5

cm (2in) fresh ginger, peeled and grated

2

red chillies, washed and finely sliced

1

head of broccoli, washed and cut into florets

1

red pepper, washed and julienned

8

spring onions, washed and finely chopped

30

ml (2 tbsp) tamarind paste

60

ml (4 tbsp) fish sauce

20

ml (4 tsp) brown sugar

60

ml (4 tbsp) fresh coriander leaves, washed and chopped
---
Instructions
Create a slurry in a big bowl by mixing the cornstarch, sherry and soy sauce together.

Stir in the lamb strips and let it marinate in the fridge for at least an hour. Remove from the fridge before the cooking process begins.

In a large wok, heat the oil and then fry the garlic, ginger and chillies for 30 seconds.

Add the lamb and fry until browned all over.

Add the broccoli, red pepper and spring onion, and fry for 3 minutes.

Pour into the tamarind paste, fish sauce and brown sugar. Stir until the sauce is smooth and covers all the ingredients.

Serve immediately on top of rice and garnish with coriander.
Prep Time:

15 minutes

Cook Time:

15 minutes

Category:

Main Course

Cuisine:

Thai
Nutrition
Serving Size:

1

Calories:

367

Sugar:

8.6g

Sodium:

1966mg

Fat:

15.4g

Saturated Fat:

3.9g

Carbohydrates:

18g

Fiber:

2.2g

Protein:

35g

Cholesterol:

101mg
save the recipe to your pinterest board