Need a healthy, quick meal that tastes fantastic? This Mongolian lamb recipe is the real deal.
Tender strips of lamb in a mouth-watering marinade and a spicy sauce to die for, all sizzled up in a flash. This is fast food done properly.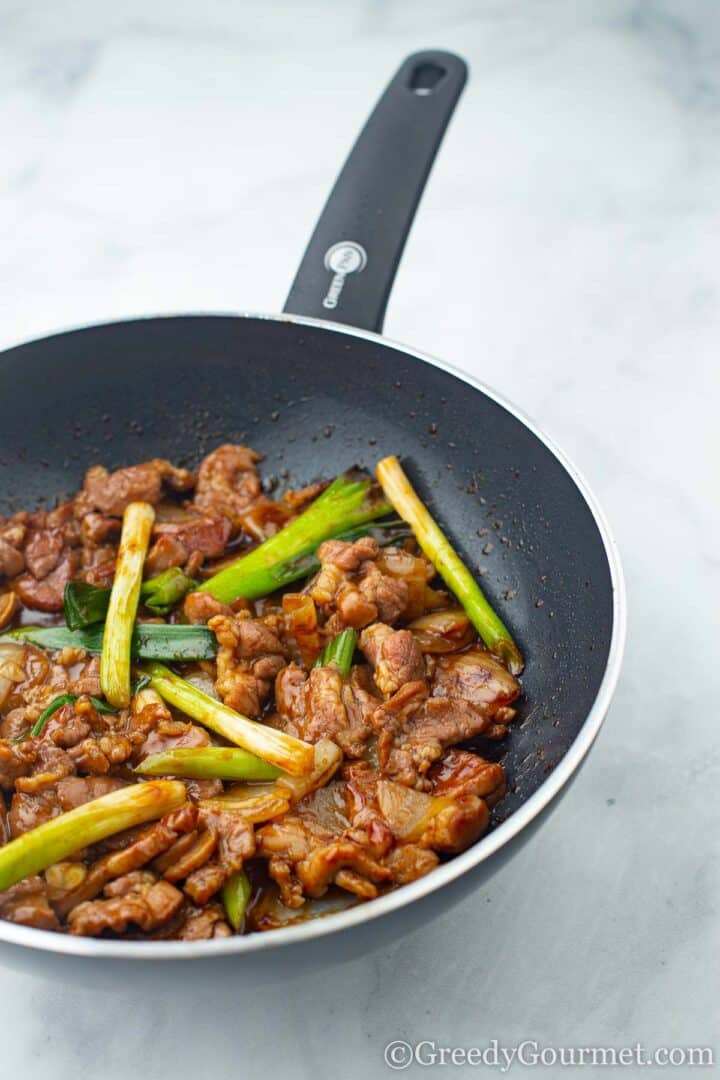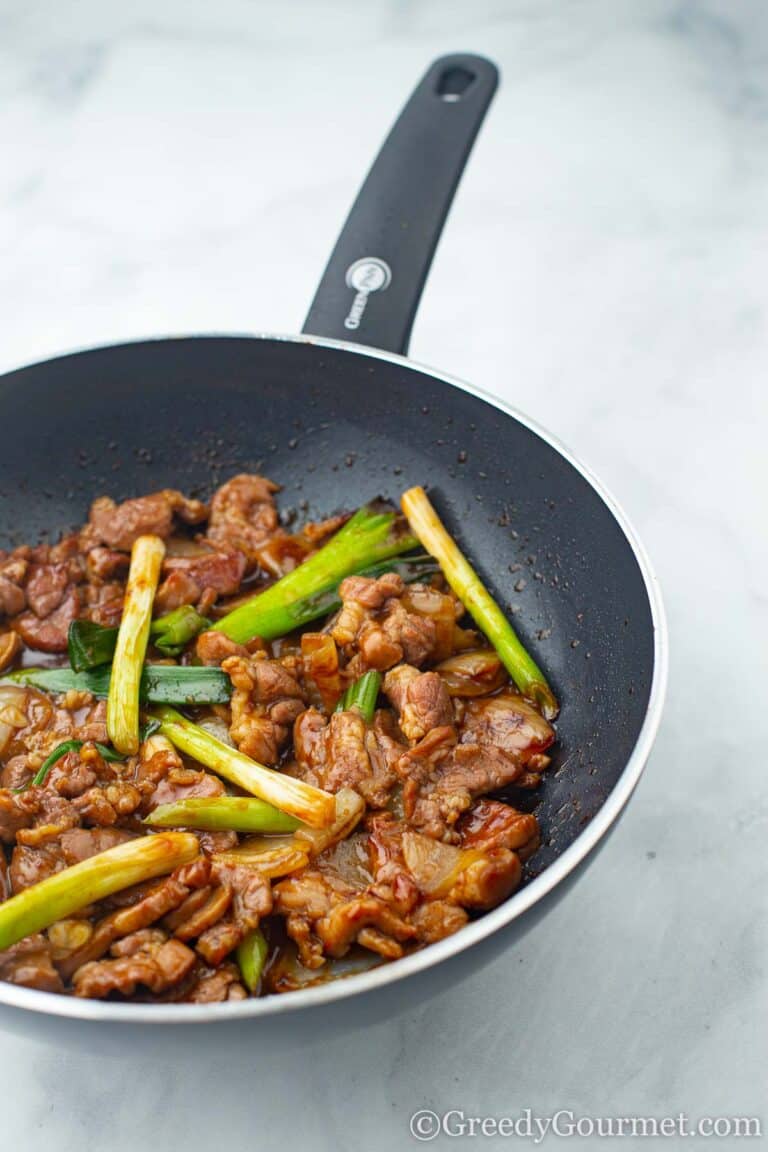 GreenPan Wok
Cooking a big hearty Mongolian lamb stir fry requires a big strong wok. For me, nothing comes close to a GreenPan wok.
For this recipe I used GreenPan's 28cm Cambridge Black wok. It's perfect for this kind of recipe – big enough for all the flavours to mingle and really well made – it's a great showcase for fast, tasty, healthy food.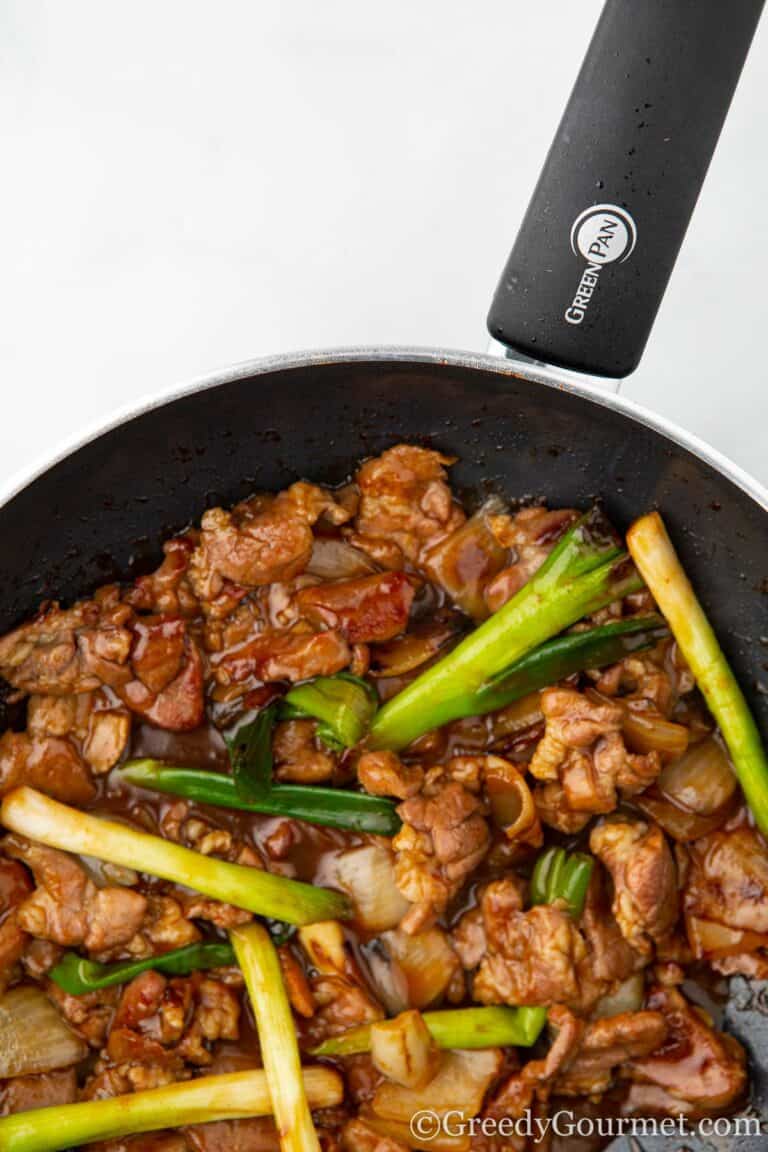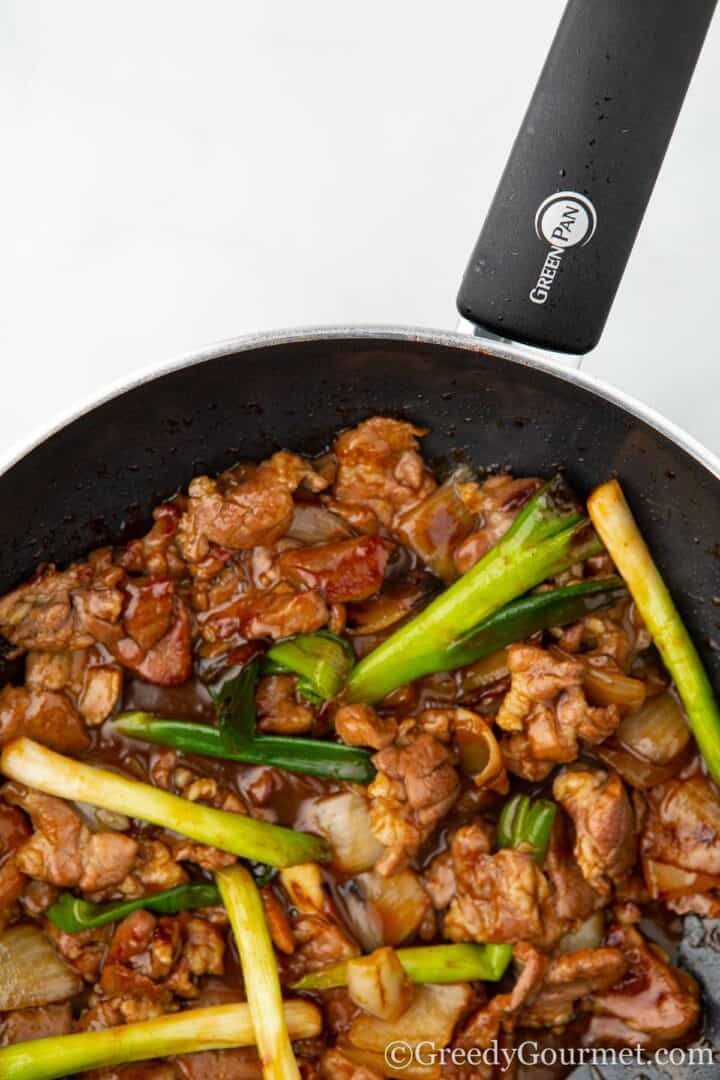 There's something so satisfying about cooking everything in one pan. After you've sliced and marinated your lamb, made a quick sauce and chopped some spring onions, it's showtime! Everything goes in the wok, sizzles away for a few minutes and the results are spectacular.
If you're still using a tired old pan, it's time to upgrade. I remember the days of second rate pans where half the ingredients stuck to the bottom – even after using a tonne of oil. It really is no way to cook.
GreenPan's non-stick coating is great – no cheap, pound shop rubbish with this wok. In fact, GreenPan are pioneers of ceramic non-stick pans – they made the first one way back in 2007. They know how to build a quality pan and it really shows.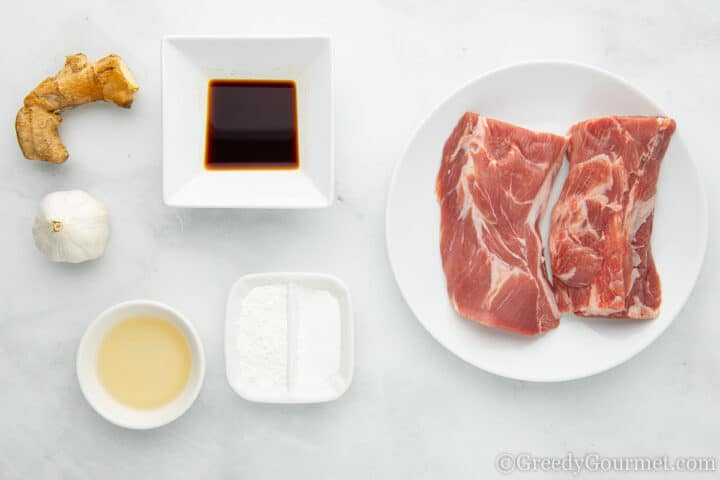 The base of the wok is made from thick forged aluminium – the perfect heavy bottomed base for cooking quick and simple stir fries. It's all about temperature control and getting an even distribution of heat, so that all your ingredients cook at the same speed.
Honestly, this thing will INSPIRE you to cook quick, easy, delicious and healthy dishes. They've got a variety of pans in different sizes, from 20–28cm pans, saute pans with lids and 2-piece collections. Choose your fave and get cooking!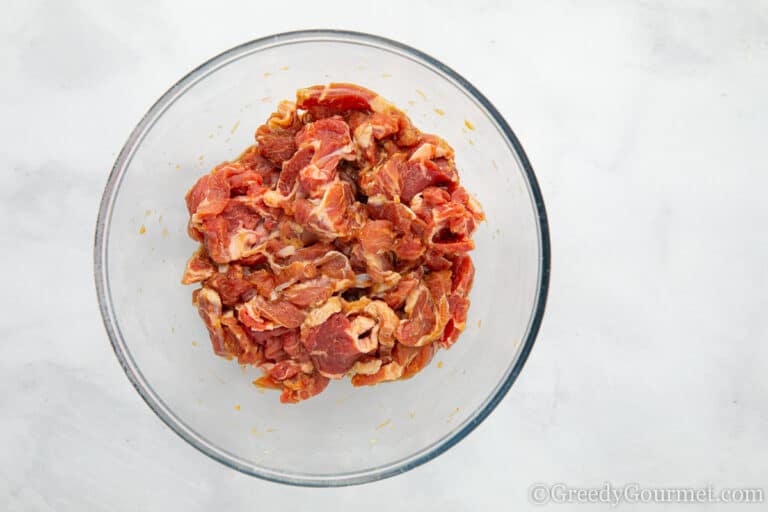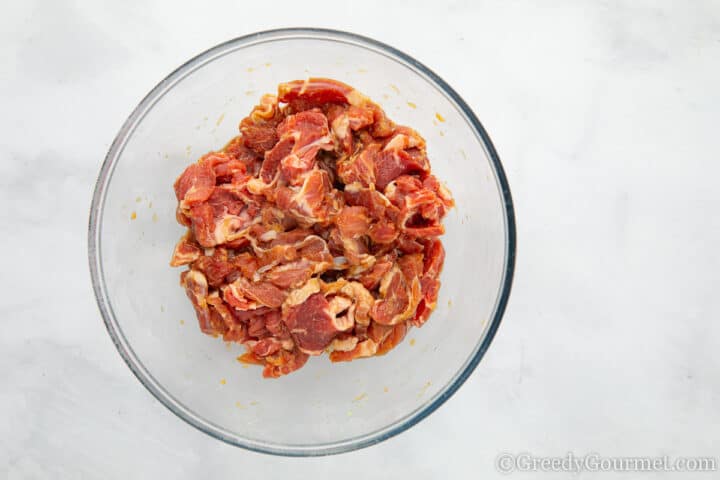 Mongolian lamb recipe
I'm always on the lookout for recipes that are easy and quick to prepare, yet with punchy flavours that really tantalize the taste buds.
Here's one that grabbed my attention – and I soon put my own little spin on it. Mongolian lamb stir fry with onions, which can be cooked in as little as 30 minutes.
For me, a stir-fry is the perfect meal when you want to cook a fresh and healthy dish in a flash. All the more reason to use a beautiful ingredient such as lamb.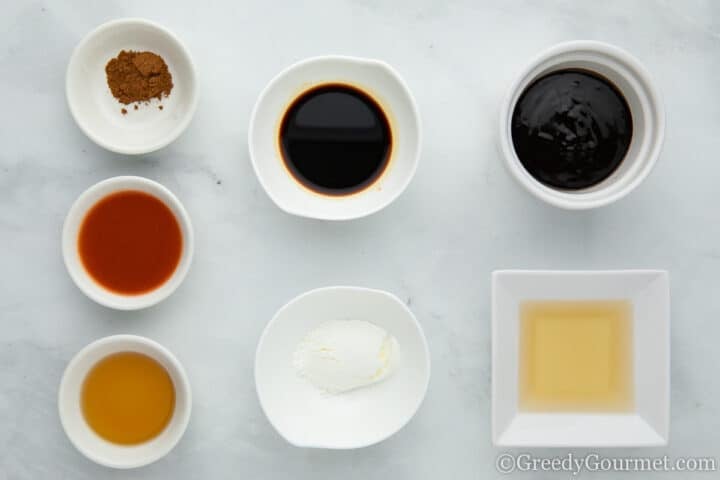 Ask yourself: when was the last time you cooked with lamb? If you have to really rack your brain, it's time to treat yourself again to this underrated meat. This Mongolian lamb recipe really is the perfect way to showcase just how delicious lamb can be.
Lamb – healthy, delicious and so underrated
I'm always surprised by how many people avoid lamb. So many of my meat-loving friends say that, while beef and chicken are their go-to meats, they never bother with lamb.
Reasons vary from bad experiences in the past (undercooked/overcooked) to the taste being too "wool-like." This is a real shame because a good quality piece of lamb is some of the best tasting meat you can get.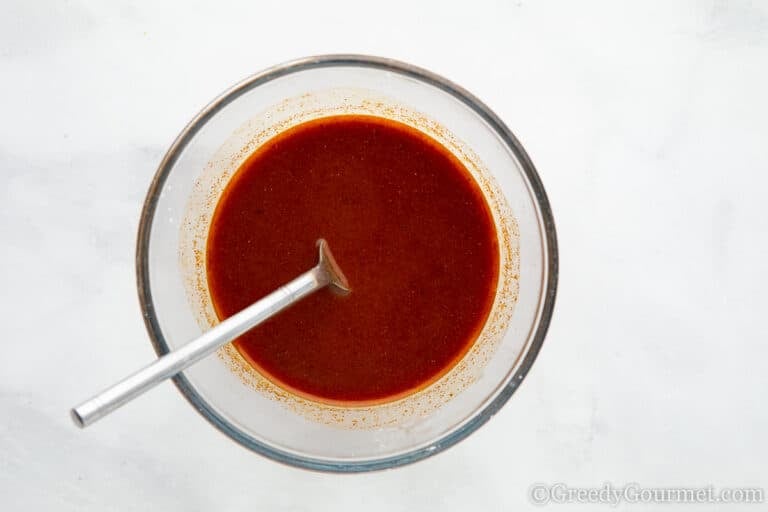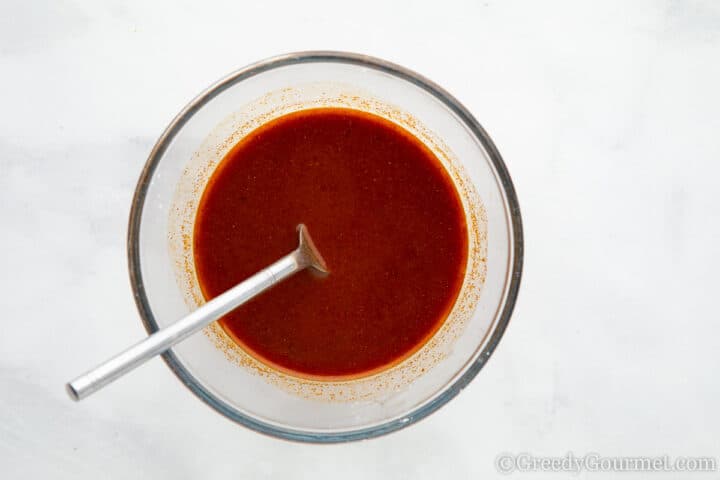 For those who are thinking "Lamb? No thank you ma'am" you need to give lamb another chance. Forget those childhood memories of blackened steaks with heaps of cheap mint sauce. This is an amazing meat that is incredibly versatile.
Depending on what cut you use, the lamb can stand alone without much more than basic seasoning. Or it can be spiced up in a number of ways. There are so many different herbs and spices that work well with lamb, from rosemary and mint to cumin and cardamom.
Not to mention chilli, ginger and garlic. As we'll discover in this recipe!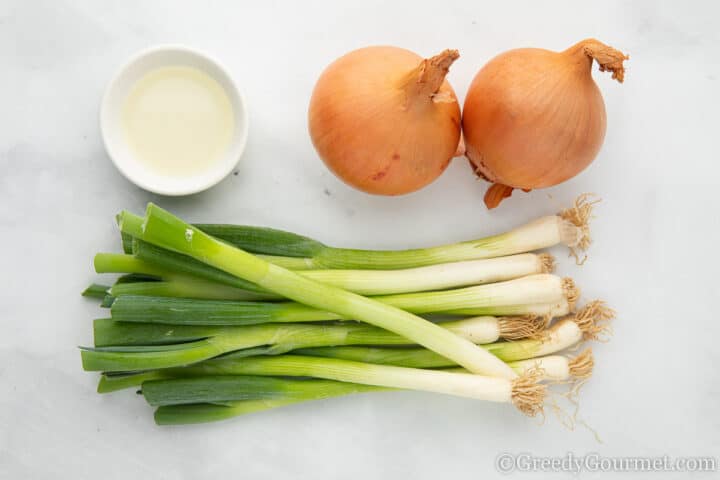 What is Mongolian lamb?
Mongolian lamb is a healthy, quick and easy stir fry that hits your taste buds with a zing!
Flavour-wise, it uses a blend of Asian ingredients to create a rich, spicy sensation, which works wonders with the tender strips of lamb. 
It's a dish that should be cooked fast on a medium high to high heat to bring out the delicious flavours of its fresh ingredients.
Where does Mongolian lamb come from?
Surprisingly, not Mongolia! 
Although Mongolian lamb is a dish that is traditionally cooked in Mongolia and has been for many years, it's believed that the origins lie in neighbouring China.
Still, putting borders aside, this East Asian dish was created by nomadic people in climates where vegetables were scarce and animal protein was essential to survive the cold, harsh winters.
It is traditionally cooked over open fires and flavoured with typical Chinese/Mongolian spices. A simple dish, yet with magical flavours that have made it popular throughout the world.
What does Mongolian lamb taste like?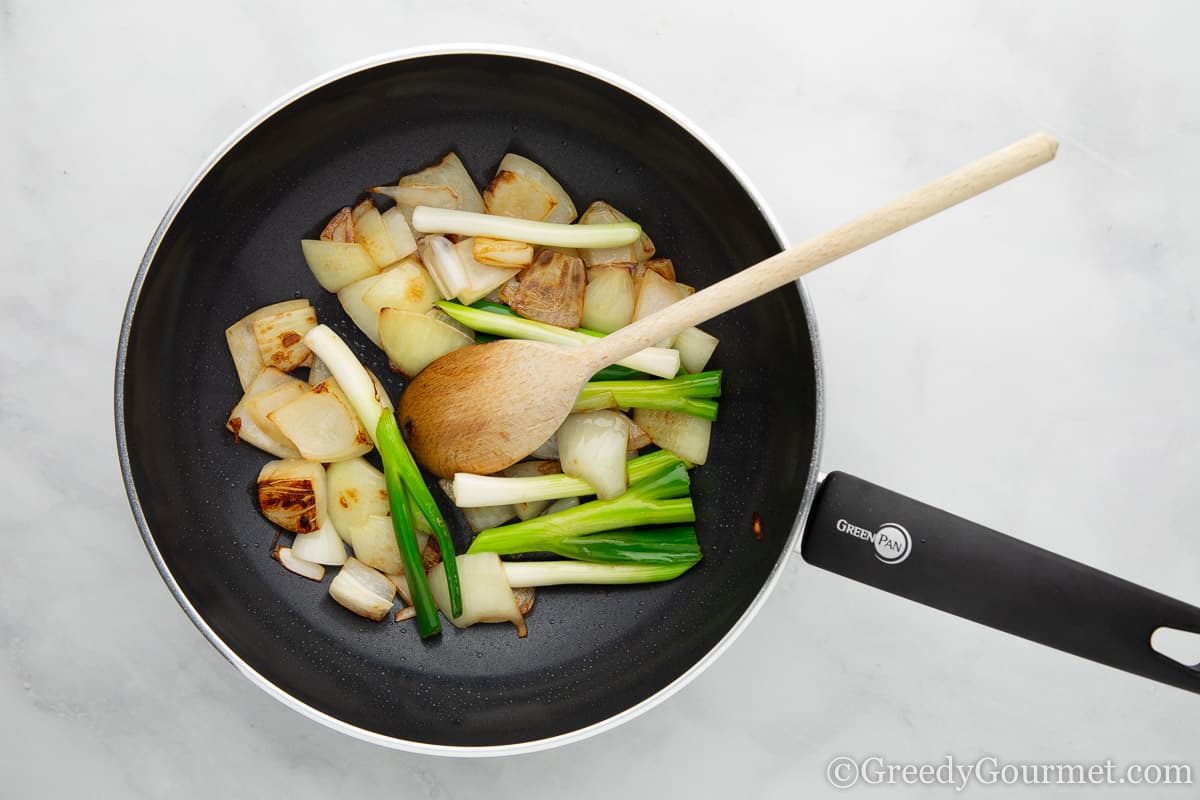 Ingredients such as soy sauce, rice wine, chilli paste, garlic, ginger and Chinese five spice powder bring big flavour, while the secret to the tender lamb is in the marinade.  
Marinating the lamb for one hour – preferably overnight – makes it incredibly tasty and melt-in-your-mouth tender. This tenderness of the meat mixes with the rich umami and subtly sweet flavours of the soy and hoisin sauces and rice wine.
Add garlic and ginger, as well as the warmth of Chinese five spice powder, and you've got a great balance of flavour. 
What's the best lamb for Mongolian lamb?
I've used lamb fillet for this Mongolian lamb recipe. Lamb fillet comes from underneath the ribs of the lamb and is a very small, tender piece of meat. It doesn't need much cooking, just a few minutes, which makes it perfect for stir fries.
Lamb rump is also great for stir fries. This cut comes from the back of the lamb. It's lean, tender and full of flavour.
Just remember, with these cuts of lamb time is crucial. They only need a few minutes to become tender. So, be very careful not to overcook.
What goes in Mongolian lamb marinade?
Marinating the lamb makes it incredibly tender and adds such a depth of flavour. The marinade consists of garlic, fresh ginger root, light soy sauce, Chinese rice wine, baking soda and cornflour.
Most of the marinade ingredients are typical flavours found in Mongolian or Chinese cooking, but what about baking soda and cornflour? Why are they needed in the marinade?
Using cornstarch in a marinade helps to protect the meat from the high heat of the wok. The starch also works as a binder, helping the liquid in the marinade to seep into the meat. 
Baking soda is an alkaline, which helps to balance out the acidity of the marinade. It also helps bring a beautiful brown colouring and tenderises the meat as it cooks. Baking soda is often used in "velveting" – a typical process in Chinese cooking that helps to brown meat when cooked in a wok.
What is Mongolian sauce made of?
The Mongolian sauce in this recipe is a blend of dark soy sauce (for the salty umami taste), hoisin sauce (for the salty/sweet flavour), Chinese rice wine (for the subtle sweet aroma) and Chinese five spice (for the spicy dimension), as well as sesame oil and cornstarch (for the velvety texture).
You can also use chilli paste to bring an extra kick!
How do you serve Mongolian lamb?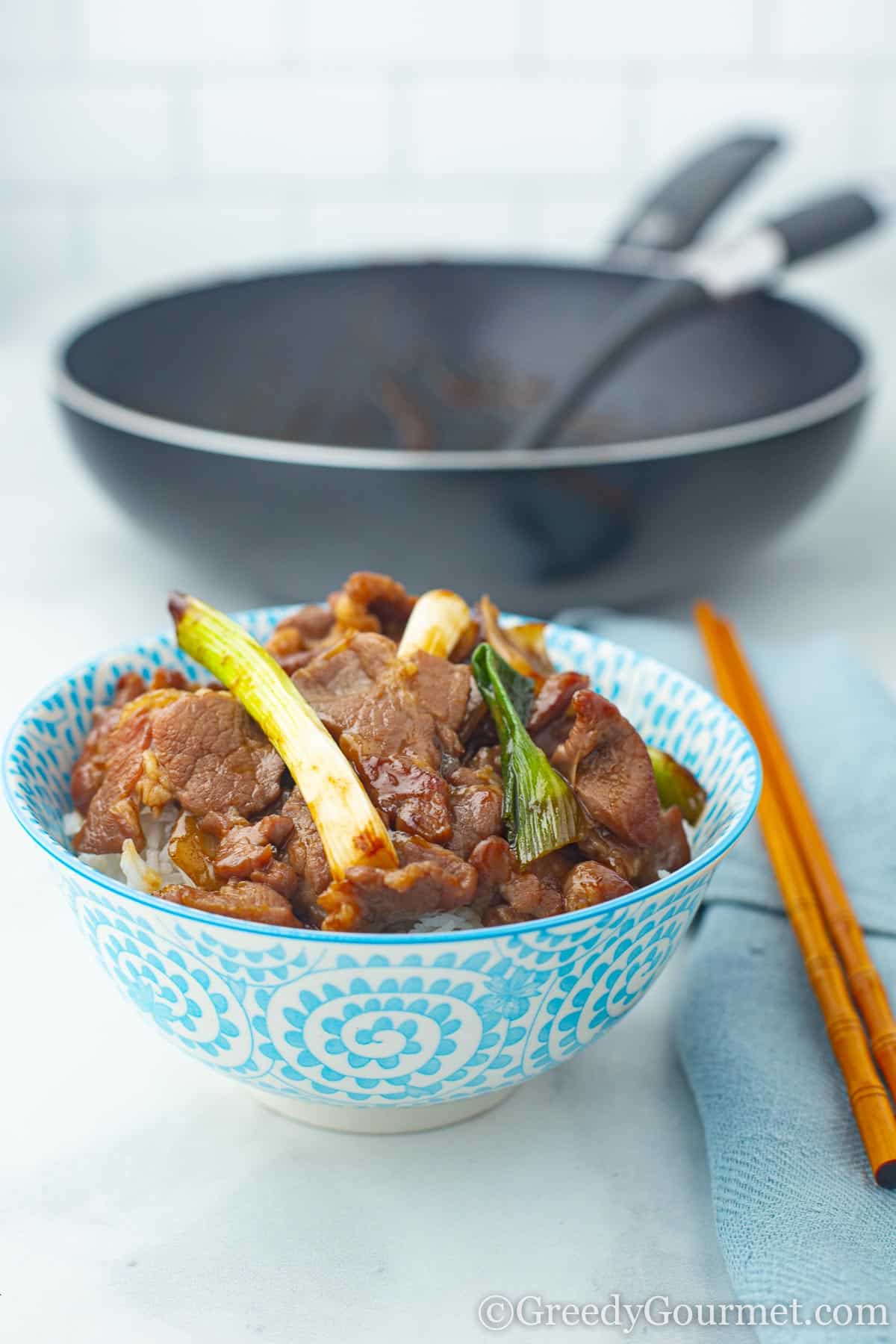 For this Mongolian lamb stir fry I decided to serve rice. I find that rice works extremely well with different types of stir fry. The cooked rice has a nice soft texture that complements the tender lamb and onion in the stir fry. It's great for soaking up all the delicious sauces from the Mongolian lamb stir fry. 
Alternatively, you can serve this Mongolian lamb with noodles. Give the cooked noodles a quick toss around in the pan with the stir fry for extra flavour. If you want a gluten-free Mongolian lamb dish, you can serve the stir fry with boiled quinoa or rice noodles instead.
How do you store Mongolian lamb leftovers?
You can store the dish for a couple of days in the fridge. Just keep it in an airtight container. Of course, you'll lose the crunch of the spring onions, but this dish will probably taste even better next time around – once the flavours have had time to truly get to know each other!
Your Mongolian lamb leftovers will last around 3 days in the fridge. Trust me… you won't be able to wait that long.
Variations to Mongolian lamb stir fry
I've made this Mongolian lamb stir fry almost as simple as it can get. With onions being the only vegetable that I've used, I have made sure that the lamb is the hero of the dish. However, there is big scope to play here if you want to add more ingredients. 
To go with the flavours of Mongolian lamb, I would suggest chopped leek, sliced mushrooms or sugar snap peas. These vegetables are well suited to use in a stir fry. 
All you have to do is cut them up in small bite-sized pieces and they will cook in no time. Remember to keep the ingredients moving in the pan so they don't burn. Hence the name, stir fry!
Other vegetables that could be used are baby sweetcorn or a handful of bean sprouts if you want to go more in the Asian direction. You could also go with carrot, broccoli and some leafy greens like spinach or chard.
If there is no way for you to get your hands on lamb, you can make the dish with beef or chicken instead. However, you will miss out on that unique lamb flavour that really shines in combination with the seasoning. 
Of course, you can also play with the spices. Your idea of spicy food might not be the same as mine and you should adjust the spice level according to your taste. If you find it too bland and lacking spice, don't be afraid to add chilli. 
It's what cooking is all about. Making food that YOU want to eat.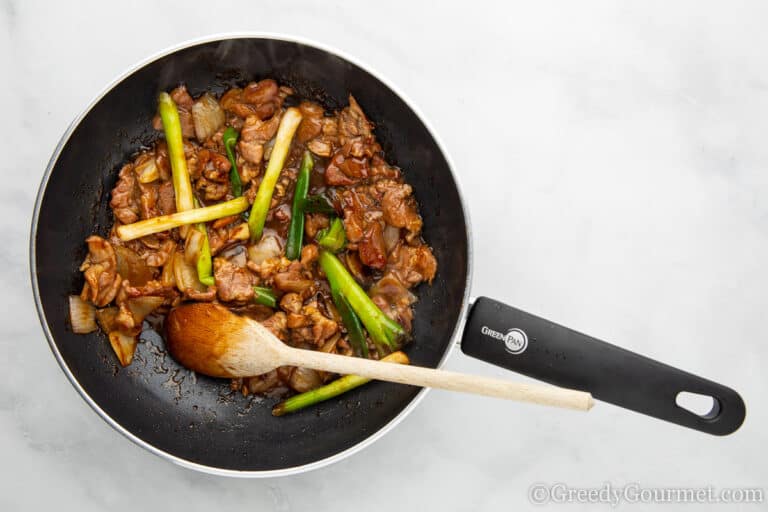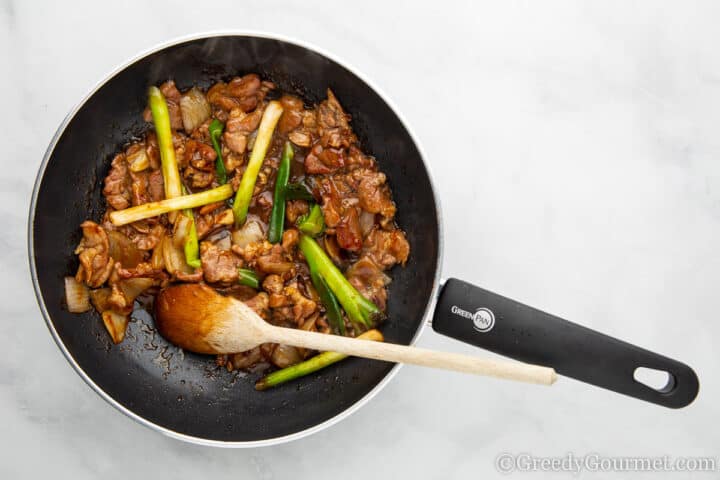 More luscious lamb recipes
GIVEAWAY
This week, one winner will receive a GreenPan Cambridge wok and 2 frying pans (24cm & 28cm) worth over £100!
GreenPan invented healthy ceramic non-stick back in 2007 and has become the 'go to' for ceramic coatings with Thermolon, now onto its 5th generation! The Cambridge Black range has everything you need to make your life easy and healthy.
It features Thermolon Infinity Proceramic non-stick coating which contains no harmful substances (PFAS-free) and requires little or no oil to cook with. The thick forged aluminium base heats up evenly and ensures perfect frying results with little effort.
Check out their frying pans and other kitchen tools HERE.
Entering is easy, just follow the instructions below.
a Rafflecopter giveaway
HELP
Here you can find a tutorial on how to enter with Rafflecopter.
If your form is not showing, try refreshing the page.
Complete the form, otherwise your entries will not count.
Make sure the mandatory entries (e.g. leave a blog comment) are completed first.
Don't forget to come back daily for extra entries via Twitter.
If you're viewing this post by email, please come to the actual webpage to enter.
Competition Question: What would you cook with your GreenPan wok?
Print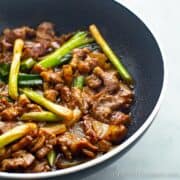 Mongolian Lamb & Onion Stir Fry
---
Author:

Michelle Minnaar

Total Time:

1 hour 30 minutes

Yield:

4

servings

1

x

Diet:

Low Lactose
Description
Mongolian Lamb is a perfect Chinese recipe for a quick and easy weeknight dinner. For best results, marinate the lamb overnight. Serve with rice or noodles!
---
Marinated Lamb
600g

(1½lb) lamb fillets, thinly sliced

2

cloves garlic, crushed

2.5

cm (1in) fresh ginger root, grated

5g

(

1 tsp

) baking soda

6g

(

2 tsp

) cornflour

15

ml (1 tbsp) light soy sauce

30

ml (2 tbsp) Chinese rice wine
Mongolian Sauce
Stir Fry
30

ml (2 tbsp) vegetable oil

2

large onions, cut into wedges

8

spring onions, chopped
---
Instructions
For the Marinated Lamb: Trim the meat of any excess fat and sinew and slice it across the grain into thin slices.
Combine the garlic, ginger, baking soda, cornflour, light soy sauce and Chinese rice wine in a bowl.
Add the meat and stir to coat.
Cover and refrigerate for 1 hour, or preferably  leave it overnight to marinate.
For the Mongolian Sauce: Once the lamb has finished marinating and you would like to cook it, make the sauce.
Combine the cornflour and soy sauce first to form a paste.
Add the rest of the ingredients and stir vigorously until a smooth sauce has formed. Set aside.
For the Stir Fry: Heat the oil in a Green Pan wok or heavy-based frying pan.
Add the onions and spring onions and stir fry over medium heat for 5 minutes or until softened and golden brown.
Turn up the heat and tip in the lamb. Stir vigorously.
Once the lamb has lightly browned, pour in the Mongolian Sauce, stir, then let it sizzle away for about 3 minutes or until the meat is cooked and the sauce has thickened.
Serve immediately with white rice or on a bed of egg noodles. Enjoy!
Notes
If you can't get hold of Chinese rice wine, you can use dry sherry instead.
Chinese chilli pastes aren't always easy to get hold of. In this case I used Frank's Hot Sauce (!) to make do. It worked! In other words, feel free to improvise if needed.
For this quantity of ingredients, the wok can become rather full so you'll need the largest wok you can find. Alternatively, you can halve the ingredients and cook it in two batches, which will yield the best results.
Prep Time:

1 hour 15 minutes

Cook Time:

15 minutes

Category:

Dinner

Method:

Stir Fry

Cuisine:

Chinese
Keywords: mongolian lamb, mongolian lamb stir fry, mongolian lamb recipe, Chinese lamb recipe, sweet sherry sauce, what is mongolian lamb
save the recipe to your pinterest board

P.S. This is a sponsored post.