Celebrating Greedy Gourmet's 9th birthday with a beautiful prawn dish, laced with garlic and butter. Something super simple to make at home!
Love seafood? Check out these cookbooks!
Just how exactly do you establish the birthday of a blog? Is it when you register its domain name? Installed the software?
Or only when you published the first post? For me these steps were a few months apart so I've settled on the first post published which happened to be in February 2007.
Wow, so much has changed since that first post. I was heavily pregnant at the time with my first child, Gabriel. My world changed forever when he was born.
I still felt like a stranger in a foreign country which I now comfortably call home. We lived in a tiny village where nothing, except gossip, ever happened.
Now I happily live in Chelmsford, a proper city in comparison. I was married, now I'm not. I was in my 20's. Now I'm in my 30's.
Although I was proud of my photos at the time, now I'm even prouder. I'm still me but evolved into an even greater version of myself.
What hasn't changed is this original recipe. It tasted wonderful back then and it still does. Every month or so when my prawn craving hits I visit the local Chinese shop for a box or two or three of frozen prawns. (Top tip: they are much cheaper than in the supermarkets.)
Finding the Chinese shop in Chelmsford proved to be a bit of an adventure and when I finally found it I was aghast that there weren't any shell-on prawns in stock.
I ended up ordering a few kilos and when I swang by to pick up my prize I was dismayed that they were missing their heads.
"Why do you want the heads?," the Chinese couple asked me. "Because I eat them," I replied. The irony wasn't lost on me.
Here, people from a country renowned for eating dogs, snakes and other dodgy things from a westerner's perspective, looked at my practices with incredulity.
Whatever. I refuse to be apologetic for loving prawns' mushy brains, which happened to contain most of the flavour.
A lot of people are put off by the shells and the prospect of getting their hands dirty. Their loss, I say.
Just like meat on the bone has much more flavour than their boneless counterparts, the same counts for shell on and off seafood. I've bought boiled up prawns from the shop that tasted worse than cardboard.
Raw, frozen shelled prawns don't fare much better in the flavour department either. Do yourself a favour and try the shelled version because you'll never look back again.
As for getting your hands dirty… if you have soap and water close by then there is no issue.
Tiger prawns have this somewhat unappealing blue, grey hue about them. Once they get cooking they turn pink. Before cooking, you will need to devein them – a handy tutorial.
That's it, folks. I look forward to another year of blogging!
What is your favourite way of enjoying prawns?
Print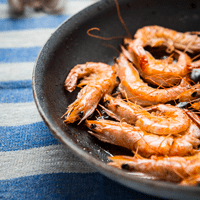 Pan-fried Butter & Garlic Prawns
---
Description
In this garlic butter prawns recipe you'll learn how to prepare shell-on prawns before pan frying them. It is an easy and quick dinner to prepare any time of the week!
---
20

whole shell-on prawns, weighing about 800g (

2

lb)

30

ml (2 tbsp) butter

5

ml (1 tsp) vegetable oil
rock salt

2

cloves garlic, crushed

1

lemon, cut into wedges
---
Instructions
With a sharp knife, score down the back of the shrimp. Remove the thin, digestive tract with the tip of the knife. Repeat with the rest of the prawns. Rinse the prawns under running water and pat dry with paper towels.
Melt the butter, add the oil and generously grind salt in a large frying pan. Add the garlic and prawns, and fry over a high heat, stirring, for 3 – 4 minutes until the prawns are pink. Serve immediately with lemon wedges.
Notes
Serve on a bed of rice, with green salad and a glass of white wine. To serve more people, simply multiply the ingredients accordingly.
Prep Time:

20 mins

Cook Time:

10 mins

Category:

Dinner

Method:

Fry

Cuisine:

South African
Keywords: how to cook prawns, garlic butter prawns, pan fried prawns recipe, how to prepare prawns, how to cook prawns in shell