I think most of us could do with more fish in our diets, don't you? This pan-fried seabass with garlic lemon butter sauce is a fantastic recipe for spring and summer, making you feel as if you are on a holiday on the French Riviera.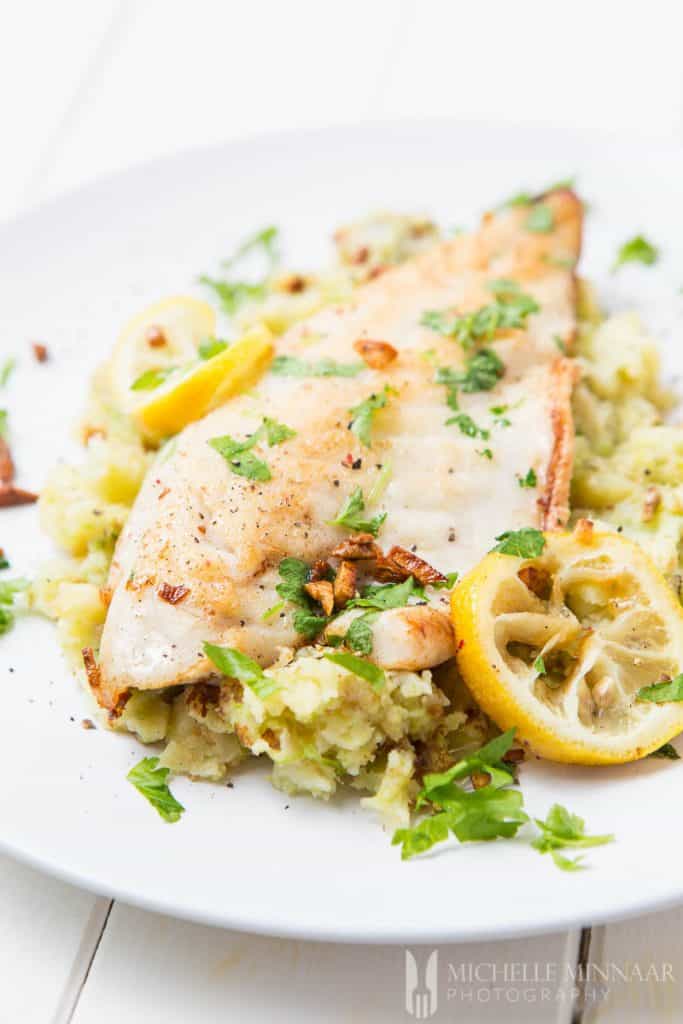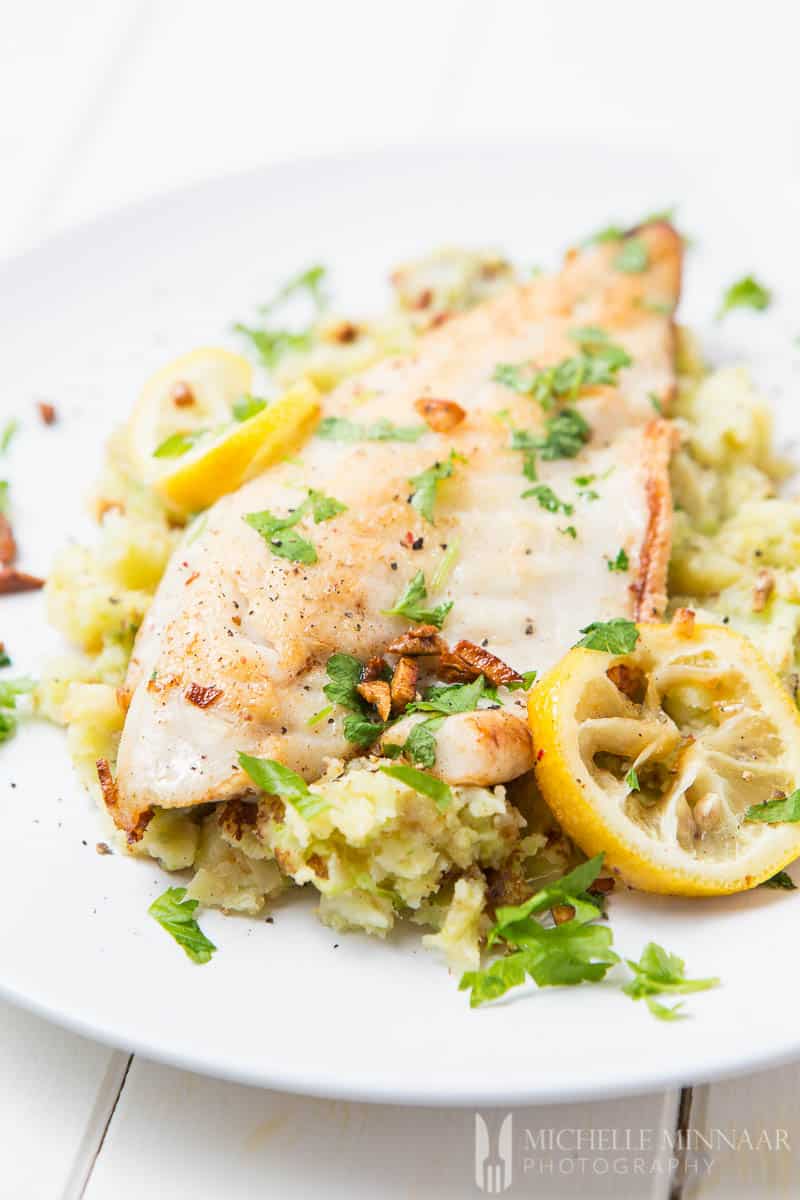 The flavours will instantly lift your spirits, even if the weather disappoints, and you have to make do with the kitchen instead of the garden. When you have guests over, it makes a great main course.
It will make a great main course dish, also when you have guests over. It's really easy to make!
This means you can spend more time with your guests, and less time in the kitchen. So, what are you waiting for? Get a head start on the summer!
Frozen Fish Direct
A special thanks to Bradley's, who supplied the frozen seabass fillets for this recipe. Compared to the measly sized fillets found at supermarket's fish counters these days, I was rather impressed with the size of this product.
Considering that it costs £16 for 1kg and there are no bones and dodgy bits but just pure flesh, the price is very reasonable. What I liked about the fish was that it retained its shape in the cooking process and didn't fall apart, yet the flakes were tender and the flavour intact.
Bradley's was established in 1946 and sells a wide range of frozen fish products, from crab and lobster to all kinds of fish to even eel. Be sure to check it out!
Seabass
Sea bass is a salt water fish with firm white meat. It can be used in any number of ways and cooked just as you like it - fried, grilled, poached or steamed.
Lastly, you can even use it raw in a ceviche, but that's another story. The meaty texture of the fish, is softened by the lemon garlic butter, making it a refreshing meal.
In fact, this previously overlooked fish, is now gaining popularity with the star chefs, so you should definitely allow yourself a taste of it as well. Notwithstanding the fact that its very nutritious and has lots of vitamins.
Substitutes for Seabass
You should always try to get your fresh fish from your local fish monger. As mentioned, sea bass is a white fish with firm meat, so you should go for something similar.
For instance, you can use cod, haddock or pollack instead. All of these are white fish, with somewhat similar taste and texture.
Always go for the freshest catch! The quality of the fish will make your dish in the end.
You should avoid the fattier types of fish such as salmon or mackerel. These will make the dish less balanced. If you do however prefer using salmon, then I've got a great miso salmon recipe for you.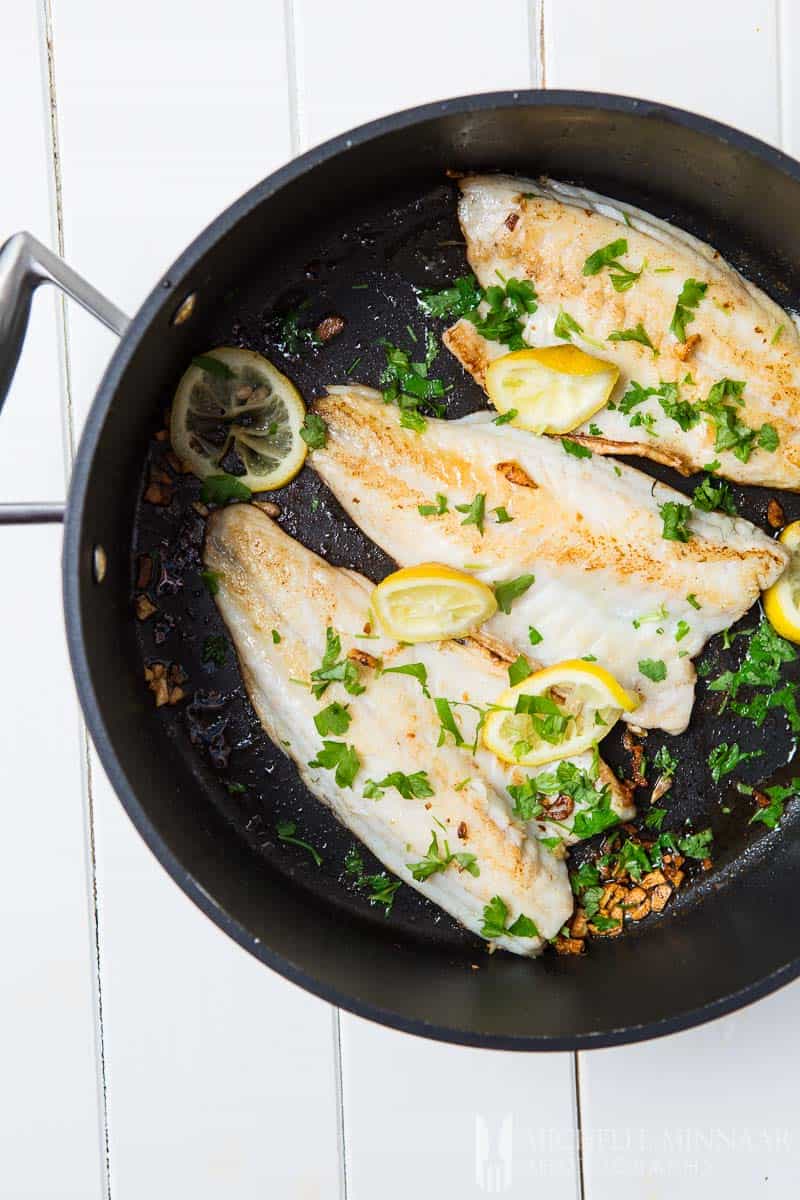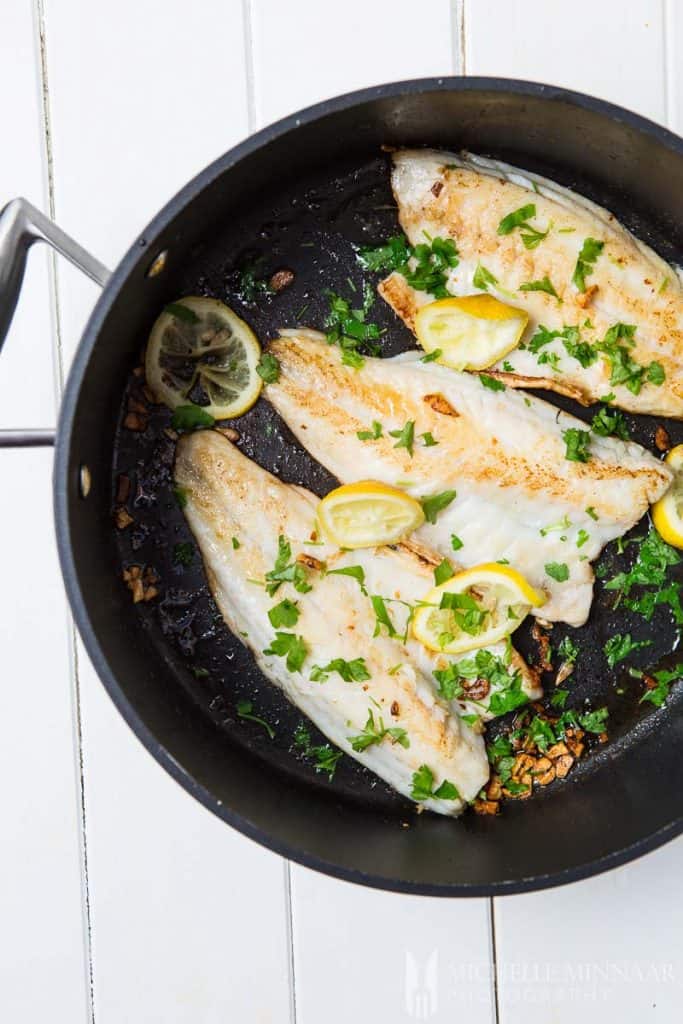 Lemon-garlic butter
The lemon garlic butter is a perfect match for the pan-fried seabass. Once you've made your lemon garlic butter, simply serve it, and let it melt over the hot fish, letting it create a sauce right on your plate.
If you're not a garlic lover, you can leave it out. Instead, replace the garlic with some fresh herbs that you like. Dill or parsley make excellent companions for the sea bass. But the choice is completely up to you.
Therefore, feel free to be creative at this point. For me though, the garlic is simply a must. It just gives this lovely Mediterranean flavour that work so well with the seabass.
As you know, lemon adds the necessary acidity, that any cooked fish needs. The seabass with lemon garlic butter is just perfection!
Other types of sauces
If you're not too keen on the lemon garlic butter, you can use another sauce to top your pan-fried seabass. For instance, you can make the dish richer, by serving the pan-fried seabass with a hollandaise sauce.
Or, if you want to keep the garlic flavour in there, but avoid the butter, serve it with an aioli. In fact, if you've managed to get your hands on a nice fresh seabass, even a bit if freshly squeezed lemon juice will do the trick.
There is just something about a freshly prepared fish, garnished with lemon. If you are aiming for a healthy green sauce, why not try the watercress sauce?
The watercress sauce is seasonal, crispy and will definitely give your seabass a health boost! Needles to say, my personal favourite remains the lemon garlic butter.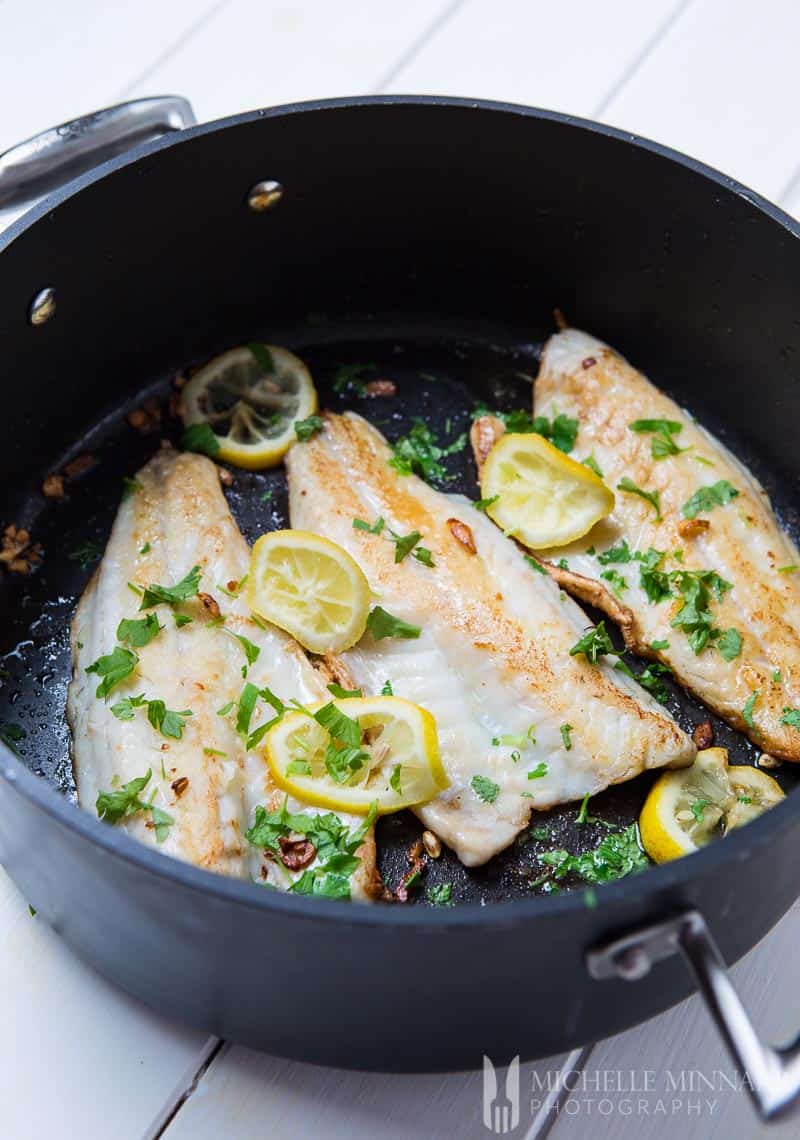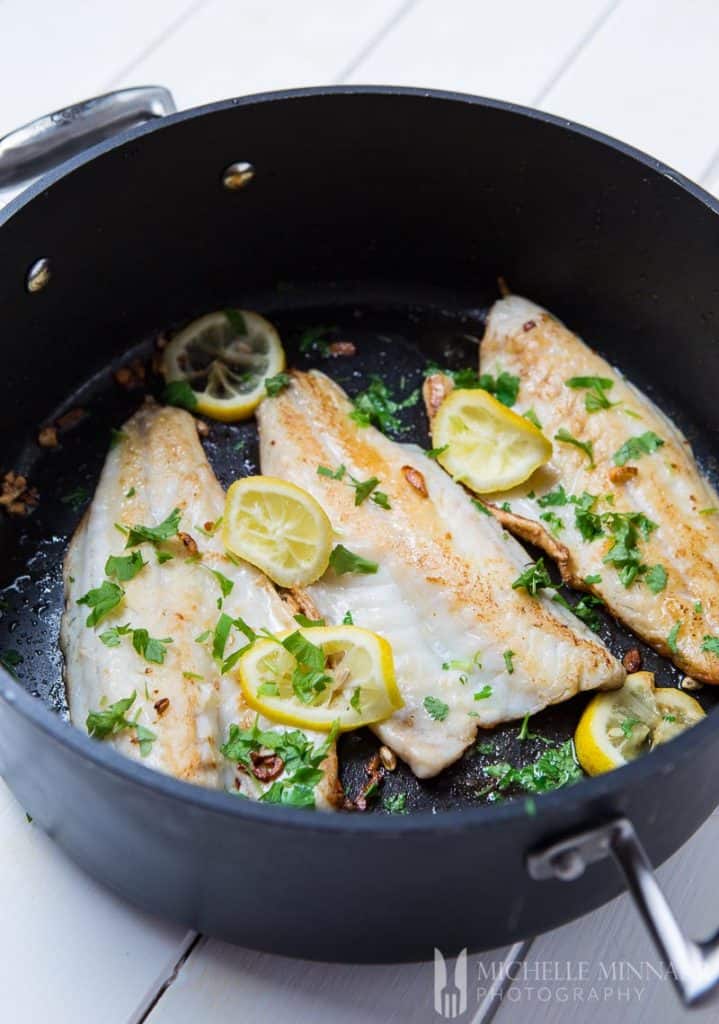 Sides
The possibilities for side dishes to serve with your pan-fried seabass are never-ending. Now in early spring, I would recommend serving it with green asparagus, which are just coming into season.
Furthermore, when the first new potatoes start to appear, these will be fabulous with the sea bass. Boiled, and drizzled with olive oil or some melted butter, with the combination of fresh herbs, it's a match made in heaven.
Again, dill or parsley are the natural choices, as both work well with pan-fried seabass, and the lemon garlic butter. If you want your seabass with lemon garlic butter to be a lighter meal, make a little salad to go with it.
Add fresh green peas and a light vinaigrette, which will give you a have a lovely summer dish. What's your favourite side dish? Leave a comment below.
Serving
As with most fish dishes, the pan-fried seabass is a dish best served fresh. You should prepare it and serve it immediately.
This way you get the most out of the fish. I wouldn't recommend freezing the dish, or storing it over night. If you're pressed for time, or preparing for guests, you can prepare the sides in advance. The fish itself will cook quickly and you can have a delicious meal in no time.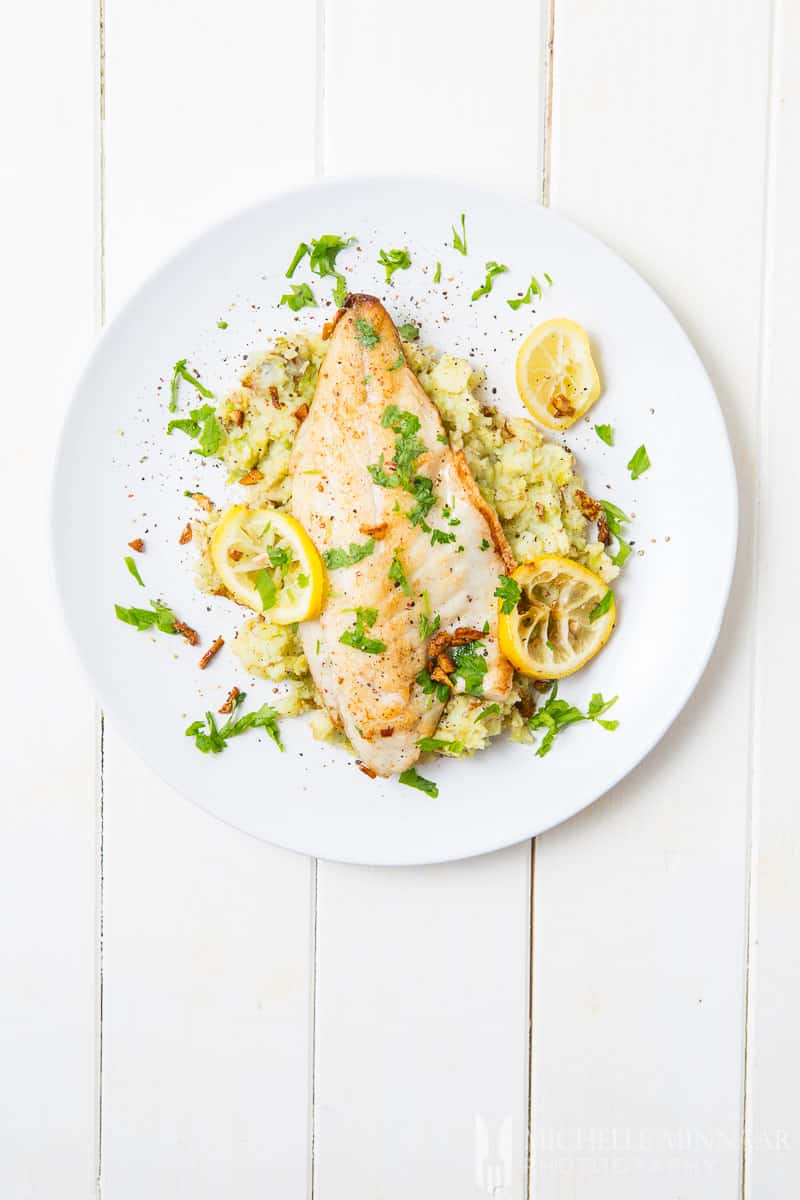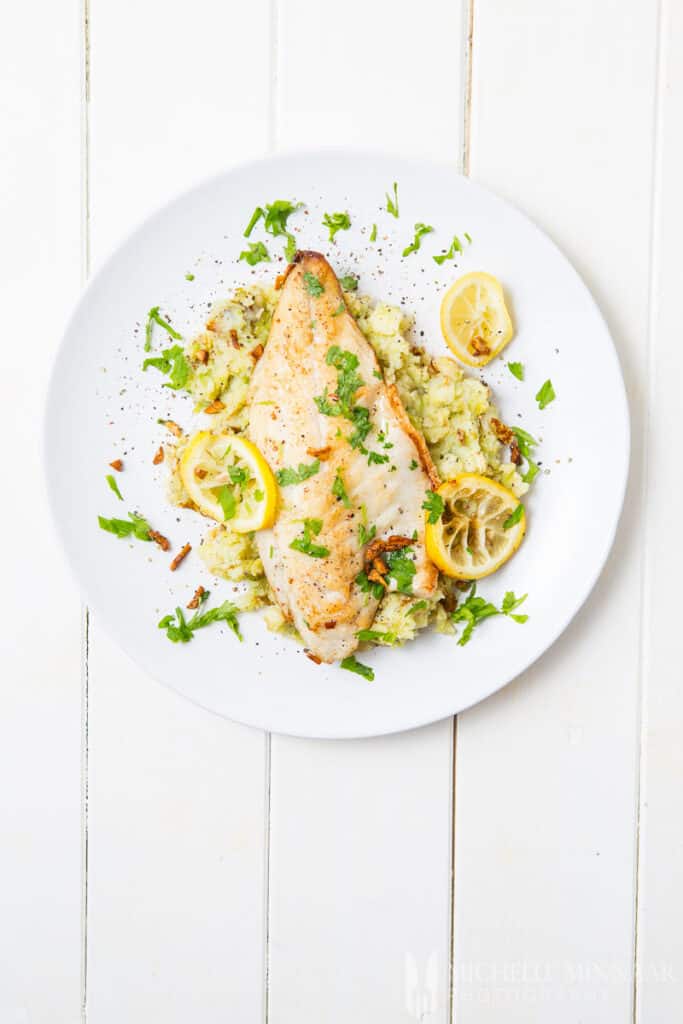 Wine pairing
To make your dinner into the complete Mediterranean experience, you should choose a lovely wine to go with it. I would suggest a crisp white wine like a Sauvignon Blanc, or perhaps even a lovely rosé from Provence.
It will complement the pan-fried seabass very nicely and give you the feeling of being on holiday. Enjoy!
Do you love seafood? Check out some more recipes:
Print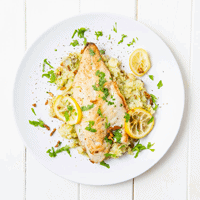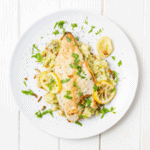 Pan-Fried Seabass with Garlic Lemon Butter Sauce and Spring Vegetables
---
sea bass
30

ml

(2 tbsp) butter

600

g

(1.3 lbs) sea bass fillets
salt and freshly ground pepper
garlic lemon butter sauce
4

cloves garlic, crushed

60

g

(2 oz) butter
juice of

1

lemon
---
Instructions
Melt the butter in a large frying pan. Fry sea bass, turning once halfway through cooking time. Cook until opaque and moist on the inside, 4 to 8 minutes.
In a small saucepan, gently melt the butter. When it starts sizzling add the garlic and let it sizzle for a minute or two, allowing the garlic to infuse the butter. Lower the heat to the minimum setting, add the lemon juice, stir and let it heat through. Season to taste. Drizzle over the fish fillets when it is served.
Notes
The seabass was served on top of bubble and squeak, which is mashed potato and brussels sprouts fried in butter and oil.
The sauce above is tailored to my taste. Feel free to play with the garlic, butter and lemon juice ratios until it suits you.
The recipe for the sauce above only makes a small amount. Double the amount if you rave about sauces.
Prep Time:

10 minutes

Cook Time:

5 minutes

Category:

Main

Cuisine:

French
Nutrition
Serving Size:

1 serving

Calories:

237

Sodium:

466 mg

Fat:

9.3 g

Saturated Fat:

4.5 g

Protein:

35.5 g

Cholesterol:

95 mg
save the recipe to your pinterest board
P.S. This post is sponsored by Bradley's.