Have you ever tried baked cod? Well, not like this you haven't!
This parmesan baked cod recipe tastes sensational. It's so easy to make, with only a handful of simple ingredients. Yet, when it comes to a flavorful recipe that's really good for you, it just doesn't get any better than parmesan baked cod.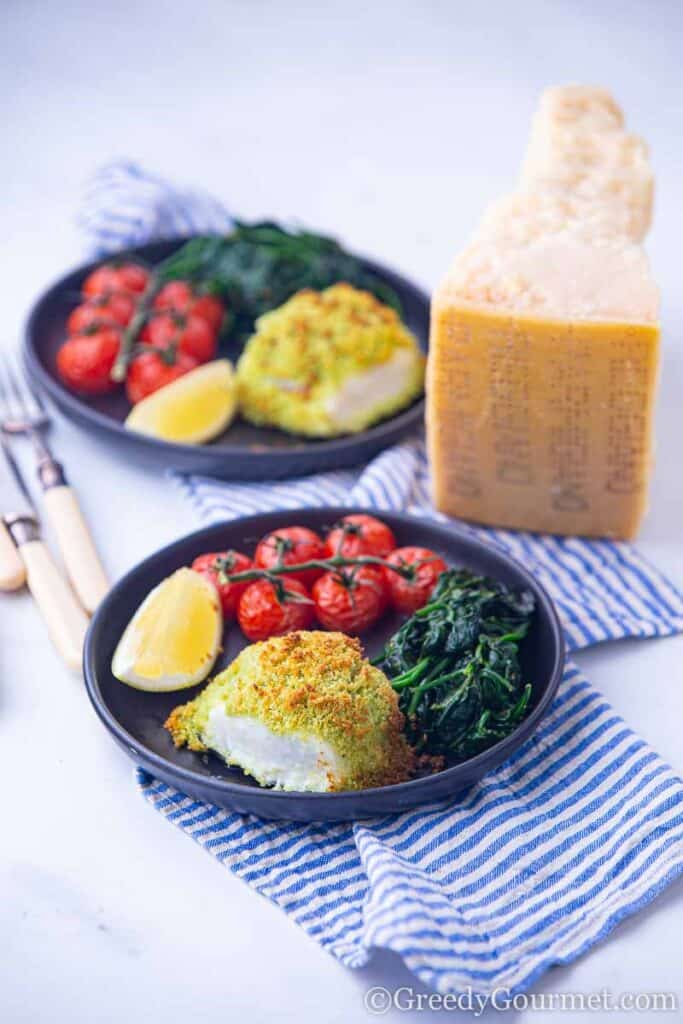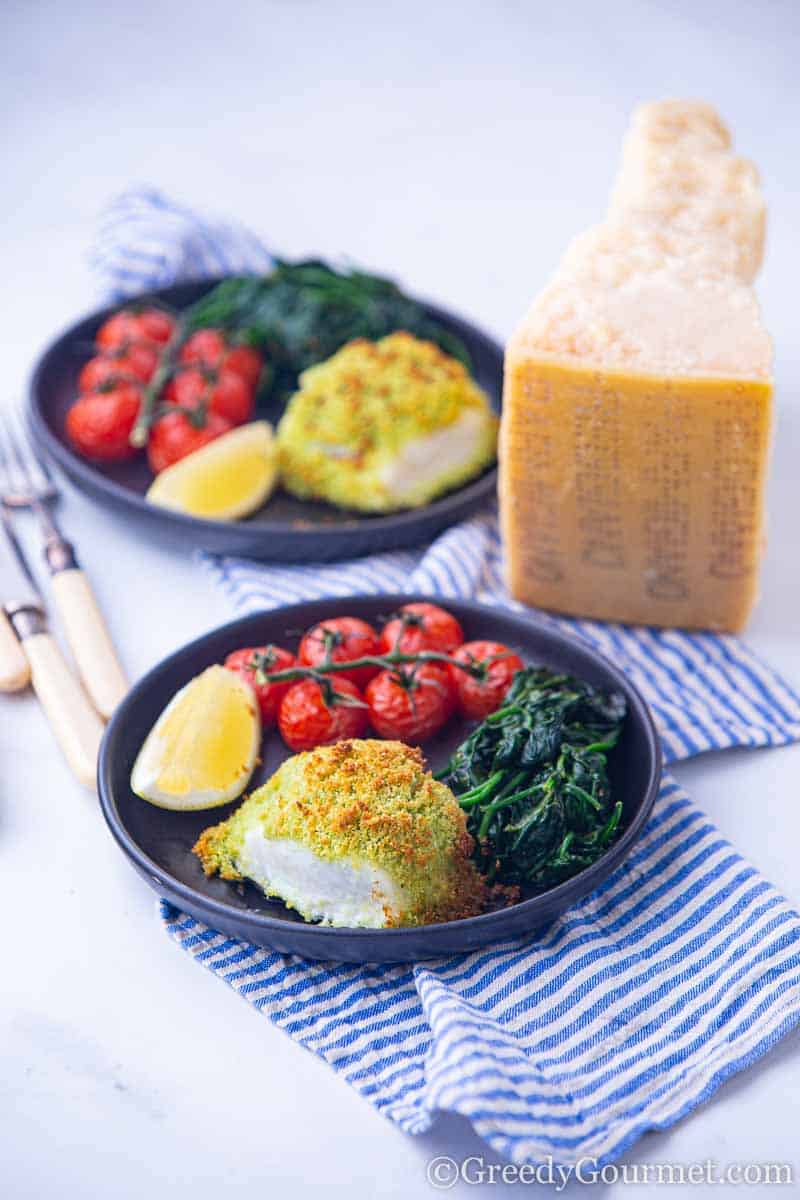 Parmigiano reggiano
One of the oldest, richest, best-loved cheeses in the world, Parmigiano Reggiano cheese is a truly magical ingredient.
By the way, did you know that that Parmigiano Reggiano is the only cheese that is legally allowed to be called Parmesan in the EU and other places where the law applies?
Still produced with the same methods as when it was first made – nearly 1,000 years ago – its versatility and complex taste make it an essential ingredient for everyone, from master chefs to mamas and humble home cooks.
What's more, it's perfect for the holiday season! The time of year when fruity, nutty, rich flavors come to the fore.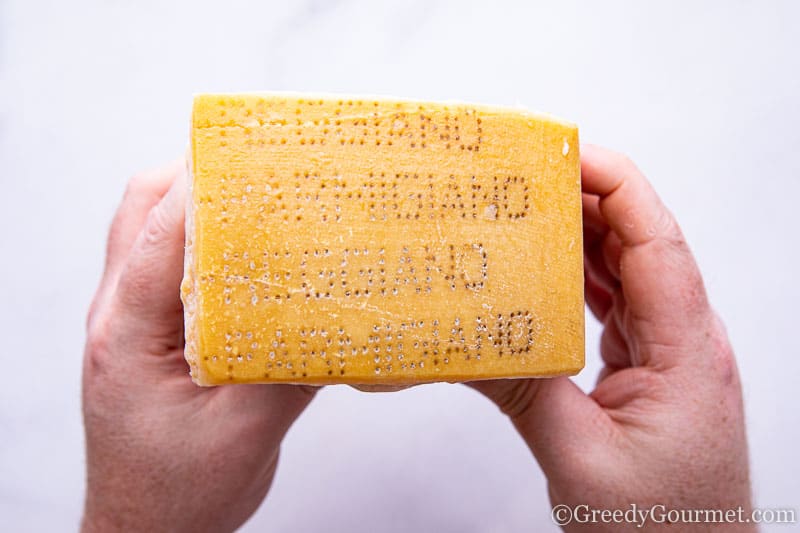 Depending on its maturation, Parmesan can have notes of fresh fruit, nuts, spices or beef stock. All of these flavors sit perfectly with festive recipes, which makes Parmesan an essential ingredient to add that little extra special something to your Christmas and New Year's recipes.
When you consider the amount of detail that goes into the production of Parmigiano Reggiano, it's no surprise that it's such a unique cheese. It's a PDO product (Protected Designation of Origin) which means it has to be made in a very specific way. The rules on making Parmesan include:
It must be made within a certain region in Northern Italy, by one of 300 artisanal dairies. All stages of production – including grating – must take place within this region
It must fulfil a certain criteria during production, with natural methods that include using cows that have foraged on a specially selected diet
No additives are allowed to be used. Only the Parmesan Cheese Master (what a title!) is allowed to enhance the flavor by alternating the lactic bacteria
Parmigiano Reggiano must only contain three ingredients: raw, unpasteurised milk; salt; and rennet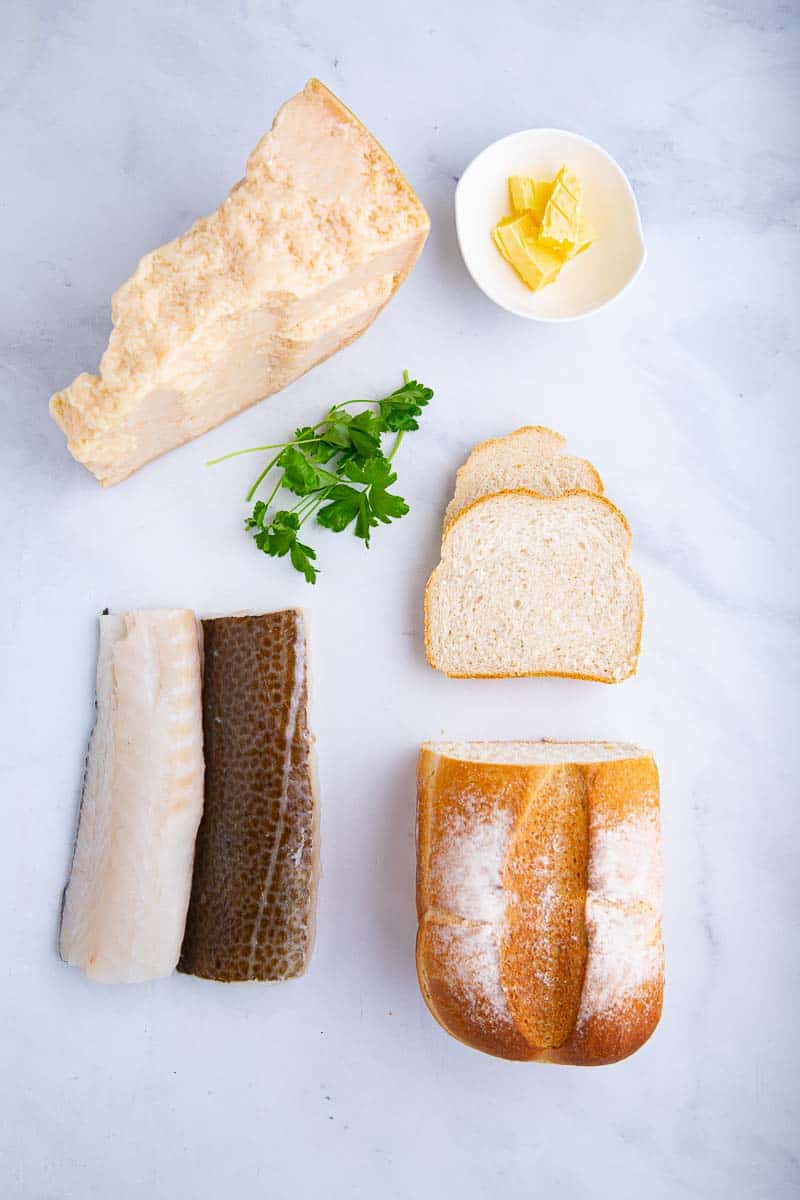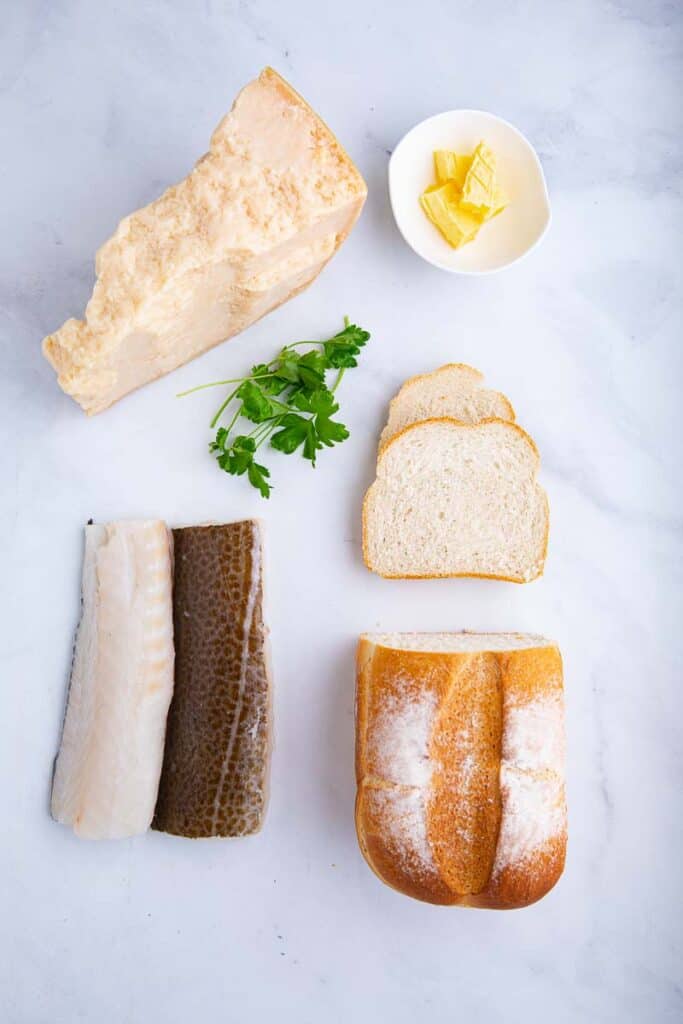 Parmigiano Reggiano is matured from between one to four years. Normally, after two years, it takes on those typical Parmesan characteristics – wonderful fruity, nutty tones with a hint of spice.
If you've never tried Parmesan, or used it as an ingredient in cooking, now's the time! You can buy a whole block of Parmesan and grate it yourself for freshly grated Parmesan cheese, or buy it ready grated.
Either way, this Parmesan baked cod recipe is the perfect showcase for an amazing, one-of-a-kind ingredient.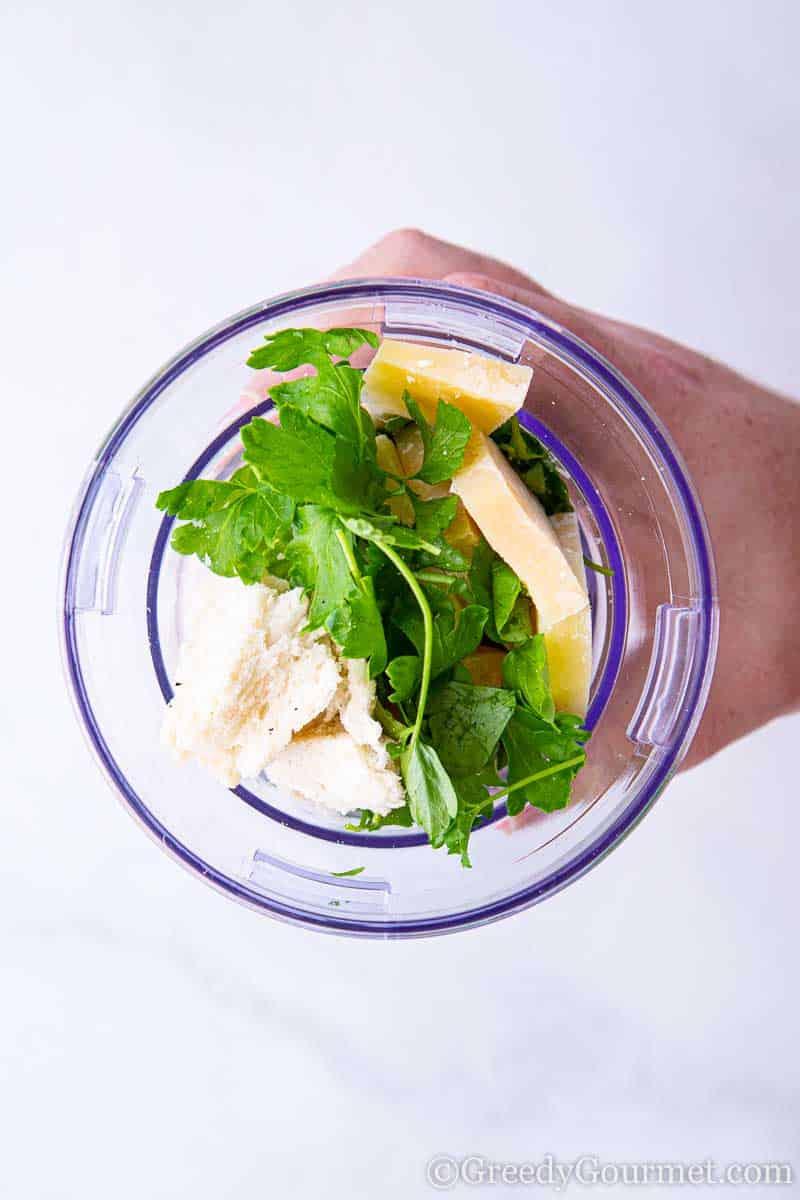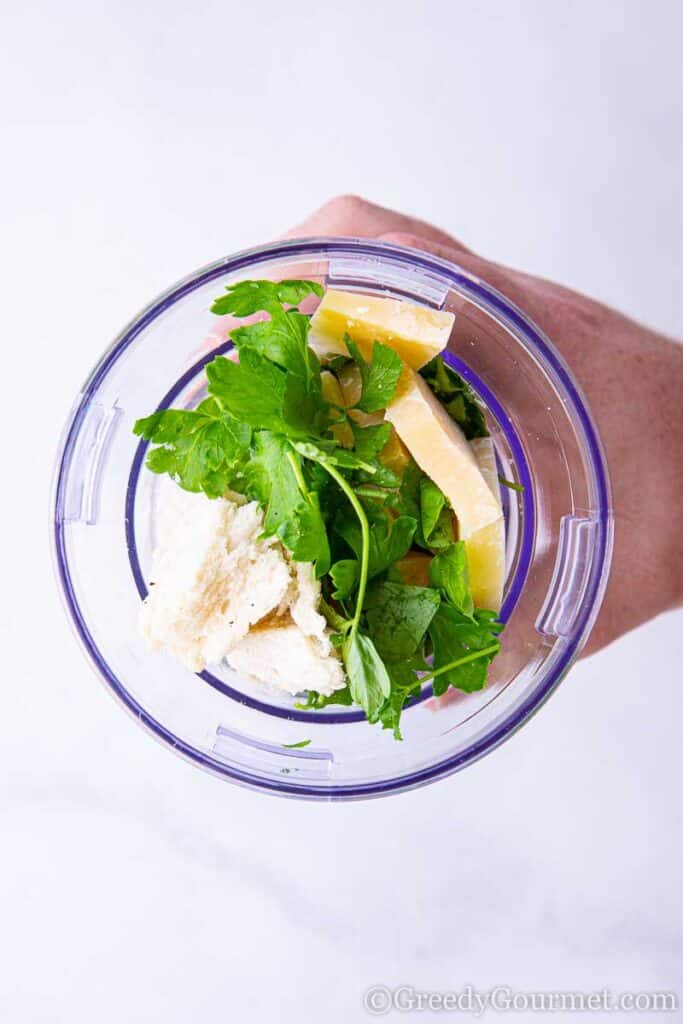 How do you know when cod is done cooking?
The fork test is a good way to tell if cod is properly cooked. Stick a fork at a slight angle into the thickest part of the cod. Twist the fork – the fish will flake easily with a fork twist if it's properly done. It will also have lost its see-through, raw appearance.
You can also use a food thermometer to check the internal temperature of cod, for a fool-proof way to know when it's done cooking. Cod should be cooked to an internal temperature of 60–63ºC (140–145ºF).
Can you reheat baked cod?
Baked cod is safe to reheat up to 4 days after it has been cooked. In fact, as the flavors will have had a chance to mingle that extra bit longer, it will taste even better!
The biggest challenge when reheating baked cod is to stop it from drying out. It's easy to make the mistake of overcooking baked fish, but the last thing you want is to end up with tasteless dried out cod fillets. Do it properly and your Parmesan baked cod will still taste utterly delicious.
The first rule when it comes to reheating baked cod is... do not put it in the microwave! Reheating this recipe in the microwave is a sure fire way to zap away the taste and for the crumb layer to go soggy. 
Instead, make sure you take the slow and steady method. Loosely wrap your Parmesan crusted cod in foil, place on a baking sheet and baking tray, then heat it in the oven at 150ºC (300ºF) for 12–15 minutes, depending on the thickness of your baked cod fillets.
How do you store Parmesan baked cod leftovers?
Your Parmesan crusted cod recipe leftovers will last 2–3 days in the fridge. Just make sure to place them in an airtight container. 
If you want to store your baked cod Parmesan for even longer, it's possible to store it in the freezer. Again, place it in an airtight container before putting it in the freezer. 
Frozen Parmesan crusted cod will keep its flavor for 2–3 months. It will be safe to eat up until 6 months, although it will start to lose its flavor. When you want to reheat it, defrost it in the fridge overnight.
Frozen cod, when uncooked, is easy to cook. Just add 10 minutes to the standard cooking time.
Can you use a different fish for the recipe?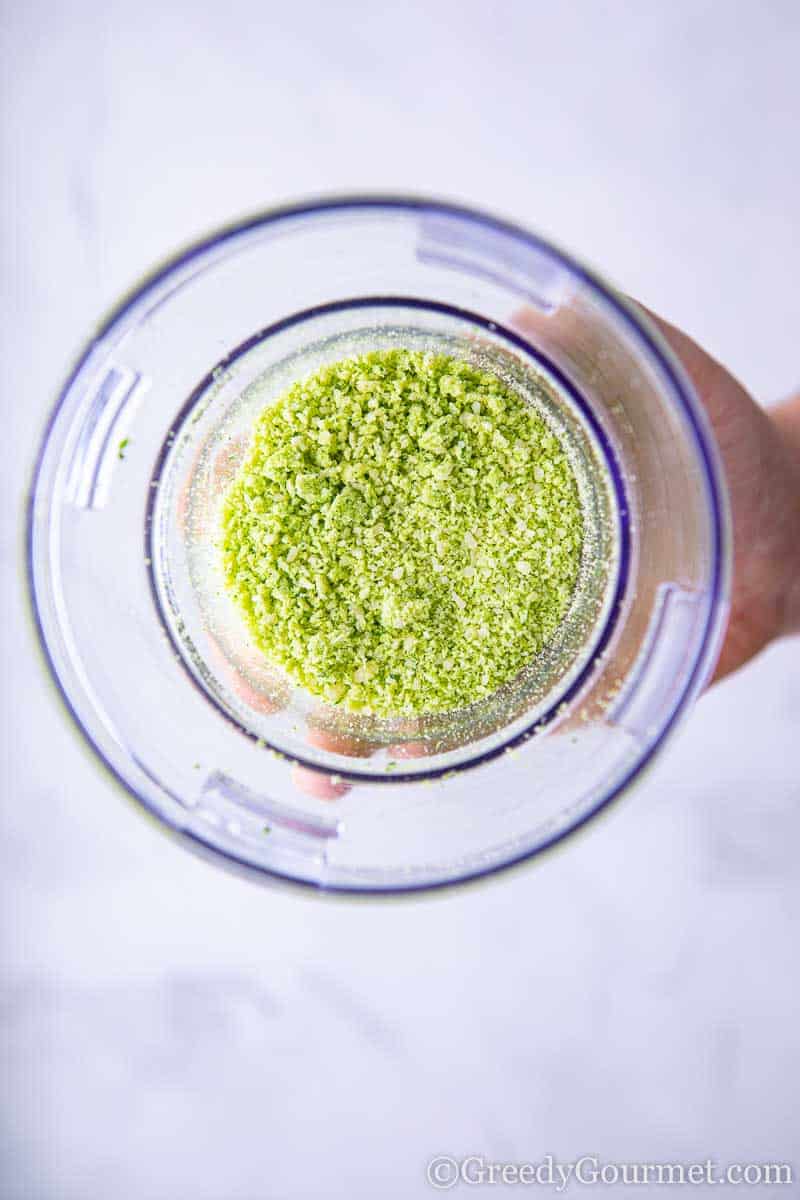 Most white fish tends to have a mild flavour, which means finding a substitute for cod is pretty straight forward. Good alternatives to cod fish fillets that you can use in this recipe include haddock, pollack, hake, black cod, seabass, stripped bass, whiting, mahi mahi and monkfish.
Avoid using halibut as a substitute for cod. It has a much stronger flavor, so doesn't quite work in this Parmesan baked recipe.
Can you prepare Parmesan baked cod in advance?
If you want to make this recipe for guests, it's a good idea to prepare the breadcrumb/cheese mixture in advance.
What can you substitute for fresh parsley?
If you can't get hold of fresh parsley, there are a few good substitutes that will work well with this recipe. 
Chervil is a very good alternative to fresh parsley. It has a milder taste than parsley, so you will need to add a little extra to the recipe.
Other good alternatives include tarragon and chives. You could also mix in a bit of dill, although go easy – dill has a stronger taste than parsley.
What other ingredients can be used to add flavor?
This Parmesan baked cod recipe is packed full of flavor. Still, there are some extra ingredients that can add an extra dimension of taste.
If you like a bit of spice in your life, try adding a touch of paprika. Sweet paprika and hot paprika would both work well in this recipe, as paprika is a spice that pairs very well with both white fish and Parmesan.
Adding lemon zest to the Parmesan mixture is also a great way to get an extra citrus zing to this recipe. You could even add a squeeze of lemon juice on top of the fish fillet crust, before putting them in the oven.
For an extra special mixture, try using panko crumbs in place of breadcrumbs. Panko is a lighter type of breadcrumb from Japan, typically used in Asian recipes.
You could also add an extra pinch of salt and pepper to the cheese mixture, a little dash of olive oil or half a teaspoon of garlic powder.
Is cod good for you?
Cod is a particularly healthy fish. It's packed with protein, vitamins and minerals. 
Just 100g of cod contains around 18g of protein – over a third of your recommended daily protein intake. Protein is essential for cell growth and repair, as well as maintaining strong healthy muscles. 
Cod also contains high amounts of Vitamin B6, magnesium and potassium, as well as the all-important vitamins B12 and D – all essential for maintaining a healthy, high-functioning immune system.  
Cod is also lower in mercury than most fish. So, avoid those toxins, get healthy and eat cod!
What else can you cook with Parmesan?
If this parmesan crusted cod recipe has got you in the mood to make some more delicious Parmesan recipes, you'll love my savory bread pudding recipe.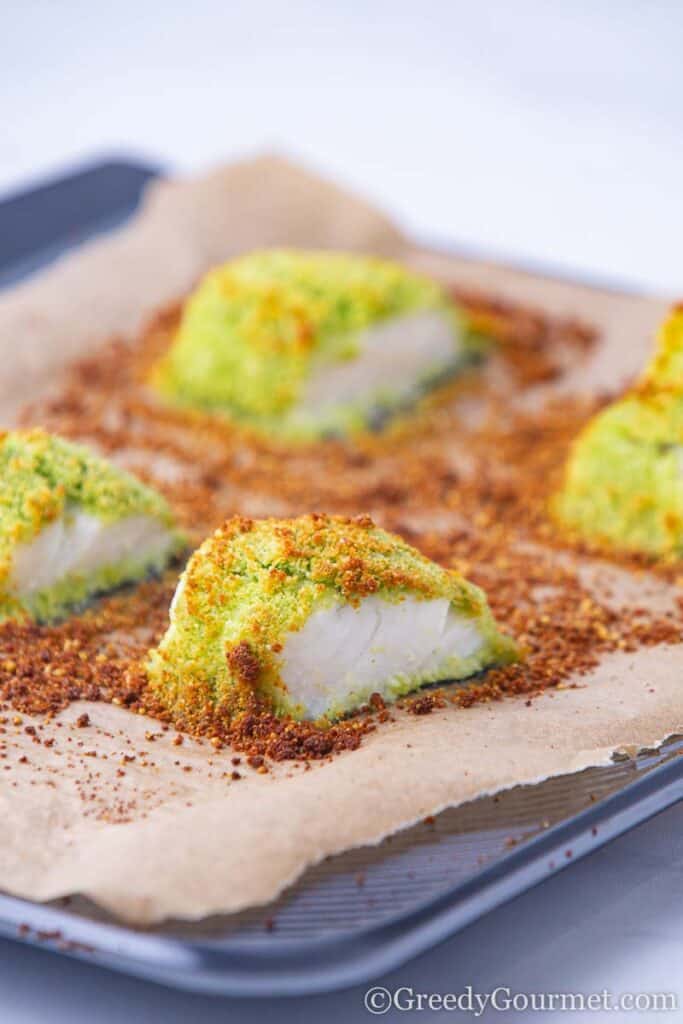 More fantastic fish recipes
Why not try mastering another tasty, healthy fish recipe? There are lots of amazing Greedy Gourmet fish recipes; here are just a few personal favorites:
Print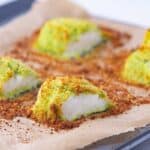 Parmigiano Reggiano Baked Cod
---
Author:

Michelle Minnaar

Total Time:

25 minutes

Yield:

4

servings, 3 prawns each

1

x

Diet:

Low Calorie
Description
Parmesan Baked Cod is quick and easy to prepare. Parmesan Crusted Cod comprises blitzed bread, parsley and Parmigiano Reggiano. Place the raw herb crust on the fish and bake. Serve with your favourite greens as a healthy meal!
---
2

slices white bread, crusts removed

1

small bunch parsley

55g

(

⅓ cup

) Parmigiano Reggiano cheese

15g

(

1 tbsp

) butter, melted

4

x 175g (

6 oz

) cod fillets
---
Instructions
Preheat the oven to 200°C/400°F/gas mark 6.
Place the slices of bread on a baking tray then toast in the oven for a few minutes, until the bread has dried out.
Remove the bread from the oven and let it cool down, which would take about 2 minutes.
Tear the bread into chunks and place it with the parsley and Parmigiano Reggiano cheese in a blender and blitz until the mixture is crumbly.
Add the melted butter to the mixture and give it another whizz.
Season the fish then spread the crumb mixture on top.
Bake cod for 8-10 minutes, until cooked through. Thicker fillets will need a few more minutes to cook.
Serve immediately with wilted spinach and roasted cherry tomatoes on the vine. Enjoy!
Prep Time:

15 mintues

Cook Time:

10 minutes

Category:

Main Course

Method:

Bake

Cuisine:

American
Keywords: parmesan crusted cod, parmesan baked cod, cod recipe, parmigiano reggiano recipe, white fish recipe, baked white fish fillets, how to make herb crust
P.S. This is a sponsored post.