What better way to enjoy the coming of summer that with a Peruvian ceviche with tiger's milk! Indeed, sounding like a holiday dish to be served by the seaside, you too can prepare it at home.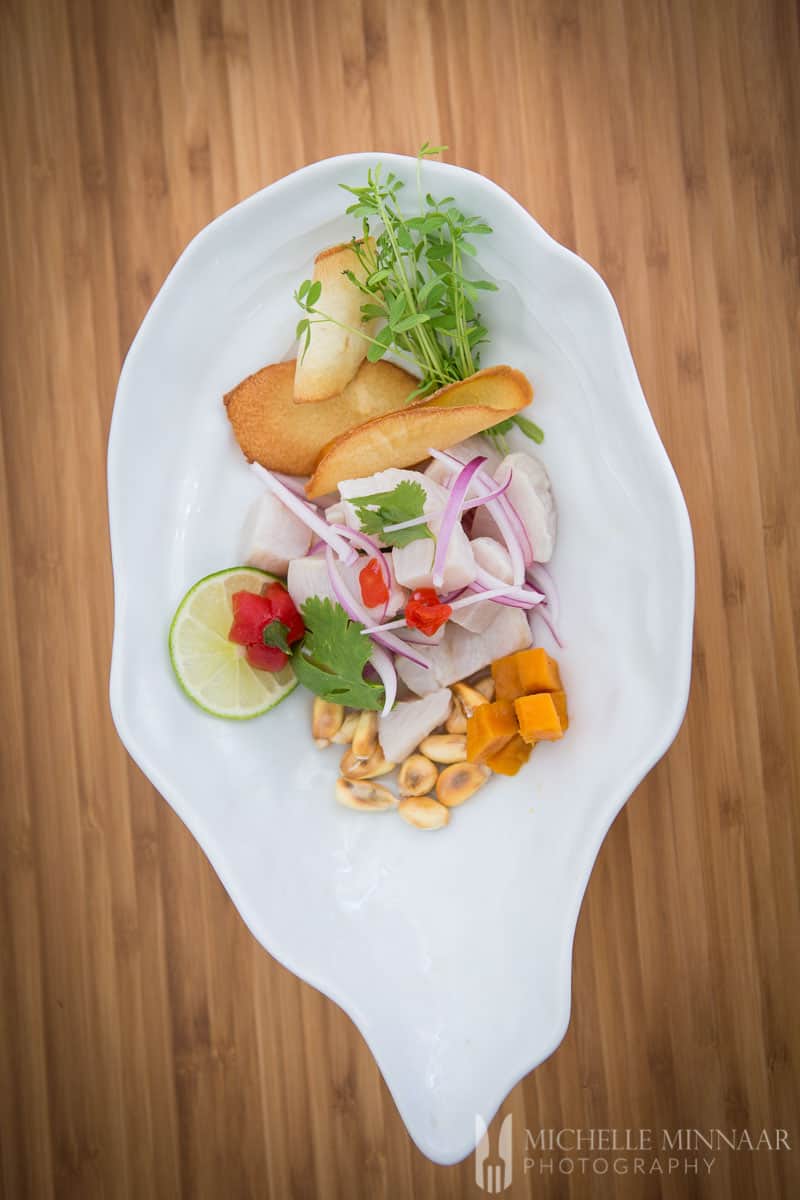 This Peruvian ceviche, or 'ceviche peruano' as natives call it, is an explosion of flavours that combine only the best ingredients.
In fact, if you've never heard about cooking fish with lemon juice, then it is high time for you to try this ceviche recipe. It does work - I 've witnessed it myself - and the result is a perfectly-balanced and refreshing dish.
Serve it as a starter or double-up on the ingredients for a main course. It is best enjoyed when freshly made. I'd love to hear your thoughts on Peruvian ceviche in the comments below!
peruvian ceviche with Marcos Tavío
Last year I had the honour of learning how to make ceviche from one of Tenerife's best chefs, Marcos Tavío. Marcos Tavío has recently opened a new restaurants, called Aborigen, at the Iberostar Gran Hotel Mencey. 
Let me give you some background on Marcos Tavío and learn more about his journey to becoming a culinary expert.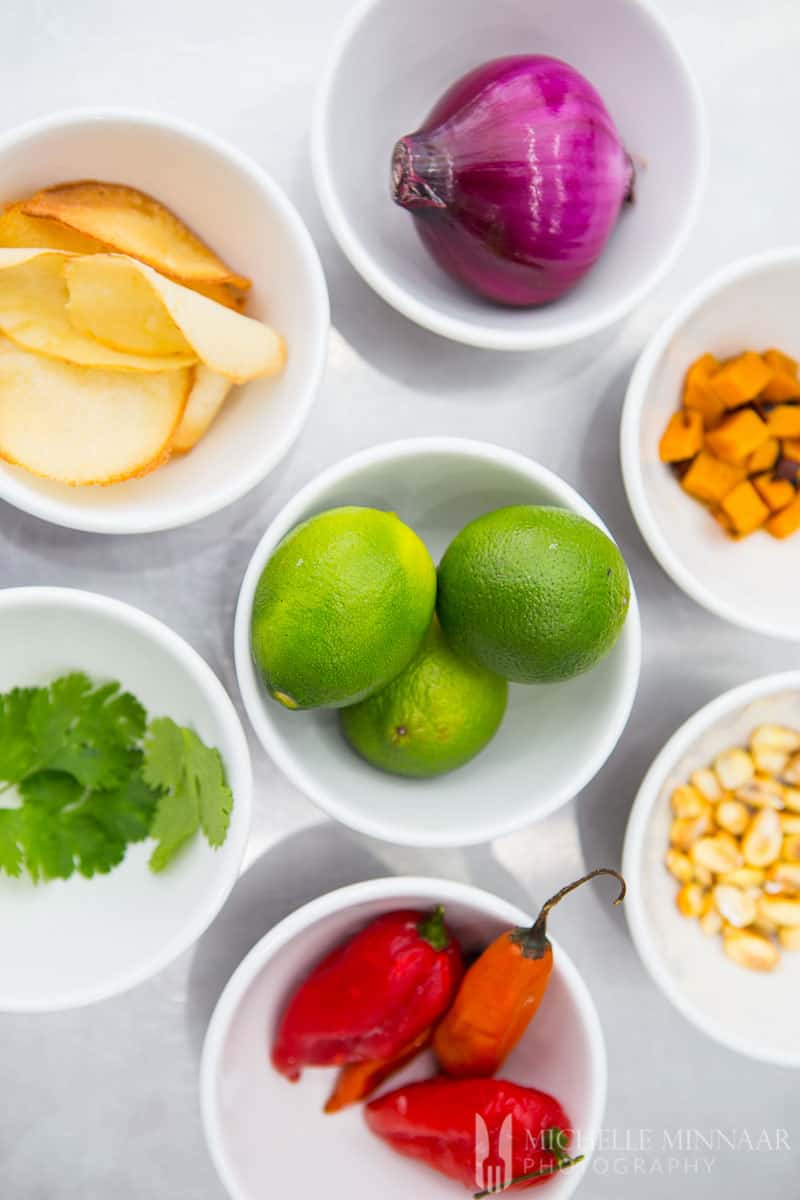 Marcos Tavío and his journey
Marcos Tavío was born in 1962 in Santa Cruz de Tenerife into a Canarian family with a long culinary tradition. Naturally, when he was a child, he recollects his first memories and scents from his grandfather's kitchen. 
By the time he was thirty, he opened his very first restaurant in Puerto de la Cruz in Tenerife, called Mosquito, specialising in Latin cuisine. After Mosquito, there was Poco Loco, which served Mexican food.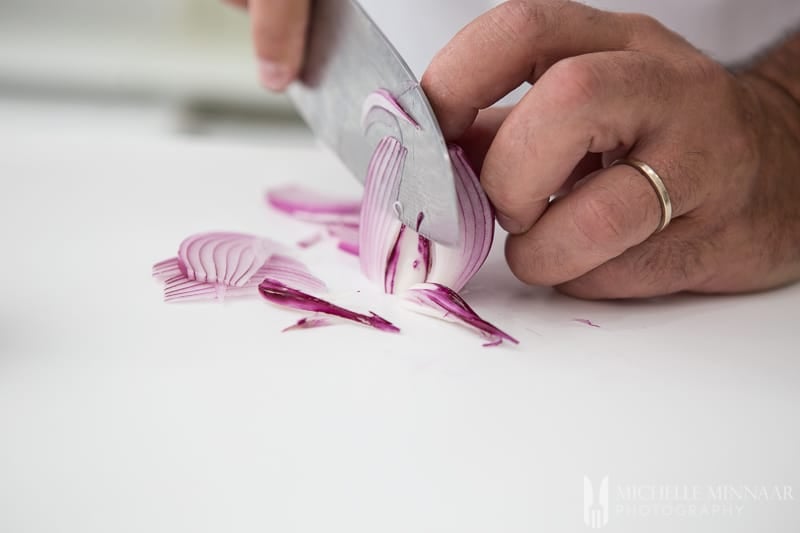 In 1997, he left the hotel business and took time off exploring scuba diving in many countries. Notably, this is where his love of seafood began, which he then took to Brazil.
In Brazil, he explored, believe it or not, Japanese cuisine. When he returned to Tenerife, he opened his gourmet sushi restaurant. 2014 was the year of Niqqei, fusion cuisine taking inspiration from Nikkei and Canarian cooking.
In 2016, awards were received for the Best Foreign Cuisine Restaurant and Revelation Chef. After that Tavío underwent a process of personal evolution towards the search for his roots.
In 2017 Aborigen, his grand project began to take shape. In an incomparable setting, the 5-star Iberostar Grand Hotel Mencey, a crew of young enthusiastic professionals work under him. Today, Marcos is seeking a new way for them to express their creativity.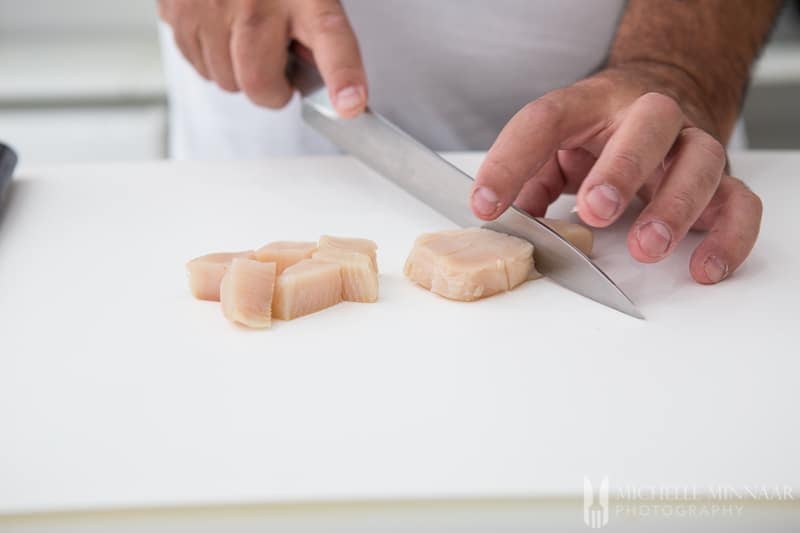 ceviche's origin
If you only heard about ceviche reading this article, then you might be wondering what it is. Also known as 'seviche' or 'cebiche', its origins lie in South America.
Ceviche is a method of cooking seafood, the secret ingredient being the acidic juice of citrus.  Usually, this it's lime or lemon. So simply put, ceviche is cooking fish with lemon or lime juice - without any heat!
Apparently, ceviches had been around for more than 2,000 years. Historians argue that ceviche first appearance was among the peruvian coastal civilisation of the Moche.
The Moche, being part of the Incan empire, used two types of juices to cook their Peruvian ceviches. These were the local banana passion fruit and chichi, an Andean fermented beverage.
Naturally, along with the expansion of the Incan empire, came the expansion of eating seviche or Peruvian ceviche in other parts of South America.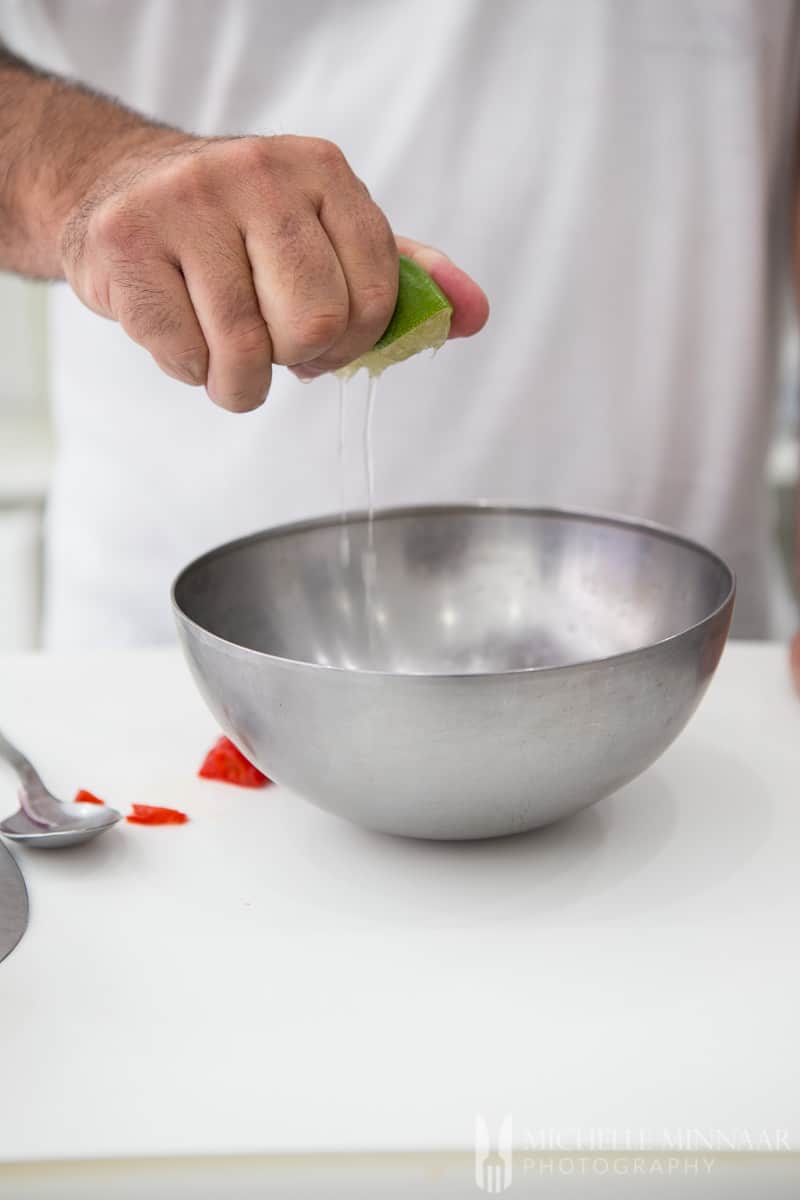 how to make ceviche
Again, the key to making 'ceviche de pesacado' or fish ceviche is with having it react with an acidic agent. Remember to keep the fish should be chilled before you cut it.
Most fish are delicate and keeping them at room temperature can have harmful effects. The trick to making the perfect ceviche is cutting up everything evenly.
Everything should be uniform. Remember, the goal is to combine all ingredients in one bite. Be careful when you add the lemon or lime juice.
You should add just enough for some acidity, but not too much to make it taste like biting into a citrus fruit. Otherwise, you'll ruin the ceviche.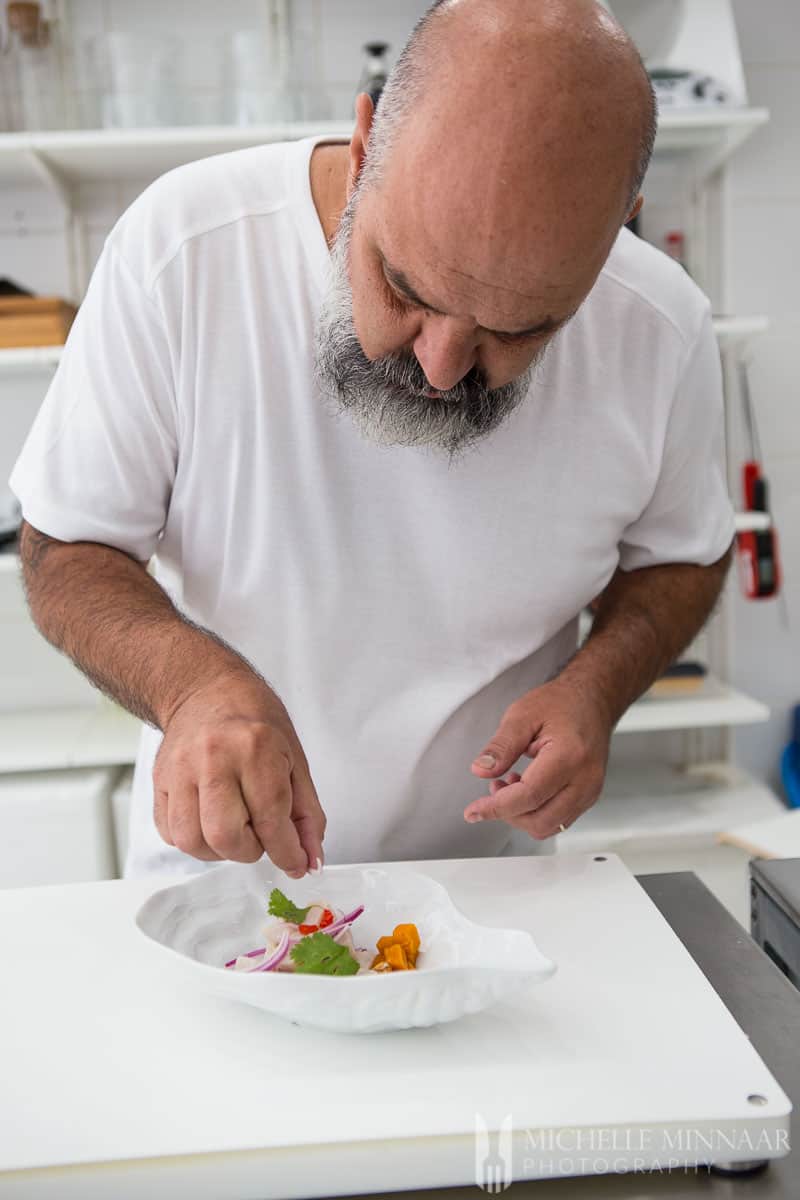 Tiger's milk
Since this is a Peruvian ceviche, it's no surprise that you'll need tiger's milk. Don't worry, tiger's milk or 'leche de tigre' is not actually milk from a tiger.
It is a traditional Peruvian sauce that is commonly added to a ceviche.  Generally speaking, it includes the use of lime juice, slices onions, pepper, salt, some chillies and juices from the fish.
As with any sauce, it comes in multiple variations. Sometimes, you'll find a variation with a touch of milk for a creamier outcome, as well as the white colour.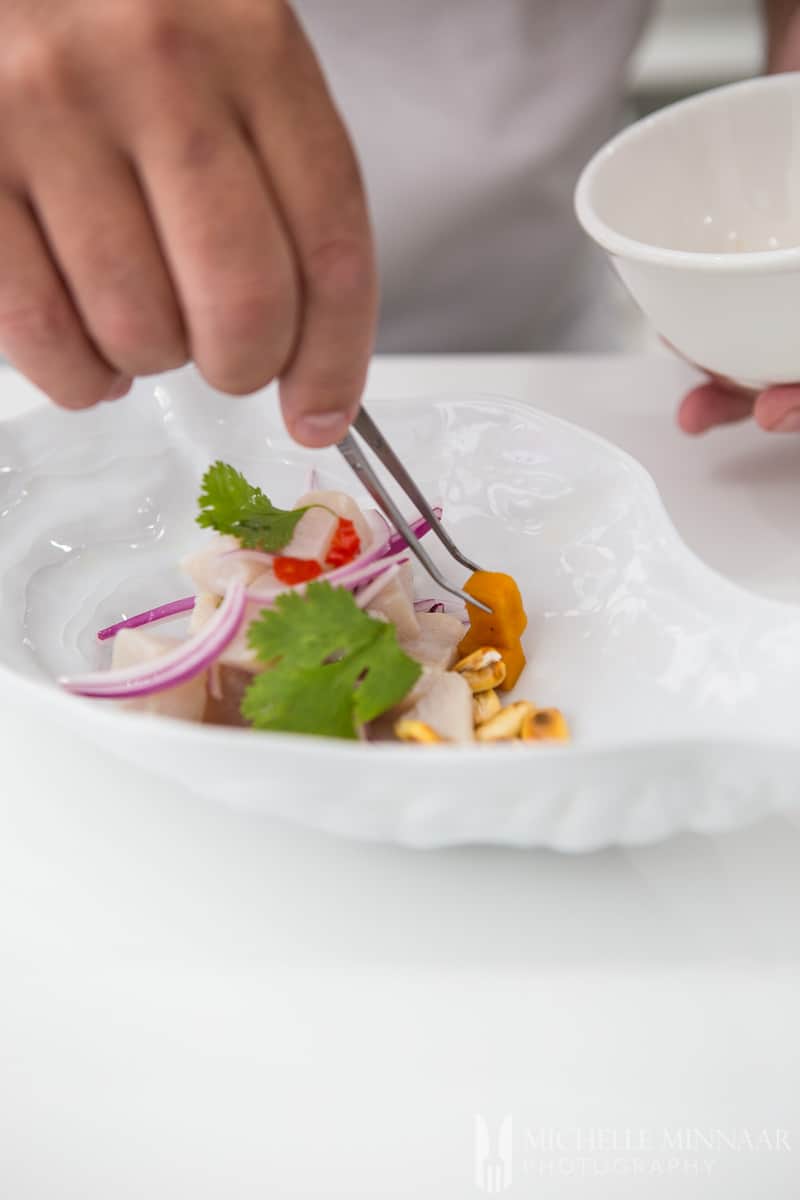 Variations of ceviche
There are so many variations of ceviche, whether it be shrimp seviche recipe, tuna ceviche or scallop ceviche. The sky's the limit!
There are tonnes of ideas of what you can make ceviche with. For example, I love combining sea food with exotic ingredients such as mango or pineapple for a hint of sweetness.
Or, you can also combine it with salads such as spinach, watercress and other green vegetables. My advice is, use the ingredients that you love eating and make the ceviche your own!
If you've got some ceviche leftovers, you use them for making the best fish tacos. Or, toss them in a wrap just like I did with my smoked salmon in this wrap recipe.
By the way, if you love the texture of ceviche, i.e. raw fish, you would rave about this salmon terrine!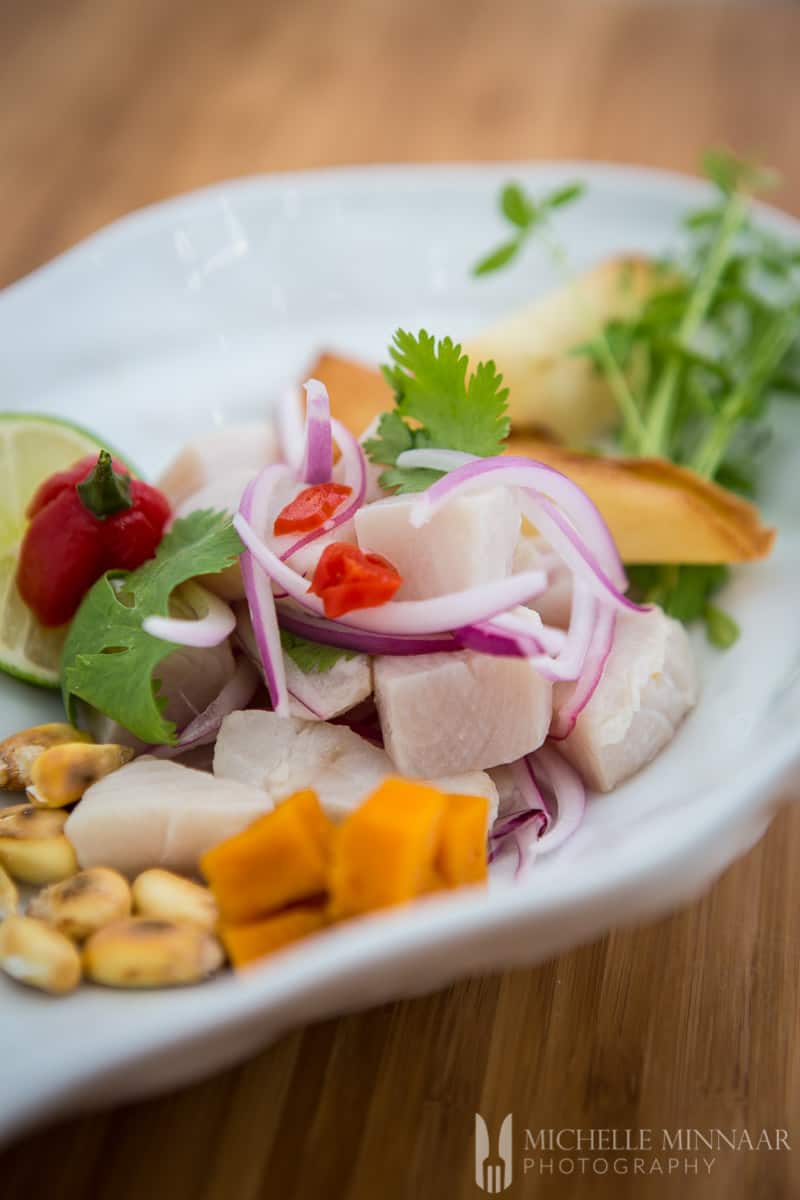 how long does ceviche last?
The short answer to this question is... not very long! This Peruvian ceviche, as with any other ceviche, is best to eat immediately. In fact, I do believe this rule applied to any seafood dish as well.
Therefore, if you are expecting company, you can prepare it an hour or two in advance and store it in the fridge. However, I must emphasise that it is best to eat it as soon as possible.
What is your favourite Peruvian recipe?
Print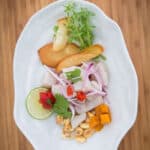 Peruvian Ceviche with Tiger's Milk
---
Description
Learn how to make tiger's milk, then prepare Peruvian ceviche with it. The ceviche recipe is light refreshing on a hot summer's day!
---
Tiger's Milk - Leche de Tigre
125

ml

(1/2 cup) lime juice

60

ml

(4 tbsp) lemon juice

70

g

(2oz) white fish

100

ml

(3fl oz) white fish stock

1

celery stalk

1/4

large red onion, peeled

1

clove garlic, peeled

1/4

hot pepper, such as ají limo

3

sprigs of cilantro, washed

1

cm (1/2 in) ginger, peeled
Salt, to taste
Fish Ceviche – Ceviche De Pescado
500

g

(1 1/3 lbs) fresh white fish, preferably non-oily

200

ml

(7fl oz) Tiger's Milk

1/2

red onion, peeled and julienned

1/2

hot chilli pepper, such as ají limo or habanero

4

small ice cubes

1/2

orange sweet potato, peeled and cubed

60

ml

(4 tbsp) fried sweet corn, a.k.a. cancha
Sprigs of cilantro
---
Instructions
Tiger's Milk - Leche de Tigre
Place celery, onion, garlic, stock, fish pieces, and lemon and lime juice in blender. Blend to desired consistency, which would take approximately 30 seconds.
Add the coriander and hot pepper and blend for approximately 30 seconds, enough time to bring out aroma and flavour but not the colour.
Season to taste.
Fish Ceviche – Ceviche De Pescado
Cut the fish into 2-3 cm cubes.
Rub the hot pepper around a glass or metal bowl. This is to give it the special aroma of the pepper.
Add small pieces of chili pepper, to taste, but be careful because it is very hot.
Add the fish cubes to the bowl, sprinkle with salt and pour the Tiger´s Milk directly onto the fish. This should almost cover the fish. Add more salt if needed.
Add one or two ice cubes to cool and let it stand for one minute.
Serve in a bowl or dish and accompany with sweet potato and the fried corn. Garnish with cilantro.
Notes
The size of the fish cubes depends on the type of fish, its texture and how oily it is. A fresh fish with white meat and firm texture is ideal.
Prep Time:

20 minutes

Cook Time:

10 minutes

Category:

Starter

Method:

No Cook

Cuisine:

Peruvian
Nutrition
Serving Size:

1 serving

Calories:

284

Sugar:

5.5 g

Sodium:

575 mg

Fat:

20.1 g

Saturated Fat:

4.1 g

Carbohydrates:

18.9 g

Fiber:

2.4 g

Protein:

10.8 g
Keywords: tiger milk, Peruvian ceviche recipe, tiger's milk ceviche
save the recipe to your pinterest board