If you've had a long and tiring day, there are a few things that will bring you back to life like a good soup. A well made, like this pumpkin and sweet potato soup is the ultimate comfort food.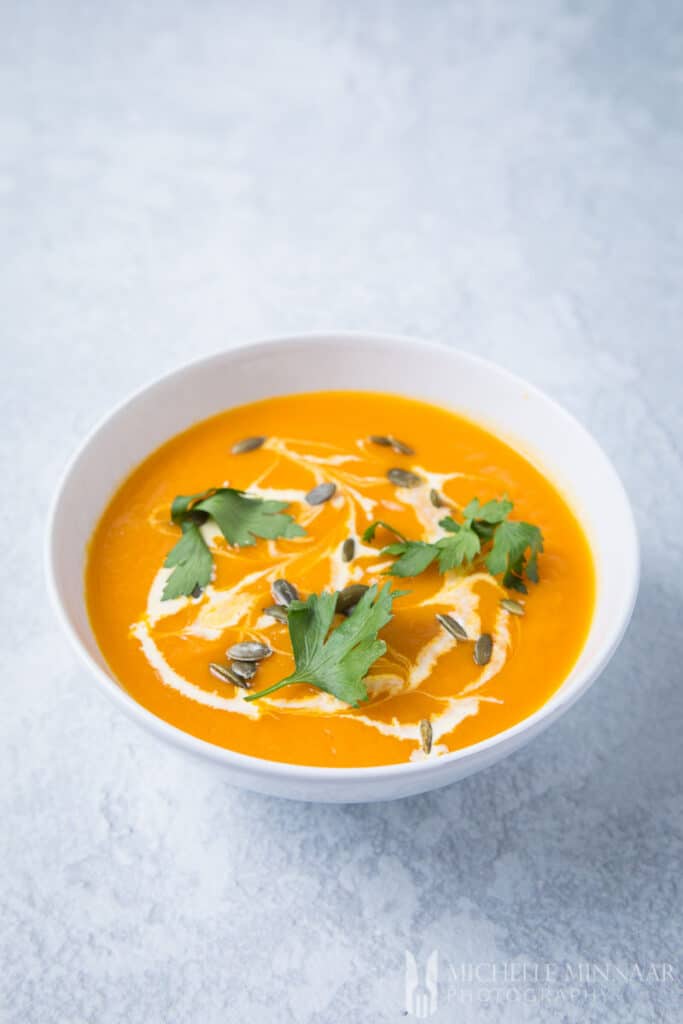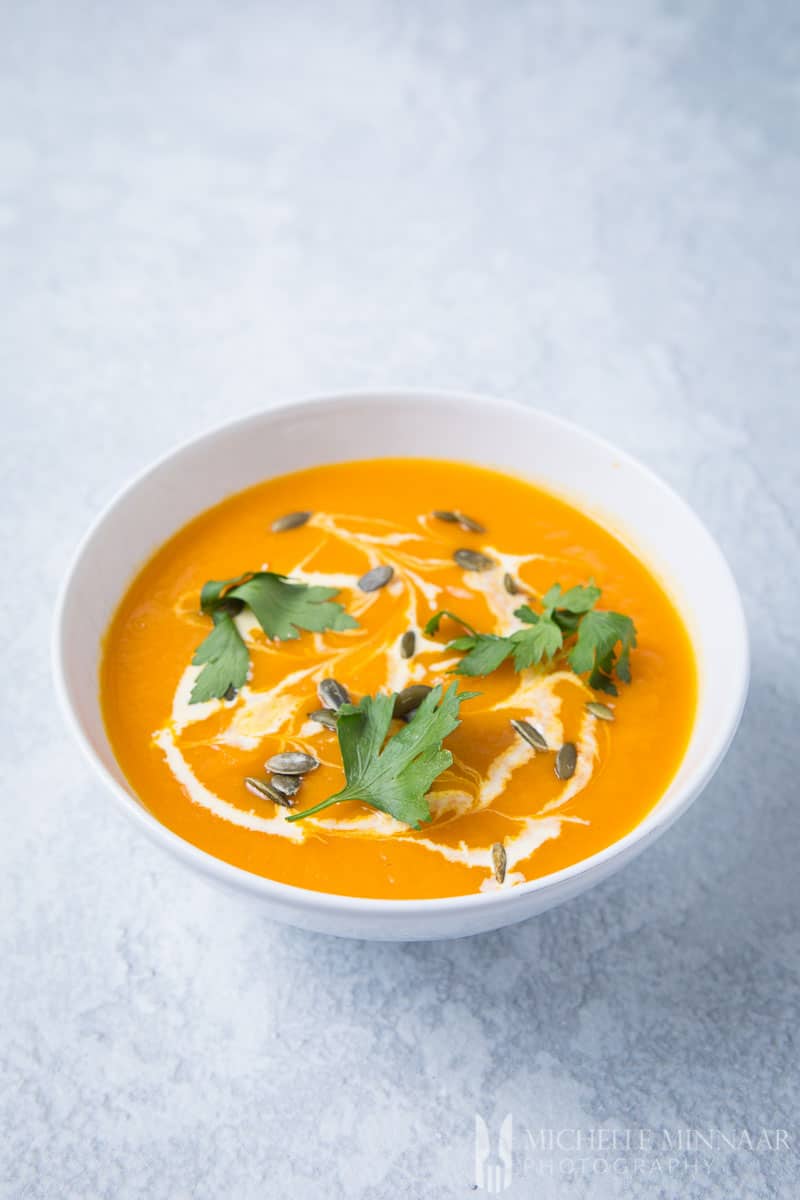 Especially when the weather outside is cold and miserable. My soup is just such a dish to lift your mood. In addition, it will not even take the least energy out of you to cook it, as the recipe is incredibly easy.
Half an hour of preparation time is all you need for making this pumpkin and sweet potato soup recipe. The cooking time is even shorter!
Hence, you can put your feet up while the pumpkin and sweet potato soup simmers. Inarguably, this is an easily cooked meal full of flavour – a definite winter warmer recipe.
It's a very healthy and low-calorie soup that can even help you keep your waistline in check. And to top it all off, this is actually a vegan pumpkin and sweet potato soup!
Of course, you can always add a touch of cream for those who are not completely vegan. However, the soup is creamy enough and is perfectly balanced. In conclusion, this vegan pumpkin and sweet potato soup rocks!
Jamie Oliver's pumpkin and sweet potato soup recipe
While reading through Jamie Oliver's pumpkin soup, I drew lots of inspiration for my pumpkin and sweet potato soup recipe.
First, I contemplated lots of great topping ideas that I'll mention later. Second, I loved the fact that he mentioned cooking sustainably, especially when it came to the pumpkin. Some people throw the pumpkin seeds into the rubbish.
However, Jamie cleverly suggests keeping the seeds to roast them! Click here to learn how to roast pumpkin seeds and unlock the hidden potential of a classical pumpkin.
In either case, it gave me tons of inspiration for creating this vegan pumpkin and sweet potato soup. Keep reading to find out more.
pumpkin and sweet potato soup – slow cooker method
If you wish to extract most flavour out of your vegetables, I highly recommend a slow cooker. If you don't own a slow cooker, you should never do the following. 
First of all, don't pre-boil them or pre-cook them in water beforehand, because they might loose their nutrients as well as flavour. Especially when you put them though a sieve.
The best way to retain their flavour is to cook them directly in the pot with the stock or the slow cooker (if you have one). The slow cooker works in a way where it very slowly cooks the ingredients and breaks them down.
roasted pumpkin and sweet potato soup
Roasting the vegetables prior to adding them to the soup pot is one clever way of getting the most out of your vegetables. First of all, when you roast the pumpkin, it releases its nutty flavour.
The same goes for the sweet potatoes. Both vegetables in essence taste slightly sweeter. I recommend giving them a little bit of a char for best results. Just don't overdo it.
Quick tip for those who suffer from diabetes. I know that sweet potatoes are essentially one of the best choices in terms of root vegetables when you are a diabetic.
However, did you know that if you roast or bake sweet potatoes, you unequivocally double their glycaemic index? Yes this is true!
The same goes for any other vegetables. So, if you suffer from diabetes, don't roast your sweet potatoes and pumpkin.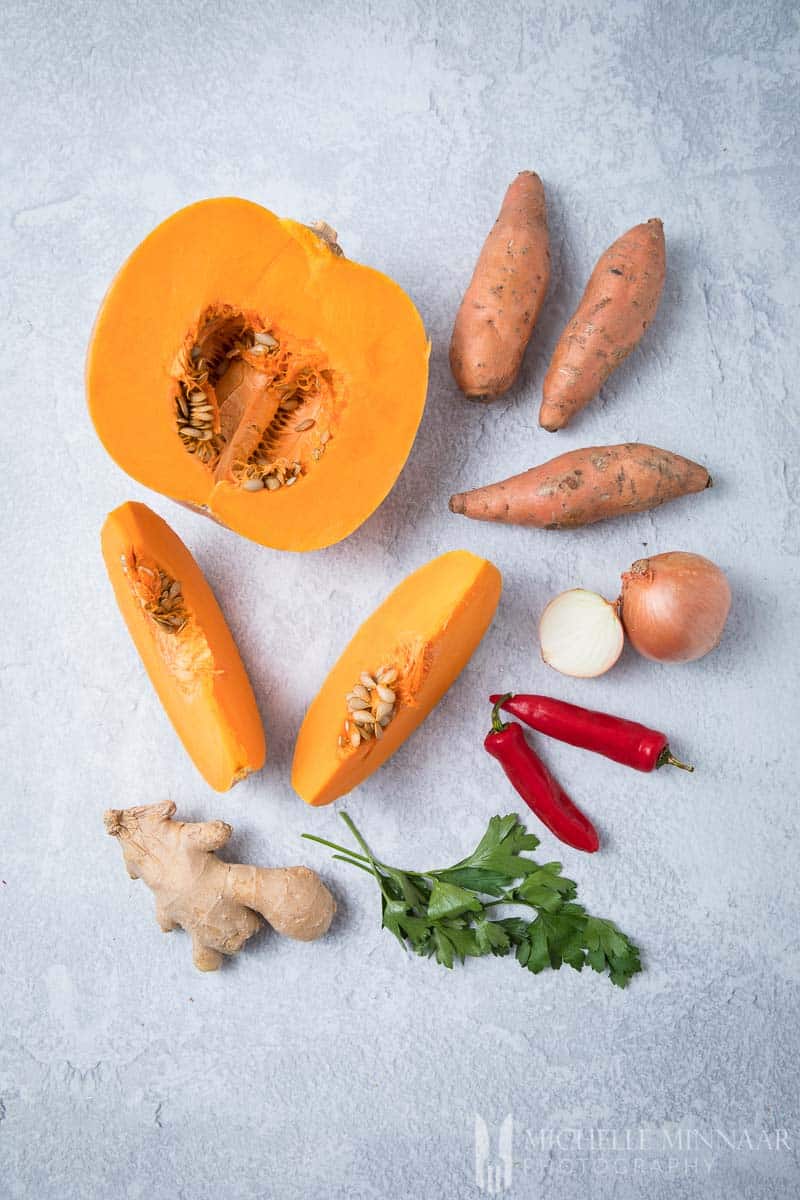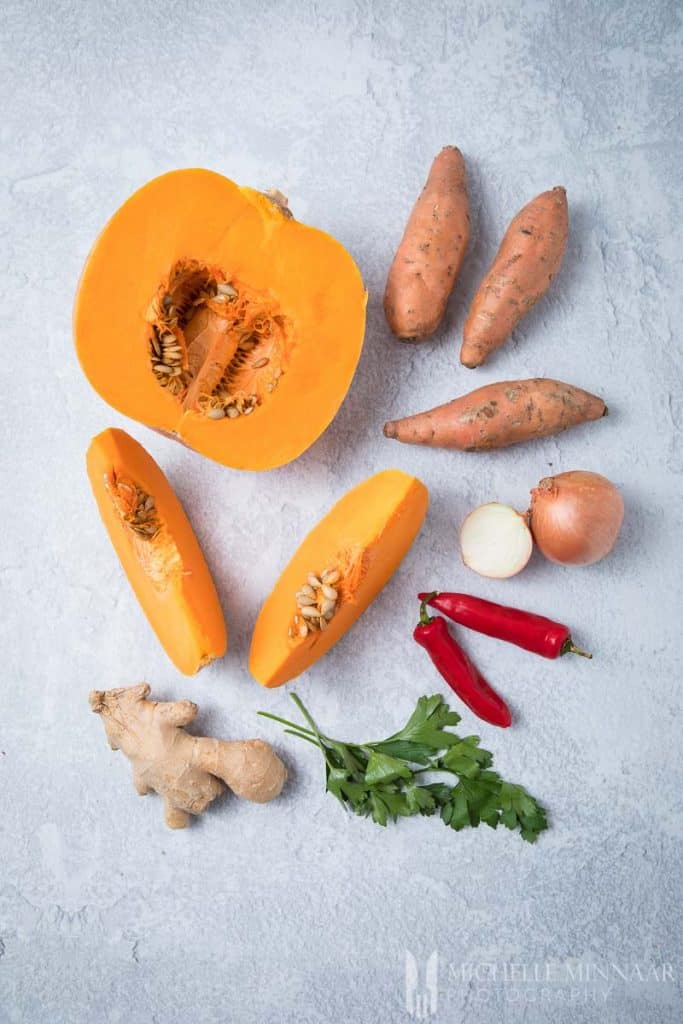 creamy pumpkin sweet potato soup – vegan
Although this pumpkin and sweet potato soup is already vegan, don't think that it's not creamy. Thanks to the texture of the sweet potato and pumpkin, the soup has a thicker and creamier consistency.
Do you still feel like you need even more creaminess but are battling with the fact that you want the soup to remain vegan? Not to worry!
There is, in fact, a very simple solution for this! Add a hint of coconut cream for extra creaminess and extra volume.
what spices work best with pumpkin and sweet potato?
When one thinks of pumpkin and sweet potato soup, one immediately thinks of the typical autumn/winter spices. These include all spice, nutmeg and cinnamon.
Naturally all of these work well and can be added to spice up your soup. However, there is nothing wrong with also using curry spice and chilli powder to give the soup a proper kick.
pumpkin and sweet potato soup – topping ideas
First of all, you can reuse the pumpkin seeds, roast them and use them as a topping. They pair very well with the soup.
Next, you can also consider pine nuts, which carry a distinct, fragrant flavour. Sprinkle with some fresh herbs like parsley, watercress or rocket salad.
Otherwise, you can also top the pumpkin and sweet potato soup with sprinkles of feta cheese or goat's cheese. However, then the soup will not be vegan!
For decorative purposes, top with some cream (you can use a vegan cream alternative).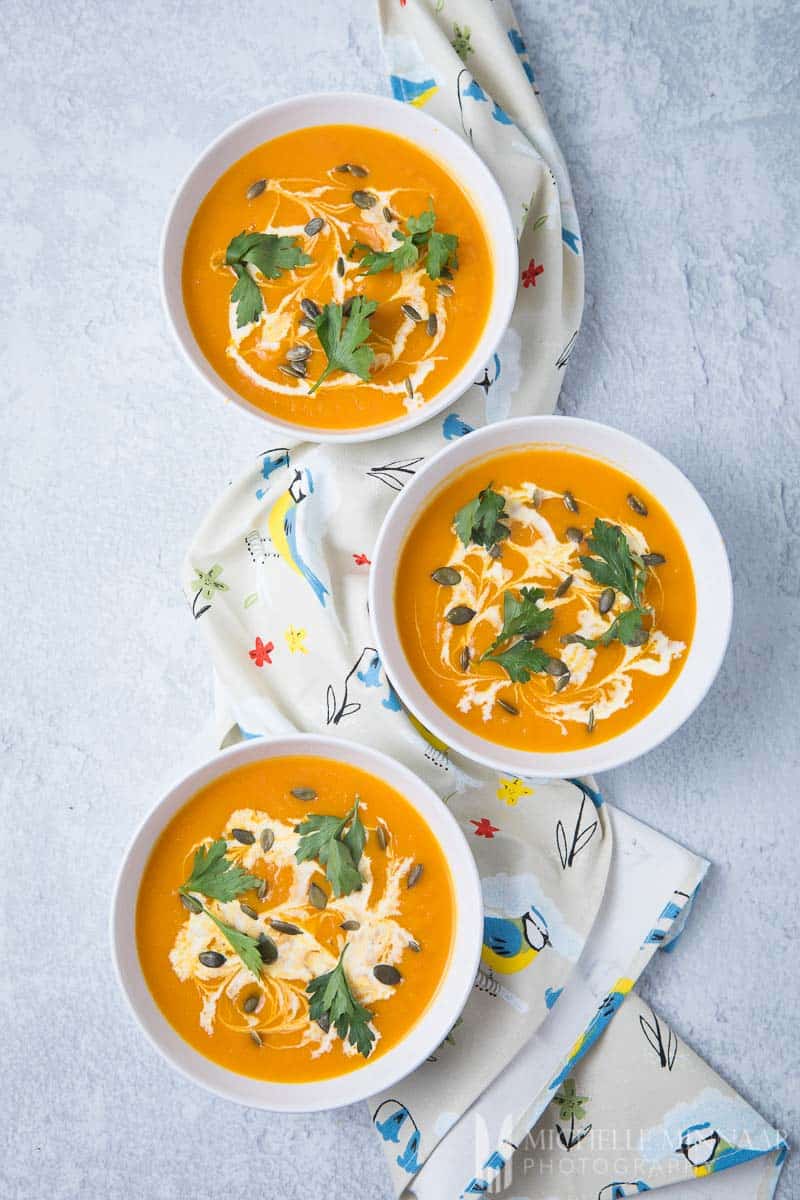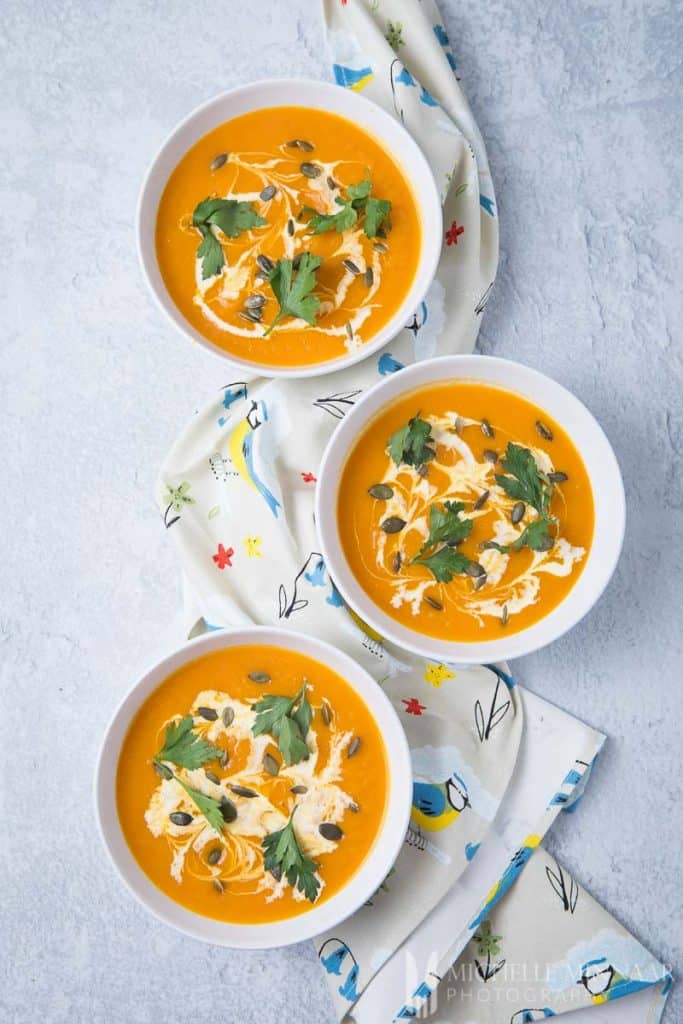 other delicious soups you might enjoy
If you have leftover pumpkin or butternut squash, you can try making this simple butternut squash pumpkin soup. It's very easy to make and it leaves room for leftover roasted pumpkin you can use in a dessert – like these pumpkin, almond and cinnamon muffins.
Also, ever heard of kabocha squash? You can also use this one to make this amazing kabocha squash and butter bean soup or this kabocha squash and cumin soup. These recipes are interchangeable with all types of pumpkins.
Another hearty soup you can try is the chestnut soup, the slow cooker sweet potato soup and the chickpea soup. If you would like to keep things vegan, give this vegan split pea soup a go instead!
Here is a comprehensive list of smooth vegetable soup recipes:
leftover sweet potato ideas
If you've got leftover sweet potatoes, you can save some for making these amazing vegan sweet potato pancakes. They are to die for and yes – they are totally vegan!
Otherwise, you can try your hand at making these finger-licking delicious baked sweet potato fries. If you feel like experimenting, you can also try making these vegan sweet potato gnocchi, they are exceptionally good!
What is your favourite winter soup?
Print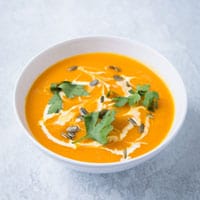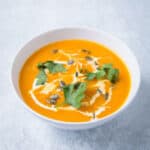 Pumpkin and Sweet Potato Soup
---
Description
Make this pumpkin and sweet potato soup in just a few steps and master this ultimate vegan soup recipe. Use any type of pumpkin, spice it up and enjoy!
---
30

ml (2 tbsp) oil

4

onions, peeled and chopped

4

garlic cloves, peeled and crushed

10

cm (4in) fresh ginger root, peeled and sliced

1

red chillies, washed and sliced [optional]

2

celery sticks, washed and chopped

2

kg (4½lbs) squash, peeled and seeded, cut into chunks

700g

(1½lbs) sweet potato, peeled and cut into chunks

1

ℓ (4 cups) vegetable stock
---
Instructions
Heat the oil in a large saucepan.

Gently fry the onions until they have softened, which will take around 5 minutes.

Add the garlic, ginger, chillies and celery, and saute for 5 minute.

Place the squash, sweet potato and stock into the pot as well.

Increase the heat and let the content reach a slow simmer.

Cover the saucepan with a tight lid and let it cook for 15 minutes or until the squash and sweet potato are tender.

Blend the soup until smooth in batches in a food processor.

Serve with your favourite toppings, such as coriander leaves, pumpkin seeds, (alternative) cream, chillies, plus salt and pepper. Bread always works as an accompaniment!
Notes
This recipe is ideal for batch cooking and freezes well.

If you don't want such a big quantity, you can easily halve the ingredients to serve 4.

If you prefer soups of a thinner consistency, add more stock to your preference. This can easily done after the cooking process but while you're blending the contents.

A portion works out at 4 Weight Watchers Smart Points.
Prep Time:

30 minutes

Cook Time:

20 minutes

Category:

Main Course

Cuisine:

American
Nutrition
Serving Size:

1 serving

Calories:

178

Sugar:

12.7 g

Sodium:

151 mg

Fat:

4.4 g

Carbohydrates:

32.9 g

Fiber:

6.9 g

Protein:

5.6 g
save the recipe to your pinterest board