Rainbow quinoa salad is the perfect vegan salad for everyone. It's one of those salads which can make even the hardiest meat eater reconsider his ways. Firstly, it looks amazing with all the different vegetables. Secondly, this salad is so nutritious and delicious, it is a balanced meal by itself. There's no need for serving it as a side dish with some meat or fish. Finally, you can add just about any vegetable or nut to this rainbow quinoa salad. Therefore, you can minimise waste in your own household and use up any leftover ingredients. Even these small things matter when it comes to saving the planet step-by-step. Let's face it, we all have a responsibility to be more waste-conscious in our day-to-day lives!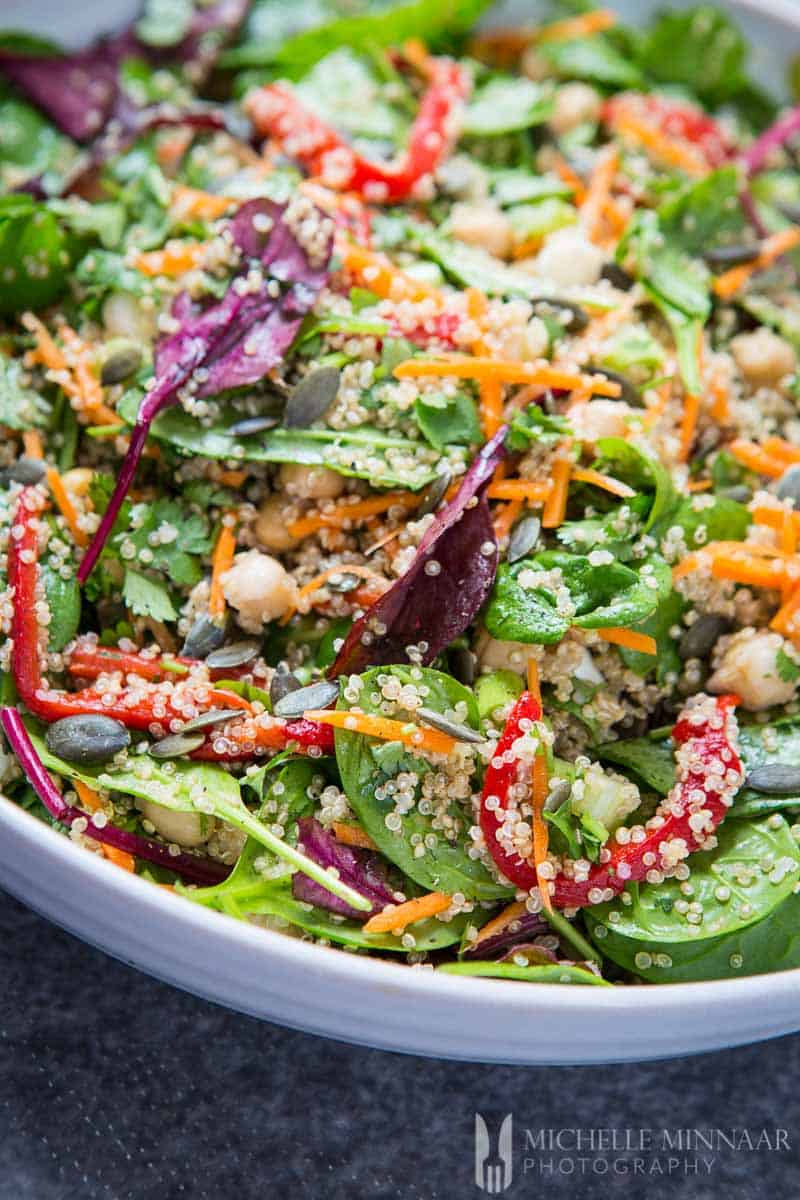 the festival of ideas
The Festival of Ideas, New Scientist Live, is returning for its second-year from 28 September to 1 October 2017. Although the talks touch on plenty of areas of human life, there is one session of particular interest to me. This is the talk on feeding the world, by none other than the population biologist Charles Godfray. Charles Godfray, from the University of Oxford, explores our current global food system and ways to adapt to the challenges in the 21st century. His main focus is on the relationship between food and its production. You can access the website for more information on the talk here: https://live.newscientist.com/speakers/charles-godfray
So, let us explore into the world of food, production and waste management. It is easy to point blame at governments and large corporations but on a personal level we all bear some responsibility one way or the other. Statistics show that waste is spread throughout the food chain. It also concentrates on where we have the capacity to act, both at home and at work. For this reason, I think this rainbow quinoa salad is a perfect opportunity. Eating more vegan food is a great way to start being more responsible.
A lot of people tend to criticise this the vegan lifestyle and to some it simply doesn't appeal. Another option is to buy into the latest trend, i.e. recipe box schemes but this may prove too expensive for those on a tight budget. The new meal plan companies do cater mainly for a subset of the middle class, as they do overprice their products. Hence, the real challenge, how do we scale up initiatives to get the entire population interested in living more sustainably and healthily?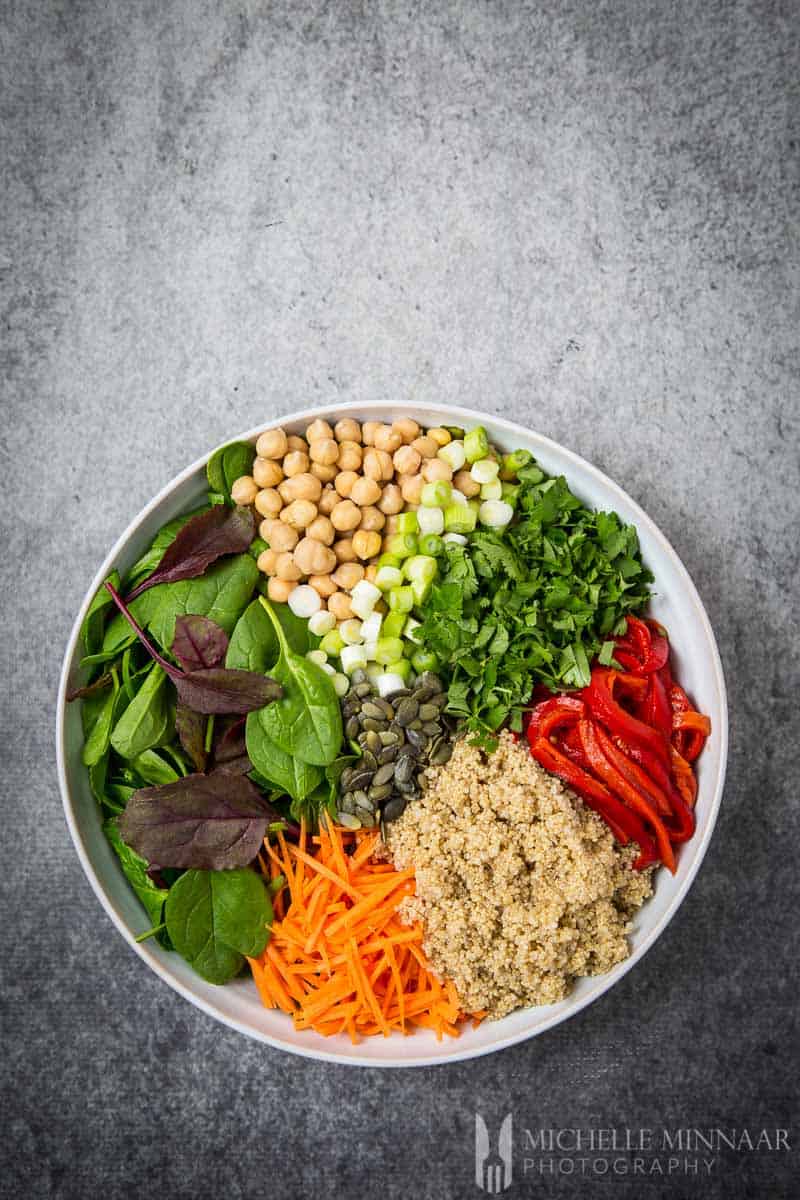 reducing waste
Speaking of getting all people involved in terms of reducing waste, have you ever heard of the nose-to-tail cooking method? Basically, it involves cooking the whole animal, not only the most tender or popular cuts of meat. Even the less-favoured cuts can produce a lot of flavour in meals. This rule applies especially to red meat, as it is the most resource intensive to produce. In terms of living more sustainably, the easiest first step would be to eliminate red meat from your diet completely. Some people would find this lifestyle decision very difficult to execute.
If you are certain that you won't be able to eliminate red meat completely for whatever purpose, then why not make a few tweaks? By that I mean, why not consume red meat only on special occasions? Even this would make a small difference. All in all, the first step perhaps is to substitute white meat over red meat. Once this step is 100% complete, you can then consider whether to make the next transition and eliminate meat completely. With foods like the rainbow quinoa salad and with vegan cuisine on the rise, it's never been easier to make the jump to a plant-based diet.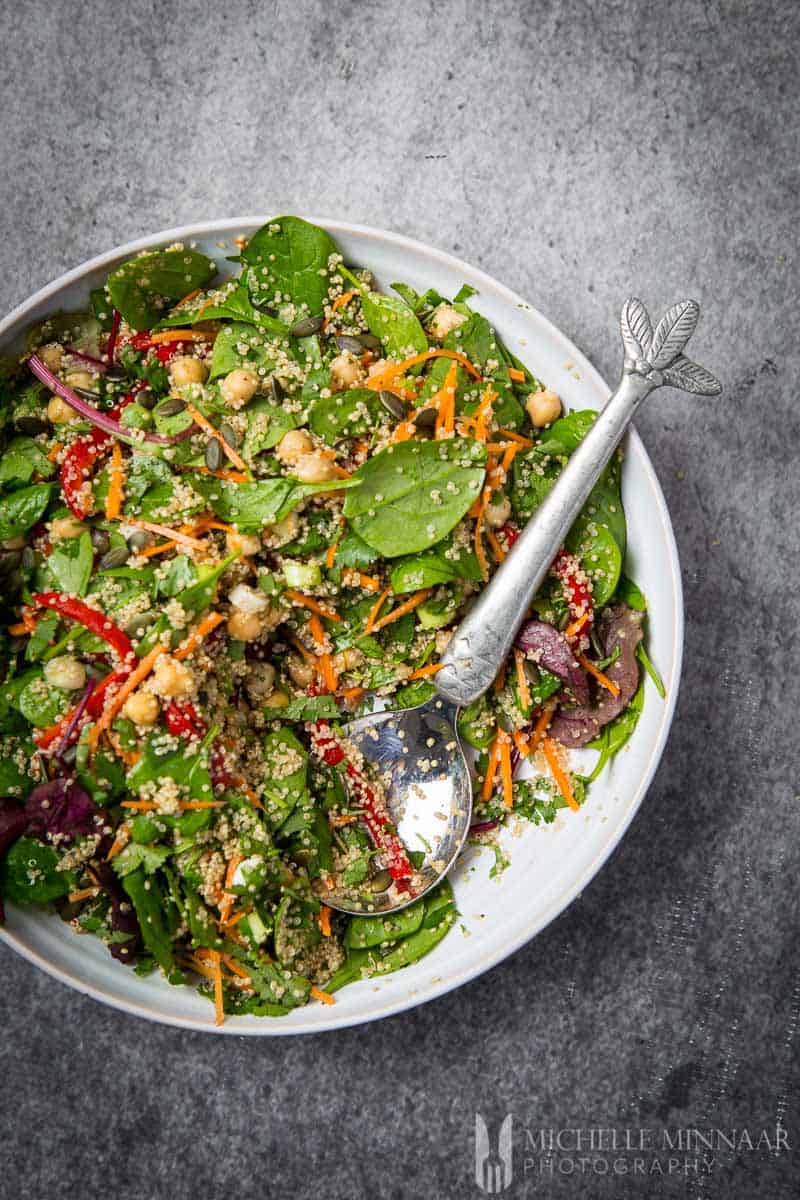 the industry
Once people start making this change of eliminating meat or seafood for sustainability purposes there are consequences. What happens to agricultural workers? It's important to remember that some people's livelihoods are at stake. Therefore, it is important that farming policy and, in particular, rural economic policy allows this sector to adjust with as little damage as possible. Even though there would be positive health and environmental benefits, we need to take care of the industry and its people too. In any case, what needs to happen first is a paradigm shift in the collective consciousness of humans, and it's happening! We all must engage more in thinking about food, taking more responsibility for the effects of what we eat on our own health and the environment.
There is one last factor to ponder upon. Being more sustainable and eliminating waste is not solely dependent on eating vegan food. It's possible that a crop, which needs more water will be more sustainable in a wet region. So, it won't necessarily be sustainable all the time. Still, rising food prices will rise hit the poorest in both in rich and developing countries. Currently, our unsustainable food production practices will undermine our capacity to produce food in the future. It is time to act now. Eat healthier, be more sustainable and start by reducing your red meat consumption.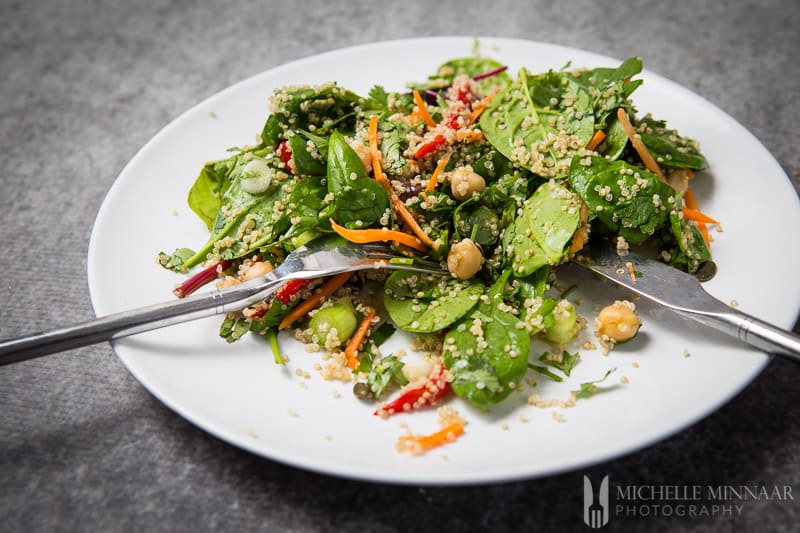 colours of the rainbow
The reason why people refer to it as a rainbow salad is because of all the vegetables that go inside it. I used chickpeas, spinach leaves, carrots, spring onions red peppers coriander leaves and pumpkin seeds. To add more colour, some people use red cabbage and different types of bell peppers. You can also buy roasted bell peppers or even add sun-dried tomatoes for more flavour. Some avocado and/or blue cheese work well with this rainbow quinoa salad too. The best thing is, that this salad is very versatile. You can add any ingredients that you may have resting at the bottom of the fridge.
Next, make sure you put enough salt when you cook the quinoa. Otherwise, it tends to be quite bland. If the quinoa has enough flavour, then there is no need for a salad dressing. However, I've seen many recipes use tahini with a bit of oil to lend a nutty flavour to the salad. In order to distribute the flavours in this salad evenly, you'll need a huge bowl for mixing purposes. Have you ever been into a proper salad bar for a quick lunch? They also use large bowls to mix everything!
Print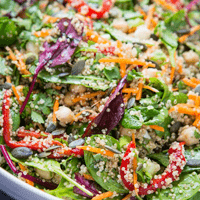 Rainbow Quinoa Salad
---
Total Time:

35 minutes

Yield:

4

1

x
Description
Rainbow Quinoa Salad is a versatile recipe that can be substituted with almost any kind of vegetable and nut. Environment-friendly and reduces waste too.
---
750

ml

(3 cups) cooked quinoa

1

can (400ml) cooked chickpeas, drained and rinsed

120

g

(4oz) spinach leaves, washed

3

carrots, peeled and julienned

10

spring onions, chopped

2

roasted red peppers, thinly sliced

60

g

(2oz) coriander leaves, washed and finely chopped

60

ml

(4 tbsp) pumpkin seeds
---
Instructions
Place all the ingredients in a bowl and stir well until everything is distributed evenly. Serve with your favourite salad dressing.
Notes
You need 250ml (1 cup) of uncooked quinoa to produce 750ml (3 cups) cooked quinoa. Simply simmer in salted water for around 15 minutes or until cooked, then drain.
You can buy roasted red peppers in jars at the preserves section with sundried tomatoes.
Some avocado and/or blue cheese work well with this salad too!
Prep Time:

20 minutes

Cook Time:

15 minutes
Nutrition
Serving Size:

1 serving

Calories:

605

Sugar:

5.4 g

Sodium:

164 mg

Fat:

12.7 g

Saturated Fat:

1.8 g

Carbohydrates:

101 g

Fiber:

13.9 g

Protein:

24.4 g
save the recipe to your pinterest board

P.S. This is a sponsored post.