Refried beans are at the heart and soul of Tex-Mex cuisine. Britons are known to have beans in tomato sauce, a.k.a. baked beans, in our famous English breakfast. Well, if you love your beans in the morning, why don't you try these refried beans? They aren't just for breakfast though and can be enjoyed throughout the day no matter what the occasion. I've tried them once or twice and I absolutely fell in love with the richness and the mushy texture of the beans. Super easy to make, not costly at all, and very filling at the same time! Furthermore, very useful to make dinner quickly. Enjoy!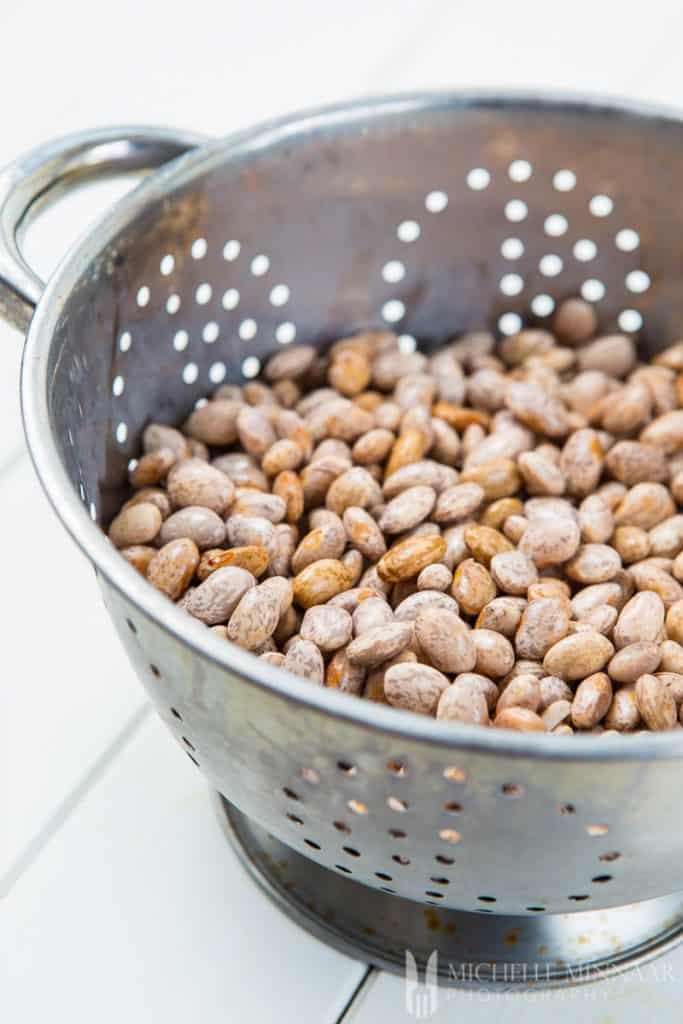 What are Refried Beans?
So, what are refried beans? They are boiled pinto beans that you mush up. After you created a mash, you refry or oven-baked them. Hence, the name refried beans. Similarly, "frijoles refritos" is the Spanish term for refried beans. Originally, this dish is from Latin America and very popular in Mexico and in southern parts of the USA. In fact, refried beans are a very popular staple in San Diego, California. You will find that almost everyone has had refried beans in San Diego. However, they call them frijoles. There, it's a very common home cooked meal in many households.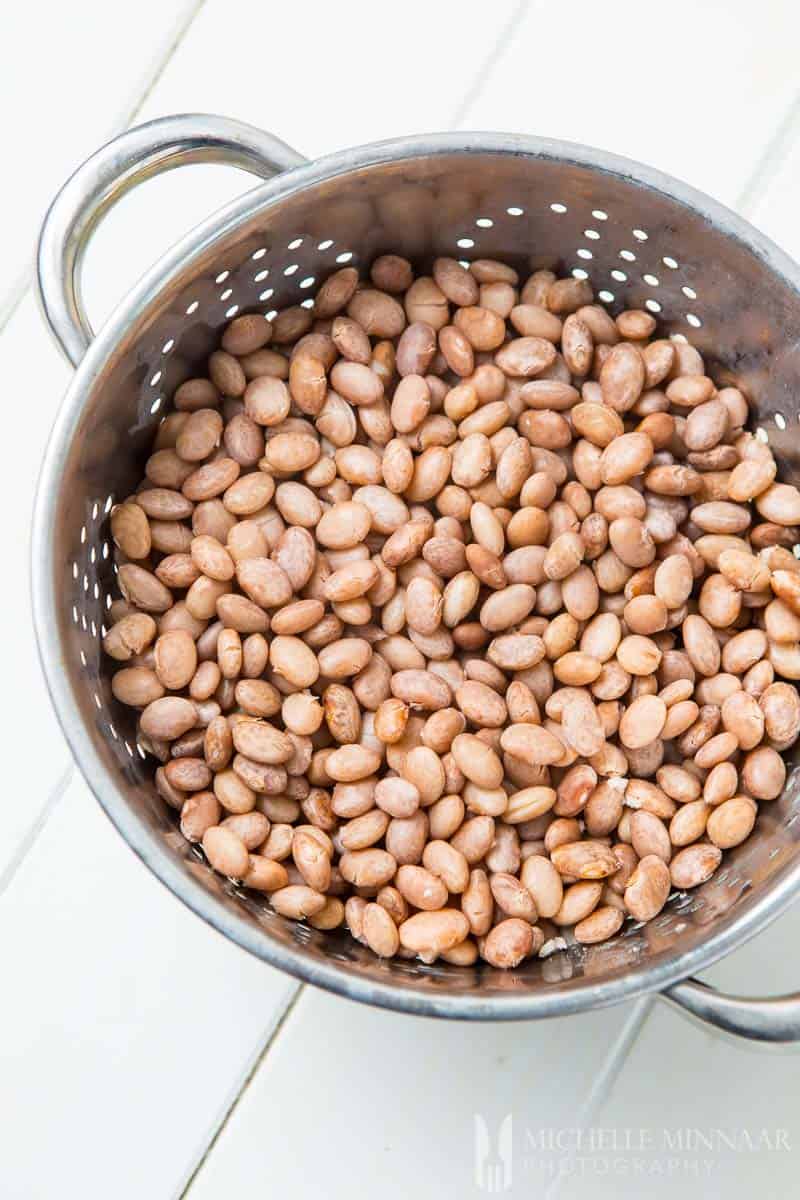 About San Diego
Have you ever been to San Diego? San Diego is known for a lot of its delicious cuisine, seafood, culture, weather and beaches. Besides refried beans, San Diego has a reputation for having the best tacos. Tacos are these tiny wraps with all sorts of ingredients in them. Meat and some sort of salsa (red or green) usually make up the filling. If you're planning your summer trip and haven't made your final decision, then go to San Diego.
While visiting San Diego, it's worth looking into Lucha Libre, a famed gourmet taco restaurant. Rather than eating mediocre fast food, try the best tacos in town! Have you ever tried tacos? I have! If you don't have time for sitting around in restaurants, no problem. Find a taco stall. They have a widespread selection of fresh hand-made tacos.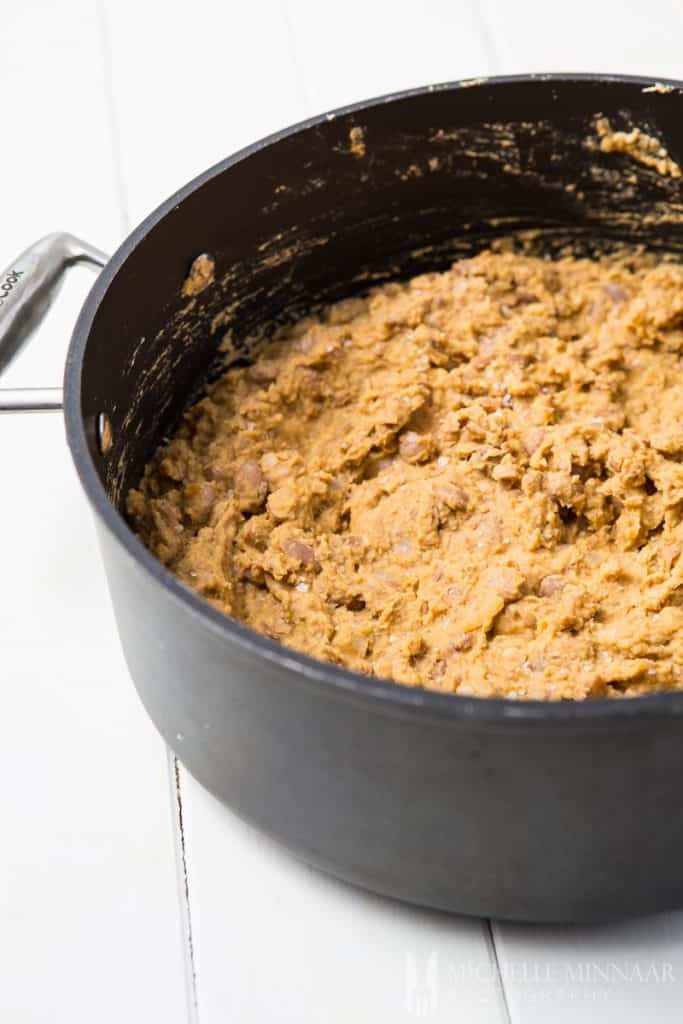 More surprises in San Diego
As a matter of fact, San Diego is also known for its beautiful coastline and beaches. You can enjoy the sun, the warm sand and take a swim in the clear San Diego sea. Just be careful about taking alcoholic drinks with you on the beach. It's not allowed in the USA. That shouldn't stop you from having a fabulous time though. While relaxing on the beach, you might even come across a couple of dolphins jumping around in the background, doing flips and spins. No, I'm not joking. Dolphins are regular visitors at many San Diego beaches. Generally speaking, many of them come quite close to the shore.
I am a major lover of delicious seafood. Hence, seafood restaurants interest me the most in San Diego. Go figure! The San Diego sea is an excellent source of food, home to many types of fish. In Britain, known for our fish and chips, generally only tend to use haddock or cod. Don't get me wrong, I love our cod. However, San Diego has the whole spectrum of seafood. Octopus, shrimp, lobster, seabass, tuna, etc. I want to fly to San Diego immediately to try some of that delicious seafood. In addition, I can imagine myself sitting in a seafood restaurant on the beach, by sunset and sipping some lovely Californian wine.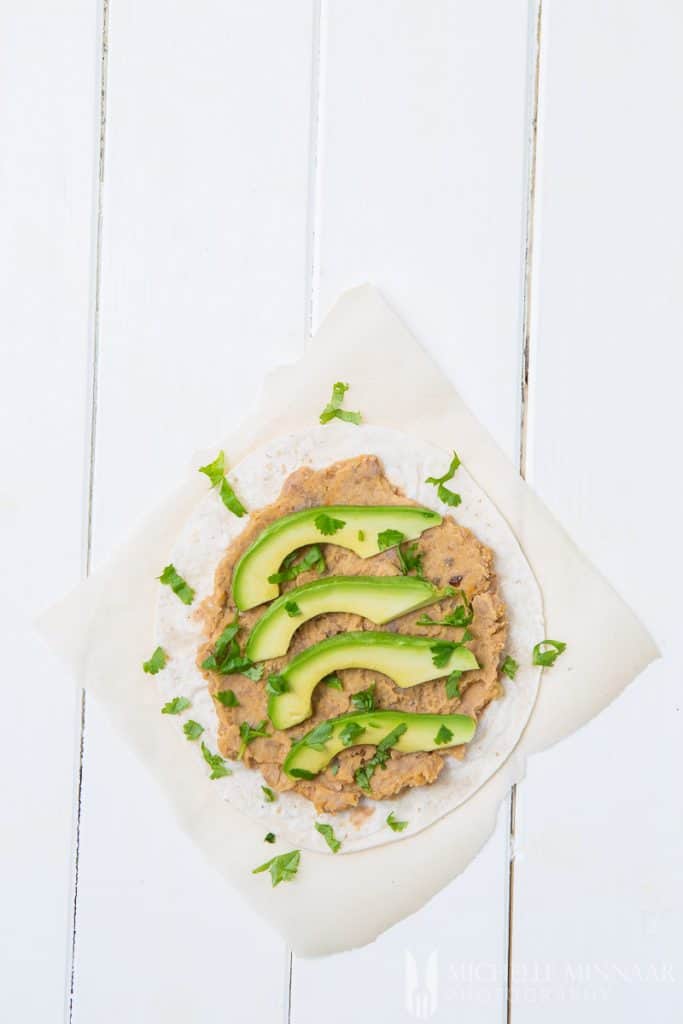 Travelling with kids?
San Diego is not only famous for its authentic Tex-Mex inspired cuisine and their seafood. It's also known as a city with one of the best zoo's in the world. The San Diego Zoo is a great destination for adults travelling with children. The zoo is over 100 years old and is home to more than 4,000 different animals. Tempted? Why don't you try learning more about San Diego if you haven't booked your vacation yet. Also, leave a comment if you've been there, I am very keen on going!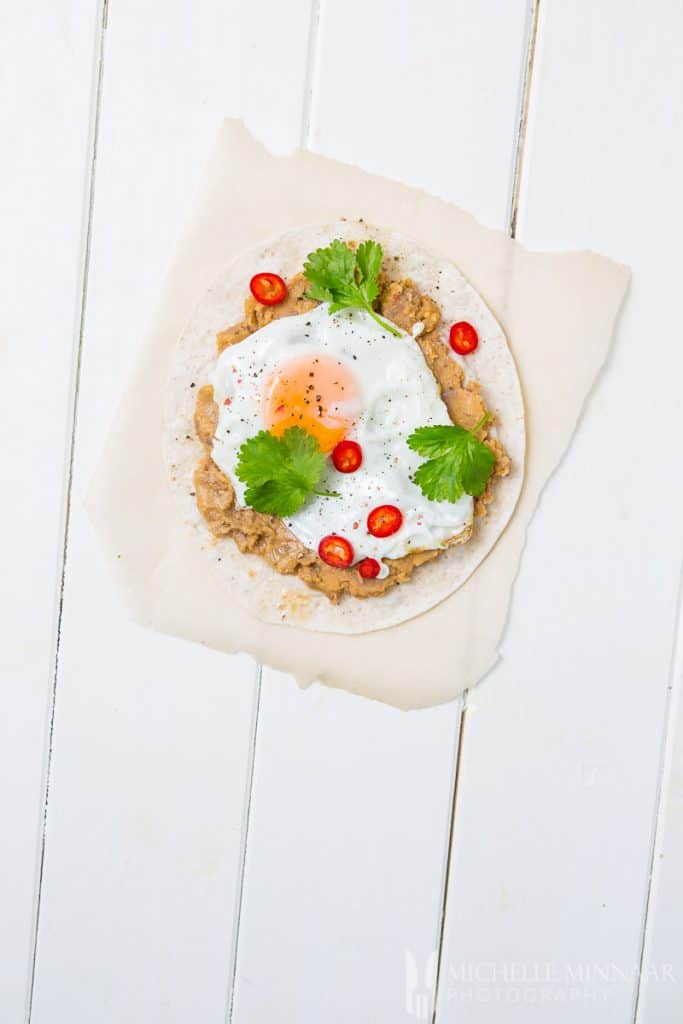 Cream
Now, coming back to refried beans, it's very common to add cream into the mash. In fact, in San Diego, they call it "frijoles con crema", meaning beans with cream. The combination sounds very unorthodox. I've tried the refried beans with cream and they were delicious. You can also try using sour cream or a bit of crème fraiche. Just a tiny bit, not the whole content. Otherwise, you'll only taste the flavour of the cream.
You can also use this dairy free pesto for extra flavour if cream is not your thing.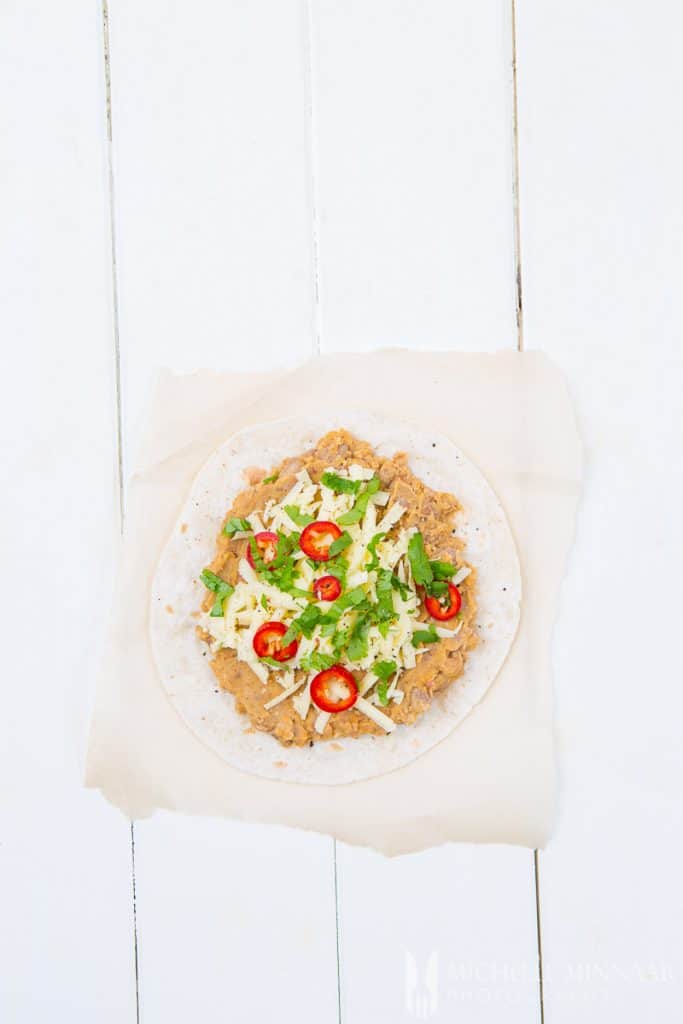 Cheese
Grate some cheddar cheese and add it in the mash. It will make the refried beans more intense and filling. Furthermore, grate some on top and stick the refried beans in the oven. Let it stay in the oven until a golden cheese layer appears on top of the refried beans. You won't regret leaving the refried beans in a little longer. Lastly, consider sprinkling some fresh parsley or coriander once you take them out of the oven. The types of cheeses fit for this recipe: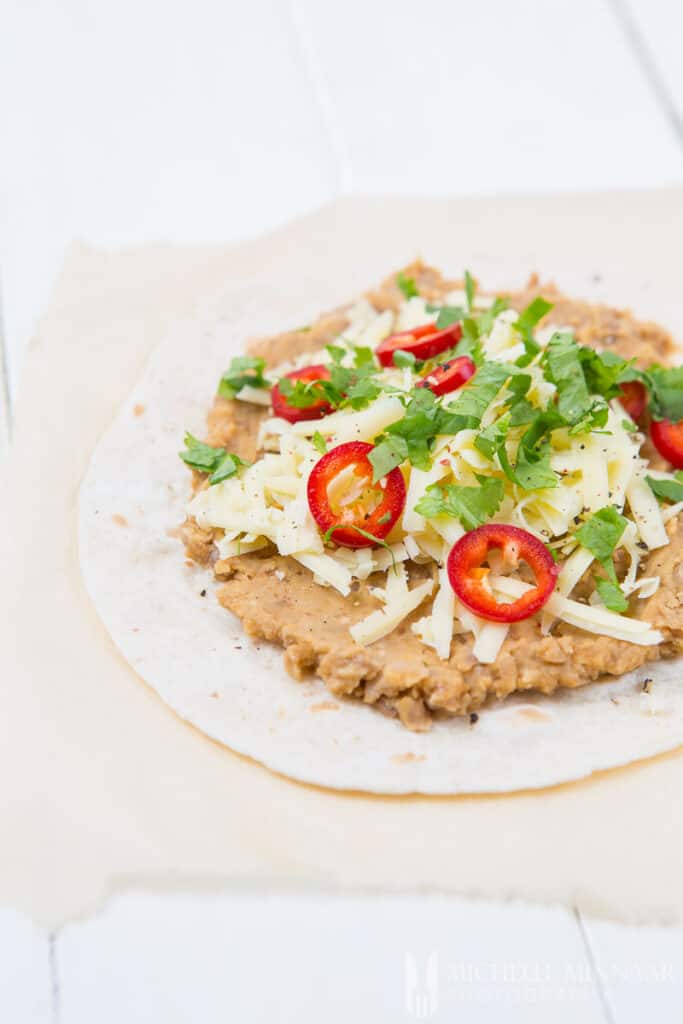 Egg on top
Add a fried egg on top of your refried beans. In any case, who doesn't love the perfect sunny side up egg? A great protein which will fill you up with energy. Now that I think of eggs and beans, I am thinking of our classic English breakfast menu. Why not substitute the traditional baked beans with the refried beans in your English breakfast? First add a sunny side up egg and then add a fried tomato, mushrooms, sausages, onion. Up for trying it? Don't be shy and give it a go!
By the way, I bet you are wondering, can you freeze baked beans? click here to find out. You might also want to know if you can freeze smoked salmon, click here for the answer.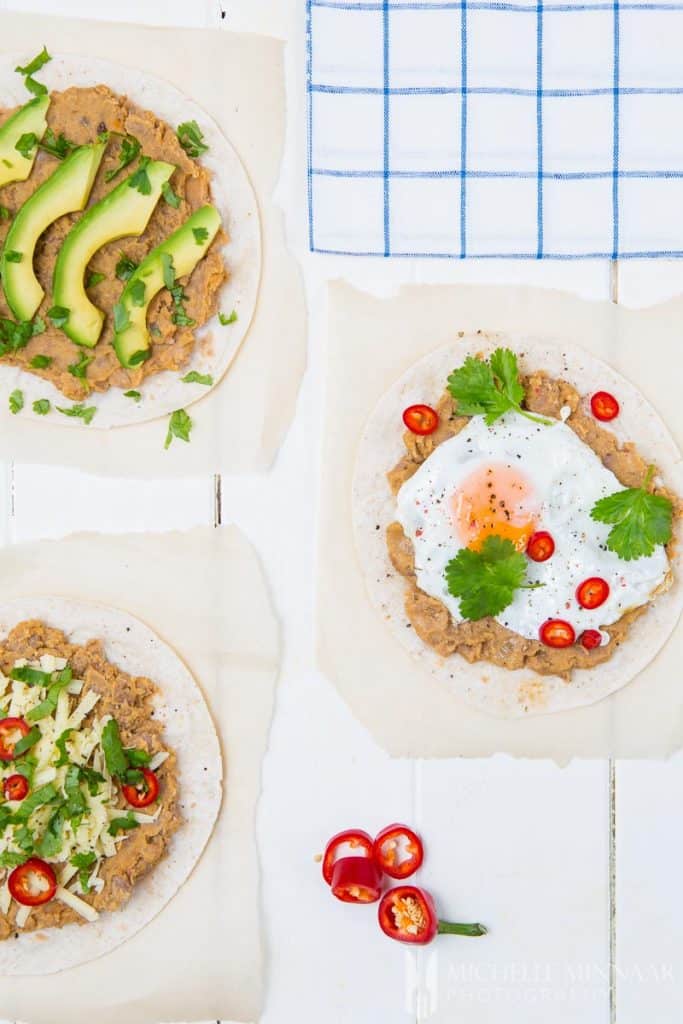 If you like pulses, you would love the following recipes:
Print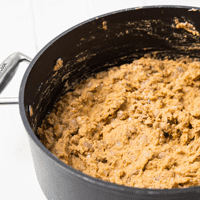 Refritos Frijoles
---
500

g

(1lb) dried pinto beans

2

onions, finely chopped

4

garlic cloves, crushed

5

ml

(1 tsp) chilli powder

5

ml

(1 tsp) cumin

60

ml

(4 tbsp) vegetable oil
Salt and pepper, to taste
---
Instructions
Soak the bean overnight.
Bring to a boil and let the beans simmer gently until soft, then drain.
In a large saucepan, fry the onions and garlic in the oil until softened.
Add the beans to the onions and smash the mixture with a potato masher to your desired texture. Use water if the mixture is too dry. Add a little at a time until you're done.
Notes
If you're vegetarian you can use butter and as a meat eater you can use lard or bacon fat for added flavour.

In the photos I topped baby tortillas with the refried beans then used an array of different ingredients such as sliced avocado, cheese and chilli, and a fried egg. Have fun!
Prep Time:

20 minutes

Cook Time:

30 minutes
Nutrition
Serving Size:

1 serving

Calories:

392

Sugar:

3.3 g

Sodium:

12 mg

Fat:

10.5 g

Saturated Fat:

2 g

Carbohydrates:

56.7 g

Fiber:

14 g

Protein:

18.5 g
save the recipe to your pinterest board

This is a sponsored post.