Make this easy roast venison recipe for any upcoming celebrations. It's perfect for celebratory occasions such as birthdays, festive feasts and more.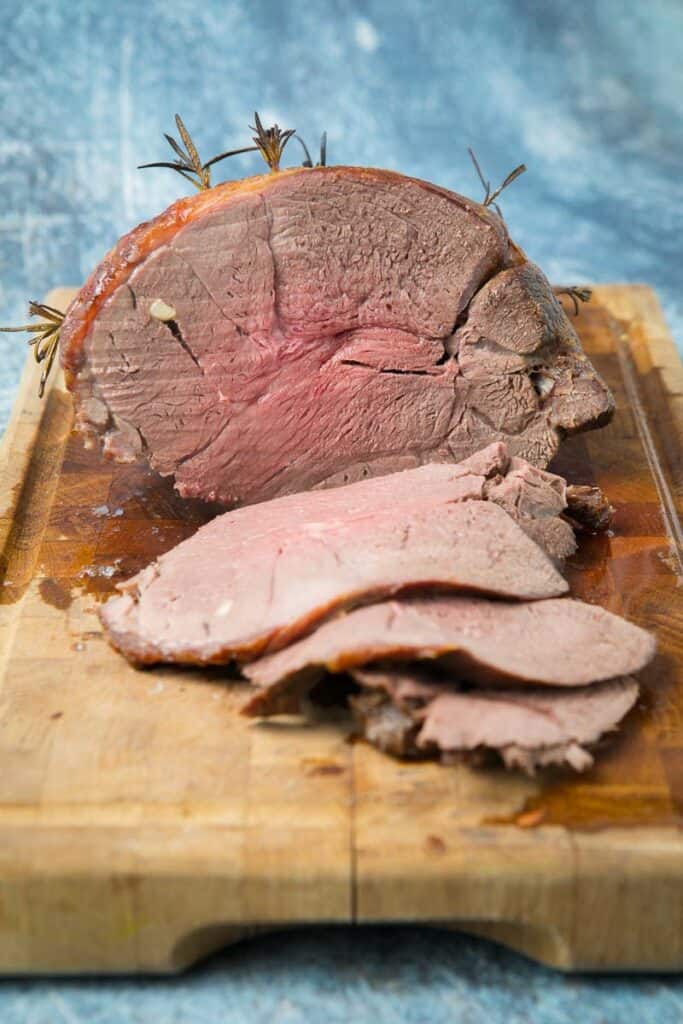 This 'cook to impress' gourmet roast venison recipe is simpler than it looks. We all know that roasting meat is a delicate matter and involves a lot of patience.
However, that's all there is to this roast venison. If you make a lovely venison marinade to go along, your roast venison will yield the most tender meat ever.
With heavier meats such as venison or other game, I recommend pairing them with a lighter side dish. Although, you can opt for a luscious sweet potato mash accompanied by a lovely full bodied red wine.
If you have any leftover venison, you can pair the remaining meat with a salad, too. Enjoy mastering this roast venison recipe and let it become the family favourite for the holidays!
easy venison roast recipe
For those of you who are still unsure what venison is, let me explain. Simply put, venison is the meat of a deer. It refers to any cut of meat that comes from the deer.
The roast cut is the best for this venison roast recipe. The roast cut of the deer is generally taken from the hindquarters. However, another popular cut for roasting is leg of venison. For this recipe, you will learn how to roast a haunch of venison.
If you are wondering what venison tastes like – it is rich. You might also detect earthy flavours as well as notes of sage and acorn. These are the herbs that the deer consumes throughout its life, so it is no surprise to find hints of them in the flavour of the meat.
Lastly, if this is your first time eating venison, don't expect it to be as juicy as a cut of beef. Because although venison is smoother and firmer, it is less juicy.
As a general rule, most cuts of different types of meat are excellent for slow-roasting. Just take a look at these and tempt yourself with other slow-roast recipes such as: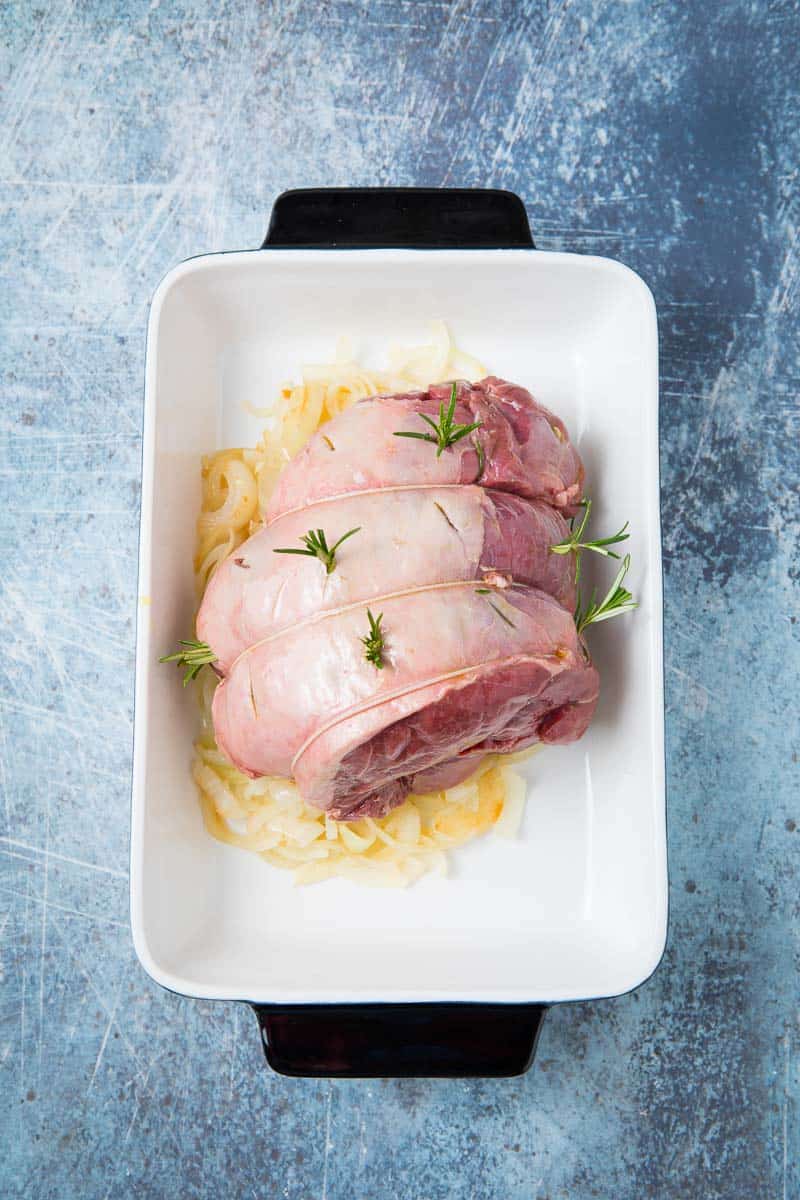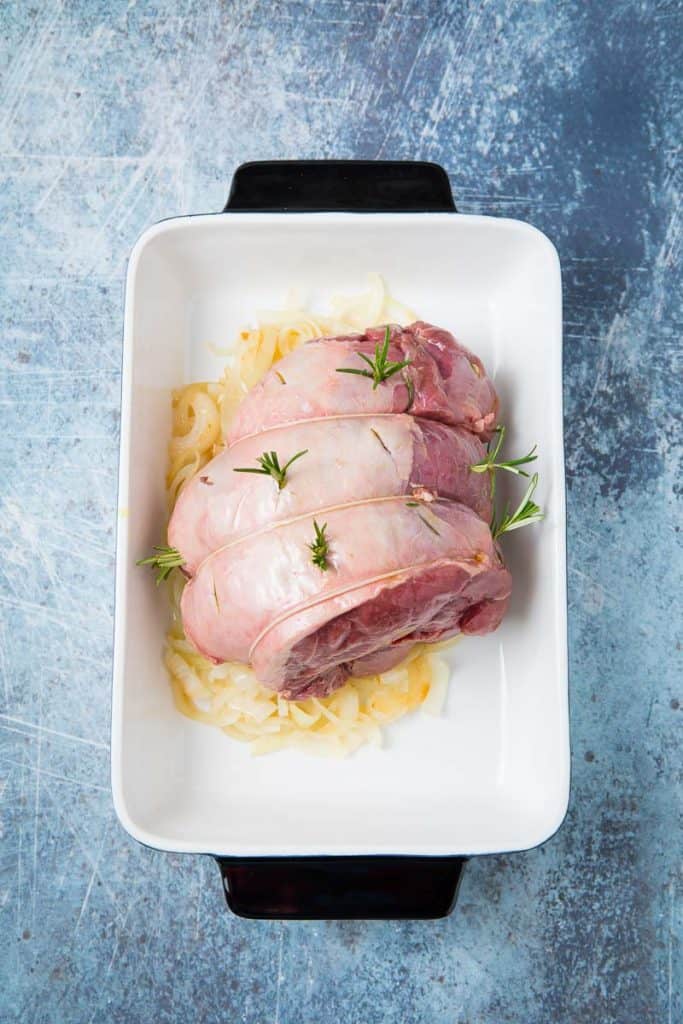 how to serve roast venison
First and foremost, before you cut a slice – you have to let the venison rest. The juices inside the meat must rest, otherwise the roast venison will lose all of its moisture.
Give it some time and let the juices incorporate into the meat. After a couple of minutes, cut the venison into thin, 1 cm slices. Continue this process as evenly as possible for all the slices.
A fair warning though. Don't slice up the entire roast meat. Just slice through a half or as needed, depending on the number of people you are serving.
If you do slice up the entire meat, the meat will cool down quicker and won't be as tender. Plus you lose a bit of the theatre and the overall wow effect of a winter roast recipe.
Once you are done slicing, cover the venison with aluminum foil so that no more heat escapes!
best side dishes for roast venison
Let's start with the traditional sides that one generally expects to see with heavier meats. You can choose from the following traditional sides for roast recipes:
For lighter side dishes for this venison roast, you can consider the following:
So many to choose from and all equally delicious! Feel free to make more than one side dish for the venison roast. Your guests will be delighted to have a varied selection.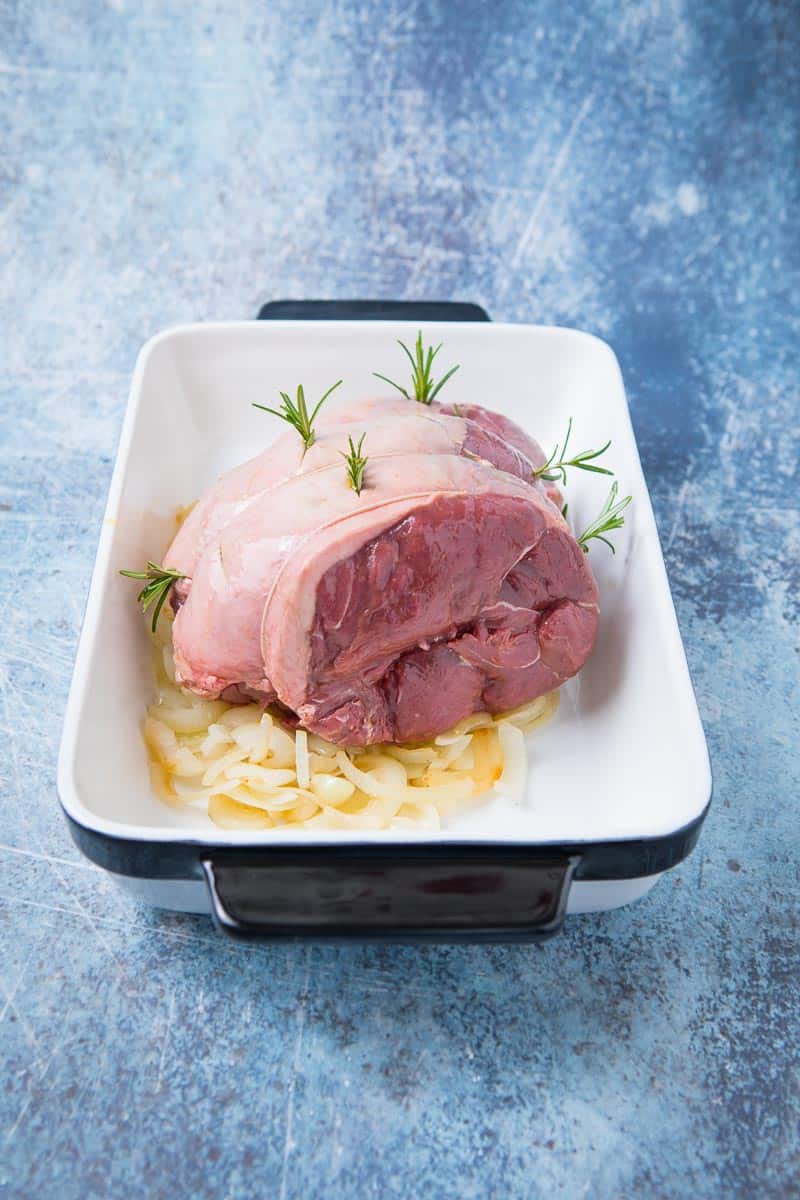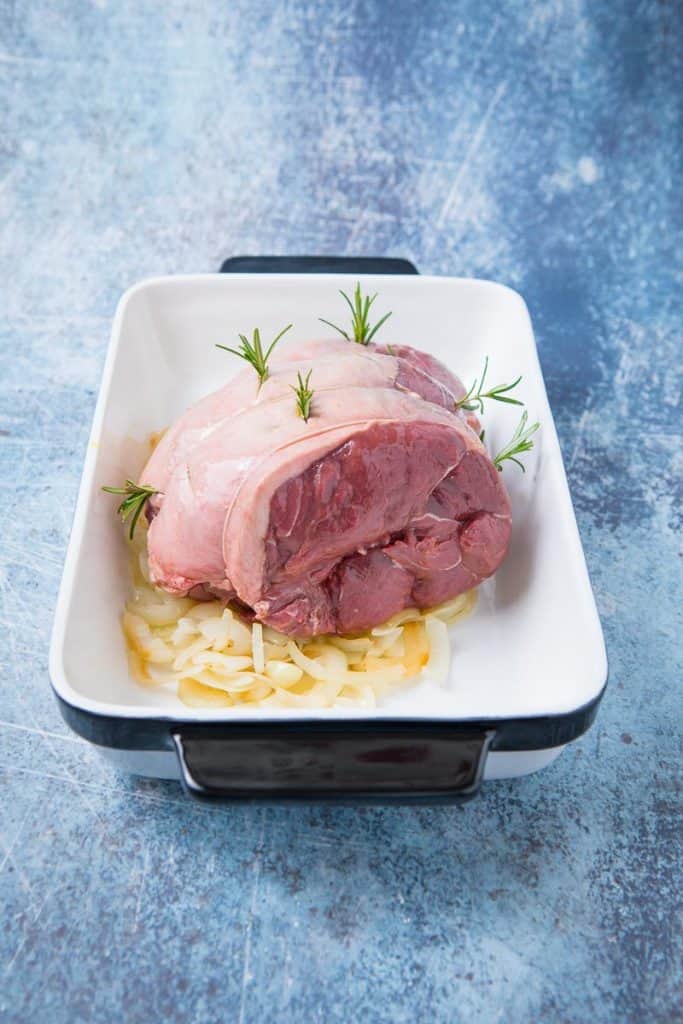 wine pairing for roast venison
To respect the integrity and full umami flavour of the meat, you should definitely pair the roast venison with a red wine. The red wine should have origins from a sunny country.
The more sun the better! I recommend going for a full-bodied Californian Cabernet Sauvignon. More specifically, something from Napa Valley, California will have loads of body as well as gorgeous vanilla and marmalade aromas.
Although the Californian wines might be too heavy for wine lovers, they pair perfectly with roast recipes. Besides, you can easily purchase red wines from Napa Valley, California.
If you'd rather have a different wine originating from elsewhere, then I recommend going for a red wine from the South of France. Try a red wine from the Languedoc region in France. They are well-balanced and hold bold full-bodied flavours which are very enjoyable.
Just don't pair this recipe with a white wine or a rose wine. It has to be a full-bodied, heavy dry red wine!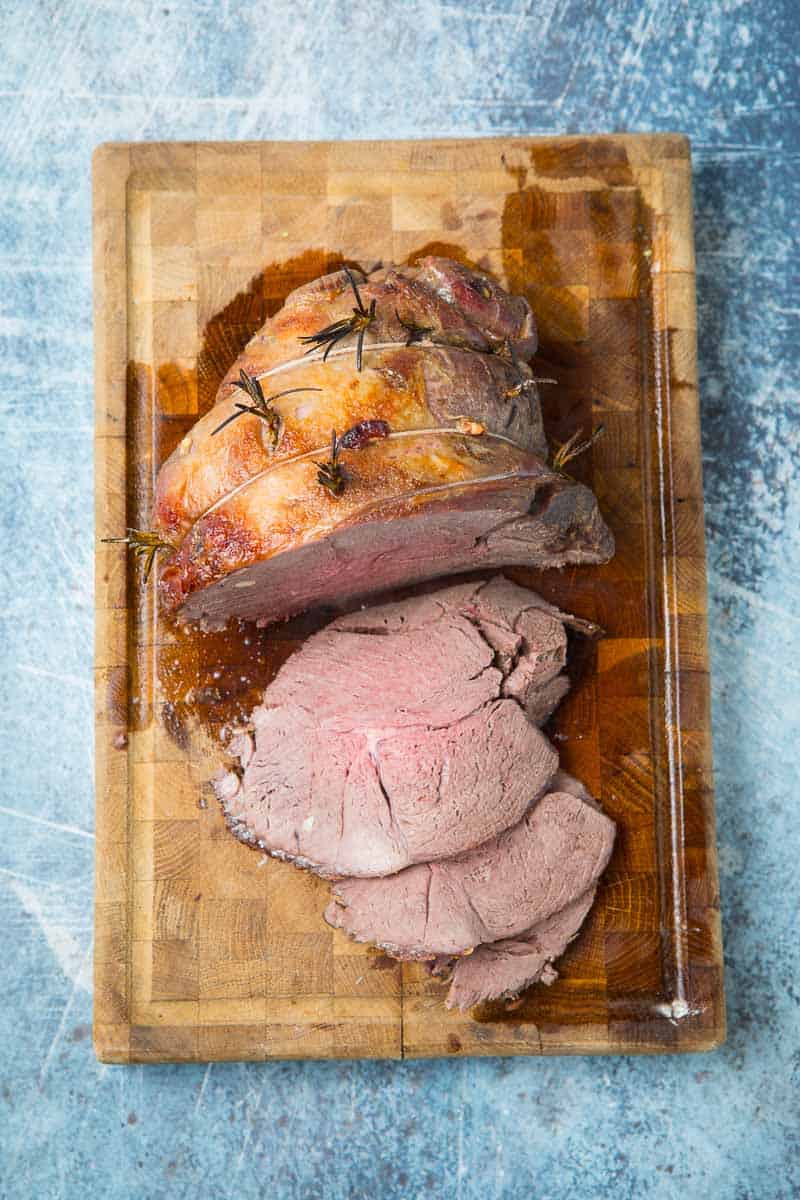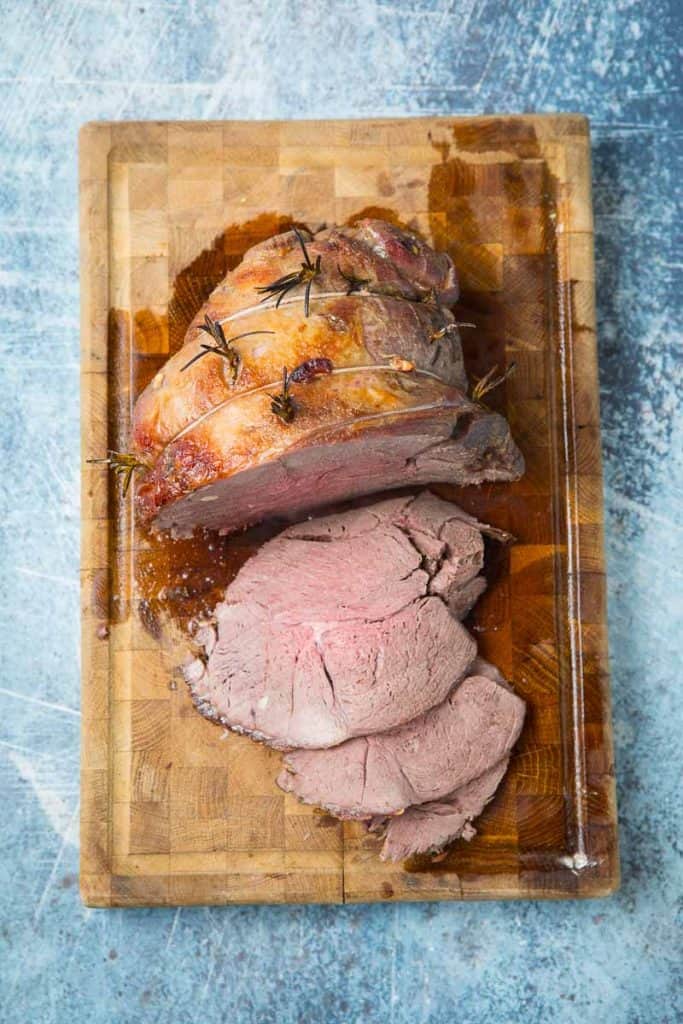 leftover roast venison
It wouldn't surprise me if you end up with some leftovers as venison cuts can be rather large. Another factor is that venison can be quite filling, especially when combined with heavy sides.
If you have some pieces of meat for the next day, you can easily reheat them in the microwave. Next, whip up a simple garden salad or a cold new potato and dill salad.
In fact, if you are feeling slightly lazy, you won't even need to worry about heating up the pieces of roast venison. Although it might not be juicy, the meat will definitely not be chewy.
The choice is yours! How will you eat your leftover pieces of roast venison?
Print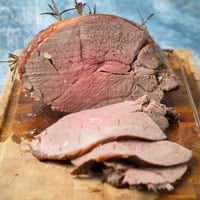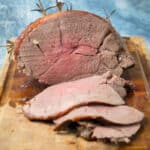 Roast Venison
---
Description
Master this easy roast venison recipe and learn how to roast a haunch of venison! Combine with herbs such as rosemary and pair with festive side dishes.
---
---
Instructions
Remove the venison from the fridge and leave for 30 minutes to let the meat reach room temperature.

Make small incisions evenly across the venison and insert a garlic piece or rosemary sprig in each hole.

Preheat the oven to 230

℃(450

°F

).

Fry the onions in the butter until softened.

Arrange the onions in the centre of a roasting dish.

Place the venison on top of the onions and pour the oil over the meat, ensuring to cover all areas of the meat.

Season liberally with salt and pepper.

Roast the meat for 20 minutes in the oven, then remove from the heat.

Lower the oven setting to

180

℃(350

°F

) and wait for the oven to reach the correct temperature.

Meanwhile, baste the venison with the oil and juices collected at the bottom of the pan.

Roast the meat for 25 minutes and check the meat's internal temperature with a meat thermometer. If you want rare you need

52

℃(125

°F

). Closer to medium is

55

℃(130

°F

). It's better to go too raw than overcooked because you can simply return the meat to the oven in case of the former.

When the meat has been cooked to desired doneness, let it rest for at least 20 minutes but preferably 30 minutes, before carving.

While the meat is resting, pour the onions and cooking juices in a saucepan.

Pour in the stock and preserve and let the mixture reach a bubbling point.

Blend the contents in a food processor until smooth.

Serve slices of venison with typical Sunday roast trimmings such as roast potatoes, honey glazed carrots, buttered sprouts and the sweet onion gravy.
Notes
Venison stock isn't readily available so you can use beef stock or red wine instead.

Venison doesn't fare well when cooked to well done. It's a lean meat that will dry out and become stringy. So if it's reached 63

℃(145

°F

) you killed it.

Add more stock if you'd like to thin the sauce.
Prep Time:

30 minutes

Cook Time:

1 hours

Category:

Main Course

Cuisine:

Scottish
Nutrition
Serving Size:

1 serving

Calories:

511

Sugar:

2.4 g

Sodium:

23 mg

Fat:

16 g

Saturated Fat:

3.2 g

Carbohydrates:

6.1 g

Fiber:

1.4 g

Protein:

77.8 g

Cholesterol:

8 mg
save the recipe to your pinterest board