Sometimes it's difficult to come up with a nice side dish for a meal. It can quickly end up being downtrodden potatoes and green salad. Therefore, I like to prepare roasted vegetables as a side dish. It's easy to do, and there are lots of variations you can come up with. This time this dish comprises roasted pumpkin with red peppers and onions, which I then dressed with a sweet balsamic and mustard dressing. It is perfect for serving with white meat such as smoked chicken or whole smoked turkey, and equally good as a stand-alone vegetarian dish.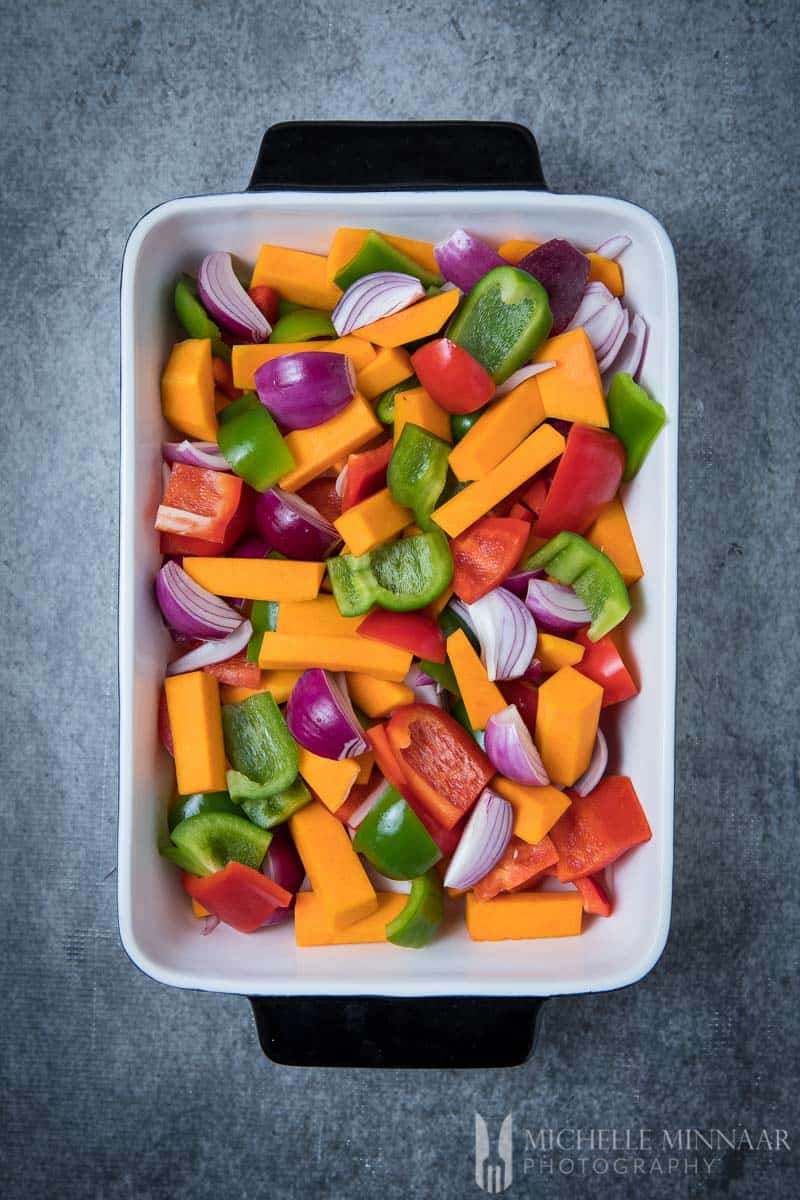 Cooking with pumpkin
Some people only know pumpkins as the vegetable for making Jack O' Lanterns for Halloween. However, that is a real shame because pumpkins as an ingredient have a lot to offer. They can be used for anything from stews and soups to pasta and risotto.
The taste of roasted pumpkin is divine, which is why I have used pumpkin as the key component in my roasted vegetables. Once roasted, the pumpkin becomes soft and moreish with an elegant nutty flavour. A flavour that make it the perfect savoury companion for roast meat, such as chicken, for example. Furthermore pumpkin is actually an inexpensive ingredient, when in season, and even a small one contains a lot of nutrition.
A great tip is to keep the seeds. Many people tend to just scoop out the insides of the pumpkin and throw it away, but that is such a shame. Instead, you could pick out the seeds, parboil them in normal water for 5-10 minutes and dry them out at low heat in the oven until golden. You hereby have a lovely little snack or something crunchy to sprinkle on top of a salad. I used my amazing pumpkin seeds in my butter bean salad with avocado. See? You can consume the whole vegetable!
If you buy an entire pumpkin, you can baked it whole as well.
Other vegetables to roast
Roasted vegetables change from person to palate.  For my dish, I have supplemented the pumpkin with red pepper and onions. I find that these flavours complement the pumpkin especially well. The good news is that this is the part where you can get a bit creative too. A tray of roasted vegetables is great for cleaning out the vegetable drawer of the fridge, as you can use pretty much anything. For instance celeriac, carrots and Jerusalem artichokes are fantastic when oven roasted. You can even throw in some potatoes or beetroot to give it a bit more substance.
Nevertheless you should not be afraid to also use softer vegetables, such as aubergine or courgette. If you are afraid they will go a bit too soft in the oven just add them later to the other vegetables. Remember, different vegetables have got different cooking times.
You could even take it further and add a diced up apple in there! Ultimately ,what you use depends on three factors. Firstly, what you like. Secondly, what is available in your fridge. Thirdly, what you will serve it with.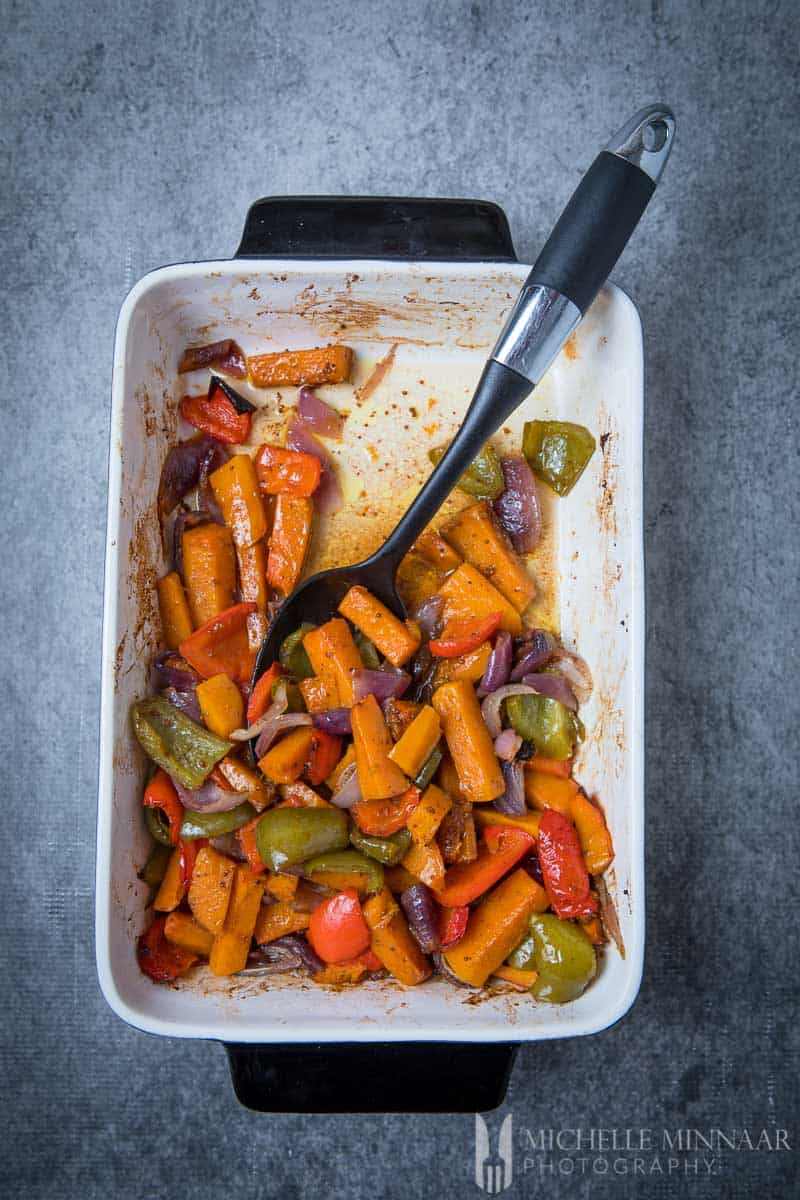 Spices and seasoning
For once, I decided to keep it simple and the spices to a minimum. You would probably be surprised just how good they actually taste simply drizzled in olive oil and seasoned with salt and pepper. However, if you need a little more of a kick, you can use small doses of chilli powder. Or, you can play with Indian or Oriental flavours such as cumin or dried coriander if you would like to make the dish a little bit more exotic. Check out my cumin roast carrots.
Another great way to infuse different flavours into roasted vegetables is to use flavoured salt, such as lemon salt or salt mixed with dried herbs. I specially enjoy herbes de Provence for this purpose, but perhaps you have another favourite.
A dressing for roasted vegetables
Rather than sprinkling spices over my roasted vegetables I have used a dressing to jazz up the dish. It is a simple French styled dressing made from balsamic vinegar, wholegrain mustard, and a touch of honey. The trick is to let the vegetables keep roasting for a bit after being dressed. This way, the dressing sinks into the vegetables instead of only coating them on outside. This means that you will have a more intense flavoured vegetables.
I used balsamic vinegar for my dressing because I think it absorbs better, and gives a good colour as well. You can easily substitute the balsamic vinegar for sherry vinegar or apple cider vinegar if you wanted to. Instead of seasoning the vegetables directly with various spices you can also incorporate these into the dressing. Again chili, paprika or oriental spices are a great match for roasted vegetables. If you don't like mustard, omit it and aim for a sweet and sour dressing instead, using honey and vinegar, respectively.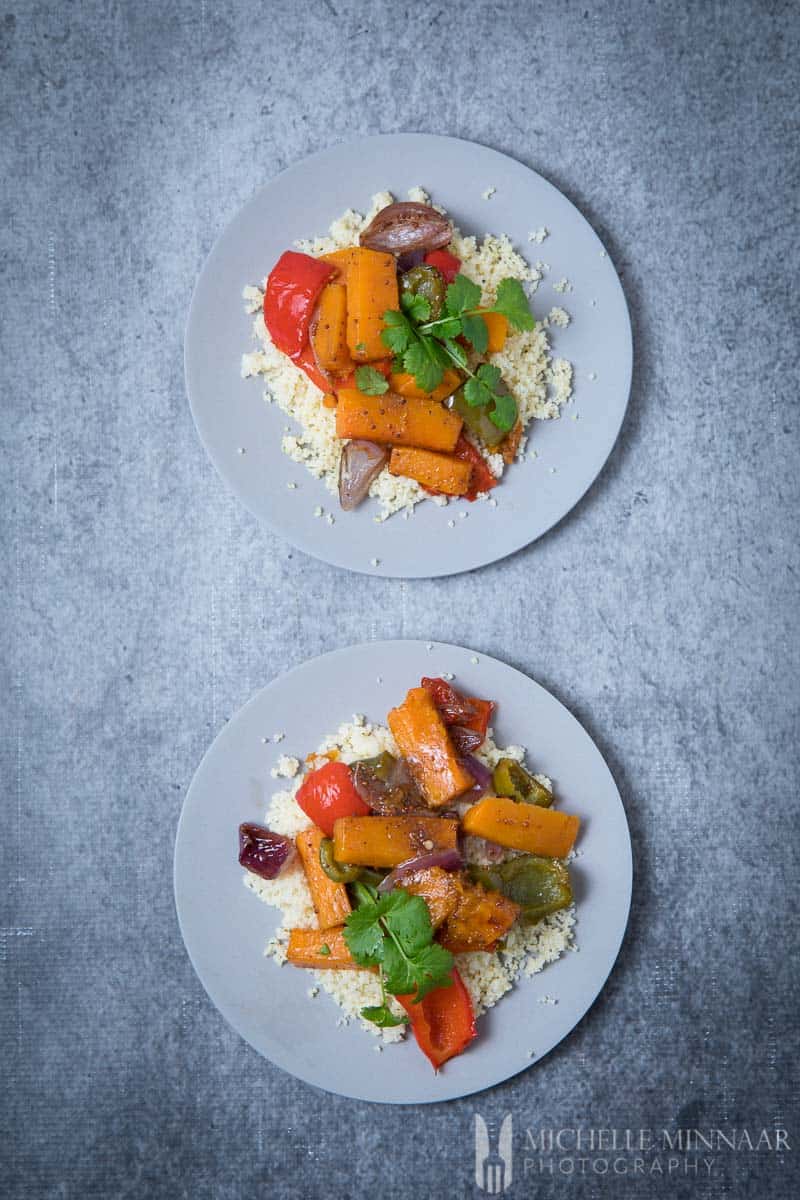 Serve as a side or by itself
The roasted vegetables are perfect for a simple and healthy side dish. The flavour goes very well with white meat such as turkey, chicken or even pork. For example, I like to include my roasted vegetables in a sausage traybake. This recipe is especially handy if you are having a large group of guests over for dinner, as the dish can easily be scaled up without much extra effort.
Another possibility is to serve the roasted vegetables as vegan dish. You can make the dish even more filling by serving the vegetables on a bed of couscous or quinoa. If you used some of those oriental spices in the dressing, couscous goes particularly well. Finish off with a sprinkle of fresh herbs such as coriander or parsley and you have an excellent vegetarian plate of food, as easy as that. Great for a light lunch as well as dinner. Just remember to substitute the honey with a sweet alternative!
Print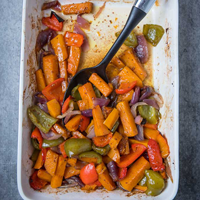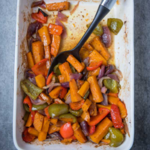 Roasted Pumpkin, Red Peppers & Onions with a Sweet Balsamic and Mustard Dressing on a Bed of Couscous
---
Author:

Michelle Minnaar

Prep Time:

45 minutes

Cook Time:

20 minutes

Total Time:

1 hours 5 minutes

Yield:

4

1

x
600g

(1lb

5oz

) pumpkin, peeled and cut in 2.5cm (1 inch) thick chunks

2

red onions, peeled and cut in wedges

2

red peppers, seeded and sliced

30

ml (2 tbsp) olive oil

30

ml (2 tbsp) balsamic vinegar

15

ml (1 tbsp) honey

15

ml (1 tbsp) wholegrain mustard

200g

(

7 oz

) dried couscous

300

ml (½ pint) vegetable stock

45

ml (3 tbsp) fresh coriander/cilantro
---
Instructions
Preheat the oven to 200°C/fan 180°C/400°F/gas mark 6.
Place the pumpkin, onions and peppers in a large roasting tin. Drizzle the olive oil and toss to coat.
In a cup, add the vinegar, honey and mustard and stir well.
Roast for about 30 minutes, turning occasionally, then add the balsamic mixture to the vegetables and toss again.
After another 10 minutes test the vegetables for doneness and if they are ready remove from the oven.
Meanwhile, place the couscous in a large serving bowl, pour over the stock, cover with cling film and leave to soak for 5 minutes. Remove the cling film and fluff using a fork. Serve the vegetables garnished with coriander on top of the couscous.
Notes
This dish can be enjoyed hot or cold.
Use as many vegetables as you like, just remember to increase the dressing as well.
Feel free to use more vinegar, honey and mustard in different ratios to your liking.
If you are feeling adventurous, instead of vinegar, honey and mustard, play with Indian spices like chili, cumin and dried coriander.
Nutrition
Serving Size:

1 serving

Calories:

344

Sugar:

10.5 g

Sodium:

94 mg

Fat:

8 g

Saturated Fat:

1.2 g

Carbohydrates:

60.8 g

Fiber:

5.4 g

Protein:

9.5 g
save the recipe to your pinterest board