Learn the best way to cook pork belly and what to eat with it.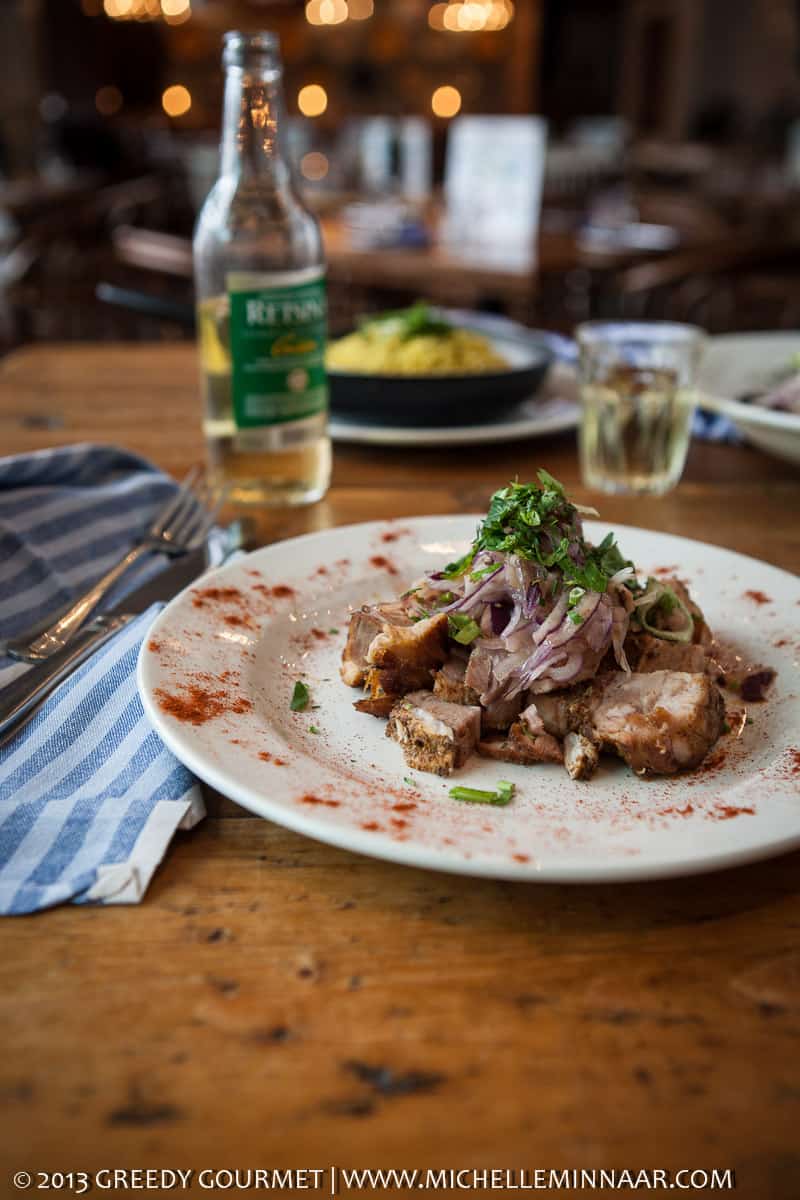 Back in 2007 I remember how sheepish I was taking out my camera in public and taking photos. At my first Taste of London I didn't even capture any of the food! When I started dining with other bloggers I found solace in the fact that I wasn't the only weirdo snapping pictures of what I was about to eat.
These days when the first plates of food arrive, best South African buddy Jeanne and I whip out our cameras, glance at each other and quietly mouth "freak show" as we affectionately dubbed it.
Time is a funny thing. If you told me five years ago that I would regularly walk into restaurants and shoot dishes without blinking, I would have been shocked. Mind you, being paid for it is a big plus point. I wouldn't have had the audacity to ask the restaurant for a recipe of a particularly amazing dish either, never mind asking them to demonstrate it for me. Well, guess what? I just did!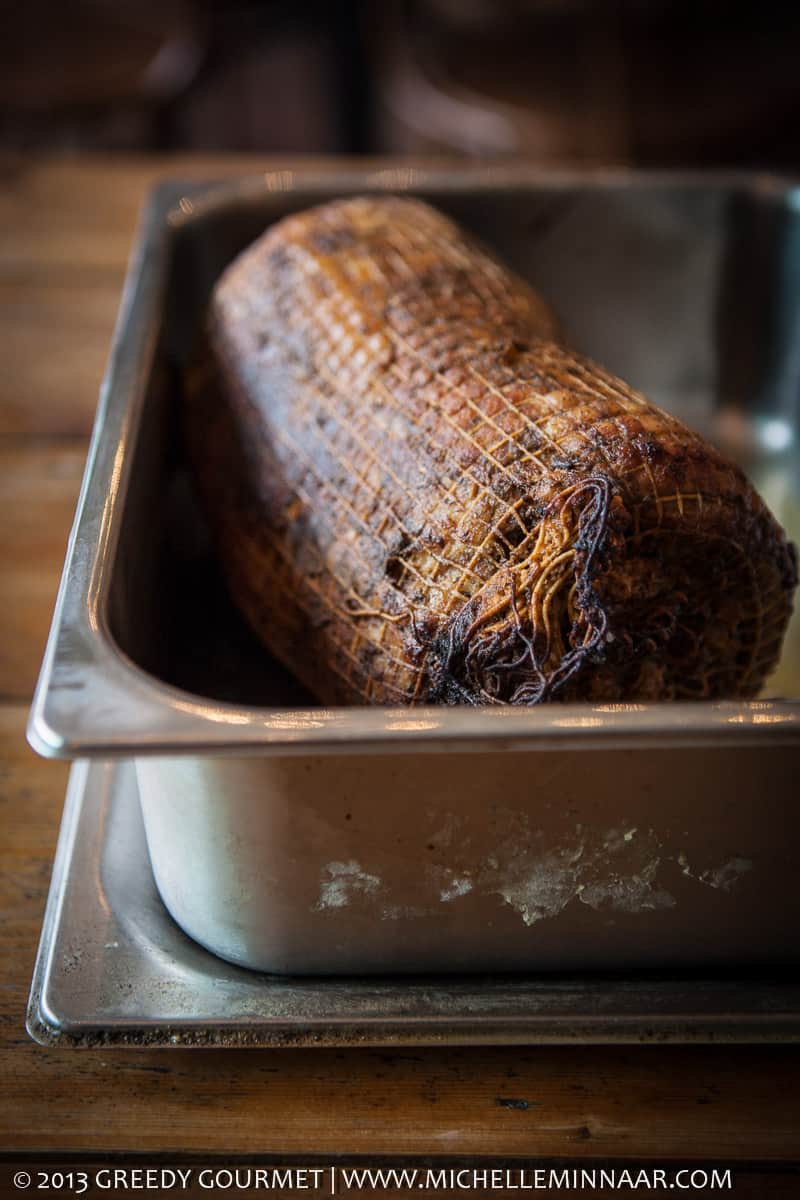 In December, while doing a restaurant review, I was so impressed with The Real Greek's Slow Roast Pork Belly that I approached them and asked if they were interested in collaborating. The proposition was met with open arms and in a few short weeks I was smack-dab in the middle of Stratford again shooting the recipe step-by-step.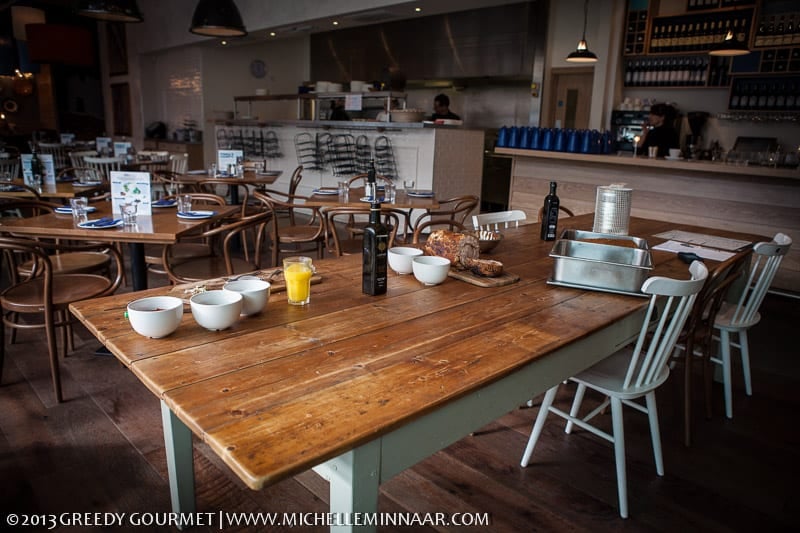 I had a blast! Not only did I learn how to make the best pork belly possible but they knew all the answers to my questions. After all the kitchen produces these babies day in and day out. Maybe one day they'll teach me how to make their truly addictive Battered Salt Cod…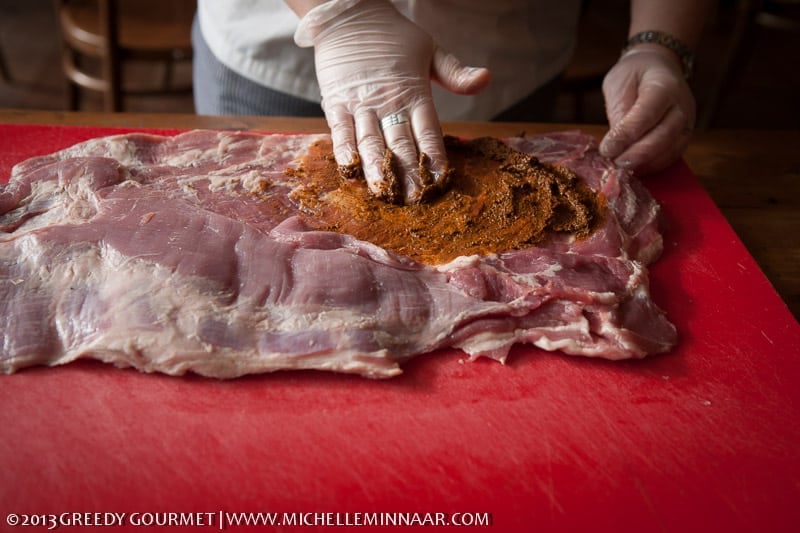 Pork Belly and Special Diets
People on a low-fat diet should definitely avoid pork belly because of its high fat content. On the bright side it is dairy and gluten free! As long as the meat is thoroughly cooked, pregnant women can safely consume it.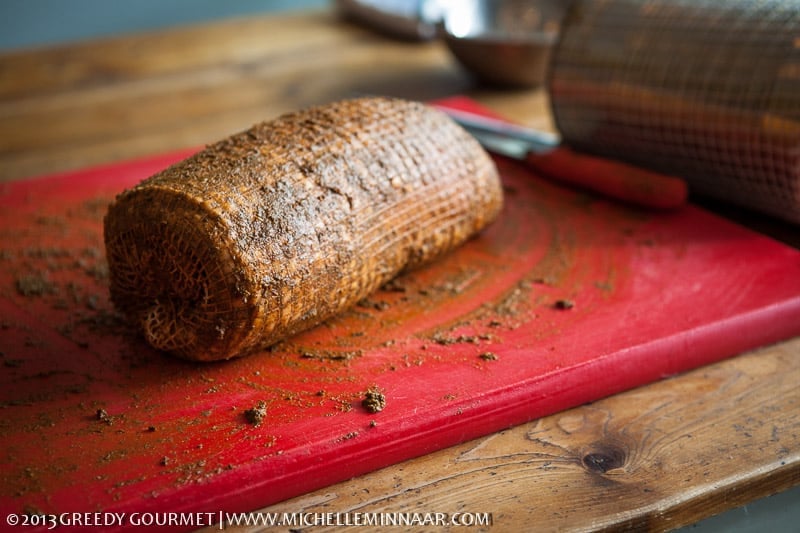 Why remove the skin?
I know, I know. Crackling is a wonderful thing but unless you're cooking pork belly in the sous-vide, you're better off without it. The skin gets tough and too chewy. We don't want that, do we?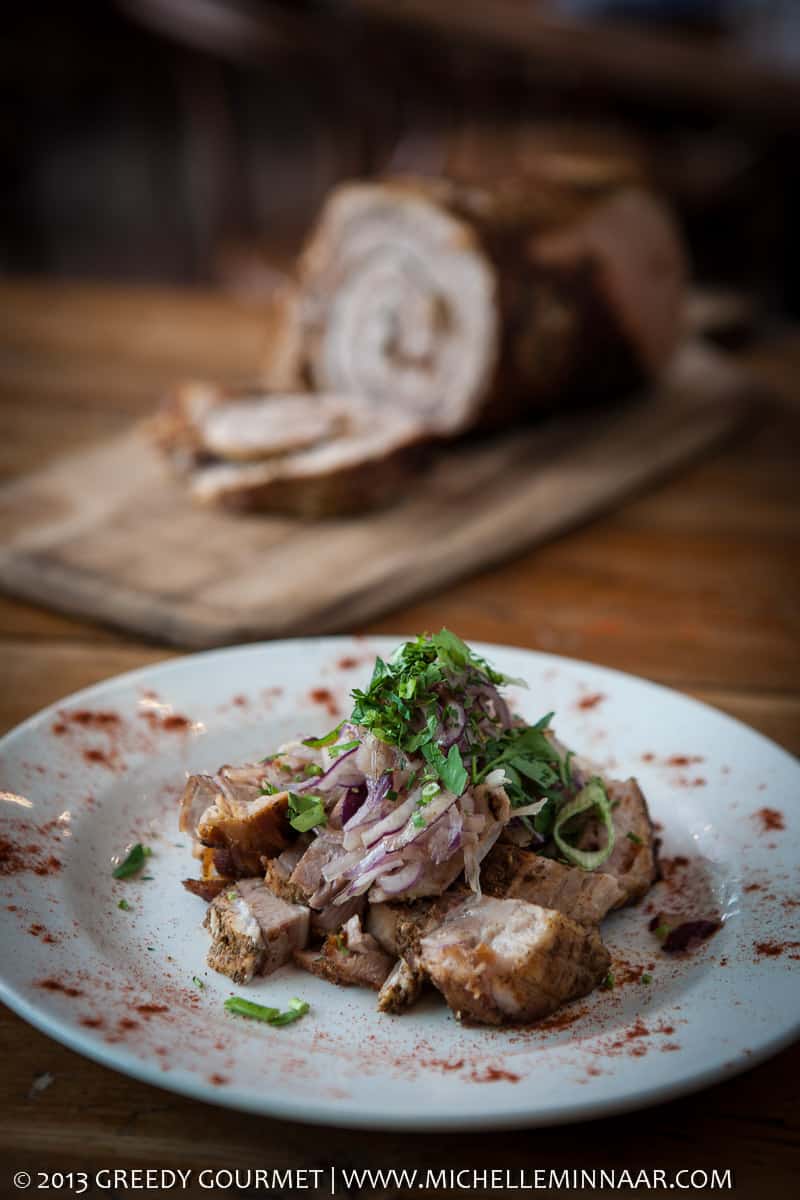 Ingredients that Match with Pork
The recipe provided is what The Real Greek uses in their kitchens but the marinade can easily be tweaked and there are plenty of flavour combinations you can play with.
Herbs & Spices
Anise, chili, cinnamon, clove, cilantro, coriander seeds, cumin, dill, garlic, ginger, juniper, rosemary, sage, thyme, bay leaves, fennel seeds, mustard, parsley, star anise, tarragon
Alcohol
Beer, brandy, calvados, cognac, marsala, whiskey, white wine
Fruit
Fruit pairs fabulously with pork. You can easily substitute the orange juice with one of the following:
Apple, apricot, grapes, grapefruit, pear, pineapple, rhubarb, watermelon, dried sour cherries, lemon, lime, orange, plums, prunes, quince.
Try this Fig and Orange Sauce with it for incredible flavour.
Which Vegetables to Serve with Pork Belly
Broccoli (especially broccoli raab), butternut squash, cabbage, celery, cucumber, globe artichoke, mushrooms, onions, parsnips, peas, potato, swede, tomato, watercress, black beans, fennel, sauerkraut, beetroot

Excellent Greek cookbooks you might not know of:
Wine Pairing
As pork is a white meat the first thought for most people is to pair it with a white wine. This works in some cases and one is recommended below but red wine can work well too. White wine works as the freshness will help to cut through the fattiness of the meat. If the meat has been slow cooked the flavours are deep and complex so will require a richer wine and if you've used a marinade this will also impact on the wine choice.
Domaine Sophie Cinier Macon-Fuissé, 2011
This Burgundian Chardonnay is an ideal match to pork belly. Some of the wine was fermented in large oak barrels giving rich flavour characteristics of caramel and toast and a smooth, creamy texture. The remainder was fermented in stainless steel in order to maintain the freshness. Therefore we have notes of crisp apples and grapefruit, perfect for if you are serving apple with the pork, and a lovely clean, fresh finish which rounds off the finish.
Mas du Soleilla 'Les Bartelles' Languedoc, 2008
The grapes in Les Bartelles are a blend of Syrah and Grenache, 80% and 20% respectively, creating a wine cram packed full of fruit. There's a subtle earthiness from the Syrah whilst the Grenache proportion adds fresh blackberry and raspberry flavours. The wine has been matured in oak barrels which not only offer a delightfully smooth texture but also a spiciness that works well with the pork. In the area there naturally growing wild herbs known as La Garrigue and this adds a perfumed, floral, herby quality to the wine whilst adding to the savoury-ness. A real gem with slow cooked pork belly.
Château Chantelune Margaux, 2009
This is an absolutely sumptuous wine and a great match to pork belly. The dominant grape is Merlot which has a rounded softness and allows for a rich texture and mouthfeel. The flavours of forest fruits are obvious on the nose and palate and these give way to more complex characters of licorice, black pepper and truffle. It's a big hug in a glass and with hearty pork belly dishes it has the effect of soothing the soul.
What to do with leftovers
Let's say you've had the pork belly for Sunday roast dinner and now you've got a hunk of meat left over. Besides freezing some, here are a few ideas:
Fry chunks in hot, dry pan and create your own souvlaki which entails Greek pita bread (tortilla or other flatbread will work too), tzatziki, tomatoes, red onions and paprika and wrapped up in a neat parcel.
Cold slices in a sandwich work well.
Cut the meat into bite-sized chunks and chuck it into a wok with your favourite veggies to make a stir-fry. Hoisin sauce, honey, molasses, plum sauce, soy sauce and vinegar are some sauces that will work. Don't forget to add a few walnuts or peanuts for some crunch.
Shred the meat and add it to a soup.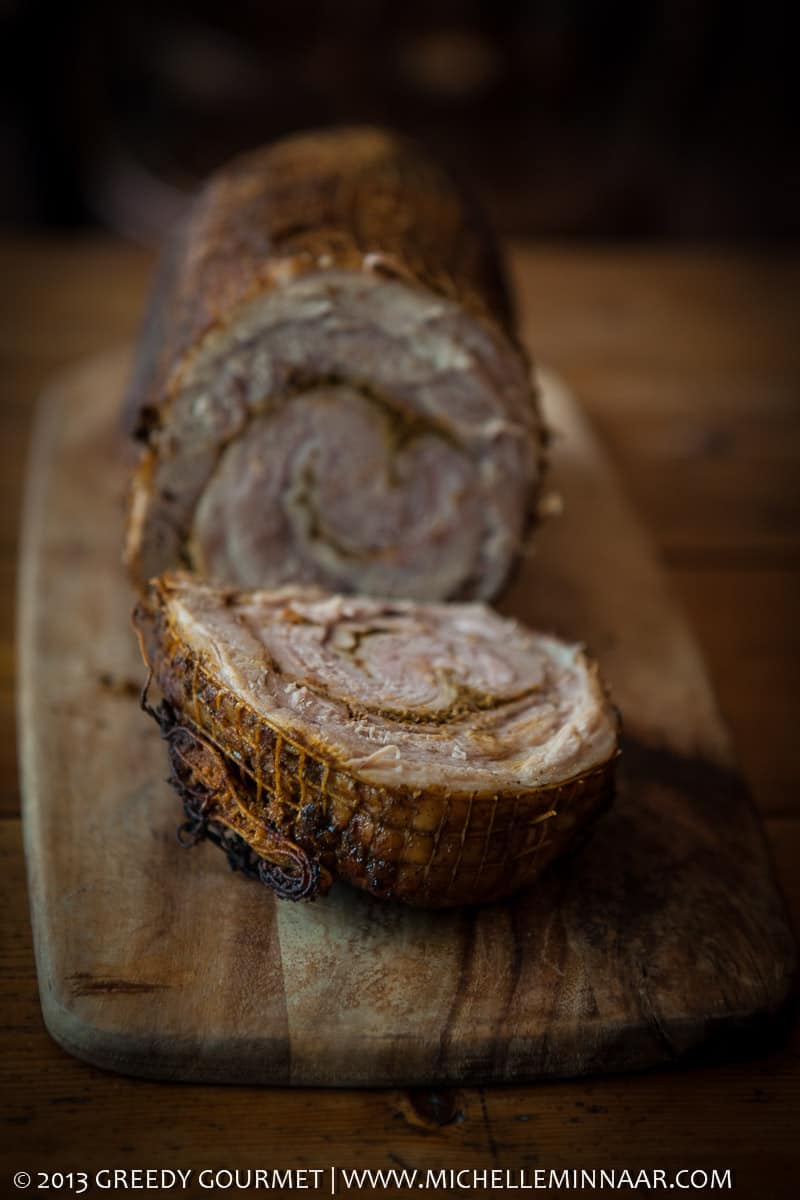 Storage Instructions
Conservatively, a whole raw pork belly can be kept in the freezer for around 6 months. Raw, sealed and prepacked the meat will last 2-4 days in the fridge. After cooking the belly pork, any leftovers should be placed in the fridge 1 to 2 hours after serving. In the coldest part of the fridge the meat will last for about 4 days. Well-wrapped leftovers can be kept in the freezer for up to 3 months.
Preparing the Pork Marinade
The recipe is actually quite easy. The first part you prepare the marinade and in the second you simply smear it on the pork and then cook it. That's it!
So first get all your marinade ingredients together.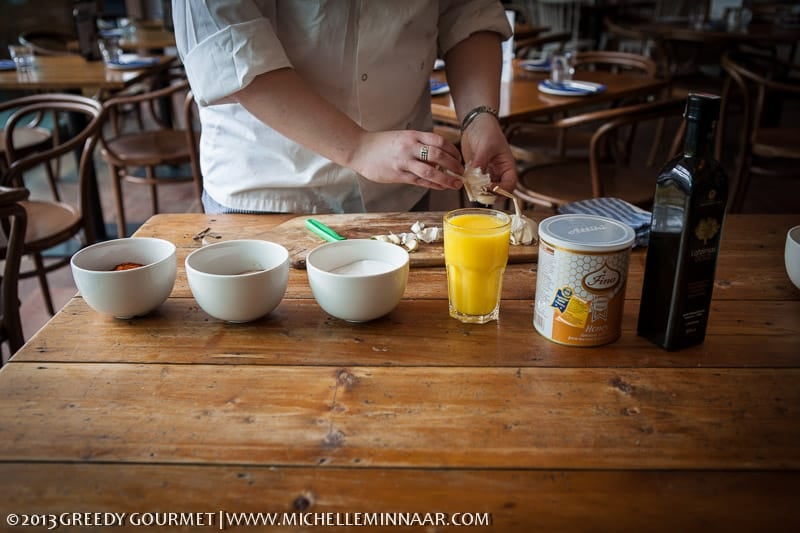 Unfortunately, I didn't capture the dried marjoram, mustard and fennel seeds at the time so don't forget to look at the recipe below.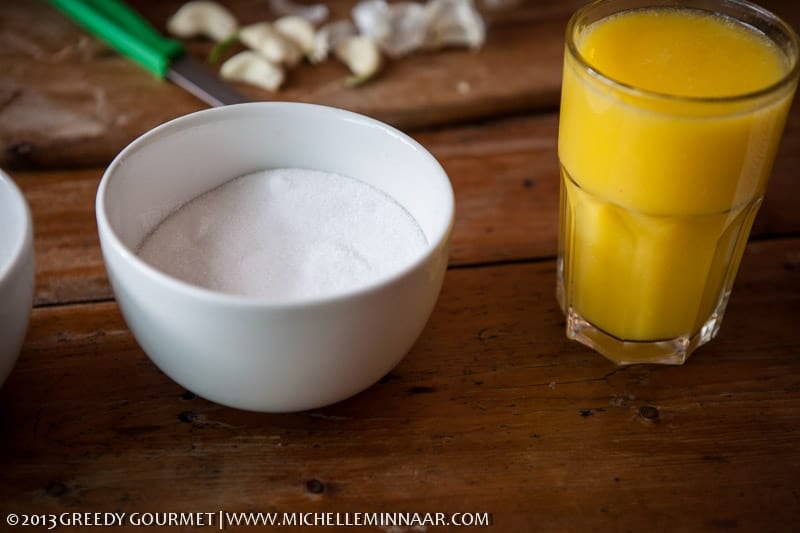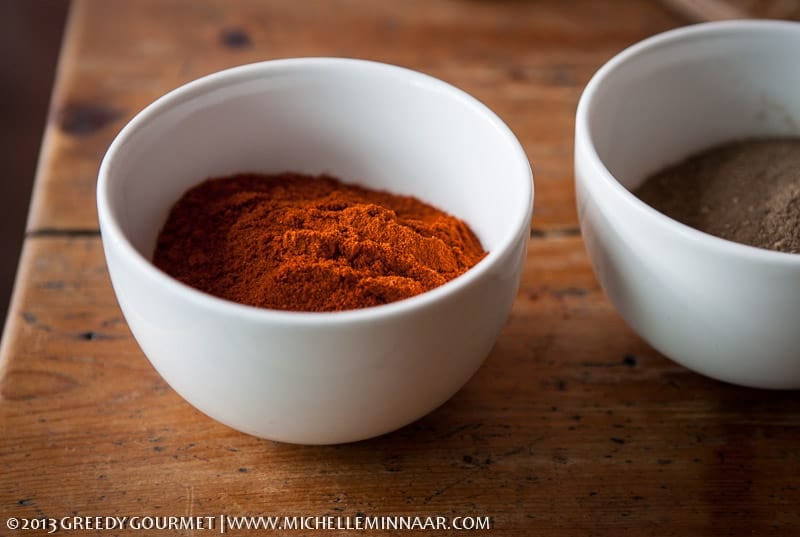 Once you have everything together, measure each ingredient and place it in the food processor.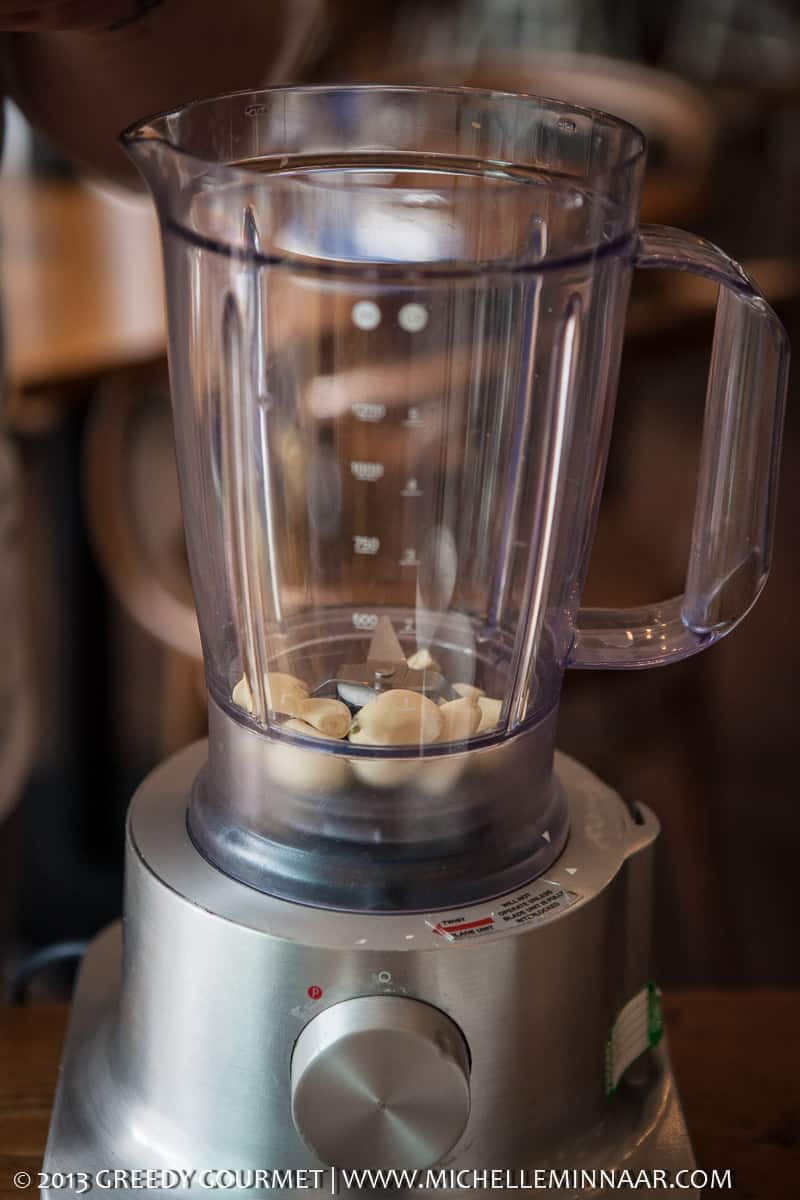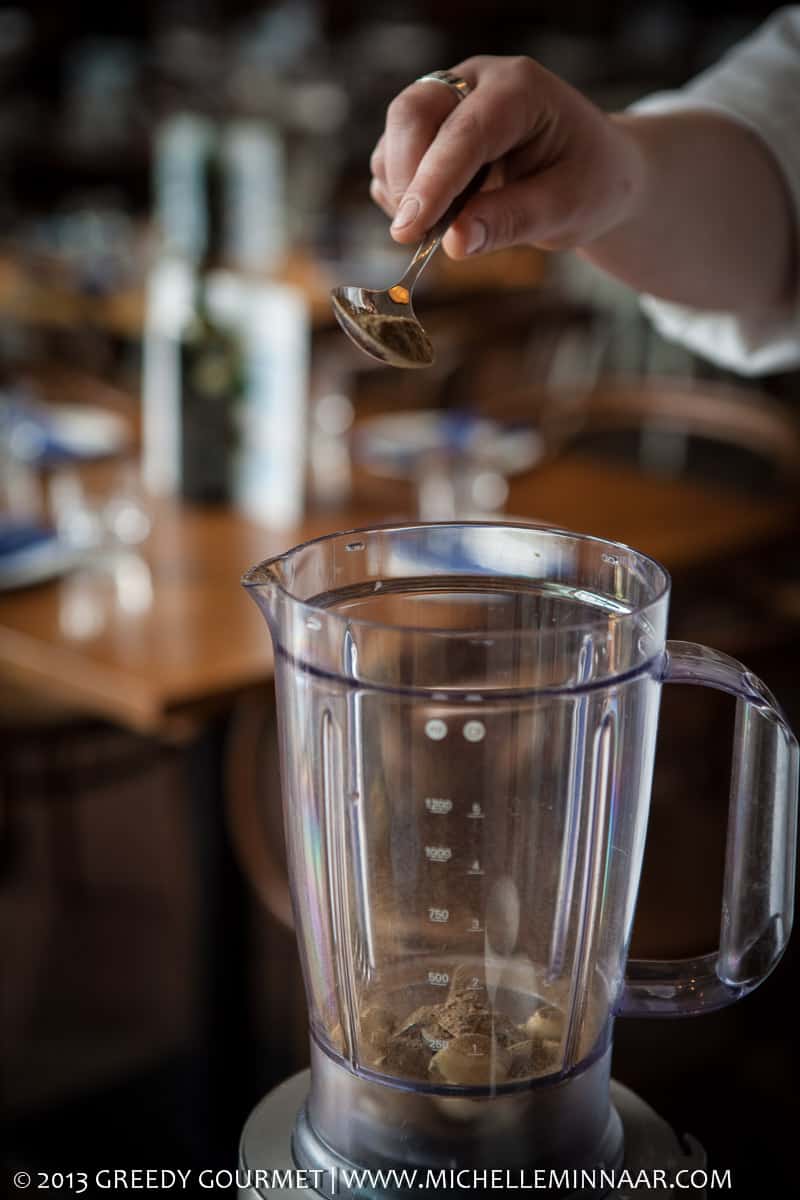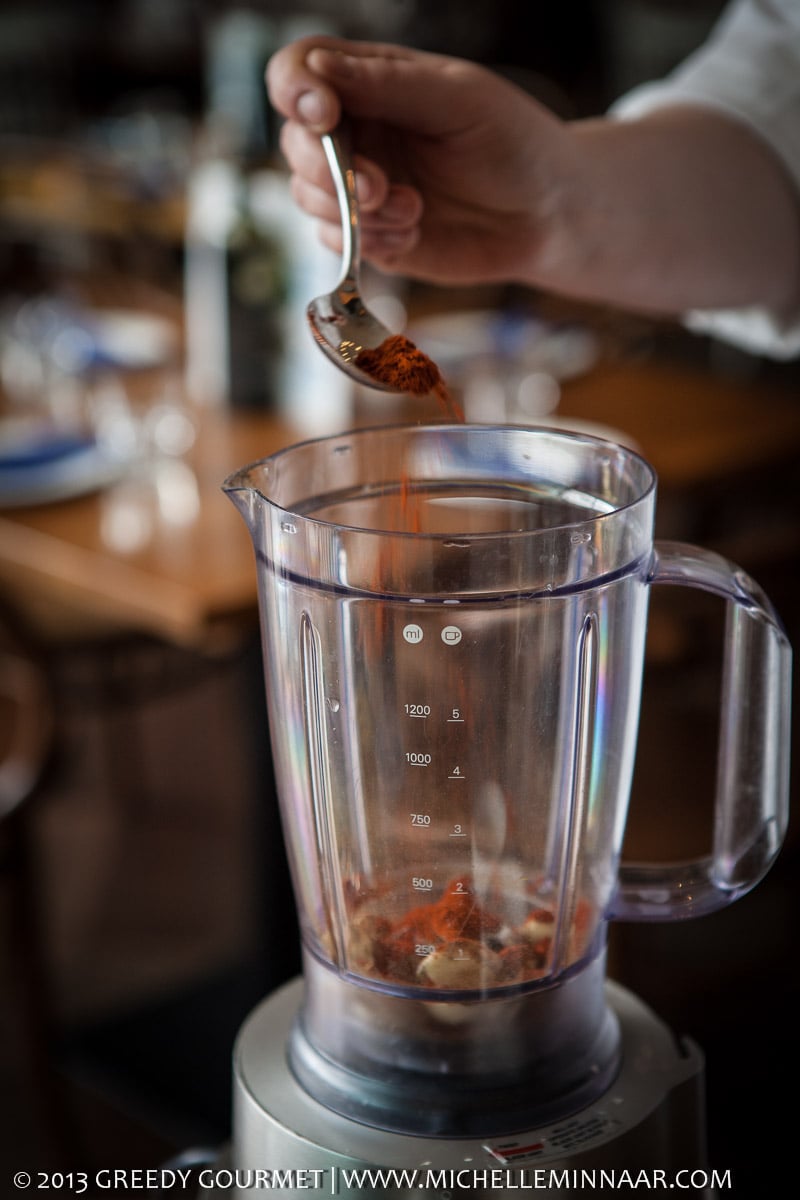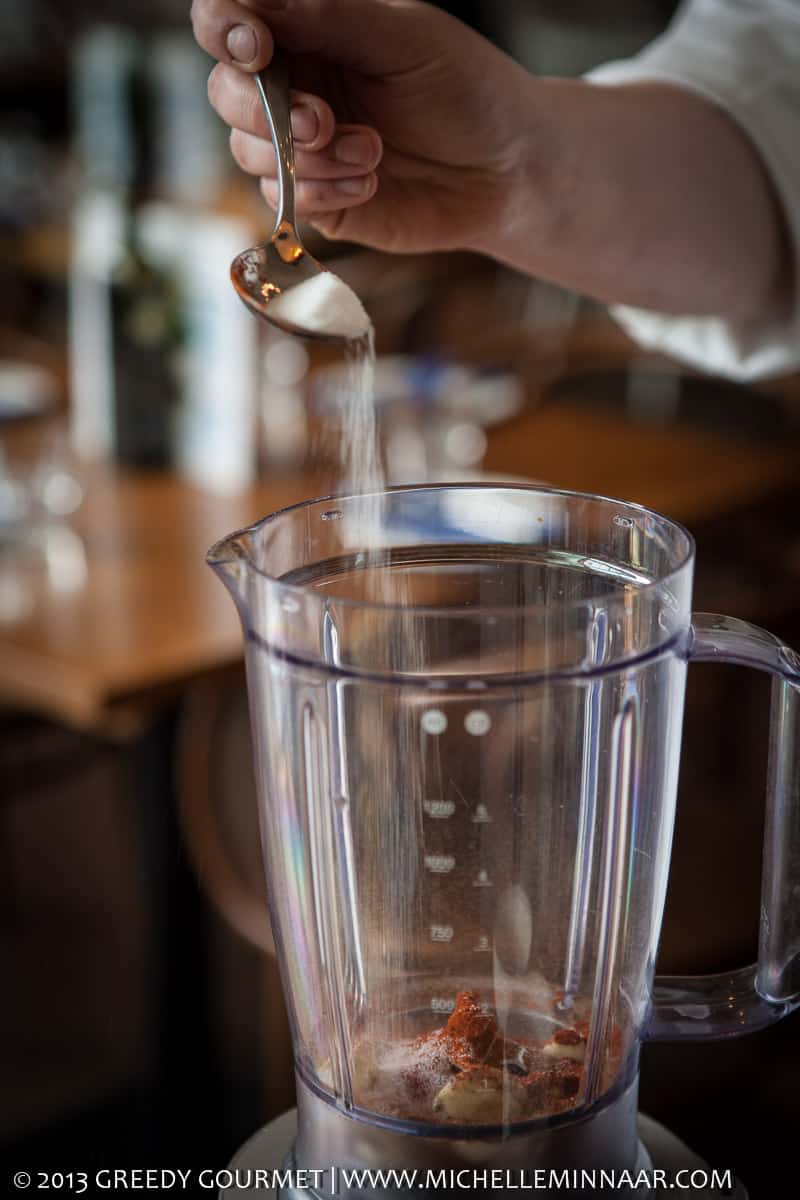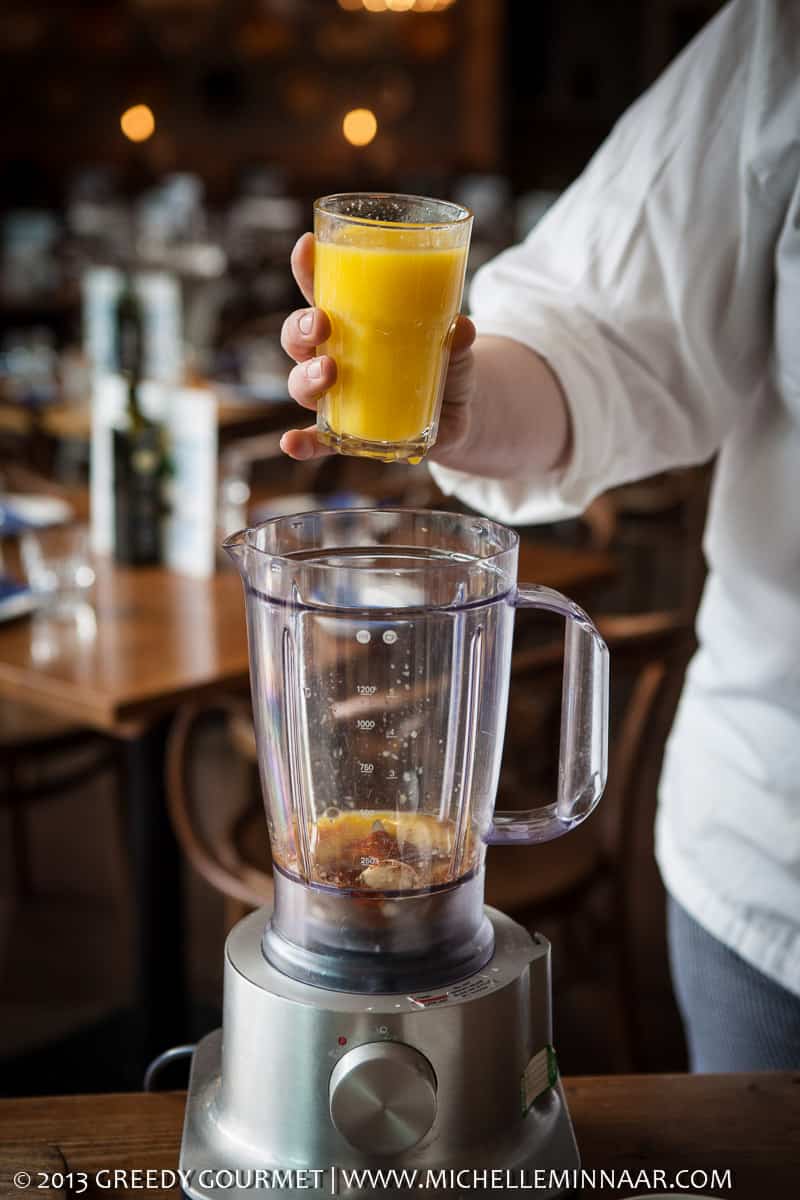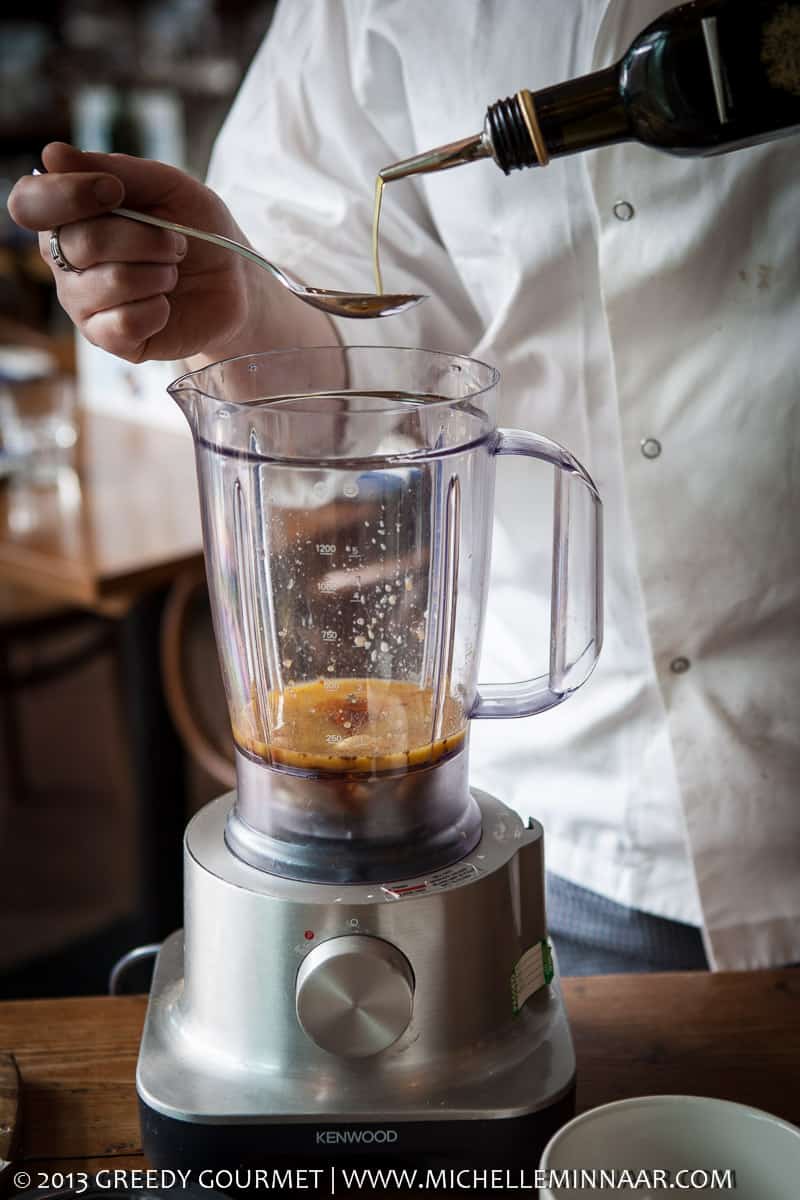 Flip the switch and let the machine do its thing.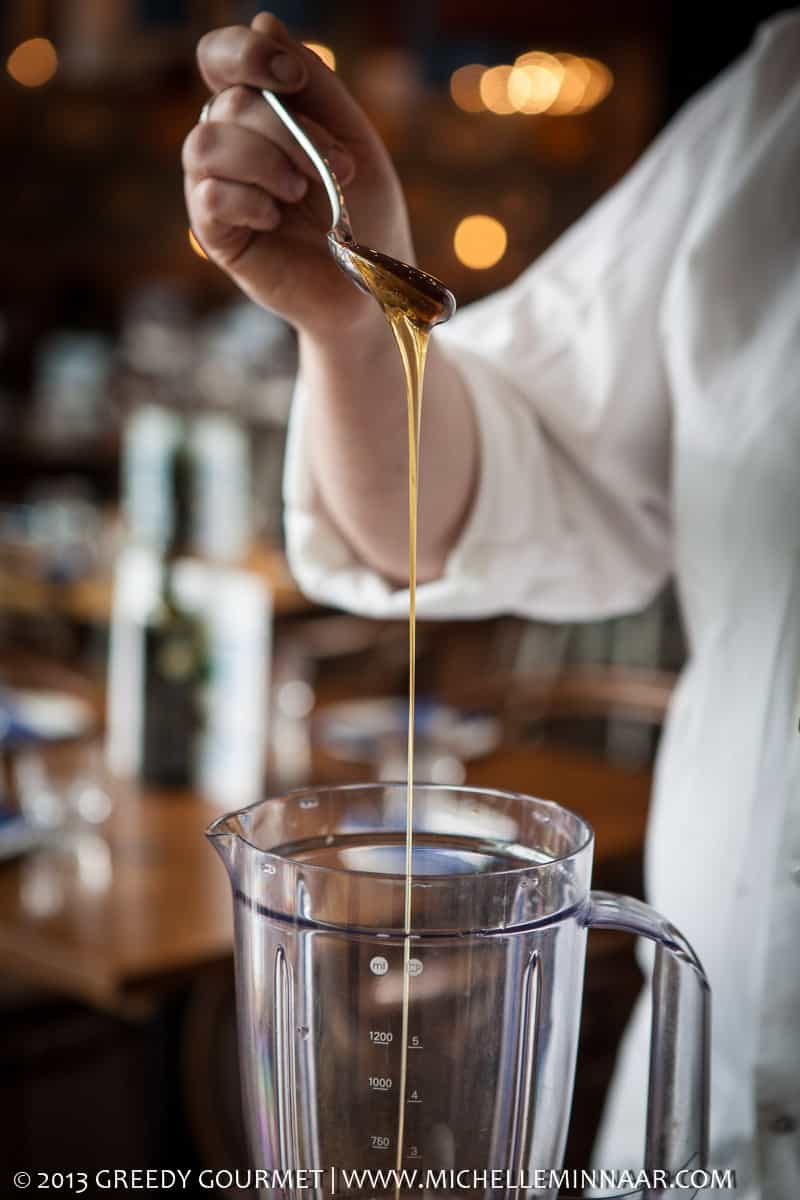 Now that was easy, wasn't it? Now for the meat.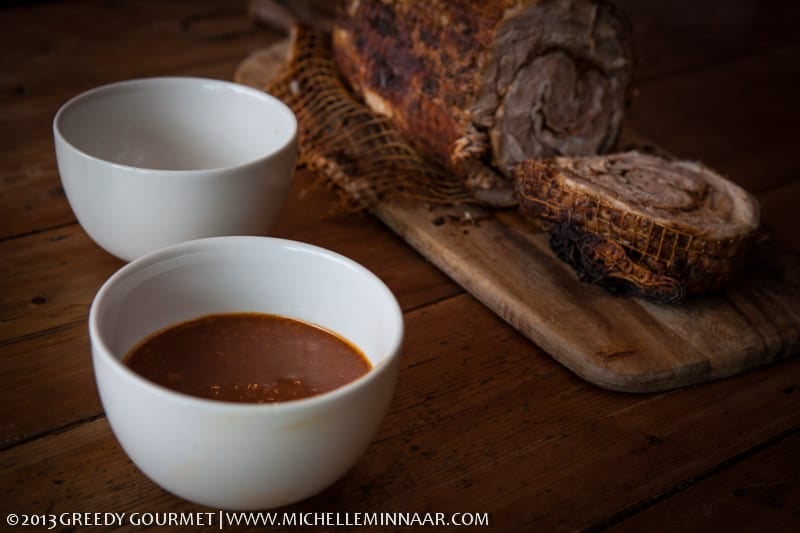 Cleaning, Marinating and Rolling the Pork Belly
Make sure you buy a boneless belly minus the skin. A whole pork belly usually weighs around 3kg and when cooked around 2.20-2.40kg. Allow 150g (5 oz) per portion. Based on that a whole pork belly should feed around 16 people.
Remove the excess fat with the sharp knife.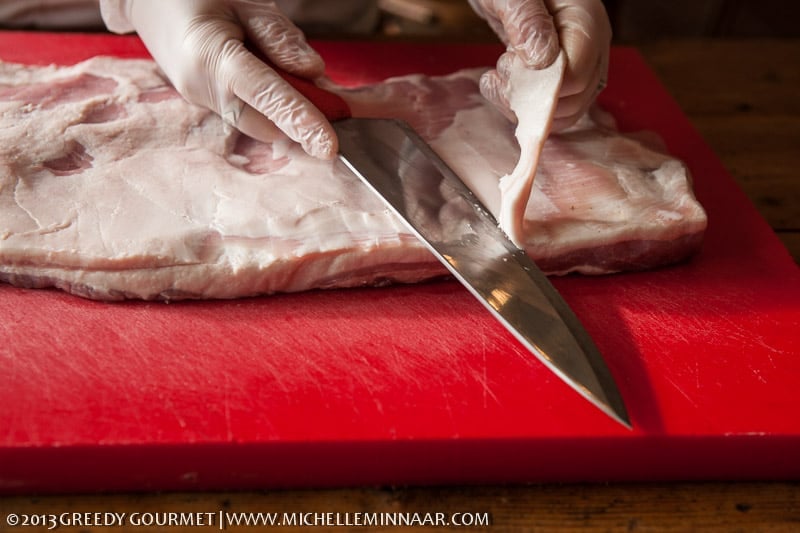 Run your fingers over the meat, making sure to remove any bones or gristle if any are found.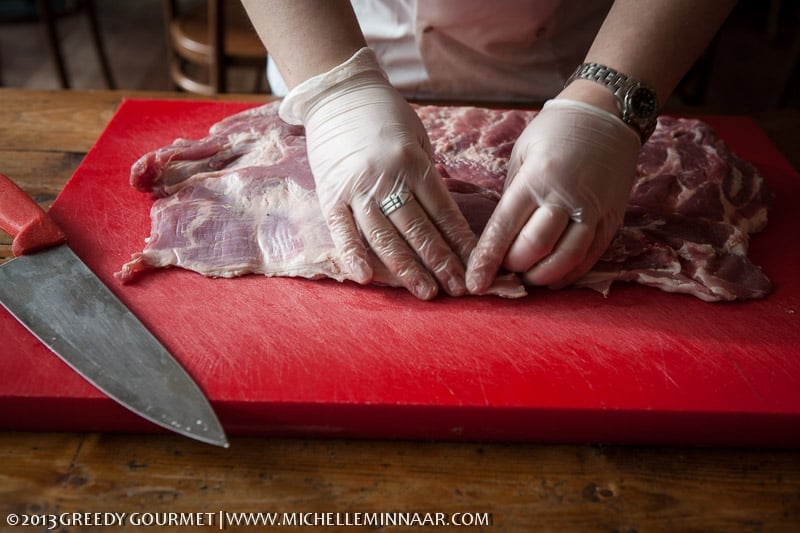 Imagine the meat is your lover's back. Lovingly rub the marinade into the meat, reaching all places such as flaps and love handles.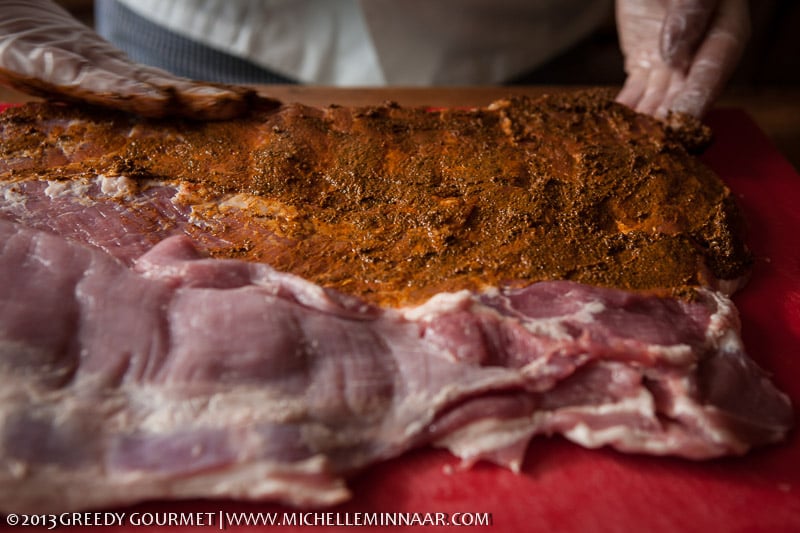 By the time you're done the belly should be thoroughly coated with the sauce.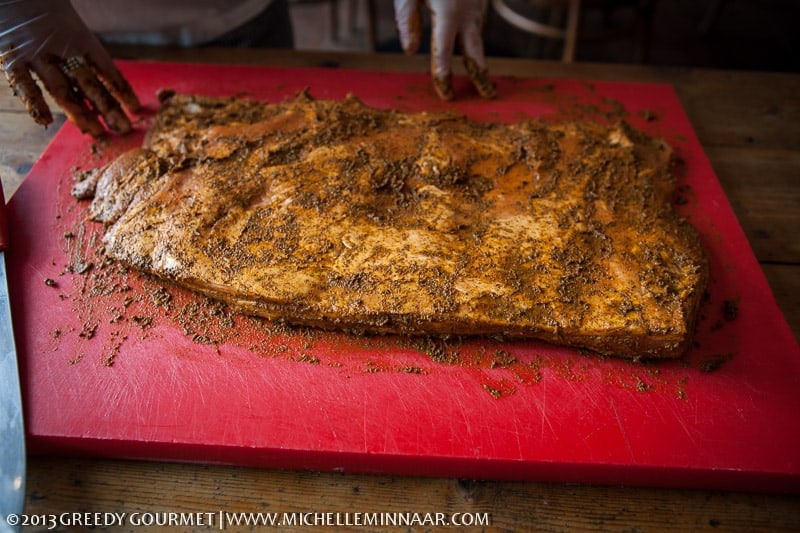 Starting at one end, carefully start rolling it up...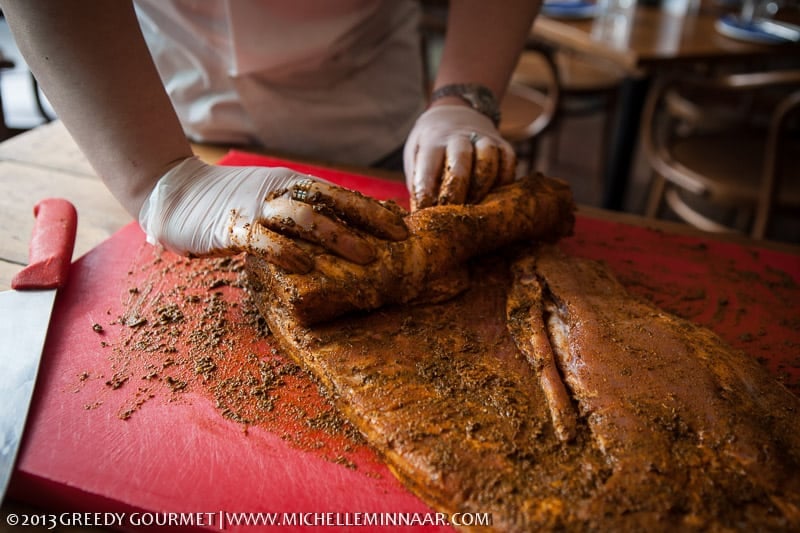 ...keep going...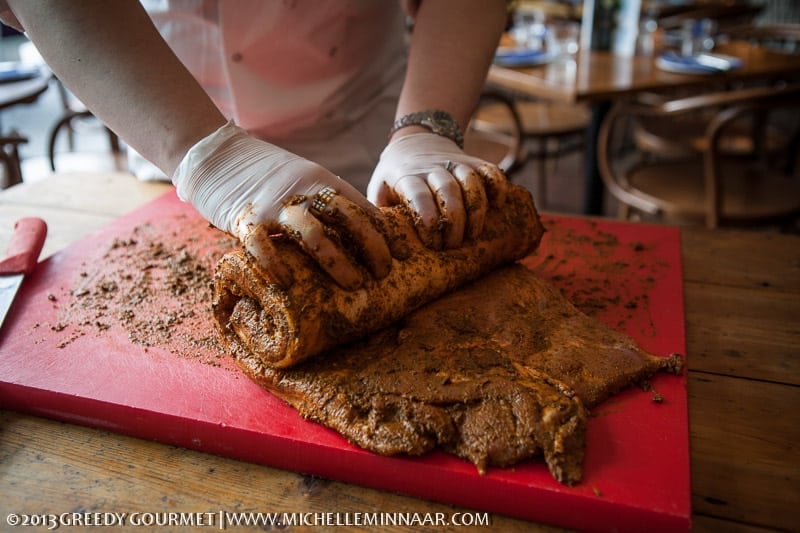 It's a beautiful sight, isn't it?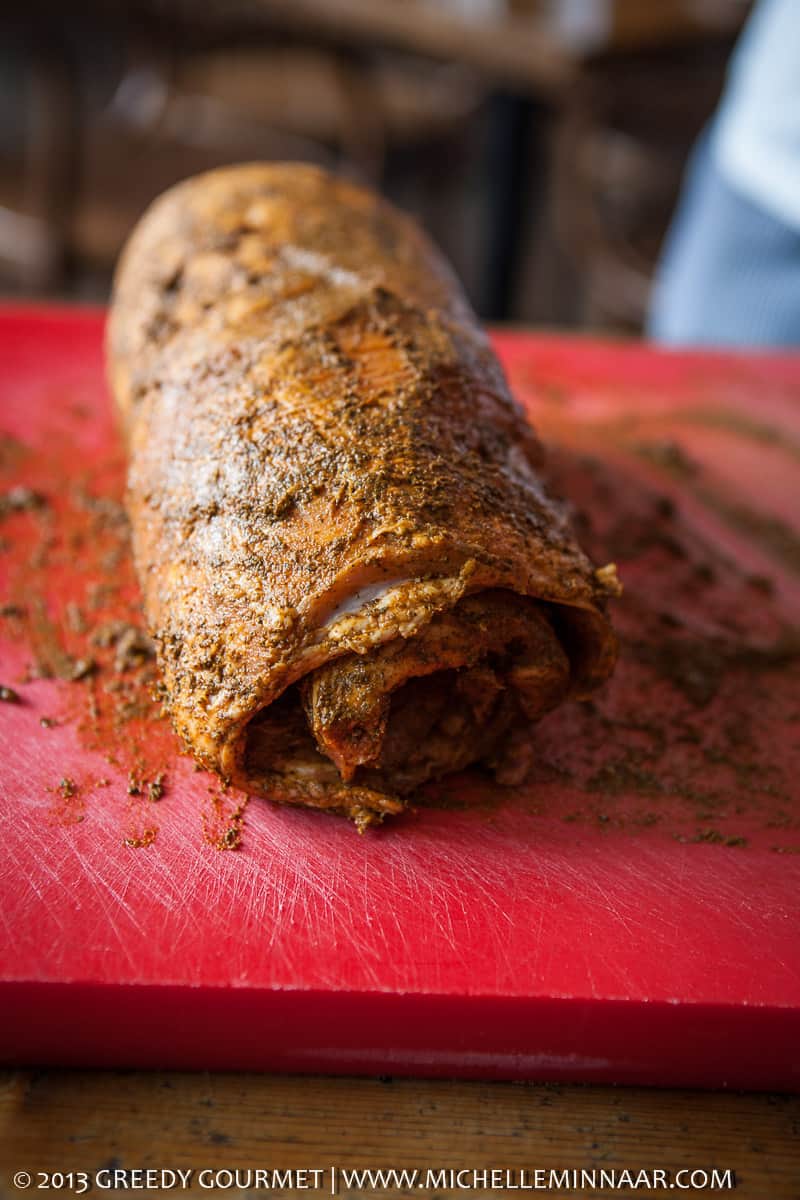 I have no idea what the cool contraption is called but it makes tying up the meat very quick and easy.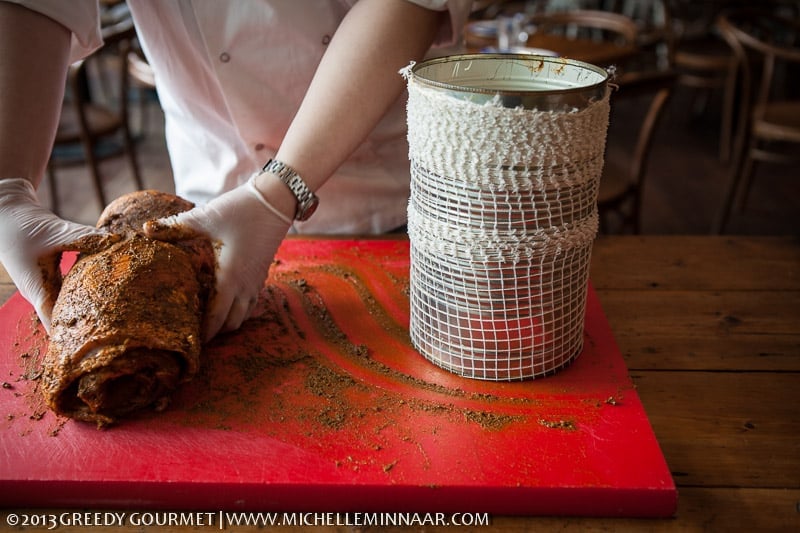 Home cooks like us will just have to rely on the old-fashioned string and scissors.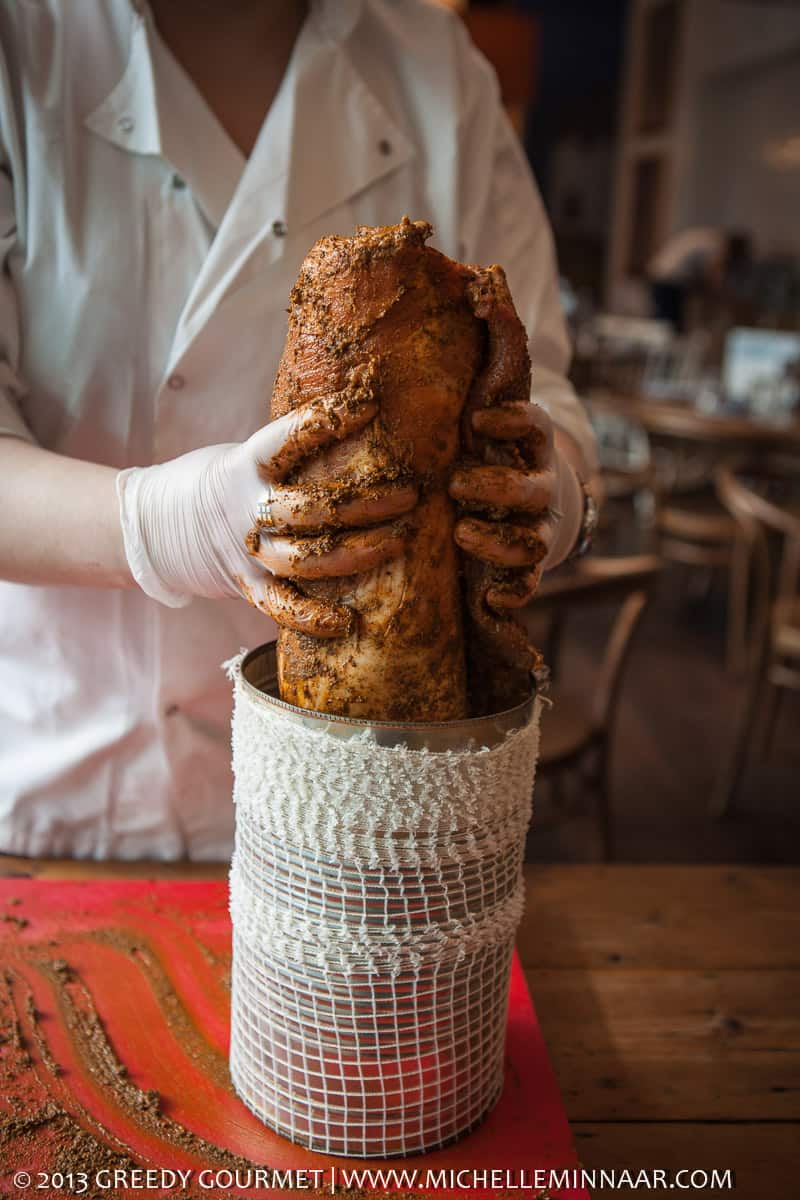 Be sure to fasten the string properly.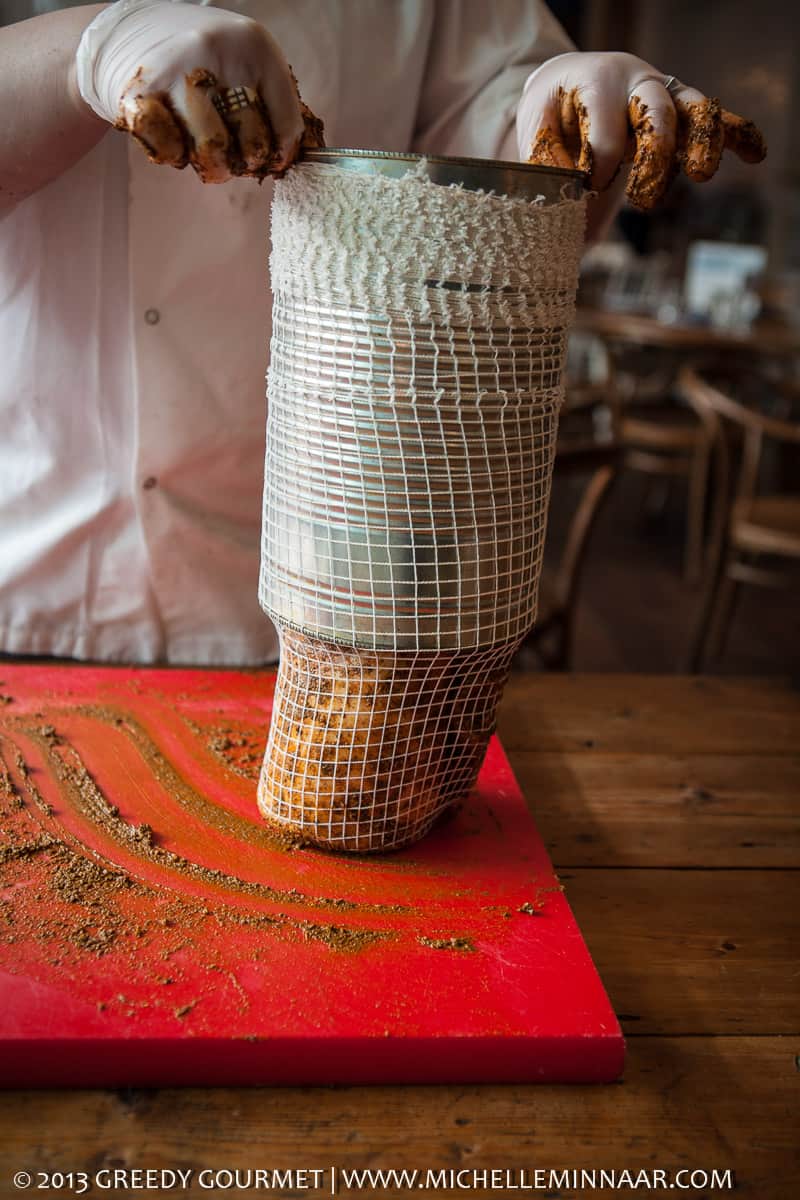 We want the pork to retain its shape.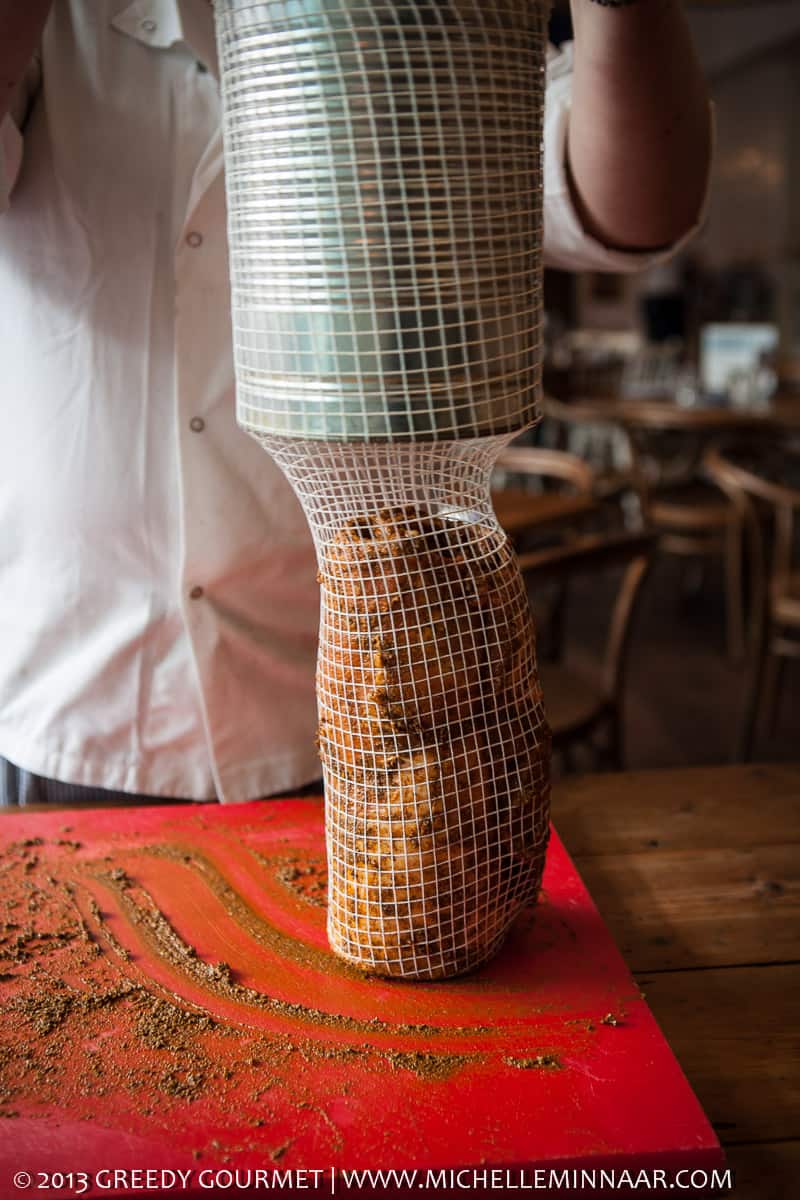 Do you have any marinade left over by any chance?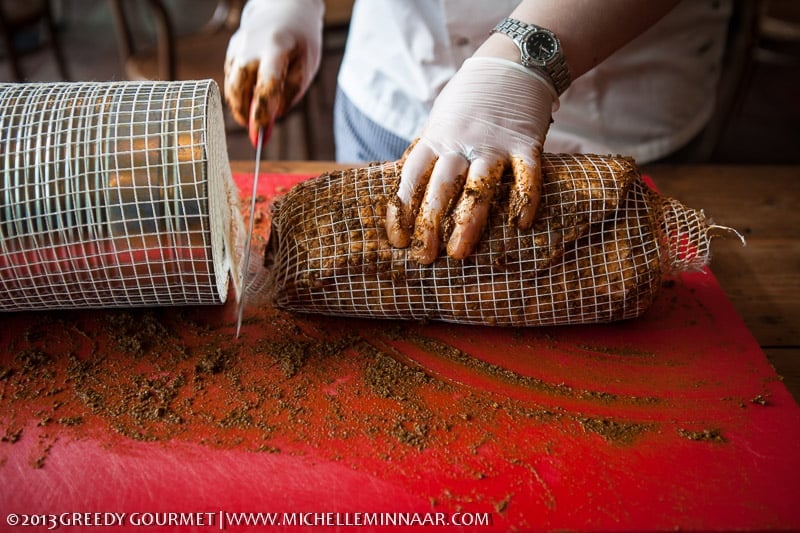 If you do, rub it all over the meat...again!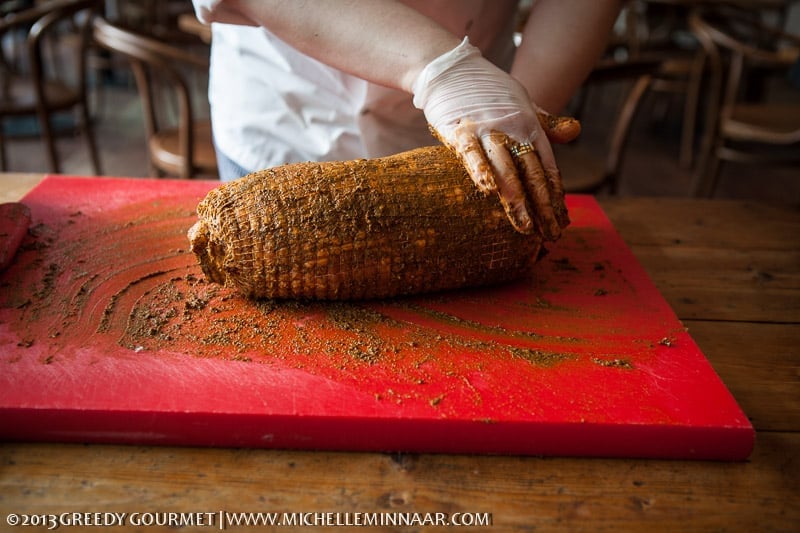 Now the belly is ready for the oven.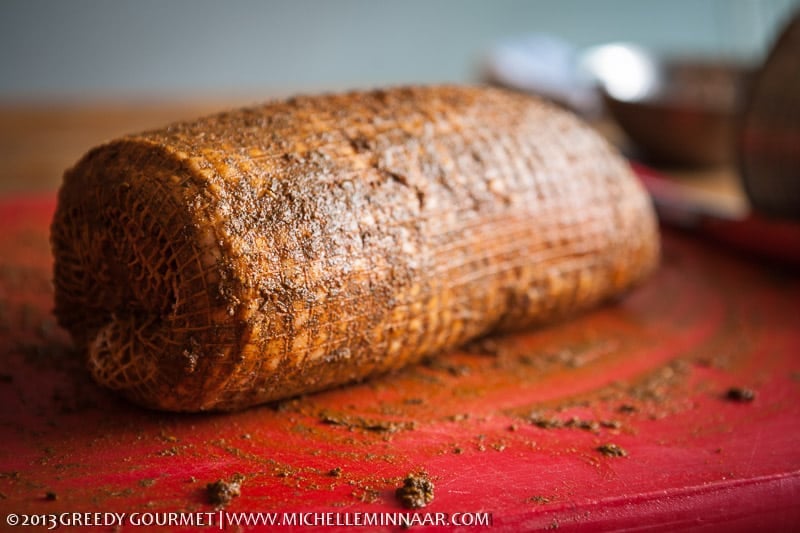 Place it in a deep baking tray. For safety reasons, it's always a good idea to insert a meat thermometer to ensure that the meat is thoroughly cooked when you take it out. The temperature you're aiming for is 80°C/176°F. Usually placed in a preheated oven of 160°C/320°F/gas mark 3 will do the trick.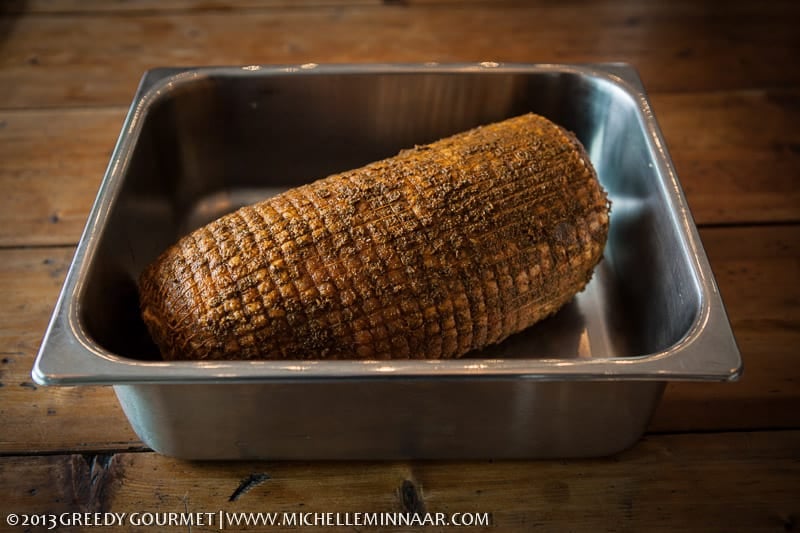 After 3 hours, your pork would look like this.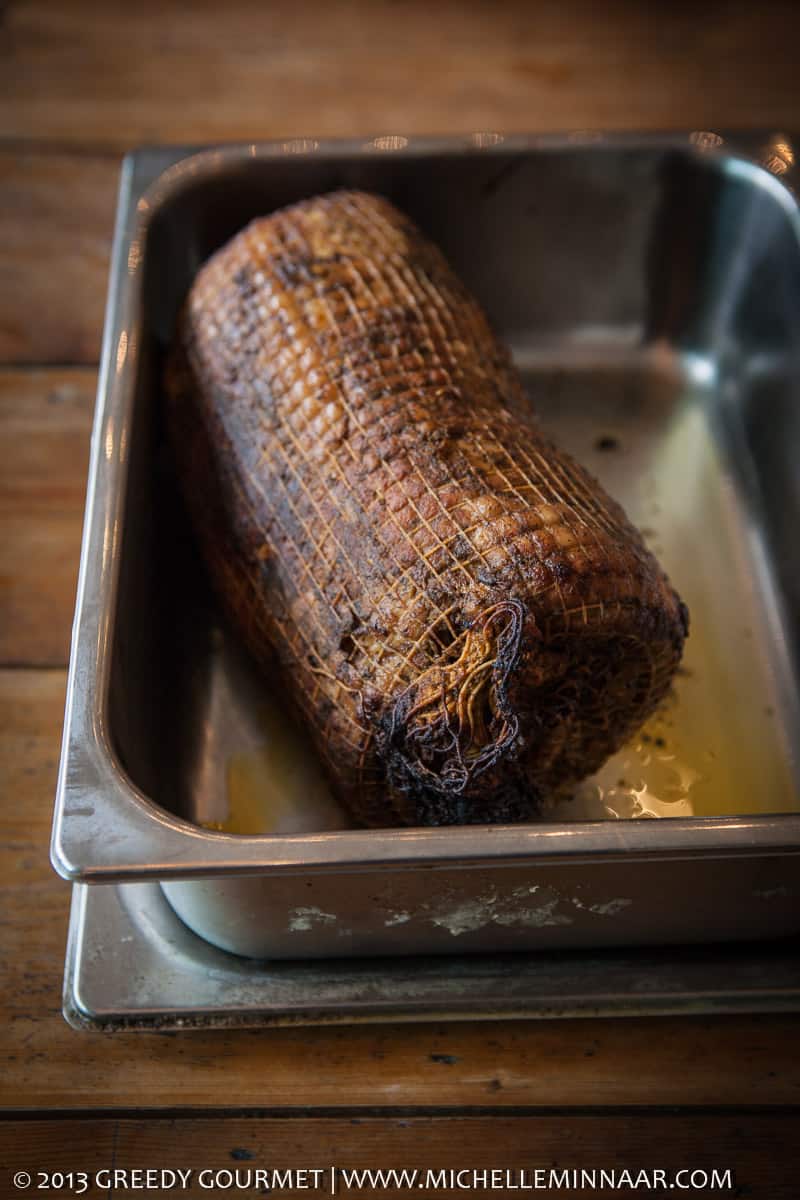 Let it rest for around 30 minutes and then dive in.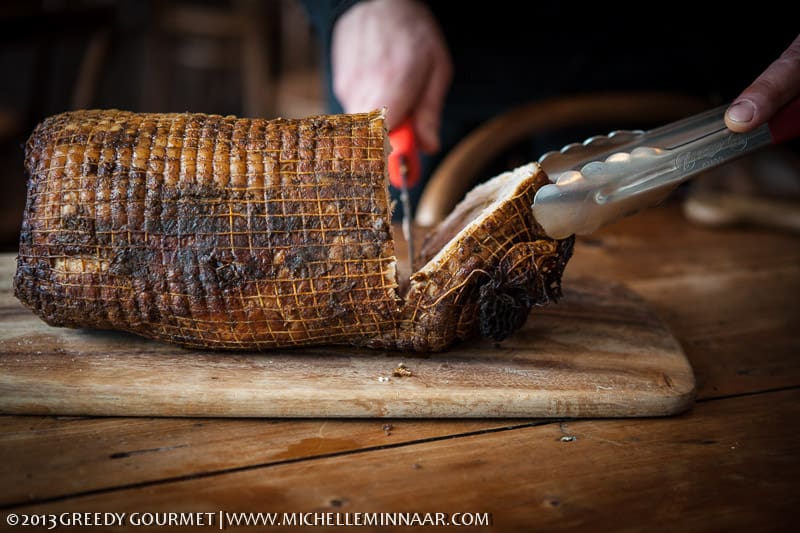 How can you possibly resist?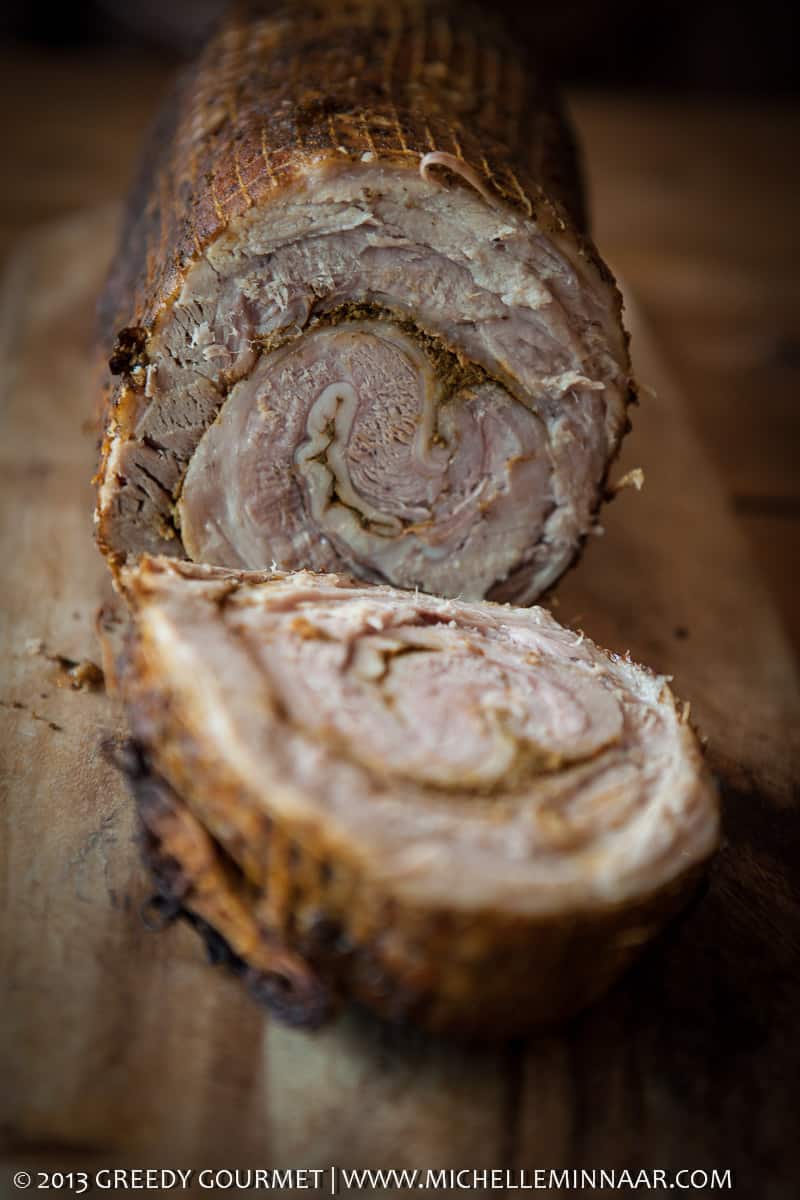 Did you notice the fat in the middle? If you place a slice of the stuff in a dry but very hot frying pan and sear each side for 30-40 seconds, the fat will render and become crispy, thus become even more tasty.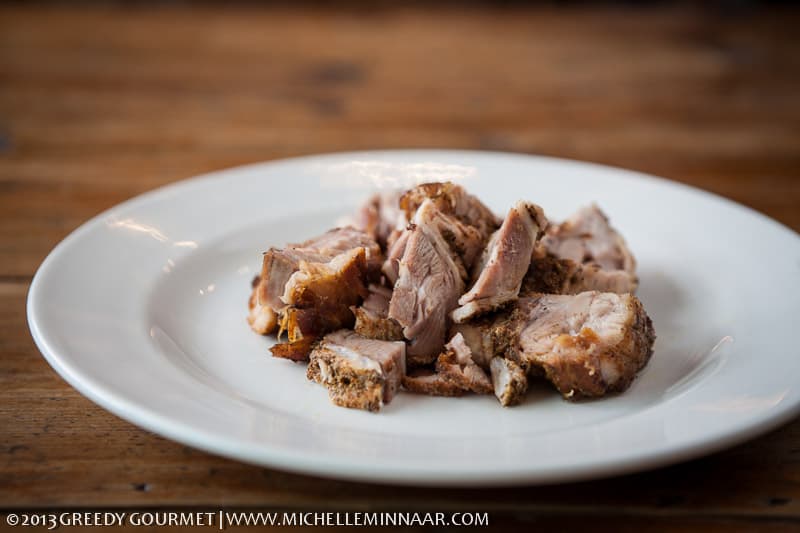 If you want to do it Greek-style, top the meat with semi-caramelised onions, sprinkle with a bit of paprika and some chopped parsley, spring onion and dill.
Of course, if you're too lazy you can just visit The Real Greek and eat it there instead with a large Greek Salad and crispy new potatoes.
A big thank you to The Real Greek for all their time and trouble!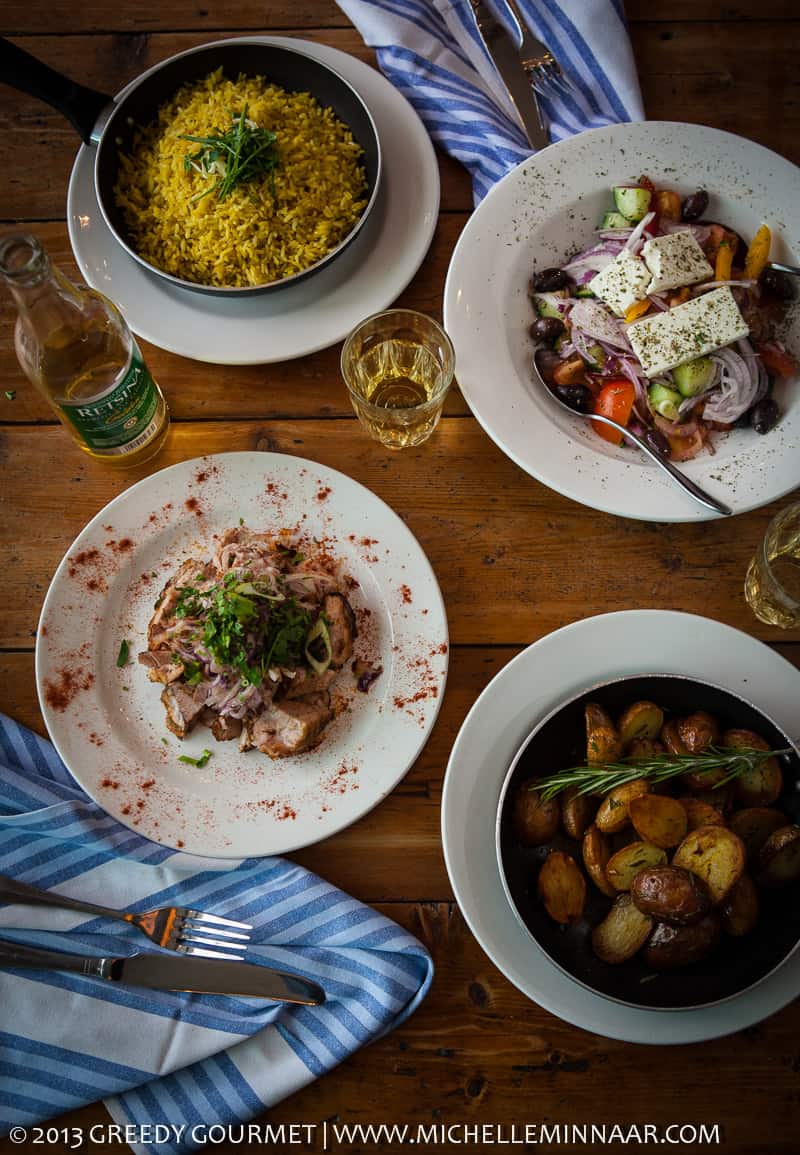 Print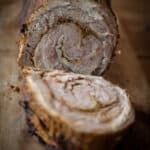 Slow Roast Pork Belly
---
40g

(

1½ oz

) garlic cloves, peeled

80g

(

3oz

) sea salt

40g

(

1½ oz

) sweet paprika

30g

(

1 oz

) fennel seeds

20g

(

½ oz

) dried marjoram

120

ml (4 fl oz) Dijon mustard

40

ml (1½ fl oz) vegetable or olive oil

200

ml (7 oz) orange juice

50

ml (2 fl oz) honey

3

kg (6lbs) whole pork belly, skin removed

6

onions
Parsley
Spring onion
Dill
---
Instructions
Add the garlic, salt, paprika, fennel, marjoram, mustard, oil, orange juice and honey in a food processor and blitz until it forms a smooth paste.
Remove excess fat from the pork belly then wash it and pat it dry.
Run your fingers all over the meat to make sure there are no bones or other gristle.
Rub the pork on both sides with the prepared marinade.
Carefully roll up the pork and tie it.
Place the rolled pork belly in a preheated oven, 160°C/320°F/gas mark 3, and roast the meat for 3 hours.
Let it rest for 30 minutes before you start slicing it.
[Optional] For even more spectacular flavor you can place each slice in a very hot frying pan (no oil needed) and fry each side for 30-40 seconds. The fat on the inside will melt and become crispy.
Top with semi-caramelised onions, some chopped parsley, spring onion and dill. Enjoy!
Prep Time:

20 minutes

Cook Time:

3 hours

Category:

Dinner

Method:

Roast

Cuisine:

Greek
Nutrition
Calories:

69

Sugar:

Sugars

Sodium:

213 mg

Fat:

3.4 g

Carbohydrates:

8.6 g

Fiber:

Dietary Fiber

Protein:

1.1 g