Smoked chicken breasts are very popular these days and can be found in salads, soups, curries, and more. Sometimes, you might not even know that your dish contains smoked chicken breasts because it is so well incorporated into the overall dish. For example, when you order a salad, you might come across smoked chicken breasts which are cut into smaller pieces, instead of whole breasts. Smoking chicken breasts is an excellent way to jazz up this prime cut of chicken by lending it extra flavour. They work particularly well with BBQ recipes!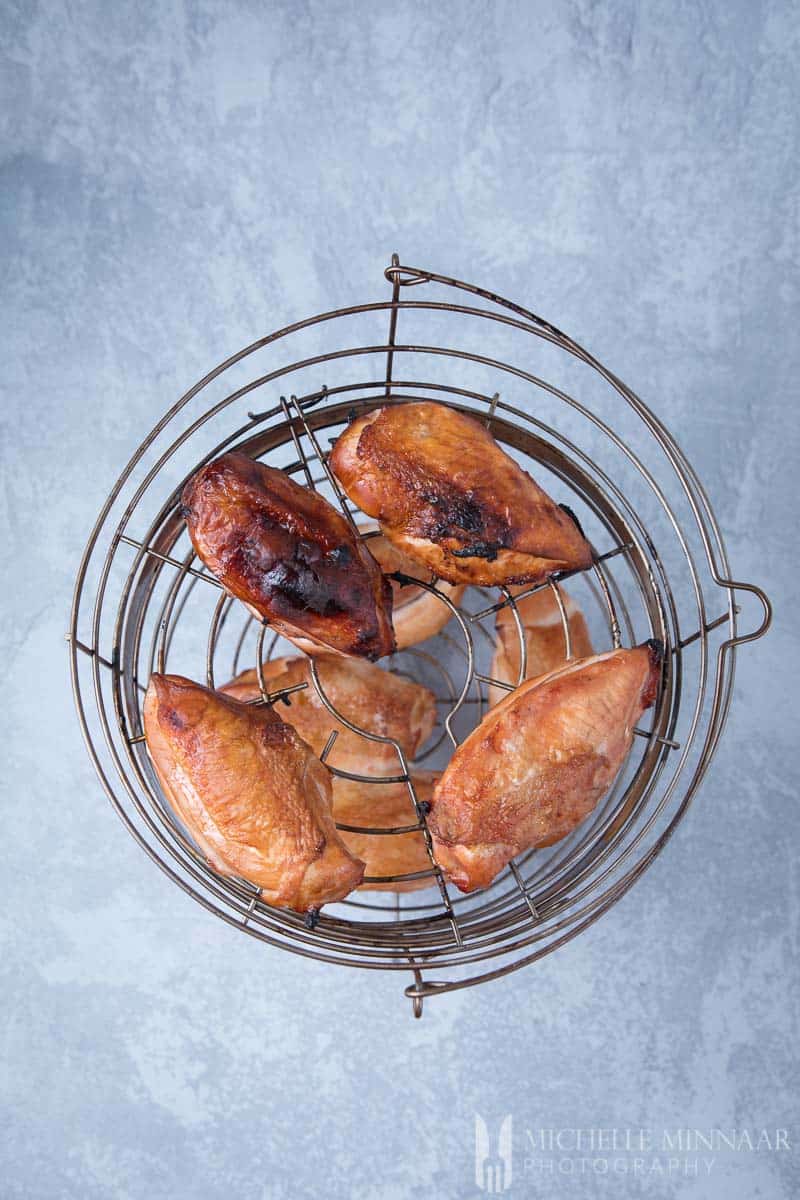 how to make the best smoked chicken breasts
Smoking meat is an age old trick to preserving meat as well as adding plenty of extra flavour to it. If you've never tasted smoked chicken breasts, you're in for a treat. They burst with rich flavours and sometimes they even carry a subtle bitterness. Smoked chicken breasts work exceptionally well for leftover recipes. You can tear the smoked breasts into smaller pieces and include them in a delicious leftover curry recipe. Or, you can cut them into small squares and prepare this smoked chicken filo tart recipe. If you feel like eating a light lunch, you can make this nutritious chicken, almond and orange salad. With smoked chicken breasts, you will make this salad even more sophisticated.
As you can see, cooking smoked chicken breasts is very useful as it is a versatile meat. There are many elements that influence the final outcome. If you want to make the best smoked chicken breasts, you'll need to pay attention to the preparation of the chicken breasts prior to the actual smoking. Give yourself an day or half a day in advance for applying the proper preparation method.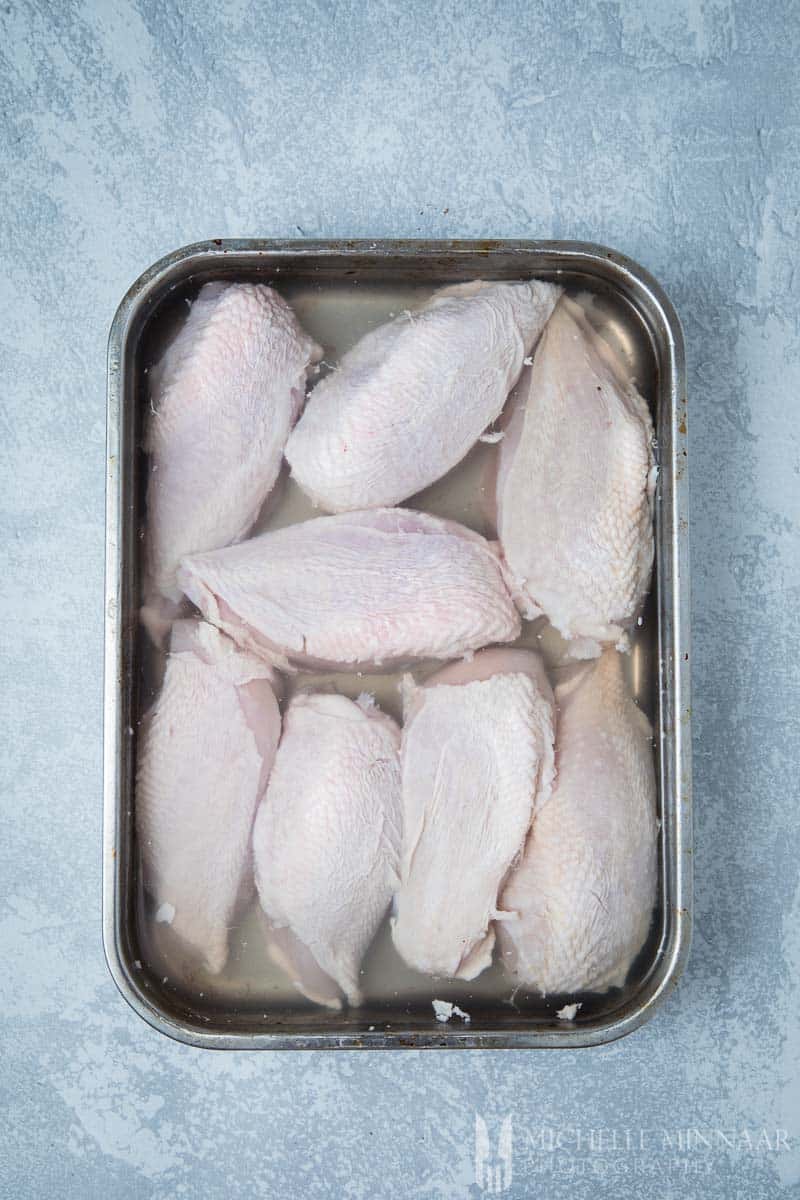 how to make brine smoked chicken breasts
Often, home cooks dread smoking cuts of meat because they are under the impression that this cooking technique will dry it out. Well, this is where brining comes into play. Before you learn how to make smoked the meat, you need to learn how to brine chicken breasts first. This is the number one trick that will make your smoked chicken breasts stand out!
smoked chicken breast brine
The brining process involves submerging the chicken breasts in a sweet and salty solution for a considerable amount of time. This encourages the water to be absorbed into the muscle cells of the chicken, making it moist and juicy once you cook it. So, before you attempt making smoked chicken breasts, leave them in a brine (in the fridge) so you avoid the risk of the chicken breasts drying out in the smoker.
You don't have to limit yourself to just breasts. You can learn how to brine chicken too. Yes, the whole chicken! You can leave the meat in the brine for a couple of hours, overnight in the refrigerator or for an entire day.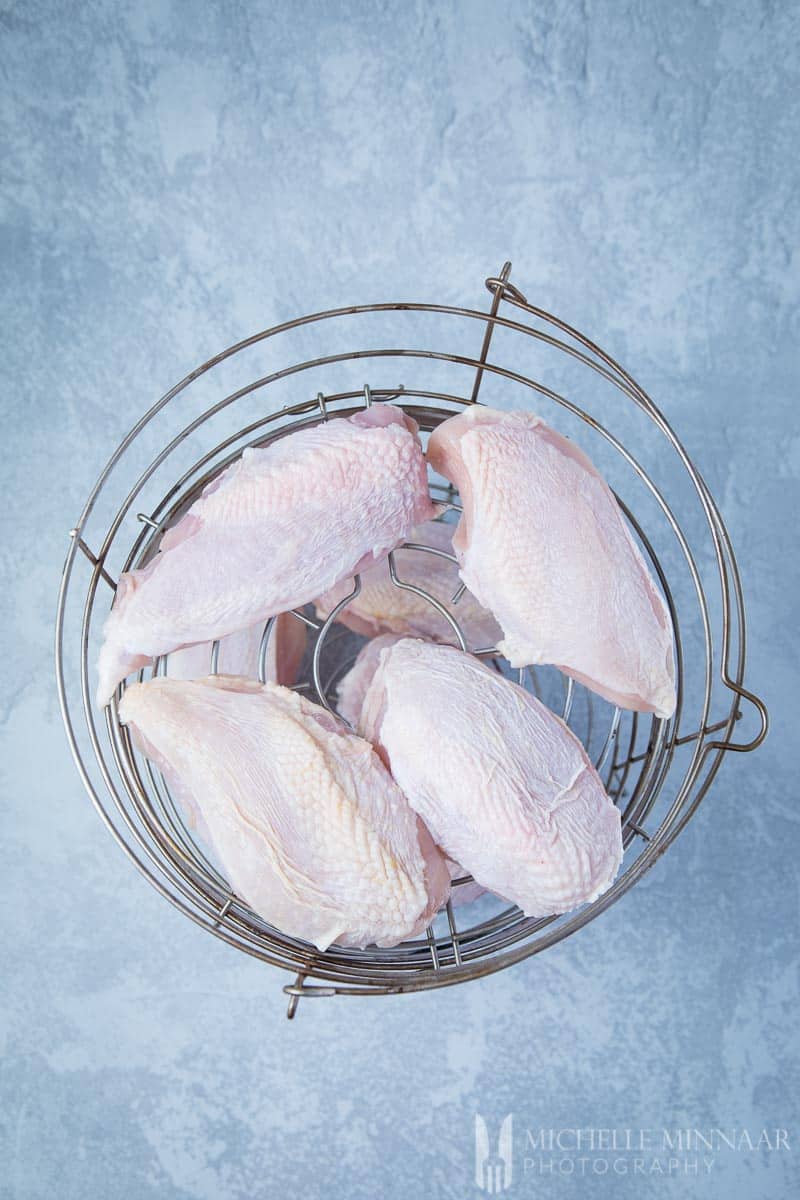 how to smoke chicken breasts in a smoker
Before you can start the smoking process, you actually need to source a smoker. There are different types of smokers: charcoal smokers, electrical smokers, propane smoker, and more. Also, you can opt for having a vertical smoker or a horizontal one. Honestly, it doesn't make much difference to this smoked chicken recipe. As long as you brine and then smoke the chicken breasts, you'll have the end result that you are looking for.
If you don't have a smoker, you can also toss the chicken breasts on an open fire grill. This way, the chicken breasts will absorb some of the smoke while they cook. Plus, they might catch a nice char on the exterior. Most importantly, for smoking any type of meat, you need the right woodchips to match your meat.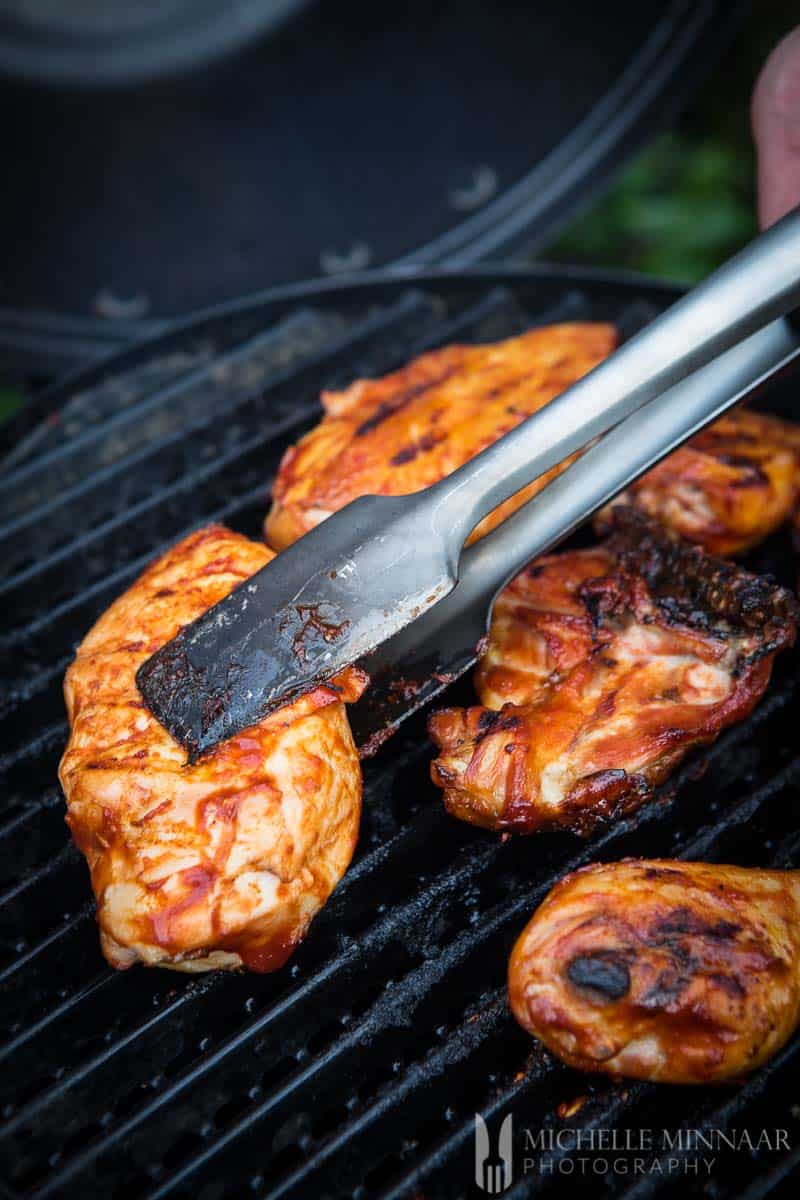 apple woodchip smoked chicken breasts
Having trouble selecting the right type of woodchips for your smoked chicken breasts? There are many types of woodchips available to the consumer, with each woodchip having a different effect on the meat. Apple woodchips work the best with poultry because they leave a sweet and smoky flavour. Similarly to apple woodchips, mulberry woodchips also leave a sweet finish, with hints of berries. If you want to take it easy with the smoky flavours, then try maple woodchips since they are mild and subtle. Most importantly, you should soak the woodchips in water for some moisture, otherwise they will burn.
To learn more about the different types of the woodchips used for smoking, click here. You'll be able to find exactly which flavours work with all types of meat.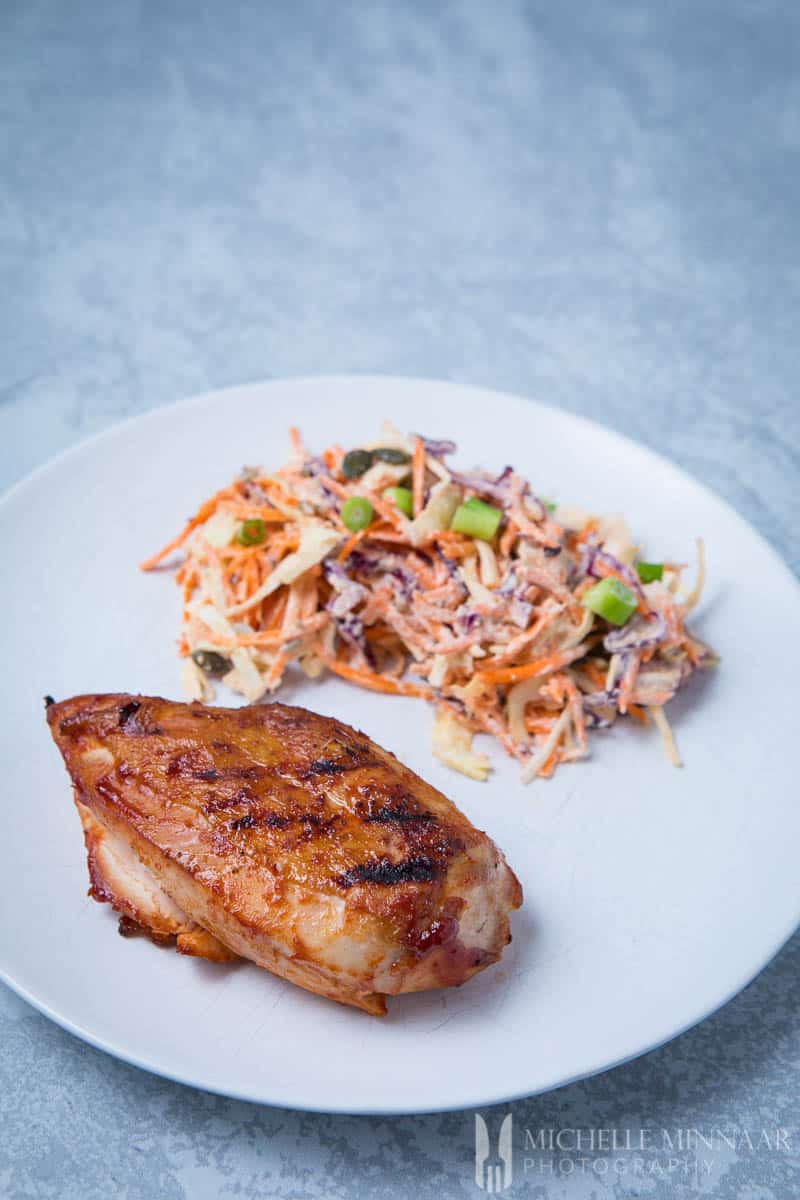 what to serve with BBQ smoked chicken breasts
Firstly, I highly recommend pairing the smoked chicken breasts with a delicious gluten free BBQ sauce. After the smoking process you can glaze the breasts with the sauce and finish it off on the barbecue. It is best to use a brush for this step. Once your smoked chicken breasts are done, you can serve them immediately or let them cool down. The benefit of this recipe is that the smoked chicken breasts store well in the refrigerator and you can even freeze them.
In either case, you should pair these BBQ smoked chicken breasts with something fresh and crunchy, such as this vegan coleslaw. It's much lighter than the traditional coleslaw recipes as you don't have the mayonnaise element. Alternatively, you can also combine this recipe with a shredded rainbow salad. It's not only vibrant in colour, but in flavour as well.
As with any BBQ recipe, don't forget to have some cold drinks in the refrigerator. Preferably, some cold beers if you are expecting some company. A lager and smoked BBQ chicken breasts are a match made in heaven.
What would you use smoked chicken breasts for?
Print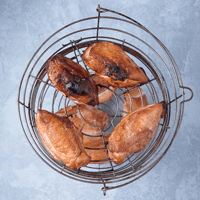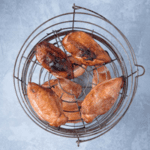 Smoked Chicken Breasts
---
Description
Once you try these smoked chicken breasts, you'll never go back to plain chicken. You can include this juicy meat in salads, curries, soups and rissotos.
---
8

brined chicken breasts

Salt and pepper

Apple or cherry wood chips
---
Instructions
For a very basic brining method, check out my

How To Brine Chicken

article.

Preheat the Char-Broil Big Easy Smoker on the High setting and fill the smoking box with wood chips.

Wait for 10 minutes until the chips begin to smoke, then change the heat setting to Low.

Arrange the chicken breasts on the top and bottom shelf of the wire basket and place in smoker.

Close lid and cook until the chicken's internal temperature is 75°C (165°F). This takes about 40-45 minutes.

Remove the chicken from the smoker and wrap the chicken in foil, letting it rest for about 20 minutes before eating.
Notes
To cook the chicken evenly, halfway through the cooking time you can place the bottom pieces in the top shelf and vice versa.

I preferred using the low setting because cooking meat can sometimes lead to rubbery/tough textures.

The cooking might differ from the above because it depends on the size of the chicken and heat setting you use. For best results, use a meat thermometer!
Prep Time:

15 minutes

Cook Time:

45 minutes

Category:

Main Course

Cuisine:

American
Nutrition
Serving Size:

1 serving

Calories:

112

Sugar:

2.9 g

Sodium:

41 mg

Fat:

2.5 g

Carbohydrates:

4.1 g

Protein:

17.5 g

Cholesterol:

47 mg
save the recipe to your pinterest board