This sweet potato and red pepper soup is a lovely, healthy bowl of something special, packed full of flavour. Soups are somewhat underrated nowadays, often relegated to the starters section of restaurant menus.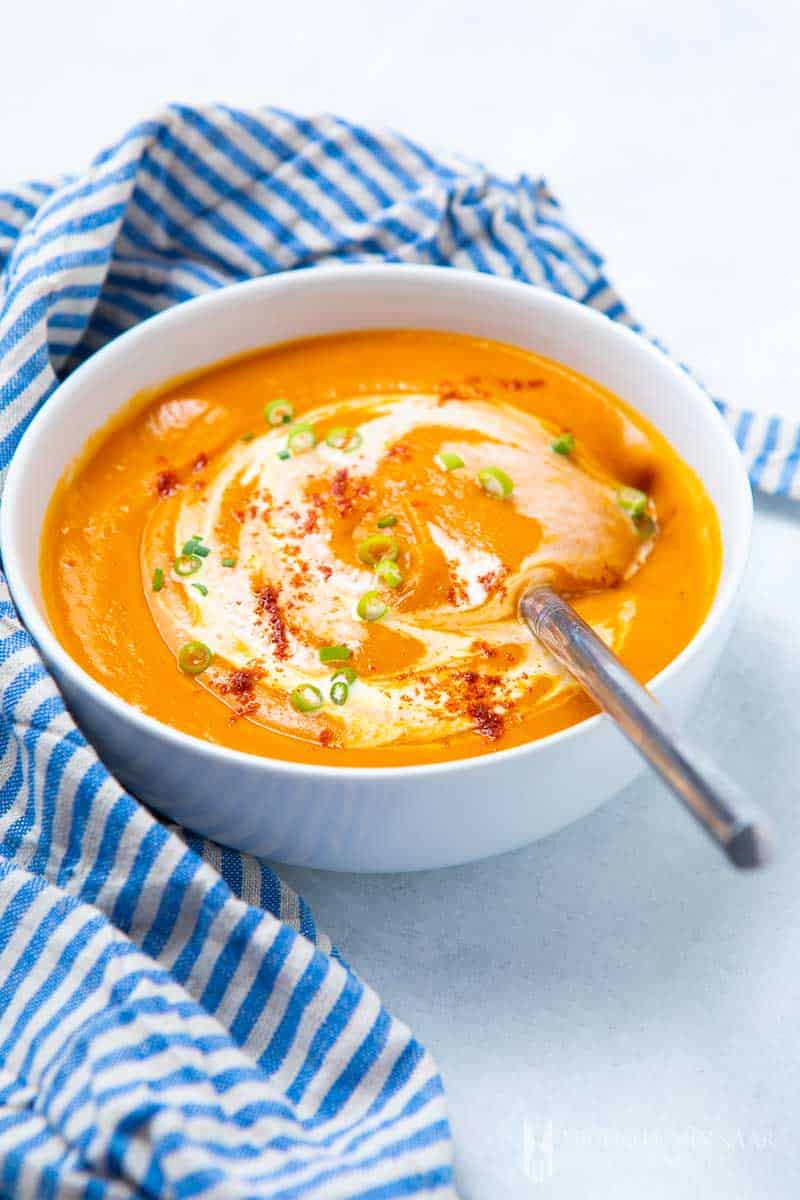 I, on the other hand, love soups, and once you try this sweet potato and red pepper version, I'm sure you will too.
In addition, this soup is simple to prepare and yet full of flavour. Would you believe me when I mention that this is a vegan soup recipe?
It's exactly what you need to warm you up on a cold day, and you can of course still serve the soup as a starter.
However, it is so tasty that you will probably want to make it the main course – keep reading to discover what you can pair or top the soup with to make it more filling.

roasted sweet potato and red pepper soup
The secret to getting the maximum amount of flavour into sweet potato and red pepper soup is to roast the vegetables in the oven first. Simply prep the vegetables by cutting them into small pieces and place them on a tray in a single layer and drizzle with olive oil.
I love the process of cooking this particular soup. The bake tray full of the vibrant, cut vegetables is very appealing and usually increases my hunger.
Here's a good tip, cut the vegetables evenly. In addition, cut the sweet potatoes into smaller pieces (also evenly). The sweet potato will roast slower than the red pepper.
If you are by any chance suffering from a sugar intolerance or from diabetes, then hold off from roasting the vegetables. The roasting process increases the glycaemic index (GI) of the vegetables.
For a more diabetes-friendly version of this soup, boil the vegetables instead. Better yet, blitz in the red pepper raw for best results!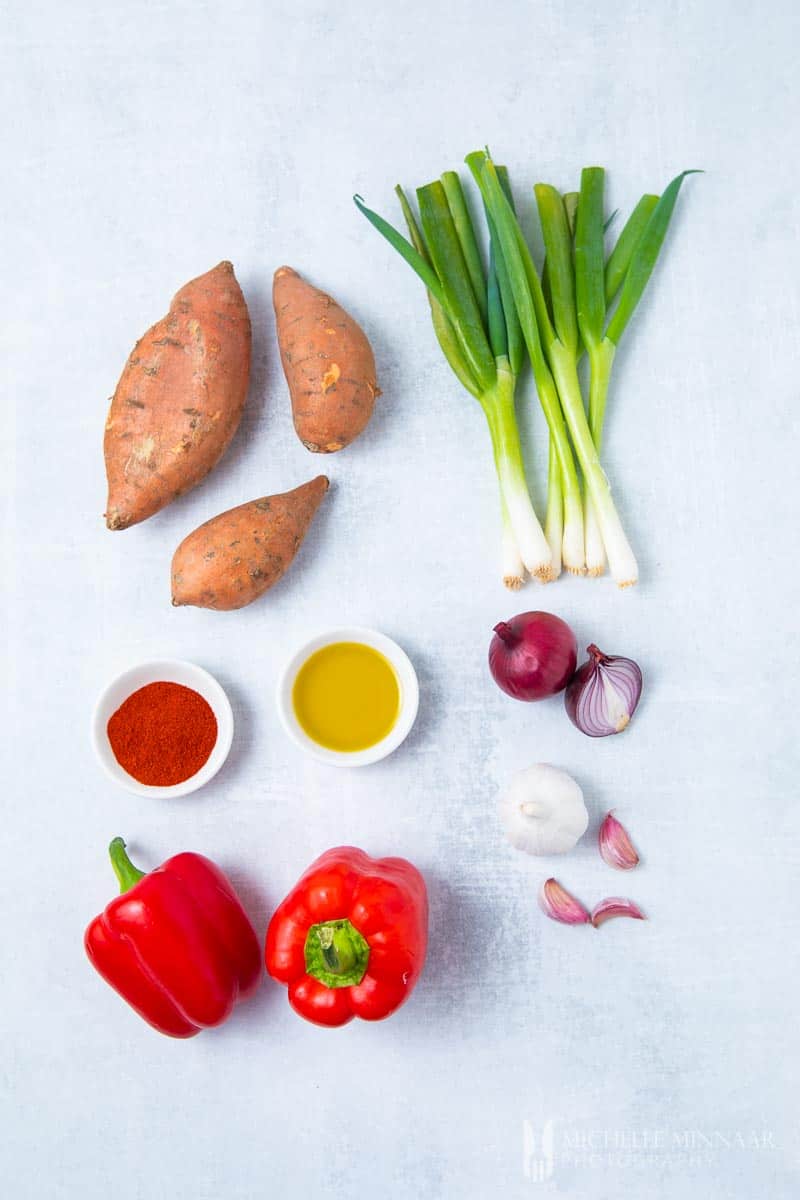 sweet potato and red pepper soup with coconut milk
As you might have figured, this sweet potato and red pepper soup is very healthy and, as mentioned, it's vegan! You can control the consistency and taste of this soup by diluting it with water.
The sweet potato will give the soup quite a thick texture, so simply add as much water as you like until you've reached the desired consistency.
Next, if would like to make this soup even more creamy, then I recommend adding either coconut cream or coconut milk. The coconut milk will give a lovely creamy texture and a sweet milk flavour.
Add the amount stipulated in this red lentil, tomato and coconut soup. Of course, the choice is yours whether or not you want to include coconut milk. This step is completely optional.
vegan sweet potato and red pepper soup recipe
Omit any butter, cream or chicken/beef stock and you've got yourself a fabulous vegan sweet potato and red pepper soup recipe. This soup is perfectly nutritious and is totally suitable for those on a vegan diet.
roasted sweet potato, red pepper and smoked paprika soup
This sweet potato and red pepper soup calls for a dash of smoked paprika and a pinch of cayenne pepper. The smoked paprika gives the soup its intense flavour.
You may even opt for hot smoked paprika if you want even more heat; in which case my recommendation is to hold back on the cayenne pepper. 
If you are not a huge fan of paprika powder, or you don't have paprika in the cupboard, then check out these top paprika substitutes.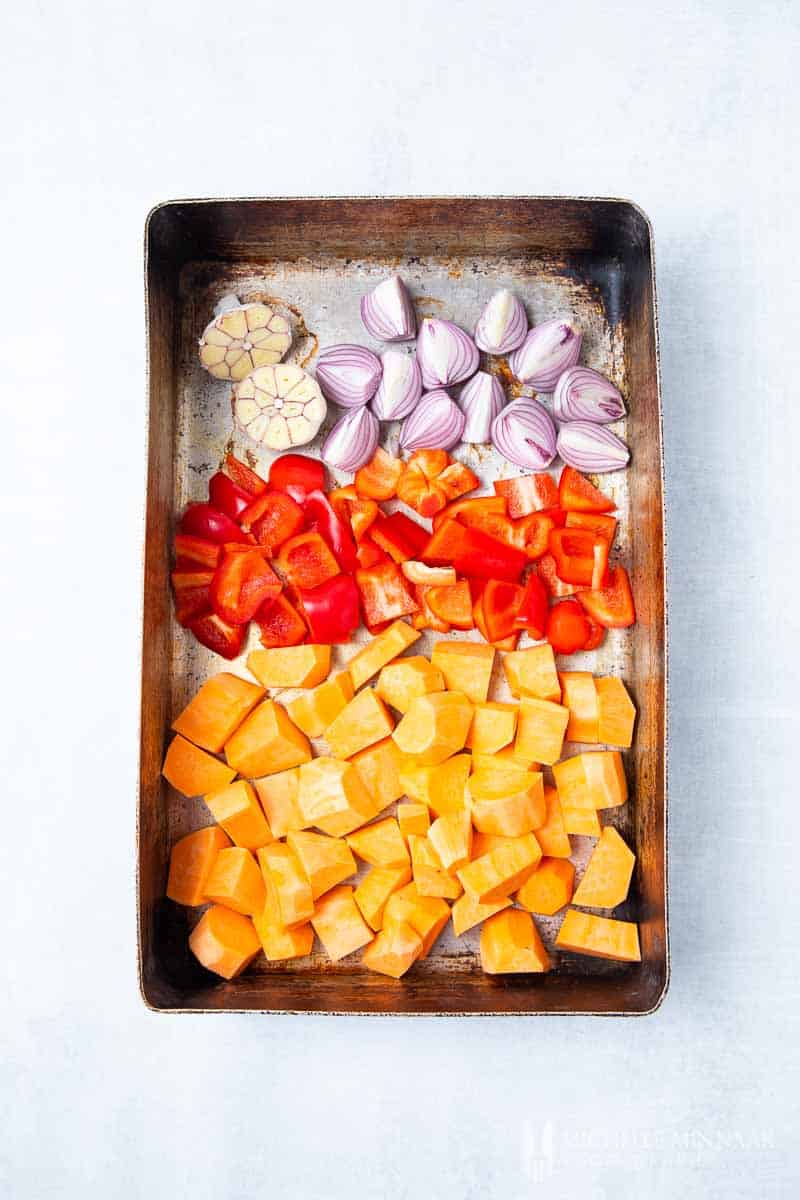 curried sweet potato and red pepper soup
This is what I love about making soups! If you have a nice base, you can jazz the soup up with some decent spices.
Just like with the smoked paprika, you can simply omit and use something more exotic. By doing so, you can spin the soup in any direction you want.  
First of all, you can experiment with curry spice and asafoetida. For example, check out this curried carrot and split pea soup.
This curried butternut squash and apple soup is also an excellent example. However, if you haven't got asafoetida, check out these 9 excellent asafoetida substitutes.
You can also add cumin for a Middle Eastern flavour, just like in this kabocha squash and cumin soup.
For extra heat, add even more cayenne pepper and adjust to your desired level of heat. For example, try the proportions from this spicy red kidney and black bean soup.
other spices and herbs you can consider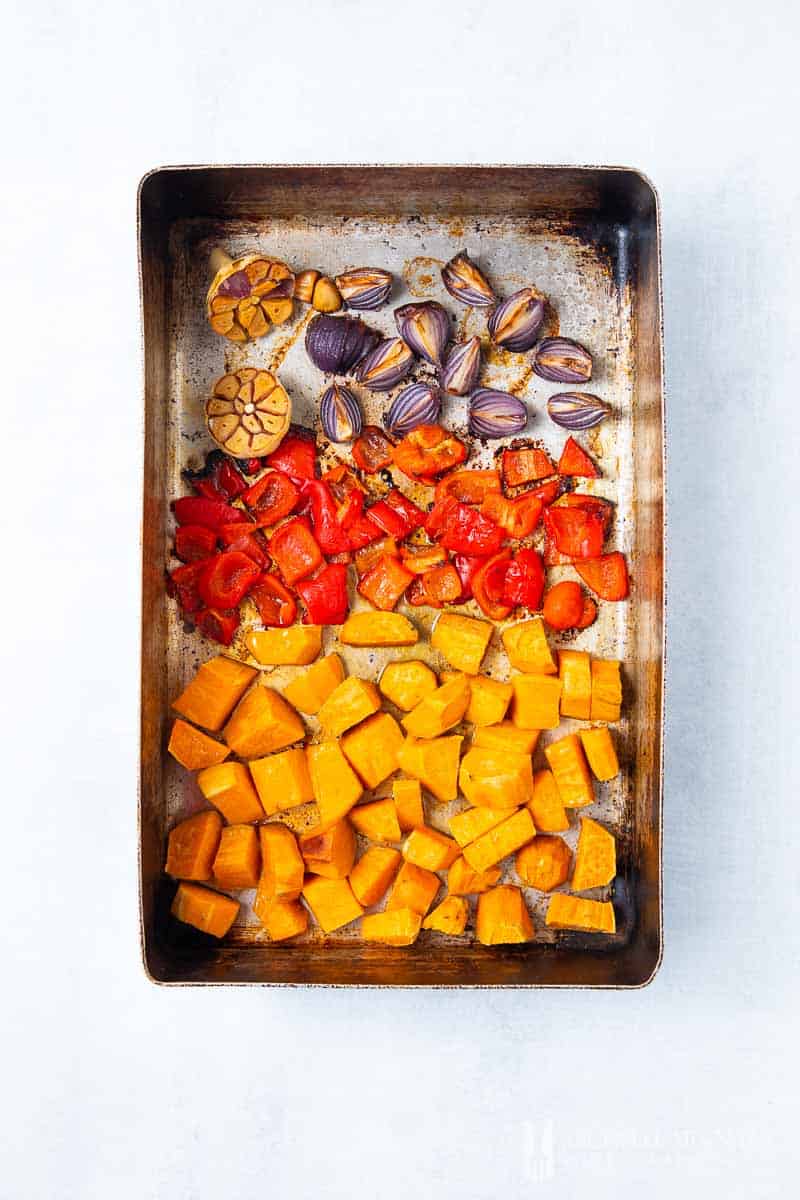 toppings
I will divide these topping suggestions into two categories: low calorie and filling. This way, you can really think about how you plan to eat this healthy recipe.
Low calorie toppings
The best low calorie toppings you can throw into this sweet potato and red pepper soup are:
fresh thin slices of red pepper
watercress
parsley
coriander
chives
spring onions
fresh red chillies
Filling toppings
You can vary between these many filling toppings:
bacon bits
small pieces of fried toast
roasted sweet potato cubes
pasta: fusilli at best
double cream
cheese or, better yet, these amazing Monterey jack cheese substitutes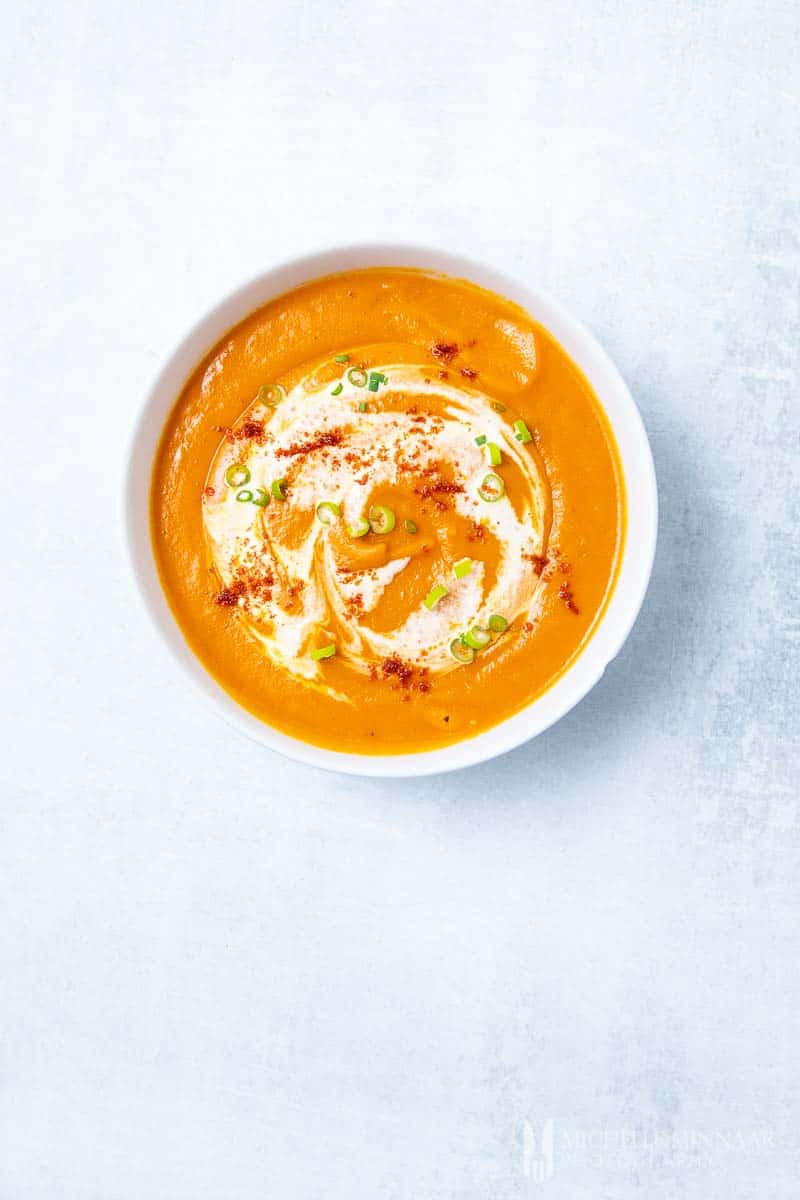 serving
If you are planning to eat this sweet potato and red pepper soup as a main course, then I recommend pairing the soup with these two pieces of toast.
The toast will fill you right up, and you can even control the amount of carbs you let yourself have. Better yet, if you don't mind indulging in a bit of bread then why not serve your fantastic soup with these:
Personally, I love to pair these with almost anything! They freeze very well too.
Lastly, my advice is to prepare maybe 2 or 3 of these and shove them in the freezer. When the moment is right, take one of these out and serve it with similar soup, like a good vegan leek and potato soup for example. 
More smooth vegetable soup recipes
What is your favourite vegan soup?
Print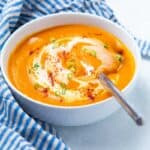 Sweet Potato and Red Pepper Soup
---
Description
Make this sweet potato and red pepper soup in just a few simple steps. Jazz it up with spices and spin it in any direction you want. Consider coconut milk.
---
2

red onions, peeled and quartered

3

garlic cloves

600

g

(1 1/2lb) peeled sweet potatoes, cut into chunks

2

red peppers, washed and cut into chunks

30

ml

(2 tbsp) olive oil

600

ml

(1pt) vegetable stock

5

ml

(1 tsp) smoked paprika
cream [optional]
cayenne pepper [optional]
finely sliced spring onions, for garnishing
---
Instructions
Preheat the oven to 200°C/390°F/gas mark 6.
Arrange the onions, garlic, sweet potatoes and peppers in a single layer on a baking sheet and drizzle with olive oil.
Roast the vegetables in the oven for 35 minutes. If everything isn't cooked and tender, cook them for another 10 minutes.
Place the vegetables with the stock and smoked paprika in a food processor and blend until silky smooth.
Return the soup to a pan to heat through, then serve with a splash of cream, cayenne pepper and spring onions.
Prep Time:

15 minutes

Cook Time:

45 minutes

Category:

Starter

Cuisine:

American
Nutrition
Serving Size:

1

Calories:

212

Sugar:

11.9g

Sodium:

152mg

Fat:

7.9g

Saturated Fat:

1.3g

Carbohydrates:

33.2g

Fiber:

6.7g

Protein:

4g

Cholesterol:

1mg
save the recipe to your pinterest board